College Basketball Nation:

2011 NCAA mountaineers-wildcats
March, 19, 2011
3/19/11
4:11
PM ET
TAMPA, Fla. -- In the first half of Saturday's East Region third-round game between No. 4 seed Kentucky and No. 5 seed West Virginia, Mountaineers guard
Joe Mazzulla
was lighting up the Wildcats, just like he did in the Elite Eight a year ago.
Mazzulla, who scored a career-high 17 points in the Mountaineers'
73-66 upset of UK last year
, had 15 points on 5-for-7 shooting in the first half of Saturday's game.
At that rate, Mazzulla was going to be the most despised opposing player in the Commonwealth since Duke's Christian Laettner.
[+] Enlarge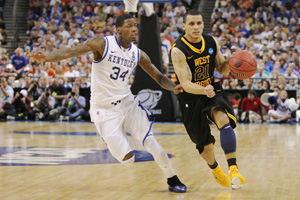 Kim Klement/US PresswireDeAndre Liggins, left, helped limit West Virginia's Joe Mazzulla to just five second-half points.
"He was getting too many easy, uncontested layups," Kentucky guard
Darius Miller
said.
With the Wildcats trailing 41-33 at the half, UK coach John Calipari made an adjustment.
UK junior
DeAndre Liggins
, a 6-foot-6 defensive stopper, was going to guard Mazzulla in the second half.
"In the first half, we let him do what he wanted," Liggins said. "He had some uncontested layups. I just wanted to make it tough for him in the second half, which I did."
With Liggins hounding him, Mazzulla scored only five points after the half, and the Wildcats ran away with a
71-63 victory
to advance to next week's region semifinals in Newark, N.J.
"[Liggins] absolutely [loves to play defense] and that's what makes him special," Kentucky assistant Orlando Antigua said. "He's one of the better defenders in the country. We just told him to stay in front of [Mazzulla] and make it tough on him."
More than anything else, Antigua said Liggins had to stay in front of Mazzulla.
"You've got to move your feet," Antigua said. "[Mazzulla] is very crafty and a very smart player. He doesn't beat you with speed; he beats you with his craftiness and angles."
Mazzulla found it especially difficult in the final few minutes of the game. After UK went ahead 60-56 with less than four minutes to play, Mazzulla missed a layup and was called for a foul. On the Mountaineers' next possession, UK senior
Josh Harrellson
and Miller blocked Mazzulla's shot.
"They played Liggins on Joe, just put a little more size on him," WVU coach Bob Huggins said. "We just got all balled up again. When we stayed spread, we had a better chance. We didn't get wide enough. And when you start creeping in, your defense creeps in. They had good help on defense, but we didn't spread them the way we spread them in the first half.
"We're just too small not to spread people. We just get swallowed up with size if we don't spread people."
Mazzulla had a hard time spreading the floor because Liggins was always in his way.
"I think DeAndre is the best defender in the country," Harrellson said. "He can guard anybody from one [point guard] through four [power forward] and can guard a couple of big men. He's always there when you need help and he's always there to take a charge."
Kentucky freshman
Brandon Knight
, who scored a career-high 30 points against the Mountaineers, said Liggins' intensity inspired his teammates.
Liggins finished with three points on 1-for-2 shooting, but also had nine rebounds, four assists and two blocked shots.
"It was big-time," Knight said. "It was just as important as Josh's play and rebounding. His length, his intensity and tenacity spreads to the rest of us."
March, 19, 2011
3/19/11
2:47
PM ET
TAMPA, Fla. -- Kentucky got its revenge and is headed back to the Sweet 16.


A year after West Virginia knocked the Wildcats out of the Elite Eight, No. 4 seed Kentucky returned the favor on Saturday, defeating the No. 5 seed Mountaineers
71-63
in an East Regional third-round game at St. Pete Times Forum.
Kentucky missed its first 20 3-point attempts against West Virginia's 1-3-1 zone defense in a 73-66 loss last season. But freshman
Brandon Knight
knocked down a couple of early 3-pointers on Saturday, and then the Wildcats rallied from an eight-point deficit at the half before pulling away late.
Turning point:
Kentucky freshman
Terrence Jones
tied the score at 55 on a dunk with about 6 ½ minutes to play. After a defensive stop, UK senior
Josh Harrellson
grabbed two offensive rebounds and scored a layup to make it 57-55. Then junior
Darius Miller
made his first shot of the game, a 3-pointer from the left wing to make it 60-55 with 4:10 remaining.
Player of the game:
Knight, who had been mired in a shooting slump, scored a career-high 30 points on 9-for-20 shooting. Knight, from Ft. Lauderdale, Fla., went 3-for-8 on 3-pointers and also had three rebounds and four assists. Knight scored 16 of UK's 33 points in the first half.
Key stat:
2-8: Kentucky coach John Calipari's record against West Virginia coach Bob Huggins.
Miscellaneous:
Harrellson, a seldom-used forward before this season, scored 15 points on 7-for-10 shooting and grabbed eight rebounds. He had to leave the game for a couple of minutes late, after being cut over his left eye. … UK's Jones had a double-double with 12 points and 10 rebounds. …
Joe Mazzulla
, who had 17 points in last season's win against the Wildcats, scored 20 on Saturday. He scored only five points in the second half, after UK junior
DeAndre Liggins
began guarding him.
What's next:
The Wildcats advance to next week's East Region semifinals in Newark, N.J., where they will play the winner of Sunday's game between No. 1 seed Ohio State and No. 8 seed George Mason. West Virginia finishes the season with a 21-12 record.