College Basketball Nation:

2011 NCAA Pirates-Blue Devils
March, 18, 2011
3/18/11
7:34
PM ET
CHARLOTTE, N.C. -- Duke coach Mike Krzyzewski was quick to say on the postgame podium that his focus wasn't on
Kyrie Irving
, but rather the entire team. That's how it should be in the NCAA tournament.
But for those at the Time Warner Cable Arena Friday afternoon, the attention was solely on Irving.
And Sunday against Michigan will be no different.
Irving is back and the top-seed in the West suddenly got even tougher to punch out, an almost unheard of proposition during the first weekend of the NCAA tournament.
"We're even more dangerous,'' said ACC player of the year
Nolan Smith
. "We've just added a player as talented as him [who] can score the ball, and it gives us another weapon.''
Irving played for the first time since Dec. 4 when he suffered a freak injury on a drive to the basket, tearing ligaments in his right big toe against Butler at the IZOD Center at the Meadowlands in New Jersey. He avoided surgery and had his foot in a cast and then a boot before he wore sneakers again. He practiced for the first time earlier this week after just going through non-contact, shooting drills last week during the ACC tournament in Greensboro.
[+] Enlarge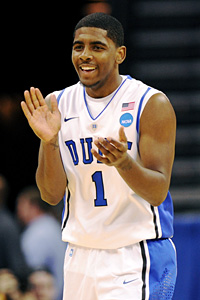 Lance King/Icon SMIDuke freshman Kyrie Irving notched 14 points in 20 minutes in his first game since Dec. 4.
Irving paced himself in the first half against Hampton, but didn't hesitate to look for the openings on the break or hunt for his shot in the second half. He finished with a team-high 14 points in 20 minutes off the bench, making both 3s, all four free-throw attempts and finishing with one assist, two turnovers, two steals and a block in Duke's
87-45 victory
.
"It was a good performance, good to be out there with my teammates,'' Irving said. "I just wanted to integrate myself into Coach K's system and fit as well as I could. In the second half, I just had to be more aggressive and Coach said just play my game.''
His game is to look for the opening in the lane. Granted the competition was the MEAC champ Hampton. But that shouldn't matter in the assessment. Of course, Michigan will be a tougher opponent Sunday and the openings won't be as grand. But Irving is finding his comfort zone just as Duke is set to play a potential six-game season.
Remember, Irving was Duke's leading scorer when he got hurt. He was scoring 17 points per game and lit up Michigan State for 31 on Dec. 1. He would have been a candidate for the freshman and national player of the year awards, let alone ACC player of the year, had he stayed healthy.
Krzyzewski said the Blue Devils were fortunate to get Irving 20 minutes on Friday versus the Pirates. He said that playing with the unit he was on didn't get in Smith's way (on the second unit).
"I was really pleased,'' Krzyzewski said. "I thought he was very confident as it moved along.''
The Blue Devils were already a No. 1 seed without Irving. But if he can continue to progress this weekend, then they emerge as a favorite, if not slightly ahead of Ohio State and Kansas as the favorites. If Irving can play 25-28 minutes at point guard by next weekend in Anaheim -- assuming the Blue Devils beat Michigan -- then Duke's frontcourt will shine more in a transition game.
"Kyrie helps our team,'' Duke senior forward
Kyle Singler
said. "We are a really good team. And now we'll just have to learn how to play with him again. But he's easy to play with, and it won't be too hard.''
March, 18, 2011
3/18/11
5:58
PM ET
CHARLOTTE, N.C. -- A No. 1 seed rarely adds a star player to the lineup in the first weekend of the NCAA tournament.


Duke freshman point guard
Kyrie Irving
played for the first time since tearing the ligaments in his right toe against Butler on Dec. 4.
He didn't disappoint. Irving entered the game roughly five minutes into each half and ended up playing 20 minutes total, as scripted.
He started with a slower step but then picked up the pace and by the second half, Irving was moving quite well laterally. He took the ball to the hoop for a layup and then hit consecutive 3-pointers. Irving scored a team-high 14 points in
top-seeded Duke's 87-45 victory over No. 16 Hampton
.
Coach Mike Krzyzewski said Irving would play if he proved he was ready. Now, Irving will likely get even more minutes. Having Irving play 20 minutes off the bench gave the Blue Devils a quality bench scorer and a game changer.
Of course, the shots will be tougher against Michigan's defense. But this was a good first start for integrating Irving back into the lineup.
Key stat:
Irving's 20 minutes, 14 points, one assist, two steals, two turnovers, 4 of 4 from the line, 2 of 2 at the 3-point line and four rebounds.
Turning point:
When the seeds were announced. Hampton didn't have much of a shot against Duke, especially once Irving was cleared to play.
Balance:
Duke shared the ball. The Blue Devils had 17 assists on 32 baskets and there was balance all around on the box score.
What's next:
Duke plays Michigan Sunday in the third round with the right to go to the Sweet 16 in Anaheim. There happens to be another subplot since Duke and Michigan have been in the news lately in reference to the two programs in the 1990s.
March, 18, 2011
3/18/11
7:02
AM ET
CHARLOTTE, N.C. -- Let's take a look at the afternoon games set for the Time Warner Cable Arena:
No. 9 seed Tennessee (19-14) vs. No. 8 seed Michigan (20-13), 12:40 p.m. ET


ABOUT THE VOLS
Coach:
Bruce Pearl (462-144 in 19 seasons, 145-60 in six years at UT)
Last NCAA tournament appearance:
2010
All-time NCAA record:
16-19
Player to watch:
Tennessee's
Scotty Hopson
has to have a big-time game for the Vols to win. He's a difference-maker. The problem is that he's completely erratic. He can score eight like he did against Arkansas or 27 like he did against Pittsburgh. Hopson may be able to get off some shots against Michigan's defense, but he must hit them to keep the Wolverines off balance.
ABOUT THE WOLVERINES
Coach:
John Beilein (522-335 in 28 years, 66-46 in four years at Michigan)
Last NCAA tournament appearance:
2009
All-time NCAA record:
42-20
Player to watch:
Tim Hardaway Jr.
can be a game-changer for the Wolverines. He doesn't have his father's crossover but he can get to the rack and keep the Vols' defense off its axis. Hardaway Jr. will push the basketball at will and he has a backcourt mate in
Darius Morris
who can also challenge the Vols' guards.
THREE THINGS TO WATCH
1. The Volunteers' attitude:
How does Tennessee respond with the fate of its coaching staff unknown? AD Mike Hamilton essentially sounded the alarm that the staff is done after the Vols lose. Tennessee has been the most enigmatic team this season. No reason to think this should change now.
2. Michigan's discipline:
The Wolverines have been fundamentally strong this season. If they don't get bothered by Tennessee's pressure and can run their sets, then this game could take a decided turn early in favor of the Wolverines.
3. Brian Williams:
Williams has been injured at times but he also can be a decisive factor on the offensive backboard. If he stays out of foul trouble and remains active, that could be the difference for Tennessee.
No. 1 seed Duke (30-4) vs. No. 16 seed Hampton (24-8), approx 3 p.m. ET


ABOUT THE BLUE DEVILS
Coach:
Mike Krzyzewski (898-283 in 36 seasons, 825-224 in 31 years at Duke)
Last NCAA tournament appearance:
2010
All-time NCAA record:
94-30
Player to watch:
Duke's
Nolan Smith
was the ACC player of the year. He showed no signs of an injured toe while torching Virginia Tech for 27 points in an ACC semifinal game and then scoring 20 against North Carolina in the final. Smith will share the role with
Kyrie Irving
again for a few minutes. It shouldn't matter. Smith and Irving are selfless players and want to win a championship.
ABOUT THE PIRATES
Coach:
Ed Joyner (36-26 in second season overall and at Hampton)
Last NCAA tournament appearance:
2006
All-time NCAA record:
1-3
Player to watch:
Joyner says senior guard
Brandon Tunnell
and junior guard
Darrion Pellum
are two of the better guards in the country. He said on our ESPNU show Monday that the backcourt can hang with anyone. Now is the chance to prove it against Smith, Irving and
Seth Curry
.
THREE THINGS TO WATCH
1. Kyrie Irving:
When will he get into the game and for how long? Irving will play off the bench. He looked like he didn't miss a step in light workouts in Charlotte on Thursday. But how does he handle game speed, how will he deal with cutting on the court, blowing by a defender, making a 3-pointer or a mid-range shot?
2. The rotation:
How does Coach K deal with the rotation of guards with Smith, Irving, Curry and
Andre Dawkins
? Does this affect how and where he plays
Kyle Singler
? Does he go with three guards, Singler and a Plumlee?
3. Hampton's decision:
Do the Pirates run with Duke? Does Hampton try to take the air out and slow down every possession to fluster the Blue Devils? Is this is a game at the half?