College Basketball Nation:

2011 NCAA Spartans-Bruins
March, 18, 2011
3/18/11
1:46
AM ET
TAMPA, Fla. -- Almost mercifully, Michigan State's season-to-forget came to an end Thursday night.
The 10th-seeded Spartans, who were ranked No. 2 in the preseason polls but needed a late-season push just to receive an at-large bid to the NCAA tournament, fell to No. 7 seed UCLA
78-76
in a second-round game of the Southeast Regional at St. Pete Times Forum.
Even after finishing the season with a disappointing 19-15 record, the Spartans did the only thing coach Tom Izzo could ask them to do -- they fought to the very end.
After trailing by 23 points with about 8 ½ minutes to go, Michigan State cut UCLA's lead to 78-76 and had the basketball with 4.4 seconds to go. But senior guard
Kalin Lucas
was called for traveling while trying to dribble through a triple-team down the sideline, and the Spartans' improbable comeback was over.
[+] Enlarge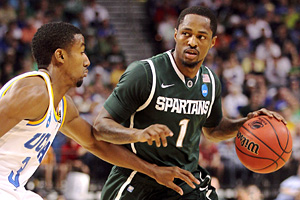 Mike Ehrmann/Getty ImagesUCLA's defense held Kalin Lucas to only 11 points and five assists.
"I'm crushed and disappointed because we just got off to such a poor start, and yet I'm so proud of these guys," Izzo said. "They've been knocked down so many times this year. I don't think I've ever had a team that's gone through as much, and yet to battle back and almost put themselves at a chance to win was incredible. I'm incredibly grateful to them."
In the end, though, the Spartans were never able to live up their lofty preseason hype against one of the country's most difficult schedules.
MSU lost eight of its first 20 games and was plagued by off-court distractions. Guard
Chris Allen
was dismissed from the team in May and transferred to Iowa State. On Jan. 26, Izzo kicked guard Korie Lucious off the team for an unspecified violation of team rules.
Izzo even ran into his own troubles with the NCAA and was suspended for one game for committing a secondary rules violation.
"It's been a year that I'll never forget for a lot of reasons," Izzo said. "It's kind of a fitting way to end, because I've been telling these guys all year, we've just got to keep battling back. Where some people have just fallen off the face of the earth with one of these seasons, we didn't. I kept telling them we've got to be like a boxer and just keep getting up."
Even a heavyweight like Michigan State endures seasons like this one. The Spartans' 15 losses are their most in a season since a 16-16 finish in 1995-96, Izzo's first campaign. The losses also equaled Michigan State's total from their previous two seasons combined.
Izzo said he hurt most for seniors such as Lucas,
Durrell Summers
and
Mike Kebler
. After MSU played in the Final Four in each of the previous two seasons, it went one-and-done in their final college season.
Lucas fought back tears while addressing reporters in MSU's postgame news conference.
"I think I had a great four years here," Lucas said. "I had a great coach that pushed me every day at practice, and I had great teammates that pushed me every day at practice as well. The loss hurts, but at the same time these four years have been great."
Lucas, the team's leading scorer, battled back after rupturing his Achilles' tendon in the NCAA tournament last season.
UCLA focused much of its defensive attention on Lucas, and he missed his first eight shots. He finished with 11 points on 4-for-14 shooting and had five assists and four turnovers.
"I know it had to be rough for him," MSU forward
Draymond Green
said. "I feel like he had a great career, and he hasn't had many games where he just couldn't get anything to fall. They did a great job defensively on him. They pretty much keyed on him the whole entire defense, and he did a great job of still getting everybody else involved."
Lucas finished four points shy of reaching 2,000 points in his career.
"It hurts me," Green said. "I'm a big fan of my guys reaching milestones, and the loss hurts me, but I think I'm kind of hurting because he came up four points short of 2,000. For everything he did for this program, I get to come back for another year so I can be sad about the loss later. I think I'm hurting more about him not getting them four points."
Izzo said he won't remember these seniors by their final campaign. They were part of teams that reached the Sweet 16 in 2008, the national championship game in 2009 and the national semifinals last season.
"I'm proud of all those seniors," Izzo said. "I hope people look at what they've accomplished in their four-year career because it is unbelievable how many games they won and crowds they played in front of and what they've done."
March, 18, 2011
3/18/11
1:18
AM ET
ESPN.com's Mark Schlabach talks with UCLA's
Tyler Honeycutt
after the Bruins' victory over Michigan State.
March, 18, 2011
3/18/11
12:17
AM ET
TAMPA, Fla. -- In the type of thriller that is responsible for the term March Madness, UCLA nearly blew a 23-point second-half lead, but held off a fury of Michigan State 3-pointers and won,
78-76
, in a second round NCAA tournament game at the St. Pete Times forum.


No. 7-seeded UCLA (23-10) had an 18-point halftime lead and stretched it to 64-41 with 8:35 to play, but Michigan State got hot from the outside and made six 3-point baskets in the final 6:13. Meanwhile, UCLA had troubles from the free-throw line, making only 3 of 12 foul shots in the final 1:31 as the No. 10-seeded Spartans closed a 75-66 deficit to 77-76 with 4.4 seconds to play.
UCLA guard
Malcolm Lee
made one of two free throws then forced a turnover on the ensuing possession and UCLA advanced.
Turning point:
It might not have seemed all that relevant given how close the game ended up, but
Joshua Smith
's hook shot with 8:56 remaining gave UCLA an 11-point lead. The Bruins have not lost a game this season when taking a double-digit lead at any point. They are now 21-0 in such games.
Player of the game:
Tyler Honeycutt
, UCLA. He played one of his most complete games of the season with 16 points, six rebounds, five assists and three blocked shots. Perhaps Honeycutt was motivated by some pregame comments made by Michigan State's
Durrell Summers
. His huge rebound on a missed Spartans 3-pointer with 14 seconds remaining and UCLA up 77-73 all but clinched the game. Michigan State's
Draymond Green
also deserves mention for a triple-double of 23 points, 11 rebounds and 1o assists in the losing effort.
Key stat:
Kalin Lucas
, Michigan State's leading scorer for the season had only 11 points on 4-for-14 shooting. Lucas was averaging 17.2 points this season and 20 points over the past 14 games, but was held scoreless until there was 7:44 left in the game. He was the Big Ten player of the year in 2009 and a key contributor to the Spartans' Final Four runs in each of the past two seasons, but was a non-factor for much of Thursday thanks to the tenacious defense played on him by Lee, a Pac-10 all-defensive team selection.
Miscellaneous:
The battle of the boards was always going to be a deciding factor in this game and UCLA's 39-36 edge on the glass certainly was. Michigan State had outrebounded opponents by an average of 35-30 over the season and UCLA held a 37-32 average rebounding edge this season.
What's next:
UCLA will face No. 2-seeded Florida on Saturday in a rematch of the 2006 national championship and '07 national semifinal games. Florida, a 79-52 winner over UC Santa Barbara, won both those games and won consecutive NCAA championships. This time a spot in the Sweet 16 is on the line. Game time is approximately 11:45 a.m. Pacific.
March, 17, 2011
3/17/11
7:11
AM ET
TAMPA, Fla. -- A look at the evening action set for the St. Pete Times Forum.
No. 15 seed UC Santa Barbara (18-13) vs. No. 2 seed Florida (26-7), 6:50 p.m. ET (TBS)


ABOUT THE GAUCHOS
Coach:
Bob Williams (406-269 in 23 seasons, 217-169 in 13 seasons at UCSB)
Last NCAA tournament appearance:
2010
All-time NCAA record:
1-4 in four appearances
Player to watch:
Gauchos guard
Orlando Johnson
is one of the country's hottest players entering the NCAA tournament. In three games of the Big West tournament last week, Johnson averaged 28.3 points, 3.3 rebounds and 2.3 assists. He made 12 of 18 3-pointers in victories over Pacific, Cal State Northridge and Long Beach State. Johnson is averaging 21.1 points and 6.3 rebounds this season.
ABOUT THE GATORS
Coach:
Billy Donovan (392-166 in 17 seasons, 357-146 in 15 seasons at Florida)
Last NCAA tournament appearance:
2010
All-time NCAA record:
29-13 in 16 appearances
Player to watch:
Senior forward
Chandler Parsons
ranks third on the team in scoring with 11.5 points per game. But Parsons was named SEC player of the year because he does so much else. He leads the Gators in rebounding (7.8) and assists (112) and is shooting 49.6 percent from the floor. Since missing action with a deep thigh bruise, Parsons is averaging 14.9 points, 8.6 rebounds and 4.0 assists in seven games.
THREE THINGS TO WATCH
1. Florida's start:
The Gators have gotten off to slow starts over the past couple of weeks, but they're dominating opponents in the second half. In their past five games, the Gators averaged 50.2 points after halftime and outscored opponents by an average of 16 points. Florida's defense has been stellar after halftime, too, holding opponents to only 25 percent on 3-point attempts.
2. Florida's big men:
If the Gators are going to advance beyond the first weekend of the NCAA tournament, they will need to get more help from their interior players. In Florida's 70-54 loss to Kentucky in the SEC tournament championship game, center
Vernon Macklin
and forwards
Alex Tyus
and
Patric Young
combined for only 16 points and 11 rebounds.
3. Johnson & Nunnally:
Johnson gets most of UCSB's attention, but junior forward
James Nunnally
is a big-time scorer in his own right. Nunnally averaged 16.4 points and 5.4 rebounds and shot 82.9 percent from the foul line. The Gauchos are difficult to stop when Johnson and Nunnally are shooting well. The pair combined for 52 points in a 72-70 loss at Oregon and 35 points in a 68-62 upset at UNLV -- UCSB's first win over a ranked opponent since 1993.
No. 10 seed Michigan State (19-14) vs. No. 7 seed UCLA (22-10), 9:20 p.m. ET (TBS)


ABOUT THE SPARTANS
Coach:
Tom Izzo (383-160 in 16 seasons at MSU)
Last NCAA tournament appearance:
2010
All-time NCAA record:
52-23 in 24 appearances
Player to watch:
Spartans point guard
Kalin Lucas
is back in the NCAA tournament, after rupturing his left Achilles tendon in an 85-83 victory over Maryland in the second round last season. After a slow start this season, Lucas averaged 20.1 points in February and 19.8 points in March. He has averaged 13.9 points and 4.6 assists in 11 NCAA tournament games.
ABOUT THE BRUINS
Coach:
Ben Howland (356-181 in 17 seasons, 188-82 in eight seasons at UCLA)
Last NCAA tournament appearance:
2009
All-time NCAA record:
99-36 in 44 appearances
Player to watch:
Sophomore forward
Reeves Nelson
leads the Bruins in scoring (13.9 points), rebounds (9.0) and field-goal percentage (57.4 percent). He had 11 double-doubles this season, including 27 points and 16 rebounds in a 71-49 rout of Arizona on Feb. 26. He's the Bruins' emotional leader and his teammates tend to play better when the tattooed Nelson is playing with emotion.
THREE THINGS TO WATCH
1. UCLA guard Malcolm Lee's knee:
The Bruins' second-leading scorer with 13 points per game, Lee suffered a small cartilage tear in his left knee near the end of a 58-54 victory at Washington State on March 5. Lee, a junior from Moreno Valley, Calif., played 28 minutes in UCLA's 76-59 loss to Oregon in the Pac-10 tournament last week, scoring six points on 2-for-3 shooting with four rebounds and two assists.
Howland said Lee has practiced four times this week and hasn't had any problems.
"He's fine, and he's actually practiced really well," Howland said. "I see him getting back to his normal 35 minutes a game."
2. Jekyll and Hyde:
Which UCLA team shows up? Will it be the one that beat then-No. 10 Arizona by 22 points in Los Angeles on Feb. 26 or the one that flopped in an embarrassing 17-point loss to Oregon in the Pac-10 tournament last week? Which Michigan State team shows up? Will it be the one that defeated then-No. 8 Purdue by 18 points on March 11 or the one that lost to Penn State by 13 points in last week's Big Ten tournament? Both teams have been plagued by inconsistency throughout their seasons.
3. Michigan State's defense:
The Spartans' midseason slide was a result of its defense, or more accurately, lack of defense. During a 1-4 downturn against Big Ten foes in late January and early February, Michigan State allowed opponents to shoot 54.3 percent from the floor, including a whopping 50.5 percent on 3-pointers. In the final 10 regular-season games, MSU allowed foes to shoot only 40.4 percent, including 30.8 percent on 3-pointers. Opponents averaged only 61.4 points during that stretch.