College Basketball Nation:

2011 NCAA Tar Heels-Huskies
March, 20, 2011
3/20/11
5:10
PM ET
CHARLOTTE, N.C. --
Harrison Barnes
knew from the first day of practice at North Carolina that you don't try to get the ball over
John Henson
without some sort of fake.
"I found out you can't throw a pass over John or shoot straight over him,'' said the Carolina freshman of his 6-foot-10 teammate. "John makes basketball-savvy plays.''
And that's why the Tar Heels are going to be a tough out for the rest of this tournament.
North Carolina can score at all five positions and the Tar Heels are just as giving in allowing opponents to score. The Tar Heels are the first team since 1990 to advance to the Sweet 16 after allowing over 80 points in its first two games.
But Henson is enough of a difference-maker for the Tar Heels to make up for their often-porous defense.
[+] Enlarge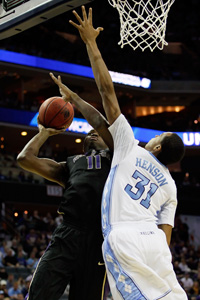 Kevin C. Cox/Getty ImagesJohn Henson came up big, collecting 10 rebounds and four blocked shots.
Washington's
Justin Holiday
learned Barnes' cardinal rule about Henson with six seconds left in Sunday's East region third-round game in Charlotte. Holiday tried, unsuccessfully, to make an inbounds pass over the top of Henson. His deflection ended up in the hands of UNC's
Dexter Strickland
, who was fouled and converted two free throws for an 86-83 lead,
a score that would hold up
and send the Tar Heels into the Sweet 16.
"I was trying to get the ball to
Isaiah [Thomas]
,'' Holiday said. "I thought he could do something with it.''
Holiday said he knew about Henson's length and just didn't make the right play in trying to throw over the top.
"I was very surprised that he did,'' Henson said. "I thought it was kind of a bad idea.''
Holiday's decision was one of a series of miscues by Washington in the final seconds. Holiday had the ball out of bounds after
Venoy Overton
drove to the basket and missed. He didn't have a clear shot at the basket because the Carolina defense came over to help.
"I missed the layup but I was trying to avoid taking a charge and then it was contested,'' Overton said. "I wish I could take it back and go straight up. I was trying to make an aggressive move.''
Henson and his frontcourt teammate, 7-foot
Tyler Zeller
, form an imposing frontline and alter plenty of shots. Washington actually out-rebounded the Tar Heels 40-37 but four blocks by Henson, one by Zeller, and seven steals (three by Barnes), were the kind of key defensive plays that have helped the Tar Heels win games in March.
"A lot of this has to do with our guards getting out and pressuring,'' Zeller said. "It makes our job easier. John does a great job of blocking shots and if not blocking, altering. He's great on that baseline inbounds. I'm grateful for him. I don't know if teams have seen his length before.''
Washington had another chance to tie the game, but Overton, defended well by Strickland along the sideline, inexplicably hurled up a shot with a second remaining. Overton said he got caught jumping in the air and just threw it up.
"I was anticipating getting fouled,'' Overton said.
The ball went out of bounds off Henson, though, with 0.5 seconds left. Thomas took his only shot in the final 11 seconds, a 2-pointer at the buzzer that fell short, but wouldn't have mattered anyway.
"I don't know, it was Coach's call,'' Thomas said as to why he didn't touch the ball on the last two possessions prior to the shot at the buzzer. "I really couldn't tell you. I thought the ball would be in my hands. It wasn't, but that's not the reason why we lost. It's very frustrating. I feel like I'm the leader on this team and had confidence in myself and my teammates have confidence in me. I know [Holiday] was trying to get it to me, but Henson got his hands on it and I didn't get it.''
[+] Enlarge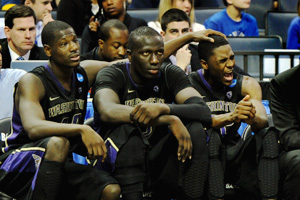 Bob Donnan/US PresswireJustin Holiday, right, shows some frustration as the Huskies let the game get away at the end.
Washington coach Lorenzo Romar said if he had to do it over again he would want the ball in Thomas' hands. He said Overton won a game against UCLA by taking the last shot, so he wasn't against Overton looking to be aggressive, but it was Thomas who made the game-winning 3-pointer at the buzzer to beat Arizona in the Pac-10 tournament.
The Huskies were in a position to win this game, playing the game they wanted.
"That's what's disappointing,'' Romar said. "We do everything we want to do, put yourself in position to win but down the stretch we didn't get it done.''
And for all of North Carolina's defensive lapses, the Tar Heels made the plays that mattered most defensively, and in the end, will head to Newark next week for the Sweet 16.
"This means a lot, we've struggled at times, going out of the top 25, getting blown out by 20 against Georgia Tech; it's been a long season,'' Barnes said. "There was a lot of talk about lack of experience and age, but we make up for it with heart in the end and find a way to win.''
March, 20, 2011
3/20/11
2:47
PM ET
CHARLOTTE, N.C. -- North Carolina's
John Henson
has emerged as the most imposing and game-changing defensive player in the NCAA tournament.
Henson deflected an inbounds pass from
Justin Holiday
that ended up in the hands of
Dexter Strickland
, forcing Washington to foul and put him at the free-throw line with a one-point lead and 5.4 seconds left.


Henson's deflection prevented Washington from getting off a shot with an attempt to win the game.
Nearly four minutes earlier, Henson blocked a shot by Washington's
Darnell Gant
that resulted in a 3-pointer by
Harrison Barnes
at the other end for a North Carolina four-point lead.
Henson finished with 10 points and 10 rebounds in the
Tar Heels' 86-83 victory
over Washington in an East regional third-round game.
Henson nearly put himself at risk, though, when he almost goaltended a last-second shot by
Isaiah Thomas
.
Still, Henson's presence was the difference for the Tar Heels in the best game so far of the Charlotte regional, matching two teams that love to get up and down the court and don't mind pushing the basketball with little attention to defense -- except for Henson along the back line.
While North Carolina relied on Henson to create opportunities, the Huskies couldn't have made worse decisions at the end of the game. Thomas' last shot was the only time he touched the ball in the final 10 seconds when the Huskies had three chances to score and either take the lead or tie the game.
Inexplicably, Thomas didn't touch the ball as
Venoy Overton
dribbled the length of the court and put up a forced shot with 7.4 seconds remaining. The shot went out of bounds -- fortunately for the Huskies it went off UNC. Then came Holiday's mental mistake of trying to pass OVER Henson when Henson is the tallest player on the court.
After Strickland then converted the two free throws for the three-point lead, Overton again took the ball and threw up an errant shot from near halfcourt with over a second left when he still had time on the drive to pass ahead and get a much better shot or at least find Thomas.
Thomas is Washington's best player and the one you'd want to take a shot in this situation. Or at the very least, Thomas could have created a shot for shooters, which UW had many of during the game like
C.J. Wilcox
or
Terrence Ross
. The Huskies played well on the glass but ultimately couldn't execute down the stretch.
Key stat
: Henson had four blocks and two steals. That's enough for me.
Key player
:
Tyler Zeller
scored 23 and Barnes scored 22 and made buckets when the Tar Heels needed them most.
Shout out
: Washington made shots and the 10 3s that the Huskies converted were a difference in this game and put UNC on its heels.
What's next
: Washington goes home after a nice late run. North Carolina moves on to Newark to play the winner of Syracuse-Marquette.