College Basketball Nation:

2011 NCAA Volunteers-Wolverines
March, 18, 2011
3/18/11
5:50
PM ET
CHARLOTTE, N.C. -- The postgame chatter from the players was about playing without heart and quitting in the second half.
If that's the last impression of the Bruce Pearl era at Tennessee, then it would symbolize a sad and pathetic fall.
Pearl made the third-most popular team in Knoxville relevant during his six-year tenure as head coach. His style of basketball was exciting, his enthusiasm for the Volunteers' program unbridled and raw, and his ability to recruit high-level basketball players was good enough to put the Vols in the NCAA tournament for a school record six straight times.
But if you were here in Charlotte, it was hard to watch Tennessee's season and the way Pearl's coaching tenure likely ended Friday. And it was probably painful if you're a passionate member of a Rocky Talk fan club.
[+] Enlarge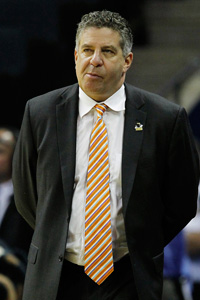 AP Photo/Bob LeveroneBruce Pearl's six-year tenure in Knoxville may have come to a close on Friday.
No. 9-seeded Tennessee collapsed at the hands of No. 8 Michigan 75-45 in a game that was more akin to a 16-1 matchup. The Vols only trailed by four at the half, but it turned into a 33-point deficit with 1:53 left against a Michigan team that is still figuring itself out this season.
"Well, we just didn't play with any heart out there,'' said Tennessee freshman
Tobias Harris
, who is expected to test his NBA draft stock this spring for the brief period allowed under NCAA rules. "I mean, Michigan came out and made shots, and we just did a terrible job of trying to cover them. And on the offensive end we rushed too many shots and basically just quit.''
Pearl didn't disagree.
"Well, when you get beat 42-16 in a half of basketball, we didn't play with heart and obviously we were terribly discouraged by the margin, the quality of Michigan's play, the poorness of our play and we did let down,'' Pearl said. "We unraveled.''
The world of Pearl and his assistants was rocked when Tennessee athletic director Mike Hamilton surprised them by making comments that Pearl's status wasn't known after the school had supported Pearl throughout the past year. Tennessee and the SEC had levied serious sanctions against Pearl ($1.5 million docked over a five-year period, a one-year ban from off-campus recruiting, similarly staggered penalties for his assistants coaches and an eight-game SEC suspension for Pearl doled out by commissioner Mike Slive) for misleading NCAA and school investigators about a cookout at his house in 2008 with high school juniors on an unofficial visit.
But the notice of allegations that came from the NCAA in February produced a secondary violation that wasn't known earlier in the fall. After Pearl had been sanctioned by the school, he and his staff had an unofficial contact with a junior at Oak Hill Academy (Va.). It is a charge that Pearl and his staff say they will contest.
But something has changed with Hamilton and the UT administration over the past week.
Yet, nobody -- the players or Pearl -- was using Hamilton's comments as a reason for the defeat to upstart Michigan, which now moves on to play top-seed Duke on Sunday in the third round for the right to go to Anaheim in the Sweet 16.
"This game was not indicative of our season in the sense that even when we were struggling down the stretch, we were right there in virtually every game,'' Pearl said. "The questions are going to be asked whether or not there was a distraction on the team. We tried really hard to have it be just about the basketball and the business at hand.''
But it's hard to believe that it was just about the game. Michigan had a surprising season. But the Wolverines had never played that well for a 20-minute stretch. Role player
Matt Vogrich
didn't miss a shot (5-of-5) and
Evan Smotrycz
smoked the Vols for two 3-pointers. The Wolverines had runouts with a
Tim Hardaway Jr.
, flush, and John Beilein looked like even more of a master with his sets.
"I think it's an understatement to say we were thrilled with our performance,'' Beilein said.
Pearl couldn't have been more disappointed.
And now his fate rests with the Tennessee administration. Pearl said he has no timetable to meet with Hamilton, but he is assuming that it will be sometime in the next week. Pearl said he doesn't have a contract, and he's hopeful he can still show how much he has meant to the school and what the program has accomplished. He said he's still confident that he will be the basketball coach when the Vols meet with the Committee on Infractions on June 10-11 in Indianapolis.
"Obviously, this didn't help and I didn't help myself in that regard,'' Pearl said of the 30-point loss. "But I hope that the body of work … I don't think the people at Tennessee are evaluating me based on whether or not we won or lost this game. I think there's a lot more to it than that. And I have great trust and faith in our leadership. We have very, very good people in these positions that I hope they still have great confidence in their coach.''
March, 18, 2011
3/18/11
2:59
PM ET
CHARLOTTE, N.C. -- If this was the last game for Tennessee head coach Bruce Pearl then it was not representative of his career with the Vols.
Tennessee under Pearl has been a consistently disruptive team that put opponents on the defensive and was usually the aggressor.


But the Vols were completely outmatched against Michigan in the second half as the Wolverines ran away with a
75-45 win
. The early fire that the Vols showed off the opening tip soon evaporated as Michigan ran its sets, was the disruptive defensive team and finished well on the break as well as making 3s.
Michigan looked like a team that enjoys playing together and had a purpose for each possession. Tennessee did not. The Vols weren't sulking or displaying poor body language but there just seemed to be a lack of overall fight with the crew. There were a few moments later in the second half after the lead grew to 20-plus. But it was too late.
Key stat
: The Wolverines were shooting over 50 percent and seemed to be an offensive machine throughout most of the latter stages of the first half and into the second. Michigan is starting to resemble the offensive squad that West Virginia had toward the last few seasons under John Beilein. This team went through growing pains last season under Beilein when it missed the tournament. This season it just took some time to get used to the system and once they grasped the concepts the Wolverines were a tough out.
Turning point
: I could go with the start of the second half when the Vols came out flat but I'd say it may have been when AD Mike Hamilton signaled the end of the Pearl era with his comments earlier this week on a Knoxville radio station. The Vols said the right things during the Thursday news conference but it was obvious that they saw the end was near for the staff. The staff couldn't hide its frustration, either.
The good
: Michigan has quite a youth brigade in Tim Hardaway Jr. and
Darius Morris
, two players who fully grasp the Beilein system and are excelling in it at this stage in the season. The role play from
Zack Novak
,
Evan Smotrycz
and
Matt Vogrich
was solid throughout and the Vols couldn't hang with supposedly higher level talent.
The bad
: Tennessee is usually one of the better traveling teams. It was clear that the Vols' fan base was done with this team considering the turnout. Tennessee gave the Vols' fans reason to stay home. If they had driven here then there would have been a reason for reimbursements.
Goodbye
: The end will likely come for Pearl sometime next week and the entire Vols' staff and probably for heralded freshman wing
Tobias Harris
, who is a talent that is probably ready to try the NBA draft.
What's next
: Michigan moves on to the third round to likely play top-seeded Duke, which plays Hampton later Friday afternoon. Duke and Michigan had a regular rivalry going for a spell but that has since been discontinued. Michigan has accomplished plenty so far this season and has nothing to lose going into a game against Duke.
March, 18, 2011
3/18/11
7:02
AM ET
CHARLOTTE, N.C. -- Let's take a look at the afternoon games set for the Time Warner Cable Arena:
No. 9 seed Tennessee (19-14) vs. No. 8 seed Michigan (20-13), 12:40 p.m. ET


ABOUT THE VOLS
Coach:
Bruce Pearl (462-144 in 19 seasons, 145-60 in six years at UT)
Last NCAA tournament appearance:
2010
All-time NCAA record:
16-19
Player to watch:
Tennessee's
Scotty Hopson
has to have a big-time game for the Vols to win. He's a difference-maker. The problem is that he's completely erratic. He can score eight like he did against Arkansas or 27 like he did against Pittsburgh. Hopson may be able to get off some shots against Michigan's defense, but he must hit them to keep the Wolverines off balance.
ABOUT THE WOLVERINES
Coach:
John Beilein (522-335 in 28 years, 66-46 in four years at Michigan)
Last NCAA tournament appearance:
2009
All-time NCAA record:
42-20
Player to watch:
Tim Hardaway Jr.
can be a game-changer for the Wolverines. He doesn't have his father's crossover but he can get to the rack and keep the Vols' defense off its axis. Hardaway Jr. will push the basketball at will and he has a backcourt mate in
Darius Morris
who can also challenge the Vols' guards.
THREE THINGS TO WATCH
1. The Volunteers' attitude:
How does Tennessee respond with the fate of its coaching staff unknown? AD Mike Hamilton essentially sounded the alarm that the staff is done after the Vols lose. Tennessee has been the most enigmatic team this season. No reason to think this should change now.
2. Michigan's discipline:
The Wolverines have been fundamentally strong this season. If they don't get bothered by Tennessee's pressure and can run their sets, then this game could take a decided turn early in favor of the Wolverines.
3. Brian Williams:
Williams has been injured at times but he also can be a decisive factor on the offensive backboard. If he stays out of foul trouble and remains active, that could be the difference for Tennessee.
No. 1 seed Duke (30-4) vs. No. 16 seed Hampton (24-8), approx 3 p.m. ET


ABOUT THE BLUE DEVILS
Coach:
Mike Krzyzewski (898-283 in 36 seasons, 825-224 in 31 years at Duke)
Last NCAA tournament appearance:
2010
All-time NCAA record:
94-30
Player to watch:
Duke's
Nolan Smith
was the ACC player of the year. He showed no signs of an injured toe while torching Virginia Tech for 27 points in an ACC semifinal game and then scoring 20 against North Carolina in the final. Smith will share the role with
Kyrie Irving
again for a few minutes. It shouldn't matter. Smith and Irving are selfless players and want to win a championship.
ABOUT THE PIRATES
Coach:
Ed Joyner (36-26 in second season overall and at Hampton)
Last NCAA tournament appearance:
2006
All-time NCAA record:
1-3
Player to watch:
Joyner says senior guard
Brandon Tunnell
and junior guard
Darrion Pellum
are two of the better guards in the country. He said on our ESPNU show Monday that the backcourt can hang with anyone. Now is the chance to prove it against Smith, Irving and
Seth Curry
.
THREE THINGS TO WATCH
1. Kyrie Irving:
When will he get into the game and for how long? Irving will play off the bench. He looked like he didn't miss a step in light workouts in Charlotte on Thursday. But how does he handle game speed, how will he deal with cutting on the court, blowing by a defender, making a 3-pointer or a mid-range shot?
2. The rotation:
How does Coach K deal with the rotation of guards with Smith, Irving, Curry and
Andre Dawkins
? Does this affect how and where he plays
Kyle Singler
? Does he go with three guards, Singler and a Plumlee?
3. Hampton's decision:
Do the Pirates run with Duke? Does Hampton try to take the air out and slow down every possession to fluster the Blue Devils? Is this is a game at the half?