College Basketball Nation:

2011 Nike Skills Camps
June, 29, 2011
6/29/11
12:16
PM ET
Letters From Camp are my dispatches from this weekend's Nike Skills Camps in Chicago. Previously: On Thomas Robinson, Ashton Gibbs, Jeffery Taylor and a bullet-style notebook roundup.
CHICAGO -- Being a national champion has its perks. Immunity from insult is chief among them.
Resting against a wall after an impressive Saturday session at the Amar'e Stoudamire Skills Academy in Chicago, Connecticut forward Alex Oriakhi explained this matter in simple terms.
"You know, guys always throw a little friendly trash talk out there at these things," Oriakhi said. "[Syracuse guard] Scoop Jardine and [Villanova guard] Maalik Wayns were going at each other a little bit this week, talking a lot about whose team was better and stuff like that.
"No one really said anything to us, though. What are you going to say? We won the whole thing."
Yes, Oriakhi, like teammate and fellow camp participant Shabazz Napier, finds himself in the strange basketball nirvana that few things in the sport can offer. Who cares if that national title came in a year most derided for its lack of "great" teams? Who cares that Connecticut won its title in a game most college hoops fans would rather forget? (The ugliness of Butler's offensive effort haunts us all. Except, you know, UConn fans.) Who cares that star Kemba Walker -- the biggest reason the Huskies barnstormed through Maui in November, won the Big East tournament in March, notched a No. 3 seed in the NCAA tournament and eventually took the whole damn thing -- will be suiting up for the Charlotte Bobcats when (or if) the NBA returns from its labor negotiations this winter?
From now until at least the next "One Shining Moment," the Huskies are national champions. They won the whole thing. What are you going to say?
Buffers against summer camp trash talk don't get more comprehensive than that. But as Oriakhi and Napier competed against a bevy of college hoops' most talented guards and forwards in Chicago last week, they also found themselves focusing on the future, a future that doesn't include the do-everything uber-guard from the Bronx.
It's L.A.K.: Life After Kemba. This is where things get tricky.
"Our biggest problem coming up this year is learning how to play without him," said Napier, a soon-to-be sophomore.
Napier's is not an overstatement. Few players in the nation last season were more important to their teams than Walker was to Connecticut. The 6-foot-1 guard did a bit of everything. He scored (23.5 ppg), set up teammates for open looks (4.5 apg) and was the second-leading rebounder (5.4 rpg) on a team that thrived on its ability to outrebound opponents, especially on the offensive end of the floor. Walker played 92.4 percent of available minutes. Despite his reputation as a volume scorer, he was efficient, too; his offensive rating of 116.7 ranked fourth in the nation among players whose usage rate exceeded 28 percent of his team's possessions. Walker drew fouls at a copious rate.
He was so good, UConn coach Jim Calhoun could play him in ways most guards can't handle. As a point guard, Walker could initiate the offense, draw defenders and find shots for teammates -- Jeremy Lamb, Napier and Oriakhi especially -- that gradually and consistently improved from November to March. As a shooting guard, Walker could run off screens and free himself for open looks like a miniature Richard Hamilton.
"Shabazz made a point to me about Kemba one time," Oriakhi said. "He said no one stops Kemba Walker. The only person who can stop Kemba is Kemba. That's pretty much what happened all year."
Perhaps most importantly, the veteran Walker was the heart and soul of a team that included an unheralded batch of two freshmen and two sophomores in its starting lineup for the entire season. He put the team on his back, made every big shot, kept the Huskies in games when the rest of the lineup looked shellshocked, confused or just plain tired.
How do you replace that?
Can you
? And if you can't, what does that mean for the Huskies in 2011-12?
[+] Enlarge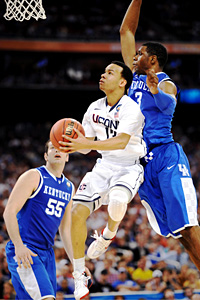 Bob Donnan/US PresswireShabazz Napier came up big during UConn's 11-0 postseason run.
For Napier, the answer's actually kind of simple: Do what Kemba did.
"I won't say I can replicate what he did," Napier said. "But one thing he taught me and the rest of our team is the value of hard work. You go out there and give it your all no matter what. Every practice we had, he practiced like he was a guy that was trying to make the team. He's the star of our team, but you looked over at him and he was always pressing himself, challenging himself. It was like he was a walk-on."
That work ethic was one of the reasons Walker morphed from 2010's promising but turnover-prone point guard to 2011's biggest wire-to-wire star. Another lesson? Patience. With its mix of obvious talent, so-so efficiency and frustrating mistakes,
Napier's freshman season bore an uncanny statistical resemblance
to Walker's sophomore year. Now, without Walker at his side, Napier will be stepping into the Huskies backcourt as its full-time ballhandler and facilitator, and he'll assume all of the responsibilities that come with it.
"A lot is going to be put on my shoulders this season," Napier said. "I'm the floor general now. Last year I learned to work hard, to be patient, to listen to the coaches at all times -- that's stuff Kemba did. Now I just have to put it all on the floor and make the most of the opportunity."
"People forget that Shabazz was just a freshman," Oriakhi said. "He had a chance to work with one of the best guards in the country every day for an entire season. He's still learning not to be so turnover prone, to not try to make the big play all the time, and I've seen him get better. I think he's going to be one of the best point guards in the country next year."
Of course, Napier doesn't need to make a Kemba-esque leap; the 2011-12 Huskies are sure to be a more balanced offensive team. Freshman swingman Jeremy Lamb became Walker's best second option during the national title run, and his combination of shooting touch, length and athleticism -- alongside a preternaturally refined game -- emerged at the best possible time, giving Calhoun a deadly weapon to use alongside Walker.
Lamb is in line for a breakout season, as is Oriakhi, the bruising power forward whose sheer size made him one of the best offensive rebounders in the country last season. Despite Walker's brilliance, there were plenty of available misses for UConn in 2011, and Oriakhi frequently retrieved them, earning his team second-chances opportunities or new possessions on 14.5 percent of available possessions. In all, the Connecticut was the seventh-best offensive rebounding team in the nation last season.
Meanwhile, Calhoun -- who this time last year was besieged by both an NCAA investigation into recruiting violations
and
concern that the best of his recruiting days were behind him -- has quietly reloaded his talent in vintage UConn style. This fall, the Huskies will welcome
two players ranked in the ESPNU 100
, including point guard Ryan Boatright, a lightning-quick ballhandler from Illinois and DeAndre Daniels, a 6-foot-7 small forward from California who
our recruiting guys call
"one of the elite scorers in the country." Both players are likely to receive big minutes in a variety of roles this season.
Still, in the end, there's no escaping the fact that the Huskies can't replace Walker. Or, more to the point, they can't replace him with any one player.
So what can they do? Take the lessons learned from Walker's brilliant 2011 season and spread them evenly through a more balanced, experienced and -- arguably -- more talented team. Walker isn't in Storrs anymore. But he's not exactly gone, either.
And if finding renewed motivation after ultimate success is part of the Walker curriculum, well, the Huskies seem to have soaked up the lesson.
"We're not going to be a team that just sits around and wonders what we're going to do now that Kemba left," Napier said. "We've got a lot more to prove."
June, 29, 2011
6/29/11
9:09
AM ET
Letters From Camp are my dispatches from this weekend's Nike Skills Camps in Chicago. Previously: On Thomas Robinson, Ashton Gibbs and Jeffery Taylor.
One final bit of housekeeping: Beginning this afternoon, I will be traveling in Ireland and various other parts of Europe for about 10 days. In the meantime, Diamond will see you through to the other side. Oh, and I'll be sure to send you a postcard. Cheers.
Because media availability was limited at this weekend's camp to a quick 10 minutes after the workouts were over -- campers were almost immediately shuffled onto a bus and driven back to their hotel -- the opportunity to spend individual time with more than a handful of players was pretty limited. (Not that I'm complaining. Seriously! These events are for the players and NBA scouts; media availability is almost a bonus.) But I did have the ol' notebook and pen handy. Here are a few things I noticed from the sidelines in my two days at Attack Athletics. For the
second straight year
, we go ... to the bullet points! (That's your cue to cheer wildly. No? Let's just move on.)
Kevin Durant remains the coolest camp counselor ever
. I
talked about this last year
, and
made copious mention of it in Tuesday's post on
Jeffery Taylor
, so I won't dwell on it too much here. But just for good measure, here are a couple more amateurish videos I made of Durant participating with his campers in some the structured five-on-five games that ended Sunday's activity. They're nothing special -- there
were no high-flying dunks of this magnitude to offer
-- but hopefully they offer a bit of a behind-the-scenes look at the environment the campers participated in. Also, you know: Kevin Durant. A year later, that's still really cool. (If you want
a roster to refer to
, here you go.)
Look out, world. Jared Sullinger just keeps getting better.
In
an April interview with the New York Times
, Satch Sullinger, Jared's father, cited his son's desire to expand his game and adopt more of a true power forward role as a collegian as one of the reasons Sullinger turned down a likely top-five spot in the 2011 draft. This process is already underway. On Saturday, Sullinger caught the ball in unusual spots -- he was often 10 or 15 feet away from the rim, as opposed to the low block spot he dominated in 2010-11 -- and, rather than back his defender down for an easy interior bucket, pivoted away from pressure, squared up and knocked down silky face-up jumpers from the wing.
At one point, Sullinger even drained a 3-pointer, and it came with the sort of panache (and mechanical solidity) that exceeded some of the better point guards in the gym. Sully could continue to dominate the college game as a low-post force, but he seems determined to move away from the hoop and become what he'll have to be at the next level: a power forward. So far, so good. (And, if you have to guard him, so,
so
scary.)
Can Connecticut's supporting cast step up?
We're a long way from knowing the answer to that question -- which could be rephrased as "Can Connecticut compete for a national title with
Kemba Walker
in a Bobcats jersey?" -- but early signs are positive. Two key pieces from UConn's run, guard
Shabazz Napier
and forward
Alex Oriakhi
, were impressive in their own rights Saturday. Napier said he was working on slowing his game down and making better decisions. Oriakhi said he was looking to expand his offensive game outside the immediate rim area. Both displayed such improvements this weekend, something UConn fans, drunk on the program's suddenly revived success, will very much like to hear.
Jordan Taylor's ill-timed struggles.
If you're like me, you tend to think that an
incredibly efficient
(if undersized) point guard like Wisconsin star Jordan Taylor deserves a chance to prove his worth to the NBA over some marginal foreign prospect with a silly contract buyout and a 4.5 points per game average in Latvia. Call me crazy, I know. But if you're rooting for Taylor -- one of the smarter, funnier, down-to-Earth college players in the game today -- to catapult into the NBA draft stratosphere, well, maybe there's a reason why that hasn't happened.
To be frank, Taylor didn't impress many scouts Saturday. The quickness of opposing defenders (Kentucky freshman Marquis Teague especially) gave him fits bringing the ball up the floor, he often found himself fighting merely to get the ball to a teammate on the wing, and he was never able to free himself up for that patented 3-point jumper he hit so often in Wisconsin's brutally slow swing system. If I've said it once, I've said it, like, five other times: It was just two hours on a random Saturday in June. Small sample size. All that. Still, against some of the better point guard prospects in the land -- guys who will set the standard for NBA backcourt riches in 2012 -- Taylor had a decidedly disappointing outing.
Yep, these guys are good.
I don't do recruiting stuff --
better to leave that to the experts
-- and it's hard for me to tell how good players are when they're playing against overmatched high school opponents anyway, so this weekend was really my first look at a handful of freshmen that could have major impacts for their teams and the college hoops landscape at large in the coming season. (Last year, such freshmen included Jared Sullinger and
Harrison Barnes
. That went pretty well, especially the Sullinger thing. And yes, I'm still patting myself on the back for that one.) So: What did this year's freshmen have to offer?
The answer is, well, a lot.
Kentucky freshman Marquis Teague has been hailed as the latest in Kentucky coach John Calipari's long list of successful freshman point guards, a legacy that includes Derrick Rose, Tyreke Evans, John Wall and, most recently, Brandon Knight. There's no reason to think Teague can't live up to that billing. During Saturday's full court five-on-five session -- in which guards from the Deron Williams Skills Academy played with forwards from the Amar'e Stoudamire camp -- Teague sliced and diced opposing defenders, found his way into the lane with relative ease, and showcased an intuitive understanding of the various ways to attack off a ball screen. One play in particular stood out: About 30 feet from the hoop in the corner of the court -- picture where Duke ran its spread high-screen sets for Kyrie Irving and Nolan Smith this season -- Teague got a screen from fellow Kentucky freshman Anthony Davis. The guard split the two defenders, took off toward the rim, saw help arrive and dished a nifty little bounce pass to Davis, who crashed toward the basket and finished with a ferocious dunk. The play was as impression a piece of team basketball as I saw all weekend, and Teague deserved the credit for its creation.
Speaking of Davis, well, it's not hard to see why college recruiting services (including our own) have named him the best prospect in the class. Nor is it difficult to see why pro scouts are already drooling. To use a once-banished draft term, Davis is incredibly long. He's also very athletic. That combination allows him to rise above other tall and athletic defenders to snatch rebounds, challenge shots and finish at the rim. But there's also a reason Davis didn't become a highly touted prospect until this year: He's still pretty soft. That's not really a knock -- we're talking about a 6-foot-10 college freshman with a 7-foot-4 wingspan, after all -- but it is something that could hamper Davis' production in his first full season as a college hoopster. Davis has the height to play center at the college level -- with Terrence Jones back in the fold, it seems likely that's where Kentucky will opt to play him -- but can he stand toe-to-toe with big, physical upperclassmen? Won't Festus Ezeli, to name one example, be able to impose his will on this kid through strength and positioning? For that reason, it's easy to see a few growing pains for Davis, who might draw a lot of comparisons to Baylor's Perry Jones: Both are insanely talented, versatile, athletic stretch forwards who don't quite have the frame to bang in the low block. Jones struggled somewhat during his first season in Waco and decided to return for a second. Could Davis do the same?
Florida freshman-to-be Bradley Beal was also on hand at the Deron Williams camp. The No. 4-ranked prospect in the 2011 class, Beal has been touted as a pure shooter, and he showcased a bit of that ability Saturday afternoon. But he was arguably most impressive off the ball. Beal crashed the glass from the weak side for a series of offensive rebounds and putbacks, using his 6-foot-7 wingspan (which is sort of crazy for a guy measured by camp staff at 6-foot-3.5) to rise to the rim and finish plays against taller defenders. Billy Donovan's team desperately needs a more consistent outside shooting presence. Beal should easily provide that. But he may also bring some bonus abilities to the floor, too.
Washington guard Tony Wroten, Jr. might have been the most impressive player during scrimmages Saturday. He hit outside shots. He beat defenders off the dribble. He ran the fast break with impressive ease, and on several occasions -- including one lightning-quick, no-look pass perfectly placed in the arms of a rim-running forward -- he got the NBA scouts in the audience murmuring about his court vision and decision-making.
Duke guard Austin Rivers, meanwhile, did not do as much to impress. The son of Celtics coach Doc Rivers is obviously talented, and he might already be the quickest player in the country with the ball in his hands. But he didn't have much success breaking down defenders and creating his own shot, his main calling-card as a player to date. Of course, Rivers didn't have much opportunity; the only time he faced actual defenders Sunday was during those structured five-on-five scrimmages. Still, it will be interesting to see if Rivers suffers some early struggles adjusting to the strength and speed of the college game.
And last but not least ... everybody loves the Euro Step.
Are you familiar with the Euro Step? You know,
the move Manu Ginobili patented
? The move
Dwyane Wade used to eviscerate Kevin Garnett
in the NBA playoffs? It really is all the rage. One station in Sunday's skills camp drills circuit was designed to show players a variety of useful moves, including step-back dribbles, crossovers, hesitations and the like. But nearly every drill required its campers to finish with a carefully calibrated Euro Step: One foot goes here, the fake comes next, the other foot falls, and you finish with the opposite hand. (It was almost exactly like the Ginobili video above.)
Is this the new hotness? Are young players going to start Euro-Steppin' to the beat? Three reasons the answer may be yes:
For one, coaches (or at least skills trainers) seem to love the move. Players want to please their coaches. Over time, that stuff sticks. When I was in high school, I remember being relentlessly drilled on the two-footed jump stop by camp coaches. I still bust that thing out at pickup games. Why wouldn't the nation's best young stars do the same?
It works. For proof, please see Exhibit A at the Wade-Garnett link above.
It's easily the single most unstoppable move in NBA2K11 to the point that it's borderline unfair: Once you master the Euro Step, your ability to score around the rim in an otherwise realistic, difficult game skyrockets. How many young, basketball-obsessed gamers are executing pixelated Euro Steps this very second? How many of them will go on to play college basketball?
Yes, I'm afraid the Euro Step, once a nifty little Ginobilism, is on its way to global hoops domination.
Alas, as with any transformational revolution, there are dissenters. When Sunday's Durant Skills Camp participants lined up for another round of "do this, then Euro Step," one of the NBA scouts within earshot half-jokingly cracked: "Remember when that used to be a travel? How is that not a travel?!"
To be honest, I don't know. But you can bet I'll be trying out my own Euro Step the next time I'm at the gym. As the old saying goes, if you can't beat 'em ... break your ankle trying to join them. Something like that, anyway.
June, 28, 2011
6/28/11
11:21
AM ET
Letters From Camp are my dispatches from this weekend's Nike Skills Camps in Chicago, with one last big recap to come later today.
CHICAGO -- There was a running deadpan joke among the NBA scouts at the Kevin Durant Skills Academy, one I heard in at least two different forms during the two hours of the camp's open media availability at Attack Athletics here Saturday:
"Who's the tall kid without a number on? He's not on the roster, but I think we'd draft him first round."
The "tall kid" is, of course, Kevin Durant, who is unfortunately no longer available to NBA teams: He was drafted No. 2 overall by the Seattle Supersonics in 2007, after which he quickly became rookie of the year, the youngest scoring champion in NBA history and one of the most potentially transformative young stars to enter the game since LeBron James.
The 22-year-old Durant -- who would have been a rookie last season had he stayed in school all four years -- doesn't just coach at the skills academy that bears his name. He runs the drill circuit with campers (
a who's who of alluring collegiate wing players
) practicing one-on-one moves, footwork, screen cuts, and the fundamentals of receiving the ball, among other things. He then eagerly hops into the five-on-five drills that close the camp's first night.
It's fascinating to watch, this NBA superstar using his own camp to get some extra gym time in, almost like he doesn't see the 40-foot poster bearing his likeness on the gym's massive end wall.
It also means it's hard for one of the
actual
camp attendees to look like the best player on the floor. But give Vanderbilt's Jeffery Taylor credit: For one night, he wasn't all that far behind.
Taylor wasn't flawless Sunday, but he did a lot of things to make those apathetic NBA scouts take notice. His combination of ball skills and penetrating ability comes packaged in a wide, well-built 6-foot-6 frame. His athleticism allowed him to turn one drill -- in which campers were asked to catch the ball, pivot, and lay it in with their opposite hand -- into a surprisingly impressive dunkfest. When campers were shown a series of three- and four-stage ball moves ("OK, this is a crossover, then a stepback, then a BIG step through the lane, and then we want a clean finish over coach, who will be standing on that chair near the goal. Everyone got it?"), perhaps only North Carolina forward
Harrison Barnes
and Kentucky guard
Doron Lamb
picked up the instruction with the same immediate ease as the Vanderbilt swingman.
It's that athleticism, mixed with intuitive ability, that made Taylor a potential first round NBA prospect in 2011. The only thing keeping Taylor from initiating a full-on NBA scout slobberfest is his shooting. As a freshman, Taylor shot 22 percent from three. As a sophomore -- this is where things get ugly -- that percentage dipped all the way down to .091; Taylor attempted a mere 11 3-pointers all season and made only one.
During his junior season, another strong Vanderbilt campaign that ended in another surprising first-round NCAA tournament upset, Taylor massively improved both his willingness to shoot from his range and his ability to do so. He attempted 113 shots from beyond the arc, making 39 and improving his three-point field goal percentage to a perfectly respectable 35 percent.
Still, a few of the gathered scouts maintained their concerns about Taylor's shooting. One scout I asked said he "really liked" Taylor, but that he had to be a better shooter; another looked at me and made the wrist-flicking follow-through motion, which I took as universal scout sign language for "can he shoot?"
To be fair to Taylor, his team hasn't often needed his shooting. In 2011, sophomore guard
John Jenkins
emerged as one of the nation's best long-range threats; Jenkins posted a 58.4 effective field goal percentage, a true shooting percentage of 64.0 and an overall offensive rating of 123.5, the nation's 30th most efficient mark. Forward
Festus Ezeli
is the team's best interior threat, a big, physical bruiser who sets up shop on the low block and muscles defenders into submission. Ezeli is the grinding banger; Jenkins, a candidate for SEC player of the year in 2011, is the sharpshooting star whose name you're most likely to know.
That dynamic could explain Taylor's tendency -- or at least his perceived tendency -- to float aimlessly for stretches of games. To the scout's eye, Taylor is good at a lot of things but not great at any of them. He doesn't have a singularly identifiable area of the floor that he truly dominates. When he stops attacking the rim, he can get lost in the fray, and like a miniature version of LeBron James, the outsized impact he
should
be having outweighs the contributions he's actually making.
But shooting is still the primary issue, and to reach an NBA level, shooting is where Taylor needs to demonstrate the most improvement in the coming season. He showed some of that (in an admittedly small sample size) on Sunday, draining more than his share of high-arcing three-pointers during those aforementioned individual drills.
Still, those are long-term issues; the NBA scouts and their concerns will wait a year. In April, Taylor, along with Jenkins and Ezeli,
decided to ignore the various levels of NBA draft interest
in their respective talents and come back to Vanderbilt for another crack at an SEC title and an NCAA tournament run. The school announced the decision with statements from all three players, and Taylor told me the decision was made collectively among all three players. Those three are the anchors of a team that will return all five starters -- four of whom will be seniors in 2011-12 -- and is looking to do accomplish far more than the respectable SEC finishes and early tournament upsets that have come to characterize their tenure together.
In all, Taylor's individual needs as a player dovetailed nicely with his teammates' desire to compete for a spot in the Final Four. (On Monday, Georgia coach Mark Fox told the SEC coaches teleconference that he thought Vanderbilt was a serious contender in that regard.) Taylor can spend a year demonstrating that his shooting is only going to improve. In the meantime,
like Pittsburgh guard
Ashton Gibbs
, he has to do even more of what made him a draft prospect in the first place.
Anyway, if two hours of drills on a Sunday in June is any indication -- and hey, maybe it isn't! -- Taylor might be right on the cusp of a breakthrough. At the very least, with Durant on the floor, it's hard to make an impression. The Vanderbilt guard has already done that much.
June, 27, 2011
6/27/11
4:30
PM ET
Letters From Camp are my dispatches from this weekend's Nike Skills Camps in Chicago, with more to come tomorrow.
CHICAGO --
Ashton Gibbs
flirted with the NBA draft. The NBA draft did not flirt back.
At first glance, this dynamic might be difficult to understand. After all, Gibbs was a First Team All-Big East selection in 2011, an honor the Pittsburgh guard won thanks primarily to brilliant outside shooting. He was one of the most efficient scorers in the country last season. His offensive rating of 127.9 ranked him among the country's 20 best offensive players. Gibbs got the foul line frequently. His turnovers were infrequent. For the second straight year, his shooting was a lethal weapon, one that helped lead Pittsburgh -- one of the nation's best (and somehow most underrated) offensive teams -- to a Big East title and a No. 1 overall seed in the NCAA tournament.
Despite all that production, NBA scouts shared concerns about Gibbs's size, athleticism, ability to penetrate and create for teammates and -- perhaps more than anything -- whether or not Pittsburgh's lethal two-guard could play the two in the NBA. What about point guard? Could Gibbs make the switch?
After a couple weeks spent testing the waters (and a
confusing miscommunication about his desire to stay in the draft
), Gibbs realized he would have likely been a late second-round pick. So he returned to Pittsburgh for his senior season with an earful of feedback from NBA scouts and general managers.
That feedback helps explain Gibbs's presence at the Deron Williams Skills Academy Saturday, where Gibbs teamed up with -- and competed against -- a
blend of the best returning and incoming point guards
in all of college hoops. (About freshmen Marquis Teague and Tony Wroten Jr., who will attend Kentucky and Washington respectively, Gibbs said: "Those guys got a lot of confidence." Indeed they do.) The camp is heavy on strategic instruction designed for guards who spend lots of time with the ball in their hands -- the sort of tips Gibbs seemed to soak up like a sponge.
"It's all the little things," Gibbs said. "When to go and when not to go. How to read the defense. Learning how to make reads off of pick and rolls. Decision-making is big."
This seems like a minimal adjustment, but it's not. In his past two seasons, guard
Brad Wanamaker
has facilitated much of Pittsburgh's offense, while Gibbs has been the Panthers's designated knockdown shooter. Gibbs comes off screens as well as anyone in the college game, and his lightning-quick release meant the ball experienced only brief stopovers in the shooting guard's hands before it began its arcing departure toward the rim.
Now, with Wanamaker gone, Gibbs will likely be called on to facilitate his teammates' offense as much as his own. He'll play some combo guard, some pure point guard, and some pure shooting guard as junior guard
Travon Woodall
steps into a larger role in the backcourt and the Panthers incorporate two highly ranked freshmen centers Khem Birch and Malcolm Gilbert into a frontcourt that still includes
Nasir Robinson
but lost rugged forwards
Gilbert Brown
and
Gary McGhee
to graduation.
Fortunately for Gibbs -- or for his draft stock, at least -- Pittsburgh coach Jamie Dixon's new lineup will require Gibbs to be more aggressive. He'll have to get to the rim. He'll need to initiate offense. But he'll also have to do what he does best.
"You still have to knock down open shots, and that's what I do," Gibbs said. "But it's about doing a lot of the little things differently."
It's a series of subtle changes. But if Gibbs can recalibrate his game ever so slightly -- if he maintain his production while introducing new tools to the arsenal -- then Pittsburgh is in for a much-needed monster season from the talented senior.
And when Gibbs initiates his second contact with the NBA in 2012, maybe this time the interest won't be quite so one-sided.
June, 27, 2011
6/27/11
2:53
PM ET
Letters From Camp are my dispatches from weekend's Nike Skills Camps in Chicago, with more to come today and tomorrow.
CHICAGO -- What does the name
Thomas Robinson
mean to you?
To the casual sports fan -- like the helpful videographer sitting next to me at the Nike Elite Skills Camps at Attack Athletics this weekend -- Robinson's name immediately conjures the
devastating image
of him consoling his young sister at the funeral of his mother,
who suffered a heart attack at the age of 43
in January. Lisa Robinson was the third member of Robinson's family, along with his grandfather and grandmother, to pass away in a three-week span in January, leaving Robinson and his 7-year-old sister without any family they had ever been close to.
"Oh, that's the kid from Kansas," the videographer said. "Lost his mom this season, right? Awful story."
It's safe to say Thomas Robinson wants to be known for more than heartache. Who wouldn't?
The good news: If Robinson plays his junior season at Kansas the way he played at the Amar'e Stoudamire Skills Academy on Saturday, that increased recognition -- and a
cherished lottery spot in the jam-packed 2012 NBA draft
-- is sure to follow.
It's hard to learn much from these camps, which are largely designed with NBA scouts in mind. But on Saturday, as some of the nation's best collegiate forwards (with
Jared Sullinger
,
Alex Oriakhi
and Mouphtaou Yarou
among them
) ran two hours of five-on-five scrimmages with some of
the nation's best guards
, it was impossible to ignore Robinson's play. The Jayhawk flew down the court, challenged shots at the rim, finished inside rebounds and low-post moves with strength and athleticism, and threw down the indisputable dunk of the day -- a cocked one-handed fast break alley-oop that caused plenty of stone-faced NBA scouts in attendance to cast each other knowingly excited glances.
Those scouts had no doubt seen Robinson before. After all, the forward was a rebounding force as a sophomore. Robinson grabbed 18.8 percent of available boards on the offensive end in 2011, which is nearly as impressive as his 31.1 percent rebounding rate on the defensive end. Robinson
didn't play the minimum number of minutes to qualify
for Ken Pomeroy's individual player rankings in those statistics. If he did (assuming his rates would have stayed as high in a larger sample size), Robinson would have
ranked No. 3 in the nation in OR%
and
No. 2 in DR%
.
The reason -- or reasons -- Robinson didn't get those minutes begins with an "M" and ends with "Orii." Marcus and
Markieff Morris
lorded over the Kansas frontcourt in 2011, much like Cole Aldrich dominated the Jayhawks' interior in 2010. As Robinson said Saturday (as you can see in the above clip), he had only limited opportunities to showcase his skills.
Now, after the Morris twins' back-to-back selections in last Thursday's NBA draft -- and with no
obvious incoming freshmen ready to step in just yet
-- Robinson will move into a much larger role in the Kansas frontcourt. He's likely to be joined by 7-foot center junior
Jeff Withey
, the only other returning forward on the roster.
Whether Robinson will be able to maintain his gaudy efficiency numbers is yet to be seen. Withey won't quite attract the attention of defenses the way the Morris twins did. Robinson also needs to prove he can harness a true post game; in 2011, Robinson was a rim-runner, an athletic forward who saw a shot go up and attacked it with gusto, but not one who frequently initiated his own offense with his back to the basket. Those are among the changes Robinson said he was working on this weekend, in addition to his outside jumper and his passing. He's already anticipating the double-teams.
Still, it's not easy to step into a gym with Sullinger, Yarou, Oriakhi, Mason and
Miles Plumlee
and even touted Kentucky freshman Anthony Davis and look like the best player on the floor. That's what Robinson did Saturday. If all goes as planned, we'll remember that performance as a mere preview of what Kansas fans have to look forward to in 2011-12. By then, everyone will know Thomas Robinson's name. Only this time, it'll be on his terms.