College Basketball Nation:

2011 San Diego State at BYU
January, 27, 2011
1/27/11
2:40
AM ET
By
Diamond Leung
| ESPN.com
PROVO, Utah -- With the game in hand in the final minute, the crowd in the Marriott Center chanted in unison, "You got Jimmered!"
Jimmer Fredette
promptly buried a floater in the lane before checking out – an appropriate exit for a player who scored 43 points and left to the sound of more cheers with the ninth-ranked Cougars cruising to a
71-58 win
against No. 4 San Diego State on Wednesday. In a game between two top-10 teams that seemed to double as a rock concert, students stormed the court with the historic 20-game winning streak of the previously unbeaten Aztecs having ended and the idol himself still lingering in their midst.
After Fredette finished with a television interview, fans pressed up against his exit route along the press tables and reached out to touch him.
"It was kind of scary," Fredette said with a laugh.
Think of how the rest of the Mountain West feels after Fredette tore San Diego State apart with an offensive showcase not seen since, well, last week. He topped 40 points for the third time in four games to boost not only his national player of the year candidacy, but also the Cougars into first place in the Mountain West.
[+] Enlarge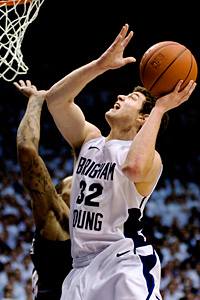 Douglas C. Pizac/US PRESSWIREBYU's Jimmer Fredette made 14 of 24 shots from the field for 43 points in a win over No. 4 San Diego State.
Like San Diego State, BYU is now 20-1 after Fredette went 14-for-24 from the field, scoring on hard-nosed drives to the basket, jump shots off his crossover, and the occasional shot from beyond the arc that's nothing more than a prayer for everyone else.
"You be aggressive, you play your game," Fredette said. "I wanted to be aggressive right from the get-go."
Fredette poured in BYU's final 15 points of the first half, but also needed help as the Aztecs led by a point at halftime.
He got it from the tough play of 6-foot-9 forward
Brandon Davies
, who scored 14 points and helped double the post.
James Anderson
came off the bench with five blocks, helping bother San Diego State's vaunted frontcourt and contain
Malcolm Thomas
(4-for-11, 10 points) and
Billy White
(3-for-9, six points).
Kawhi Leonard
had 22 points and 15 rebounds, but was feeling the effects of flu-like symptoms and given two bags of IV before the game.
Even though it came before a hostile sellout crowd of 22,700, the loss stung San Diego State, which shot only 35 percent from the field and had the nation's longest winning streak stopped cold. The Aztecs grabbed 18 offensive rebounds, but couldn't capitalize.
"We're bitterly disappointed," San Diego State coach Steve Fisher said. "It's been 10 months, two weeks since we've had that feeling [of losing]."
Fredette, whose brother T.J. fired up the crowd before the game with a Jimmer-inspired rap song entitled "Amazing," simply wouldn't let BYU lose.
And the crowd noise was deafening to the point that Fredette couldn't help but hear the "You got Jimmered" bit.
"It was a funny chant," Fredette said. "I guess they turned it into a verb … an action verb."
He said his goal wasn't to put up 40 and that while it's a big win, it's still simply a regular-season win for BYU, which still has to play at San Diego State in four weeks.
All true, but after a virtuoso performance that BYU will not soon forget, one thing could not be denied…
On this night at least, the San Diego State Aztecs were Jimmered.
January, 26, 2011
1/26/11
10:48
PM ET
By
Diamond Leung
| ESPN.com
T.J. Fredette, brother of Jimmer, led BYU fans in a pregame rap session at the Marriott Center before the Cougars' game against No. 4 San Diego State on Wednesday night.



January, 26, 2011
1/26/11
9:23
PM ET
By
Diamond Leung
| ESPN.com
PROVO, Utah -- San Diego State standout forward
Kawhi Leonard
experienced flu-like symptoms today and received an IV at the Marriott Center, but is expected to play, a team spokesman said before the BYU game.
Leonard, who vomited twice, is warming up and shooting around in the arena before the game.
He averages a team-best 15.7 points and 10.3 rebounds.
January, 26, 2011
1/26/11
8:47
PM ET
Here are some facts and figures from ESPN Stats & Information to get you prepared for Wednesday night's top-10 showdown between San Diego State and BYU ...


1. With 20-0 San Diego State facing 19-1 BYU, we'll see a very rare battle this late into the season. According to the Elias Sports Bureau, this will be the first time in the past 10 years that a team 20-0 or better team faces a one-loss team. In fact, only once in the past 10 years has a team 20-0 or better team faced a team with two losses. That was when 26-0 Memphis lost to 24-2 Tennessee in a No. 1 versus No. 2 battle in February 2008.
2. This is the first time in more than five years that two top-10 teams from outside the power six conferences have squared off. On Dec. 27, 2005, No. 4 Memphis beat No. 8 Gonzaga 83-72 despite 34 points from Adam Morrison. Memphis outscored Gonzaga 17-5 down the stretch to win.
According to the Elias Sports Bureau, Wednesday's matchup will be only the fourth meeting in the past 10 seasons of top-10 teams from outside the power six. The last time this happened in a conference game? Louisville topped Cincinnati 93-66 in a Conference USA matchup in 2004.
Top-10 Matchups Outside Power 6 Conferences, Past 10 Seasons
2011 -- No. 4 San Diego State at No. 9 BYU
2005 -- No. 4 Memphis 83, No. 8 Gonzaga 72
2004 –- No. 6 Louisville 93, No. 5 Cincinnati 66
2002 –- No. 4 Cincinnati 63, No. 9 Marquette 62
3. Apart from C-USA, the previous non-power conference with a top-10 matchup between two of its teams? According to Elias, it was the Atlantic 10 when Virginia Tech and UMass did battle back in 1996.
4. This will be the first battle of top-10 teams in Mountain West history. However, it almost happened just last season when 12th-ranked New Mexico beat No. 11 BYU.
5. Fun fact: In the preseason poll, SDSU and BYU were the top two teams in the receiving votes category. Meanwhile, two of the top three in that poll (Kansas State and Michigan State) are now unranked.
6. BYU is first in the RPI and San Diego State is fourth. The last time two non-power conference schools finished in the top 5 of the RPI? It was the 1995-96 season, when UMass (2nd) and Cincinnati (4th) did so.
7. BYU has won 11 of the past 12 meetings at home against San Diego State. As Mountain West opponents, BYU is 10-1 at home against San Diego State. This will be the first game between a pair of top-10 teams in Marriott Center history.
8. San Diego State is 0-6 all-time in the NCAA tournament. Meanwhile, BYU holds the record for most NCAA tournament appearances (25) without a trip to the Final Four.
9. San Diego State's 20-game winning streak is the longest in the 90-year history of the program, snapping the 1955-56 team's 13-game unbeaten run. In addition, the Aztecs are 5-0 in league action for the first time since 1966-67, when they were playing in the California Collegiate Athletic Association (CCAA). At 19-1, BYU has tied the best 20-game record in program history with last season's squad and the 1987-88 team.
10. Over his past five games, BYU guard
Jimmer Fredette
is averaging 34.2 points per game. Included in this stretch are games of 47 points at Utah and 42 points in the Cougars' last game at Colorado State on Saturday.
January, 26, 2011
1/26/11
6:24
PM ET
Saddle Up is our semi-daily preview of the night's best basketball action. Everything it do, it do it big. (Yeah, uh huh ...)
No. 4 San Diego State at No. 9 BYU, 10 p.m. ET, CBS College Sports:
Comedian Louis C.K. has a rather depressing bit in "Hilarious," his latest stand-up special, in which he declares optimism to be synonymous with stupidity:
"You have to be optimistic to be single. Stupid. You've got to be stupid. That's what optimistic means, you know. It means stupid. An optimist is someone who says, 'Hey, maybe something nice will happen!' Why the [blank] would anything nice EVER happen? What are you, stupid?!"
That's Louis's worldview -- comically bleak, you could say -- and I'm not always sure it's the right one. (Though anyone who has been single for any period of time can certainly see what Mr. C.K. is getting at.) Me, I tend to like optimism, especially when it comes to college basketball.


I start each season with hope. I watch bad games on the off chance they turn good. I hope mediocre outings turn into classics. And I'm confident great matchups will live up to their billing, even if that billing is so overblown that it seems impossible for any game to truly fulfill those expectations.
Which brings us to San Diego State's trip to Brigham Young tonight. This is the game many have waiting for over the last few weeks, months, even years. It's the biggest game in Mountain West Conference history, the biggest game BYU has played in decades, and the biggest game in the history of San Diego State's traditionally fledgling hoops program.
In the red corner: One of nation's two remaining unbeaten teams (SDSU). In the blue corner: One of the nation's most consistently entertaining, fast-paced teams (BYU). And right smack dab in the middle is BYU guard
Jimmer Fredette
, who is not only a top national player of the year candidates, but one of those rare players in the sport -- like Stephen Curry, Larry Bird, Pete Maravich and few others before him -- capable of sparking an immense cult following with nothing more than the beauty of his individual excellence.
Naturally, that all sounds pretty awesome.
So, maybe I'm more like Louis C.K. than I'd like to think ... but I'm a little wary we might be setting ourselves up for a letdown.
You can read a
nuts and bolts preview of the game here
. You can also
delve into how SDSU will likely try to stop Fredette here
. At this point, tonight's game has been so widely discussed and eagerly anticipated that I don't have much to add in the way of analysis.
Instead, I'd just like to say this: Whatever happens tonight, let's enjoy it. This game has been billed as a classic so many times that it almost feels bound to disappoint. Let's not let that happen.
Let's cherish
Kawhi Leonard
,
D.J. Gay
,
Billy White
and the rest of San Diego State's unlikely, resource-bereft Final Four contender. Let's appreciate BYU's uptempo attack, its fire-away philosophy and its rare blend of quirk and skill.
Most of all, let's appreciate Fredette. Whatever happens tonight, you'll be watching one of the most fascinating and thrilling players we've ever seen step on a college basketball court. In 30 years, when YouTube is beamed directly into our brains, you'll still be watching Jimmer highlights. Don't miss him now.
I still think this game will be a classic. I'm still optimistic. But even if our astronomical expectations get the best of us -- even if this game is merely "good," even if Fredette doesn't melt our faces in customary fashion -- whatever we do see is bound to be pretty great. Soak it in, folks. Players like Fredette don't come along often. Games like this don't hit our TVs every week. Keep your expectations realistic but your enthusiasm high.
After all, you never know. Maybe something nice will happen.
(And just in case, I should remind you that I'll be live-chatting throughout the game right here. Drop by, and we'll enjoy this one together.)
Everywhere else:
Texas is riding high after a program-defining win at Kansas on Saturday, but
a trip to Oklahoma State
(7:30 ET, ESPN) has all the makings of a trap game. ...
Two 4-2 Big East teams will meet in Louisville tonight
, and it will be interesting to see where West Virginia's season goes after the
departure of Dan Jennings and the suspension of leading scorer Casey Mitchell
. ... The last time Providence played at home, it took down the aforementioned Cardinals. Tonight, the Friars will try to extend that home upset mojo
to a game with the more imposing Villanova Wildcats
. ...
St. John's travels to Georgetown
. ... In Big Ten action, Northwestern will try to rebound from its home blowout at the hands of a ruthless efficient Wisconsin team
with a win in Minneapolis
. ...
Charlotte is at Temple
. ...
Drexel will play fellow pesky Colonial member James Madison at JMU
. ...
Wichita State travels to Southern Illinois
. ...
North Carolina will see if freshman point guard Kendall Marshall can continue to make a difference at Miami
. ... And Creighton faces UNI in a matchup of
two of the Missouri Valley's second-tier contenders
. See you in the chat, everyone.
January, 26, 2011
1/26/11
9:15
AM ET
ESPN analyst Fran Fraschilla takes a look at one of the biggest games of the season: Tonight's 10 p.m. ET matchup between No. 4 San Diego State (20-0, 5-0) and No. 9 BYU (19-1, 5-0) in Provo, Utah.
What's at stake?:
Sole possession of first place in the Mountain West Conference and a leg up on the regular-season crown, national prestige, and at least temporarily, a chance to improve NCAA seeding. A season ago, BYU beat San Diego State in both regular-season games as
Jimmer Fredette
averaged 29.5 points and 5.5 assists. This season, both teams are off to blistering starts with the Aztecs undefeated and the Cougars' only blemish to UCLA at the Wooden Classic in Anaheim.
Key matchup: BYU's Jimmer Fredette vs. San Diego State's D. J. Gay
The two seniors have gone against each other for the past few years, and while Fredette has become a well-deserved national player of the year contender, SDSU coach Steve Fisher calls Gay the most important player on his undefeated team.


Fredette, the most prolific scorer in college basketball, has already scored more than 2,000 points for the Cougs and is closing in on Danny Ainge's 2,467 career points record at BYU. He has already gone for 42 or more points four times over the past two seasons. All four of those performances came on the road or at neutral sites. The senior from Glens Falls, N.Y., is more than a great shooter. He has an uncanny ability to create space for his shot and his combination of tremendous ballhandling and strength gets him into the lane area at will. NBA scouts are finally buying into his game.
Meanwhile, Fisher's respect for Gay is for good reason. The 6-foot senior has never missed a game in four seasons and has averaged more than 34 minutes a game in the past two seasons. In fact, he has not only been the team's primary ball handler but has been a timely scorer as well. Last week, he dropped in 30 points at The Pit against New Mexico, including three huge 3-pointers to break open a close game.
X factors: San Diego State's Kawhi Leonard and BYU's Jackson Emery
Leonard was an underrated high school player who has been a revelation for the Aztecs in his first two seasons. The 6-7 sophomore, who has a Ron Artest build and the largest hands in college basketball, is a relentless offensive rebounder. In fact, when combined with seniors
Billy White
and
Malcolm Thomas
, he gives Fisher one of the country's best offensive-rebounding teams.
At Brigham Young, Emery is Robin to Fredette's Batman. The 6-3 senior is one of the most efficient offensive players in college basketball, according to kenpom.com. He is shooting 41 percent behind the 3-point line and better than 60 percent from inside the line. And, fittingly on the night that Fredette scored 47 at Utah two weeks ago, Emery scored 20 points himself and broke Ainge's all-time steals record at BYU.
Sneaky strengths: BYU's Noah Hartsock and San Diego State's Malcolm Thomas
Hartsock has been one of the Cougars' most physical players since he arrived in Provo. But the 6-8 junior spent the summer increasing his shooting range and it has paid off. He has made 15 of 25 3-point shots this season, so the Aztecs must account for him when he is on the perimeter.
While Thomas has carved out a reputation as a rugged customer at both ends of the court because of his rebounding and shot-blocking, his most underrated attribute might be his passing ability. His 14 percent assist rate is very high for a frontcourt player and he has had some great looks for his teammates this season.
Key statistics: Rebounding rate and 3-point shooting
Defensive rebounding rate is the percentage of a team's available defensive rebounds that it secures. BYU's defensive rebounding rate (71.3 percent) is in the top 10 in the country. It is critical in this game that the Cougars rebound on the defensive end at an even higher rate against the Aztecs. In order for the Cougars to effectively fast break, they will need to keep San Diego State off the offensive glass. And keeping the Aztecs from rebounding effectively on the offensive glass will eliminate a major part of their offensive attack.
BYU's ability to shoot the ball from deep has been well-chronicled this season, as Fredette, Emery and Hartsock can make that shot. But it will be the Aztecs who need to make some 3-point shots if they can't rebound effectively on the offensive end. Santa Clara transfer
James Rahon
has made 43 percent of his long balls this season and he might need to be on again for SDSU. In last season's 82-68 win in Provo, the Cougars sat in a 2-3 zone for the last 35 minutes of the game.
January, 26, 2011
1/26/11
9:00
AM ET
By
Diamond Leung
| ESPN.com
From the students waking up this morning in the bitter cold outside the Marriott Center to the fans readying for watch parties all over Southern California, go crazy.
For the rest of the college basketball nation, this is your night, too.
That's the message both BYU and San Diego State sent prior to the two top-10 teams colliding tonight in Provo. This game is huge, and the two programs unaccustomed to receiving this amount of attention didn't do anything this week to downplay that fact.
"It's a big deal," BYU star guard
Jimmer Fredette
said. "Two top teams playing against each other in the Mountain West Conference, it doesn't happen all that often.
[+] Enlarge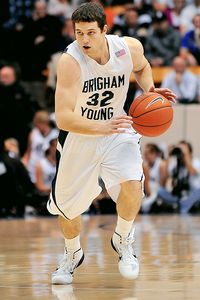 Boyd Ivey/Icon SMIJimmer Fredette leads the nation in scoring at 26.7 ppg.
"If we can win it, it'll help us with everything."
To the winner goes first place in the Mountain West, a boost in the rankings and another bragging point for the NCAA selection committee to consider. The resulting national buzz doesn't hurt, either.
"Everybody will be talking about that game, and we like that," San Diego State coach Steve Fisher said.
But what these two teams are really after is, quite simply, respect.
San Diego State knew it was going to be good coming into this season, but did anyone know it would be
this
good? The upstart Aztecs are one of the nation's final two unbeaten teams at 20-0, and after getting ranked for the first time in school history, they've now ascended to No. 4 in both polls.
Pretty good for a program that's never won an NCAA tournament game.
Kawhi Leonard
, its most heralded player, averages a double-double (15.7 ppg, 10.3 rpg) as a sophomore and is an NBA prospect, yet was under-recruited even after a high school career that ended with him being named California's Mr. Basketball. He forms a versatile frontcourt with
Malcolm Thomas
and
Billy White
, and they can all score and handle the ball.
"The frontline of San Diego State, they get points all different ways," BYU coach Dave Rose said. "On the post, individual moves, points off of transition baskets when they're running the floor and off offensive rebounds."
The one-loss Cougars, meanwhile, have seen Fredette go from small-town New Yorker to folk hero. The national scoring leader (26.7 ppg) is a legitimate national player of the year candidate. He's scored 40-plus points in two of his past three games and can essentially make a 3-pointer from anywhere he wants.
"Fredette is, in my opinion, the player of the year," Fisher said. "It won't be a one-man operation [guarding him]. We're going to hope he misses some of the shots he takes."
Fredette doesn't share that sentiment.
"Hopefully San Diego State doesn't have anything we can't dissect," he said.
The Aztecs are expected to run a number of different defenders at Fredette, and as point guard counterpart
D.J. Gay
said, "Everybody guards Jimmer Fredette."
Their attempts at containing him will be a sight to see, as will be the crowd's excitement for Fredette's every move inside the 22,700-seat Marriott Center.
It's a clash everyone will be watching.
A clash that can't get here soon enough.