College Basketball Nation:

2012 Atlanta Region
March, 25, 2012
3/25/12
8:17
PM ET
ATLANTA --
Anthony Davis
finally left the game with 33 seconds remaining, and only because he had blood on his lip.
Kentucky was ahead of Baylor, 82-68, at the time.
Davis didn't want to leave the court. And why would he? Who wouldn't want to be a part of something that must have been as enjoyable to play as it was to watch?
Davis had suffered a left knee contusion in a collision with Baylor's
Perry Jones III
with 18:28 left in the second half and the Wildcats up 44-22. Davis was treated and sent back in, left again, then went back in because he couldn't get enough of this game.
"The knee is doing fine,'' said Davis after the Wildcats' South Regional-clinching
82-70 victory
over Baylor on Sunday afternoon at the Georgia Dome.
"I just bumped knees with Perry Jones, and it started hurting real bad. But I knew my team needed me to play. I wasn't going to sit out, especially with a trip to the Final Four, and all of us want to go to the Final Four. So I knew I needed to come in the game and help my team out, so I decided to come in.''
Davis finished with 18 points, 6 blocks and 11 boards. And the consensus national player of the year was hardly alone in another stellar performance.
This effort by the Wildcats was their best this season -- and that's quite a statement, considering they lost only one regular-season game to Indiana in December and one to Vanderbilt in the SEC tournament championship.
If you watched the way Kentucky flipped a 10-5 deficit into a 20-point lead in a matter of minutes, then you know.
Baylor coach Scott Drew had no clue the Wildcats could turn it on like that in a flash.
"I had no idea they were this good,'' Drew said as he walked out of the postgame news conference.
"We made one substitution, called a timeout and addressed within the team and said to each other, 'Let's go. Let's do it with defense, we've got to guard and let's put this thing away and be the aggressor and attack. Let's go.' It didn't look good to start the game, did it?''
Well, Baylor was the aggressor for a few possessions.
Then the Bears committed turnovers on successive possessions and it was on. Boy, was it on.
"I'd say we were just aggressive,'' said Kentucky's
Terrence Jones
. "I just think we got real aggressive on offense and defense and just mentally locked down on defense. It just led to fast breaks on offense.''
[+] Enlarge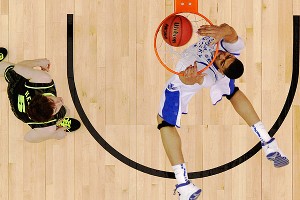 AP Photo/David J. PhillipAnthony Davis slams home two of his 18 points over Baylor's Brady Heslip during Sunday's first half.
Kentucky had the UNLV look about it when it flipped toward a fast-break team. The efficiency from
Marquis Teague
at the point, the acrobatic nature of Davis in retrieving errant passes, even when he's underneath the net, the way in which
Michael Kidd-Gilchrist
heads to the hoop without any fear of being hit, the unselfish play by Jones (6 assists) and the spot shooting from
Doron Lamb
and even
Kyle Wiltjer
off the bench makes this as complete a team as any John Calipari has had at UMass, Memphis or Kentucky.
"In that first half, we played flying up and down the court,'' Calipari said. "If it's not there, we run the offense. If you go zone, we're driving that ball. We're not settling.
"Defensively, we're swarming and blocking shots,'' Calipari said.
Kentucky did have some foul trouble, with Kidd-Gilchrist ultimately fouling out and Davis playing with four.
But who would quibble over officiating Sunday?
The unselfishness of this squad shouldn't be lost on anyone. Kentucky's two previous teams weren't this giving with each other. And both of them reached the Elite Eight, with last season's team losing in the national semifinal. This one should be able to take the next step.
"We've got seven players on this team that average 25 points a game in high school and all seven led us in scoring this year [at some point],'' Calipari said. "Anthony Davis, would you say he's pretty good? He's our fifth-leading shot-taker. Michael Kidd-Gilchrist is our fourth. When Kyle Wiltjer's in the game, they love it and they throw him the ball. They're fine with that. They're excited when he makes it. They figured it out that as a young team they had to do it together and they would all benefit.''
Calipari said he doesn't make any promises in recruiting. He won't say how many starts you'll get or shots you'll take.
"If you want to shoot 30 times a game, you're not coming here,'' Calipari said. "If you want to win a national title and the answer is, 'Yes I do,' then you can't do it alone. There are a bunch of other guys like you on the team so you'll have to share the ball.''
Kentucky faces Louisville in the national semifinal Saturday in New Orleans. The Commonwealth will implode in delight.
Calipari has already toned down the rivalry with Louisville coach Rick Pitino, saying they don't exchange cards but are friendly acquaintances. Calipari said if he had five players from Kentucky, he would be more worried about this being a big deal. He does not, so he's not. And the players don't seem too fazed by the Cardinals' matchup, either.
The fans? Well, that's another matter.
If Kentucky wasn't the favorite to win the title before Sunday then it must be now. The Wildcats were the No. 1 overall seed and played like it Sunday. They head to face Louisville, with Kansas playing Ohio State in the other semifinal, so this is still Kentucky's title to lose. The Wildcats can surely lose to Louisville or to KU or Ohio State. But they won't be the overwhelming pick to do so.
"Has my team ever been the favorite? Let me think,'' Calipari said. "At UMass, we were the No. 1 team but Kentucky had nine NBA players. And then the Memphis team, there was Kansas, North Carolina, we were a No. 1, but we weren't the number-one No. 1. No one picked us to win. Last year, no one picked us to win.
"Yeah, it's the first time. How about that. Are we the favorite?''
Yes.
"Wow. That's a good thing I guess.''
March, 24, 2012
3/24/12
8:39
PM ET
ATLANTA -- A look at Sunday's Elite Eight matchup between No. 1 Kentucky and No. 3 Baylor for the South Regional championship:
The marquee matchup
Anthony Davis vs. Perry Jones III:
The last time Davis had to face a player with similar length, North Carolina was at Rupp Arena. Perry Jones III might not be strictly on Davis, but he'll likely take a turn. The Bears also may use the brute strength of
Quincy Acy
to get under Davis' skin at times.
"I always look forward to a challenge and I think Baylor brings a challenge,'' Davis said. "They attack the rim. They're very athletic and they can dunk the ball and finish above the rim. I'm looking forward to the challenge and hopefully we will prevail.''
Kentucky coach John Calipari interrupted Davis and said, "Without fouling. Just don't foul.''
"No fouling,'' Davis said.
Jones didn't take the bait when asked about an individual matchup.
"I'm looking forward to playing team basketball,'' Jones said. "I don't want to feed into that because we haven't fed into that all year, and we've been successful. Last thing I want to do is feed into that, trying to go one-on-one the whole game and not play team basketball, because our team will lose.''
The impressive stat
Kentucky:
The Wildcats scored 102 points and had just six turnovers in their 12-point victory over Indiana in the Sweet 16. Calipari said he was extremely impressed with the Wildcats' composure. And his trust in
Marquis Teague
to lead this team has increased daily.
Baylor:
Kentucky made 35 of 37 free throws against Indiana. Baylor didn't create as much contact against Xavier, but the Bears did make their free throws. Baylor was 12-of-14, and if you're looking for an advantage for Kentucky, check elsewhere. Baylor can make the late-game free throws to win a close game.
The shooters
Brady Heslip, Baylor:
Heslip made nine 3s in a win over Colorado. He made of only 1 of 3 in the win over Xavier, but he cannot be left alone. He has made 15 3s in three games so far. If he can make his NCAA tournament average of five, the Bears should be in this game throughout.
Doron Lamb, Kentucky:
Lamb can be the difference-maker for the Wildcats. He made his only 3-point attempt against Indiana, but in the previous round against Iowa State, Lamb converted 5 of 7. Lamb has had the ability to break out with huge games throughout his brief career. Like Heslip, he cannot be left alone.
The heart and soul
[+] Enlarge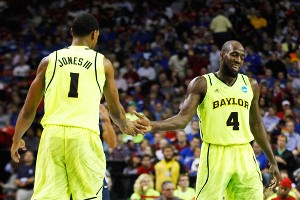 Streeter Lecka/Getty ImagesQuincy Acy, right, has been a dunking machine for Baylor; Perry Jones II has been an enigma.
Michael Kidd-Gilchrist, Kentucky:
No one plays harder for Kentucky. Kidd-Gilchrist continues to show he's a must on the floor. Calipari loves coaching him and with good reason. He never has to get on him for effort. Kidd-Gilchrist will have a hard time against Baylor's length, and
Quincy Miller
or
Anthony Jones
could be guarding him at times. Still, he can power his way to the bucket and create contact and fouls.
Quincy Acy, Baylor:
The Bears have tremendous length but don't always use it to their advantage -- except for Acy. He has no problem getting on the low post and being a force. His dunks, especially off an inbounds against Xavier, were as impressive as you'll see this season.
The playmakers
Kentucky's Teague vs. Baylor's Pierre Jackson:
Both are playing their first year of Division I basketball, but Jackson is a junior college transfer and two years older.
Each runs a steady game and has the trust of his respective coach.
This should be an even matchup. Neither will take too many chances and both can easily create points off turnovers.
The glue guys
Kentucky's Darius Miller and Baylor's Quincy Miller:
Darius Miller scored 19 points off the bench against Indiana. He has the most experience of any Kentucky player. He can get to the rim and make 3s. If Kentucky wins, it's probably because Miller had a solid outing. Quincy Miller has tremendous talent as well but doesn't maximize it often. He can disappear at times and needs to be more assertive. He has a shot in this game to match up with someone like Darius Miller or possibly
Terrence Jones
and draw even more attention to himself and away from Perry Jones III or Acy.
The mystery
Kentucky's Terrence Jones vs. Baylor's Anthony Jones:
Both players have loads of talent but must play within themselves. Kentucky's Jones can get to the backboard but has to make intelligent decisions on offense. And he has of late. Baylor's Jones has so much talent, can block shots and handle the ball. But he tends to shoot too much too soon. If he uses his length to his advantage, he can be a major factor in this game.
The coaches
Calipari:
He was brought to Kentucky to get to Final Fours and win a title. His teams have advanced to the Elite Eight the past three years and in six of the past seven -- an achievement matched only by Mike Krzyzewski and the late John Wooden, according to Kentucky. The pressure is on Calipari to deliver another Final Four.
Scott Drew, Baylor:
Drew has done wonders to resurrect this program and is in his second Elite Eight in three seasons. That alone is remarkable. He is playing with house money here. He has a Final Four team but is not expected to knock off Kentucky. A Final Four berth would certainly elevate Drew to another level among his peers.
March, 24, 2012
3/24/12
3:16
AM ET
ATLANTA -- Thanks to the numbing agent No. 1 Kentucky used to finally subdue Indiana just past midnight, we are now a combined 80 minutes away from a game never thought possible until now.
Say it with me: Kentucky versus Louisville … Kentucky versus Louisville … Kentucky versus Louisville …
If it happens -- and I'm openly and unapologetically rooting for the matchup -- the entire Commonwealth of Kentucky will need its medication adjusted. It will make the Derby look like Bible study class. One way or another, it will become basketball legend.
"I've worked here since July of 1978," said Louisville Courier-Journal columnist Rick Bozich. "It would be the biggest sporting event that I could remember covering in nearly 34 years."
It would be six exits past ridiculous. The state would shut down on Final Four Saturday. You could run naked through downtown Louisville or Lexington and nobody would notice. Fans in the hoops-addicted Commonwealth would be duct-taped to their TVs.
Of course, there's still some heavy lifting to be done in these remaining 80 pre-Final Four minutes. Louisville has to beat Florida in Saturday's West Regional final and UK has to beat Baylor in Sunday's South Regional final.
For Gene Wojciechowski's full column, click
here
.
March, 24, 2012
3/24/12
3:08
AM ET
ATLANTA -- What we saw Friday night was highly entertaining theater.
Kentucky and Indiana, two members of an elite collection of iconic college basketball programs, gave us all an enjoyable watch in the Sweet 16.
There was a pro mentality to this affair. It was as if two teams were out there to conduct the business of basketball. There were times it was just pure hoops.
If you wanted scoring, you got it.
Plenty of it.
Kentucky put up 102 points, the most scored against IU in 93 all-time tourney games. Indiana countered with 90 of its own.
Before this shootout, no team in the entire tournament had reached 90 points.
In the end, UK moved on to its third consecutive Elite Eight, where it will play Baylor on Sunday. IU is heading home after a tremendously successful and memorable season.
Kentucky had to win this game with
Anthony Davis
playing limited minutes due to foul trouble. He played 25, yet was still highly effective. The national player of the year to many (he's won four of the six awards so far) still was very efficient, with 12 rebounds and 3 blocks to go along with his 9 points.
"I got in early foul trouble,'' said Davis. "By the second half, my teammates told me, 'You're fine. Just come out and play your game. We need you to steal, block shots, rebound and score the ball.'
"So that's what I did in the second half -- don't let the first half get to me and just come out with the same intensity the players came out with in the first half."
And after the game, there was so much respect on both sides. There was no trash talk or bitterness. Kentucky coach John Calipari and Indiana coach Tom Crean are close friends and are genuinely pleased with each other's success.
"Well, I'm truly happy for Indiana and Tom Crean,'' Calipari said. "When he took that job, I told him, 'You are taking one of the top five jobs in our country in basketball. That's it. Indiana's it.'
"And he said, 'Cal, it's going to be hard.' Yeah, it's going to be hard, but it's Indiana. It's Indiana. So you'll get it going. Walking into Kentucky, it's hard, but it's Kentucky. It's North Carolina, it's Duke, it's Kansas. If you have one of those jobs, you have a chance to be a top-five program year in and year out. What he's done there, where it came from, you think about it. They lost 25 games their first year. He had a lot of people griping. Hey, you've got to build the foundation, and he did it."
Crean returned the compliments: "We did a lot of good things, but they're a very talented team. As I said many times, I think it's obvious, they're extremely well-coached. He is a great coach. It's one thing to have talent; it's a whole other thing to get them to be as good as they are defensively."
The players competed at a high level. And after the game, both sides gave each proper respect.
[+] Enlarge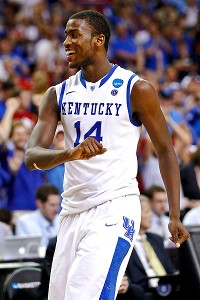 Mark Cornelison/Getty ImagesMichael Kidd-Gilchrist, one of five Wildcats to reach double digits, scored 24 points against Indiana.
"They were knocking down shots, they were being really aggressive and getting to the rim,'' said Kentucky senior
Darius Miller
. "We just had trouble guarding them. I don't think we came out lacking intensity or lacking focus or anything like that. They just did a great job of executing their game plan and coming out ready to play.''
There was something wholesome about this game, which is perfect considering these two schools are in the heartland of the country and the sport.
Their fan bases are two of the most passionate in the country. And while the Baylor-Xavier game was an undercard with a junior-varsity crowd that included empty seats, that was hardly the case for the nightcap. The fans showed and came to cheer. There were times when the Georgia Dome actually got loud, not easy considering the cavernous nature of this building.
Kentucky under Calipari is now like it was under Rick Pitino in the mid-1990s, where Final Fours are expected. UK went to three in a row from 1996 to 1998, winning two of the three — with Pitino claiming the first title and Tubby Smith the second in the third of three Final Fours. Calipari is 40 minutes away from his second consecutive Final Four in Lexington, third overall. But he has to win at least one national title, the first for the school since 1998, to live up to the expectations that were placed on him when he arrived, let alone compare to that Pitino run.
Indiana under Crean is now officially back. The Hoosiers were left in ruins after the Kelvin Sampson NCAA fiasco when departures had the program starting from scratch. After grinding it out the first three seasons, Crean now has reaped quite a turnaround, one that found the Hoosiers in the Sweet 16.
And they could have gone further. Indiana was down three at the half. The Hoosiers were constantly a few possessions away from pushing Kentucky. But they couldn't contain the Wildcats' myriad offensive options.
The Cats were the aggressor, getting to the free throw line 37 times and making 35. The 94.6 percent mark was the highest in tourney history for a team with at least 30 attempts. But that was really the only clear advantage for Kentucky.
"They're great drivers, and they're attacking pretty hard throughout the game,'' said Indiana freshman
Cody Zeller
. "Late in the game, we had to foul just to try to close the margin a little bit.
"They got in the bonus pretty early, and that really helped them out pretty well. And once they got there, they were knocking them down."
Indiana had five scorers in double figures, led by
Christian Watford
's season-high 27 points.
Kentucky also had five, led by
Michael Kidd-Gilchrist
's 24, which tied a career-high.
For whatever reason, the Hoosiers chose not to guard MKG.
"I just saw that they weren't playing me at all, saw it and went for it, that's it,'' the UK freshman said. "We just took turns. I mean, this was a great team win.''
There is something special brewing with this Kentucky team.
The Wildcats can be vanilla at times. But that's OK. They win. And they don't need to boast or brag.
Now, there is one more game to get Sunday for Kentucky to reach its intended destination. Baylor can certainly win. This might be the one team, save a healthy North Carolina, that mirrors the Wildcats.
"It seems like there's only one team that is not allowed to lose in this tournament, and that's us,'' Calipari said. "I don't want them to feel that. That's not the case. What I want them to do is go have a ball playing, be aggressive, play to win. If that's not good enough -- like, I'll be honest with you, folks. If you told me the team we're playing today, Indiana, was going to score 90 points and shoot 52 percent from the floor, I was going to have to tell you, 'Wow, it's been a nice season. Hate to end it that way, but it's been a nice season.'
"And we won. We played very aggressive and did stuff down the stretch that we needed to do offensively."
March, 24, 2012
3/24/12
12:36
AM ET
ATLANTA -- Reaction from Kentucky's
102-90 victory over Indiana
in the South Regional.
Overview:
Kentucky was built for the Final Four and a national title.
Now the Wildcats have their shot. Kentucky is 40 minutes away from their stated goal of a trip to New Orleans.


The Wildcats withstood plenty of charges from an Indiana team that never quit. But Kentucky proved to have too many options offensively. Whenever it seemed like Indiana was going to go on a significant run, someone else would make a play.
Michael Kidd-Gilchrist
scored 24,
Doron Lamb
21,
Darius Miller
19,
Marquis Teague
14 and
Terrence Jones
12.
Kentucky had tremendous balance and loaded up the stat sheet en route to a 102-point effort, though defense was lacking at times as Indiana scored 90. The Wildcats and Hoosiers are the only teams to score at least 90 points during the tournament.
Kentucky always had the ability to be one of the most impressive teams offensively and finally showed it Friday night. This was the Wildcats' second-highest scoring game of the season (behind a 108-point effort against Marist) and the first time Kentucky has scored 90 points or more in the Sweet 16 since scoring 94 against UCLA in 1998.
The Kentucky-Baylor game is exactly the matchup that should have been in this regional. Even though Duke was the No. 2 seed in the South, Baylor was clearly the better team.
If you enjoyed this matchup, then get ready for an even better one Sunday.
Key player:
Darius Miller had moments of being the ultimate glue guy with key buckets, whether he was facing the basket or slicing to the hoop. But the difference maker Friday night was Michael Kidd-Gilchrist. MKG seemed to be in the right spot at the most opportune times and was creating opportunities for himself. Indiana could not contain him. MKG finished with 24 points and 10 boards. He didn't miss a free throw, either, converting all 10. MKG's work ethic is hard to match. He plays every possession as if it were his last.
Key stat:
The Wildcats got to the free throw line a ton. Indiana did not. Kentucky was creating the contact and Kidd-Gilchrist and Lamb were the biggest beneficiaries. Neither missed a free throw. This was not a case of poor officiating. Rather, the Wildcats forced Indiana to foul. Kentucky was the aggressor throughout the second half. The Wildcats finished shooting 35-of-37 at the free throw line. MKG was a perfect 10-of-10 and Lamb was 8-of-8. Marquis Teague was 6-of-6 and Darius Miller was 5-of-5. Meanwhile, Indiana was 13-of-17. Kentucky's free throw percentage (94.6 percent) was the highest in NCAA history with a minimum of 35 attempts (surpassing North Carolina's 91.7 percent in 1977), according to the NCAA. It was the most made free throws in a tournament game since Ohio State made 35 against Memphis in 2007.
Turning point:
Anthony Davis
had been battling foul trouble and a pestering Indiana front line. But the four-award national player of the year winner (he has two more to go) blocked a shot and then converted an offensive rebound at the other end to give the Wildcats a 79-66 lead. The Wildcats would still have to deal with a pesky Indiana, but Davis' assertion as a dominant presence sent a strong message. The consecutive plays was a huge lift for Kentucky and a bit deflating for the Hoosiers. Indiana cut the lead under 10, but Miller helped stretch it back out to a manageable number. The Hoosiers lost
Victor Oladipo
to five fouls with more than four minutes left, which ended up being a critical blow.
What's next:
Top-ranked Kentucky takes on No. 3-seeded Baylor in a highly-anticipated Elite Eight matchup. The length and athleticism of both teams on display should provide quite a treat. If the officials let the teams play, this could be one of the most entertaining games we've seen at this stage in the tournament. It has a chance to rival that Arizona-Illinois Elite Eight game from 2005.
March, 23, 2012
3/23/12
9:41
PM ET
ATLANTA -- A quick look at Baylor's
75-70 win over Xavier
in a Sweet 16 matchup at the Georgia Dome.
Overview:
If you had turned off the television or left the Georgia Dome five minutes into the game, you would have thought Baylor should just cut down the nets in New Orleans. The Bears had one of the more impressive starts in the NCAA tournament, getting off to a 14-2 lead to begin the game.


Baylor can look incredibly impressive when it's out in the open floor.
Quincy Acy
is a force when he can get to the basket, especially on a dunk.
Pierre Jackson
runs a fluid game, and
Brady Heslip
is one of the better complementary role players with his shooting in the field.
But the Bears don't put teams away. Xavier fought back by going inside to
Kenny Frease
and was within two scores a number of times in the second half. The Musketeers couldn't make enough 3s, and that ultimately might have been their undoing.
Baylor survived and advanced to the Elite Eight. Just think about that. Baylor is in its second Elite Eight in three seasons. Baylor. That should speak volumes about how far this program has come under Scott Drew.
Key player:
Quincy Acy. The Bears desperately need a physical force. They have tremendous length, but they don't always use that size and strength to their advantage. Acy was a man among boys at times Friday. His ferocious dunks should be made into freeze-frame posters to hand out at the Georgia Dome. Acy allowed the Bears to settle down when they got a little too wild, and finished with 15 rebounds and 20 points. If Acy continues to play this way, the Bears have a legitimate shot to hang with Kentucky and, perhaps, pull off an upset.
Key stat:
The Musketeers' 3-point shooting was a woeful 3-for-15.
Justin Martin
made two 3s in the game. If the Musketeers were going to come all the way back from a 14-2 deficit, they were going to need to make 3s. Xavier did a fine job of getting the ball inside to Frease during a 13-0 run late in the first half. But the scoring droughts from
Tu Holloway
in the second half didn't help. The Musketeers did get the lead down to six with a little more than a minute left -- on that second 3-pointer by Martin. Holloway hit his first 3-pointer of the game with just less than 20 seconds left to cut Baylor's lead to 71-68. Heslip then converted four free throws to help the Bears to a 75-70 final.
Turning point:
Perry Jones III
has been rather quiet throughout the NCAA tournament. But Jackson made sure he was assertive and helped snuff out a mini Xavier run that seemed to be turning momentum. Following an
Anthony Jones
3-pointer, Jones III received two lobs -- the first from Jackson -- and hit a face-up jumper, pushing the Bears to a nine-point lead. The Musketeers didn't go away quietly and had it down to five points. But Jones' assertiveness definitely helped shift momentum back to the Bears at a critical time.
What's next:
No. 3-seeded Baylor will take on No. 1-seeded Kentucky on Sunday at the Georgia Dome. This will be Baylor's second Elite Eight in three seasons. The Bears have Final Four potential. The problem is that they're in Kentucky's bracket. Put Baylor in the West bracket, and it's not close which team would be the favorite.
March, 22, 2012
3/22/12
10:30
PM ET
ATLANTA --
Perry Jones III
doesn't have to be dominant for Baylor to advance to the Elite Eight.
All he has to do is stay on the floor.
The 6-foot-11 Jones has been much-maligned this season. There are times when he looks like a top-10 NBA draft pick. There are other times when he's just another lanky, athletic big from Baylor.
But his presence is enough to warrant plenty of attention -- and that can end up meaning buckets inside for
Quincy Acy
or
Anthony Jones
, and certainly open 3s for
Brady Heslip
.
If Jones were playing hockey, he'd get plenty of assists from his passes that lead to the pass for the score.
Jones hasn't had a breakthrough scoring game since his 31 against Kansas State in the Big 12 tournament. The sophomore's numbers have dipped recently, and he has a combined nine points in the first two NCAA tournament games. But he did have 11 boards in a win over South Dakota State and four in the win over Colorado.
[+] Enlarge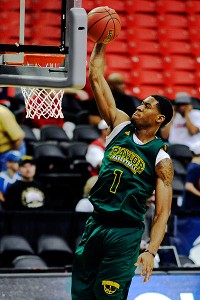 Richard Mackson/US PresswirePerry Jones III is showing that he doesn't have to score in bunches to be a factor for Baylor.
His offense wasn't needed in either game. But he did make the opposing teams pay attention.
"Sometimes my shot is not falling,'' Jones said Thursday in advance of Friday night's game against Xavier in the Sweet 16 at the Georgia Dome. "I shy away from keeping shooting the ball. Sometimes it's not my night. I mean, it doesn't bother me at all if we're winning the game. I feel like I help my team in other ways.''
Xavier will need to find Jones throughout the game Friday night.
"The best thing I can do is try to get the ball to whoever's hot in the game,'' Jones said. "If my shot's not falling, I'd rather go 1-for-7 than 1-for-20-something and then we lose. I just try to do something, just try to rebound, maybe get offensive rebounds, do whatever I can to help my team.''
Jones may have hurt his NBA draft stock a bit. But not much. You can't take away his length and athleticism. He still oozes potential. The goal in Atlanta is to ensure he's on the scouting report for the Musketeers.
And he will be.
"The best thing I can do is move forward and help our team break through for the next couple of games,'' Jones said.
If Baylor gets a chance to face Kentucky, Jones will need to be a factor against
Anthony Davis
and friends.
"You've got to have balance and that's the strength of our team,'' Baylor coach Scott Drew said. "We have unselfish players. Perry Jones wasn't making some shots the last two games that he normally does, but to his credit, a lot of times because of the help-side defense, he was making the hockey assist out, which led to baskets.
"Statistically, it doesn't show up, but at the end of the day, wins and losses are the most important thing. Without the front-line play, we definitely don't get two wins.''
Who to watch
Tu Holloway and Mark Lyons, Xavier:
The Xavier guards were the reason that some of us, notably me, picked the Musketeers to get to the Final Four in November.
The season has been a bit erratic, to say the least. But if this team advances, Holloway and Lyons will still be the reason. Holloway scored 21 points and made four 3s in the win over Lehigh in the third round. Lyons wasn't as productive, but he still made his presence felt.
Holloway was even more dominant in the win over Notre Dame. He scored 25 points and made an efficient 10 of 15 shots.
Brady Heslip, Baylor
: Heslip made nine 3s in the win over Colorado on Saturday. But the Musketeers are certainly going to defend him a bit tighter than the Buffs. Heslip still can deliver a dagger if he's open. The key will be to not play off him at any point.
"Any guy that can score 27 points in the NCAA tournament without dribbling, he's a really good player,'' Holloway said. "He's a great player. We have a lot of respect for not only him, but the Baylor team.''
"We have to make him take tough shots, because if he gets open, it's more than likely going to go down,'' Lyons said. "You've got to be ready to chase him.''
What to watch
Kenny Frease vs. the Baylor bigs:
Frease will have his hands full Friday night. The Xavier center has to stay out of foul trouble. He'll get some help from forward
Andre Walker
, but Frease must keep Perry Jones III, Quincy Acy and Anthony Jones off the offensive backboard.
If the Musketeers are going to have a chance to win, they must get second shots, too.
"We know the guards are going to be able to help us from the top, but we've got to take that responsibility on ourselves to try to contain [Jones] as much as possible,'' Frease said. "He'll pose a lot of problems for us, but it will depend on how we handle them.''
March, 22, 2012
3/22/12
8:05
PM ET
ATLANTA -- The comparisons were unfair.
Marquis Teague
wasn't going to be Derrick Rose, Tyreke Evans, John Wall or Brandon Knight.
Who could?
Kentucky coach John Calipari had a run of elite point guards (at Memphis and Kentucky) that may go unmatched. Who has lottery picks and two No. 1 draft picks in such a short period -- at the same position?
No one.
That's why Teague's normalcy in playing for Calipari has been skewed. Yet as the Wildcats prepare to play Indiana for the second time this season in Friday's Sweet 16 matchup at the Georgia Dome, Teague is not a liability.
He's become a strength. Teague scored 24 points, made 10 of 14 shots, and had seven assists and only two turnovers in the Wildcats' win over Iowa State in the third round.
"That was a great confidence boost for him in that last game,'' said Kentucky assistant Rod Strickland. "He did struggle the first few weeks of the season, but he's playing the best basketball at the right time.
"When you think of D-Rose at Memphis and Tyreke and B-Knight and J-Wall, and some of the things those guys did, it's hard to compare,'' said Strickland. "But he's had a great attitude and has had a strong learning curve. He's a pit bull and a great competitor. At times he pressed but he stuck with it mentally.''
Teague is light-years ahead since he had six-turnover games against Kansas and Old Dominion in November. He should be better. Teague has had a normal freshman year learning curve.
"I'm just being more of a leader on the floor, trying to find my teammates and get them good shots,'' said Teague. "I'm just basically being a coach on the floor. Back then, I was just attacking the rim more and making plays for myself, not as much for my teammates.''
[+] Enlarge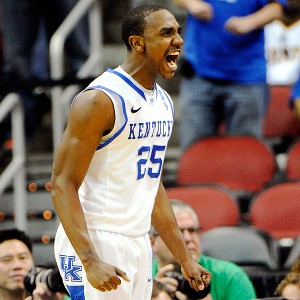 Jamie Rhodes/US PRESSWIREMarquis Teague scored 24 points and had seven assists in a round-of-32 game against Iowa State.
And they noticed.
"He's just got a lot more experience,'' said Kentucky sophomore
Terrence Jones
. "He's a lot more calm. He's just more under control and just an overall better decision-maker when it's his turn and when it's time for him to distribute for all of us. He does a good job of choosing when it's time for him or when it's time for us.''
If Kentucky is to advance to the national title game, Teague will have to be the ultimate playmaker. He'll have to take and make the open shot. Indiana won't hound him as much to force turnovers, as would Xavier or Baylor. But his overall control and confidence have improved so much there is no reason to fear any meltdown.
A questionable position four months ago has once again become a strength for a Calipari team. It doesn't matter if Teague is NBA-ready -- he doesn't have to be now. All he has to do is lead this team, and he's done just fine in that role of late.
Who to watch
Kentucky's Darius Miller:
He is constantly overlooked because of the stars who dominate the Wildcats' roster. Miller scored 19 points in an efficient 35 minutes in a 16-point win over Iowa State. He can get to the basket with a decent step and can also make 3s. He made three against Iowa State.
"We have a really good team this year,'' Miller said. "It's one of the best teams we've been on. I think the main point is that we have a lot of fun with everything we do. You see us laughing and smiling on the court, clapping, and you see all the emotion we leave on the court.''
Indiana's Jordan Hulls:
If the Hoosiers are going to have a chance to upset Kentucky, Hulls must make 3s. He made four against New Mexico State, but only one against VCU, a much better defensive team.
"We're definitely a good 3-point shooting team,'' Hulls said. "It's things that we look for, obviously. It comes from when we throw it inside to the big guy and he finds us on the perimeter. As long as we take the open shots, that's what we've got to take. Like I said, Cody's going to find us if we're open, and as long as we have good ball movement, it will be all right.''
What to watch
Anthony Davis vs. Cody Zeller:
Neither player was dominant in the first matchup. Davis was in foul trouble and finished with just six points and nine boards. Zeller was a bit more effective with 11 points and seven boards.
But a lot has changed since IU's 73-72 victory at Assembly Hall on Dec. 10.
Davis is the national player of the year. Zeller was the top freshman in the Big Ten.
Neither team will focus solely on the post player. But the Wildcats will get good shots from the attention paid to Davis. Zeller helps create perimeter shots for the Hoosiers' guards because of the defensive need to focus on him when he has the ball.
Both players and teams were effusive in their praise for how much the other has matured and developed. There's no bad blood between these two squads.
"He's a great player, dominating the post, shoots from midrange,'' Davis said of Zeller. "I just can't wait to go out there and see what happens in the game. We're both great players and we both work hard. Let's just go out there and have fun.''