College Basketball Nation:

2012 East Regional
March, 24, 2012
3/24/12
11:14
PM ET
By
ESPN Stats & Information
| ESPN.com


The
Ohio State Buckeyes
were the only Big Ten team still playing after the Sweet 16, but preserved some conference pride by knocking off the
Syracuse Orange
, 77-70, to advance to their first Final Four since 2007 and 11th overall.
This was the fourth Big Ten-Big East matchup in the 2012 NCAA tournament and Ohio State now owns both of the Big Ten's wins so far. The decisive fifth game could come in the national championship on April 2 if both Louisville and Ohio State win their semifinal games.
No. 1 seed looms large
Ohio State beats a No. 1 seed for the second time in school history. It also did so in 1999, when it beat top-seeded Auburn, 72-64, in the South Regional Semifinal. However, the Buckeyes lost to eventual national champion Connecticut in the Final Four.
This was the third time that Syracuse has been a No. 1 seed in the NCAA tournament, a feat the Orange also achieved in 1980 and 2010. This year's team suffered the same fate as the others, failing to reach the Final Four each time.
What went right for Ohio State
The Buckeyes struggled to find their range in the first half, shooting 35 percent overall while missing 6-of-7 from beyond the arc. Ohio State flipped the switch in the final 20 minutes, connecting on half of its shots from the floor and 23-of-29 free throws.
Jared Sullinger
and
Lenzelle Smith, Jr.
combined for 31 of the Buckeyes' 48 second-half points, after scoring just six total points in the first half.
The Buckeyes lit up the perimeter in the second half, going 7-for-11 on shots outside the paint en route to the win. Ohio State was shooting just 41 percent on shots outside the paint in its first three tournament games.
Overall, the Buckeyes shot 44 percent against the Syracuse zone, including 11-for-21 in the second half. That was the highest field-goal percentage allowed by the Orange zone defense over their past three NCAA tournaments.
Ohio State also drew 27 fouls against the 'Cuse zone defense, the most fouls drawn against the Orange zone in the past three NCAA tournaments.
What went wrong for Syracuse
The Orange used a strong perimeter game to beat Wisconsin in the Sweet 16, hitting 12-of-14 shots outside the paint in the win. Against Ohio State tonight, Syracuse went cold from distance, missing 20-of-28 attempts outside the paint, including a woeful 3-for-16 effort in the first half.
Perhaps Syracuse was destined to lose when it stepped on the floor. The Orange are now 1-7 versus Big Ten teams under coach Jim Boeheim, with their only win coming against Wisconsin in the Sweet 16.
Stat of the game
According to the Elias Sports Bureau, the Big Ten is now 5-0 all-time vs the Big East in Regional Final games.
March, 24, 2012
3/24/12
9:32
PM ET
By
Jack McCluskey
| ESPN.com
BOSTON -- A quick take on No. 2 seed Ohio State's
77-70 victory
over No. 1 seed Syracuse in Elite Eight action in the East Regional at TD Garden on Saturday night:


Overview:
Unfortunately, the officiating was more of a story in this one than anyone would've liked. There were some truly questionable calls, on both teams. And while these are two physical teams and there was always going to be some contact, the crew of John Higgins, Michael Nance and Thomas O'Neill was often far too willing to blow the whistle.
Jared Sullinger
picked up two quick fouls in the first half and was limited to four points (2-for-4 shooting) and three rebounds in only six minutes. Syracuse had more personal fouls at the half (12) than it had made field goals (10).
The result was an uneven flow to the game, with lots of stops and starts and not as much back-and-forth action.
Turning point:
It came late in the second half. Ohio State had taken a 10-point lead early in the half on a combination of Sullinger offense and
Aaron Craft
defense, and forced Syracuse to play from behind.
The Orange chip, chip, chipped away at the Buckeyes lead for the next few minutes, cutting it all the way to one. But every time the Buckeyes absolutely had to have a bucket, their big man was there. Sullinger managed to stay on the floor in the second half, and showed what he's capable of when he can avoid the whistles.
After
Brandon Triche
hit a 3 to pull Syracuse within one at 55-54, Sullinger got the ball on the right block and threw in a turnaround jumper off the glass to keep Ohio State ahead.
He consistently got the ball in the post, didn't shy away from the inevitable contact (and, yes, occasionally benefited from a questionable call) and made more of his foul shots than he missed (9-for-12).
And when Syracuse was mounting a furious charge late -- including a 3-point play by
Dion Waiters
that cut the Buckeyes' lead to three with 33.1 remaining -- Sullinger got the ball on the inbounds, got fouled and made one of two free throws to give Ohio State a four-point lead.
That essentially booked the Buckeyes' trip to the next round.
Key player:
Sullinger. The big man was the difference in the second half, scoring 15 points and giving Ohio State a steady offensive presence with which to combat the vaunted Syracuse zone.
Key stat:
Free throws. In a game dominated by physical play and riddled with whistles, it figured that the team with the better showing at the free throw line would have a big advantage.
While Syracuse actually shot a better percentage, 80 to 73.2, Ohio State took 17 more freebies (42-25) and made 11 more (31-20).
What's next:
For Ohio State, a trip to New Orleans. For Syracuse, a trip home.
Next Saturday in the Final Four, Ohio State will face the winner of Sunday's Midwest final between No. 2 seed Kansas and No. 1 seed North Carolina in the Mercedes-Benz Superdome.
It's the 11th Final Four appearance for Ohio State, the second under Thad Matta, and the first since 2007, when the Buckeyes lost in the national championship game to Florida.
Jack McCluskey is an editor for ESPN.com and a frequent contributor to ESPNBoston.com. Follow him on Twitter @jack_mccluskey.
March, 23, 2012
3/23/12
8:00
PM ET
BOSTON – Somewhere, some clever Syracuse fan ought to grab a red cape, a magic marker, ink a Z on his chest and call himself The Zone.
In this NCAA tournament, the Zone (yes, it deserves to be capitalized) has grown to near-mythological proportions and taken on the aura and presence of a superhero, complete with superpowers.
How do you beat the Zone? Why do you play it? How unique is it? What makes it so hard?
It is everywhere, an all-consuming beast. In the two press conferences between Syracuse and Ohio State, on the eve of their Elite Eight match, the word zone was mentioned 50 times.
Heck, if the Orange win the national title, the Zone could earn Most Outstanding Player honors.
Here's the dirty little secret: The Zone does not have superpowers, nor is Orange coach Jim Boeheim some evil scientist who has concocted something no one in basketball can duplicate.
The Syracuse coach is just committed (or stubborn, pick your word). He does not waver if teams are shooting well against the Zone (as Wisconsin did) and he does not give his players the option of man-to-man defense.
Ever.
"They buy into it because they want to play,'' Boeheim laughed. "These guys know what we want to do, what we're about. They work hard at it.''
Boeheim, in fact, is tickled at people's preoccupation with his defense, as if he's unearthed some sort of relic from the peach-basket days.
"It's always funny to me,'' he said. "You never hear anybody yelling at Mike Krzyzewski to go back and play zone. Why is that? He's such a good coach, you don't question him? Is that what it is? Really? Somebody shook their head down there. OK, that means I'm not a good coach, so you can question me.''
Thad Matta would beg to differ. The Ohio State coach will be the next to attempt to slay the Zone, on Saturday night, and while he knows conventional wisdom holds the easiest way to beat a good zone is to shoot 3s, he also watched Wisconsin drain 14 and lose.
"A couple of years ago I heard what I thought was the greatest answer from Coach Boeheim,'' Matta said. "Somebody asked him, 'What do you do when somebody gets really hot against your zone and they're making 3s?' He said, 'How do you know they're not going to make them against man-to-man?' He has his philosophy and he's only won 900 or however many games he's won. It works for him.''
Whom to watch
[+] Enlarge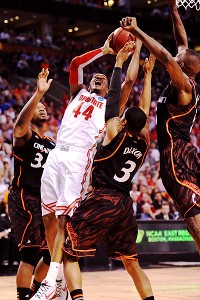 Michael Ivins/US PresswireWilliam Buford's 1-of-8 against Cincinnati was the latest of weak Sweet 16 efforts; Ohio State needs more in the Elite Eight.
William Buford, Ohio State:
Matta went out of his way to commend his senior for his defensive effort against Cincinnati. And it was deserved. It also was welcome deflection from Buford's offensive woes.
The Sweet 16 has not been kind to Buford. He has played in that round three consecutive seasons and is 8-of-37, including an absentee 1-of-8 against the Bearcats on Thursday.
This season, however, is Buford's first appearance in the Elite Eight. Ohio State needs him to run with the clean start.
Wisconsin offered a nice little road map for their Big Ten brethren in terms of beating the Syracuse zone– hit 3s. Now, expecting Ohio State to be as red-hot as the Badgers is probably silly, but the Buckeyes do have shooters.
Which is where Buford comes in. He's one of those shooters and he needs to make those 3s.
"The great thing about William is he usually bounces back,'' Matta said. "Hopefully the odds say tomorrow some higher percentage will be going in for him. But yeah, we need Will to play well.''
Scoop Jardine, Syracuse:
One of Syracuse's hidden strengths this season is its ability to take care of the basketball. The Orange are eighth in the country, committing just 10.5 turnovers per game.
That number will meet its match in the form of
Aaron Craft
. Arguably the best on-the-ball defender in the country, Ohio State's sophomore guard is a relentless gnat who not only swats at the ball but also frustrates his opponent into mistakes.
Jardine, typically the primary ball handler for Syracuse, had been very good until Thursday's regional semifinal against Wisconsin when the senior coughed up the ball five times.
That can't happen against Craft. Ohio State will turn those miscues into points – the Buckeyes got 20 points off turnovers against Cincinnati – but more crucially, OSU is quite content in a grind-it-out, half-court game. If Jardine turns it over, that means more chances for Ohio State to dictate the tempo.
What to watch
This could be the first time that Syracuse feels sorely the absence of
Fab Melo
.
Rakeem Christmas
and
Baye Keita
have done a more than admirable job for the Orange through this NCAA tournament run, but in their first three games, the duo has not faced anything quite like
Jared Sullinger
and
Deshaun Thomas
.
The two are big, strong and armed with an arsenal of scoring touches. Most crucially for Christmas and Keita, Sullinger and Thomas help Ohio State rack up a plus-7.6 rebounding edge, good for sixth in the country — and good for lots of extended possessions. Christmas and Keita will have their work cut out for them in this game.
"
James [Southerland]
and
C.J. [Fair]
are going to have to help us,'' Orange forward
Kris Joseph
said of defending the Ohio State big men. "It's going to be the weakside man on the back of the zone that's going to be able to help the most when [they] get the ball down low. If Rakeem does a good enough job, we won't need to, but it's going to be our job definitely to give him a lot of help.''
March, 23, 2012
3/23/12
1:40
AM ET
BOSTON -- Greg Paulus knows a thing or two about good point guards.
For four years he played the part of one at Duke University.
From his catbird seat on the Ohio State bench, though, Paulus is pretty sure he's watching something special in the person of
Aaron Craft
, particularly when it comes to an on-the-ball defender.
"He's the best I've ever seen,'' said Paulus, now the Buckeyes' video coordinator. "I know Tom Izzo said after our game that he's never seen anyone like him, and he's coached a few games.''
Craft did not lead the Buckeyes in scoring against Cincinnati. In fact, he had a pretty dismal shooting night, connecting on just 2 of 7 shots and missing his first five.
Yet no one in an Ohio State uniform was more critical than Craft on Thursday. It was his quick hands and blanket defense, evident in his six steals, that all but erased Cincinnati's short-lived lead and helped the Buckeyes over their Sweet 16 hump with an
81-66 win
.
Ohio State will face Syracuse on Saturday. The Buckeyes, with the power duo of
DeShaun Thomas
(26 points and seven rebounds) and
Jared Sullinger
(23 and 11), advanced to their first Elite Eight since 2007.
"You have to want to play defense,'' said Lenzelle Smith, Craft's backcourt cohort. "Me and Aaron, that's what we do. We aren't afraid to yell at our guys, slap them around a little bit and they feed off that energy.''
That wasn't always the case. Craft admitted earlier this season there was more infighting among the Buckeyes than in a "Real Housewives" episode.
A blown assignment or a bad pass would inevitably lead to finger-pointing and you-a culpas, never a mea culpa.
No one was terribly interested in taking the blame or the heat, and amid all of the bad chemistry, Ohio State slid off course.
[+] Enlarge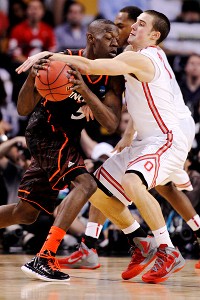 Greg M. Cooper/US PRESSWIREAaron Craft is arguably the top perimeter defender in America.
Losing can make or break a team. Fortunately for the Buckeyes, it was the former, the so-so results serving as a needed eye opener to what it takes to win and win consistently.
The hardest sell, always, is defense. It is a choice for some, a chore for most.
Except for Craft. He finds art in what most people consider misery. His face is almost like a defensive thermometer -- the redder the blush in his cheeks, the harder he's working and the more suffering the opponent is doing.
Most folks looked at this game against Cincinnati and concentrated on the inside, and certainly that's where the Buckeyes had and exploited their advantage.
Equally critical, though, was the flip side. The Bearcats start four quick guards, every one able to get to the hoop off the bounce or shoot from 3.
"What we wanted to do was be in position and force them to make quick decisions,'' OSU coach Thad Matta said. "We told each other, 'Just be sound, just be in the right spots at the right time. They're going to make shots. They're a high-powered offensive team. They've got plenty of guys who can score.' That was where our minds were -- just positioning, faking, staying.''
In all, the Bearcats coughed up the ball a crucial 18 times, seven more than their average.
Never were those mistakes more costly for Cincinnati, trying to make its first Elite Eight since 1996, than at the midpoint of the second half. Switching from zone to man-to-man, the Bearcats confused and rattled Ohio State enough to take a 52-48 lead on a
Yancy Gates
and-1 play.
With the UC half of the all-Ohio crowd on its feet, the Bearcats had seized momentum from a team that has felt the squeeze of this particular game.
Cincinnati should have frozen the scoreboard at that moment. The next time it scored, Ohio State had dashed out on a 17-1 run to not only retake the lead, but take the game over.
And the Buckeyes did it with defense. Cincinnati committed five turnovers in that critical span, with Craft forcing three of them. The miscues led out to runouts and buckets for Ohio State, including the dagger 3-pointer from Craft, that made it 61-53.
"We weren't making the right plays, we weren't making the right pass,''
Cashmere Wright
said. "We were over dribbling the ball, doing things uncharacteristic of our team.''
And Craft was playing his part without fault.
The box score says the point guard played just 39 minutes, 60 seconds shy of a yeoman's load. What the box score doesn't reveal is that Craft came out only when the game was in hand and Matta wanted to get his point guard an ovation.
When the buzzer finally sounded, Matta turned, a wide grin spreading across his face and pumped fists with his point guard.
Craft smiled back before putting his game mask back on. As he walked to shake hands with the Bearcats, he emphatically raised his finger, catching
William Buford
in the eye.
He wasn't labeling his team No. 1.
No, like a good point guard, Craft was reminding Buford what was next: one more game, one more win to get to the Final Four.
"He can make such an impact in the game in so many different ways,'' Paulus said of Craft. "But the best thing about him? All he wants to do is win.''
March, 23, 2012
3/23/12
1:12
AM ET
By
ESPN.com staff
| ESPN.com
Dick Vitale breaks down Ohio State's
81-66 victory
over Cincinnati.
March, 22, 2012
3/22/12
11:56
PM ET
By
Jack McCluskey
| ESPN.com
BOSTON -- A quick look at No. 2 seed Ohio State's
81-66 win over No. 6 seed Cincinnati
in Sweet 16 action in the East Regional at TD Garden on Thursday night:
Overview:
Both teams were looking to take advantage of mismatches. Cincinnati hoped its four-guard lineup would cause problems for the bigger Ohio State lineup. Ohio State hoped its size and skill inside would prove overpowering.


Turns out, both teams were right at times.
Deshaun Thomas
had scored 30 points in the paint in Ohio State's first two tourney games, the most in the Dance. So of course the 6-foot-7, 225-pounder took his game outside on Thursday -- hitting 3 of 5 first-half 3-pointers and scoring 20 points in the opening 20 minutes.
But in the second half, the Bearcats turned up the intensity on defense and started hitting shots, their guards using their quickness to cause turnovers and score in transition.
Sean Kilpatrick
hit a long 2, then a 3, then another 3 and suddenly the 6-seed was back in it.
Turning point:
Cincinnati scored the game's first five points, but Ohio State scored 15 of the next 19 to take control. The Buckeyes led by as many as 13 in the first half and were up a dozen at the break.
Thad Matta's bunch was 26-1 this season when leading at the half, so this one was in the bag, right?
Cincinnati had other ideas.
The Bearcats used a 14-2 run early in the second half to even the game at 41, then an 8-4 run to take their largest lead since the opening minutes at 49-45 with 12:13 to go.
But after
Yancy Gates
converted an old-fashioned three-point play to put Cincinnati up 52-48, Ohio State went back to its strength inside.
Jared Sullinger
got fouled in the paint and hit two free throws, sparking a 17-1 Buckeyes run that essentially ended the drama in this one.
Key player:
Jared Sullinger. While Thomas fueled the Buckeyes in the first half, he wasn't nearly as effective in the second. Luckily for OSU, Sullinger was just as effective in the final 20 minutes as he was in the first 20 minutes.
The sophomore big man followed up a 10-point, nine-rebound first half with a 13-point, 2-rebound second half to post final line of 23 and 11.
Key stats:
Second-chance points and free throws.
Ohio State took advantage of its size inside, and its willingness to crash the offensive boards, to compile a 13-5 edge in second-chance points.
And while points in the paint were relatively similar (30 for OSU, 28 for Cincinnati), the Buckeyes' banging inside helped them get to the line often. Led by Sullinger's 9-for-10 performance, OSU shot 19-for-27 from the charity stripe on the night.
What's next:
Ohio State moves on to the Elite Eight on Saturday. The Buckeyes will face No. 1 seed Syracuse, which beat No. 4 seed Wisconsin in a thriller 64-63 in the first game Thursday.
Jack McCluskey is an editor for ESPN.com and a frequent contributor to ESPNBoston.com. Follow him on Twitter @jack_mccluskey.
March, 22, 2012
3/22/12
9:20
PM ET
By
Jack McCluskey
| ESPN.com
BOSTON -- A quick look at No. 1 seed Syracuse's
64-63 victory
over No. 4 seed Wisconsin in Sweet 16 action in the East Regional at TD Garden on Thursday night:


Overview:
After all the talk about how Wisconsin would solve the vaunted 2-3 zone of Syracuse, it was the Wisconsin defense -- the top scoring defense in the country this season -- that struggled to contain the Syracuse offense early. Syracuse shot 63.6 percent in the first half, including 50 percent on 3-pointers, and led 33-27 at the break.
In a wild second half, the Orange weathered a furious storm of 3s from the Badgers and held on -- just barely -- for the win. The last time Syracuse won a game by one point in the NCAA tournament was the Sweet 16 in 2003, when the Orange beat Auburn 79-78 and went on to win the national championship.
Turning point:
This was a game of punch-counterpunch in the second half. It seemed that whenever one side would hit a big shot, the other would invariably answer.
So after
Jordan Taylor
hit yet another big 3 -- he had four in the half -- to put Wisconsin up 59-56 with 7:05 to go, was there any doubt Syracuse would find a way to answer?
If there was any doubt in the Orange, it didn't show.
Baye Keita
converted a layup, then
Dion Waiters
made one of his own to give Cuse back the lead at 60-59.
Taylor had a chance to win it for Wisconsin as time expired, but his heave was short and the Badgers couldn't get a good shot off the air ball as the Orange escaped.
Key player:
This was a balanced effort by the Orange. Four players scored in double figures, led by
C.J. Fair
with 15.
Key stat:
This one's easy -- without the 3, there's no way the Badgers get back into the game at all. Wisconsin shot 51.9 percent from beyond the arc for the game and was 9-for-16 in the second half as it rallied to make things interesting at the end.
Syracuse also shot well from 3, hitting 55.6 percent for the game. The difference was in the number of shots. Wisconsin took 27 as it attempted to rally from a double-digit deficit, while Syracuse took only nine.
What's next:
Syracuse will now move on to the Elite Eight, where it will face No. 2 seed Ohio State on Saturday night in Boston.
Jack McCluskey is an editor for ESPN.com and a frequent contributor to ESPNBoston.com. Follow him on Twitter @jack_mccluskey.
March, 21, 2012
3/21/12
6:45
PM ET
BOSTON -- Technically, Cincinnati and Ohio State last played in 2006, but ask anyone who gives a fig about either program and they will tell you that game was a manufactured replacement of the real deal. The game was played in Indianapolis -- not even on home-state soil.
To true fans, the last time these schools met was in 1962, the second of the back-to-back battles for nothing less than an NCAA title.
The catch with this rivalry, which is celebrating 50 years of absence, is that there are fewer and fewer people who remember it.
[+] Enlarge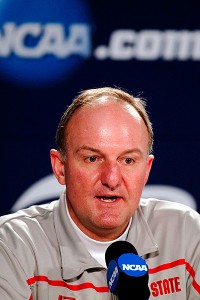 Greg M. Cooper/US PRESSWIRE"I don't know if I can give you a great answer exactly why we don't play," Buckeyes coach Thad Matta said of Ohio State and Cincinnati.
Forget the players who will tussle when the Buckeyes and Bearcats meet in the Sweet 16; most of the players' parents weren't even a twinkle in
their
parents' eyes.
Neither Thad Matta nor Mick Cronin were even born.
"There's nostalgia, guys, but I wasn't alive,'' Cronin said. "I grew up on that stuff, but I wasn't alive.''
Most everyone targets the Buckeyes as the bad guys in this Western. The Bearcats won those two national titles over their bigger, land-granted neighbor. And with the exception of the made-for-TV game in Indy, the Buckeyes have since taken their toys and gone home.
That puts Matta in a tricky situation this week, tiptoeing around a question that doesn't have a really good answer. He's not necessarily at fault for failing to reschedule the game, but he hasn't made it happen, either.
"I don't know if I can give you a great answer exactly why we don't play,'' Matta said. "It's one of those things that it is what it is.''
That the two are finally reconnecting with something critical on the line makes this all the more delicious.
Cincinnati has not made it to the Sweet 16 since 2001 and hasn't made it out of the regional semifinals since 1996.
By now most everyone knows Ohio State's recent history -- a host of regular-season wins and two regional semifinal losses to show for it.
So there is much more at stake here than just rekindling the flames for the retired set.
"It still kind of has bad blood between the two schools,''
Jared Sullinger
said. "But this one is going to be remembered for whoever goes to the Elite Eight.''
Who to watch
Ohio State's Deshaun Thomas:
He's the ultimate mismatch for the four-guard lineup Cincinnati prefers. Big, strong and athletic, he can score outside, but he also can do damage inside. In fact, he leads the NCAA tournament with 30 points in the paint in two games.
What the Bearcats can do with him defensively will go a long way in figuring out a winner.
"It will be a team effort,''
Sean Kilpatrick
said. "But I think will be OK with him.''
Cincinnati's Sean Kilpatrick:
The guard has the ability to light it up from outside. He's shooting 5-of-9 from behind the 3-point arc in the NCAA tournament and only 3-of-7 from inside it. If he gets hot, the Buckeyes could have some problems.
What to watch
The paint:
With a much smaller lineup, Cincinnati is going to have to be very careful inside.
Yancy Gates
will have his hands full with Sullinger and Thomas, and he can't allow the two to dominate on the boards or in the scoring column.
"I've been guarding a lot of good big men this season,'' Gates said. "They all do a lot of different things. I think it'll just be another challenge, trying to get to New Orleans.''
March, 21, 2012
3/21/12
6:30
PM ET
BOSTON -- Like so many other kids who grew up in and around Philadelphia, Bo Ryan made the in-season pilgrimage to the Palestra.
There, he would watch legendary Big 5 coaches such as Harry Litwack and Jack Ramsay and Jack Kraft ply their trade. He was just a kid, awed by the games and the coaches but he was also a future coach, mesmerized by the strategy and tactics.
"You talk about zones and you go to the Palestra when you're 10 years old, 11 or 12 and you're watching ball movement and body movement," Ryan said. "Those guys were so good in how they taught and how they cut and how they used skip passes."
[+] Enlarge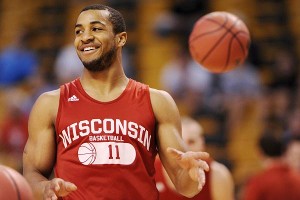 Michael Ivins/US PresswireSenior guard Jordan Taylor is averaging double-digits in points scored during the NCAA tournament.
Now the Wisconsin coach is hoping for a little osmosis.
His Badgers will face top-seeded Syracuse and the Orange's vaunted 2-3 zone in the Sweet 16 on Thursday (7:15 p.m. ET).
Wisconsin doesn't face a whole lot of zone in the Big Ten, but when the Badgers do, they're pretty effective against it. So far in the tournament, Wisconsin is shooting 46 percent against zone defense, according to ESPN Stats & Information, including a tournament-best 47 percent from the 3-point arc.
The Badgers will need that and more against Syracuse to win.
"It's nothing we haven't seen,"
Jordan Taylor
said. "We've all been playing basketball for years now. I know their 2-3 zone is a little different with the length that they throw at you, but it's really no different.''
Of course, the simplest way to beat a zone, as Ryan learned in those childhood Palestra visits, is to hit shots.
Wisconsin is fortunate in that it has plenty of guys who are comfortable shooting from outside.
The trick is to find guys who can connect.
"If you're not hitting shots it gets in your head sometimes, then it's kind of a multiplier effect -- 'Oh, am I going to make the next one?''' Ryan said. "We've watched every game that Syracuse has played and you've just got to work the ball, use good ball and body movement, and when you do get those shots, just believe they can go in.''
Who to watch
Syracuse's Dion Waiters:
The Big East's sixth man of the year is always critical for the Orange, but never more so than in the tournament. Against Kansas State, Syracuse was plus-17 with Waiters in the game and minus-1 without him.
"They have guys that could score 20," Ryan said. "They have probably more guys that could score 20 than most teams that you're going to play.''
Wisconsin's Jordan Taylor:
The senior point guard is not just the Badgers' best scorer, he's also their best ball handler. His 2.99 assists-to-turnover ratio will likely blister the NCAA record.
That's critical because no one in the country capitalizes on mistakes better than the Orange. Syracuse gets 27 percent of its offense off turnovers, using miscues to start its break.
"He's one of the best guards in the country," Syracuse coach Jim Boeheim said of Taylor.
What to watch
The pace. Few teams have been able to force tempo against the deliberate Badgers. Wisconsin averages only 59.2 possessions per game, the fewest in the country, but that doesn't necessarily equate to trouble scoring. Wisconsin still scores 66.7 points per game.
All that is key for a Syracuse team that is especially strong on the break. Syracuse can and will score in a half-court set, but if the Orange can up the tempo on the Badgers, things could quickly get dicey for Wisconsin.