College Basketball Nation:

2012 Final Four game plan
March, 29, 2012
3/29/12
9:00
AM ET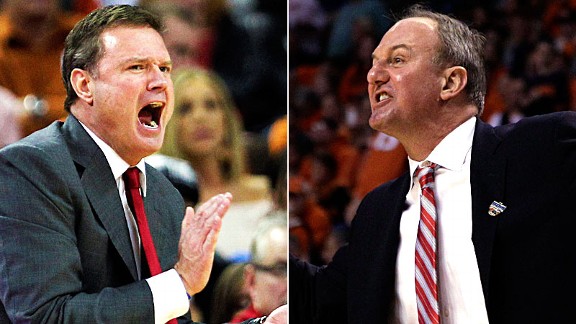 AP PhotoWill Kansas' Bill Self, left, or OSU's Thad Matta devise the game plan that gets his team to the final?
By Saturday, John Calipari, Rick Pitino, Thad Matta and Bill Self will have had nearly a week to scout their opponents. As we type, they're breaking down film, analyzing their opponents' strengths and weaknesses and searching for ways to impart this knowledge to their players in simple, digestible form. They are ... pause for dramatic effect ... game-planning.
What will each come up with? We don't exactly know. That's why they're coaches in the Final Four, and we are, you know, not. But we can still venture a guess. In the latter of a two-part series, here's a look at what they may come up with.
Now: Kansas vs. Ohio State.
Kansas Jayhawks

Offense
: By adjusted efficiency's lights, three of the four best defensive teams in the country are members of the Final Four. None of them, if you can believe it, is Kentucky.
They are, in order: No. 1 Louisville, No. 2 Ohio State, and No. 4 Kansas. (Kentucky is ranked No. 11; it's not like the Wildcats are slouches.) The cliche, as always: Defense wins championships.
Can the Jayhawks defend their way to a win? Would a game in which both teams hover around or below the 1.0 point-per-possession mark be in their favor? Maybe. But I tend to doubt it. Which means two things for Self as he prepares his squad for Saturday's "Clash of the Titans"-esque contest. (Or is it
Wrath of the Titans
?) In no particular order:
1. Kansas
has
to win the interior scoring battle.
2.
Tyshawn Taylor
has to stay in control.
The second might be the more important, but the first isn't far behind. Kansas is not a good outside-shooting team. This was true for much of the season (Kansas has shot 34.9 percent from beyond the arc), and it's true of the NCAA tournament, when the Jayhawks have made a downright blistering 16 of their 68 3-point field goal attempts. This might be a blessing in disguise: Last season, the Jayhawks were actually (and non-sarcastically) blistering from 3-point land; their reliance on that shot, and inability to adjust, ultimately ended their season in the Elite Eight against VCU. This season, the Jayhawks have no such reliance, so Taylor, the team's second-most important scorer, can somehow go 0-of-17 from 3 in four tournament games and Self's team can still make it to the Final Four. Fancy that.
No, what the Jayhawks do well -- as well as any team in the country -- is score around the rim. Kansas' 2-point field goal percentage this season is 53.3 percent, the 13th-best in the country. This comes in part thanks to Taylor's ability to get to the rim, but it is mostly to do with Kansas' two big men and the high-low motion offense -- Self's trademark -- that places them into prime, hard-to-double scoring positions.
And
Thomas Robinson
isn't the only threat.
Jeff Withey
is actually more efficient in the low block, averaging 1.045 ppp to Robinson's .902 this season, according to Synergy Sports Technologies scouting data. Robinson gets three times as many post-ups as Withey does, so his efficiency can naturally be expected to take a hit. But you get the idea. Robinson presents the high-powered NBA talent in this front line, but Withey -- with his 7-foot stature and even longer reach -- might be the biggest mismatch the Jayhawks have to offer against a team that plays the 6-9
Jared Sullinger
as its putative center.
But No. 2 above is where things get really interesting -- and, for Kansas, especially dicey. Throughout his four-year career, Taylor has been known to commit his share of turnovers, wacky heat-checks and mental mistakes. The point guard's 2012 turnover rate (his percentage of possessions in which he coughs up the ball) is 22.3. That's not bad for a player charged with creating offense within a 3-point-bereft perimeter attack. But it's hardly an encouraging stat for a player facing off against the industrial-grade turnover robot we humans casually refer to as "
Aaron Craft
" (more on that below).
Taylor's turnover rates have fluctuated all season. This is especially true of the tournament, wherein Taylor has posted respective rates of 33.3 percent, 20 percent, 31.2 percent, and, against North Carolina, 15 percent. Is that latest mark real? Or the product of playing against
Stilman White
?
Taylor's importance in this game can't possibly be underestimated. If Craft cripples him on the perimeter, Kansas loses a massive portion of its attack. It could take care of the first item above -- Withey and Robinson getting buckets on the low block -- but if Taylor doesn't deliver on No. 2, the rest probably won't matter.
Defense
: Grim as Taylor's prospects may seem, the Jayhawks
are
the nation's fourth-best defensive team, and they have a secret weapon many people still don't seem to know about.
Quick: Name the nation's best shot-blocker.
Anthony Davis
, right? Davis' range and impact make it difficult to argue that point. OK then: Name me the nation's
most frequent
shot-blocker, the one that repels opponents on a higher percentage of possessions than any other in the country? Yep. That's Withey.
Withey and Robinson are the near-ideal defensive pair. When an opponent drives the line, Withey goes after the block; he succeeds 15.1 percent of the time, the nation's highest rate. When that opponent misses -- or when any opponent misses, frankly -- Robinson, the nation's leading defensive rebounder (who grabs 30.9 percent of opponents' available bricks) is there to clamp the board and find a guard for a quick outlet.
This is a massive advantage to hold over Ohio State. At 33.2 percent from long range in 2011-12, the Buckeyes are an even worse 3-point shooting team than Kansas. More often than not, they get their points from Sullinger and
Deshaun Thomas
. Which is why Withey changes the game. Robinson has the size and speed to move with Thomas out to 20 feet if needed; Withey has the height to make Sullinger -- who struggles scoring over just this kind of player -- ineffective near the rim.
In the meantime, keep an eye out for Kansas' triangle-and-two junk defense. The Jayhawks have used it twice in their past two games, and each time it has halted the opponents' chief offensive threats, formed a near-impenetrable wall around the rim and, it must be said, downright befuddled UNC coach Roy Williams.
But whatever defense the Jayhawks run, their rare combination of length and athleticism in the post may be their defense's Craftian trump card. It should be fascinating.
TL;DR game plan
:
Dominate down low, work Robinson and Withey relentlessly, take only the best possible outside shots, hope Taylor doesn't self-destruct against Aaron Craft TurnoverBot 5000.
Ohio State Buckeyes

Offense:
Now that we know all about Kansas' interior defense -- and the relative impenetrability thereof -- what hope is there for Ohio State's offense?
Let's go with a two-point plan, similar to Kansas', in that it is one part prescriptive game plan and one part "hope for the best" wishcasting:
1. Use Jared Sullinger and Deshaun Thomas to stretch the floor.
2. Hope
William Buford
makes some shots.
First up: Sullinger is generously listed at 6-foot-9. Thomas is listed at 6-7, which seems slightly closer to reality. But either way, the Buckeyes' starting forwards are at a
major
height disadvantage against the defense they'll face Saturday. With a slightly more lifty (new draft term alert; get Bilas on the horn at once!) Sullinger, that might not be as much of a problem. But Sullinger doesn't explode off the ground. Rather, he roots defenders out with his considerable posterior, achieves optimal position, and finishes with brute force. This season -- especially in the Syracuse win, when he flashed a dazzling little mid-range touch -- Sullinger has considerably expanded his game. But he remains at his best when he can clear defenders out of his way and score with his right hand over his left shoulder. Against the 7-foot Withey -- the likely matchup in any man-to-man defense -- that is going to be very difficult.
Which is why it's time for Sullinger to flash that
15-foot jumper he stayed in school to develop
. Don't push Withey under the rim.
Pull him out
. Make him guard you at 15 feet. If you can't see over him, swing the ball and find a better look ... but don't play into the Jayhawks' strength. The Buckeyes are a good but not great offensive rebounding team, so if this means sacrificing position, so be it.
That goes double for Thomas. As
Dana O'Neil noted in her excellent feature on Thomas from Wednesday
, the stretch forward has morphed from an impulse bench gunner into one of the nation's most potent scorers. Thomas is leading Ohio State in scoring through its four NCAA tournament games, the mark of his continued expansion into one of the nation's most versatile threats. Thomas has no go-to scoring area, no preference for touch. Over the course of the season, per Synergy, he has spread his touches and scored almost equally on post-ups, spot-up jumpers, basket cuts and offensive rebound putbacks. In the tournament, Thomas has scored 1.643 on spot-ups (23 points on 14 possessions), by far his most efficient scoring trait.
This kind of versatile inside-out scoring from a 6-7 forward presents a major matchup problem for the Jayhawks. In the man-to-man, it could force Robinson to move further away from the hoop than he'd like. Thomas can look to shoot, or he can make Robinson move to stop his penetration; either way, Matta will like his chances. If Kansas goes to that famed triangle-and-two, Matta can use Thomas to stretch the corners all the way to the 3-point line, where the shot is (relatively) high-percentage and the defensive style is most vulnerable.
Whether the Jayhawks play man (likely) or triangle-and-two (less likely, but you never know when Self will bust it out), Thomas' and Sullinger's ability to score away from the rim will be key.
Which brings us, of course, to Buford. When Ohio State has struggled this season -- and those times, though rare, were highly publicized -- it was primarily because Buford and Craft and Thomas and even
Lenzelle Smith
were failing to provide the outside shooting that made the 2010-11 Buckeyes' offense so lethal. Actually, forget 2011: Ohio State was never even mediocre from long range. A large portion of that responsibility falls on Buford.
In this game, Buford presents the clearest matchup advantage for the Buckeyes.
Travis Releford
and
Elijah Johnson
aren't big enough to match up with the Buckeyes guard's size on the wing. But Buford is shooting just 13-of-44 in the NCAA tournament, the kind of offensive struggles he's dealt with all season. Ohio State has managed to progress this far without efficient wing scoring, but that may not get it done against a rim-protecting defense like this.
Can Buford come alive at just the right time? Can the Buckeyes stretch Kansas enough to get a few easy looks at the rim? The questions are intertwined and difficult to divine. But in this game, they couldn't possibly be more important.
Defense
: Sports Illustrated's Luke Winn does a better job than anyone in the country processing advanced statistics and scouting data and presenting it to your eyeballs in visually attractive form, and Luke's 2012 Aaron Craft Turnometer may be his Symphony No. 9. All season, Winn tracked the turnovers Craft forced -- some for which he was credited in the scoresheet, many not -- alongside charges taken and offensive fouls forced. The
end result is the picture of the nation's most dominant defensive player
, one who
individually
forces turnovers on 7.56 percent of opponents' possessions and one who just had his best game of the season in the Sweet 16:
How many players can say their best performance of the season was in the NCAA tournament? That's the case for Buckeyes pest/point guard Aaron Craft, who had the Turnometer" needle buried by creating 10 turnovers against Cincinnati in the Sweet 16. According to SI's charting, it was Craft's top turnover-creation game of the season, beating his previous best of 9.5 against Jackson State on Nov. 18.
If it has become fashionable to pick Ohio State to win this game -- for the record, I think it's a toss-up, but we'll see -- Craft, the friendly turnover-forcing robot, is why.
He pokes. He prods. He cuts penetration off with his shoulders and chest. He shows a double-team, then recovers too quickly to expose it. He is almost always in perfect defensive position, and his ability to give contact without fouling is almost unparalleled. He's a one-man antidote to the screen and roll. And if there's a player better at stripping opposing guards of the ball 25 feet from the hoop, I haven't seen him.
Craft is a nightmare matchup for the previously discussed, turnover-prone Taylor. Taylor is the second-most-important piece of Kansas' offense. Not only does he initiate that offense, but he also is relied upon to penetrate the lane, finish with a floater or drive, or find an open player with a dish. Craft makes that possibility remote.
Another major part of Taylor's game is transition; he and Johnson can be fearsome on the break. (Their connection on the closing-moments half-court alley-oop against Purdue was one of the more simultaneously questionable and amazing plays of the season.) But Craft is good at this, too: He is uniquely able to pressure defenders in the open court -- to "turn them," in coach speak -- cutting off any ball advancement (at best) and creating enough havoc to win a turnover (at worst). The Jayhawks would sure like to see Taylor and Johnson get out on the break whenever possible; it's the best way to score against Ohio State. But is it even possible?
There are other defensive matchups to watch in this game -- how Ohio State handles T-Rob and Withey, whether the Buckeyes need to worry about Releford on the wing, whether reserve
Conner Teahan
can provide shooting off the bench -- but by far the most important is what Craft can and will do against Taylor.
Lucky for us, it's also the most fascinating. This game is going to be
awesome
.
TL;DR game plan
:
Stretch Kansas' big men out to 15-20 feet, hope Buford makes some shots, protect the rim and stay out of foul trouble, unleash Craft on Taylor.
March, 28, 2012
3/28/12
1:24
PM ET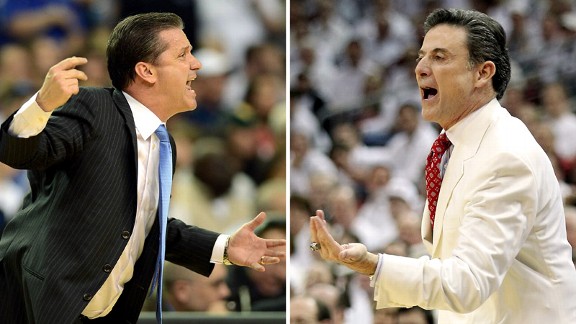 US Presswire/Getty ImagesKentucky coach John Calipari and Louisville coach Rick Pitino have spent the week divising game plans. How will they approach their Final Four matchups?
By Saturday, John Calipari, Rick Pitino, Thad Matta and Bill Self will have had nearly a week to scout their opponents. As we type, they're breaking down film, analyzing their opponents' strengths and weaknesses and searching for ways to impart this knowledge to their players in simple, digestible form. They are ... pause for dramatic effect ... game-planning.
What will each come up with? We don't exactly know. That's why they're coaches in the Final Four, and we are, you know, not. But we can still venture a guess. In the first of a two-part series, here's a look at what they may be coming up with.
Up first: Louisville vs. Kentucky
Kentucky Wildcats
Offense
: All week Calipari has told his team -- at least, according to his public appearances -- he isn't worried about the rivalry, or winning a national championship, or any of the pressure UK fans can't help but place on a team that is expected by almost everyone to bring home the program's eighth national championship this season. Instead, Calipari says, he is worried only that UK "plays its best basketball."
This is an entirely appropriate approach. Simply put: When UK plays its best basketball, particularly on the offensive end of the floor, the Wildcats are essentially impossible to stop. We've seen as much in the tournament (UK scored an insane 1.27 points per possession in its four south region wins) and before it (when
Kentucky scored 1.20 points per possession in its 16-0
SEC regular-season run).
What makes UK so good? It isn't any one thing. Stylistically, the Cats don't rely on any one trait; rather,
via Ken Pomeroy
, they rank in the top 20 in the nation in effective field goal percentage, turnover rate and offensive rebounding percentage. They can score in the half court and on the break; according to Synergy Sports Technologies scouting data, UK ranks in the 95th percentile in efficiency in half-court situations and the 87th percent in transition. Their most frequently used play type this season was the spot-up jumper, which they used on 22.5 percent of possessions, but Calipari's offense is diverse, utilizing ball screens, handoffs, cuts, isolations and straight post-ups throughout the season.
The only slight knock on this offense (if you can even call it that)? It was slightly worse against zone defenses than man defenses this season. Kentucky scored 0.971 points per possession against man-to-man in 2012. Its points per trip dropped slightly, to 0.956, against the zone. That's hardly a major drop-off.
When you have
Marquis Teague
and
Michael Kidd-Gilchrist
and
Anthony Davis
and
Terrence Jones
and
Doron Lamb
and
Darius Miller
, you can penetrate the lane, work off screens, dominate the boards, get easy buckets and knock down outside shots when needed. You don't have to change what you do for anybody, including the
Louisville Cardinals
.
One would imagine that is the real gist of Calipari's message this week: If we do what we do well, no one can keep us from scoring.
Defense
: Kentucky's defense isn't as good as its offense. The Wildcats' real strength is scoring the rock, sure, but at No. 11 in the nation in defensive efficiency, per KenPom, UK guards well enough that it could be a merely decent offensive team and still be worthy of a trip to the Final Four.
Newsflash: Kentucky is
really
good.
The Wildcats' primary concern on the defensive end should be the prevention of transition buckets. That stems from the offense, of course, which means
Marquis Teague
and the rest of the Wildcats will have to limit their turnovers, grab offensive rebounds and recover back on defense before the Cardinals can get a head of steam. But it mostly means picking up on the secondary break.
Louisville would like nothing better than to get fast-break layups, of course, but it will be just as satisfied with pushing the pace on long rebounds and odd-man situations, finding trailing shooters and open men in the corner -- namely guard
Kyle Kuric
. Kentucky's primary focus, then, won't be on whether it can stop Louisville in the half court. Of course, it can. This defense is great; Louisville's half-court offense isn't. The Wildcats will have to focus almost entirely on making sure Louisville doesn't get shots off from long range.
If they do, even if Louisville's defense bogs them down, it's hard to imagine the Cardinals scoring frequently enough to keep this thing close. Can you picture it? Because I can't.
TL;DR game plan
:
Don't get flustered by pressure, run our stuff, do what we do. On defense, run everybody off the 3-point line. (Simple enough, right?)
Louisville Cardinals
Defense
: Since the start of the Big East tournament, Louisville has won eight straight games, changed its style of play more than a few times, held opponents to a combined .88 points per trip and rocketed up Pomeroy's defensive efficiency rankings,
where it currently sits at No. 1 overall
.

In other words: If any defense in the country can slow Kentucky's offense right now, it's this one.
How will the Cardinals go about doing it?
According to Synergy, in the NCAA tournament, Louisville has played man on 152 possessions, or 57.6 percent of the time, and it has allowed just 0.737 points per trip to opponents. Pitino has used his zone on 112 possessions, or 42.4 percent of the time, when it has ceded 0.786 points per trip. (Those numbers are slightly skewed by that Florida first half, but they're valid all the same.) The Cardinals are at their weakest defensively in transition, where they've allowed 0.963 points per trip. But those possessions (just 27 in the tournament) have been few and far between.
So it is that Pitino has a series of choices to make. The man is rarely predictable, and his stylistic approach is never cut and dry. That's why his team is here: It can spring surprises (see Michigan State), change styles on the fly (see Florida) and execute almost anything Pitino asks. No wonder he loves this team so much.
So what does he choose? How does he seek to stop this juggernaut Kentucky attack?
The first is pressure: Louisville will almost certainly pressure full-court Teague and UK's other ball handlers after every made shot. There may not be many of those, but the pressure might apply to misses, too -- the more you can make the game difficult for Kentucky before the ball crosses half court, the better chance you have of upsetting their pristine, business-like offensive rhythm. Pitino may tell Smith and Siva to pressure the ball immediately, no matter what, to speed up the game, to create havoc in the backcourt and to wear on Teague (Kentucky's lone true point guard) as much as possible.
Once the ball crosses half court, he may have to resort to the zone. Kentucky can shoot it, no question, and it has the kinds of players capable of breaking down the zone off the dribble (and that's when the Anthony Davis and Terrence Jones lobs start flying in). But on a sheer man-to-man scale, Louisville can't match up, nor should it try. A hybrid matchup zone could turn Kentucky into a passing team, one that can't work off Calipari's screen-roll-replace and handoff action, one that helps to nullify touches in the post, one that prevents simple isolations for UK's brilliant scorers.
With a typical diet of effective slapping and digging, the turnovers may come. But if not, at least Louisville won't have to shade double-teams and work back to shooters and scramble around the court just to keep up.
Offense
: Which is where the offense comes in. The game can never be approached merely as a two-sided affair; offense bleeds into defense and vice-versa for every team. But that's especially true for Louisville. And even more so for this game.
Simply put, the Cardinals are not a great offensive team. Their eight-game run to the Final Four hasn't changed that fact. Their most efficient scoring in the tournament (41 points in 30 possessions) has come in transition. In the half court, they've been merely OK, scoring 0.849 points per possession in 252 possessions.
The Cardinals' most frequently used half-court play -- a high ball screen -- has yielded just 0.739 points per trip in the tournament. They've achieved similar results with post-up plays and isolations. Indeed, Louisville's best offense has come when the game is moving. Of the 11 general play types Synergy tracks, the Cardinals are most efficient when finding cutters, battling for offensive rebounds, dishing to the screener off a pick-and-roll, on spot-ups and in "miscellaneous" plays, which usually involve some type of scramble around the rim.
Unlike its opponent, Louisville has to actively generate ways to score. And in this game, that means pace.
The Cardinals will look to run at every chance, and why not? They're better in transition, and you'd much rather try to score on Kentucky before Davis has a chance to get back to fully cordon off the middle of the lane. This strategy assumes you can turn the Wildcats over, or make them miss shots and get long rebounds. That's no easy feat. But it is the best chance Louisville has of putting up points on its opponents in any meaningful way. And hey, it worked for Indiana's offense. The Hoosiers just couldn't get a stop.
Besides, the other option -- a staid half-court game -- simply isn't going to work.
With pressure, a tricky zone, up-tempo attack and a scrambling style around the rim, the Cardinals can dictate the terms of the engagement. Against a team this good, with players this talented, that is Pitino's best chance of knocking off the rival Kentucky Wildcats.
Even Malcolm Gladwell would have to agree
.
TL;DR game plan
:
Pressure Teague whenever possible, switch into a matchup zone to make the Wildcats adjust, force the tempo at every opportunity, find open shooters on the secondary break, hope for the best.