College Basketball Nation:

2012 how No. 1 will fall
March, 13, 2012
3/13/12
9:45
AM ET
Kentucky anchors a tough South region.
But the Wildcats are still my pick to win it all and end the argument that a crew made of one-and-done stars can't win the national championship.
They attack on both ends. They have underrated depth with
Darius Miller
coming off the bench.
Anthony Davis
is the national player of the year in my book and he's one of best defenders in recent college basketball history.
They can score in every imaginable way. Teams don't want to go inside with Davis waiting in the paint.
But I have two scenarios that could send the Wildcats home early: foul trouble for Davis or
Marquis Teague
turning the ball over multiple times.
I don't know if this group is better than John Wall's team. But I think this is John Calipari's best opportunity to win a national title because of Davis. He's a game-changing defender (4.6 blocks per game). He established a school record for blocks in a season ... in January. When the Wildcats lost to Indiana in December, Davis was in foul trouble.
[+] Enlarge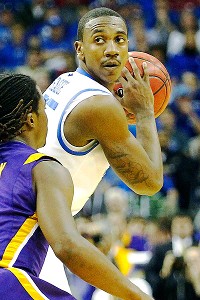 Crystal LoGiudice-US PresswireThe ability of freshman point guard Marquis Teague to handle pressure could be key to Kentucky's tourney chances.
If he picks up early fouls in the later rounds, Kentucky could lose. Davis is such a pivotal component on both ends of the floor for this team. The Wildcats are far more confident with him on the floor. Teams don't want to attack. But what if Davis is not there?
They're capable of playing solid defense without him, but it's not the same.
I think the Wildcats can win the national title even if Davis struggles on offense. But his defense is the thing that makes them the favorites. They need Davis to be available.
Opponents will attack him and try to draw fouls. They've done it all season. That philosophy won't change. You have to take your chances and attack the big man. The possible reward is early foul trouble for Davis and a disrupted Kentucky team.
I could also see Kentucky losing if Teague gets frazzled and can't control the ball. He's had 19 games with three or more turnovers this season.
Point guard is a crucial position, especially in the NCAA tournament. The teams with guys who can handle the rock as the spotlight gets brighter in the later rounds tend to fare well. Teague's inconsistency has to be a concern for Wildcats fans. He's going to face pressure every round.
He's surrounded by so much talent that he really doesn't have to be a playmaker as much as he has to play the role of offensive facilitator. But turnovers are magnified in the Big Dance. Will the freshman make a mistake that costs the Wildcats a shot at the national title?
But again, like North Carolina, it's hard to find many reasons to doubt this team.
I just wonder if the Wildcats really grasp the moment and the opportunity. This is just a brief stop on the way to the NBA for Kentucky's stars. They're going to face teams that have hungry veterans who hope to close out their careers with the gold. Do the Wildcats have the same desire?
They're dangerous. But they've also looked disinterested in stretches. So good, but they have to keep their foot on the gas for 40 minutes in the NCAA tournament.
A team anchored by freshmen hasn't won a national title in the one-and-done era. I think Kentucky has the weapons to change that.
But the Wildcats are inexperienced. That, along with foul trouble for Davis and/or a bad outing for Teague, could lead to a finish that does not include a national title.
March, 13, 2012
3/13/12
9:30
AM ET
Entering the year, I thought North Carolina would be where Kentucky is right now. The No. 1 overall seed. The favorite entering the Big Dance.
When
Harrison Barnes
announced that he was coming back for another year, it was all set. Barnes,
John Henson
,
Kendall Marshall
and
Tyler Zeller
were going to lead North Carolina to a national title.
Few reasons to doubt that eventuality.
But the Tar Heels have been vulnerable throughout the year. Not "they can't compete for the national title" vulnerable. But "they should be more dominant" vulnerable.
[+] Enlarge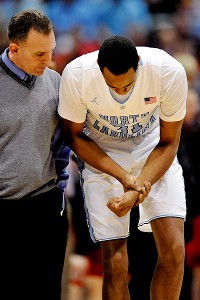 Paul Abell/US PRESSWIREThe wrist injury John Henson suffered against Maryland in the ACC tourney could pain North Carolina in the NCAAs.
They're stacked with NBA talent. They average 82.0 point per game (second nationally). But they've lost to squads without that pro pedigree.
So how will the Tar Heels lose?
With the exception of the January blowout at Florida State, North Carolina scored at least 72 points in its losses. So the Tar Heels won't lose to a team that can't compete at an elite level on offense.
A successful opponent will also need tough players who can secure second-chance opportunities and keep the Tar Heels (they average 15.7 offensive rebounds per game) off the offensive glass. Not an easy task. When they get second chances, they're tough to beat.
Henson's health (wrist injury) has to be a major concern. The ACC's defensive player of the year is averaging 13.8 points, 10.1 rebounds and 2.9 blocks. His absence had an obvious impact on the Tar Heels in Sunday's loss to Florida State.
Roy Williams says the junior and possible lottery pick might play in the NCAA tournament. But it's impossible to know how the wrist injury will affect him. The Tar Heels have held opponents to a 39 percent shooting clip from the field, No. 2 in the ACC. With Henson unavailable, the Seminoles shot 59 percent against the Tar Heels in Sunday's conference tournament final.
They're already missing an injured
Dexter Strickland
, a loss that's affected their limited depth. A subpar Henson will only increase the likelihood of an upset.
But even if he's back, the Tar Heels could run into trouble in the NCAA tournament. They've struggled from the 3-point line in some of their tight games. A 68 percent mark from the charity stripe could hurt the Tar Heels, too, especially since three of their five losses were single-digit defeats.
They have all of the tools, however, to make a run to New Orleans.
A team with a potent offense and a talented frontcourt that can rebound could put the Tar Heels in a tough spot.
But if you're looking for reasons to doubt them on paper, you won't find many.
Their potential for falling short of expectations is simple. Sometimes they don't rise to the occasion. All that talent. All that ability. Yet they've been beaten up by Florida State. They couldn't finish against Duke. They couldn't run with UNLV. They needed a clutch play against Kentucky and couldn't get one.
Yes, an opponent will have to play a near-flawless game to beat the Tar Heels. But an early loss is not unfathomable.
The notion that the Tar Heels have too much talent to fall has been proved false multiple times already this season.
March, 13, 2012
3/13/12
9:15
AM ET
Syracuse has played through immense adversity.
Bernie Fine was dismissed amid a sexual abuse scandal. Head coach Jim Boeheim made comments backing the assistant that he later retracted. A media firestorm ensued.
[+] Enlarge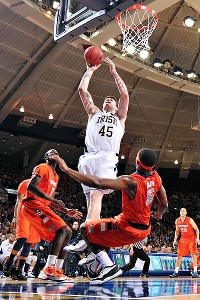 Matt Cashore/US PresswireSyracuse has proved vulnerable to physical big men like Notre Dame's Jack Cooley.
Yet the Orange stayed focused.
It looks like a team that's built for a Final Four run. It's a balanced squad.
And this just in … Syracuse is a very deep team. The Orange have a 10-man rotation.
Dion Waiters
is one of the most dynamic reserves in the nation. They're led by a veteran guard in
Scoop Jardine
.
Kris Joseph
is one of the most talented players in the country.
The Orange have been doubted all season. But they just keep winning. And they've found that success despite a serious off-court distraction involving Fine. Plus,
Fab Melo
missed games due to academic trouble. And they still didn't collapse.
I think this is a resilient squad that can compete with any team in the field.
But it's not perfect.
Syracuse will fall when a team exposes and capitalizes on its rebounding woes (the Orange have struggled all year with giving up second-chance opportunities).
During a 64-61 overtime victory against Georgetown in February, the Hoyas had a 20-12 advantage on the offensive glass.
Ball control will be pivotal, too. Syracuse forces 16.6 turnovers per game and uses that defensive prowess to spur its crucial transition game.
A team that limits turnovers can make Syracuse play more honest. It'll lose when an opponent can take advantage of the gaps in Boeheim's zone. In its only two losses of the season, Notre Dame shot 50 percent from beyond the arc and Cincinnati connected on 45 percent of its attempts from the 3-point line. Makes Vandy an intriguing team in the East region.
But a successful opponent will also have to be strong enough defensively to force the Orange to operate in the half court. They love to run and score on the break. They're not, however, as creative with their half-court game.
They're great when they're running. Hard to stop on the break, but a successful opponent will slow them down and force them to use the shot clock instead of relying on quick buckets in transition.
I know the Orange didn't have Melo against Notre Dame, but in Syracuse's two losses, they were bullied by
Jack Cooley
and
Yancy Gates
inside. Their interior guys are long and athletic, but they're not that strong or physical.
A successful opponent will have to take advantage of that.
Strength inside, second-chance buckets, slowing Cuse in transition and connecting on 3s against that zone will be keys against this Syracuse team that's only lost twice this year.
March, 13, 2012
3/13/12
9:00
AM ET
The first obstacle for a team facing the Spartans doesn't involve points per possession or field goal percentage defense. It's a toughness issue.
The Spartans can bully teams with their brawn.
Draymond Green
& Co. have embraced Tom Izzo's philosophy on physicality (38.0 rebounds per game), a mentality that this program lacked last season. Every time that the Spartans have had a No. 1 seed, they've reached the Final Four. So their opponents can't be intimidated by their legacy or their muscle.
They're not losing without a fight. The teams that shy away from that kind of scrappy basketball won't have a chance against Michigan State.
But the Spartans were vulnerable in the Big Ten tournament and during the season due to periods of imbalance. They're a complete team. And the Spartans are bigger than Green.
[+] Enlarge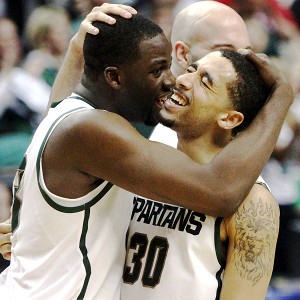 AP Photo/Kiichiro SatoBrandon Wood, right, was able to experience winning a Big Ten title at Michigan State after transferring from Valparaiso.
But when he struggles, it affects the entire squad. The Spartans overcame a two-point first half by the All-America candidate and managed to beat the Badgers in the Big Ten tournament semifinals Saturday. But if
Austin Thornton
hadn't hit back-to-back-to-back 3s in the first half, the Spartans would have lost that game. Same thing happened when Michigan State nearly lost to Minnesota a few weeks ago. Green struggled in the second half of that matchup, too. And the lowly Gophers were minutes away from a major upset.
The occasional imbalance works two ways. Sometimes Green (16.1 points, 10.4 rebounds and 3.6 assists per game) is on and everyone else is struggling. That happened when the Spartans lost to Indiana on Feb. 28. Green had 29 points; the rest of the squad combined for 26.
I think Michigan State has a supporting cast that's capable of complementing Green whether he's on or he's off. But the Spartans are a better team when multiple players contribute and they spread the offensive load.
And that's a more difficult task with talented freshman
Branden Dawson
MIA due to a torn ACL.
The Spartans don't have many flaws. They're tough. They play great defense (No. 3 in Ken Pomeroy's adjusted defensive efficiency ratings). And with Izzo on the sideline, they're always dangerous in the postseason.
But they'll fall if they don't get consistent contributions from Green's teammates. Even if he excels, the Spartans will need
Brandon Wood
,
Keith Appling
and
Derrick Nix
to produce. They don't have a Scottie Pippen. The responsibility will fall on multiple players.
I think squads will also focus on pressuring Appling. As a team, the Spartans averaged 14.8 turnovers per game in seven losses. Appling has recorded 14 turnovers in the team's last six games.
The Spartans have had moments when they've slipped into a one-man-band mentality. The start of their conference tournament victory over Wisconsin exemplified that. They were lost as Green tried to shake his funk.
Opponents will do what they can with Green, but forcing other guys to become playmakers in the NCAA tourney could lead to a Spartans downfall if those contributors struggle the way they have at times this season.
Green is an amazing athlete. But that could be a curse for this squad in March if the Spartans rely on him too often.