College Basketball Nation:

2012 Midwest Region
March, 24, 2012
3/24/12
3:34
AM ET
ST. LOUIS - His team had just advanced to the Elite Eight for the second consecutive season, but shortly after Kansas'
60-57 victory
over NC State on Friday, a reporter asked Bill Self if the Jayhawks were living "on borrowed time."
Inside the KU locker room,
Thomas Robinson
said he had a sour taste in his mouth. Instead of talking about his 10 blocks (just one shy of Shaq's NCAA tourney record),
Jeff Withey
answered questions about his teammates' inability to make outside shots. As fans spilled into the St. Louis streets to celebrate,
Elijah Johnson
slumped in an Edwards Jones Dome chair and stared at the ground.
"We've got to do something," Johnson said. "The way we're playing ... we've got to fix it."
Winning isn't supposed to feel like this -- and at most schools, it doesn't.
Things, however, are different at Kansas, where, fair or not, seasons aren't viewed as a success unless the team reaches the Final Four. The Jayhawks have the talent to get there, but they realize they won't unless their performance takes a dramatic turn in Sunday's tilt with North Carolina.
"I don't know what the problem is," guard
Conner Teahan
said. "We're not playing our best basketball."
Less than a week after shooting just 33.9 percent in a 63-60 victory over Purdue, Kansas made just 37.5 percent of its shots Friday against an 11th-seeded NC State squad that barely made the NCAA tournament.
KU outscored the Wolfpack 44-22 down low, but once they stepped away from the blocks, the Jayhawks couldn't have hit sand if they fell off a camel. Kansas made just two of its 22 shots outside the paint, a stat that still had Self and his players baffled nearly an hour after the final horn.
"We couldn't throw it in the ocean," Self said. "We couldn't make free throws, all those things. If anything we'll spin this into a positive. Two shots outside the paint and we still won? That's unbelievable."
[+] Enlarge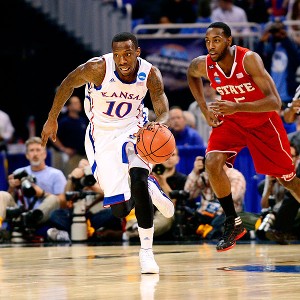 Scott Rovak/US PresswireTyshawn Taylor and KU struggled most of the night, but still came away with the victory.
Kansas missed 13 of its 14 attempts from 3-point range and was just 11-of-20 from the foul stripe. Point guard
Tyshawn Taylor
, who led KU in scoring during Big 12 play, was particularly brutal with a 2-of-14 performance.
Taylor and Robinson both missed the front end of one-and-one opportunities that would've sealed the victory in the game's final minute.
"The lid just hasn't come off [the rim] yet," Self said. "But it's
going
to come off. We're going to start making shots."
Teahan even joked about the situation.
"Maybe," Teahan said, "we've just been stockpiling all of our shots for Sunday."
Disappointing as they've been on offense, these Jayhawks have hardly resembled the KU teams of the past that played scared and tightened up against inferior teams in the NCAA tournament. No one can question the Jayhawks' effort or toughness in any of their first three games.
Especially on the defensive end.
NC State connected on just 28.4 percent of its field goal attempts Friday. Kansas may have scored just two baskets in the final 7 minutes, 10 seconds, but it also made a handful of key defensive stops in the game's waning moments to thwart NC State's comeback attempt.
Kansas led by as many as 10 points in the second half.
"You can say what you want about our offense," Robinson said. "But defensively, we've been great. When nobody scores, we can't lose."
The Jayhawks, however, know they're in for a much tougher test against North Carolina on Sunday. The Tar Heels, 32-5, needed overtime to defeat No. 13 Ohio on Friday, but they played without All-American guard
Kendall Marshall
, who missed the game with an injured wrist.
It has yet to be determined if Marshall, who averages 9.7 assists, will play against Kansas. The Jayhawks hope he does.
"We want their best shot," Teahan said.
Even if Marshall doesn't play, North Carolina will be the best opponent Kansas has played all season other than Kentucky. Forwards
John Henson
,
Tyler Zeller
,
Harrison Barnes
and
James Michael McAdoo
are all projected as NBA lottery picks. Sharpshooter
Reggie Bullock
, who made five 3s on Friday, is also a potential first-rounder.
Self said the Tar Heels were "the best rebounding team in college basketball."
As impressed as he is with the Tar Heels, Self is more concerned with making sure his own team is ready.
Even though Kansas wasn't as efficient as Self would've liked on Friday, he said he wasn't leaving the Edward Jones Dome discouraged. Instead he focused on the bigger picture. Five months ago, analysts predicted this year's team would be Self's worst at Kansas. The Jayhawks lost four starters from a 35-win squad and appeared to be destined for a rebuilding year.
Yet here the Jayhawks are -- 30-6, Big 12 champions for the eighth straight season and in the Elite Eight for the second consecutive year.
"It's a great opportunity," Self said. "If you'd have told us before the season that we'd have a chance on Sunday afternoon to play to go to the Final Four, we would've all said, 'Wow!' That's how I feel. Considering what we lost and how far this team has come ... we're one game away."
Now if only those shots would start falling.
"Every team in the country, I don't care who it is, plays their best ball at least one game every year," Johnson said. "We haven't yet, but I think it's going to happen.
"The best has yet to come."
March, 24, 2012
3/24/12
12:45
AM ET
ST. LOUIS -- North Carolina sophomore
Reggie Bullock
was playing defense near Ohio's bench with somewhere around 12 minutes left in regulation when he overheard a Bobcats assistant coach say it:
"They can't win without Kendall Marshall."
And boy, that made him mad.
"That just got to me, for someone to say that my team can't fight, can't win without our starting point guard,'' said Bullock, usually one of the most mild-mannered members of the team. "That lit a fire under me."
And he took it out on the Bobcats, right when the Tar Heels needed it the most.
With Marshall (UNC's Cousy Award finalist) on the bench in a suit because of a fractured wrist, and top scorer
Harrison Barnes
struggling to make just about anything, it was Bullock's blaze -- from beyond the 3-point line and on the boards -- that helped push top-seeded UNC to a
73-65 overtime victory
.
Bullock scored 12 of his 17 points after his accidental eavesdrop. As a result, the guard who missed the entire NCAA tournament last season because of knee surgery will be playing Sunday in the Midwest Regional final. The Tar Heels will play Kansas at the Edward Jones Dome.
"I think Reggie really grew up as a player tonight,'' said Marshall, who declined to discuss the state of his fractured right wrist after the game. "People take it for granted, but he didn't play in the NCAA tournament last year. This is his first time going through this. And … to have the [guts] to take those big shots and knock them down, that's big-time. One of his downfalls is how unselfish he is. But he was huge for us tonight."
Indeed, with little-used freshman point guard
Stilman White
(two points, six assists, no turnovers) making his first start and senior wing-turned-backup-ballhandler
Justin Watts
(four rebounds, three turnovers, one assist) backing him up, UNC built, then lost, a 15-point lead. Even against a smaller Ohio team -- its tallest starter was 6-foot-8, compared to UNC's starting frontcourt of 7-foot
Tyler Zeller
, 6-11
John Henson
and 6-8 Barnes -- the Tar Heels seemed out of sync without Marshall, who set the ACC record for assists in a season before breaking his wrist last Sunday.
[+] Enlarge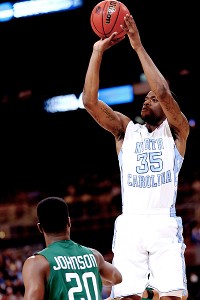 Shane Keyser/Getty ImagesUNC's Reggie Bullock scored 12 of his 17 points after overhearing a slight from Ohio's bench.
And they were sloppy, turning the ball over a season-high 24 times.
UNC also got a scare with 16:29 left, when Bullock limped out of a game after his surgically repaired left knee buckled while he was trying to grab a rebound.
"All I could think was, 'Not another one. Not another bad knee,''' said Barnes, who had already seen two other UNC guards,
Leslie McDonald
and
Dexter Strickland
, sidelined by knee injuries this season.
But Bullock checked back in with 15:21 left, overheard the Ohio assistant's comment, and told his team about it during the 12-minute TV timeout.
Then he got busy taking out his angst on the court.
With 11:26 left, he buried a much-needed 3 to give his team a 42-38 cushion.
With 7:36 left, he did it again, this time giving his team a 51-47 advantage.
And with 40 seconds left -- and with the 13
th
-seeded Bobcats leading by one -- he hit another big 3-pointer that gave his team a 63-61 lead.
"Right when I caught the ball, I heard my whole bench, from managers to everybody, say 'Shoot!'" Bullock said. "And right then, I just pulled the trigger and I saw it go in. And I just was like, I was just thinking to myself, 'It's like my time to perform.' And it was a big shot for our team and all my teammates just believing in me to make those shots."
A jumper by Ohio's
Walter Offutt
(26 points), and then a miss by Barnes, sent the game to the five-minute extra period. But it was Bullock -- who else? -- who opened overtime with -- what else? -- a 3-pointer.
"He was,'' Zeller said, "incredible."
The 6-7 athlete from Kinston, N.C., wasn't the only standout in the survival. Zeller, who finished with 20 points and a career-high 22 rebounds, became only the fourth player in the last 30 seasons to record a 20-20 in an NCAA tournament, and the first since Tim Duncan in 1997, according to ESPN Stats & Information. Henson added 14 points and 10 rebounds.
But Bullock (6-for-13 overall, 5-for-10 on 3-pointers) was especially key on a night when Barnes made only 3 of 16 shots and Ohio got hot in the second half, making 50 percent of its shots after going 8-for-35 in the first half.
"I think we feel like we got away with one,'' Zeller said. "Ohio played the better game, they hit a lot of shots; I think we just were able to make a lot of plays at the end that made us capable of pulling it out."
Including a few from Bullock, who also grabbed 10 rebounds to record his second career double-double.
"I want Kendall out there, but he wasn't able to be out there -- he was helping us fight from the bench,'' Bullock said. "And I wanted to show that our team could still compete."
Follow Robbi Pickeral on Twitter at @bylinerp.
March, 24, 2012
3/24/12
12:25
AM ET
By
ESPN.com staff
| ESPN.com
North Carolina freshman
Stilman White
, who made his first career start against Ohio, talks about his team's 73-65 overtime victory over Ohio.
March, 22, 2012
3/22/12
7:55
PM ET
ST. LOUIS -- North Carolina sophomore
Harrison Barnes
jokingly pondered recently exactly how play-every-position senior
Justin Watts
prepared for a game: Does he work on his dribbling, Barnes asked, or on defending big guys in the post?

Friday's game against Ohio is easier in one respect: With starting point guard
Kendall Marshall
questionable to play because of a fractured right wrist, Watts will be working on the former.
"I'm ready,'' Watts said Thursday. "If my number is called, I'll be ready."
That's been the 6-foot-5 athlete's mantra throughout his tenure in Chapel Hill. A natural wing, he played a lot of power forward when the Tar Heels were thin in the post last season. This year, after backup point guard/starting shooting guard
Dexter Strickland
tore his ACL in January, he played two stints at ballhandler -- a position he's not totally unfamiliar with.
"The first position I played with my AAU team was point guard,'' Watts said. "So I've got a little of that under my belt."
Keep that in perspective, though. Freshman
Stilman White
(who will likely start if Marshall is a scratch) and Watts have combined for only 24 assists this season. Marshall had 21 in his previous two games.
"[Kendall] just told me to be myself, to play my game, to get the ball to my teammates,'' Watts said.
"…It's not about me, it's about what I need to do to help my team win."
ZELLERS' CHOICE:
Steve and Lorri Zeller said during the ACC tournament that if their two younger sons (UNC's Tyler, and Indiana's Cody) made the NCAA tournament in different brackets, they'd follow the elder one.
They're sticking with it, and will be at the Edward Jones Dome to watch Tyler play Ohio, while Cody plays Kentucky in Atlanta on Friday.
"Both my parents are coming here because of seniority," Tyler said.
JAYHAWK TALK:
Coach Roy Williams said he was out for his morning walk Thursday when a passerby said, "Rock Chalk Jayhawk."
His response, he said, was "Go KU."
Old feelings die hard, even with the chance that his Tar Heels could meet up with his old team, the Jayhawks, on Sunday if both prevail Friday (Kansas plays NC State).
"I'll be ecstatic if we're still playing on Sunday regardless of who we're playing,'' Williams said. "And I'm a Kansas fan. I'm a North Carolina fan first. For 15 years I was a North Carolina fan, but I was a Kansas fan first."
THE OTHER WRIST WATCH:
UNC forward
John Henson
, who missed three games because of a sprained left wrist before returning Sunday against Creighton, said his wrist is feeling better; it remained wrapped during Thursday's open practice.
Asked if he wished people were writing his number (31) on their wrists, like they're now doing with Marshall's No. 5, he said: "No. He actually broke his … so he's a little more deserving of that."
QUOTE-WORTHY:
Williams on Marshall: "I just know the kid tells me he can't brush his teeth yet, how the dickens can he play basketball game if he can't brush his teeth? I mean, he can go out there with bad breath, but you still got to be able to play the dadgum game."
Follow Robbi Pickeral on Twitter at @bylinerp.