College Basketball Nation:

2012 Pac-12 tournament
March, 10, 2012
3/10/12
10:41
PM ET
LOS ANGELES -- Colorado coach Tad Boyle wasn't ready to sleep at 1:30 a.m. on Saturday morning. So less than 14 hours before playing in the Buffaloes' first conference tournament championship game since 1990, Boyle started text messaging.
"We dedicated this game to Cory Higgins, Levi Knutson, Marcus Relphorde, Trent Beckley, Javon Coney and Alec Burks." Boyle said. "I texted them all at 1:30 in the morning, the six guys who were in that room [on Selection Sunday last year] who are no longer with us today, and told them that we are winning this for them."
That dedication turned into delirium for the Buffaloes at Staples Center, as Colorado won't have to worry about any slights from the NCAA tournament selection committee this season. The Buffaloes clinched the Pac-12's automatic tournament berth with a
53-51 victory over Arizona
, the first conference tournament title in program history.
Colorado (23-11) emerged victorious despite only scoring three points in the final 9:10. Its only field goal during that span came on a windmill dunk by
Carlon Brown
with 52.6 seconds left that provided the game-winning points. But for a program that hadn't made the tournament since 2003 -- falling on the wrong side of the bubble several times in the years since, including last season's disappointment -- holding on for dear life while milking a 50-38 lead down to the end was somewhat fitting.
[+] Enlarge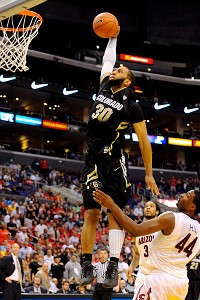 David Hood/AP ImagesCarlon Brown slams home Colorado's winning points in the final minute of the Pac-12 tournament championship.
"It was tough there at the end, but we knew that we had to make that last stop," said forward
Austin Dufault
, who scored eight points and had seven key rebounds. "We've played great defense all year and I was hoping for one last stop."
The Buffaloes got that last stop, as
Nate Tomlinson
harrassed
Kyle Fogg
's shot attempt, a long jumper at the buzzer that didn't come close to being good. That set off an uproarious celebration that was 365 days later than Colorado expected it to be.
"[Selection Sunday] last year was probably the worst experience in my life, at least as far as basketball is concerned," Dufault said. "This one is probably the best. It feels so good right now, especially after what we went through last year."
Brown didn't play on last season's team, as he sat out after transferring from Utah. But the pain of missing out on Selection Sunday was just as real to him. Having played in the tournament in 2009, when he was a sophomore with the Utes, he wanted to bring the rest of his teammates that experience.
"I told the guys at halftime that there's nothing better than winning a tournament championship and cutting down those nets and getting all this free gear," Brown said. "On a serious note, I'm the only person that's been to the tournament. I know how it feels and I wanted these guys to feel it."
Colorado did that with a workmanlike effort, especially defensively and on the glass. The Buffaloes outrebounded Arizona 35-23 -- with
Andre Roberson
notching his 19th double-double of the season and third of the tournament with 10 points and 11 rebounds. They held the Wildcats to 36.7 percent shooting, including 26.3 percent from the 3-point line. The Wildcats (23-11) missed all seven of their 3-point attempts in the second half.
"We have this drill in practice called the 'bubble drill' where we put a bubble over the basket for the last four to five minutes of the game," Boyle said. "The only way you can win is to play defense and get stops. Our guys believe in that drill."
The Buffaloes also believe in themselves, even if they were the only ones that held that belief for most of the season. After losing their top four scorers from last season, including an NBA lottery pick in Burks, the Buffaloes were picked to finish 11th in their new conference.
Turns out that the preseason prediction was 10 spots too low, at least in terms of the conference tournament. By winning four games in four days the Buffaloes now have a legion of believers that extends past their spirited student section, which stole the show in the Staples Center stands.
"The job that Tad Boyle has done at Colorado, and what Colorado represents for the future of the Pac-12, I can make the argument that there's been no greater gift to college basketball in the Pac-12 than adding Colorado," Arizona coach Sean Miller said. "I wish them the best in the NCAA tournament. Whoever draws them is running into a hungry, well-coached, disciplined team."
March, 10, 2012
3/10/12
8:45
PM ET
LOS ANGELES -- Reaction from Colorado's
victory
against Arizona in the Pac-12 tournament final.
Overview:
Colorado is to the Pac-12 Conference this season what Jordan Knight, Jonathan Knight, Donnie Wahlberg, Joey McIntyre and Danny Wood were to the music industry in the early 1990s, as both sets of new kids moved to the top of the charts. The Buffaloes won the Pac-12 tournament title on Saturday at Staples Center, capping off a banner first season in the league and winning the first conference tournament title in school history. With the win, which wasn't clinched until Arizona guard
Kyle Fogg
's contested shot fell well short of the rim as the final buzzer sounded, No. 6-seeded Colorado qualifies for the NCAA Tournament for the first time since 2003 and exorcises demons of having its bubble burst a year ago.


As for bubbles, Arizona's might have burst with the loss. Entering the Pac-12 tournament, the No. 4-seeded Wildcats were thought to be one of the teams that would fall just short of making the NCAA tournament, and it seems unlikely that wins against UCLA and Oregon State this weekend will be enough to get Arizona, which advanced to the Elite 8 a year ago, back to the big dance.
Turning point:
The first eight minutes of the second half. A day after Arizona used a quick second-half start to overwhelm Oregon State, the Wildcats had the tables turned on them by Colorado on Saturday. The Buffaloes opened up the second half with a 17-8 run, expanding its 30-28 halftime lead to 47-36.
Spencer Dinwiddie
, who hit four 3-pointers en route to a team high 14 points, nailed a 3-pointer to put the Buffaloes up by double-digits.
Colorado led by as many as 12 in the second half, and needed every bit of the cushion that it established in the first eight minutes, as Arizona held the Buffaloes to only one field goal and three points over the final 9:10. The field goal, a dunk by
Carlon Brown
with 52.6 seconds left, provided the Buffs with the game-winning points, as
Nate Tomlinson
was able to force Fogg into a difficult game-tying attempt.
Key player:
Dinwiddie got the Buffaloes going early, hitting three first-half 3-pointers, helping Colorado to its halftime lead. He finished with 14 points, one more than Brown and four more than Roberson, who compiled his 19th double-double of the season with 10 points and 11 rebounds. Fogg scored 12, leading the Wildcats.
Key stat:
After being outrebounded by California in the semifinals, the Buffaloes crashed the boards against a strong Arizona team, outrebounding the Wildcats 37-29. Colorado held Arizona to 36.7 percent shooting, and only gave up five 3-pointers to the leading 3-point shooting team in the conference. The 3-point defense was especially effective in the second half, as Arizona misfired on all seven of its second-half attempts.
Miscellaneous:
Saturday was Colorado's first conference championship game appearance since 1990, when it lost to Oklahoma in the Big 8 final. Meanwhile, the Wildcats made their seventh Pac-12 title appearance ... The Pac-12 tournament marked the first time the Buffaloes played on four consecutive days since turning the trick March 6-9, 1934 ... The Wildcats have the most Pac-12 tourney titles with four, but it's been 10 years since their last one.
What's next:
Besides a lot of celebration, the Buffaloes can sit back on Sunday knowing their NCAA ticket is punched, which is a rare feeling indeed for a program that has found itself sweating Selection Sunday more often than not. Arizona will have to sweat out its fate -- which most likely includes a trip to the NIT. But with what's considered the top recruiting class in the nation coming in next season, there will be better days ahead for the Wildcats.
March, 10, 2012
3/10/12
2:12
PM ET
LOS ANGELES -- It wouldn't be a surprise if Pac-12 commissioner Larry Scott let out a loud sigh of relief late Friday night, as Colorado's victory against California in the second Pac-12 semifinal allowed his conference to avoid the Armageddon scenario of being the first one-bid major conference since the NCAA tournament expanded from 48 to 64 teams in 1985. With the Golden Bears assured of a bid barring some crazy circumstances, Saturday's Pac-12 title game between Colorado and Arizona will give the conference a second bid. And Washington has a decent shot at getting a third bid for the Pac-12. So take that critics!
[+] Enlarge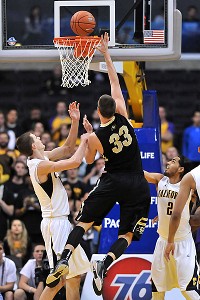 Cal Sport Media via AP ImagesColorado's Austin Dufault scores in the second half Friday against California.
No. 6 Colorado vs. No. 4 Arizona, 6 p.m. ET
Neither the Buffaloes (22-11) or Wildcats (23-10) were considered an at-large selection when the Pac-12 tournament started, and the loser is almost assuredly relegated to the NIT, as both teams were in the "Next Four Out" category of Joe Lunardi's latest
Bracketology
. So the atmosphere for this conference championship game will have more of a mid-major feel, where the combatants are scrapping and fighting for their shot at glory, than a BCS conference title game vibe, where the teams are playing simply for seeding. That should make for some fun at Staples Center.
Both teams have gotten to this point via defense, as they are the top two field goal percentage defenses in the conference. Colorado has given up only 54 points per game in its three victories (43 against Utah, 62 against Oregon, and 59 Friday night against Cal), holding opponents to 39.5 percent shooting in those victories. Colorado clamped down at crucial times twice against the Golden Bears, getting out to a 15-4 start early, and holding Cal scoreless for 4:28 in the late going, allowing a three-point lead to swell to a comfortable 59-46 advantage.
Arizona is no slouch on the defensive end either, as it actually led the Pac-12 in field goal percentage defense. The Wildcats held Oregon State more than 18 points below its season average in Friday's 72-61 semifinal victory, shutting off
Jared Cunningham
in the second half. After limping into the halftime down 34-27 after Oregon State ripped off a 20-4 run, the Wildcats flipped the script in the second half with their defense, holding the Beavers without a field goal for 6:16 as part of a 20-3 surge.
Keys to victory:
Hitting the three and the boards. Along with stifling defense, Arizona turned the tables on Oregon State on Friday by tearing it up from long distance, as the Wildcats drained nine of 18 3-pointers.
Brendon Lavender
's trey to tie the game at 36-36 was considered the turning point of the game by Arizona coach Sean Miller.
Kyle Fogg
also nailed three triples, seemingly all late in the shot clock. Arizona leads the conference in 3-pointers per game, so look for Fogg, Lavender,
Solomon Hill
and
Nick Johnson
behind the arc.
Colorado sophomore forward
Andre Roberson
, the leading rebounder in the Pac-12, has been a double-double machine this season, compiling 18 thus far. He narrowly missed a 19th against Cal, with 17 points and nine rebounds. But Colorado, one of the best rebounding teams in the conference, was actually outboarded 31-25 by Cal, which is something it can't afford to do against Arizona. The Wildcats'
Jesse Perry
, the second-leading rebounder in the conference, had 16 points and 11 rebounds against Oregon State, while Hill can also crash the boards. So the Buffaloes will need the likes of
Austin Dufault
and
Carlon Brown
to help Roberson on the glass.
Previous meetings:
The teams split their regular-season encounters. Colorado pulled out a 64-63 nail-biter in Boulder on Jan. 21., and Arizona notched a 71-57 victory in Tucson on Feb. 9. Brown was the hero for the Buffs in the first game, draining the game-winning 3-pointer with 1:19 left. Arizona crashed the boards in its victory, as Perry (17 points, 11 rebounds) and Hill (16 points, 14 boards) each compiled double-doubles.
March, 10, 2012
3/10/12
3:15
AM ET
LOS ANGELES -- Colorado doesn't care about bubbles. It doesn't care about odds. It doesn't even care about being the new kids and throwing the Pac-12 establishment for a loop by refusing to wait its turn.
It just cares about winning that next game.
That's been good enough for the No. 6-seeded Buffaloes, who advanced to the Pac-12 tournament title game Friday with their third victory in three nights, taking out No. 2 California,
70-59
. The Buffaloes will face No. 4 seed Arizona at 6 p.m. Saturday at Staples Center with an NCAA tournament berth on the line.
But don't expect them to talk about bubbles between now and then, as the word "bubble" is almost considered vulgar in Boulder.
"We don't discuss bubbles, we don't talk about them at all," Colorado coach Tad Boyle said. "After what these kids went through last year, we refuse to discuss that word. We came here on a mission and it has nothing to do with bubbles."
You can't blame the Buffaloes for being sore about the b-word, as Colorado was left at the altar last season on Selection Sunday despite a 21-13 overall record and a .500 mark in the respected Big 12. But even mentioning the bubble, or bursting other team's bubbles -- like the Buffaloes did when they defeated Oregon in the quarterfinals on Thursday -- brings angst.
"We aren't worried about that. We are worried about winning the [Pac-12] tournament," Colorado guard
Carlon Brown
said. "It's been a long time since a Colorado team has been in a title game, so that's something we want to do."
The Buffaloes haven't gone through the Pac-12 freshman initiation that fellow new guy Utah has endured this season, as Colorado has built a 22-11 record despite being picked to finish near the bottom of the conference. Those preseason prognostications have been a point of motivation for CU all year, sometimes too much so.
[+] Enlarge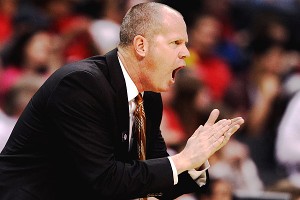 AP Photo/Jae C. HongTad Boyle and his Colorado squad are still smarting from last season's snub at the hands of the NCAA tournament selection committee.
"Yeah, it's motivated these guys," Boyle said. "We've talked about it. I've probably beat it over the head a little bit too much, but anytime I feel like we're letting down a little bit or we need a good practice I just throw it out there."
The Buffs didn't let down on defense, which is fitting for a team that's second in the conference in that category. Colorado forced 17 Golden Bears turnovers to 13 assists, with 11 of those turnovers coming in the first half, and limited Cal to 42.9 percent shooting in the game. One stretch in particular where the Buffaloes locked down was from the 8:10 mark of the second half to the 3:48 mark, as they held Cal scoreless while scoring 10 consecutive points, turning a tight 49-46 game into a decisive 59-46 advantage.
Colorado will be facing another stout defensive team in the championship game, as Arizona is the only other team that betters the Buffs in the Pac-12 defensive statistics.
"I think it's appropriate that you have the two best defensive basketball teams playing for the championship," Boyle said. "They're No. 1 in field goal percentage defense. We're No. 2. It's a quick turnaround and we are ready to go."
Colorado has a chance to put its new conference on its ear if it wins the conference title in its first season in the Pac-12. But instead of being mad at its precociousness, the Pac-12 might want to give Colorado a pat on the back, as its victory on Friday will allow the conference to avoid the possibility of being a one-bid league, as California is virtually assured of an at-large bid.
But that's another aspect of its run that Colorado refused to think about. There's only one goal that matters, which is qualifying for the NCAA tournament for the first time since the 2002-03 season.
"I want these guys to make it," said Brown, who qualified for the tournament when he played for Utah in 2009. "I've already been there but I want the rest of these guys to get there too."
March, 10, 2012
3/10/12
2:25
AM ET
LOS ANGELES -- A quick look at Colorado's
70-59 victory
over California in a Pac-12 tournament semifinal Friday:


Overview:
One of the Pac-12's new kids saved the conference from the possible embarrassment of being a one-bid league, as the win by No. 6-seeded Colorado assures that a Pac-12 team that is on the bubble or worse will be getting an automatic bid to the NCAA tournament. The Buffaloes might have earned their Pac-12 stripes by taking the doomsday one-bid scenario out of play.
No. 2-seeded California will be in the field of 68 come Sunday, so Friday's loss to Colorado in the Pac-12 semifinals at Staples Center isn't something that should keep it up all night. However, the Golden Bears might find themselves as a double-digit seed thanks to this loss.
Turning point:
Jorge Gutierrez
not being able to convert a 3-point play. The Cal guard made a brilliant runner in the lane while being fouled by Colorado's
Spencer Dinwiddie
to put the Golden Bears within 49-46 with 8:10 left. However, Gutierrez could not convert the free throw part of the and-one. Cal lost steam after that, going 4:28 without scoring and allowing Colorado to go on a 10-0 run to put the game out of reach.
Carlon Brown
and
Austin Dufault
were the main catalysts for Colorado's rally, as Brown scored the first five points of the run while Dufault pitched in the next five.
Allen Crabbe
, who lead all scorers with 18 points, finally hit a 3-pointer with 3:48 left to get Cal back on the board, but by then the Buffaloes had seized control of the game.
Key player:
Take your pick from Brown, Dufault and
Andre Roberson
. Brown and Roberson each scored 17 points, with Brown putting an exclamation point on the victory with a windmill dunk in the final minute. Roberson fell just short of his 19th double-double, as the sophomore forward had 17 points and 9 rebounds. But his defense in the paint was key, throwing off the Golden Bears. Dufault pitched in 15 points.
Key stat:
Roberson actually made every shot he took but one, hitting all six shots he took from the field and 3 of 4 free throws. He came within 45 seconds of having a perfect game, as his final free throw of the night was the only shot he missed.
Miscellaneous:
Both Colorado and California got almost all of their scoring from their starting lineups, as the Buffaloes only had five bench points to Cal's four ... Colorado showed why it has the second-best scoring defense in the conference, as it forced the Golden Bears into 11 first-half turnovers and 17 overall. The Bears had four more turnovers than assists, with Brown and Dinwiddie notching four steals each for the Buffaloes.
What's next:
Colorado will play Arizona on Saturday at 6 p.m. ET in the Pac-12 tournament title game, a matchup that pits the school with the most Pac-12 tourney titles against the new kids. California will be in the NCAA tournament barring a huge surprise and will wait for its seeding when the field is released on Sunday.
March, 10, 2012
3/10/12
1:28
AM ET
LOS ANGELES -- After having come within two points of making the Final Four a year ago, Arizona wasn't going to allow its NCAA tournament hopes to fade away at halftime of the Pac-12 tournament semifinals on Friday at Staples Center.
So despite only hitting one field goal in the final 7:56 of the first half and going into halftime down seven points to No. 9-seeded Oregon State, Arizona knew that its tourney chances weren't remotely close to being done.
"Sometimes as a coach you have a feel that your guys have been through it before, and it's somewhat understated how many postseason games we played in a year ago," Arizona coach Sean Miller said. "When you're at halftime and you're playing in these elimination games, it certainly helps to have a team of individual players that have done that and been there before."
That experience was evident in the second half, as No. 4-seeded Arizona buckled down on defense, outscoring the Beavers by 18 points in the second half to roll to a
72-61 victory
and a berth in the Pac-12 championship game on Saturday.
After allowing the Beavers (19-14) to shoot 50 percent in the first half, Arizona (23-10) locked down on defense, holding Oregon State to 27.3 percent shooting to turn a 34-27 disadvantage into another step toward its 26th NCAA tournament appearance in 27 seasons. But even though the entire 20 minutes was a clinic, Miller said he was especially impressed by the way his team played in the first four minutes of the second half.
[+] Enlarge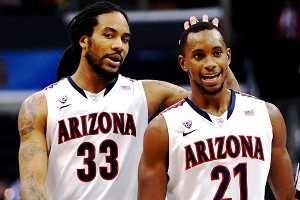 Jayne Kamin-Oncea/US PresswireJesse Perry, left, and Kyle Fogg combined for 27 points in the second half of Arizona's comeback.
"That four to eight minutes in the second half is some of the best basketball that we played this year," Miller said. "It would have been easy to go in at halftime and say 'It just doesn't feel right,' but we did just the opposite."
Seniors
Kyle Fogg
and
Jesse Perry
were key cogs in Arizona's second-half push, as Fogg scored 17 of his game-high 22 points in the second half while Perry scored 10 points and pulled down 7 rebounds after halftime, giving him a double-double of 16 points and 11 rebounds for the game.
"He made some big shots," Miller said of Fogg. "It wasn't an easy 22. He made several plays when it counted the most -- made a lot of plays at the end of the [shot] clock. He's really been doing that, and he had a great game today."
The entire Wildcats team had a great second half on defense, holding Oregon State to zero field goals and only one point for 6 minutes, 16 seconds, from the 17:48 mark to 11:32 of the second half. Oregon State's only point during that stretch came on a free throw by
Jared Cunningham
. Cunningham was a symbol of Oregon State's second-half frustration, scoring only 3 points on 1-of-8 shooting in the second half after going off for 11 in the first 20 minutes.
While Oregon State was scuffling, Arizona was making big shots. The biggest of Arizona's 20-3 run to open the second half might have come at the 16:21 mark, when senior guard
Brendon Lavender
drained a 3-pointer at the top of the key to tie the game at 36-36.
"When Brendon hit that shot, I could sense that we were ready to get it going," Fogg said. "It seemed to take a little out of them too. It's tough playing three games in three days like they did and it started to catch up to them."
Oregon State coach Craig Robinson admitted that the Beavers had lost their legs in the second half, as the combination of playing two intense games prior to Friday and the Beavers' frenetic style took its toll.
"I thought we simply ran out of gas," Robinson said. "We played so hard and so fast for three days that we didn't have anything left in the tank after they made their run at us. With the way we play, I thought it took its toll."
But Arizona had just as much to do with Oregon State's fatigue than any sort of lag the Beavers felt. Freshman guard
Nick Johnson
, who put Arizona up for good at 38-36 with 15:59 left on a driving layup, was one player who Miller lavishly praised.
"With Nick, it's not what shows up on the stat sheet," Miller said. "It's just that he's a playmaker. And he made plays tonight."
The Wildcats hope that Johnson, as well as the rest of the crew, continue to make plays in Saturday night's Pac-12 championship game and take any question about their tournament status out of the selection committee's hands.
March, 9, 2012
3/09/12
11:36
PM ET
LOS ANGELES -- Some thoughts from Arizona's
72-61 victory
over Oregon State in a Pac-12 tournament semifinal Friday:


Overview:
No. 4-seeded Arizona picked a heck of a time to come up with arguably its best half of the season, as it blitzed Oregon State to knock the Beavers out of tournament consideration and keep its hopes alive. After a lull at the end of the first half allowed Oregon State to build a seven-point halftime lead, the Wildcats overwhelmed Oregon State, which felt the effects of playing a third game in three nights.
Is it enough to get the Wildcats, who were the seventh team out in Joe Lunardi's most recent bracket update, in the tourney even with a loss on Saturday? Doubtful, but Arizona has a chance to take its tournament life out of the hands of the committee, which is all it can really ask.
Turning point:
Halftime. Oregon State rolled in the final eight minutes of the first half, holding Arizona to one field goal while ripping off a 20-4 run to take a 34-27 lead. But whatever Arizona coach Sean Miller did to rally the troops during the break apparently worked, as the Wildcats ripped off a 20-3 run to open the second half, turning the seven-point deficit into a 47-37 advantage while holding Oregon State without a field goal for 6:16. Things didn't get much better for the Beavers after that, as Arizona extended its lead to as many as 14 points and was not significantly challenged by Oregon State the rest of the way.
Kyle Fogg
and
Jesse Perry
keyed Arizona's second-half outburst, as Fogg scored 17 of his 22 points in the final 20 minutes while Perry added 10 points and 7 rebounds in the second half to finished with a double-double, compiling 16 points and 11 rebounds.
Key player:
Fogg and Perry carried the way for the Wildcats, but Arizona also got 12 points from
Solomon Hill
. Senior guard
Brendon Lavender
was also crucial in the early stages of Arizona's run, draining a 3-pointer from the top of the key with 15:59 left in the second half to tie the game at 36.
Nick Johnson
's layup on Arizona's next possession put the Wildcats ahead to stay.
Sophomore reserve
Roberto Nelson
was a bright spot for the Beavers, as he scored 19 points to lead the Beavers. He was instrumental in Oregon State's run to end the first half, scoring five points during the rally, and was the only Oregon State player to really get it going in the second half, when he scored 14.
Devon Collier
added 15 points while
Jared Cunningham
added 14, though Cunningham, the Pac-12's leading scorer, struggled in the second half.
Key stat:
After shooting 50 percent from the field in the first half (14-for-28), the Beavers were held to 27.3 percent shooting (9-for-33) in the second half. Arizona was deadly from 3-point range, making 9 of 18 triples.
Miscellaneous:
Cunningham went ice-cold in the second half, only scoring 3 points on 1-of-8 shooting...With the loss, the Beavers will miss the NCAA tournament for the 22nd consecutive season dating back to the 1989-90 season. Oregon State was led then by future NBA All-Star Gary Payton, who sat courtside by former Los Angeles Laker and Oregon State alum A.C. Green for all three of the Beavers' games in the tournament.
What's next:
Arizona gets a chance to qualify automatically for its 26th NCAA tournament in 27 seasons on Saturday, as it will play the Colorado-California winner in the Pac-12 tournament title game at 6 p.m. Oregon State will have to wait to hear its postseason fate, as the Beavers have a chance to be selected to play in the NIT or CBI tournaments.
March, 8, 2012
3/08/12
11:27
PM ET
Oregon State had one of the Pac-12's best nonconference wins.
And it was over a middling, young Texas team in overtime in New Jersey.
But that sort of summed up the Pac-12. The league was light on nonconference wins and when its teams got into league play, beating each other up only enhanced the perception that the conference wasn't worthy of elite status.
Well, heading into Friday night's semifinals, Oregon State has the best win of the Pac-12 tournament too, knocking off top-seeded regular-season champ Washington
86-84
on Thursday at the Staples Center in Los Angeles.
[+] Enlarge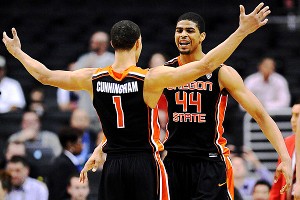 Jayne Kamin-Oncea/US PresswireJared Cunningham and Devon Collier, right, have the chops to take Oregon State to the Pac-12 final.
"It's my best win ever, as a coach or as a player when I was at Princeton,'' Oregon State coach Craig Robinson said late Thursday night by phone. "This team is starting to believe that they're as good as we thought they were. It's really nice to see. This is a watershed moment for these guys. Those guys on Washington are really good.''
The Beavers (19-13) move into the Pac-12 semifinals against Arizona. Oregon State isn't on the bubble. Arizona is probably a reach, or at least third in line for a possible bid among Washington and Cal on the at-large candidacy list.
Washington, even with the Pac-12 regular-season title, must now sweat out Selection Sunday.
The Huskies' nonconference resume has nothing to shout about. The worst home loss -- a blowout to South Dakota State -- might look better now that the Jackrabbits won the Summit League title. But that's still a team from the Summit going into Seattle and cleaning house.
"I'm not in there in the committee,'' UW coach Lorenzo Romar said during the postgame news conference. "I know we haven't won as many games as we should have in nonconference as a league. I would think the Pac-12 champion would be able to find a place in the NCAA tournament. We certainly didn't help ourselves, but I would think we'd be able to find ourselves in there.
"But I am not on the committee. The committee, they're meeting, and we're kind of at the mercy of their decision.''
As for the Beavers, their defense has tightened up in the two Pac-12 tourney games so far, coming back to beat Washington State and Washington on consecutive nights.
The offense is more than capable of beating Arizona and advancing to the title game if
Jared Cunningham
,
Devon Collier
and
Ahmad Starks
make sound decisions.
"These guys are starting to trust each other,'' Robinson said. "We were hoping that we could play well in the first game. The way we started to come out I thought we could win.''
In their one meeting this season, Arizona beat Oregon State in overtime in Tucson. There was a minor scuffle at the end of the game. But there is too much on the line in this one to expect any carryover to Friday.
"I like the fact that we lost to them in overtime,'' Robinson said. "That bodes well for us psychologically. I like our offense. We haven't had trouble scoring in either game. But it will come down to whether or not we defend well.''
Oregon State looked like it had floundered a few weeks ago, losing five in a row. But the Beavers then rallied to sweep a homestand with Utah and Colorado heading into the 8-9 game against the Cougars.
"That gave us some momentum,'' Robinson said. "You sometimes see with veteran teams they'll play well in a tournament, but we're doing it with a bunch of freshmen and sophomores and it took them a little while to figure it all out.''
March, 7, 2012
3/07/12
2:30
PM ET
By
ESPN.com staff
| ESPN.com
Two off the first tee.
It's a time-honored amateur golf tradition, because every golfer -- whether horrific (like me) or really good (like most of my buddies, who lose patience with me quickly) -- can recognize the value of a free mulligan on the first swing.
Let's extend the same friendly courtesy to the Conference Formerly Known as the Pac-10, shall we? This year was the first in the new-look Pac-12's existence, and it was totally deserving of a mulligan: As of Tuesday, the Pac-12 was a combined 1-30 against the RPI top 50 in 2012, with the only win coming over RPI inflation case Colorado State, which Stanford beat all the way back on Nov. 15.
That led to an altogether feckless and uninspiring two months of conference play, wherein the title chase between Cal and Washington came down to the final week. Sounds exciting, right? It wasn't: Washington ended its season with a loss at UCLA, but because California dropped its final two games at Colorado and Stanford, the Huskies still won the league outright. Throw in a downright awful season at Arizona State, a disastrous rebuilding entry from new member Utah, quite possibly the worst (and most unwatchable) offensive squad in conference history in USC and a near-meltdown (and revealing Sports Illustrated investigation) at UCLA and, well …
yeah
. The first iteration of the Pac-12 was not one for the history books. Here's to a less-buggy version 2.0.
Click here
for the rest of Eamonn Brennan's preview.