College Basketball Nation:

2012 Phoenix Region
March, 24, 2012
3/24/12
10:21
PM ET
PHOENIX --
Erving Walker
tossed up his futile, last-ditch 3. As it plummeted to its pointless finish, the buzzer sounded and the scoreboard was clear.
Louisville 72, Florida 68
.
Rub your eyes for a moment, and check again. Louisville 72, Florida 68.
Ecstatic and unmoored, Louisville's bench sprinted across the floor, players hugging and popping their shirts and pointing at their fans and reveling in another incredible chapter of their unlikely story -- an 18-3 run to close the game, a recovery from Florida's lights-out first half, an Elite Eight victory over one of the hottest and most talented teams in the tournament.
The
Louisville Cardinals
were going to the Final Four -- this team! in the Final Four! -- and they meant to celebrate that fact.
But one player was restrained. As his teammates bounded and embraced, UL freshman
Chane Behanan
sat on his team's bench, head down, frozen in place.
"I felt like I was in a dream," Behanan said. "No way. No way.
"I don't know how we win that game.
How did we win that game, man?
"
In truth, the Cardinals
won that game
with the same characteristics that got them to the Elite Eight in the first place. Some are tangible, easy to see: versatile defense, rebounding, brilliant coaching adjustments, conditioning, Behanan's revelatory emergence.
Some are intangible, more difficult to define: unwavering self-confidence, pluck, intelligence, a knack for the big moment, the occasional dash of luck. Or, as guard
Peyton Siva
defined it: "heart."
Whatever you want to call it, the Cardinals are swimming in it. How else do you explain it? This is the same team that was riddled with injuries all season, played oft-horrific offense and lost four of its final six regular-season games.
These are the best guesses as to why this team hasn't lost since the start of the Big East tournament. These are the reasons why its coach, Rick Pitino, will appear in his sixth Final Four, why he'll become just the third coach (alongside Roy Williams and Jack Gardner) to take two different programs to multiple Final Fours. They're why Pitino moved to 7-0 against Billy Donovan, his former player and assistant and why, after three decades in the game, Pitino reserves a special place for this team.
"I never wanted a Final Four more than for these guys," Pitino said. "They give me every single thing they have in their bodies. They're just the most incredible group to coach."
Why? Saturday was the perfect example.
Florida came out hot -- hotter than it could have ever reasonably hoped, considering it faced the nation's No. 1-ranked per-possession defense. Two days ago, the Cardinals had stymied No. 1-seeded Michigan State with punishingly quick defense, with a zone that gave the Spartans no chance of offensive rhythm.
On Saturday, the Cards unleashed their zone again, but the Gators shredded it. In the first half, UF scored 41 points -- just three fewer than Michigan State scored in 40 minutes Thursday night -- on 14-of-21 shooting from the field and 8-of-11 from 3.
Not only was Louisville's defense not holding the Gators' attack back, but Florida was
comfortable
-- swinging the ball from side to side, finding trailing players for open 3s, knocking down everything, seemingly burying the game.
Seven of Florida's eight first-half 3s came against the zone. On the first play after the half, UF knocked down another jumper against the zone, and Pitino refused to sit by and watch. He knew he had to switch. So the Cardinals moved to their man-to-man.
[+] Enlarge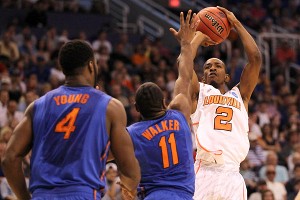 Jamie Squire/Getty ImagesSophomore guard Russ Smith scored 12 points during Louisville's game-ending 25-10 run.
Of course, the pupil countered: Donovan exploited the man defense by running ball screens designed to force Louisville big man
Gorgui Dieng
to guard the perimeter. It worked, until the master countered back: Pitino told Behanan to wait until the last second on defense and switch with Dieng, flustering the designed screens just as they began to take shape.
It was around that point -- with 10:56 remaining -- that official Karl Hess whistled Pitino for a technical foul even though he was talking to Siva. ("I'm yelling at Peyton, 'Why would you foul, he's falling down,'" Pitino said. "I'm yelling, 'Why, why? Why would you foul?' And he gave me a technical.") Walker knocked down all four free throws on that dead-ball situation, Florida stretched its lead to 11 points, Siva was in foul trouble and the Cardinals looked like toast.
"I'm not going to lie," Behanan said. "I thought that was it after that."
That's when one of the Cardinals' quieter players called an impromptu, in-game team meeting.
Kyle Kuric
doesn't talk much, his teammates said, but when he does, they listen. And Kuric was talking now.
"Kyle grabbed everyone together and said, 'Listen, we're going through adversity,'" guard
Russ Smith
-- whose nickname, "Russ-diculous," couldn't possibly be more fitting -- said. "'They're hitting ridiculous shots. Let's just get some stops, because we're facing adversity. We've been here before.' We took off."
The Cardinals embarked on a 25-10 run to close the game. Smith and Behanan combined to score 23 of those points. Forward Behanan made key buckets down the stretch -- the one to tie the game at 66, the one with 1:12 left to play, when he cleared Dieng out and drained a turnaround jumper to give his team its first lead since the 14-minute mark in the first half.
Meanwhile, thanks to Siva's fifth foul at the four-minute mark, guard Smith finished the game on the floor. In typical "Russ-diculous" fashion, he threw the ball away to Florida guard
Bradley Beal
with 25 seconds remaining ... but lucked out when Beal traveled in the ensuing fracas.
"I could have cost us the season," Smith said. "I was very nervous. Thank God we won the game."
As for that defense, by the final whistle, the Cardinals had played 48 possessions in man-to-man. Florida shot just 11-of-29 against that pressure. In the second half, the Gators went 0-for-8 from long range and 9-of-25 overall. Pitino's adjustment, combined with Smith and Behanan's punctual baskets, changed the game.
So it was that, slowly but surely -- the product of conditioning and defensive adjustment and an uncanny knack for the timely play, more than any obviously overwhelming run -- Louisville won the game. It overcame a white-hot Florida first half, five fouls for its starting senior point guard, a second-half Pitino technical, and an 11-point deficit to get to the Final Four.
All season, it has overcome injuries and a putrid offense ("The other day we had an open practice, and I said to my son, 'We're about 2-of-50' -- and Gorgui made one of the two shots," Pitino cracked). Now, at the most important moments, it is overcoming teams with more talent, teams with more future draft picks, teams with more size, teams with more speed, lineups like Michigan State's and lineups like Florida's.
This Louisville team
overcomes
.
At the end, it all culminated with Walker's pointless heave, with a team hugging and screaming at midcourt, preparing to cut down the nylon net, with the freshman forward who had just carried them there sitting on the sideline, motionless, trying to take it all in.
"Somebody wake me up," Behanan said, before trailing off and laughing. "I still don't know how we won that game. I'm glad we did -- but it was crazy how we won."
Crazy? Sure. But par for the course for this Louisville team, which makes "find a way to win" less a cliché than a credo. It isn't pretty. It doesn't always make sense. But if Behanan was dreaming, he should roll over and hit snooze.
Somehow, his team is going to the Final Four.
It's not time to wake up just yet.
March, 23, 2012
3/23/12
11:25
PM ET
PHOENIX -- There is nowhere to hide. There are no secrets to keep and no shocking, revolutionary game plans to unveil.
With Louisville and Florida, this would also be the case in November: Is there a high-profile coaching duo as familiar with one another as Rick Pitino and his former star player and pupil, Billy Donovan? No.
That familiarity will play a factor, no doubt ... but it's also the default situation for any two teams squaring off with a Final Four berth on the line. By this point, the Cardinals and Gators are what they are. Both teams have revealed themselves in their three NCAA tournament victories to date. And both coaches will prepare their teams accordingly.
What do those preparations entail?
There's the obvious strength-on-strength matchup: Over the course of the season, Florida's offense has been one of the best and most efficient in the country. As of Friday's pregame press conferences, the Gators ranked No. 3 in adjusted efficiency, per
KenPom.com
. Louisville, meanwhile, has likewise been a great defensive team all season -- after Thursday night's historically brutal lockdown of No. 1-seeded Michigan State, the Cardinals rank No. 1 in the nation in defensive efficiency.
But there are also recent concerns to factor. Louisville's defense has gotten even better of late, but its offense has improved as the Cardinals have forced more turnovers and pushed the pace more often than during the regular season. And Florida, which struggled defensively all season, has morphed into a defensive beast in its own right. After allowing 1.04 points per possession in SEC play, the Gators have allowed just .80 points per trip in three impressive tournament wins over Virginia, Norfolk State and Marquette.
The Gators are eager to prove they're more than a deep shooting team -- a reputation they rightly earned throughout the season but which feels less applicable with each passing game. The Gators aren't shooting 3s particularly well of late, but they're winning all the same.
"Everyone already has an opinion on this team -- that we're a 3-point shooting team," guard
Kenny Boynton
said. "That's what everyone is saying. But we're not shooting a great 3-point percentage. In this tournament, it shows that we can score in different ways."
The Gators' newfound defensive toughness and overall versatility makes Pitino's game plan a bit tougher. He'll still be eager to unleash his team's hassling high-pressure defense on Florida's coterie of skilled guards, particularly primary ball handler
Erving Walker
. Pitino will also search for a team-oriented way to stop
Bradley Beal
-- the talented freshman swingman whose 21 points on 8-of-10 shooting from the field made the key difference in Florida's win over Marquette -- because the Cardinals don't have one player who matches up with a future NBA lottery pick on a sheer personnel level.
In general, Pitino's defense will look to keep the Gators from doing their favorite thing of all -- storming opponents with lethal 3-point shooting, whether they admit it or not -- and let big man
Gorgui Dieng
, who tied a Louisville tournament record with seven blocks Thursday, handle the rest.
[+] Enlarge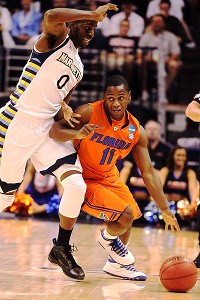 Chris Pondy/Icon SMIFlorida will rely on point guard Erving Walker, right, to fight through Louisville's defense.
"Our ball pressure is tremendous," Louisville guard
Chris Smith
said. "We trace the ball wherever it goes. And we just really try to keep it out of reaching the 3-point line. And with this team, we have to step out even deeper to NBA range, because those guys can really shoot it."
Donovan, meanwhile, knows how good this defense is, and knows his team not only has to handle the Cardinals' ball pressure but also has to find a few easy buckets against Dieng on the inside. How? There are no secrets in the Elite Eight, and no easy answers for a Louisville defense this good.
"There's probably not a lot of stuff that they haven't seen run at them, being in the Big East and playing the schedule they've played," Donovan said. "Everybody's tried to attack it in a lot of different ways. But their defensive percentages from inside the line and behind the line are really remarkable."
Whom to watch
:
Erving Walker, Florida:
Walker's game may well determine whether Florida moves on. The Gators' point guard will handle much of the task of getting the ball across half court against Louisville's tricky off-again, on-again pressure, and he has been prone to turnovers in the past (his 18.0 percent turnover rate is the highest of any of Florida's starting guards, and the third-highest on the team). If Louisville guard
Peyton Siva
can create havoc for Walker, Louisville could again grind another opponent into submission even without much offensive efficiency of its own. Walker's ballhandling is absolutely crucial.
Chane Behanan, Louisville
: The freshman was brilliant in Thursday's win, scoring 15 points, grabbing 9 rebounds and swiping 3 steals, and perhaps most impressive -- especially against Michigan State's defense, one of the best in the country -- was Behanan's calm, collected interior finishing. The Cardinals may need it again. Louisville isn't likely to shoot the ball well, especially against a Florida team with the quickness to keep up on the perimeter, and Dieng will likely neutralize much of what Gators big man
Patric Young
tries to do in the low block. Behanan, however, can be a matchup nightmare, too big for Beal, too quick and strong for
Erik Murphy
. Behanan is a tweener -- and he might be the Cardinals' best hope of posting something resembling an efficient offensive performance Saturday night.
What to watch
:
To zone, or not to zone
: On Thursday night, Pitino's team used a zone on 45 of its 48 possessions, holding Michigan State to just 22.2 percent shooting from the field in those trips. The ability to transition from a brutal midcourt pressure to a zone that slaps and claws and closes down angles -- well, needless to say, the Spartans didn't know what hit them.
In a perfect world, then, Pitino would bust out the zone again Saturday. That might not be the best idea. Florida loves to shoot those outside jumpers, and the team's biggest point of emphasis in recent weeks -- besides defense -- has been making sure everyone, from Walker to Boynton to Beal to Murphy and down the line, is hoisting shots with confidence. With all that backcourt quickness and the ability to fire from range, they may be the perfect zone-busting team. But can they be lulled into taking
too many
3s? And is that what Pitino actually wants?
Whatever the Cardinals choose, it is likely to be effective. But the chess match between mentor and pupil, particularly when Florida has the ball, could be the tournament's most fascinating to date.
March, 23, 2012
3/23/12
9:30
PM ET
By
ESPN.com staff
| ESPN.com


Billy Donovan talks about his seventh-seeded Gators' matchup with No. 4 Louisville on Saturday and about facing mentor and former coach Rick Pitino with a Final Four berth on the line.
March, 23, 2012
3/23/12
2:54
AM ET
PHOENIX -- The No. 7 seeds in the 2012 NCAA tournament were as follows:
Notre Dame. Saint Mary's. Gonzaga. Florida.
Sing it with me now: One of these things is not like the others.
For starters, Florida was the only No. 7 seed to survive the first weekend of the NCAA tournament, and the only one -- after Thursday's
68-58 victory
over Marquette -- to reach the Elite Eight and the one-game-from-the-Final-Four precipice it so intensely entails.
But even before the first weekend played out as it did, the Gators stood apart. Their No. 7 seed felt low -- but not because of the RPI or résumé. That part made sense. Rather, this vague feeling was about talent. It was about whether this team could come together at the right time, could flip the proverbial switch, could play up to the tantalizing possibilities presented by so much offensive firepower and future NBA potential.
Two weeks later, Billy Donovan's team has provided the answer.
Thanks to a defense that has suddenly morphed into a shutdown force -- and the continued emergence of talented freshman guard
Bradley Beal
-- Florida is back in the Elite Eight for the second consecutive season. If the Gators find a way to break down Louisville's vaunted defense Saturday, they'll be back in the Final Four for the first time since Donovan's back-to-back national titles in 2006-07 -- and would become the first No. 7 seed to make it to the tournament's biggest stage since the 1984
Virginia Cavaliers
.
"We're starting to peak right now," Florida forward
Patric Young
said. "It's the greatest time to play your best basketball."
That did not appear to be the case in February, when Florida was drubbed at Kentucky, lost at home to Tennessee and finished SEC regular-season play with three consecutive losses, including a 76-62 defeat at Georgia on Feb. 25.
At that point, it was easy to have the Gators pegged: This was a good, sometimes great, offensive team reliant on 3-point shots and guard play, but one that didn't defend well enough to hold opponents back when that steady stream of outside shots failed to fall.
That once-shaky defense has experienced a sea change in the first three rounds of the NCAA tournament. Last weekend, the Gators held Virginia and Norfolk State to an incredibly low .74 points per trip -- combined. (They won both games by a total margin of 60 points.) On Thursday night, against a much better opponent in Marquette -- and one that boasted not one but two potent All-Big East players in
Darius Johnson-Odom
and
Jae Crowder
-- the Gators held that duo to 10-of-30 from the field and, in the process, allowed the Golden Eagles just .86 points per trip.
According to ESPN Stats & Info, the 153 points allowed by UF is the third-lowest total in a team's first three tournament wins during the shot-clock era.
When your offense is one of the nation's five most efficient for an entire season (
it is currently No. 3 in Ken Pomeroy's adjusted efficiency rankings
) your defense doesn't have to be
this
good. When it is? Well, look out.
[+] Enlarge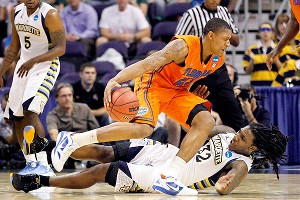 AP Photo/Chris CarlsonFlorida freshman Bradley Beal led all scorers with 21 points and added 6 rebounds and 4 assists.
"When you don't make shots, the easiest thing to say is, well, we just missed shots that we typically make," Marquette coach Buzz Williams said. "That wasn't what happened. They were really good. They were outstanding."
And the Gators needed to be. Marquette is itself an awfully good defensive team, and one particularly inclined -- thanks to its coterie of guards and athletic bigs and focus on tight perimeter defense -- to take Florida out of its bombs-away 3-point shooting game. To some extent, that's what happened. The Gators struggled from the field, and especially from beyond the arc; they went 4-of-14 in the first half and just 3-of-13 in the second. In all, Marquette held UF to a mere 1.01 points per possession, an unusually low number for one of the nation's best offenses.
The difference, by the end, was Beal. The Gators not named Beal shot 16-of-49 from the field and 4-of-22 from 3. Meanwhile, the UF freshman played one of the most efficient individual games of the NCAA tournament to date, dropping 21 points on 8-of-10 shooting (and 3-of-5 from 3).
Fittingly, it was Beal's final basket, a soaring open-floor dunk, that truly signaled the end of Marquette's comeback bid, in which it cut a 14-point second-half lead to six with just 3:18 left to play. Donovan warned his players the Golden Eagles would "keep coming," and keep coming had finally, in the final minute, gone away. For all of Marquette's fight, for all its guile, and for all the ideal matchups it could field against Florida's guard-heavy lineup, Williams' team had no match for Donovan's surefire future lottery pick.
Williams put it in political terms:
"I think Bradley Beal is their swing vote," he said, "because he's so multi-versatile and talented."
Indeed, Beal's stature as one of the nation's top recruits -- he was the fifth-rated player in the class of 2011 -- was one of the main reasons Florida began the season so highly regarded despite losing forward Chandler Parsons from last season's Elite Eight team. With Beal joining Young and
Kenny Boynton
and
Erving Walker
and Rutgers transfer
Mike Rosario
, the promise of this team was limitless.
But Beal, like so many freshmen, took time to adjust to the college game -- to figure out how it feels when, all of a sudden, the game doesn't quite come so easily.
"At times he could get a little moody and get a little pouty and just didn't know how to handle it," Donovan said. "I had a hard time with him early in the year. ... I asked [Brad] one time, 'What's the most difficult part for you playing in college?' He said, 'Dealing with adversity and dealing with bad games -- because I didn't have a lot of those in high school.'
"He was always the best player on the floor."
Even with two of the nation's most talented teams on the court -- even with two Big East first-teamers on the squad opposite him -- there was no mistaking the best player on the court Thursday night.
His continued emergence, alongside a suddenly stout defense and an offensive attack still capable of sniping defenses into submission, has the Gators one win away from a Final Four. Of course, they'll have to topple another very good defense -- the Louisville Cardinals, who shut down No. 1-seeded Michigan State just minutes before Florida took the court Thursday. And Donovan will have to best his old coach and mentor, Rick Pitino, before UF can line up any Big Easy travel plans. (The over/under on the number of times you read about this dynamic in the next 48 hours is somewhere in the five-digit area. Fair warning.)
But one thing is clear: This is no normal 7-seed. The Gators had their share of ups and downs, sure, but this team is primed for March, playing its best basketball, as Young said, at the perfect time. We say that often about teams this time of year. Rarely does it ring so true.
"We're really locked in," Young said. "Hopefully we haven't reached that peak. Hopefully, we're still going up."
March, 23, 2012
3/23/12
1:26
AM ET
By
ESPN.com staff
| ESPN.com
Dick Vitale, Hubert Davis and Rece Davis discuss Florida's defense and the play of
Bradley Beal
.
March, 23, 2012
3/23/12
12:38
AM ET
PHOENIX -- A quick recap of Florida's
68-58 win over Marquette
Thursday night:
Overview
: Maybe Florida can defend after all. The Gators' defense has been their chief deficiency all season, the one major factor keeping such a talented team -- and such a high-powered offense -- from truly breaking through. But after two huge defensive performances in their first two tournament wins, the Gators kept it up, holding Marquette stars
Jae Crowder
and
Darius Johnson-Odom
to a combined 29 points on just 10-of-30 shooting from the field.


Turning point
: As usual, Florida's shooting made the difference. The Gators maintained a six-point lead for the first six minutes of the first half when
Erving Walker
and
Bradley Beal
made back-to-back 3s, opening a 12-point advantage the Gators more or less maintained until the final three minutes. That's when Marquette -- thanks to a steal, a timeout call, a made 3 and a fast-break layup, all from
Todd Mayo
, all in the matter of 50 seconds -- drew the game back to 58-52.
On the ensuing possession, Walker found
Kenny Boynton
for a wide-open 3. Boynton missed, but forward
Patric Young
corralled the rebound and kicked it out just in time to preserve the possession. Walker knocked down a 3 of his own, stretching the lead to nine. Crowder answered with a 3 -- as expected, the Eagles refused to go away --but four free throws from Boynton essentially sealed the game.
Key player
: Bradley Beal. The freshman and likely NBA lottery pick has had a mostly unsung season for the Gators, but he remains as dangerous as any player on the floor at any given time. His 21 points -- the last two of which came on a thunderous punctuation-mark dunk in the game's final minute -- came in hyperefficient fashion on 8-of-10 shooting from the field. Beal doesn't force; rather, he picks and chooses his spots. He did so brilliantly Thursday night.
Key stats
: The combined marks for Crowder and Johnson-Odom tell the tale; without efficient contributions from its two stars, Marquette scored just 58 points on 66 possessions, well below its typically stellar offensive averages.
What's next
: Marquette coach Buzz Williams saw his second straight team into the Sweet 16, but that's the ceiling yet again. The Golden Eagles will go back to the drawing board in 2012-13 without their two senior stars. Meanwhile, the Gators progress to the Elite Eight, where they will meet No. 4-seeded Louisville, which got there by posting the tournament's best defensive performance to date. That should be a
fascinating
matchup.
March, 23, 2012
3/23/12
12:30
AM ET
PHOENIX -- When Louisville center
Gorgui Dieng
drained a 3-pointer in the first half of Louisville's
57-44 win over Michigan State
here Thursday night -- the first made 3-pointer of his career, and just his second attempt all season -- he smiled. On the sideline, Cardinals coach Rick Pitino couldn't help but smile back.
Believe it or not, Pitino had seen this movie before.
"About a week ago in practice after it was over he kept shooting 3s," Pitino said. "I said, 'It looks pretty good, Gorgui.' He said 'Next year, I'm shooting a lot of 3s.' I said, 'No problem, as long as you make them.'
"When he made it, I said, 'I thought it was next year.' He just smiled. It was great."
Not that Dieng will have license to fire at will in the future, whether this season or next. But the story of Dieng's post-practice shooting sessions, just one more check box for the Senegalese player that seems to improve with every outing, is one of the main reasons Louisville can delay talk of "next year" for at least two more days.
Thanks to Dieng's nine rebounds and seven blocks (which tied the all-time UL tournament record held by Pervis Ellison), the Cardinals dominated top-seeded Michigan State on the defensive interior, setting a score of tourney records and superlatives along the way. The Spartans' 44 points were the fewest scored by any No. 1 seed in the shot-clock era. That point total and the 28.6 percent field-goal percentage were all-time tourney lows for MSU.
Thanks to a press that harried the Spartans, that wore them out and changed their style, Pitino is now a remarkable 10-0 all-time in the Sweet 16 -- the best record of any coach in the history of the tournament. And Michigan State, the West Region's clear Final Four favorite, ended its surprisingly successful season on an entirely uncharacteristic night.
"I think we ran out of gas a little bit -- emotionally, mentally and physically," MSU coach Tom Izzo said. "Louisville had the gas. They deserved to win."
[+] Enlarge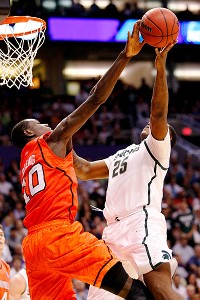 AP Photo/Matt YorkLouisville's Gorgui Dieng blocked seven Michigan State shots and also knocked down the first 3-pointer of his career.
"You know what our press does a lot of times? It just wears people out," Pitino said. "We didn't really want to trap them. We wanted to run and jump to get to the legs. ... Certain people we try to create steals or traps or rotate. Tonight we just tried to get into our zone, wear them out and neutralize the backboard."
That plan couldn't have worked out better for Pitino and his team. The Cardinals' pressure was never overwhelming on any specific occasion, and more often than not the Spartans were able to get into the half court with minimal issue. But the constant pressure clearly made Michigan State uncomfortable.
The Spartans finished the game with a 24.7 percent turnover rate. But it was their shooting -- a 33.7 percent effective field-goal percentage, a 5-for-21 mark beyond the 3-point arc (and how many of those shots missed even the rim?) and a staggeringly low 22.2 percent offensive rebounding rate -- that truly caused a team averaging nearly 1.17 points per possession this season to score just 0.72 on Thursday night.
Indeed, it wasn't just the pressure, or a matter of winning the purported size-vs.-speed matchup. It was all-court defensive solidity, usually by way of a stifling 2-3 zone. According to ESPN Stats & Info, the Cardinals played zone on 45 of Michigan State's 48 possessions, holding
Draymond Green
& Co. to a mere 22.2 percent shooting in the zone.
It came from everywhere. Dieng's shot-blocking and interior defense utterly erased MSU big men
Adreian Payne
and
Derrick Nix
from the game. (Nix's constant combinations of head fakes never remotely fooled Dieng. He stood, waited and repelled Nix with ease.)
Peyton Siva
,
Russ Smith
and
Chris Smith
applied the perimeter pressure.
And freshman
Chane Behanan
did much to eliminate the matchup problems caused by the multitalented Green. His nine rebounds -- five of which were defensive -- were the perfect complement to Dieng on the glass. His offense, which came mostly on efficient (and impressively patient) interior shots, provided a handful of key baskets throughout the second half. And his three steals helped seal the game in the final minutes.
Behanan's matchup was Green; he was a freshman facing off against the Big Ten player of the year, one of the nation's most experienced players. And he won.
"I respect him a lot," Behanan said. "I've watched him play this game, and I really love the way he plays. ... But it felt good [to play well] against him."
From the inside out, Louisville was -- well, pick your adjective. Smothering. Stifling. Twitchy. Ruthless. Anything positive you can say about a defensive effort, say it about this one. Team defensive efforts don't come more comprehensive than this.
And Dieng, the sophomore from Senegal, was always at its heart -- literally and figuratively.
Asked to describe Dieng's performance, Behanan was succinct.
"Lottery pick," he said. "He played like he wanted to get drafted tonight."
Dieng does want to get drafted: According to his coach, it was the first goal Dieng stated when he arrived at the program as a freshman last season. Pitino said he promised Dieng he would "drive him like [he'd] never been driven before."
"My freshman year I was complaining a lot," Dieng said. "I said he worked me so hard, I'm tired, my legs hurt. I thank him for that, [because] he changed my whole mentality. He made me tougher. He teach me [what] this game can do in your life."
Maybe that's why Dieng wanted to get that 3-pointer up Thursday night, maybe that's why he took a break from swatting Spartans' shots to do his best Kuric impression: If he keeps playing like this, he may not have a "next year" at the college level.
But that's a concern for another time. For now, Pitino's perfect Sweet 16 record remains intact and, thanks to a Dieng-led defense, on the verge of a trip to the Final Four. The Cardinals aren't pretty, but after seven wins in a row -- including four in a Big East tourney title run -- their defense, their knack for timely 3s and their legendary coach make them one of the most fearsome teams in the country.
In other words, your favorite team doesn't want to play Louisville right now.
Who would?
March, 22, 2012
3/22/12
10:00
PM ET
PHOENIX -- A quick overview of Louisville's
57-44 win over Michigan State
:
Overview
: On Wednesday, this game was billed by both coaches as a clash between two disparate styles: Michigan State's bruising rebounding and interior play versus Louisville's quick-twitch pressure and up-tempo attack.


Make no mistake: Pressure won. But it wasn't quite that simple. Louisville was defensively great -- not only in the press but all over the court -- forcing turnovers and speeding up the Spartans, but also locking down in the half court. Michigan State finished 14-of-49 from the field -- 14-of-49! -- with 15 turnovers and an offensive rebounding percentage of just 22.2 percent. The 44 points were the fewest scored by a 1-seed in the shot-clock era and the fewest ever in the tourney by an MSU team. The 28.6 percent shooting and 14 made field goals also were all-time tourney lows for Michigan State.
That's not the Spartans offense that earned them a Big Ten title and a No. 1 seed, and Louisville's defense, which ranked No. 2 in the nation in per-possession efficiency this season, deserves the lion's share of the credit.
Turning point
: The Spartans never quite found their offense, but they managed to keep the Cardinals from pulling away throughout the first half thanks to stellar defense. However, up 31-26, a spate of Spartans turnovers and Cardinals transition buckets built the first double-digit lead of the night for Louisville.
Draymond Green
and company never got comfortable, never settled into an offensive rhythm and never could truly erase the deficit.
Key player
:
Chane Behanan
. The Cardinals freshman was Louisville's best hope to match up with Michigan State's multitalented Green on both ends of the floor, but his offense was the real key. Behanan scored 15 points on 6-of-10 shooting -- many of those buckets on savvy finishes inside 6 feet -- and with eight rebounds aided Cardinals big man
Gorgui Dieng
(who anchored the defense with nine rebounds and seven blocks, which tied a school tourney record). Behanan was Louisville's X factor, and his performance was exactly what Rick Pitino's team needed.
Key stat
: Shooting, or a lack thereof. Again, the Spartans made just 14 field goals. They averaged near 0.724 points per possession. Louisville didn't shoot much better (21-of-55 overall) but did finish with a 9-of-23 mark from beyond the arc. When your defense holds one of the best teams in the country to one of its worst performances all season, that's enough.
What's next
: Michigan State heads home; Louisville advances to face Florida.