College Basketball Nation:

2012 St. Louis Region
March, 25, 2012
3/25/12
10:47
PM ET
ST. LOUIS -- It was an eerily familiar scene Sunday: a moist-eyed
Harrison Barnes
emerging from a long lament under a locker-room towel; talking about what went wrong, the sudden-ness of losing, the disappointment of falling one game short of the Final Four.
A season ago at Newark's Prudential Center, UNC's loss in the NCAA regional final felt like it could be a beginning – a learning process for a young team that wasn't supposed to make it that far.
This time, though, the
80-67 crumble
to Kansas at the Edward Jones Dome felt like the end – a goodbye from a squad that expected to go so much farther.
"This year, going into this season, we had a lot of weapons,'' Barnes said. "We just didn't have them all at the end. That was the most devastating thing. We didn't have
Kendall [Marshall]
, we didn't have
Dex [Strickland]
, we didn't have
Leslie [McDonald]
. That's no excuse. We had an opportunity to win it, we just didn't."
Even with McDonald and Strickland (shooting guards relegated to the sidelines since last summer and January, respectively, with knee injuries) sitting in the stands -- and Marshall (the starting point guard who missed his second consecutive game with a fractured wrist) on the bench in street clothes -- the Tar Heels looked as if they could do again what they've been doing so often the past two seasons: overcome.
[+] Enlarge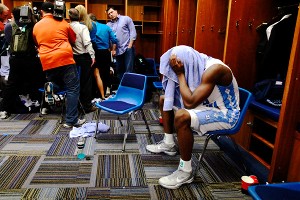 AP Photo/Jeff Roberson"We had an opportunity to win it," said sophomore Harrison Barnes, here in the locker room after Sunday's loss to Kansas, "we just didn't."
With freshman
Stilman White
playing fearlessly in his second straight start, UNC pushed back from multiple Jayhawks surges. When Kansas made a 7-0 run in the first half to take a 40-33 lead, UNC countered with an 8-0 rally.
When the Jayhawks opened the second half with another 7-0 run, the Tar Heels came back again, this time 6-0.
That's why, when Barnes went to the free throw line to try to knot the score with 3:58 left, teammate
James Michael McAdoo
(15 points) wasn't worried. "I was like, 'All right, we're good,'" the freshman forward said.
Except, they weren't.
Barnes made one of two free throws to cut the Jayhawks' lead to 68-67 lead. But then a turnover by Tar Heels sophomore
Reggie Bullock
turned into a 3-pointer by Kansas'
Elijah Johnson
. Barnes, then forward
John Henson
(who played most of the game on a twisted ankle) missed jumpers. And White – who finished with 13 assists and zero turnovers in his two starts in place of Marshall – fouled
Tyshawn Taylor
for a 3-point play to give the Jayhawks a 74-67 advantage.
That's when, as coach Roy Williams said, "we panicked a little bit out there."
Utilizing a triangle-and-two defense – something the Tar Heels hadn't faced in a game before this season – Kansas finished the game on a 12-0 run.
UNC, meanwhile, misfired on its final seven shots after the Barnes free throw and finished with its worst field goal percentage in a half in NCAA tournament history (7-31, 22.6 percent). The Tar Heels also recorded their worst 3-point percentage in an NCAA tournament game (2-17, 11.8 percent).
Yes, they missed Marshall, a Cousy Award finalist who had been key to calming, and creating for, his teammates.
But the Tar Heels also missed the rebounding advantage they had prided themselves on all season (Kansas beat them on the boards 41-35). And they missed the accuracy of Barnes, their leading scorer who finished 5-for-14 Sunday and 20-for-61 in four NCAA tournament games.
"I missed a lot of shots I usually make and big-time players come through in big-time games," the sophomore said. "And it just wasn't there tonight."
Now the question is, will it ever be again (at least in a UNC uniform)?
Barnes, Henson, Marshall and McAdoo (who are all considered first round NBA draft choices) shrugged off questions about their futures, saying they weren't thinking about their next steps during the NCAA tournament. So it's still unknown who or how many will leave along with scholarship seniors
Tyler Zeller
and
Justin Watts
; White (who is leaving for a two-year Mormon mission after this semester); and walk-ons
David Dupont
,
Patrick Crouch
and
Stewart Cooper
.
A year ago, after crying under towels in the locker room, Barnes, Henson and Zeller ultimately returned, saying the goal was to win a national title. There was a sense, even before their official decisions were announced, of what could be.
Sunday, there was more disappointment about what might have been.
"We got to this point last year, and we couldn't get over the hill,'' said Henson, who playing with a pain shot and numbing cream on his still-healing left wrist. "And this year, the same way. It hurts. But that's just how basketball is."
Follow Robbi Pickeral on Twitter at @bylinerp.
March, 25, 2012
3/25/12
7:20
PM ET
ST. LOUIS -- Quick thoughts from Kansas'
80-67 victory
over North Carolina in the Elite Eight on Sunday at the Edward Jones Dome.


Overview:
Tyshawn Taylor
scored 22 points and
Thomas Robinson
added 18 to lead Kansas to a 13-point victory over North Carolina and a berth in the Final Four. The Jayhawks, the No. 2 seed in the Midwest Region, will take on Ohio State on Saturday night in New Orleans.
This marks the second time in four years that KU has advanced to college basketball's final weekend. The Jayhawks won the NCAA title in 2008. This will also be the second Final Four appearance in Bill Self's career. The Kansas coach was 1-5 in the Elite Eight before Sunday.
Sunday's win came against a North Carolina squad that was playing without All-America point guard
Kendall Marshall
, who ranks second in the nation in assists with 9.8 per game. Marshall injured his wrist in the round-of-32 victory over Creighton on March 18 and didn't play at all this weekend in St. Louis.
Still, top-seeded North Carolina gave KU all it could handle until the game's final few minutes, when a 3-pointer by
Elijah Johnson
stretched the Jayhawks' lead to 71-67 and ignited a 12-0, game-ending run.
The score was tied 47-47 after a first half that saw UNC make 63 percent of its shots from the field, with KU hitting 56 percent.
James Michael McAdoo
had a team-high 15 points for North Carolina, which ends its season 32-6.
Turning point:
Johnson's 3-pointer was the spark in KU's finishing kick, but the shot was hardly the only heroic moment of the march. A few possessions later, Taylor came up with a steal and raced down the court on a fast-break. He was fouled hard while attempting a layup but somehow hung in the air, double-clutched and scored. He converted the 3-point play to make it 74-67 with 1:59 remaining. North Carolina never threatened again.
Key player:
Taylor's 22 points came on 10-of-19 shooting. He also had 5 assists and 5 steals. Robinson made just 6 of his 16 shots, but he grabbed 9 boards and helped KU out-rebound a UNC squad that features three future lottery picks down low in McAdoo,
Tyler Zeller
and
John Henson
.
Jeff Withey
's three blocks and overall presence was also a big factor for Kansas.
Key stat:
North Carolina was just 2-of-17 from 3-point range. The Tar Heels shot just 22.6 percent overall in the second half.
Up next:
Kansas' game against Ohio State on Saturday will mark the second time the Jayhawks and Buckeyes have played this season. KU won the first meeting 78-67 in Lawrence, but standout Ohio State forward
Jared Sullinger
didn't play because of back spasms.
March, 24, 2012
3/24/12
10:40
PM ET
ST. LOUIS -- One day before they were to meet North Carolina in the Elite Eight, members of the Kansas basketball team got into a heated argument while eating breakfast Saturday at the Hyatt Regency hotel.
In this case, it was a good thing.
The bickering started when point guard
Tyshawn Taylor
mentioned the words "Final Four." Before Taylor could finish his thought, teammate
Thomas Robinson
cut him off in mid-sentence and reminded him not to look too far ahead.
"I just want to get there," Robinson said. "I just want to take it one step at a time."
Wise move.
As well as their season has gone, the Jayhawks (30-6) hardly looked like a Final Four-caliber team while squeaking past double-digit seeds Purdue and NC State in the past two rounds of the NCAA tournament.
Satisfying as getting to the Elite Eight may be, Kansas knows its performance will have to dramatically improve if it has any hopes of defeating North Carolina on Sunday in St. Louis. The Tar Heels and Jayhawks are seeded No. 1 and 2, respectively, in the Midwest Region.
"We know we haven't been playing great lately," Robinson said. "A lot of people see that as a bad thing, but I see it as a good thing. We've been finding a way to win and we still haven't played close to our abilities.
"The lid will come off [the rim] tomorrow and we'll play a great game."
While there certainly aren't lids hovering over the Edward Jones Dome baskets, something seems to be affecting the Jayhawks' shooting. Kansas went just 37.5 percent from the field in Friday's 60-57 win over NC State and made just two of its 22 shots from outside the paint.
[+] Enlarge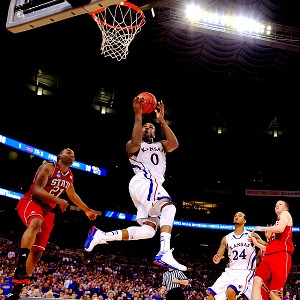 Rich Sugg/Getty ImagesThomas Robinson had his best game of the tournament against NC State, scoring 18 points and grabbing 15 rebounds.
Bill Self's squad connected on just 33.9 percent of its attempts in last week's 63-60 victory against Purdue. Taylor, who has missed 15 of his past 16 shots from 3-point range, was asked if he thought the Jayhawks would be a different team on offense Sunday.
"Honestly, I don't know how confident I am that it will change," Taylor said. "But what I am confident in is [our defense]. We've been getting stops when we need to. If we continue to do that, whether the ball goes in or not, we can win."
Forcing midtier teams such as Purdue and NC State into bad shooting nights is one thing, but limiting elite teams such as North Carolina is a whole different beast. The Tar Heels tout as many as seven future first-round draft picks with players such as
Harrison Barnes
,
Tyler Zeller
and
John Henson
.
North Carolina's most irreplaceable part, however, is point guard
Kendall Marshall
, who is questionable for Sunday's game with a wrist injury. Marshall didn't play against No. 13 seed Ohio University on Friday, and the Tar Heels needed overtime to defeat the Bobcats.
Marshall, who had surgery Monday morning, went through a light workout for the first time this week on Saturday. UNC coach Roy Williams said he likely won't know until just before the game if Marshall can play.
"I've got mad respect for his game," Taylor said. "He's a great guard. He's been killing it this year. As a competitor, I want him to play. I want that challenge. If he plays, I think the game would be that much better."
Marshall ranks second in the nation in assists with 9.7 per game. If he isn't able to go, North Carolina will likely start seldom-used freshman
Stilman White
for the second straight game. White averaged just 4 minutes a contest before he was thrust into duty Friday. He played 32 minutes against Ohio and finished with six assists and zero turnovers.
This will be the first time Kansas and North Carolina have played since the 2008 Final Four, when KU jumped out to a 40-12 lead and eventually won 84-66. Two nights later, the Jayhawks defeated Memphis in overtime to claim their first NCAA title since 1988.
"This is going to be one of the funnest games of our careers," KU center
Jeff Withey
said. "We're excited to play against them. We wouldn't want it any other way than to play North Carolina to get to the Final Four.
"We match up really well with them. It's going to be a fun game, a physical game, one for the history books."
Who to watch:
Jeff Withey, Kansas
-- The 7-foot center had 10 blocks in Friday's Sweet 16 victory over NC State. His defense against players such as Tyler Zeller and John Henson will be vital for a KU squad that doesn't back down in the paint.
Elijah Johnson, Kansas
-- The junior guard has been one of KU's steadiest players the past three weeks. He was the only Jayhawk to make a basket outside of the paint Friday, and his layup off an inbounds pass with less than a minute remaining helped seal KU's win.
Harrison Barnes, North Carolina
-- The Tar Heels' leading scorer was brutal in North Carolina's victory over Ohio on Friday. Barnes scored 12 points but made just three of his 16 shots.
Stilman White, North Carolina
-- The freshman opened the season as the Tar Heels' third-string point guard. But injuries to
Dexter Strickland
and Kendall Marshall forced him to play 32 minutes against Ohio. He had two points and zero turnovers.
March, 24, 2012
3/24/12
3:07
AM ET
ST. LOUIS -- Earlier this season, when North Carolina forward
Tyler Zeller
was racking up double-double after the double-double, he said he didn't know what it would take to record a 20-rebound game.
After Friday, he does.
"Overtime,'' he said, grinning after UNC's
73-65 OT win over Ohio
.
The 7-foot senior finished with 20 points and 22 rebounds, becoming only the fourth player in the past 30 seasons to record 20 points and 20 rebounds in a Men's Basketball Championship game and the first since Tim Duncan in 1997, according to ESPN Stats & Information. He joins quite a trio:
[+] Enlarge

Shane Keyser/Getty ImagesTyler Zeller became the first player since Tim Duncan in 1997 to score at least 20 points and grab at least 20 rebounds in an NCAA tournament game.

In 1997, Wake Forest's Duncan finished with 22 points and 22 rebounds against St. Mary's.

In 1995, Maryland's Joe Smith had 31 points and 21 rebounds against Texas.

In 1983, Houston's Hakeem Olajuwon recorded 21 points and 22 rebounds against Louisville.
Zeller credited his size (Ohio's tallest starter was 6-8) for the performance. But injured point guard
Kendall Marshall
said there's more to it.
"The steps that he's made each year have been great. He's a senior, he knows that this is his team,'' Marshall said. "He wants to lead us ... the effort he puts in every day is a testament to the kind of player he is, and I'm extremely happy for him. We wouldn't be where we are without him."
WHITE'S DEBUT:
Freshman
Stilman White
admits he probably wasn't as nervous as he should have been, making his first collegiate start -- in the NCAA Sweet Sixteen.
But that worked in his favor. Saying "my main goal was not to turn the ball over very much,'' he achieved that, finishing with a career high six assists, plus zero turnovers, in 32 minutes. He also buried the last two free throws of the game.
"He was really something,'' coach Roy Williams said.
Of the eight Tar Heels who played, White was the only one who did not commit a turnover.
"I've got a great team; I've just got to get the ball to some great players,'' he said.
ROUGH NIGHT FOR BARNES:
It was a frustrating night for sophomore
Harrison Barnes
, who shot 3-for-16, including a missed game-winner at the end of regulation.
"The youngster has an ability to make plays and he's not afraid to try to make plays,'' UNC coach Roy Williams said. "Some kids will always say, 'Yeah, I want to have that shot,' but he's the kind of kid that does really want it, and he focuses on the play, not the result.
"So we all have a tremendous amount of confidence. It didn't work out there at the end of regulation, but give the defensive player credit, too."
Barnes went on to score five of the Tar Heels' 10 points in overtime -- a jumper and two free throws. He finished with 12 points, 7 rebounds, 4 assists and 5 turnovers for the game.
Follow Robbi Pickeral on Twitter at @bylinerp.
March, 24, 2012
3/24/12
1:01
AM ET
ST. LOUIS - Quick thoughts from Kansas'
60-57 victory
over North Carolina State in the Sweet 16.


Overview:
The Kansas team that everyone tagged as Bill Self's worst is turning out to be one of his best. Or at least one of his toughest.
For the second consecutive game, the Jayhawks found a way to grind out a win against double-digit seed despite struggling mightily on the offensive end. Kansas shot just 37.5 percent from the field against NC State, the No. 11 seed in the Midwest Region. The Wolfpack, though, made just 28.6 percent of its shots against Kansas, which advances to play No. 1 seed North Carolina on Sunday at 5:05 p.m. ET at the Edward Jones Dome.
North Carolina needed overtime to defeat No. 13 seed Ohio 73-65 in Friday's other Sweet 16 matchup in St. Louis. The Tar Heels are coached by Roy Williams, who spent 15 years as Kansas' head coach before leaving after the 2002-03 season for Chapel Hill.
Even though North Carolina could be without injured point guard
Kendall Marshall
, the Jayhawks will need to play much better than they did against NC State if they hope to defeat the Tar Heels. Kansas - which shot just 33.9 percent in last week's 63-60 victory over Purdue - got off to a horrendous start and trailed 13-3 early in the first half.
The Jayhawks were down 33-32 at intermission. All but two of their opening-half points came in the paint. Kansas, though, opened the second half on a 12-2 scoring run that led to a 44-35 cushion. From there, Self's squad managed to stave off the Wolfpack until the game's closing minutes, when NC State made it interesting.
With Kansas leading 58-52, Jayhawks guard
Elijah Johnson
fouled
Scott Wood
as the Wolfpack guard was attempting a 3-pointer. Wood made all three free throws to pull his team within 3, 58-55.
Tyshawn Taylor
turned it over on Kansas' next possession, and NC State capitalized with a fast-break layup with that made it 58-57.
Wood then missed a 3-pointer for NC State. The Wolfpack got the rebound, but
C.J. Leslie
's put-back attempt was blocked by
Jeff Withey
. Taylor came away with the ball and was fouled, but he missed the front end of the one-and-one. NC State, though, knocked the ball out of bounds on the battle for the rebound with 13.5 seconds left. Kansas took advantage when Taylor found a cutting Johnson for an easy layup on the inbounds pass that provided the final score.
Turning point:
Kansas didn't feel good about the win until Wood stepped out of bounds with 4.3 seconds remaining, just before he attempted a 3-pointer that would've forced a 63-63 tie and, most likely, overtime.
Key player:
Withey had 8 points and 10 blocks for No. 2-seeded Kansas.
Thomas Robinson
had a game-high 18 points and 15 rebounds. Leslie led NC State with 18 points.
Up next:
The Jayhawks have played UNC just once - in the 2008 Final Four - since Williams' departure. Kansas stormed out to a 40-12 lead in that game and eventually prevailed 84-66. Two nights later, Kansas won the NCAA title with an overtime victory against Memphis.
March, 23, 2012
3/23/12
7:28
PM ET
March, 22, 2012
3/22/12
9:30
PM ET
ST. LOUIS -- Their Sweet 16 matchup against NC State was about 24 hours away. Still, the
Kansas Jayhawks
spent a large chunk of Thursday afternoon talking about their last game.
The one against Purdue.
"We got away with one," point guard
Tyshawn Taylor
said.
Indeed, coach Bill Self's squad trailed for all but 45 seconds of their round-of-32 tilt with the Boilermakers, before a late run propelled Kansas to a 63-60 win in Omaha. The Jayhawks shot a season-low 34 percent -- "that's unheard of," Self said -- but still managed to eke out the victory.
The performance may have been dismal, but it was just what Kansas needed.
[+] Enlarge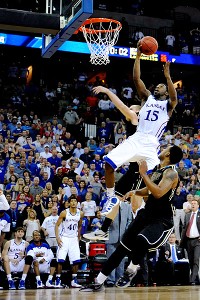 Peter G. Aiken/US PRESSWIREElijah Johnson's offensive contributions have been a key part of Kansas' success.
"Getting past that first weekend was really tough," KU center
Jeff Withey
said. "There are a lot of nerves that go along with those first few games. Now we can just relax and have fun."
The Jayhawks better not get
too
relaxed.
NC State may be the No. 11 seed in the Midwest Region, but the Wolfpack has been one of the country's hottest teams over the past two or three weeks. Coach Mark Gottfried's squad beat two solid tournament opponents, San Diego State and Georgetown, to make it this far.
The Wolfpack players respect Kansas -- but they won't be intimidated.
"I think we are a Cinderella team," point guard
Lorenzo Brown
said. "Nobody expected us to be here. We just have to keep believing in ourselves that we can make it to the Final Four."
NC State has one of the country's more versatile, athletic forwards. Sophomore
C.J. Leslie
, who is averaging 17.5 points in his past four games, could be a tough matchup for KU forward
Thomas Robinson
because of his athleticism and ability to score away from the basket.
Scott Wood
is the Wolfpack's top 3-point shooter. He's making just 35 percent of his long-range shots on the season, but in his last seven games he has shot 43 percent from beyond the arc.
At point guard, Taylor knows he'll have a tough matchup with Brown, who stands 6-foot-5.
"They're big and athletic from each spot," Taylor said. "Seeds don't matter when you get to this point. That team is capable of being a No. 3 or a No. 4 seed. We're going to have to play well to beat them."
Or at least better than they did the past two games.
"Any team that has won [a title] has played some tough games and pulled out some close ones," Taylor said. "Not every game is going to be a 20-point blowout. Sometimes you're going to have to fight and scratch and claw to get some victories."
While NC State creates many matchup problems for Kansas, the Jayhawks have plenty of players who can give the Wolfpack fits, too. Robinson is a Wooden Award candidate at forward, and Taylor is a fourth-year starter who led KU in scoring during Big 12 play.
NC State assistant Bobby Lutz worked under Fred Hoiberg at Iowa State last season and is used to preparing scouting reports on the Jayhawks.
"I know Kansas' two-game [high-low] pretty well," Lutz said. "I don't think they're very difficult to scout. But they're difficult to beat."
Who to watch
Thomas Robinson, Kansas:
The 6-foot-9 forward averages 17.7 points and is ranked second in the nation in rebounds with 11.8 per contest. He scored just 11 points on 2-of-12 shooting against Purdue last week.
Elijah Johnson, Kansas:
Tyshawn Taylor is KU's most high-profile guard, but Johnson has been the best member of the Jayhawks' backcourt lately. He hit a deep 3-pointer, made a steal and had an assist on an alley-oop dunk to help spark Kansas' comeback against Purdue.
C.J. Leslie, NC State
: The 6-foot-9 Leslie weighs just 209 pounds, so he may have trouble banging down low with Robinson. But his quickness and ballhandling ability could create a headache for Kansas. Leslie, a sophomore, chose the Wolfpack over Kentucky.