College Basketball Nation:

2013 Final Four Digging In
April, 5, 2013
4/05/13
10:03
AM ET
"Digging In" is our in-depth look at what makes each of the Final Four teams tick, with an assist from the coaches who scout and prep for these teams all season. Our final scout: Louisville.
How good is Louisville? Good enough to make opposing coaches downright conceptual.
That's not even my word. That's how Villanova assistant coach Billy Lange, who scouted the Cardinals for the Nova staff this season, described Thursday what he thought was the best approach to playing the Cardinals. We were talking about one specific aspect of Louisville's style -- in this case its amorphous matchup-zone defense -- and Lange was explaining that the Cardinals are so good on that end of the floor, and so able to switch defenses on a whim, that you can't really devise a game plan with sets and quick-hitters the way you can most normal defenses. You have to settle for giving your players broad
concepts
-- protect the ball, make the extra pass, penetrate and kick -- and hope they can get it from Point A to Point B without being micromanaged.
That was just the defense, but the more we talked, the more I thought this might be the underappreciated key to Louisville's tidal burst through the final two months of its season: It reduces opponents to guesswork. You can't really scheme against the Cardinals the way you can other teams, because they aren't like any other team.
Louisville's high ball screens aren't just effective; the Cardinals can attack at any angle, sometimes from one second to the next. You can play brilliant defense on
Russ Smith
and force him to shoot some freak-show 18-foot floater and, because it is Russ Smith, it is just as likely to go in. Its press and matchup zone defenses aren't just great, they're unpredictable, and the best way to attack them -- by beating Louisville across half court and using odd-man advantages to get easy shots in the press break -- is also the best way to play into coach Rick Pitino's hands.
(The more we talked, the more I was reminded of the scene in "The Dark Knight" when that accountant tries to blackmail Batman [awesome idea, by the way; HE'S BATMAN GUY], and I practically saw Pitino smile the Morgan Freeman smile: "Your opponent is a lightning-quick defensive behemoth that does its best scoring work off turnovers … and your plan is to play up-tempo against us?
Good luck
!")
"I really don't think you can overprepare," Lange said. "I think you have to get your guys in a mindset where you tell them, 'We're going to play together off of concepts and instincts.'
"If you get robotic against them, they're going to eat you alive," Lange said. "They're going to kick your [butt]. I mean they'll just straight-up kick your [butt]."
So: How does a coach prepare for the unprepare-able? While you decide whether or not that's actually a word (it's not), let's dig in.
When Louisville has the ball
[+] Enlarge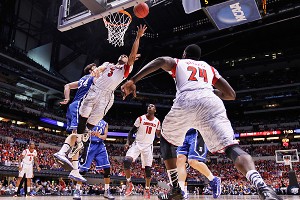 AP Photo/Michael ConroyLimiting the space Peyton Siva (3) gets coming off a high ball screen can slow Louisville's offense.
1. Guard the high ball screen well -- or as well as possible.
Louisville's best and most-used asset on the offensive end is its guards,
Peyton Siva
and Smith, and its go-to offensive play is the spread-floor high ball screen. Everyone moves to the perimeter,
Gorgui Dieng
comes up top, and Smith and Siva read the angles and attack the defense relentlessly. There are all the usual ball-screen decision-tree issues to worry about here -- do we hedge, do we play under, how much help do we give away from the ball -- but the biggest challenge, Lange said, is how unpredictable the angles become. "They get you really spread, what they do a great job of is Dieng will run out and adjust the angle of the screen at the last second," Lange said. "It's not predictable; you have a hard time deciding which way the ball is going to go." The key, Lange said, is for a team to be ready to react either way, and then make sure neither Smith or Siva sees daylight when he comes off that screen. "When they come off that angle, Siva can not see space, because if he feels that way he's much more aggressive coming off," he said. "Same with Smith."
The spread pick-and-roll stuff isn't actually at its best when the ball handler ends up taking a shot -- Louisville scored only 310 points when the pick-and-roll ball handler ended the 433 possessions in Synergy's database from this season -- but what it does do is create angles and matchup problems, and Siva especially loves to get a head full of steam and dump off to
Chane Behanan
for easy finishes on the baseline.
2. Don't let Russ get you down.
Perhaps the most remarkable thing about this Louisville team is the distance Smith has traveled from last season. In March 2012, he was a lovable kook -- an oblivious goofball just as likely to hit a big shot as he was to make an inexplicable turnover. This season, Smith has morphed into a bona fide star and thoroughly underrated player-of-the-year candidate whose offensive attack has managed to become more lethal and consistent without losing any of that jittery
je ne sais quoi
that made it so hard to defend in the first place. It's a microcosm of Louisville's season: How do you prepare to guard a guy for whom everyone else's bad shot is merely Russ being Russ?
"There are two things you can try to do," Lange said. "The first is work really really hard to not let him catch the ball. The second is, when he does catch the ball, turn him into a contested 3-point jump-shooter. And if he makes his first couple of 3s, you don't panic and press up on him, because I still think he can shoot them out of games if he falls in love with the 3-point shot."
This is much easier said than done, of course, because Smith is so quick to get past defenders and so herky-jerky when he does. Plus he's lethal on the fast break -- he scored 1.171 points per trip on transition plays this season, which were his most frequent (28.5 percent) play type -- and can be perfectly well-defended and still make the kind of crazy Euro-step bank shots that had Duke defenders hanging their heads Sunday evening.
"When he gets a turnover and he's running the court in transition, you're not stopping that," Lange said.
3. Take care of the ball.
This doesn't file neatly under "when Louisville has the ball," but it is impossible to untie the Cardinals' offensive output from their defense, which has forced more turnovers (71) in the 2013 NCAA tournament tournament than any other team. According to ESPN Stats & Information, Louisville has scored 72 transition points in its first four games, the second-most in the field. Of those 72 transition points, Louisville has scored 37 (51.4 percent) off turnovers in the tournament, more than any other team in the field. So: If you want to stop Louisville's offense from scoring, at least get a shot to the rim. It's no guarantee, but it's certainly better than the alternative.
Plus, saying "take care of the ball" against Louisville's defense in the below section would have been way too obvious. I mean, duh.
4. Oh, and block out
. Just a quick bonus point of emphasis here: The Cardinals rebound their misses at a top-20 rate this season, as Dieng and Behanan (and even
Montrezl Harrell
) are absolute beasts over the top on the offensive glass. The good news for Wichita State is that the Shockers are arguably the best rebounding team left in the tournament, so this isn't a real matchup woe. But it is worth noting.
Trademark set:
Spread-court, adjusted-angle ball screen. "He's a great offensive coach, and they run plenty of other stuff," Lange said of Pitino and the Cardinals. "They run guys off back screens with shooters, they run some double-screen stuff almost à la Allen Iverson. But that screen action is just really tough to defend, and when Dieng is popping and making those 15-footers, it's almost impossible."
When Louisville is on defense
1. Inbound the ball well against the press.
This seems pretty basic, right? Louisville scores, so you take the ball out of the rim and throw it in to a guard, and then you try to bring it up the floor. Great. Easy. Except, you know, the exact opposite of that.
When Louisville is pressing, as it has on 49.8 percent of its defensive possessions in the tournament,
how
you inbound the ball might be the most important aspect of surviving pressure defense that swarms and smothers even the best ball handlers in the backcourt. This is not the kind of thing I would have thought of, which is probably (among myriad other reasons) why I don't get paid to coach basketball, but you could tell Lange
had
thought about it -- a lot.
"How are you inbounding the ball?" Lange said. "Are you inbounding it with your four or your five, or with a guard? Whatever you do, you can't do the same thing over and over, because they get accustomed to what you're doing and they start closing it down.
"The most important thing, however you decide to do it, is that you're catching it on the move," he said. "If you catch it with your back to half court and your chest to the baseline, you're already in trouble. You have to catch moving forward so you can get them chasing you right away."
[+] Enlarge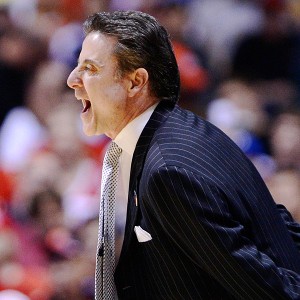 Jamie Rhodes/USA TODAY SportRick Pitino can change his squad's defensive approach seemingly from possession to possession.
2. If you beat the pressure, attack.
Congratulations! You've managed to make it past half court against Louisville's pressure defense! It's OK to take a brief moment to enjoy your accomplishment. Maybe write a self-congratulatory Facebook post. And then make an utterly crucial decision: Do you pull the ball back out and work your offense in the half court? Or do you attack?
The former option is the most conventional route. As I wrote above, when you're playing a team that likes to force turnovers and scoop long rebounds and score in transition, it would follow that your best bet is to slow the game down, work for a good shot in the half court, and try to keep the turnovers to an absolute minimum.
But the most conventional route is not always the best, particularly when you're a 10-point underdog (as Wichita State is) and you have a guard (
Malcolm Armstead
in particular) who is comfortable getting at the rim in 5–on-4s and 4-on-3s. And honestly, it might be the best strategy for
everybody
. Lange explains:
"Here's the thing: If you break the press and pull it back out, you are forcing yourself to play against two very good defenses," he said. "First you're playing against the press, and then you're playing against the matchup zone. Whereas if you can get them scrambling and chasing out of the press trap, and you have advantages, I think you've got to try to attack because you have a better chance to get a really good shot that you might not be able to get in the half court."
The numbers back this up: On the 16.8 percent of its defensive possessions when Louisville has allowed opponents to play in transition, those opponents are scoring 0.913 points per trip. In the half court, that number plummets to 0.706. It may seem anathema to try to get into a jumbled back-and-forth game with a team with Russ Smith and Peyton Siva in the backcourt, but it's probably your best shot.
3. Play conceptually in the half court.
Pitino, being Pitino, won't just let you race across half court and get layups more than a few times before he decides to switch things up; whether you like it or not (I'm guessing not), you
are
going to have to play against Louisville's devastating matchup zone. Bummer, huh?
If you watch Louisville often, you can't help but notice how diverse its defensive approach can be. The Cardinals move and shift their zone from side to side to overplay a team's best scorer; they run good shooters off the 3-point arc and rely on Dieng's shot-blocking on the back line to force uncomfortable midrange shots; they spring any number of traps and sieges, which Pitino dials up from the sideline almost on command. (By the way: Watching Pitino coach this defense is one of the true joys in college hoops right now; it frequently looks as though he is telekinetically willing players into possession-specific positions, accompanied by a fittingly wide-eyed glare.) Point is, they're not good the way Syracuse is good -- where you know what you're facing and can scheme for it and just have to hope your shots go down. Louisville's half-court defense is good in a profoundly more frustrating way, because it can't be planned for.
"You will never see consistency from possession to possession in what they do," Lange said. "So if you go into it like, 'I watched them play against Marquette and they did this, so we're going to run a certain set against them' -- that's crazy. Don't do that.
"Have a couple of things your players can get into real quickly, run your set, and then if you don't have it, you've got to play conceptually," Lange said. "I don't think you can go into it robotic and programmed, like you're going to run your stuff. Because it just doesn't work."
Defensive style:
Trapping press, token press, half-court matchup zone.
Takeaway:
I have a pet theory -- that the best college basketball coaches set the terms of the game most advantageous to their teams, and then funnel all of their year-long recruiting, development and strategy into making sure they're setting the agenda each and every time they take the floor.
It is not easy to do this without, you know, possessing the basketball. But I don't think there's a better way to describe what Louisville (and Syracuse, for that matter) does to opposing offenses. They force
you
to play
them
, and never the other way around.
And then there is the other issue: Even if you handle all of the pressure and take care of the ball and get good shots and hang with Louisville for 20, 25, 30, 35 minutes … all it takes is one or two possessions -- a long rebound here, a turnover in the backcourt there -- for them to speed you up, get you rattled, and mercilessly bury you.
"Three points goes to nine for them faster than any team in the country," Lange said. "If they were a more consistent 3-point shooting team, they would have obliterated college basketball this year. Just obliterated it. They're on another level the way they're playing right now.
"You can't play the clock against them, you can't get cute. You just have to play it all the way to the end, stay focused, and hope you have a chance late."
And this is why Louisville is the overwhelming favorite to win the 2013 national title: After all is said and done, the best strategy against the Cardinals is "do your best and hope things go well."
There is no more ringing endorsement than that.
April, 4, 2013
4/04/13
10:55
AM ET
"Digging In" is our in-depth look at what makes each of the Final Four teams tick, with an assist from the coaches who scout and prep for these teams all season. Next: Michigan.
Is Michigan's offense enough to win them a national title?
That was the question we asked about the Wolverines in the preseason, and the nonconference season, and throughout January, February and March: Could a hyperefficient offense led by the nation's best point guard do enough on one end of the floor to make up for the flaws on the other? Don't you need to specialize in stops to progress in the NCAA tournament? Weren't the Wolverines too lenient on the defensive boards to be considered a legitimate national title contender?
Originally, I thought asking that question one final time would be a clever way to open this post -- convenient bookends, the writer's best friend -- but it would have been pointless, because we already know the answer. Yes! Yes, the Wolverines
can
win the national title; when you survive Kansas and trounce Florida in the matter of a weekend, and when you are a mere two wins away from "One Shining Moment," and when you have
Trey Burke
and a suddenly dominant
Mitch McGary
anchoring an offensive attack with weapons at every position, yes, you can win the national title. Obviously.
Of course,
can
does not automatically sum to
will
. There is the small matter of solving a team -- Syracuse -- that is allowing just 0.72 points per possession in its four NCAA tournament games, to say nothing of whatever challenge may be waiting in Monday's national title game. The first item of business is making sure that No. 1-ranked efficiency offense can maintain its torrid pace against the tournament's hottest and most imposing defense to date.
To figure out how that might be possible -- and how an opposing coaching staff works to prevent it from happening -- I asked Ohio State assistant coach Jeff Boals to help me scout the Wolverines in advance of the most intriguing matchup of the Final Four. Let's take a look.
When Michigan has the ball
1. Stop transition.
Wait … really? A sidelong glance at Michigan's efficiency and tempo statistics wouldn't give you the impression the Wolverines love to get out and run -- Michigan's 65.3 possessions per game ranked No. 200 in Ken Pomeroy's adjusted-tempo rankings this season. That's not Wisconsin-level deliberation, but it's not exactly
seven seconds or less
, either. But ask Boals what most concerned him about Michigan's offense when he and the rest of Thad Matta's staff prepared for the Wolverines this season, and he doesn't even hesitate: "It's funny -- they're a slow-paced team overall but the place they hurt you most is transition," Boals said. "That's where
Glenn Robinson
is really good, that's where
Tim Hardaway
's really good, and obviously it starts with Trey. Then you've got
[Nik] Stauskas
running to the 3-point line. It's kind of oxymoronic, because they're not a fast-paced team, but the biggest thing you have to take away is transition points. You just can't let them have any easy ones." According to Synergy data, the Wolverines scored 1.208 points per trip on their 472 transition possessions this season, and they get into the break more -- on 17.2 percent of their total possessions -- than you might think.
[+] Enlarge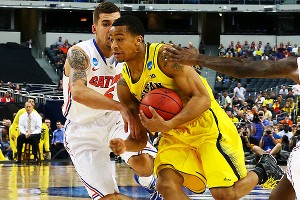 Ronald Martinez/Getty ImagesTrey Burke pilots an offense based off ball screens; Syracuse's zone takes a lot of that away.
So … how
do
you stop Michigan in transition? "The No. 1 thing is you have to stop the ball," Boals said. "Trey does a great job of probing you and finding gaps. Then you have to identify the 3-point line, get to the shooters, and force guys to put it on the floor." This is especially true of Hardaway. The shooting guard is excellent on catch-and-shoots (1.227 PPP), but his efficiency drops precipitously once he is forced to put the ball on the floor. Once Hardaway takes a dribble, his points per trip drop to just 0.711. Fly by on closeouts if that's what it takes, but make Hardaway do more than stand with his finger in the wind on the perimeter -- especially in the open floor.
2. Slow the two-man game.
Typically, this is almost impossible: Burke is simply too good playing off ball screens at the top of the key that no matter how a defense decides to play those ball screens -- whether defenders hang close to second-option perimeter shooters, or sink, or hedge hard, or you name it -- as Boals said, "you're going to give something up." In a sport in which approximately 150 percent of all offense runs through ball screens, Burke is the best of them all -- a do-everything nightmare happy to shoot, pass and penetrate with no discernible preference for any of the three.
But Syracuse won't be as worried as most. After all, while teams do screen the top of the Orange's 2-3 zone, the classic pick-and-roll/pop action is pretty much a non-starter. To get a similar pick-your-poison advantage against the zone, Boals said the Wolverines would have to make plays out of the middle of the zone, which is easier said than done. "I think they'll probably try and put Hardaway in there, because you have to have a playmaker at that high-post spot -- that's why I was surprised Indiana had
[Cody] Zeller
in that role as opposed to near the basket," Boals said. "If you do set a ball screen, they try to funnel it to the free throw line, so it's hard to get much out of it." This is an issue for the Wolverines, as 14.9 percent of their possessions this season ended with a shot by the ball handler (usually Burke) on a pick-and-roll action. If that entire dynamic is lost against a lanky 2-3 zone that doesn't have to decide how to defend constant ball screens, can Burke still be Burke?
Oh, and speaking of which, can McGary still be McGary? The freshman forward has emerged as an absolute stud in the wake of
Jordan Morgan
's ankle injury; in four tournament games
he is 33-of-45 with 46 rebounds
. McGary is a beast on the offensive glass, which is always good news against a zone, but will the lack of a two-man game hurt his ability to catch in good spots? And how will he fare against a Syracuse interior that blocks 19.4 percent of its opponents' shots, highest in the nation?
3. Challenge all 3s, but especially in the corner.
And now we arrive at what is almost certainly the most important aspect of Saturday's game: Whether Michigan makes 3s.
The Wolverines' most frequent shot type is the jumper, which they use on over 53.4 percent of their possessions, and of those 944 jumpers in Synergy's database, 631 -- or 66.8 percent -- have come from beyond the arc. They've scored 1.138 points per possession. The Wolverines don't shoot as many 3s as they have in recent years past (when their talent required a quirkier, less-conventional approach), but the shot is still a major facet of their offense. It also just so happens to be the one most likely to exploit Syracuse's zone -- at least theoretically.
On Wednesday,
Sports Illustrated's Luke Winn published a chart
of 3-point specialist Stauskas's perimeter-shooting habits during Big Ten and NCAA tournament play, and the pattern was clear: Stauskas feasts on left-corner 3s, on which he shot 23-of-42 in those 24 games. The freshman guard's specific proclivities are just one (important) piece of the larger puzzle, in which Michigan is happy to do exactly what the Syracuse zone wants: shoot 3s.
"If you actually look further at their shooting numbers, they shoot it the best from the corner," Boals said. Usually, a 2-3 zone is vulnerable there, but Syracuse has held opponents to just 14-of-92 from beyond the arc (!) in the tournament, just 5-of-26 from the corner (per Winn's chart), and just 28.2 percent overall on the season. "I'll be interested to see how many uncontested 3s they can get out of the half court," Boals said. "Typically if you overload it and get the ball to the wing and the corner, you're going to get a good look. But can you get it to the corner? With [Syracuse's] length and athleticism and how wide they are? That's the question."
On its face, this looks like pretty simple stuff. Everyone knows you have to make outside shots against a 2-3 zone! Michigan is a good shooting team! All the Wolverines have to do is make shots! Simple, right? Actually, no, because Syracuse is basically not even letting fans sitting on the opposite baseline
look
at the rim these days, and when a zone can do that, the entire classic anti-2-3 strategy gets very thorny.
[+] Enlarge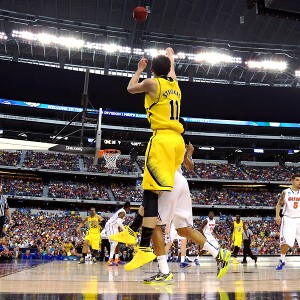 Matthew Emmons/USA TODAY SportsNik Stauskas feasts on corner 3-pointers, a shot Syracuse has been particularly good at defending.
Also, the Orange owe those fans a refund. Just saying.
Trademark set: "Two-Play" and "Five."
"Two-Play" is
probably coach John Beilein's most famous offensive set
, which starts his two-guard front offense and ends in a wide pindown for Stauskas or Robinson or Hardaway. "Five" begins with a pass to the center and a reverse to the four, which begins a series of possible reads Boals recited like his Social Security number: "They'll get the ball to the four and then run a bunch of different things out of that," he said. "They can go back screen-ball screen, back screen-
flare screen
-ball screen, or wing iso for Burke." This stuff is unlikely to be used as often against the zone, and Michigan might have to rely more on its arsenal of quick-hitters in addition to the usual floor-spacing zone offense. But for the junkies who want the full scout anyway, there you go.
When Michigan is on defense
1. Be patient.
On Tuesday, Temple coach Fran Dunphy said one of the most difficult things about Syracuse -- among many difficult things -- was how versatile the Orange are in their pace. That could come in handy against Michigan, because "if you come down the floor and pass it twice and take a shot, you're playing right into their hands," he said. This goes back to the prevention of transition points and the desire to make Michigan play half-court offense, but it is also about the Wolverines' defense. "That's where you get them, on that end of the floor," Boals said. "If you're patient, you'll get a good shot. It's not a matter of if you get it but when." The good news? Michigan wants you to play half-court offense. "It's weird. They're not a great transition defense, sure, but they want to you play in the half court," Boals said. "That's a big emphasis for them -- preventing transition. We think the more you pass against them, the more likely you are to get a good shot."
2. Beware the help.
With the exception of Burke, who is fully capable of turning opposing penetration, none of the Wolverines is particularly stout defensively. With a little ball movement and rotation, you can stretch them, drive past close-outs and get it to good spots on the floor. But you have to be careful. "They're not a team full of great individual defenders, and they're not a shot-blocking team," Boals said. "But they are a team of great help defenders. They take a lot of charges. When
Michael Carter-Williams
and
Brandon Triche
get into the lane, they'll be looking to come over and get in position and take charges."
3. Hit the glass.
The emergence of McGary on the back line has been huge for Michigan, but the Wolverines are still just an OK defensive rebounding team -- they finished eighth in the Big Ten in defensive rebounding rate. So while this is a piece of scouting that is probably a good idea for any team to utilize against Michigan, it is especially useful for Syracuse, whose offense is basically just OK at everything except offensive rebounding, where it is top-10-in-the-country awesome. If Michigan is overmatched by all that Syracuse size and athleticism, and the Orange get easy putbacks, it's going to be a long night in Ann Arbor and the surrounding territories.
Defensive style:
Mostly man-to-man. Beilein became famous for his tricky 1-3-1 zone at West Virginia, but he has played less and less of it this season -- per Synergy, 94.7 percent of Michigan's defensive possessions are man-to-man. "They don't play nearly as much zone as they used to, but they do still mix in some stuff -- a 2-3, a 1-3-1 -- just to keep you off balance," Boals said.
Takeaway:
Most people surely tune in to the Final Four because they want to hear a story -- the coach on the cusp of greatness, the star player leading his team to the finish, the uplifting homecoming tale of injured Louisville guard
Kevin Ware
. Believe me: I like stories, too. I'd be in the wrong business if I didn't.
But I also like to geek out about the actual basketball, which is why it's just as much fun to sit here and try to figure out exactly how Michigan is going to beat that Syracuse zone, provided it's the same Syracuse zone that allowed 0.72 points per trip en route to Atlanta. From what I can tell, a two-point plan seems to be in order:
Beat the zone down the floor.

Hope 3s go in.
"I think they have to get out in transition and try to beat the zone down the floor," Boals said. "They've got to try to get those easy points."
I'm not sure if Michigan can get uncontested 3s against Syracuse, because almost no one does. But I do think the Wolverines can get 3s, period, and they may just be the only team in the country good enough and confident enough to fire away from 3 with those big Orange wings flying out at them. Transition is the first option. Failing that, let fly -- and pray for rain.
April, 3, 2013
4/03/13
10:30
AM ET
"Digging In" is our in-depth look at what makes each of the Final Four teams tick, with an assist from the coaches who scout and prep for these teams all season. Next: Syracuse.
On one hand, Syracuse is incredibly easy to scout. There are no surprises. Every time you take the court against Jim Boeheim's Syracuse teams, you are going to see a 2-3 zone -- the same 2-3 zone you saw last time, and the time before, and the time before that. Boeheim's been coaching Syracuse in some capacity since 1969. He's won 920 games. Almost all of them featured the 2-3 zone.
[+] Enlarge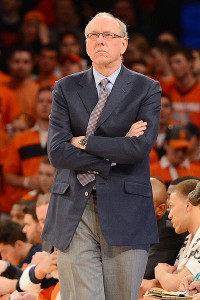 Tony Spinelli/ESPNFew teach the 2-3 zone as well as Orange coach Jim Boeheim.
There is no mystery here: Your average fourth-grade AAU player can probably tell you the three or four best ways to try to attack the 2-3, the importance of getting the ball in the middle of the lane, the importance of working the baseline and specifically the short corner, how good high-low and inside-out wing passing can pry the thing open, how sometimes you just have to make 3s.
And guess what? When you actually take the floor, all of that very simple and straightforward junior-high coaching clinic stuff goes flying out the arena ventilation shaft, and you're left with the unenviable task of figuring out how to find the rim with all these tall dudes blocking your view. Coaches take the postgame podium looking like they just banged their heads against a wall for the past two hours, probably because they did.
"They jumped us pretty good," said Montana coach Wayne Tinkle, whose team lost 81-34 to Syracuse in the first round of the NCAA tournament. (Tinkle's news conference also included the phrase, "I'm rambling, I apologize." He seemed dazed.)
"We don't face many teams that play zone the whole way," Cal coach Mike Montgomery said, after Syracuse held the Bears to 60 points in 68 possessions in the second round. "And if we do, it's not the same kind of zone that was."
"Let's face facts," Indiana coach Tom Crean said after the No. 1-seeded Hoosiers, the most efficient offense in the country all season, scored 50 points in 65 possessions in their East Regional semifinal loss to the Orange. "We haven't seen a zone like that."
"To compare Syracuse's zone to someone else's zone I think is unfair to Coach Boeheim and disrespectful to their players," Marquette coach Buzz Williams said after his team's 55-39 loss to Syracuse on Saturday.
You could say that every year -- who else has run one defensive system for so long at such a highly effective level? -- but it has never been more true than right now, in the 2013 NCAA tournament. Syracuse enters the Final Four having allowed just 0.72 points per possession in its four NCAA tournament games. That is ... insane.
"I'd just like to preface everything we say with the fact that when we beat them they weren't playing anywhere near as well as they are now," Temple coach Fran Dunphy said. That was the first thing Dunphy, whose Owls did knock off the Orange in Madison Square Garden on Dec. 22 and whom I called to ask for help scouting Syracuse, said on the phone Tuesday. It is so noted, Coach. Let's take a look:
When Syracuse has the ball
[+] Enlarge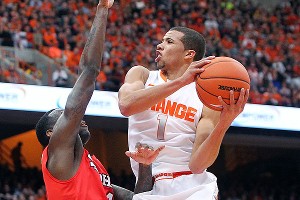 Nate Shron/Getty ImagesLimiting Michael Carter-Williams and Syracuse's fast-break attack could be key for the Wolverines.
1. Start with transition defense.
The Orange weren't exactly the fastest team in the country this season -- they ranked No. 244 in Pomeroy's adjusted tempo -- but you really do not want to see them on the break. According to Synergy scouting data, Syracuse averaged 1.12 points per trip in transition this season, disproportionately more than in the half court. Typically, Syracuse gets on the break at times when you can't really prevent them from doing so, which has more to do with their defense; how are you supposed to play good transition defense when
Michael Carter-Williams
turns you over in the open floor? But you can control at least some aspect of it, particularly if you elect to eschew offensive rebounds in favor of preventing long rebounds from turning into fast-break opportunities. "Offensive rebounding is notoriously what zone teams struggle with," Dunphy said. "So you can try and send an extra guy to the glass if you want, but you leave yourself susceptible to the run-out." There will be more on this trade-off in the defensive section, but suffice it to say you have a much better chance of stopping Syracuse if you can somehow halt its open-court offense.
2. Rebound your own glass.
When Syracuse is in the half court, it's a good but not great offensive team. The Orange are not bad, of course -- Carter-Williams is one of the best facilitators in the country,
C.J. Fair
keeps adding skills, and
James Southerland
is a 6-foot-8 sharpshooter, which must be nice to have -- but their best quality is how well they chase down their own misses. For the season, Syracuse is grabbing 39 percent of their available offensive rebounds, ranking eighth in the country. If you can somehow keep them off the glass, you can stall their offense long enough to keep pace.
3. Keep Michael Carter-Williams out of the lane.
"He is playing at such a very, very high level, so big and so long and so smart and so crafty," Dunphy said. "And now that he's stepping up and hitting marginal perimeter shots that maybe he didn't make earlier in the year, that really makes it difficult to play him." Even so, you'd rather not have Carter-Williams getting into the lane; once he does, he can finish floaters or find bigs for lobs or kick to the corner and wing to
Brandon Triche
or Southerland. He has to be kept in front, and constantly encouraged to shoot. If he's making them, just tip your cap and go the other way.
4. Trademark set
: "I don't think they have any signature looks, so to speak," Dunphy said. "On some level it's give it to Carter-Williams and let him go make a play." Indeed, if there is one trademark of Boeheim offenses, it's that he puts the ball in the hands of his talented stars in a position where they can maximize their impact on the game -- regardless of where that position is, or who those players may be. (There's
this
, I suppose, but I'm pretty sure every team in the country runs some form of that.)
When Syracuse is on defense
1. Take care of the ball.
"The first thing I was worried about when we played them was even getting the ball to the wing without turning it over," Dunphy said. I chuckled when he said this, because it seemed humorous; of course you can pass the ball from the top of the key to the wing, right? But his point, that even "entering the ball into an offense" was a challenge against the Orange's length, is well taken. The zone wouldn't work as well as it does without Syracuse's preternatural ability to invade passing lanes and deflect what seem like very basic and even nonthreatening paths from Point A to Point B. Trying to get the ball to one of the zone's traditional weak spots -- the short corner or the high post -- is an even greater challenge.
You don't have to have scouting tape to review for yourself; you can watch Syracuse's four tournament game replays on the NCAA site. Even a few possessions of the Marquette game tell the tale: The Golden Eagles swung the ball back and forth, side to side, over and over again, constantly looking for a point of entry. The whole defense moves as one, particularly out front, where Carter-Williams and Triche take turns sliding from the top of the key to the wing, playing at the perfect distance between the outside shooter and the player trying to catch an entry at the high post. It's almost mesmerizing, which is where the Orange's high forced turnover rate (23.6 percent of opponents' possessions) begins. "They don't separate themselves much," Dunphy said. "They were as on top of their game as they are now, and we tried to spread them and just make simple point to wing passes. We were just hoping to complete that."
2. Pick your poison.
Few teams manage to block shots, create steals and guard the perimeter with the same remarkable simultaneous effort as the Orange, and even this Orange team is able and beyond: Syracuse ranks fourth in the country in opponents' effective field goal percentage, 19th in turnover rate, second in 3-point FG percentage, 19th inside the arc, first in block rate (19.4 percent) and seventh in steals percentage (13.7), which all together essentially means that the Orange protect the rim, create steals and guard first-shot opportunities better than any team in the country. The only vulnerability is on the boards. This season, the Orange have allowed opponents to grab a prohibitively high 34.3 percent of available rebounds, which, when you look at the rest of their sturdy makeup, might tempt a coach into going all in on the offensive glass and trying to scrum in the paint for 40 minutes. But even that requires a prohibitive trade-off. "Once you get that offensive guy to the front of the rim, you open yourself up to a long rebound, and when they beat you down the floor, they are likely to score," Dunphy said, in one of the understatements of the week.
3. Pray.
On Monday's ESPNU College Basketball podcast, Notre Dame coach Mike Brey told Andy Katz and Seth Greenberg he thought his team as a rule needed to make at least eight 3s against Syracuse to have a chance. "I wouldn't disagree with Mike's philosophy on that," Dunphy said. "When you do get an open look, and there's not that many of those opportunities, you have to convert. But with those long arms flying at you, what appears to be a good look sometimes is not really as good as you think it is."
The other option is trying to beat the Orange on the low block, which didn't exactly go so well for
Cody Zeller
(or his draft stock). "You could see in the Indiana game Zeller was trying to finish at the rim, and that size is just so dominant they were changing every shot," Dunphy said. "Trying to finish at the rim against these guys is just so, so hard." So, just to review, you can try to push it into the low block against the best shot-blocking team in the country. Or you can hang out by the 3-point line and hope things go your way, even as you're fully aware Syracuse's 3-point defense remains alive and well. So, you know, do what
Ron Baker
did: Make a few shots.
Defensive style
: Against Le Moyne? Man to man. Against everyone else? Some zone you've probably heard of.
Takeaways
: You can understand why it must be frustrating for opposing coaches to play Syracuse. Even to my distant perspective, it feels like there must be
some
sort of cheat code here, some sequence of conclusions that could lead us to the ultimate 2-3 zone breakdown, something to crack. Instead, this is the same old Boeheim: that same old 2-3 zone, the same (relatively) laissez-faire offensive accommodations, the same old symbiotic relationship between the two. But coaches, who spend most of their time doing exactly what we're doing right now, must still bang their heads against the wall even 30 years later looking for a human flaw in the shiny spaceship.
It doesn't exist. The Orange do a bit of everything well on the defensive end, so well they haven't had to worry much about scoring even as their offense has been just slightly paltry for much of the season. They shuffle in that zone and hover over shooters and collapse into the middle and rebound the ball and it's all airtight, every movement seemingly tied to the next, glued shut by players with dreams that shouldn't be allowed. You see it all coming -- Boeheim is going to get really good players and give them some freedom on offense and turn them into that -- but you can't stop it.
"We are what we are," Boeheim said last weekend. "We play the way we play."
April, 2, 2013
4/02/13
11:30
PM ET
"Digging In" is our slightly wonky look at what makes each of the Final Four teams tick, with an assist from the coaches who must scout and prep for said teams all season. Today: Wichita State.
When you talk to coaches about Wichita State, even when you're asking them to help you recreate their in-depth advance preparations, you frequently hear some variation of the same refrain: They play hard, they play smart, they play together and above all they brim with confidence -- they always believe they're the best team on the floor.
"You always see that with them," Creighton assistant Steve Merfeld said. "They play with that confidence that when they step on the floor they're supposed to win -- that has always been there."
Of course,
thinking
you're going to win and actually executing well enough to get it done are two different things, and finishing 5-5 in the final 10 games of your regular season (including losses to Indiana State and Southern Illinois), as Wichita State did, is a far cry from knocking off Pittsburgh, Gonzaga, La Salle and Ohio State en route to the Final Four.
If confidence is a constant, what's been the difference?
Ron Baker
is a good place to start. The redshirt freshman has done a rather remarkable thing: After missing two and a half months due to injury, and playing just 10 games before that injury, Baker returned to a big role in WSU rotation just in time for the Missouri Valley Conference tournament. That would be impressive enough had he not been excellent since, but he has been: In seven postseason games, Baker has shot 8-of-15 from 2, 11-of-26 from 3, and 24-of-27 from the free throw line. He has 24 rebounds and 10 turnovers. And his key shots down the stretch against Gonzaga -- when Wichita State poured open one of the freakiest flash offensive floods we've seen all season -- effectively drowned
Kelly Olynyk
and Co.
Baker has also made the Shockers difficult to scout. Whereas most teams in the tournament have an entire season of film of the same lineup from which coaches can cull, Baker has not been a part of that bargain. When Merfeld and Northern Iowa coach Ben Jacobson, the two I asked for help with this scout, saw the Shockers in the regular season, Baker wasn't in the lineup.
Even so, there are still some things you can rely on Wichita State to do, some points of emphasis both coaches readily agreed on, and some things these obviously interested observers have seen during Wichita State's four-game run to the Final Four:
When Wichita State has the ball
[+] Enlarge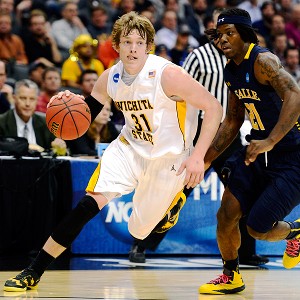 Richard Mackson/USA TODAY SportGuard Ron Baker's return from injury has added to the difficulty in scouting Wichita State.
1. Know where Carl Hall is at all times.
This usually isn't very difficult -- Hall is a very active and physical forward on the low block -- but he is by far the best offensive rebounder on a team that typically whose best offensive feature, the only place where it ranks among the top 100 teams in the country this season, is its 38 percent offensive rebounding percentage. If you can take Hall off the glass, you can hold Wichita State to one shot, and you're in much better shape when it's a one-shot team. "When we were able to beat them we were able to neutralize Carl," Merfeld said. "He is just a monster on the offensive glass."
2. Keep Malcolm Armstead in front, and challenge Cleanthony Early as best you can.
The Shockers aren't exactly known for being an up-tempo team, but they have gotten good looks out of transition and secondary sets all season, and Armstead has typically been the reason why. "He's good in transition on quick-hitters or he can settle in and run some of their stuff," Jacobson said. "He's good in [the half court], good in transition
and
good in the late shot clock, so you get a guy that can make plays in all three situations." Merfeld, meanwhile, compared Early's scoring and shot-making abilities to All-America Creighton forward
Doug McDermott
's, in that "you think you have him defended and the angles shut off and he finds a way to finish it anyway."
3. Finish the game.
When you look at Wichita State's overall offensive numbers this tournament, there is good reason to be impressed: The Shockers haven't been held to below a point per possession to date, and they scored more efficiently (1.19 PPP) against Gonzaga than they did against La Salle (1.16). But Wichita State has been especially lethal late in games: According to ESPN Stats & Information, Wichita State is shooting 58.3 percent in the final five minutes of games in the tournament, up from 40.8 percent the rest of the game. The Shockers also have drawn twice as many fouls as their opponents in the final five minutes of games, and though they're shooting 34 percent on 3-point field goals, they've shot 44.1 percent in the second half. Maybe that's "clutch," or maybe it's a fluke, but either way opposing defenses have to stay locked in. (Just ask Gonzaga.)
Trademark set: UCLA Triangle Stack.
"They run a million different things out of that set," Merfeld said. "And they get good shots out of it. It's varied a little bit in the tournament because they've been attacking so much more in transition, but in the half court they set up that stack and have dozens of little variations they get out of it."
When Wichita State is on defense
1. Run if you can.
"The biggest thing to us has always been the ability to score in transition, before they set their defense," Jacobson said. "Once they set their defense they're a very hard team to play against."
2. Make the extra pass.
Wichita State doesn't typically extend its defense in an effort to force copious turnovers. Instead, the Shockers prefer to stay in front. They challenge shooters well, particularly inside the arc, where they allow just 43.4 percent shooting, and they don't give up many open looks. "Their rotate on defense exceptionally well," Merfeld said. "You have to pass and make the extra pass to get good shots off against them." The importance of open, good shots is tantamount, because it's more likely you'll find one of those than find an offensive rebound and easy putback against a team that allows just 26.3 percent of available offensive rebounds (11th-best in the country) to slip into its opponents' hands.
3. Get to the line.
If there is a weakness to the Shockers' defense, it's the propensity for fouls; their foul-shot-to-field-goal-attempt ratio is 37.8 percent, No. 278 in the country. "Get to the free throw line" is not a particularly sophisticated piece of advice, but it is without question the path of least resistance against the Shockers' D.
Defensive style
: Wichita State is a man-to-man defensive team. This season, of the plays in the Synergy scouting database, Wichita State played 2,221 defensive possessions in the man-to-man and just 158 in zone. And yet Jacobson praised coach Gregg Marshall's ability to tweak things just so. "They change their defenses just enough so you never really settle in -- your ability to adjust and take care of the basketball is affected," he said. "Primarily they play man, but they'll throw a press on you after made free throws, they'll play a 2-2-1 three-quarter court and then settle back into a 2-3 zone. You have to be ready to handle that aspect."
Takeaways
: For all of the crucial markers of Wichita State's basketball personality, the fact of the matter is that its next opponent is Louisville, which tends to Zerg-swarm opponents, drain them of their former characteristics, and leave nothing but dry husks in their wake. "The two things from Louisville's standpoint against Wichita State are rebounding and whether the defensive pressure, both in the half court and the full court, is effective," Jacobson said. "If [the Cardinals] get the game turned with their defense and then get out in transition and get going with their guards,
and
they rebound well, it could be a very difficult game for Wichita State."
The conventional strategy might be to slow the game down as much as possible, but Merfeld was convinced Marshall would tell his players to attack Louisville's press -- to push forward and get baskets if they crossed half court with a man advantage and the ball in a playmaker's hands, even at the risk of playing right into Louisville's strategy.
"They'll attack it, they're relentless," Merfeld said. "It's what their role is, their attitude -- what they're supposed to do right now. They're attacking, and they're playing exceptional basketball."