College Basketball Nation:

2013 ACC tournament
March, 17, 2013
3/17/13
5:39
PM ET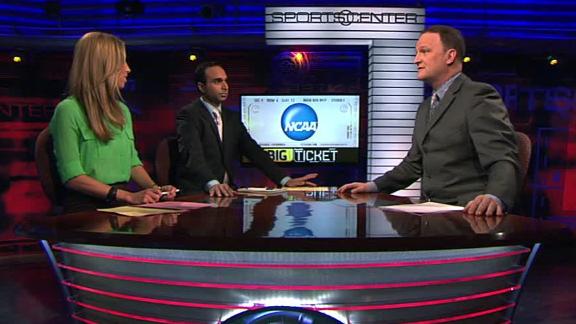 GREENSBORO, N.C. -- Miami point guard
Shane Larkin
said he plans to sleep with his piece of the ACC Tournament net for at least two weeks.
The Hurricanes' frenetic, fantastic, down-to-the-final-minutes championship win over North Carolina on Sunday was worth savoring -- in more ways than one.
Not only did the
87-77 victory
secure UM's first ACC tournament title, another accomplishment on an ever-growing list this season, it quieted any doubts that this team should be one to be reckoned with in the NCAA tournament.
"A lot of people were saying we peaked earlier in the year, when we won 14 in a row, and then we lost three of our last five," said Larkin, named the tournament MVP after his career-high 28-point performance. "A lot of people said ... we weren't going to have any chance in the NCAA tournament. But we just stayed together as a group; we stayed together and believed in ourselves and got three wins in a row against three very good teams."
Indeed, this didn't look like a team that was petering out. Just the opposite, in fact.
[+] Enlarge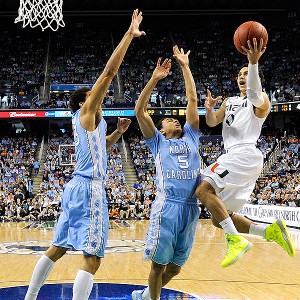 John David Mercer/USA TODAY SportsShane Larkin scored 28 points and had seven assists in Miami's win over North Carolina.
Pushed by a much-improved Tar Heels squad that also had plenty of doubters not too long ago, both teams put together a first half that was "as high a level of basketball as I've seen all year long,'' Canes coach Jim Larranaga said. They combined for 15 3-pointers, only eight turnovers, 13 lead changes and six ties. And that was just in the first 20 minutes.
In one blink-and-you'll-miss-it flurry, UNC sophomore
P.J. Hairston
(28 points) buried three 3-pointers in a row -- interlaced with 3s from Larkin and teammate
Trey McKinney Jones
(career-high 20 points). It was a stretch of entertaining one-upsmanship, and although Miami led 44-41 at halftime, you knew -- you hoped -- there would be more.
And there was.
"It was anyone's ballgame with five minutes to go," said Tar Heels coach Roy Williams, emotional about the loss and about how far his guard-led team has come since it lost to the Hurricanes by 26 points in early February.
Actually, UNC led Sunday 67-64 with 7:44 to go, until Hurricanes big man
Julian Gamble
scored five points in an 8-0 run. The Tar Heels, as they had all game, tried to shoot back, and point guard
Marcus Paige
cut it to a 74-71 with 3:37 to go.
But then Larkin drove by Strickland for a layup, and McKinney Jones (career-high 20 points) hit yet another 3 to make it 79-71 with 1:36 left.
It was the Hurricanes' largest lead to that point in the game, and finally the cushion was enough.
"Congratulations to Miami, it will continue to be a phenomenal year for them," said Williams, whose team is now 8-3 since it last lost to Miami. "They won the regular season, and then validated it by winning a conference tournament as well and it's just a great, great year. ... They're really a big-time basketball team."
As the horn sounded and a multi-colored blizzard of confetti poured out of the rafters, Miami guard
Durand Scott
leapt into Gamble's arms, then embraced big man
Reggie Johnson
. It was an emotional moment for three seniors who had seen Tobacco Road teams dominate the ACC -- until Florida State won the tournament last season.
And until now.
"My first meeting at George Mason in 1997, I asked our players, 'Who are the best programs in the country, and who should be our role model?' and they mentioned Duke and Carolina," said Larranaga, who took the Patriots to the Final Four in 2006. "And when I got to Miami, I asked, 'Who are the best teams and programs in the league?' and they said Duke and North Carolina. So what we've tried to do is use them as a shining example of what can be done."
And Saturday's net-cutting was another step.
McKinney Jones said he would likely give his sliver of the twine to his mom. Larranaga said his would be on display in his office. Scott said he would add his cutting to an ever-growing collection of memorabilia.
Meanwhile, expect Larkin to leave some room under his pillow for another piece of net. That's the goal entering the NCAA tournament.
"This was a big weekend for us,'' Larkin said. "This gives us a lot of momentum going forward."
March, 17, 2013
3/17/13
3:18
PM ET
GREENSBORO, N.C. -- By the time you read this, Sunday's ACC tournament championship game will be an afterthought, a fond March asterisk as you debate seeding and Cinderellas and start the post-Selection Show process of filling out a bracket.
And that's a shame,


because, wow, that was entertaining.
In the end, the top-seeded Miami Hurricanes enjoyed the confetti treatment and its first ACC tournament title, but it took 15 lead changes, 10 ties, and a gritty, sharpshooting effort against a vastly improved North Carolina Tar Heels team
to prevail 87-77
at Greensboro Coliseum.
A quick look at the contest:
Turning point:
UNC, which lost twice to Miami during the regular season before it switched to its current four-guard starting lineup, was leading 67-64 with about seven minutes left. That's when Miami put together an 8-0 run, led by five points from forward
Julian Gamble
, to take a 72-67 lead.
UNC's
Dexter Strickland
stopped the breakaway, briefly, with two free throws, but in a game that went back and forth for the first 36 minutes, it was enough of a cushion to build upon. And the final score does not show just how competitive this game was.
Players of the game
: Miami point guard
Shane Larkin
finished with 28 points on 8-for-15 shooting, with seven assists and five rebounds. Teammate
Trey McKinney Jones
added 20 points. UNC sophomore
P.J. Hairston
also scored 28 points, including six 3-pointers, in front of his hometown crowd.
Numbers to know
: The teams combined for 25 3-pointers. Miami shot 50.8 percent for the game, and UNC shot 45 percent.
What's next
: The Hurricanes earn the automatic bid to the NCAA tournament; the Tar Heels will get an at-large seed. Where will they go? Who will they play? The bracket will be revealed at 6 p.m. ET Sunday.
March, 17, 2013
3/17/13
8:42
AM ET
GREENSBORO, N.C. -- In a way, Miami is responsible for the team North Carolina has become.
That's why, in a way, it's fitting that the two teams will play for the ACC tournament title Sunday.
Feb. 9, the then-eighth-ranked Hurricanes trounced the Tar Heels so handily (by 26 points) that UNC coach Roy Williams knew something had to change. After meeting with his coaches in the BankUnited Center locker room, he opted to
go to a four-guard starting lineup
.


The result: An 8-2 record for the Tar Heels since the switch, and a faster, more confident, better scoring UNC team than the one Miami faced during its two-game regular-season sweep.
"The smaller lineup has helped us,'' Williams said Saturday after his team beat Maryland in the semifinals. "We're a better basketball team. Is it a world-beater, is it the newest thing that ever happened, the best thing that ever happened? No. ... But [going small] was the best thing for this team.
"Whether it presents any different problems for [the Hurricanes], we'll have to wait and see what happens [Sunday]."
The Tar Heels are confident, though, pointing out how far they've come not just from that last game at Miami, but from their 0-2 ACC start. Who would have imagined back then that they'd be competing for the league's tournament championship?
"We've had some ups and downs this year, and we went through a period where we struggled, and a lot of people kind of doubted us,'' UNC point guard
Marcus Paige
said. "But the great thing about that is we stuck together as a team and we finally started getting things clicking.
"So to get a chance to play Miami [Sunday], who has beaten us pretty badly, and have a chance to cut down the nets and ... to win an ACC tournament championship -- it would just be awesome to see the season come full circle like that."
A few things to watch in the championship game at Greensboro Coliseum:
MIAMI'S STARTING BACKCOURT
Hurricanes point guard
Shane Larkin
(a first-team All-ACC selection) and shooting guard
Durand Scott
(the ACC Defensive Player of the Year)
combined for 55 points in their semifinal victory
over NC State on Saturday.
UNC's Paige and starting shooting guard
Dexter Strickland
-- who combined for 23 points against Maryland -- are going to have their hands full, even with the help of wing
Reggie Bullock
, the team's best defender.
"We try to be the best backcourt every night, and I feed off his energy and he feeds off me,'' Larkin said. "We play well with each other, and I know if he's driving he's going to have his head up and if I'm open he's going to find me and hopefully he thinks the same of me. We challenge each other in practice; most of the time we are going against each other and we try to make each other better in practice. I'm just grateful that he's on my team."
UNC's 'BIG' MEN
Tar Heels forward
James Michael McAdoo
turned in his worst scoring game of the season the last time these two teams matched up, with six points on 3-for-12 shooting in 26 minutes. UNC's leading scorer has been more aggressive of late, but he has battled foul trouble his last two games, something the 6-foot-9 sophomore will have to be wary of against Miami's bevy of big guys.
Meanwhile, 6-foot-5
P.J. Hairston
, inserted to create the smaller starting lineup after the last Miami loss, will have to play big even with
his left hand still bandaged after needing eight stitches
between his fingers on Friday night. Miami's starting backcourt stands 6-11 (
Kenny Kadji
) and 6-10 (
Julian Gamble
), with a 6-10 wide body (
Reggie Johnson
) coming off the bench.
THE INCENTIVES
Both teams are NCAA tournament locks, but a victory would mark the Hurricanes' first ACC tournament title -- and
make a better case to the NCAA selection committee
that they should be a No. 1 seed.
"We're a hungry team and we want more and more,'' Larkin said. "We're not satisfied with winning the regular season, we want the ACC and eventually we're going to make the national championship game. We're hungry and not going to settle for less. Hopefully we can get out there and get it done."
The Tar Heels are looking for their 18th ACC tournament title, to strengthen their NCAA seeding and to prove they are ready to make a run as the postseason continues.
"Everyone had their doubts,'' Hairston said. "... But once we started clicking together and playing as a team and just playing North Carolina basketball, that's when everything came together and we started playing with different intensity and a sense of urgency."
March, 16, 2013
3/16/13
8:07
PM ET
GREENSBORO, N.C. –
P.J. Hairston
's hand hurt after North Carolina's
79-76
ACC tournament semifinal victory over Maryland on Saturday. But the Tar Heels sophomore, who needed eight stitches Friday to close a bloody laceration between two fingers, said he would have hurt more if he didn't play.
And so, frankly, might have his team.
The wing-turned-power forward wasn't the Tar Heels' highest scorer; both
Reggie Bullock
and
Dexter Strickland
finished two points ahead of him, with 15 apiece. And Hairston didn't make the most noteworthy plays down the stretch, when the Terps cut a double-figures lead back to within upset distance. Those moments came from forward
James Michael McAdoo
, who converted two clutch free throws; point guard
Marcus Paige
, who scored a couple of key buckets; and Terrapins guard
Logan Aronhalt
, who opted to throw up long, desperation 3 that found nothing but air with time left on the clock.
Still, Hairston's ability to start despite a heavily bandaged left hand -- and finish with 13 points and four rebounds -- allowed the Tar Heels (24-9) to stick with their four-guard starting lineup.
And to continue competing the way they've grown most comfortable.
"I think it was huge just for him to be able to be out there,'' McAdoo, who finished with 13 points and eight rebounds, said of Hairston. "We didn't know if he was going to be able to contribute, but just to have him out there on the floor gave our team a lot of confidence … because having him there is what we've grown used to."
And been successful with. The Tar Heels now are 8-2 since coach Roy Williams opted to insert the 6-foot-5 Hairston for 6-11
Desmond Hubert
, and no one really wanted to mess with that faster, more confident, better-shooting mojo, if possible.
[+] Enlarge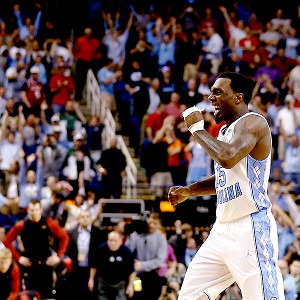 Streeter Lecka/Getty ImagesDespite playing with a bandaged left hand, North Carolina's P.J. Hairston scored 13 points in an ACC semifinal against Maryland.
"I wanted to help my team, and I wanted to make sure we won and advanced,'' Hairston said.
There was some doubt, though, about how much help he could be after he left Friday's win over Florida State with about four minutes left, blood dripping all over the court. Hairston sustained the cut between the middle and ring fingers on his non-shooting hand when a Seminole was trying to make a steal, and he didn't immediately know the extent of his injury.
"When it happened, I didn't know it happened,'' Hairston said. "I was running back … and I wiped my face, and I happened to look at my hand, and I was dripping blood all over the floor. I'm like, 'OK,' and when I got to the bench, no one knew where the blood was coming from. But as soon as we wiped the blood off, I saw that it was split straight down the middle of my hand [between the fingers]. It was weird."
And a little bit scary.
"Last night I thought I was going to die,'' he said. "I was in the training room with my mom holding my hand. They told me, 'OK, we're going to clean it out and stitch on it,' … and as soon as the alcohol and soap hit my hand I screamed for my life."
Thus, Williams didn't know if he was going to be able to play Hairston until just before the game, when the player was able to dribble, catch and pass without any problem. But even then, he told Hairston his playing time would be dependent on how effective he could be.
So the scorer hit his first 3-point try just 73 seconds into the game.
And he played 36 minutes.
"He was one tough sucker today,'' Williams said. "I think the hand bothered him a little bit … he was 3-for-10, he had some good looks, but at the same time, I think what he helped us do out on the court was extremely important."
And will continue to be important Sunday, when the third-seeded Tar Heels face top seed Miami in the tournament championship game.
UNC lost to the Hurricanes twice during the regular season -- the second time, in mid-February, leading to Williams' decision to make the switch to go smaller with his opening five. Since that move, the Tar Heels have become more cohesive than the crew that started ACC play 0-2.
And they say they were even more inspired Saturday, watching Hairston play well despite the stitches and cushioned bandage and post-game soreness.
"Right now it hurts pretty bad," he said, "but I'll be fine. On the court, when my adrenaline gets going, it feels like a regular hand."
March, 16, 2013
3/16/13
5:08
PM ET
GREENSBORO, N.C. -- Miami guard
Durand Scott
's coaches had been reminding him to hold his follow-through after shots.
"On the ones I missed, I hadn't been," he explained.
So you couldn't blame the senior for holding the pose an extra moment (or two) with about 11 minutes left in Saturday's
81-71
win over NC State in the ACC tournament semifinals.
After the fifth-seeded Wolfpack put together a 13-4 rally to cut a once 19-point lead to 50-44, Scott buried a 3 from near the top of the arc to halt the rally. That marked his 25th, 26th and 27th points in what would be a career-high 32-point outing.
"I didn't know how many points I had at that point," Scott said of that key 3-pointer. "I just knew that shot felt good."
[+] Enlarge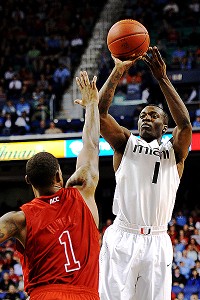 Cal Sport Media via AP ImagesThe sharp shooting of Durand Scott helped deliver Miami to its first appearance in the ACC tournament title game.
Know what feels better? Securing top-seeded Miami's first trip to the ACC tournament championship game at Greensboro Coliseum on Sunday.
"These are times you dream about -- and I feel like I'm living somebody else's dream," Scott said. "I feel happy."
Scott set the tone early, scoring Miami's first two buckets. He outscored the Wolfpack 11-5 at one point (when the Canes led 14-5), and gave his team as much as a 39-20 advantage near the end of the first half when he buried his 18th and 19th points on a pair of free throws.
"Today he had a jump shot going, so if you play off him and give him a one-arm-length gap, he would step up there and drill a 3 on you," Wolfpack coach Mark Gottfried said.
And if the Wolfpack defended closer? "He beat us off the dribble," Gottfried said. "He was tough today, very good."
Scott's offensive ability isn't exactly surprising. The media-notes-described "junkyard dog" had posted games with 20 or more points twice this season. And then there was that performance in this building when he was a freshman, when he recorded 21 points in a 2010 semifinal loss at Duke.
But this year -- one that has seen Miami reach its best-ever national ranking (as high as No. 2) and win its first league regular-season title -- he'd been lauded more for his abilities on the other side of the ball and was named ACC Defensive Player of the Year earlier this week.
It's an award he is proud of (and it should be noted that NC State's
Scott Wood
scored most of his team-high 21 points Saturday when Scott wasn't guarding him), but he -- and his teammates -- were glad he was able to display so many facets of his game.
Especially with so much -- perhaps a number No. 1 seed in the upcoming NCAA tournament? -- on the line.
"I don't think Durand gets the media attention he should get," said Hurricanes point guard
Shane Larkin
, who finished with 23 points. "He's one of the best guards in the country, not just the ACC. He's proven that over his four years here, with the amount of points he has, the steals, rebounds. He's the leader, [the] heart and soul of the team, definitely."
In the end, Scott made 12 of 18 shots, including five 3-pointers, before he fouled out, as Miami shot 45.6 percent for the game.
And he actually held his shooting pose twice, the second time coming with 7:41 left, when his 3-pointer gave his team a 61-48 cushion (and it gave him the first game with 30-plus points of his career).
Still, it's likely that run-stopping 3 earlier in the second half is what will be his most memorable of this game.
"That's probably the longest I've ever held my follow-through," he said, smiling.
March, 16, 2013
3/16/13
3:21
PM ET
GREENSBORO, N.C. -- The Miami Hurricanes have secured a bunch of "firsts" this season: first defeat of a No. 1 team, first No. 2 national ranking (their highest ever), first ACC regular-season title.


Now they'll try to add another to the list: first ACC tournament championship.
Paced by senior guard
Durand Scott
's career-high 32 points -- remember, he was named the league's defensive player of the year earlier this week -- the top-seeded (another first) Hurricanes beat No. 5 seed NC State
81-71
on Saturday to advance to Sunday's title game at Greensboro Coliseum.
A quick look at the game:
Turning point:
NC State, which trailed by as many as 19 points after a listless start, put together a 9-2 run to cut Miami's advantage to 41-29 at halftime and then had a 13-4 rally early in the second half to cut the lead to 50-44. But Scott -- who else? -- halted the comeback with a 3-pointer.
With 8:28 left, another Scott drive gave Miami a 58-45 cushion (and tied the guard's previous career high of 29 points). About 30 seconds later, yet another Scott 3-pointer pushed him past 30 points for the first time in his career.
Player(s) of the game:
Um, I think I'll choose Scott. He made 12 of his 18 shots, including five 3-pointers, before fouling out with about two minutes left.
Shane Larkin
added 23 points for Miami.
Scott Wood
led NC State with 21 points.
Numbers(s) to know:
Miami shot 51.7 percent in the first half. … NC State big man
Richard Howell
posted another double-digit rebounding game despite a deep thigh bruise sustained during Friday's quarterfinal win.
Up next:
Miami will play either third-seeded North Carolina or seventh-seeded Maryland in Sunday's ACC tournament title game.
March, 16, 2013
3/16/13
1:41
AM ET
GREENSBORO, N.C. –- With Friday's night
83-62
ACC quarterfinal victory over Florida State, North Carolina appeared to heal the wounds of last weekend's blowout loss to Duke -- shooting sharp, sharing the ball, aggressively running the court.
Until someone got hurt.
Sophomore
P.J. Hairston
, the catalyst for the four-guard starting lineup that now has gone 7-2 since it was instituted, sustained a blood-dripping cut to his left hand late in the blowout.
It's unknown
whether he'll be able to play in Saturday's semifinal matchup against Maryland.
"We're extremely concerned right now," coach Roy Williams said after the game. "His hand is torn up. … We have no idea, I have no idea, won't have any idea [if he's going to play]. I've told you everything I know. It doesn't look good."
The wing-turned-power-forward left the game -- blood dripping on the Greensboro Coliseum court -- with 4:14 remaining, after he sustained a cut between the middle and ring fingers on his left (non-shooting) hand. The Greensboro native, who left the game (briefly) earlier in the half with a stinger to his left shoulder, was not available for comment after the game. But the school said he needed eight stitches between those fingers.
Williams said the injury occurred when an FSU player was trying to steal the ball.
[+] Enlarge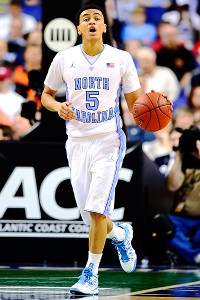 Bob Donnan/USA TODAY SportsFreshman point guard Marcus Paige recorded a career-best 10 assists in UNC's victory.
"He [Hairston] had the ball and said the guy slammed into the ball and he felt like the ball jammed between his fingers right there," Williams said.
The injury could hurt the Tar Heels in more ways than one.
If Hairston can't play for a stretch, UNC would certainly miss the aggressive scorer who recorded 21 points on 7-for-11 shooting during Friday's victory (and who helped UNC shoot 10-for-22 from 3-point land as a team, after its awful 1-for-14 effort against the Blue Devils last weekend).
But the team would also miss the spacing and speed that this four-guard lineup provides. Since the switch, point guard
Marcus Paige
(career-high 10 assists Friday) and shooting guard
Dexter Strickland
(10 points) have had clearer lanes to the basket, forward
James Michael McAdoo
(12 points in a foul-plagued 14 minutes) has enjoyed more room down low and junior wing
Reggie Bullock
(17 points, nine rebounds) has been racking up more stats in more categories.
Williams said after the game he hasn't had a chance to think about what he might do if Hairston can't play. But he likely would return to a more traditional two-post approach.
"We could play Marcus at power forward, possibly,'' he said, kidding about the possibility of moving his starting ballhandler to the 4-spot, "but the conventional wisdom would say you have to go big because you can't teach Reggie the out-of-bounds plays from the 4-spot between now and tomorrow at 3:00. It's already so ridiculous that it's midnight and we have to be back at 3. The 9 o'clock game started at 9:40 again."
No matter the hour, the timing isn't good to lose Hairston, who has posted four games with 20 or more points since he was inserted into the starting lineup. It could be a similar situation to last March, when now-NBA-rookie John Henson injured his wrist in the league quarterfinals.
"Last year James Michael stepped up for John and played great in the ACC tournament,'' Williams said. "So if we can't have P.J., we've got to have somebody step up and play great."
Or things could start hurting, again.
March, 15, 2013
3/15/13
11:05
PM ET
GREENSBORO, N.C. -- With less than seven minutes left Friday night -- and his team leading by double figures -- Maryland's
Dez Wells
slapped the floor, Duke-style, as he shuffled back on defense.
He said he wasn't trying to disrespect his opponent, but rather pump up his team.
And that was just one of the many ways he did it during the Terps'
83-74
quarterfinal victory over the second-seeded, and second-ranked, Blue Devils during the ACC tournament quarterfinals.
Wells, a sophomore wing, scored a career-high 30 points in the victory -- which also marked Duke's first loss in the quarterfinals since 1997. He made both of his 3-pointers. He got to the bucket with seeming ease. He was 10-for-10 from the free throw line.
[+] Enlarge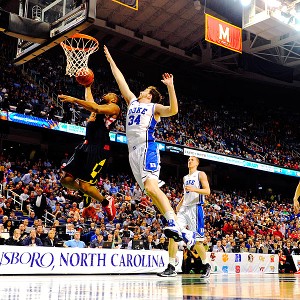 Bob Donnan/USA TODAY SportDez Wells swoops past Duke's Ryan Kelly for a pair of his career-high 30 in Maryland's upset.
And in so doing, he put a little oomph back into Maryland's NCAA tournament hopes.
"I'm just proud of the way my team played … because it's not how you start the season, it's how you finish," said Wells, who saw Maryland's at-large selection hopes sink when it lost three of its final four regular-season games. "Anyone can make the NCAA tournament, and I think we're peaking at the right time."
The Terps looked like it against the Devils.
Led by Wells, they were the aggressor from the beginning, as he scored seven points during a 12-2 game-opening run.
Maryland coach Mark Turgeon said his seventh-seeded team looked hungry.
Duke coach Mike Krzyzewski said his squad did not.
"We weren't the Duke team that's played most of this season, especially these last couple of weeks," Krzyzewski said. "So, I'm disappointed in our performance, but also very impressed with the performance of Maryland."
There was plenty to be impressed by. Duke never led, made only 4 of its 25 3-point attempts, and looked like a different team than the one that had been re-energized by
Ryan Kelly
's return from injury earlier this month. Turgeon said the Terrapins' goal was to try to make the Blue Devils beat them inside, and although Duke forward
Mason Plumlee
finished with 19 points, it wasn't enough.
Not with Kelly shooting 3-for-11, and
Seth Curry
going 4-for-10.
"I thought our defense was phenomenal," Turgeon said. "… You have to be both good and lucky to beat a great team, and we were both."
Krzyzewski pointed out Wells' importance not just because of Friday's performance, but because of the player's 21-point outing against Wake Forest in Thursday's first round, too.
And what it could mean for the Maryland team.
"In these two games he's elevated himself to really a high level," Krzyzewski said. "You can bring everybody with you. You start playing with a guy who is doing that, and with that sense of urgency …"
And, well, it's contagious.
Like hitting big buckets.
And like that team-inspiring floor slap in the second half.
"Being the energy guy, I have to do whatever I can to pump [my team] up," Wells said. "At that moment, I was just thinking, 'We have to get a stop.'"
Now, the goal is to continue this postseason run.
March, 15, 2013
3/15/13
9:14
PM ET
By
Ryan Feldman
| ESPN Stats & Information
Let's compare
Virginia
to two other bubble teams that Joe Lunardi currently has right on the bubble.
Take a look at the tale of the tape in the chart on the right.
Virginia had a significantly worse RPI than
Middle Tennessee
and
Boise State
even before its loss to
North Carolina State
in the ACC tournament on Friday.
Some will argue that Middle Tennessee has played too easy of a schedule. But Virginia's schedule strength is nearly identical to Middle Tennessee's and easier than Boise State's.
Virginia's non-conference strength of schedule is worse than Middle Tennessee's and Boise State's. Middle Tennessee's ranks eighth. Virginia's ranks 299th.
Virginia has fewer victories against teams in the RPI top 25 than Boise State and the same number of RPI top-50 and top-100 wins as Boise State.
Virginia has seven losses outside the RPI top 100. Middle Tennessee and Boise State only have two each.
Virginia has more losses outside the RPI top 150 than Middle Tennessee and Boise State combined.
Virginia is 3-10 away from home. Middle Tennessee is 13-5, while Boise State is 7-9.
No team in the last 20 years has received an at-large with as many losses outside the RPI top 100 as Virginia has this season.
Given these numbers, how can Virginia receive an at-large bid over Middle Tennessee or Boise State?
That's the argument for why Virginia
won't
receive an at-large bid -- since the NCAA tournament selection committee uses RPI as its primary tool for selection and seeding -- but here's why Virginia
should
receive an at-large bid based on BPI, which takes more information into account than RPI.
Though Virginia's RPI is a negative compared to Middle Tennessee and Boise State, the Cavaliers' BPI rank (48) is almost identical to Middle Tennessee (49) and Boise State (47). That's because eight of the Cavaliers' 11 losses are by six points or fewer and three of their bad losses came without one of their key players,
Jontel Evans
.
Also, six of the RPI sub-100 teams Virginia lost to are ranked better by BPI than RPI. Those teams that Virginia lost to have performed better than their RPI indicates.
If you consider "bad losses" to be losses outside the top 150, then Virginia has the same number of bad losses as Middle Tennessee and Boise State according to BPI. Meanwhile, the Cavaliers easily have more top-25 wins, more top-50 wins and more top-100 wins than Middle Tennessee.
March, 15, 2013
3/15/13
6:23
PM ET
GREENSBORO, N.C. -- NC State's upperclassmen well remember the intestine-churning anxiety of entering the ACC tournament on the NCAA bubble, of knowing that each win or loss would impact their chances of making the field of 68.
Thus, they understood Virginia's plight Friday.
And they showed absolutely no sympathy.
Wolfpack wing
Scott Wood
lit it up from the outside (23 points, seven 3-pointers), big man
Richard Howell
(12 rebounds, six points) dominated the boards despite a late first-half thigh injury, and forward
C.J. Leslie
recorded another double-double en route to a
75-56
blowout in the ACC quarterfinals.
[+] Enlarge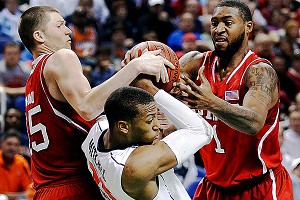 AP Photo/Bob LeveroneNC State used an aggressive defense to hand Virginia a costly loss in the ACC tourney on Friday.
Fifth-seeded NC State (24-9), which has found its "groove" according to coach Mark Gottfried and appears to be in pretty safe territory for at least an at-large NCAA bid, will play top-seeded Miami in the semifinals on Saturday.
The Cavaliers (21-11), who shot only 38.9 percent, got outrebounded by 11 and saw their leading scorer,
Joe Harris
, make only 4 of his 13 shots, are left to wait and wonder about their bubble hopes. They now have lost three of their past four games.
"If we play like this, we don't deserve to play in the NCAA tournament," Virginia guard
Jontel Evans
said. "If we play the way we play like Duke and Maryland and North Carolina, we should deserve to play."
And there's the conundrum for the NCAA selection committee.
While the Cavs boast quality regular-season wins over Duke, NC State, UNC and Wisconsin, they also have seven losses to teams outside of the RPI top 100, including three CAA teams (George Mason, Delaware and Old Dominion) and four of the ACC's worst (Georgia Tech, Boston College, Wake Forest and Clemson).
At the beginning of Friday, ESPN bracketologist Joe Lunardi projected the Cavs as a No. 12 seed in the upcoming NCAA tournament, and this loss didn't help.
"What will be, will be," Virginia coach Tony Bennett said. "We have some quality wins, we have some bad losses and who knows what will happen. I'm sure people won't give us much of a chance. The committee will make their decision.
"[Winning] this would have helped and I thought we had the right mindset going in. We prepared hard and knew the keys."
Even so, NC State dominated from the outset, beating the Cavs at what they are usually known for: defense. The Wolfpack held Virginia to 31.2 percent shooting and just a 1-for-10 tally on 3-pointers in the first half.
The Wolfpack led 30-21 at halftime, and a Wood-centric 11-4 run (he had three 3-pointers) to open the second half gave them a 41-25 cushion. The Cavs never cut to within single digits after that. Not with Howell -- who got kneed in the right thigh twice, but kept battling in the lane despite a limp -- continuing to pull down rebounds. And not with Leslie and Wood continuing to hit shots.
"It was a really good win for our team," Gottfried said. "I think our team is beginning to find that groove; I think we're getting in a good spot."
And a slightly different spot than a season ago, when the Wolfpack knew they had to keep winning to secure an NCAA berth. Although they lost in the ACC semifinals last year, they were the last team announced on the selection show -- and ended up in the Sweet 16.
With even bigger goals in mind this time around, they're aiming for even bigger wins -- and longer tournament runs.
Which means no sympathy for Virginia, or anyone else.
"No, definitely not," Howell said, smiling. "We know how it felt, we were in their shoes last year … but our focus is on what we can do."
March, 14, 2013
3/14/13
8:20
AM ET
A year ago, Florida State loosened Tobacco Road's grip on the ACC tournament trophy, becoming the first team not named "Duke" or "North Carolina" to win the event since 2004.
The question, entering Thursday's opening-round games in Greensboro, N.C.: Might another Florida school -- this time Miami -- continue the trend?
The Hurricanes, who joined the league in 2004-05, have never advanced to the title game. Then again, they had never won the regular-season title and earned the No. 1 seed before this season, so things could be a bit different this time around.

As usual, there will be plenty of subplots, from Virginia's weird NCAA tournament résumé, to Duke's ever-strengthening momentum since the return of
Ryan Kelly
, to whether any team (NC State this year, perhaps?) will ever be able to win four games in four days to take the automatic bid.
Here are a few things to watch:
Top three storylines
:
Will Michael Snaer hit another buzzer-beater? Or four?
Considering the Florida State senior guard has made a quartet of game-winners in ACC play this season (versus Clemson, Maryland and Virginia, at Georgia Tech) and six in his past two seasons (Duke, Virginia Tech last year), why not bury at least another one in his final league tournament?
FSU has won three of four games entering the tourney, but at 17-14, the Noles will have to win the whole thing to advance to the NCAAs. Which means getting some big plays from Mr. Clutch.
What does Virginia need to do to make the NCAA tournament?
There really isn't a more baffling bubble team than the Cavs, who boast quality wins over Duke, NC State, UNC and Wisconsin -- but also have seven losses to teams outside of the RPI top 100, including to three CAA teams (George Mason, Delaware and Old Dominion) and to four of the ACC's worst (Georgia Tech, Boston College, Wake Forest and Clemson).
At least UVa, led by first-team All-ACC player
Joe Harris
, held on to beat Maryland in overtime during its regular-season finale. But ESPN's Joe Lunardi had the Cavs as a No. 12 seed as of Tuesday's Bracketology, which means there's not much wiggle room. A quarterfinal victory over NC State/Virginia Tech is a must -- at least.
Click here for the rest of the preview ...