College Basketball Nation:

2013 Austin Regional
March, 25, 2013
3/25/13
12:22
AM ET
AUSTIN, Texas -- It took six games, three days and countless misses plus a few hits but, finally, in the last game of the regional, the NCAA tournament showed up in the heart of the Lone Star State.
Thank you, Miami and Illinois. Faith in college basketball was restored in this football town, live and in person instead of having to experience it via flat screen. There were shots that mattered, dunks that thundered, sweating and screaming coaches, nervous and obnoxious fans and finally a winner, Miami, that had to play for an entire 40 minutes to advance.
The game ended 63-59 in favor of the Hurricanes
over the No. 7 seed Illini. The only other regional game that had even been near to being this close was Illinois' eight-point win over Colorado. And the Illini shot 13 percent in the second half to secure that win. All the other games here were double-digit foregone conclusions.
Then there was the capper where one team played as though it mattered (Miami) and the other played clearly above its head (Illinois).
"After the game was over I was still kind of stunned when I shook hands with their coach [John Groce], I was speechless," said Miami coach Jim Larranaga.
[+] Enlarge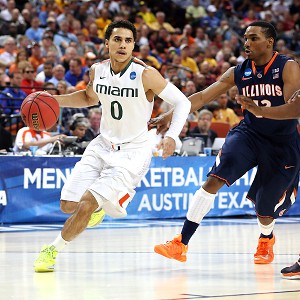 Jim Cowsert/USA TODAY SportsThe Hurricanes trailed 55-54 with less than two minutes to play before Shane Larkin hit a 3-pointer to put Miami ahead for good.
Now there is No. 3 Marquette and the Sweet 16 for the Hurricanes to worry about. Or maybe it is Marquette that should start worrying. The Hurricanes have effectively proved they can run a team out of the gym (Duke) as well as grind another to the end of its season (Illinois).
That versatility should prove invaluable as the Hurricanes move forward against Marquette, a team that itself has proved to have Lazarus-like qualities. The Golden Eagles have won twice in the waning moments in this tournament. But now Miami has one of those come-from-behind wins. The Hurricanes trailed 55-54 with 1:58 left before
Shane Larkin
hit a step-back 3-pointer to give Miami a lead it did not give up.
"I wanted to go out there and make a big play for my team, and I guess luck was just on my side when I shot it," Larkin said.
It takes a smidgen of luck at this stage. And the officials may have sprinkled a bit Miami's way on a controversial out-of-bounds play late. Replay showed the ball should have been awarded to the Illini, which would have given them another chance to tie the score.
"There were so many hands I don't know who touched it last," said Miami's
Kenny Kadji
. "I really don't know."
Groce acted as though he knew something: "I have two thoughts. I thought the officiating Friday and today was tremendous. These are the best of the best. My second thought is you saw the same video I did."
Everybody saw the same game Groce did, one in which Miami struggled to find its way around a defense that got into the passing lanes and harassed the interior players.
"Tremendous," Larranga said of that defense.
But he also had another word for how Miami was able to deal with that defense and ultimately make it to the Sweet 16 for the first time since 2000: "Resilient."
Indeed, the Hurricanes bounced back. Just like basketball finally did here Sunday night.
March, 24, 2013
3/24/13
11:25
PM ET
AUSTIN, Texas -- The one-time, small-time coach is back in the big time.
Jim Larranaga, who last made a significant NCAA tournament run at George Mason in 2006, has led the second-seeded Miami Hurricanes to the Sweet 16 for the first time since 2000 with a
63 -59 win
over No. 7 Illinois at the Frank Erwin Center Sunday.


Overview:
In a game that went back and forth throughout the second half, Miami found just enough offense from
Shane Larkin
to pull away late. With Miami down one, Larkin hit a step-back 3-pointer to put the Hurricanes ahead for good with one minute left.
Turning Point:
Illinois had the chance to go up by two inside of two minutes and possibly put some pressure on Miami but
Tracy Abrams
missed the second of two free throws, allowing the Hurricanes some measure of comfort as they went down the floor for what was the game-winning shot.
Key Player:
Larkin not only hit the big shot at the end of the game but proved his value as a point guard all night. The sophomore was consistently able to penetrate, draw and dish to his teammates. And when the Illini didn't cut off the lane Larkin was comfortable finding his shot among taller players. He finished with 17 points and five assists.
Key Stat:
The Illini were able to hang in the game because they kept the Hurricanes off the offensive glass. In fact it was Illinois that thrived, getting 19 second-chance points to Miami's eight.
Nnanna Egwu
led the way with 12 boards for Illinois.
Next Up:
Miami will play No. 3 Marquette in the Sweet 16 in Washington, D.C., on Friday.