College Basketball Nation:

2013 Big Ten/ACC Challenge
December, 5, 2013
12/05/13
1:16
AM ET
The 15th annual Big Ten-ACC Challenge ended with no resolution to conference supremacy. For the second straight season the clash ended in a 6-6 tie, leaving the ACC with a 10-3-2 advantage.
We know which teams really won the night though: North Carolina, for sure, with its upset over No. 1 Michigan State. No. 8 Wisconsin, which like the Tar Heels won on the road, beating Virginia. And No. 5 Ohio State, which is on a steady ascent up the polls.
On the surface the Buckeyes' win doesn't look that big, as they had unranked Maryland at home. But the way they controlled the game from start to finish and gave the Terrapins a harsh introduction to the league they'll join next year.
Defensively, Ohio State dissected everything the Terps wanted to do. Maryland shot just 39 percent from the field and gave up 25 points off 14 turnovers. That included the final sequence of the first half, when
Aaron Craft
dove to the floor for a steal and passed ahead to
Sam Thompson
for a buzzer-beating basket.
[+] Enlarge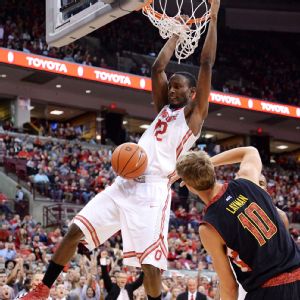 Jamie Sabau/Getty ImagesSam Thompson's highlight-reel dunks capped off a dominating night for No. 5 Ohio State.
The Buckeyes basically beat the Terps like a ranked team should at home. They never let the lead dip below 10 the entire second half and once up 25 turned the game into one long highlight reel for Thompson.
Columbus discovered the alley-oop Wednesday night as Thompson slammed down lobs on four different occasions.
And those shooting woes that threatened to drag down OSU seem to be a thing of the past too. The Buckeyes shot 52 percent from the field, powered by
LaQuinton Ross
' 7-of-13 performance. Ross finished with a game-high 20 points.
Ohio State honored former coach Gary Williams prior to the game. Williams coached the Buckeyes from 1986-89 before leaving Columbus for College Park, where he would win the 2002 national title at Maryland. Williams then had to sit through the Terps being handled by the Buckeyes.
Chris Collins also returned to familiar territory, as the Northwestern coach returned to ACC country for the first time since taking the Wildcats job in the offseason. Collins, who played for Duke and also spent 13 years as an assistant coach under Mike Krzyzewski, knows Northwestern's opponent Wednesday, NC State, well. But his intimate knowledge didn't help the Wildcats muster a win.
Collins' welcome-back package included a technical foul and 22 points from
T.J. Warren
, as the Wolfpack cruised to a 69-48 win.
Purdue matched NC State for the biggest margin of victory in the challenge with its 88-67 victory over Boston College. The Boilermakers, led by a season-high 18 points from
Terone Johnson
, have quietly won five straight in the challenge.
Nebraska salvaged the night for the Big Ten by beating Miami 60-49 in Lincoln. The Cornhuskers held the Canes to a frigid 24 percent shooting performance in the first half en route to a season-low 13 points at the break.
Michigan State didn't hit new lows against the Tar Heels, it simply didn't hit back at all.
Most expected Northwestern, Boston College and Miami to have a hard time winning on the road. No one expected the Spartans to lack the fight generally accepted as the norm from Tom Izzo's team. Even though they bounced back from a 12-point deficit in the first half to tie the game at intermission, they never seemed to bring the fight to the Tar Heels.
MSU's punchless night could be summed up in one second-half exchange.
Branden Dawson
seemingly had a clear path to the rim and was poised to give Sparty its first lead of the game, breaking a 38-38 tie. But
J.P. Tokoto
rotated in time to block the shot and start a fast break that ended with
Marcus Paige
completing a three-point play.
Carolina never trailed afterward and Michigan State literally hobbled through the rest of the game.
Senior forward
Adreian Payne
kept cramping up, at one point during the middle of a play, he literally stood on one leg while grabbing his other foot behind him to stretch.
Gary Harris
, who sat out Michigan State's win over Mount St. Mary's with an ankle injury, seemed to lack some of his explosiveness.
Keith Appling
suffered an apparent hip injury late in the first half and shot 5-of-15 from the field.
Virginia joined Michigan State as a big loser from Wednesday night. The Cavs have made quite the acquaintance with the NCAA bubble and missed possibly their last chance for a statement win before conference play begins.
Both of the Cavaliers' losses have come at home to ranked teams, and the common thread is that they haven't mustered much offense either time.
UVA, which lost to VCU 59-56 on a last-second shot, scored its lowest point total in 20 years against Wisconsin. The Cavs managed only 18 points in the second half, and their total of 38 was the lowest output since losing to UConn 77-36 in 1993.
So while the challenge ended in a tie, the winners and losers Wednesday were clearly defined.
December, 5, 2013
12/05/13
1:15
AM ET
EAST LANSING, Mich. -- The
North Carolina Tar Heels
could win the national title.
Or they could lose the first round of the NIT.
At this point, both seem equally plausible.
And a month into the season, Roy Williams' group has proven itself not as consistent, not as hard-nosed, not as untalented, but as the most confusing team in all of college basketball.
In the last three weeks the Tar Heels have picked up big wins over No. 3 Louisville and No. 1 Michigan State. But they've also suffered losses to Belmont and UAB.
"I'll make this short," Williams said following his team's 79-65 win on the road over the top-ranked Spartans. "I don't know. I don't know. And I don't know."
And he doesn't.
How does a coach possibly put the same players, same plan, same drill on the floor and achieve such variant results?
[+] Enlarge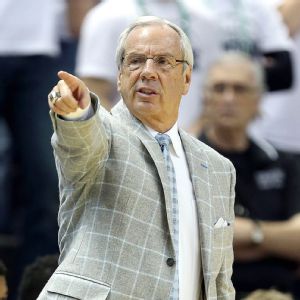 Mike Carter/USA TODAY SportsNorth Carolina coach Roy Williams is as baffled as anyone by his team's roller coaster season.
How does a coach conduct two press conference just three days apart when he has to try and explain a win over the top dog and a loss to a nobody but can't find the words for either?
How does a coach not become confused with that?
Williams certainly is. And who could blame him?
This has been a whirlwind. And the games, just like his players' play, have been hard to keep track of, hard to diagnose when it goes bad (and it has gone very, very bad) and hard to sustain when it has been good (and it was very, very good against Michigan State).
Midway through the press conference, a UNC media relations employee corrected Williams on the date of a specific practice he had referenced.
For a moment Williams just stood there and looked at him. Then he looked at the media and leaned forward.
"I have no idea what freaking day it is," Williams responded. "Does that mean today is Wednesday?"
Yes, it was Wednesday. Yes, his team had just beaten the nation's best. And yes, the UAB/Belmont nightmare was still true.
This team's identity is that it has no identity. At least not yet. But maybe after this game they have something to build on.
So the questions from the media remained simple, but the answers stayed true.
Did he know any more about his team after this game than he did two days or two weeks ago?
"Who knows?" he said.
Has he ever been a part of a team with this high of highs and this low of lows?
"I have no idea," Williams said. "I have no idea. … I'd hate to think it has been worse than this."
"It's hard to explain," sophomore
Marcus Paige
added. "It's highs and lows so far for us. We beat a top five team, lose, beat another. It's just, it's crazy. … Hopefully we can try to understand that consistency is going to pay off."
Perhaps the only consistent thing about this all was that Williams won. He's 7-0 against Izzo now and it was the 13th time a UNC team had taken down a top-ranked opponent.
But the truth of the matter is that this inconsistency is what Williams can expect with youth. His team doesn't even travel a single senior and at times against Izzo's Spartans the oldest Tar Heel on the floor was a sophomore.
Williams' leading scorer was a freshman. His leading rebounder was a sophomore. His best inside presence matching up with preseason All-Big Ten post player was, you guessed it, a freshman. A sophomore tallied the most assists. That same sophomore played the most minutes. In fact, 77 percent of the minutes were divided among Williams' freshmen and sophomores.
And this, matching up with Tom Izzo's arsenal of experience in
Adreian Payne
and fellow senior
Keith Appling
and junior
Travis Trice
and sophomore All-Big Ten preseason Player of the Year
Gary Harris
.
"Experience definitely helps combat some of the highs and lows, guys that have been through it before," Paige said. "This is a great way for us to keep learning that showing what we're capable of and how good of a year we can have if we stay together and have collective effort."
But even with that youth, the Tar Heels have shown that when they do stay together, when they have a collective effort, they can play with almost anyone in the country.
And they've shown that when they don't have that, they can lose to almost anyone in the country.
"I think we have to learn that, that every night we have to have the same intensity,"
Nate Britt
said. "I feel like those are the reasons why we took that loss to UAB, why we took that loss to Belmont, just because we didn't come out ready to play."
But against the Spartans, they certainly were ready to play.
The Tar Heels had five players score in double figures and found ways to stave off a possible MSU resurgence every time the Spartans began to try and find life.
North Carolina came into its game as a nine-point underdog and left with a 14-point win.
It's what makes this game so electrifying.
It's what makes these games worth playing.
It's what makes Williams so confused.
"You can't tell in college basketball what's going to happen," Williams said.
Really, that might be the only thing Williams can tell about this team right now.
December, 4, 2013
12/04/13
11:21
PM ET
By
Anna K. Clemmons
| ESPN.com
CHARLOTTESVILLE, Va. -- It wasn't the offensive dominance it's showcased so far this season, but Wisconsin managed to keep its undefeated record -- and secure Bo Ryan's 300th win with the Badgers -- with
a 48-38 victory over Virginia
on Wednesday night.
The Badgers (9-0) entered the night averaging 76.8 points per game with a 48 percent field goal percentage and leading the Big Ten in shooting from behind the arc (43.6 percent). But inside John Paul Jones Arena against Tony Bennett's pack-line defense, Wisconsin shot 28.8 percent and managed 5 of 23 shots from behind the arc (21.7 percent).
Wisconsin's leading scorer, redshirt junior
Josh Gasser
, scored 11 points -- the only player on either team to score in double figures.
Still, Wisconsin's unusually low offensive numbers bested UVa's poor field goal percentage (23.4 percent, fourth-lowest in school history) and three-point shooting (9.1 percent) -- the Wahoos managed one 3 the entire night -- in a deliberately paced battle between two defensive-minded teams. UVa's 38 points were the lowest scored in the Tony Bennett era and second-fewest in the shot-clock era (since 1986). Their leading scorer on the night,
Mike Tobey
, managed seven points.
"They were more patient tonight than I have seen them all year," Bennett said afterward of Wisconsin. "Our defense was set and we made them work, but they are not going to beat themselves. We have some warts, as every team does, and when all of the guys go cold at once, it's hard. Our depth was not what it has been so far."
As Virginia started missing shots, the Cavalier players demonstrated their frustration at missed opportunities. After an offensive foul call against him in the first half,
Darion Atkins
went to the bench, visibly upset at himself. Toward the end of the first half, Tobey missed a shot under the basket and clapped his hands in frustration. In the first 10 minutes of the second half, the Wahoos managed only one basket before Tobey scored at the 11:13 mark, the crowd cheering in relief. UVa made only one shot outside of the paint the entire game.
[+] Enlarge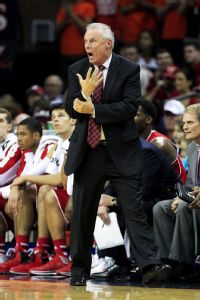 AP Photo/Steve HelberBo Ryan reacts on the sideline during Wednesday's win.
But then Wisconsin, as it had throughout the night, answered at the other end when
Ben Brust
missed a 3-pointer, got the ball back, tried again and nailed his next 3-point attempt, giving Wisconsin a 37-23 lead, its largest lead of the night.
Coming off their victory in the Cancun Challenge Championship, the Badgers showed patience in moving the ball, rotating and finding a way to score in a game that had four ties and six lead changes. They often worked the shot clock down to the final five seconds, taking hurried shots under the basket or behind the arc.
With less than 10 minutes remaining, the Cavaliers went on a run, twice cutting the Badgers' lead to seven points and then to five with less than two minutes to play. But Virginia's offensive energy couldn't hold, stymied by shots not falling and a solid Badgers defense. Wisconsin held the Cavaliers' leading scorer on the season,
Joe Harris
, to two points -- 1-of-10 shooting -- in 33 minutes.
"[Joe Harris] is a great player. I just tried my best out there and not give him any easy looks and fight through screens," said Gasser, who matched up against Harris.
Both defenses forced the other club into hurried shots as time expired (the cries of "air ball" continued throughout the night) yet Wisconsin remained steady, led by the strong inside presence of big men
Frank Kaminsky
and sophomore
Sam Dekker
, who was named to the preseason watch list for the 2013-14 Naismith Trophy and the Wooden Award Watch List. Kaminsky grabbed 12 rebounds, the only player on either team to total double figures in rebounding (both Kaminsky and Dekker were 0-for-4 from behind the arc), and Dekker was 4-for-4 from the stripe.
"It was frustrating offensively things just weren't working for us out there," said senior forward
Akil Mitchell
, who was one of the stars in UVa's 60-54 win over the Badgers in the ACC/Big Ten Challenge last year but managed five points on Wednesday. The Cavaliers' most efficient offense came from the stripe, where they scored 15 points, shooting 78.9 percent, including 12-of-14 in the second half.
Like their other offensive stats, Wisconsin's free throw shooting wasn't indicative of its season averages thus far. The Badgers entered the night shooting 73.5 percent from the stripe but turned in a performance similar to last year's average (63.4 percent), finishing the night at 65 percent.
The 86 combined points from both teams are the fewest in a Big Ten/ACC Challenge game to date. Wisconsin's low-scoring victory helped bring a little parity to the ACC/Big Ten Challenge, where ACC teams dominated on Tuesday night. The teams are now 2-2 against each other all time, including a 1998 matchup when Tony Bennett's father, Dick Bennett, was Wisconsin's head coach.
"There are games sometimes, both ways, we both shot it poorly and not because we are inefficient offenses," Ryan said. "Look at our offenses coming in and we played some pretty good teams. These kind of games happen and you just have to survive."
The undefeated Badgers, off to their best start since the 1993-94 season, head back home to face Marquette this weekend, while Virginia will travel to Wisconsin to play Wisconsin-Green Bay.
December, 4, 2013
12/04/13
2:03
AM ET
The Big Ten should thank Iowa. Minnesota, too. And home court advantage. Actually, play it safe, Big Ten: Point your gratitude at all of the above.
On the first night of the Big Ten-ACC Challenge -- the 15th meeting between these two conferences, and the first in the ACC's new 15-team configuration -- the best the B1G could do was hold serve.
[+] Enlarge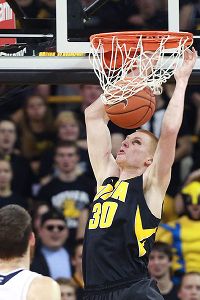 Reese Strickland/USA TODAY SportsIn one of the few bright spots for the Big Ten on Tuesday, Aaron White scored 20 points to lead Iowa over Notre Dame.
Iowa and Minnesota, the only two Big Ten teams playing at home Tuesday night, were also the league's only two wins. The rest of the ACC's impressive Tuesday ranged from businesslike wins to outright dominance. Suddenly, for the first time in at least three years, the conference that once swaggered supremely over this inter-conference competition -- that went 10-0 in the first 11 Challenges -- was in command once more.
Really, even the expected wins were hard-fought. Fran McCaffery's 23rd-ranked Hawkeyes were splendid on the break in their 98-93 Carver-Hawkeye Arena win over new ACC member Notre Dame. Five players scored in double figures, and forward Aaron White led the way with 20 points and seven rebounds, as Iowa outpaced Notre Dame to the tune of 1.40 points per possession. The win was not a surprise, but the conditions of it were: Iowa, a top-20 defense a season ago and one of the best per-possession units in the country to date, yielded nearly 1.3 points per trip to the Irish, including a 29-point, nine-rebound game from forward Garrick Sherman.
Not that the Big Ten was looking for style points by then. Minnesota, also playing at home, managed to hold off a Florida State team that dropped VCU and took Michigan to overtime in Puerto Rico (and lost by one point to Florida this week), a solid result for a team disappointed by a just-OK showing in Maui last week. Andre Hollins and Austin Hollins combined for 37 points, six assists and eight rebounds. They, more than anyone else, were the key difference, the catalysts that allowed the Gophers to a) score well above a point per trip and b) close the game out in the final minutes.
So, yeah. Solid win for Minnesota. Good stuff. Positive vibes. The rest was all ACC.
There were two types of Atlantic Coast Conference wins Tuesday night. The first kind came in Duke's workmanlike win over Michigan at Cameron Indoor Stadium, or in Pittsburgh's almost indifferent victory over Penn State. These were not spectacular victories; they came with plenty of nits to be picked. But they were wins all the same.
The second type was more devastating, if for different reasons. Syracuse essentially manhandled Indiana in the Carrier Dome Tuesday, holding the Hoosiers to just 23 second-half points in a 69-52 win. IU kept the game close for the first 20, and even led, 27-26, with 3:30 left in the first half. But the lead was short-lived, and once C.J. Fair and company got into a rhythm in the second half, Indiana's poor perimeter shooting -- by far the biggest difference between this young team and the one that earned a No. 1 seed before falling to Syracuse in the Sweet 16 last season -- left IU coach Tom Crean searching for answers on both ends of the floor. (He even tried a 1-3-1 zone for a while. It didn't help.)
[+] Enlarge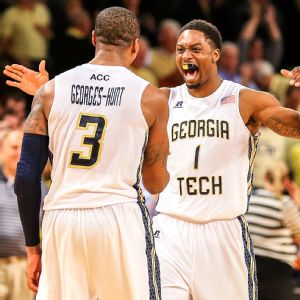 Daniel Shirey/USA TODAY SportsGeorgia Tech's surprising comeback win over Illinois helped the ACC notch a 4-2 record on Day 1 of the ACC/Big Ten Challenge.
Even worse -- both for the respective team itself and for the Big Ten's chances of toppling a suddenly potent ACC in this Challenge -- was Illinois' loss at Georgia Tech. The Illini owned most of the game.
Joseph Bertrand
was particularly impressive, all tight dribble moves and creative, challenged finishes. With 9:15 to play, Illinois led 60-48 -- and then it promptly let the game slip from its grasp. The
Nnanna Egwu
dunk that gave Illinois that lead was John Groce's team's last bucket for nearly
eight minutes
. In the meantime, Georgia Tech chipped away at the lead. By the final buzzer, the Yellow Jackets had finished on a 19-4 run, and what would have been a crucial break for the Big Ten on the road -- and an eminently winnable one, at that -- turned into a brutal road loss.
It is kind of silly to get too worked up over the actual tally of this competition. (Big Ten fans would argue this is especially true now that the ACC can leave three of its weaker programs -- Wake Forest, Clemson and Virginia Tech -- on the sidelines.) The real intrigue here is, or at least should be, focused on the teams themselves, on all of the little details therein.
But there's no way of getting around: The Big Ten-ACC Challenge is a macro competition, too. Right now, after one night, the Big Ten trails 4-2, and its Wednesday schedule offers little in the way of obvious advantages. No. 1 Michigan State gets North Carolina at home, sure, and Ohio State's insanely tough defense should make quick work of Maryland in Value City Arena. But other than that? Wisconsin is hardly a guarantee to knock off stylistic comrades Virginia in Charlottesville. Northwestern won't be a favorite at NC State. Purdue-Boston College and Miami-Nebraska are, well, your guess is as good as mine. Which means for the first time in three years, the ACC should -- repeat: should -- take back the Challenge it so ruthlessly dominated for the competition's first decade.
At the very least, something funky has to happen. Iowa and Minnesota were the Big Ten's lone bright spots Tuesday night, and the road back on Wednesday looks difficult indeed.
December, 4, 2013
12/04/13
2:02
AM ET
DURHAM, N.C. -- Duke's defensive principles and concepts finally morphed from the abstract to the tangible against Michigan ON Tuesday night in Cameron Indoor Stadium.
It might not be the watershed game that changes the entire season, but the No. 10 Blue Devils saw what it was like to win a game by stopping a team rather than simply outscoring them. Their 79-69 win over the No. 22 Wolverines in the Big Ten/ACC Challenge had everything Duke teams generally take for granted, minus its trademark slapping of the floor.
"For a young team I think you have to see it first," forward
Rodney Hood
said. "Coach is saying you've got to do this or you've got to do that, you don't see it. … This is a big confidence boost for our defense knowing that we can shut out a great team. Well not shut out, but we can play really good defense on a great team."
Michigan extended the game late by fouling and making baskets, scoring 19 points in the final two minutes. The Wolverines shot 56 percent in the second half, which would fool anyone who didn't watch the game into thinking they were effective.
They weren't.
"Even without stats, we're playing better defensively," Duke coach Mike Krzyzewski said. "We played an outstanding defensive game tonight -- not a good one -- an outstanding defensive game tonight."
[+] Enlarge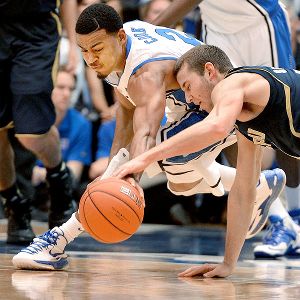 Chuck Liddy/Raleigh News & Observer/Getty ImagesQuinn Cook and company hounded Nik Stauskas all night, holding Michigan's leading scorer to four points.
Michigan's
Nik Stauskas
, who led the Wolverines with 20.3 points per game, did not score a basket. All four of his season-low points came from the free-throw line.
Stauskas might have still been a bit hobbled after returning from an ankle injury that kept him out of Friday's win over Coppin State. But Duke's
Tyler Thornton
and
Matt Jones
never lost him in transition or left him to help out in the post.
"Me and Ty made an effort not to let him catch the ball," Jones said. I'm going out on a limb and saying it would have been hard for anybody to score the way we were focused tonight."
Jones played a season-high 18 minutes, presumably taking minutes that
Rasheed Sulaimon
would have had. Sulaimon did not play, leaving Krzyzewski to say after the game that he "needed to play better than guys who played tonight."
Duke's glaring weakness on paper -- its interior defense -- had arguably its best effort of the season. The Blue Devils outrebounded Michigan 32-31. That might not seem like a major feat, but this is the same team that got handled on the boards by Kansas to the tune of 39-24.
"We knew we were going to be a little undersized, but we have guys who will battle," said Duke forward
Amile Jefferson
, who tied
Jabari Parker
with a team-high six rebounds. "I think we've really gotten back to that each game. We've gotten better -- I think it showed, especially in the first half, our ability to rebound and defend."
The Blue Devils entered the game allowing opponents to shoot 45 percent from the floor. They haven't allowed that high of a percentage since giving up 46.7 percent in 1991-92. And like that national championship team, this team has little problem scoring. It's currently averaging 86.1 points per game, which nearly mirrors the 88.0-point average from '92.
Hood said becoming a championship caliber team will likely be defined by how well -- or ineffective -- it is at stopping teams.
"We can score the ball, that's not an issue," Hood said. "We have to have that defensive mindset, and that's what's going to get it for us this year."
Losses to Kansas and Arizona -- and even watching Vermont shoot 64 percent in a narrow Duke win -- proved the Blue Devils' mortality. But the way they beat Michigan boosted confidence that they can become a better defensive team.
"We're not a great basketball team," Krzyzewski said. "We have great kids and they're trying hard. We've got a really tough schedule; we're just trying to get better."
They took a major step toward that Tuesday. The Wolverines averaged better than nine 3-pointers a game, but Duke held them to a season-low three.
"We took them out of their offense, we took away their best player and we took away their 3-point shots for the most part," Hood said. "We talked, we gang rebounded, we scrapped for loose balls. That's what we have to do to be a great team."
December, 4, 2013
12/04/13
2:01
AM ET
SYRACUSE, N.Y. -- Watching
Trevor Cooney
, it's hard not to think of a certain other Irishman in Orange. Elementary schoolers sang odes on Gerry McNamara's last game at Syracuse while fans openly wept, so Cooney has a few miles to go before he matches his assistant coach in Syracuse lore.
A few more nights like Tuesday, though, and the fans back in his Delaware hometown might want to start reserving the Greyhounds for his last night at the Dome just like the folks in Scranton did for McNamara.
It wasn't just the five made 3-pointers. They were nice, especially the big one he hit early in the second half to start what would be a methodical march to an
easy 69-52 victory against Indiana
in the Orange's first Big Ten/ACC Challenge.
No, like McNamara, what endears Cooney to the crowd is how he plays. He looks more like the kid you'd pick last for dodgeball. Aside from the coaching staff, no one on the Syracuse bench has less hair on their heads than Cooney. He's sort of pasty and scruffy and, in an interview, is polite and unassuming, with not even a hint of bravado.
Looks, they truly are deceiving, because Cooney flat out can play. He is not some arc-camping diva but rather a gritty baller who swiped four steals to go with his 21 points and wrote the first part of what might be his McNamara-esque epic with 9:19 left in the game.
Syracuse led by a comfortable 17 points when Cooney swiped the ball from
Jeremy Hollowell
. He barreled toward the basket for a layup but was hit hard from behind by
Austin Etherington
. Cooney crashed into the stanchion, while the Dome fans went bananas.
While the officials went to review the play -- they'd eventually assess Etherington with a flagrant-2 and eject him -- an initially woozy Cooney huddled up his teammates while the students chanted, "Tre-vor Coo-ney."
[+] Enlarge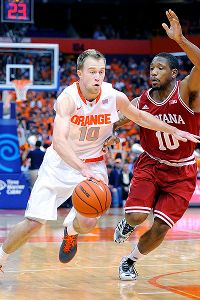 Rich Barnes/Getty ImagesTrevor Cooney drives against Evan Gordon in Syracuse's win.
"That's my little brother," McNamara said. "He's worked so hard, and done so much, it's impossible not to root for him. I've never seen anyone work as hard as he did. I knew when his time came, he'd be a success."
The time didn't come right away for Cooney, as so often is the case here. Immediate gratification is rare at Syracuse, where coach Jim Boeheim still prefers the old-fashioned method of teaching and growing players into their roles.
That was Cooney, who redshirted his freshman season. Instead of looking at it as a year off, though, he made it a year on. Full on. His workouts were "grueling," McNamara said, complete with before-practice Dome stair runs, endless hours in the weight room and even more in the gym. Cooney said it was easy because he wasn't playing, but even McNamara, no slacker himself, was awed.
Even after that redshirt season, Cooney waited some more. Last season, Cooney came off the bench behind an all-star roster that included Michael Carter-Williams and Brandon Triche. He averaged just 11.2 minutes a game and when he did get his chance, his shots didn't always go in. Cooney shot only 26 percent from the arc.
"Coming in here, I knew it would be a process," Cooney said. "I decided to treat it like a journey. I just knew if I kept working, one day it would come."
And now finally, this season, the day has come. He's shooting 26-of-55 from the arc (47.2 percent), and he and teammate
Tyler Ennis
are playing as well as any backcourt in the country, making the transition from Carter-Williams and Triche much more seamless than anyone could imagine.
But that's always the way it is for Boeheim. If there is a better coach at fitting the square pegs into his square holes, I'm not sure who it is. Boeheim doesn't just find the best players; he finds the best players that fit his needs. His is not so much a system as it is a well-oiled machine.
It's why year after year, player after player, Syracuse is still good. Look at this team and you can see the parts working together: the shooter (Cooney), the savvy point guard (Tyler Ennis), the scorer (
C.J. Fair
), the bigs who won't kill you but will do what they need to do (
DaJuan Coleman
,
Baye Keita
and
Rakeem Christmas
). Mix in the confounding zone and it all makes sense.
"We all know this system," McNamara said. "We know how to find the fillers and the guys that we need. We know every play. We know the zone. We know exactly who fits."
It's dangerous, of course, to make any grand presumptions about a team in December. In Indiana's case, it would be downright unfair. The Hoosiers are incredibly young and it's an awful lot to ask a team full of freshmen to come into an atmosphere like this one -- 26,414 on a random Tuesday night in December -- against a defense like that one and play well.
Could they have played better? Yes. Syracuse's zone is now officially Indiana's kryptonite. The Hoosiers looked as puzzled and confused here as they did nine months ago in the Sweet 16, which is a bit surprising. Theoretically, they've watched game tape since.
Still, this by no means sends Indiana into the trash heap.
And bold proclamations about Syracuse are equally dangerous but I'm still willing to make one: The Orange are very good, maybe even best team in the ACC good. At the very least, circle the dates of Feb. 1 (Duke at Syracuse) and Feb. 22 (the Orange in Durham) good.
We've gotten this far and haven't even mentioned Fair much. The leading scorer of a year ago is again at the top of the statistics. He's more than capable of taking over a game, but he doesn't have to. The Orange have four players averaging double figures.
Including the guy sitting right behind Fair in the scoring column: Trevor Cooney, Gerry McNamara in training.
December, 4, 2013
12/04/13
2:00
AM ET
MINNEAPOLIS -- The smirk on
Austin Hollins
' face didn't last. But it was visible for a moment during Minnesota's 71-61 win over Florida State on Tuesday in the Big Ten/ACC Challenge.
There in the second half, as Minnesota emerged from a timeout that was taken after Austin Hollins' "SportsCenter"-worthy alley-oop from DeAndre Mathieu, he smiled. Briefly.
It was the natural reaction from a player who knew that he had impressed everyone in the building, the supporters watching on TV and the social media-types.
Austin Hollins was having fun.
Richard Pitino's arrival and implementation of a new system -- the same one his father Rick runs at Louisville -- that encourages his guards to make plays outside and inside coincided with a new set of rules that have created more pitfalls for defenders bent on stopping them.
Wings all over America have experienced the perks -- on offense, at least -- of the adjustments. The "don't touch" emphasis has helped players such as Austin Hollins enjoy more freedom on the floor. And Pitino's philosophy -- plenty of pressing and quick buckets when feasible -- demands it.
[+] Enlarge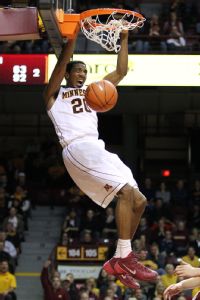 Brace Hemmelgarn/USA TODAY SportsAustin Hollins and the Golden Gophers are having a lot of fun in new coach Richard Pitino's system.
"If you can score as fast as you can, you can take it," said Minnesota forward
Oto Osenieks
. "If you're open, just shoot it. He doesn't worry about the time on the clock. If you're open, just shoot it. That's our style, up-tempo basketball. Get out and just score as quickly as possible. … You don't hesitate. And you don't think twice."
Austin Hollins (16 points, 5 rebounds, 2-for-4 from the 3-point line),
Andre Hollins
(team-high 21 points, 4 assists, 2 steals) and Mathieu (7 points, 4 assists) employed that tenet in Minnesota's most significant win under Richard Pitino.
Andre Hollins torched Florida State in the first half and Austin Hollins took over after halftime.
"It feels good," Austin Hollins said. "It makes me comfortable. You're not too worried about making any mistakes. You're just playing hard. … As a player, it really boosts your confidence."
There were dunks and double-pump layups and floaters and fast breaks by a determined Gophers team that seemingly entered the matchup at a disadvantage.
Florida State won the warm-ups. The chiseled wings and forwards that head coach Leonard Hamilton hauled from Tallahassee looked like tight ends he'd plucked off his university's football team compared to the slim, undersized Gophers.
But that was Florida State's only victory. Minnesota's hybrid zone gave Hamilton's program open looks, but his players couldn't find the net.
Florida State has a win over a nationally ranked VCU squad, and it nearly upset both Michigan and Florida in recent weeks.
But it went 2-for-10 from the 3-point line. The team committed 17 turnovers and it never recovered from the 15-point lead Minnesota established in the first half.
The Gophers were dominant from tipoff because they went 5-for-10 from the 3-point line in the first half, and 7-for-16 overall. And they were strong enough on defense to block every Florida State rally. Although it was down by as many as 13 points after halftime, Florida State cut Minnesota's lead to four six times in the final minutes.
Mathieu scored a critical bucket over 7-foot-3 center
Boris Bojanovsky
with 1:48 on the game clock, a play that gave Minnesota a 66-60 lead.
It wasn't all pretty. Mathieu's shot was the team's only field goal in the final 7:26 of the game. There were 67 free throws (Minnesota hit 28 of 38, Florida State went 19-for-29) and 52 fouls in a game that shouldn't have lasted nearly 2 hours and 30 minutes.
"I'm not real sure the referees allowed anybody to be tough," Hamilton said. "They executed their half court much better than we executed ours."
But it was still a much-needed win for a Gophers team that lost two of its three games in the Maui Invitational last week.
After Pitino was hired to replace Tubby Smith in April, players weren't sure how they would transition into his style of play.
"At first, I was like 'Ah, we're going to be pressing the whole game,' but we worked hard in the summertime and really got excited," said Andre Hollins.
They're gradually adopting Pitino's principles.
If the Gophers are going to achieve anything this season, then they'll need their perimeter players to affect games the way they did on Tuesday night. They're thin inside with Mo Walker and
Elliott Eliason
positioned as the only true big men on the roster. With 90 seconds to play, both had fouled out of the game.
Small ball, however, might not be a bad thing. It worked against Florida State. The Gophers exploited the gaps by maneuvering off ball screens, hitting the 3s that were available and attacking the rim when permissible.
"You know, the rules changed," said Florida State's
Ian Miller
, who shared a team-high 16-point tally with
Okaro White
. "It's really hard for us to out-physical teams."
It's too early to make any predictions about the Gophers. But it's not premature to assume that Pitino's guards are on board with the changes he's made in the past seven months.
And Tuesday's win, which might be valuable on Selection Sunday, was proof of that.
But it's much easier to invest when they're granted the flexibility to be the playmakers that every basketball player wants to be.
"A lot of people are saying we're small," said Mathieu, a junior college transfer, "but the style we play, it doesn't matter how small we are because we're just going to run by you."