College Basketball Nation:

2013 Holiday tournaments
November, 22, 2013
11/22/13
11:20
AM ET
On Holiday is College Basketball Nation's daily rundown of the holiday tournaments, complete with previews, recaps, and links to all of the early-season tournament info you'll need in the weeks to come.
FURTHER REVIEW
What happened Thursday? What didn't happen Thursday? Much of the day's insanity was covered late Thursday night by your humble holiday tournament correspondent, and you can kind of get everything you need to know by reading Casual Hoya comment threads … so let's just move on.
IN PROGRESS
[+] Enlarge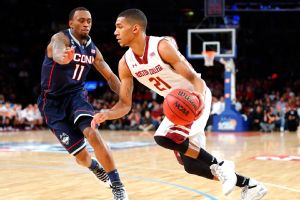 Jim O'Connor/USA TODAY SportsUConn had a surprisingly tough test against Boston College at the 2K Sports Challenge.
PUERTO RICO TIP-OFF (updated bracket), not the holiday tournament we deserve, but the one we need right now: I don't really know what that means, but then again I don't know what to make of a tournament in which Kansas State and Georgetown are facing off in the semifinals of the loser's bracket, with VCU on a straight line down the page. Charlotte fans especially have to be stoked: A chance to beat a struggling Kansas State team in November is all well and good, but a second-round defensive battle with Northeastern could well put Alan Major's 49ers into the final. Whoever gets there would surely relish a chance to play Michigan, but the Wolverines themselves first have to get past an unbeaten Florida State team that turned the ball over to VCU on 29.1 percent of its possessions and still won by 18 points Thursday night. "Go figure" is the unofficial motto in Bayamon, Puerto Rico, thus far.
2K SPORTS CLASSIC, where things stayed relatively sane: I qualify with "relatively" because Shabazz Napier and Connecticut needed everything they could muster to get past a 1-3 Boston College team that suddenly -- if only for a Thursday night -- figured out how to guard the perimeter. Indiana had fewer issues with Washington, which showcased some promising perimeter stuff but looks drastically understaffed on the block. This sets up a rather excellent (and certainly brand-dominant) UConn-IU showdown in Madison Square Garden Friday night.
Thursday was a coming out party of sorts for Indiana's freshmen. Forward Noah Vonleh, a top-15 player in the loaded 2013 class, showcased the result of his near-legendary offseason workout regimen; the dude went from "beanpole" to "hoss" in the matter of, like, three months. But IU's most impressive new player Thursday night was Troy Williams, a hyper-athletic wing who shot the ball well and attacked the rim in thrilling fashion. The Victor Oladipo comparisons are already being thrown about. Now let's see what all this means against IU's first truly quality opponent.
CHARLESTON CLASSIC (updated bracket), where New Mexico survived: It took two overtimes and a couple of 3s at the buzzer -- one of them a 40-foot Kendall Williams heave -- but the Lobos fought on. Next up is UMass, where senior guard Chaz Williams and the Minutemen -- already one of the fastest teams in the country the past three seasons -- are using the new, high-scoring college game to full advantage.
JOINING THE PARTY
PARADISE JAM (bracket): With all due respect to the rest of a solid field -- and in full understanding of the fact that crazy things happen in single-elimination settings -- the Paradise Jam is Providence's tournament. Or, at the very least, Bryce Cotton, Kadeem Batts) and emerging sophomores (Josh Fortune, Tyler Harris, former top-five guard prospect Kris Dunn, who is still recovering from a shoulder injury) get a mix of totally winnable but nonetheless intriguing tests. The first comes in Friday's opening round against a depleted Vanderbilt. The especially interesting stuff comes later with a possible second-round matchup with La Salle, and a shot, if seeds hold, to play Maryland in the title game next week."
COACHES VS. CANCER (schedule): Can Michigan State shake off two ugly home wins -- a near-disaster (averted by the Izzone, no less) against Columbia and a not-much-better win over Portland -- to handle what should be a pretty straightforward pair of games in Brooklyn?
November, 21, 2013
11/21/13
8:00
AM ET
On Holiday is College Basketball Nation's daily rundown of the holiday tournaments, complete with previews, recaps, and links to all of the early-season tournament info you'll need in the weeks to come.
PUERTO RICO TIP-OFF (Bayamon, Puerto Rico)
Charlotte vs. Kansas State, 10:30 a.m. ET (ESPNU)
Northeastern vs. Georgetown, approx. 12:30 p.m. ET (ESPNU)
Long Beach State vs. Michigan, 5 p.m. ET (ESPN2)
Florida State vs. VCU, 7:30 p.m. ET (ESPNU)
[+] Enlarge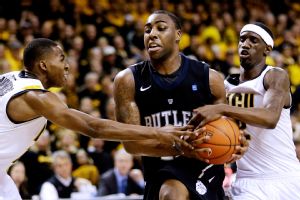 AP Photo/Steve HelberThe rules have tightened, but VCU's "Havoc" is still living up to its name early in the 2013-14 season.
Need to know
: Traditionally, few would confuse the Puerto Rico Tip-Off for the Maui Invitational -- or, more recently, the Battle 4 Atlantis -- for overall strength of field. That's true again this season, but not nearly as much as usual. ...
VCU
looks like a bona fide Final Four-level team, and is still forcing turnovers at a massive rate (29 percent) despite the NCAA's new hand-checking rules. It should be said that frequent grumbles from opposing coaches suggested that the Rams' press works only because it's so physically aggressive. Maybe not so much?
Michigan
is still getting forward
Mitch McGary
's back healthy after last weekend's tough loss at Iowa State. But a bigger concern might be the play of wingman
Glenn Robinson III
, who is scoring more frequently but less efficiently this season, particularly in the half court, where he's shooting just 36 percent.
Kansas State
is defending and rebounding, which is hardly a surprise, but the Wildcats
still need to get their offense on track
.
Oh, and save the irrepressible freshmen,
Georgetown's
Joshua Smith
was the story of college basketball's opening weekend. Smith's ongoing weight issues at UCLA left many thinking he was a lost cause, but his 25-point, 10-for-13 performance in Seoul showcased a player who might yet succeed in spite of his size.
Game of the day
: Florida State vs. VCU. The previous time these two teams met, Florida State was the Sweet 16 victim in VCU's program-defining First Four-to-Final Four run in 2011. Bradford Burgess' layup with seven seconds left, and Rob Brandenburg's last-second block, gave VCU the win — and resulted in
one of the greatest and most delirious radio calls of all-time
. Florida State's odds on revenge seem slim.
2K SPORTS CLASSIC (New York City)
Connecticut vs. Boston College, 7 p.m. ET (ESPN2)
Indiana vs. Washington, 9 p.m. ET (ESPN2)
Need to know
:
Connecticut
point guard
Shabazz Napier
appears to have finally found his sweet spot, posting a 135.5 offensive rating thus far. It's still early, of course, but that's a 20-point increase from last season's efficiency metric, despite Napier using almost exactly the same number of possessions in 2013-14 (24.4) as in 2012-13 (24.3).
The difference? Fewer shots. Napier is hoisting just 17.9 percent of available attempts this year, down from 24.0 last season, and his assist rate has leapt from 27.9 to 36.3. He's shot just seven 3s; he's made six. This is all small-sample-size disclaimer stuff, but it is worth noting: Napier is keeping UConn's top-10-level offense humming less through scoring than everything else. Against
Boston College
-- a slightly disappointing 1-3 team with an efficient offense and a downright brutal (ranked 294th in the country in adjusted defensive efficiency-level brutal) defense -- Napier's smooth command should be on full display.
The Huskies likely will face
Indiana
, but that's only if the Hoosiers can avoid an upset at the hands of Lorenzo Romar's rebuilding
Washington
Huskies. Indiana is a very different team from the No. 1-seeded group that sent two players (Cody Zeller, Victor Oladipo) to the top five of the 2013 NBA draft. This is evident in both good and bad ways. On the positive side, freshman
Noah Vonleh
has been an immediate interior beast, grabbing 31.0 percent of Indiana's available defensive rebounds and blocking one shot every 20 possessions.
On the down side, Indiana's 3-point shooting has plummeted from 40.4 percent last season to 30.3 percent; stellar sophomore point guard
Yogi Ferrell
is the only player shooting it consistently. That has allowed smart defenses (see: LIU Brooklyn) to sink and prevent driving lanes, stagnating IU's attack, making life more difficult for Ferrell, and making IU look -- for perhaps the first time in Tom Crean's tenure -- better at defense than offense. Strange times.
Game of the day
: Indiana vs. Washington. Boston College doesn't look likely to stop Napier,
Ryan Boatright
, and the rest of UConn's impressive backcourt. But if Indiana's young group stutters under the bright lights of Madison Square Garden,
C.J. Wilcox
and the Huskies might just have an unpleasant surprise in store.