College Basketball Nation:

2013 Kansas City Region
March, 25, 2013
3/25/13
12:49
AM ET
KANSAS CITY, Mo. --
Ramon Galloway
would like to send a message to the fans, media members and anyone else who might spend the next few days buzzing about the La Salle basketball team.
"We're not Cinderella," Galloway said. "We didn't get lucky. This isn't a fluke."
Anyone who has watched the No. 13-seeded Explorers during the NCAA tournament would probably agree, and so would their opponents.
La Salle advanced to the Sweet 16 on Sunday with a
76-74 victory over Ole Miss
at the Sprint Center, and it didn't happen because of a lucky basket at the buzzer or an off night from its opponent.
The Explorers won because they took good shots, kept their poise and got key defensive stops in the game's waning minutes.
Tyrone Garland
won it with a layup in traffic just before the final horn.
[+] Enlarge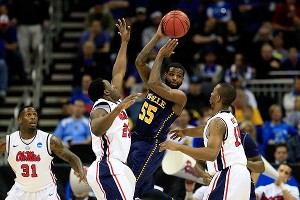 Jamie Squire/Getty ImagesRamon Galloway scored a game-high 24 points as the La Salle Explorers beat Ole Miss to advance to the Sweet 16.
"Those are the things good teams do," said Galloway, who scored a game-high 24 points. "This is Division I basketball. Everyone has great athletes with great skill. Look at Wichita State. They're winning. Florida Gulf Coast is winning. We're winning.
"This isn't a fluke. We've thought all year that we could compete with anyone in the country. We just needed our shot."
La Salle -- which defeated Boise State on Wednesday in the First Four before toppling No. 4 seed Kansas State and No. 12 seed Ole Miss -- advances to play Wichita State this weekend in the Sweet 16 in Los Angeles. The Shockers upset No. 1 seed Gonzaga on Saturday night.
Instead of returning to Philadelphia for a few days, the Explorers will head straight to California from Kansas City. In some ways, that's unfortunate. Moments after returning to the locker room after Sunday's win, La Salle players were scrolling through texts and tweets about the celebration that had ensued back on campus.
"Riots, signs, parties, people all out in the streets -- the whole bit," guard
Sam Mills
said. "This is one of the craziest feelings we've had in our whole lives. We'd love to [travel] back and celebrate with them, but we're not finished yet.
"We're still on a mission."
La Salle seemed like a rather unlikely Sweet 16 team a week ago. The Explorers posted a 24-9 record overall and an 11-5 mark in conference play. The NCAA tournament selection committee, however, showed a lot of respect toward the Atlantic 10 and rewarded the league with five bids.
The Explorers are the only ones to make it to the second weekend. Before last week, La Salle had won just one NCAA tournament game in 30 years and hadn't earned a spot in the field since 1992.
Still, that's not to say La Salle doesn't have tradition. The best player in the program's history is Lionel Simmons, who ranks third in the NCAA in career points (3,217). Simmons, who won the Wooden Award in 1990, was with the team in Kansas City over the weekend.
Moments after Garland's shot, Simmons was on the court dancing and celebrating with Explorers players before joining them in the locker room, where the fun continued.
"I'm just an excited fan, an excited alumni," Simmons said. "That's the beauty of the NCAA tournament. Any team can beat anybody. If you play hard and give yourself a chance to win, anything can happen."
Pleased as they were with the victory, La Salle didn't seem close to satisfied after Sunday's win. A victory over Wichita State this weekend would vault La Salle into the Elite Eight. Explorers coach John Giannini said a win in that game wouldn't be an upset -- just as their first three wins weren't.
"If I'd have told you at the beginning of the season," a reporter asked Giannini, "that you'd be standing here now, with the Elite Eight as the next goal, what would you have told me?"
Giannini smiled.
"That it could happen," he said. "There's no parity [in college basketball this season]. Parity makes it sound like everyone is average. Everyone's good. You know what Wichita State's budget and facility and tradition is like? Why shouldn't they be terrific?
"It's not parity. Maybe no one is great the way Jordan and Perkins and Ewing were, but everybody is good."
March, 24, 2013
3/24/13
10:59
PM ET
KANSAS CITY, Mo. -- He's the projected No. 1 pick in this summer's NBA draft, the leading scorer for one of the nation's top teams and the latest Kansas Jayhawk to appear on the cover of Sports Illustrated.
For
Ben McLemore
, though, none of that mattered in a
70-58
victory over North Carolina on Sunday, when the All-American candidate spent most of the second half on the bench.
The reasoning was simple.
"We were better without him," KU coach Bill Self said.
The comment wasn't a jab at McLemore. No player is immune to a bad game. Not even a star freshman such as McLemore. Instead, Self's words were a testament to why the Jayhawks are one of the most dangerous teams remaining in the NCAA tournament and a favorite to reach the Final Four.
On a night when McLemore scored just two points, Kansas turned to its other secret weapon -- its experience -- to defeat the Tar Heels and advance to the Sweet 16.
Travis Releford
scored 22 points and
Jeff Withey
added 16 points, 16 rebounds and five blocks to propel the Jayhawks in front of more than 18,000 fans at the Sprint Center.
[+] Enlarge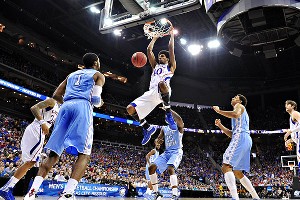 Peter G. Aiken/USA TODAY SportsKevin Young was one of four seniors that gave Kansas a big boost against UNC on Sunday.
Seniors
Kevin Young
(10 points, nine rebounds) and
Elijah Johnson
(four assists) also made huge contributions for a KU team that trailed 30-21 at halftime.
The gutsy effort shouldn't come as a surprise, considering all four seniors played significant roles in last season's march to the NCAA title game, where the Jayhawks lost to Kentucky.
"We have toughness," Withey said. "We know what it takes to win a game. You can see that just by the way we played in the second half. All four of us -- we didn't want it to be over."
But it almost was following one of Kansas' most woeful first halves of the season. The Jayhawks missed 12 of their first 13 field goal attempts en route to a 7-of-28 performance in the opening stanza. North Carolina forced KU into 12 first-half turnovers, which resulted in a 30-21 Tar Heels lead at intermission.
"We were sped up," Self said. "Our guys care so much, and sometimes when you care as much as our guys, you played tight."
Self tried to fire up his squad at halftime, but just as they would do later on the court, KU's seniors were the ones who made the biggest difference in the locker room.
Withey singled out nearly every member of the team, pointing at them and screaming, "Is this how you want it to end?"
Releford made sure his voice was heard, too.
"This could be our last 20 minutes," he said he shouted at his teammates. "We can go out there and leave it all on the court or we can roll over like we did in the first half."
Releford's speech made a huge impact.
"It did a lot," KU guard
Naadir Tharpe
said. "It woke us up."
Apparently.
Johnson's 3-pointer early in the second half forced a 35-35 tie and ignited a 38-23 game-ending run for Kansas. Withey was dominant in the paint, Young played lockdown defense on
P.J. Hairston
and Releford limited UNC standout
Reggie Bullock
to five points, nearly 10 below his average.
"That was the best game he's played in a Kansas uniform," Self said of Releford, who was playing before his hometown fans in his native Kansas City.
McLemore, who entered the game averaging 16.2 points, played just six minutes in the second half and finished with a season-low two points, both of which came on free throws. He was 0-for-9 from the field.
"I think it's exciting for our team to know that you can win a game like this and have your leading scorer not make a basket," Self said.
Self knows that probably wouldn't have happened if Kansas didn't boast such a senior-laden roster. And it's no secret that the teams with the most experience are usually the ones that advance the furthest in the NCAA tournament.
The Jayhawks won the 2008 championship with a veteran cast that included Brandon Rush, Mario Chalmers, Russell Robinson, Darnell Jackson and Sasha Kaun. Tyler Hansbrough led UNC to the title as a senior in 2009. Kyle Singler and Nolan Smith did the same for Duke a year later and Connecticut wouldn't have won the 2011 championship without junior guard Kemba Walker.
Even last year's Kentucky team -- which was heavy on freshmen -- boasted a trio of veterans in Darius Miller, Terrence Jones and Doron Lamb.
"[Experience] brings a calm," said Johnson, who has now played in 13 NCAA tournament games. "It brings more leadership. It brings a lot of things to the table. It brings things that younger players don't have."
Pleased as they were with Sunday's victory, the Jayhawks know their chances of continuing to advance will be slim if McLemore doesn't break out of his slump. In 10 of his past 11 games, McLemore's point total has been less than that of his season average of 16.2. McLemore is shooting just 42.4 percent in those 10 contests, and only 34.6 percent from 3-point range.
"That's going to happen with a freshman," Withey said. "He's going to be up and down. We know that. We need him to be ready for the next game. He's still a stud, still a top-five pick in the NBA draft. It's all a mindset.
"Thank God we have a week to prepare for this next one. We need him to be firing on all cylinders."
That would help.
But even if McLemore isn't, it'd be foolish to count out Kansas.
Just ask North Carolina.
March, 24, 2013
3/24/13
7:45
PM ET
KANSAS CITY, Mo. -- Standout freshman and future NBA lottery pick
Ben McLemore
was so mediocre on Sunday that he could hardly get off the Kansas Jayhawks' bench in the second half.
It didn't matter.


With McLemore struggling, Kansas used its other main weapon -- experience -- to advance to the Sweet 16 with a
70-58 victory
over the North Carolina Tar Heels. The Jayhawks got a combined 53 points from seniors
Travis Releford
(22),
Jeff Withey
(16),
Kevin Young
(10) and
Elijah Johnson
(5) in a come-from-behind win before 18,000-plus fans at the Sprint Center.
McLemore entered the game averaging a team-high 16.2 points, but for the second straight game, he seemed spooked by the NCAA tournament's big stage. McLemore scored just two points (both on free throws) in 18 first-half minutes before going scoreless after intermission. McLemore played just six minutes in the second half. He went 0-of-9 from the field overall.
Instead coach Bill Self turned to the same group of seniors that played pivotal roles in last season's march to the NCAA title game, where the Jayhawks lost to Kentucky. The foursome contributed in a number of ways that didn't show up on the scoreboard. Withey had 16 rebounds and five blocks. Releford collected eight boards and three steals. Johnson dished out four assists (and committed just two turnovers) while Young snared nine rebounds.
The other key factor for the Jayhawks was the player who replaced McLemore.
Naadir Tharpe
, a sophomore backup guard, scored 11 points off the bench and made a trio of clutch 3-pointers during a key second-half run that put the game out of reach for UNC.
The Tar Heels actually jumped out to a 30-21 lead thanks to a horrendous shooting effort from the Jayhawks, who made just 28 percent of their field goals in the opening 20 minutes while committing 12 turnovers. Kansas, though, opened the second half with a 33-10 run and never looked back. Self's squad outscored No. 8-seeded North Carolina 49-28 in the second half.
Tar Heels coach Roy Williams fell to 0-3 against his former schools, with each of the losses coming in the NCAA tournament. KU beat UNC in last year's Elite Eight. Kansas is now 31-5. North Carolina ends its season with a 25-11 record.
P.J. Hairston
scored 15 points for the Tar Heels, who shot 30 percent overall.
Turning point:
A 3-pointer by Johnson forced a 35-35 tie at the 15:26 mark of the second half.
Perry Ellis
followed with a tip-in and then Releford converted a traditional three-point play that gave KU a 40-35 cushion. At that point Kansas had the momentum and never lost it again.
Key player:
Releford. His 22-point effort came on 9-of-13 shooting. He also contributed eight rebounds and three steals. More importantly, he helped set the tone of toughness for the Jayhawks when they were struggling in the first half.
Key stat:
Kansas, which made just one shot outside of the paint in Friday's win over Western Kentucky, didn't connect on a jump shot until Releford swished a 3-pointer two minutes into the second half.
Next:
Kansas advances to the Sweet 16 for the third straight year. The Jayhawks play No. 4 seed Michigan Friday in Arlington, Texas.
March, 23, 2013
3/23/13
7:59
PM ET
KANSAS CITY, Mo. -- At their shoot-around on Thursday and again during Friday's win over Villanova, the
North Carolina Tar Heels
received rousing ovations from an unlikely group of supporters.
Kansas fans.
For nearly a decade almost anyone who called themselves a Jayhawk held resentment toward former coach Roy Williams for leaving KU in 2003 and returning to North Carolina, his alma mater. But if this week is any indication, Kansas fans have moved on and come to appreciate Williams for what he accomplished during his 15 seasons in Lawrence.
"Time heals all wounds," Williams said Saturday. "The people have been really nice. There have been people driving by on the streets when we're out walking in the morning that have been yelling and saying nice things.
"I've only had one person yell something that wasn't quite as nice, but that's part of it."
[+] Enlarge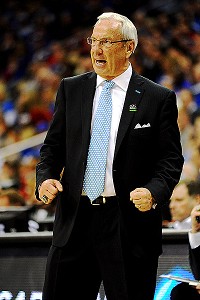 Denny Medley/USA TODAY SportsUNC coach Roy Williams hasn't had any success against Kansas, the school he once led. Will that change on Sunday?
Williams' Tar Heels -- the No. 8 seed in the South Region -- will take on top-seeded Kansas at the Sprint Center on Sunday for a chance to go to the Sweet 16. The Tar Heels are 0-2 against the Jayhawks since Williams became their coach. KU beat UNC in the national semifinals in 2008 and again in the Elite Eight last season.
A lot of the attention leading into each of those games centered on the ill will that some Kansas fans held toward Williams for leaving in 2003, just two years after vowing he'd retire at Kansas. "Benedict Roy" shirts were a hot seller in Lawrence. One barbershop owner went so far as to hang Williams' picture above his toilet.
This season, though, most of the buzz during Saturday's news conference centered around the actual game. That had to have been refreshing to both Williams and KU coach Bill Self, who coached for three seasons at Illinois before taking over for Williams.
"Nobody can ever take away that he did a fabulous job and ran a first-class program [at Kansas]," Self said. "Anybody that doesn't feel that way isn't real, because that's the reality of it.
"Since we've had a chance to play a couple of times in the tournament, I think there were some story lines [before] that probably aren't as good of a story line now."
Self has certainly made it easy for KU fans to move on. By beating No. 16 seed Western Kentucky Friday, Self became the first coach in history to guide his team to four consecutive 30-win seasons. (It should be noted that John Calipari accomplished the feat from 2006-09, but the Tigers' wins from the 2007-08 season were vacated.)
Kansas has also won nine straight Big 12 titles under Self and one national championship. Self is 299-58 (.838) during his tenure at KU, while Williams is 282-78 with six ACC championships and two NCAA titles at North Carolina.
As much as he hopes to win Saturday's game, Williams has made it clear that he doesn't enjoy playing Kansas.
"It's not immoral to love two schools," Williams said. "Someone asked me the other day if I would ever consider coming and playing a home-and-home against Kansas. I said no. My athletic director would understand and the Pope will understand, because I will never walk out of that far tunnel. That will never happen.
"I said this before I left Kansas: 'The day I ever walk into Allen Fieldhouse and don't get cold chills, I'll know it's time to stop.' I feel the same way about the Smith Center. If I walk out on game night and don't have cold chills, I'll quit."
Kansas City news and notes:
North Carolina's switch to a smaller lineup earlier this season could make things difficult for KU center Jeff Withey, who will likely have to guard players such as James Michael McAdoo outside of the paint from time to time. Withey said the shortage of true centers in the Big 12 has forced him to become a better perimeter defender. "I've definitely gotten used to it," Withey said. "I've had to learn to guard and move my feet."

Kansas leading scorer Ben McLemore is averaging just seven points in his past three games -- more than nine points below his average of 16.2. He had just 11 points in 32 minutes against Western Kentucky on Friday, when he only attempted five shots. "He's young," Self said of McLemore, a redshirt freshman. "Obviously this is his first time on a big stage. He's capable of doing it all. When he's aggressive, we're better. We've just got to get him to be more aggressive."

Ole Miss guard Marshall Henderson celebrated Friday's victory over Wisconsin by hanging out with some of his friends at a bar across the street from the arena. Photos of Henderson (who was holding a clear cup containing a red drink) ended up on Twitter, which prompted Rebels AD Ross Bjork to summon Henderson back to the team hotel. "It wasn't like he was guzzling a beer," Bjork said. Ole Miss coach Andy Kennedy was asked if he approved of Henderson hanging out in bars in between NCAA tournament games. "He's 22 years old," Kennedy said of Henderson. "I didn't give him an alcohol sobriety test. We didn't make him recite his ABCs backward, but I know this. I know we had a pretty intense 10 o'clock meeting and he was involved in it, as they all were."

LaSalle coach John Giannini said playing in the "First Four" has been beneficial to his team. The No. 13 seed Explorers upset No. 4-seeded Kansas State on Friday. "You're certainly in a better rhythm," Giannini said. "If you look at yesterday's game, it perfectly demonstrated the advantages and disadvantages. One team was really in a rhythm in the first half. There is an advantage to having played, working out some nerves and being comfortable on the court."
March, 23, 2013
3/23/13
2:20
AM ET
KANSAS CITY, Mo. -- Bill Self could sense something was wrong.
Less than an hour before his team played Western Kentucky on Friday, the energy and spirit that's so often present in the Jayhawks' locker room was missing. Smiles were few and far between. During pregame shootaround, the Jayhawks lacked their normal bounce.
"There was a little bit of a different feel," Self said. "I actually noticed it. We were tight."
And Western Kentucky wasn't.
All of it nearly resulted in a history-making night at the Sprint Center, with Western Kentucky just a few shots away from becoming the first No. 16 seed to upset a No. 1 seed in the NCAA tournament.
Kansas -- which trailed by one point at intermission and only led by four points with 30 seconds left -- eventually escaped with a
64-57 victory
. But Self and his players know that Friday's win will be their last of the season if they don't refocus before Sunday's round of 32 game against No. 8 seed North Carolina.
The Tar Heels, led by former Kansas coach Roy Williams, defeated No. 9 seed Villanova 78-71 in an earlier game.
"I think personally it's part of human nature to not be as prepared for a smaller team," Kansas point guard
Elijah Johnson
said. "But in a North Carolina-Kansas game, I think everyone comes ready to play.
"There's going to be so much juice in the building. Roy is coming back. There's going to be a lot of fans pumped up. We'll be pumped up. We got that first one out of the way. We're a little looser now. I think it will be a different attitude in the locker room before the game."
The Jayhawks had better hope things are different during the game, too.
[+] Enlarge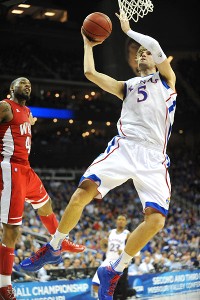 Denny Medley/USA TODAY SportsCenter Jeff Withey came up huge for top-seeded Kansas with 17 points, 7 blocks and 6 rebounds.
Kansas shot just 7.7 percent outside the paint Friday, becoming the first team since 2001 to win an NCAA tournament game without making a 3-pointer. The Jayhawks committed 17 turnovers and were outrebounded 41-35 overall and 18-4 on the offensive glass.
Western Kentucky outscored Kansas 17-5 on second-chance points. Hilltoppers coach Ray Harper said he couldn't have been more proud of his players.
"The entire country got a glimpse of what they're made of, their character and heart," Harper said.
It would be foolish to say this game was close simply because Kansas played poorly or was ill-prepared, although those things certainly contributed.
The bigger story, though, was the moxie and grit displayed by the Hilltoppers, who hardly resembled a typical happy-to-be-there No. 16 seed, awed and overwhelmed by the hoopla surrounding March Madness.
Western Kentucky -- which was making its second consecutive tournament appearance and played in the Sweet 16 in 2008 -- entered the tournament with a 20-15 record overall and a 10-10 mark in the Sun Belt Conference. It would've had no chance of making the NCAA tournament if it hadn't received an automatic bid by winning its league tournament nearly two weeks ago.
The Hilltoppers are ranked No. 150 in the RPI, which makes them far from the worst team KU has played this season. TCU, for example, is No. 238.
Harper's players were the aggressors for most of Friday's game. WKU probably could have won had it not shot 20.5 percent after intermission. Some of that was because of KU's defense, but the Hilltoppers also missed some wide-open shots.
"We also made one shot for the game outside of two feet --
one
," Self said. "And that was by our 7-footer (
Jeff Withey
). So we didn't exactly light it up, either."
Kansas trailed 31-30 at halftime before battling back in the final stanza. A pivotal moment occurred when Jayhawks forward
Kevin Young
missed a 16-foot jumper with just under 18 minutes remaining. Young grabbed his own rebound near the free throw line and drove in for a two-handed reverse slam that ignited a nervous crowd of more than 18,000 mainly Kansas fans.
The Sprint Center was deafening the rest of the way, which was important on a night like Friday, when KU (30-5) needed all the help it could get.
"Sometimes playing at home, I think, puts more pressure on you in certain ways," Self said. "We didn't respond very well to the advantages we had."
One Jayhawk who definitely came ready to play Friday was Withey, who finished with 17 points, 7 blocks and 6 rebounds. Withey scored five points during an 8-1 Kansas run that extended a 45-41 lead to 53-42 with just under three minutes remaining. Five of Withey's blocks came in the second half.
Western Kentucky kept fighting and pulled within four points on a
Brandon Harris
3-pointer that made is 59-55 with 28 ticks remaining. Kansas, though, made five straight free throws to seal the victory.
"We didn't play our best by any stretch," Self said. "But give Western credit. I thought they were the most aggressive team. I thought they controlled the game for the most part until the second half, when we got the ball inside some.
"We're happy to advance, but certainly not pleased with how we played. Certainly we know we'll have to play a lot better on Sunday."
March, 22, 2013
3/22/13
11:40
PM ET
KANSAS CITY, Mo. - Hall of Fame coach Roy Williams picked up his 700th career victory when North Carolina defeated Villanova
78-71
at the Sprint Center on Friday. But after the game, Williams said he was equally as proud of another number.
Twenty-five.
That's how many wins Williams' current crop of Tar Heels has achieved during what some would call a transition year. Considering UNC had four players selected in the top 17 of last summer's NBA draft, the coaching job Williams has done in 2012-13 is one of the more impressive of his career.
Friday's victory propelled UNC to a third-round NCAA tournament game against either Kansas or Western Kentucky. That hardly seemed like a possibility three months ago, when the Tar Heels were manhandled by a struggling Texas team that a few weeks earlier had lost to Division II Chaminade.
[+] Enlarge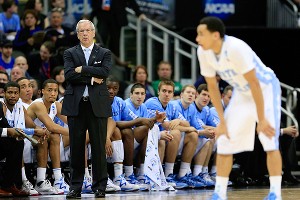 Jamie Squire/Getty ImagesIn guiding North Carolina to the round of 32, Roy Williams picked up his 700th career coaching win.
"It was terrible," guard
Dexter Strickland
said about the loss. "We didn't have any experience. We didn't know how to play with each other yet. We didn't know the level of intensity we needed to play with as a team. We were just trying to find ourselves."
Strickland paused.
"We've come a long way since then," he said.
Indeed, North Carolina finished third in the ACC with a 12-6 record. During Friday's first half, the eighth-seeded Tar Heels looked capable of making one of the more unlikely Final Four runs in school history.
Williams' squad led by 20 points in the first half. The basket must've looked like hula-hoop to the Tar Heels, who shot 50 percent before the break.
North Carolina, however, became complacent in the second half and allowed the ninth-seeded Wildcats to take a 45-44 lead.
"We thought we were good enough to win this game," Villanova coach Jay Wright said.
The Wildcats (20-14) almost did, keeping it close until the waning minutes, when some timely 3-point shooting by
Reggie Bullock
,
P.J. Hairston
and
Marcus Paige
helped North Carolina to victory. The Tar Heels closed out the win by making their last seven field goal attempts.
"There were a few moments, to say the least, when we were really ugly," Williams said. "I loved the mental toughness of our team in the last eight or nine minutes."
Williams deserves credit for developing that toughness. Hairston, Bullock and
James Michael McAdoo
are NBA-caliber players, but certainly not at the level -- at least not yet -- of some of the lottery picks of UNC's past. This team has needed more molding and grooming and coaching than recent Tar Heel squads.
That's why, in some ways, win No. 25 (against 10 losses) felt just as fulfilling to Williams as victory No. 700.
"I'm human," Williams said. "I wanted to get 700. I'd like to get 800, 900, 1,000, 1,500 ... but I know that's not going to happen.
"My focus was not on that, it really wasn't. I was trying to get No. 25 and have this team stay and play in another game."
March, 22, 2013
3/22/13
9:30
PM ET
KANSAS CITY, Mo. --
P.J. Hairston
scored 23 points and
James Michael McAdoo
added 17 to propel North Carolina to a
78-71 victory
over Villanova in the second round of the NCAA tournament at the Sprint Center. Friday's victory marked the 700th career win for Tar Heels coach Roy Williams, whose team advances to play either Kansas or Western Kentucky on Sunday for a berth in the Sweet 16.


North Carolina led by as many as 20 points in the first half, but let Villanova back into the game. The Wildcats took a 45-44 lead on a foul shot by
JayVaughn Pinkston
with 13:40 remaining, but
Reggie Bullock
responded with a 3-pointer on North Carolina's next possession. UNC would never trail again.
It took awhile for North Carolina to close out the game.
Villanova shaved the Tar Heels' lead to 54-50 on a layup by
Mouphtaou Yarou
with 8:31 left, but Hairston responded with a 3-pointer on the other end. Wildcats forward
Darrun Hilliard
countered with a basket to make it 57-52, but another 3-pointer by Bullock extended UNC's lead to 60-52.
Still, Villanova refused to go away. With 2:14 left, Pinkston pulled the Wildcats within a point, 67-66. A 3-pointer from
Marcus Paige
gave UNC a 70-66 advantage before Yarou struck back with a layup to make it a two-point game.
North Carolina refused to fold, however. The Tar Heels made their final seven field goal attempts en route to the victory.
Bullock added 15 points for the Tar Heels. Pinkston scored a team-high 20 for Villanova.
Turning point:
UNC jumped out to a 72-68 lead on a pair of foul shots by Paige with 1:36 left. Villanova then missed its next three field goal attempts, and eventually the Tar Heels made the Wildcats pay. Hairston split a pair of free throws and then scored on a traditional three-point play to make it 76-68 with 42 ticks remaining. Ballgame.
Key player:
North Carolina continues to get solid production from Hairston since the sophomore moved into the starting lineup. His 23 points came on 7-of-11 shooting, and he was 5-of-8 from 3-point range.
Key stat:
North Carolina won despite being out-rebounded 35-23.
Next:
North Carolina will play the Western Kentucky-Kansas winner Sunday. Williams coached at Kansas for 15 years before leaving after the 2002-03 season for North Carolina, his alma mater. He is 0-2 against Kansas, with both losses coming in the NCAA tournament.
March, 22, 2013
3/22/13
8:25
PM ET
KANSAS CITY, Mo. -- La Salle coach John Giannini refused to let his players hang their heads.
His team had just followed up a loss to Saint Louis in the regular-season finale with a setback against Butler in the Atlantic 10 tournament. Instead of chastising the Explorers, Giannini smiled and delivered a simple message.
"I told them not to feel bad," Giannini said, now in his ninth year as head of the Explorers. "I told them, 'You're far better prepared for the [NCAA] tournament than you realize. You just lost to two Final Four teams.
"You're not going to play against anyone in this tournament that's tougher than Saint Louis or Butler."
Or VCU or Temple, for that matter.
It might not be a part of the "power six" conferences, but the Atlantic 10 has proved over the past 48 hours that it's as tough as any league in the nation. The A-10 is 6-0 in tournament games so far, and no win was as head-turning as La Salle's
63-61 victory
over Kansas State on Friday at the Sprint Center.
[+] Enlarge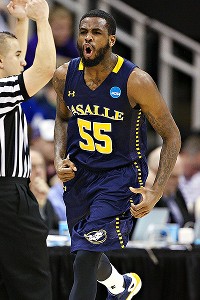 Ed Zurga/Getty ImagesRamon Galloway had 19 points to go along with four rebounds and four assists in La Salle's upset win over Kansas State.
The victory was the second in three days for the No. 13 seed Explorers, who defeated Boise State in a First Four match Wednesday in Dayton, Ohio. It's La Salle's first NCAA tournament since 1992, and it now faces No. 12 seed Ole Miss on Sunday at the Sprint Center.
"Part of the reason you see these scores is because everyone takes basketball seriously," Giannini said. "People have made great commitments. Whether it's salaries, budgets, facilities ... people want to be where we are right now, and people [are] willing to invest to make that happen."
Indeed, Friday's victory over the Big 12 co-champion Wildcats hardly seemed like an upset. A day before the game, someone joked with K-State coach Bruce Weber that "No. 13 seeds aren't what they used to be."
"No kidding," Weber said. "Did you watch them play Boise State? Wow."
Talent-wise, there wasn't much of a difference between the two teams. At some positions, La Salle was simply better. La Salle led by as many as 19 points in the first half and was ahead 44-26 at intermission.
Even more impressive about La Salle's performance is that it came in front of approximately 18,000 purple-clad K-State fans in Kansas City. Make no mistake: This was a road game for La Salle -- and a tough one at that.
"It was by far the best arena I've ever played in," La Salle guard
Ramon Galloway
said. "The crowd was great. They were quiet in the first half because we had a lead. But when the game got tough, when [the Wildcats] were making their run, they made sure we heard them."
Kansas State went on a 31-12 march in the second half and took a 61-60 lead on a free throw by
Jordan Henriquez
with 2:25 remaining. The score remained the same until the waning seconds, when
Rodney McGruder
missed a 3-pointer with 31 seconds remaining.
Jerrell Wright
snared the rebound and was fouled by Henriquez. Wright swished both free throws to put La Salle ahead 62-61.
A 60 percent foul shooter, Wright had gone 1-for-5 in Wednesday's win over Boise State.
"There were no butterflies," Wright said. "Coach just told me every time I shoot a free throw to have the same form and to keep my focus."
Henriquez missed a short hook shot on K-State's next possession, and again, Wright grabbed the rebound and was fouled. He made his first free throw and missed the second, giving KSU a chance to either tie or win with 9 seconds remaining and with La Salle leading 63-61.
Point guard
Angel Rodriguez
, however, failed to put up a quality shot -- he ended up taking a baseline jumper in traffic -- as time expired. Weber was screaming for a timeout but he either was ignored or wasn't heard.
"I yelled it as loud as I could," Weber said, "but we couldn't get the call. La Salle ... that was a hard No. 13 to play, to be honest. Somewhere along the line they probably had some inconsistency that led them to be [a No. 13 seed].
"We can't complain. We had the advantage of an extra day off and of playing in Kansas City. Sometimes things just aren't meant to be."
And sometimes they are.
That was certainly the vibe in La Salle's locker room following Friday's "upset" victory. The Explorers watched two years ago as VCU went from the First Four to the Final Four.
They don't see any reason they couldn't do something similar.
"Why not?" guard
Sam Mills
said. "Why not?"
March, 22, 2013
3/22/13
5:25
PM ET
KANSAS CITY, Mo. --
Jerrell Wright
scored 21 points and
Ramon Galloway
added 19 to lead No. 13 seed La Salle to a
63-61 victory
over No. 4 seed Kansas State on Friday at the Sprint Center.


Overview:
La Salle led by as many as 19 points in the first half and was up by 18 points (44-26) at intermission before the Wildcats used a 31-12 run to storm back and take the lead.
Jordan Henriquez
put Kansas State ahead 61-60 on a foul shot with 2:25 remaining.
The score remained the same until the final seconds. K-State's
Rodney McGruder
missed a 3-pointer with 30 seconds remaining and Henriquez was called for fouling Wright as the two battled for the rebound. Wright made both free throws to make it 62-61.
Kansas State's next two possessions were brutal.
Henriquez, a 7-footer, ended up with the ball about 15 feet away from the basket and tried to penetrate. Henriquez attempted a spinning jumper in the lane that missed badly. Wright grabbed the rebound and was again fouled. He made the first free throw and missed the second, making it 63-61 with 9 seconds remaining.
K-State point guard
Angel Rodriguez
brought the ball up the court and attempted to penetrate but never could get past his defender. He ended in the corner and attempted an off-balance, low-percentage shot from the baseline that didn't have a chance as time expired.
Wildcats coach Bruce Weber was screaming for a timeout during the play but his voice apparently wasn't heard.
The NCAA tournament win is the second in a row for La Salle, which beat Boise State in a First Four game on Wednesday. The Explorers are 23-9. Kansas State -- which won a share of its conference title for the first time since 1977 -- ends its season at 27-8.
Turning point:
McGruder's missed 3-pointer with 30 seconds left -- and the foul by Henriquez during the fight for the rebound -- caused the momentum to shift. McGruder's shot was halfway through the rim but then popped back out. Instead of having a four-point lead, the Wildcats found themselves trailing after Wright made two free throws on the other end.
Key player:
Wright (21 points), Galloway (19) and
Sam Mills
(10) all reached double figures for La Salle. Henriquez had 17 points, 12 rebounds and five blocks for K-State, which also got 17 points from
Shane Southwell
and 13 from McGruder.
Key stat:
La Salle shot 58.1 percent in the first half and only 16.7 percent after intermission.
Next:
La Salle plays No. 12 seed Ole Miss on Sunday for a chance to go to the Sweet 16.
March, 22, 2013
3/22/13
5:15
PM ET
KANSAS CITY, Mo. -- Sometimes, after he makes a big shot,
Marshall Henderson
likes to stick out his tongue.
The Ole Miss guard has been known to taunt the opposing crowd by flicking his jersey and screaming into the stands. And he can get his own fans into the game by raising his arms as he runs down the court, encouraging people to stand and yell.
Henderson did none of that in Friday's game against Wisconsin.
Well, at least not in the first half.
"You can't go too crazy," Henderson said, "when you go 1 for your first 17."
Actually, Henderson began Ole Miss' first NCAA tournament game in 11 years by missing 13 of his first 14 shots. But that doesn't change the point. The SEC's leading scorer wasn't himself. And as a result, neither were the Rebels.
"How does this happen?" Henderson said he thought to himself. "I've shot 20 hundred million shots in my day. Now that I make the NCAA tournament, why does this happen now?"
Henderson's shooting stroke might have been missing, but his confidence wasn't. That, more than anything, is why the Rebels were able to come from behind and defeat Wisconsin
57-46
in the round of 64 at the Sprint Center.
Henderson scored 17 of his 19 points after intermission to help turn a six-point deficit into an 11-point victory against the No. 5 seed Badgers, whose résumé includes two victories each against Michigan and Indiana.
One of Henderson's biggest baskets came on a 3-pointer that forced a 36-36 tie with 9 minutes, 45 seconds remaining. An even bigger dagger came seven minutes later, when Henderson swished another 3 to extend Ole Miss' cushion to 50-44 with 2:49 left.
"He got that one, and it was nuts," Rebels guard
Nick Williams
said. "We went crazy when he got it, because we knew once that one came, he was going to go crazy. That gave us a big boost. We took off from there."
Moments after the final horn sounded, Henderson darted around the court like the Tasmanian devil -- the cartoon character he often references. The tongue was out, the jersey was popping, and Henderson's arms were flailing as he looked into the stands.
Ole Miss has always had decent talent under seventh-year coach Andy Kennedy, but the addition of Henderson -- last season's national junior college player of the year -- has led to a swagger in the locker room and an energy on the court that has been missing in years past.
He has also brought national attention to a program that, for the most part, has operated out of the spotlight during its 11-year tournament drought. Even on nights when Henderson (who averages 20.1 points) isn't playing well, the opponent still expends a ton of energy trying to stop him.
[+] Enlarge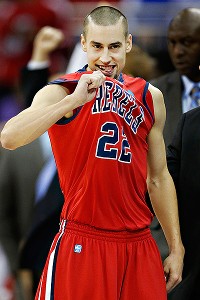 AP Photo/Orlin WagnerMarshall Henderson scored 17 of his 19 points after intermission, leading Ole Miss past Wisconsin.
"There's no question," Kennedy said, "that Marshall mania affects the psyche of the other team."
That was evident Friday -- although the Rebels' defense had just as much to do with Wisconsin's struggles. The Badgers looked as if they'd never played against a zone.
Bo Ryan's team shot just 25.4 percent (15-of-59) from the field and was outscored 30-16 in the paint by the Rebels, who were much more physical with players such as senior
Reginald Buckner
(12 rebounds, five blocks) and fifth-year senior
Murphy Holloway
(10 points, nine rebounds).
Ole Miss entered the game ranked seventh in the country at 78.2 points per game, but proved Friday it could excel in a low-scoring contest, too.
"We can play different styles," Williams said. "People think of us as a run-and-gun team. But today we were smart. We passed the ball around. We shared the ball.
"All these analysts and so-called experts who said we weren't supposed to be here, or that we can't beat a certain team because they play a certain way ... it's all nonsense. Eventually, you've got to get on the court and play ball. We were the better team today."
Beating a high-profile opponent such as Wisconsin and a well-regarded coach such as Ryan could be a monumental step for Ole Miss, which will play La Salle on Sunday with the chance to advance to the Sweet 16.
It was less than a month ago that Kennedy's job appeared to be in serious jeopardy following losses to SEC bottom-feeders South Carolina and Mississippi State. Making the NCAA tournament seemed like a long shot.
But the Rebels caught fire last week and won the SEC tournament, beating Florida in the title game. The teams that enter the NCAA tournament with momentum are usually the ones who fare the best. Ole Miss brought plenty of it to Kansas City.
"It took a tough loss at Mississippi State for us to come together," Williams said. "A lot of people said we weren't this or we weren't that or we didn't deserve anything. We just stayed together. The seniors led us. Everyone bought in at the right time."
Still, in the end Friday, it took a little magic from Henderson to get Ole Miss over the hump. It was only fitting. Henderson is the one who took the Rebels' program to the next level and got it back into the NCAA tournament.
And he's the reason they're still there.
About 24 hours before Friday's game, Henderson said he watched Pittsburgh senior standout Travon Woodall go 1-for-12 in an upset loss to Wichita State.
"He probably played his worst game," Henderson said. "I felt so bad for him after everything he'd done."
After his 1-for-14 start, Henderson is thankful his season didn't end the same way.
"I was sitting by Murphy on the bench," Henderson said. "I was like, 'If I don't pick this up, it's going to be my fault. I don't want it to be my fault.'
"I had to pick it up a little bit, and I think I did just a tad. So now I'm glad I'm going to have a chance to redeem myself on Sunday."
Redeem himself?
Ole Miss fans will probably chuckle at that one.
Marshall Henderson -- and the
Ole Miss Rebels
-- are doing just fine.