College Basketball Nation:

2013 MWC tournament
March, 17, 2013
Mar 17
1:19
AM ET
LAS VEGAS -- As if building a top-25 basketball program wasn't enough, Steve Alford has found another way to put his stamp on the University of New Mexico.
Fashion.

Each time his team wins any sort of championship, the Lobos coach climbs a ladder, snips away the final strands of the net and then wears it like a necklace to his postgame news conference. The look has become hip around New Mexico supporters, many of whom show up at Lobos games sporting cotton around the collar.
"Fans like it," Alford said. "I just try to do a lot of things our fans like because we've got the best fans in the country."
Those fans were certainly cheering Alford on Saturday as he sliced away the net at the Thomas & Mack Center. Within seconds of the final horn in New Mexico's
63-56 victory
over UNLV, hundreds of fans stormed the court to revel in the Lobos' Mountain West Conference tournament title.
The championship was hardly the first for Alford at New Mexico, where he has won four Mountain West regular-season trophies in six seasons, along with three conference tournament crowns.
This one, though, may have felt a bit more special than the others. Winning the Mountain West is always tough, but doing it in a season when the league spent virtually every week ranked No. 1 or No. 2 in the RPI makes the accomplishment even more meaningful.
"We weren't picked to win this league at all," Alford said. "We were picked anywhere from third to fifth. We dominated the league. We won it by two games.
"We don't know what our [NCAA tournament] seed is going to be. But we know we're deserving of a very good seed."
A possible No. 1 seed, perhaps?
For Jason King's full column, click
here
.
March, 16, 2013
Mar 16
8:13
PM ET
LAS VEGAS -- A few quick thoughts from New Mexico's
63-56 victory
over UNLV in the championship game of the Mountain West Conference tournament Saturday at the Thomas & Mack Center.


Overview:
Tony Snell
scored 21 points and
Kendall Williams
added 12 points and seven assists to lead New Mexico past UNLV in front of 18,500 fans. The Lobos led 34-32 at intermission and used an outstanding defensive effort to run away with the game in the second half.
Snell accounted for all of his team's points during a 10-2 run that ended with New Mexico leading 56-47 with about three minutes remaining. UNLV made just one basket during a nearly 10-minute span in the second half.
Still, the Rebels gave themselves a chance when back-to-back 3-pointers by
Bryce Dejean-Jones
shaved New Mexico's cushion to 56-53. UNLV forced a turnover on New Mexico's next possession and got the ball to
Katin Reinhardt
in transition. But Reinhardt missed a wide-open 3 -- a
wiiiidddeee
-open 3 -- from the right wing. New Mexico responded with a 3 from Snell that made it 59-53 with 1:06 remaining. That was basically the ballgame.
Reinhardt is typically one of UNLV's top shooters, but he suffered through a brutal Saturday, making just 4 of his 16 field goal attempts, including a handful of crucial misses that would have either given UNLV the lead or, at the very least, the momentum. Somehow, he was named to the all-tournament team.
Dejean-Jones scored 19 points in a losing effort while
Anthony Bennett
added 15. Bennett scored 13 of his team's first 15 points but was quiet after that. UNLV shot just 33.9 percent as a team and only 29 percent from 3-point range.
New Mexico, meanwhile, played an unselfish brand of basketball from start to finish. It's easy to see why the Lobos won the MWC regular-season title by two games. Sixteen of their 23 baskets Saturday came off assists, including seven from Williams and five from
Hugh Greenwood
.
By winning Saturday, New Mexico avenged a 64-55 loss to UNLV at the Thomas & Mack Center on Feb. 9. The Lobos were aided by some incredible fan support. There were at least as many -- if not more -- New Mexico fans in attendance as UNLV fans. At times it felt like a Lobos home game, especially during the postgame court-storming.
What's next:
New Mexico will take a 29-5 record into the NCAA tournament, which begins next week. UNLV is 25-9.
March, 14, 2013
Mar 14
4:12
AM ET
LAS VEGAS --
Derrick Marks
has nothing against Kentucky, but the Boise State guard will probably be rooting against the Wildcats this week. Same with Alabama, Baylor, Virginia, Tennessee and all of the other NCAA tournament bubble teams.
Boise State is one of them now following Wednesday's
73-67 loss to San Diego State
. Even though the Broncos said they're confident they've done enough to earn a berth, they could still use a little help.
"Hopefully," Marks said, "the right teams lose."
Boise State probably wouldn't be in wait-and-see mode if it had taken care of business in the quarterfinals of the Mountain West tournament Wednesday at the Thomas & Mack Center.
[+] Enlarge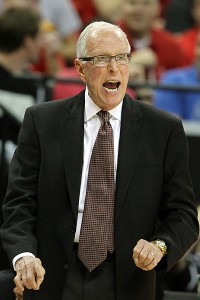 AP Photo/Isaac BrekkenSan Diego State head coach Steve Fisher said "Boise State, without question, deserves to be in the NCAA tournament."
Five days after beating San Diego State in their regular-season finale, the Broncos wilted under pressure in one of the most important games in recent program history. Boise State, which has made only one NCAA tournament appearance in the past 19 years, shot just 34.9 percent from the field and trailed by as many as 13 points in the second half.
Marks (4-of-22) and
Anthony Drmic
(7-of-20) combined to make just 11 of their 42 field goal attempts. Each entered the game shooting about 45 percent.
"I don't know what happened," Drmic said. "We did the same thing we do before every game. We came in confident, loose. It's hard putting up a performance like that in a big game. It happens sometimes, but it's unfortunate that it happened tonight."
As much as they struggled to find their shooting touch -- Marks missed his first 12 shots --- the Broncos certainly didn't go down without a battle. Leon Rice's squad trailed 49-36 with 11:48 remaining but fought back to take a 50-49 lead on a pair of foul shots by Drmic.
San Diego State, though, responded with a 6-0 run that gave the Aztecs all the momentum they would need to close out the game. Steve Fisher's squad made 14 of 15 free throws down the stretch.
Boise State went 1-2 against the Aztecs this season, with the three games being decided by a total of 11 points.
"That's a really good basketball team we just lost to," Rice said. "They were dialed in. They played terrific defense and got us a little flustered."
Especially Drmic and Marks.
"I saw frustration on their faces," Rice said. "You can't play like that."
San Diego State got 17, 18 and 19 points, respectively from
Chase Tapley
,
Xavier Thames
and
Jamaal Franklin
. Still, after the game, the buzz centered on Boise State's postseason hopes.
"Boise State, without question, deserves to be in the NCAA tournament," Fisher said. "The league is so good ... if Boise doesn't get in the tournament, I'm going to demand a revote."
San Diego State, New Mexico, UNLV and Colorado State are virtual locks to make the 68-team field. Things aren't as certain when it comes to the Broncos, who are now 21-10. ESPN bracketologist Joe Lunardi dropped Boise State out of the "at-large" field following Wednesday's loss and now lists the Broncos as the "first team out."
The move is somewhat understandable.
Boise State's only head-turning win in nonconference play came against Creighton, but league victories against UNLV, Colorado State and San Diego State give them four high-quality W's, which is more than some bubble teams can say.
Other highlights that could impress the NCAA Tournament Selection Committee include a close road loss (74-70) at Michigan State and victories in seven of their past 10 games prior to Wednesday.
Rice said he won't spend the next few days listening to bubble talk and stressing about his team's postseason hopes.
Asked if he was nervous, Rice said: "No, no. If you look at our résumé with four top-50 wins, I think 16 top-100 games ... we went out and played people. We played people in the preseason. We played on the road at Michigan State and at Creighton. We played at Utah on (Rick) Majerus Night. That was a big night there.
"I think the committee really (considers) that. Did you go out and schedule? Did you play a lot of high-level teams? There are some teams we're talking about getting in that have one top-50 win. We've done everything we could."
Except beat San Diego State Wednesday.
"Even if you win this one, you never know," Drmic said. "Anything can happen. We've done the best that we could. It's in the committee's hands. We're just going to pray, I guess."
March, 13, 2013
Mar 13
8:23
PM ET
LAS VEGAS -- UNLV coach Dave Rice looked at the stat sheet Wednesday and immediately thought of Dec. 9.
Three months ago, in a victory at Cal, Runnin' Rebels forward
Mike Moser
had suffered one of the more gruesome injuries Rice had ever witnessed, a dislocated elbow that left Moser unable to extend his arm for nearly a month.
All of a sudden, a preseason All-American who had opened his junior season on magazine covers was on the end of UNLV's bench in street clothes, wondering if his career would ever be the same.
"Dec. 9 was a difficult day for all of us," Rice said. "I wasn't sure if Mike would play for us again."
That's why Rice couldn't help but smile as he glanced at the box score from Wednesday's
72-56 victory
over Air Force in the opening round of the Mountain West Conference tournament. Now back in the starting lineup, Moser snared 10 rebounds and scored nine points in a victory that propelled the Rebels into Friday's semifinal against Colorado State.
"I feel like I'm getting back into a flow, back into a rhythm," said Moser, who missed seven games because of his injury and has been less than 100 percent the past two months.
"My injury set us back. It kept us from peaking. This tournament is a chance for us to figure out exactly who we are."
[+] Enlarge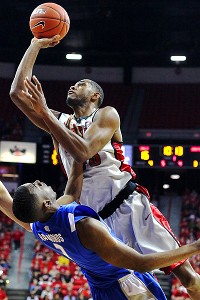 Steve Conner/Icon SMIMike Moser, still not fully back from an elbow injury, had nine points and 10 rebounds vs. Air Force.
Indeed, Moser is the X factor for the Runnin' Rebels, the difference between first-weekend loss in the NCAA tournament and a trip to the Sweet 16 or Elite Eight.
That was evident Wednesday.
Anthony Bennett
finished with a game-high 23 points and
Bryce Dejean-Jones
added 12, but it was the tone Moser set with his energy and leadership that energized UNLV the most.
"To look at his elbow on Dec. 9 and then see him playing like that out there today," Rice said. "It's unbelievable."
Rice said Moser still isn't 100 percent. He said he can't extend his reach on rebounds as he did in the past, and often has trouble finishing plays above the rim. But that's certainly a far cry from where he was back in January, when Moser begged his way back onto the court before he was ready.
"I was playing one-handed, in a sense," Moser told ESPN.com Wednesday. "I couldn't even catch the ball. I didn't want to stick my hand into tussles or go get rebounds, like I used to. It was really tough. But I just really, really wanted to play."
Moser said the "mental hurdle" was the toughest obstacle he faced in his recovery. He'd lost the confidence and aggression that had made him such a force as a sophomore, when he averaged 14 points and 10.5 rebounds.
"I was remembering all the things I did before I got hurt, and my injury wasn't allowing me to those things anymore," he said. "I was wearing this big sleeve over my elbow, and it was as a reminder that I was injured. Once I took that off, things started to change."
In his first 13 games back, Moser scored in double figures only once and had just one game in which he snared double-digit rebounds. In his past five games, though, Moser is averaging 11.6 points and 8.2 boards.
Rice recently inserted Moser back into the starting lineup alongside Bennett, a national freshman-of-the-year candidate who averages 15.9 points. Mix in forward
Khem Birch
-- the MWC Defensive Player of the Year -- off the bench, and UNLV's frontcourt becomes one of the best in the country.
Rice said Moser's leadership and ability to push the ball in transition makes UNLV a more cohesive unit. Moser is just thankful to be able to make an impact again.
"It's been a test, it's been trying," Moser said of his junior campaign. "There were times we lost a couple of games I thought we could've won if I would've been able to contribute more.
"But overall, this season has still been a blast. It's never not been fun. That's because of my teammates. I can't wait to keep it rolling."
As excited as they are about the present, UNLV fans have been buzzing lately about Moser's future with the program.
The speculation is that Moser will leave UNLV one year early and enter the NBA draft. Moser has been in college four years now. He played sparingly as a freshman at UCLA and then sat out a season after transferring to UNLV. He isn't getting any younger. It might be time for a new challenge.
"I've definitely got a decision to make," Moser said. "It's something I think about, just because of how the season went. I was a preseason All-American and I got hurt. It makes you re-evaluate things.
"Who knows, though? The season isn't over. We've got a chance to do some really special things before the end of the season. We're just now getting back to who we are."
Kind of like Mike Moser.