College Basketball Nation:

2013 Pac-12 tournament
April, 4, 2013
4/04/13
9:31
PM ET
By
ESPN.com staff
| ESPN.com
Andy Katz with the latest on
Ed Rush resigning
as the Pac-12's coordinator of men's basketball officiating.
March, 17, 2013
3/17/13
12:59
AM ET
LAS VEGAS -- A few quick thoughts from Oregon's
78-69
victory over UCLA in the championship game of the Pac-12 tournament at the MGM Grand Garden Arena.
Overview:
Oregon will enter the NCAA tournament full of momentum after capping a brilliant showing in the Pac-12 tournament with a gritty win over regular-season champion UCLA in Saturday's title game.


Carlos Emory
(20 points) and
Johnathan Loyd
(19) sparked Oregon off the bench.
Damyean Dotson
(13 points) and
Arsalan Kazemi
(12 points, 12 rebounds) also had strong showings for the Ducks.
UCLA wasn't at full strength following the loss of second-leading scorer
Jordan Adams
to a broken foot in Friday's semifinal. Still, Adams' absence shouldn't do anything to diminish an impressive effort by the Ducks, who beat Washington and Utah before topping the Bruins on Saturday.
The Pac-12 will likely send five teams to the NCAA tournament, but none of them needed a shot of adrenaline as badly as Oregon. It was only a week ago when Dana Altman's squad threw away a chance at a regular-season title by dropping back-to-back contests to Colorado and Utah. A victory in either of those games would've given Oregon at least a share of the championship. Instead they finished league play 12-6 and in a three-way for second behind UCLA (13-5).
Oregon was definitely the better team Saturday. It led 41-32 at halftime and then held on after intermission. The Ducks finished 2-0 against the Bruins this season. Oregon led by as many as 12 points in the second half.
Larry Drew II
and
Shabazz Muhammad
each scored 14 points for UCLA, which placed all five starters in double figures. Ben Howland's squad finished 13-of-22 from the foul stripe and committed 14 turnovers. Five of them were by Drew II, who leads the nation in assist-to-turnover ratio.
What's next:
The NCAA tournament. Oregon is the Pac-12's automatic qualifier, while UCLA will try to bounce back from the adversity of losing Adams, who will be unable to play.
March, 16, 2013
3/16/13
2:37
AM ET
LAS VEGAS -- Tears trickled down
Larry Drew II
's cheeks as he walked through the long corridor leading to UCLA's locker room Friday. Eventually the Bruins point guard pulled his jersey over his face, shouted a profanity and began to sob.
Trailing a few steps behind, guard
Kyle Anderson
clasped his hands on top of his head and dropped his jaw. "Oh my god!" he said. "Oh my god!"
Less than a half hour earlier, UCLA had advanced to the title game of the Pac-12 tournament with a
66-64 semifinal victory
over rival Arizona. But shortly after leaving MGM Grand Garden Arena court pumping their fists in celebration and waving to the crowd, the Bruins were hit with some sobering news.
[+] Enlarge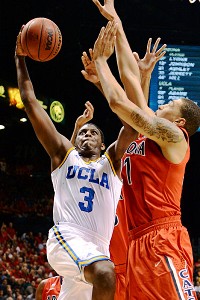 Kyle Terada/USA TODAY SportsJordan Adams broke his foot on the last play of the game and will miss the rest of the season.
An X-ray revealed that freshman
Jordan Adams
, the team's second-leading scorer, had broken a bone in his right foot on the final play of the game. He will miss the remainder of the season.
UCLA coach Ben Howland received the news from Bruins trainer Laef Morris as he exited a postgame news conference that was also attended by Drew II and Anderson. The players overheard the conversation and immediately became emotional.
Drew swore loudly before reaching the locker room, where Howland informed the rest of the team about Adams' injury.
Adams, who scored a game-high 24 points, was among the players trying to defend a potential game-tying shot by Wildcats forward
Solomon Hill
as time expired.
A 6-foot-5 freshman guard, Adams didn't seem seriously injured as the final buzzer sounded. He hobbled through the handshake line and then retreated to the locker room for X-rays. Soon after, it was revealed that Adams had broken the fifth metatarsal in his right foot. Adams, who left the arena on crutches, suffered a similar injury in high school.
"It doesn't get worse than this," forward
Travis Wear
said.
Adams, who averages 15.3 points, proved how much he means to the Bruins on Friday. In what was arguably his finest performance as a collegian, Adams helped his team rally from an 11-point second-half deficit. The victory marked UCLA's third triumph this season over the Wildcats.
"We didn't even celebrate the win," freshman
Shabazz Muhammad
said. "It's just doesn't seem right for someone to get hurt like that this late in the year."
The main storyline surrounding UCLA this season has been its resiliency. Bruins fans were calling for Howland's firing after an early loss to Cal Poly and narrow victories over Cal-Irvine and struggling Texas.
Josh Smith
and Tyler Lamb transferred from the program before the end of the first semester.
But the Bruins just got tougher.
Despite counting three freshmen (Adams, Anderson and Muhammad) among its top players, UCLA improved at a rapid pace and won the Pac-12 regular-season title.
"It's been hard for us all year, with the transfers and the little nagging injuries and now this," Drew II said. "It's tough. But there's something about this team. We find ways to make things happen when it seems like all is lost."
UCLA, however, has not suffered a setback as significant as the loss of Adams this season. The freshman has at times this season played better than Anderson and Muhammad, his more highly touted classmates.
Adams scored 13 straight points during UCLA's second-half rally Friday. The Bruins trailed 49-38 before staging their comeback. Adams was 6-of-13 from the field and 11-of-13 from the foul stripe.
This injury likely means that backup
Norman Powell
will slide into a starting role. Powell is already a significant part of the rotation, contributing 21.2 minutes and 5.9 points off the bench.
UCLA's players said they're confident Powell will step up to the challenge in Saturday's Pac-12 tournament title game against Oregon -- and again during the NCAA tournament, which begins next week. The Bruins, 25-8, have won eight of their past 10 games.
"I just know we've got tough guys out there -- physically and mentally and psychologically," Anderson said. "Norman Powell is a really tough player. It's a terrible loss, but it's not as bad knowing that we've got him coming in to fill that spot.
"It's going to be tough to go without him, but it's all part of handling adversity, and that's something we've shown we're pretty good at."
March, 15, 2013
3/15/13
1:15
AM ET
LAS VEGAS -- Utah coach Larry Krystkowiak says he's a firm believer in "the basketball gods." So time and time again this season, whenever he'd pass through the gym an hour or so after practice and see
Jarred DuBois
still on the court, taking shot after shot, Krystkowiak knew the grad-year transfer from Loyola Marymount would eventually be rewarded. He had faith the extra work would eventually pay off.
On Thursday, it finally did.
DuBois' guarded 3-pointer with four seconds remaining forced overtime against Cal and provided the Utes all the momentum they would need in a
79-69 victory
in a Pac-12 tournament quarterfinal at MGM Grand Garden Arena.
The win propels No. 10 seed Utah into Friday's semifinal against the winner of Thursday's late game between Oregon and Washington. It also provided yet another illustration of the improvement the Utes continue to experience under second-year coach Krystkowiak, whose team is riding a four-game winning streak.
One season after finishing 6-25, Utah is now 15-17. Also worth noting is that eight of the Utes' losses have come by five points or fewer, including three setbacks to open Pac-12 play by a combined eight points.
Krystkowiak did an excellent job of keeping his players' spirits high and their minds focused on improving. It's clear Utah's program is headed in the right direction under Krystkowiak.
"We're pleased with where we are, obviously," Krystkowiak said. "I think the credit needs to go to our team. A lot of times it's just coach-talk about how a team sticks together. But it was unbelievable to be able to withstand some of those losses early."
Krystkowiak said there were times he'd arrive at practice after a tough loss, prepared to give a pep talk. But he'd look out onto the court and see his players in high spirits, with veterans such as DuBois and
Jason Washburn
setting the tone.
"They actually gave
me
a boost," Krystkowiak said.
Utah's resiliency was on full display in the second half Thursday, when it trailed by as many as eight points. Cal, the No. 2 seed, went up 59-56 on a pair of foul shots by
Allen Crabbe
with 17 seconds left in regulation before DuBois made his heroic 3-pointer from the left wing on the next possession.
The Utes scored the first five points of overtime and never looked back.
"I felt like we just needed to turn it on right there," freshman
Jordan Loveridge
said. "As a team, we huddled up and decided we're here already, so we might as well go and get it."
A victory against Oregon or Washington on Friday -- the Utes own regular-season wins against each -- would catapult Krystkowiak's squad into Saturday's title game against either Arizona or UCLA for an automatic berth in the NCAA tournament. DuBois was asked about the Utes being "halfway there" in terms of a postseason bid.
"I don't think we're halfway there," he said. "It's a one-game season. You win one night, you play the next. Plain and simple."
March, 14, 2013
3/14/13
8:12
PM ET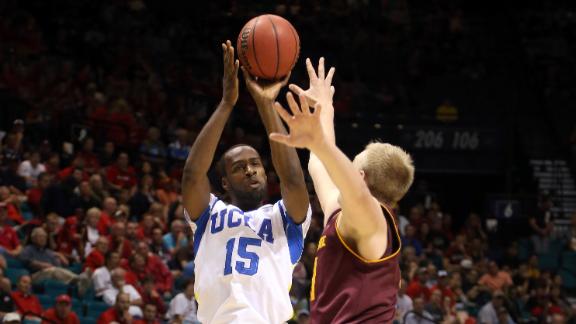 LAS VEGAS -- Long before they were champions of the Pac-12, the
UCLA Bruins
were dogs. Or at least that was one popular description.
Soft.
Spoiled.
Bums.
Busts.
Prima donnas.
Ben Howland figures his players heard it all in November and December, when a loss to Cal Poly and ugly wins over UC Irvine and Texas prompted fans and pundits to all but give up on the Bruins and their roster of future NBA draft picks. And their coach.
Three months later, look at UCLA now.
One week away from the NCAA tournament, Howland's team has a new identity, and it's a far cry from the one that hovered over UCLA's program earlier this season. There's a confidence in the locker room, a swagger on the court, a pride in the huddle. The Bruins have always been skilled.
[+] Enlarge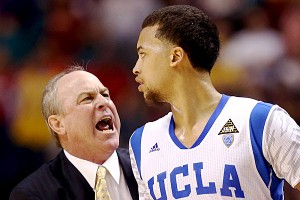 Jeff Gross/Getty ImagesBen Howland has led a resurgence in Westwood after a rough start to the season.
But now they're defined by toughness, too.
Just ask Arizona State, which built a 15-point lead in the second half of Thursday's Pac-12 tournament quarterfinal with UCLA, only to watch the Bruins storm back for an
80-75 victory
. The win was the sixth in the past seven games for UCLA, which had five players score in double figures. The Bruins outrebounded Arizona State 36-28.
"We have to play physical to win," Howland said, "and we did that today."
So revved up were the Bruins that a few of them (
Shabazz Muhammad
and
Kyle Anderson
) even got into a little tussle with Arizona State's
Carrick Felix
in the game's closing seconds. Howland certainly won't approve of any on-court altercations, but he had to have liked the fire.
Howland, who led UCLA to three Final Fours in his first nine seasons in Westwood, said he isn't surprised by his team's new-found toughness.
"I never worried about it," Howland said. "Everybody's got it that's in our program. It was our job to bring it out of them."
It seems almost amusing now that Howland had been rumored to be on the hot seat during a season in which his team won the outright Pac-12 title. UCLA athletic director Dan Guerrero can't fire Howland now.
Heck, he ought to give him an extension.
This is far from Howland's best Bruins team. It may not even rank among his top five. Still, the job Howland has done with this bunch has been masterful considering how disjointed and lackadaisical UCLA looked in December and January. Long known as a strong defensive coach and game tactician, Howland is clearly a strong motivator, too.
"It's all about evolving," Howland said. "Their attitude has been tremendous. It's always, '
What do we have to do to win, coach?
' I haven't had a better group of guys to coach in my 10 years at UCLA. It's been absolutely fantastic. They're coachable, they listen ... it's been unbelievable. So fun."
Indeed, there were certainly plenty of smiles following Thursday's victory, which catapulted the Bruins into Friday's semifinal against Arizona.
The Bruins grabbed 14 offensive rebounds that led to 15 second-chance points. Six of the offensive boards came from Muhammad, the future top-five draft pick who scored 16 points playing in front of hometown fans in his native Las Vegas.
"We were all just really composed," Muhammad said. "That's what happens when you're composed and relaxed."
UCLA doesn't have a true center or a traditional big man, so rebounding is often a struggle. That's why Howland was so pleased that his team won the battle of the boards against an Arizona State squad that features 7-foot-1 center
Jordan Bachynski
and standout four-man Felix, who combine to average 14.3 rebounds.
Most of Howland's praise, however, was reserved for point guard
Larry Drew II
. A senior, Drew II was highly criticized when he left North Carolina -- where he was starting -- midway through the 2010-11 season and transferred to UCLA. The easy assumption was that Drew II would underachieve in Westwood just as he did in Chapel Hill.
Instead, Drew II has improved as much as any player in America. He scored 20 points on eight-of-10 shooting Thursday and also dished out four assists. Drew II leads the country in assist-to-turnover ratio.
"Larry Drew is so good," Howland said. "He looks like he's going to be playing at the next level.
"He's the best passer in the history of UCLA basketball, including all of [John] Wooden's teams. I'm talking about great players. He's the best of all of them. That's an incredible statement. I couldn't be happier for the kid, as maligned as he was. He's improved throughout the year and he's playing his best basketball of the year."
So, too, are the Bruins, who knew they had this in them all along. Even if no one else did.