College Basketball Nation:

2013 SEC semis
March, 16, 2013
3/16/13
7:40
PM ET
NASHVILLE, Tenn. -- The NCAA tournament is must-see TV no matter who's in and who's out.
The same goes for Ole Miss junior guard
Marshall Henderson
, whose raw emotion, in-your-face bravado and gunslinger mentality make him one of college basketball's most entertaining players.
Suffice it to say that Henderson is ready for a little March Madness.
He rebounded from a slow start Saturday to score a game-high 23 points, leading Ole Miss past Vanderbilt
64-52
in the SEC tournament semifinals at Bridgestone Arena.
More importantly, Henderson said there should be absolutely no debate now. In his mind, the Rebels (25-8) are solidly in the Big Dance.
"We're pumped. We know we made the NCAA tournament now," Henderson said. "If we didn't, it would be the biggest snub ever and for the rest of the NCAA tournament.
"We know we made it. We're in the [SEC] championship and may as well go win it and get us a fat ring."
[+] Enlarge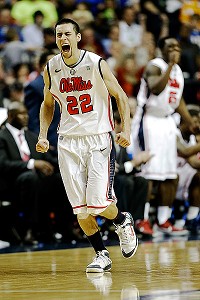 AP Photo/John BazemoreMarshall Henderson gave Ole Miss fans plenty to scream about last season, including an NCAA tourney win.
Ole Miss will face top-seeded Florida on Sunday in the championship game. It's the Rebels' first appearance in the SEC tournament championship game since 2001.
This is the same Ole Miss team that lost to Mississippi State on March 2, the kind of loss that can ruin an entire season. But the Rebels have now won four in a row and six of their past seven, and Henderson said they're playing their best basketball of the season.
"Everybody in the entire world, even our own fans, thought we were dead and wanted to put our heads on a stake [after the Mississippi State loss]," Henderson said. "We just said, 'Forget it.' We really didn't have any pressure anymore and controlled what we could control."
There are times when Henderson looks completely out of control. He launches off-balance 3-pointers. He taunts opposing fans (and sometimes the opposing bench) and says exactly what's on his mind.
The one thing he's not is boring.
He put on a dribbling exhibition in the final minutes Saturday that Curly Neal of the Harlem Globetrotters would have loved.
"That's just who I am," said Henderson, who missed his first five shots Saturday but came roaring back to make seven of his last 12.
He admits that he enjoys being the villain and is keenly aware of what a successful run in the NCAA tournament would do for his legacy.
"People come up to me off the court and talk about this and that," Henderson said. "Off the court, I like to wear my hat, my hoodie and some shades. It was cool at first, but kind of annoying now. But the last couple of NCAA tournaments, you've seen a Stephen Curry and Jimmer Fredette.
"I'm trying to be them and get a run and make a name for myself ... so I can get this money."
Noticeably, Henderson wasn't brought to the podium for the postgame news conference Saturday. That was after he put on a show Friday night.
Ole Miss coach Andy Kennedy hasn't wanted to do anything to dampen Henderson's passion, but Kennedy has reminded him at every turn that he can't get carried away.
"His passion comes from a good place. It really does," Kennedy said. "It's a matter of staying focused. He can easily get distracted and turn his energy into things that are not as productive for anyone.
"I'm constantly challenging him to be focused. I'm really proud of the way he's grown throughout the course of the year."
March, 16, 2013
3/16/13
4:35
PM ET
NASHVILLE, Tenn. -- Florida's stifling defense has been a constant all season.
But on Saturday, senior guard
Kenny Boynton
rediscovered his shooting stroke, which proved to be bad news for Alabama's fleeting NCAA tournament hopes.
Boynton scored all 16 of his points in the second half and fueled a 15-0 run as top-seeded Florida rallied from a 10-point deficit to surge past Alabama
61-51
and move into the championship game of the SEC tournament.
The Gators (26-6) trailed by three points at the half and found themselves down by 10 points with 16:05 to play.
[+] Enlarge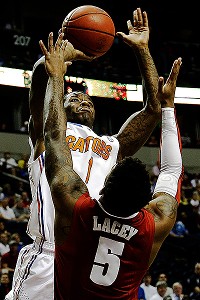 AP Photo/Dave MartinFlorida advanced to the SEC tournament title game behind senior Kenny Boynton's second-half surge.
Florida coach Billy Donovan had challenged his team, and Boynton specifically, in the halftime locker room. Boynton and the Gators missed several easy shots to open the game, and Donovan didn't like what he saw in terms of body language.
"I told him that he was a senior in college right now and it's time to fight," Donovan said. "He got that look back, and his motor was running."
So were the Gators, who were able to pull away despite finishing just 3-of-17 from 3-point range. Boynton, however, hit six of his nine shots in the second half, and 11 of his points came in the decisive run.
Florida went from 10 points down to a seven-point lead with 9:14 to play.
"Coach challenged me to come out and play with confidence, and I tried to step it up," said Boynton, who had been held to single digits in three of his past five games.
Florida's defense was a perfect complement to Boynton's offensive awakening in the second half. The Gators held the Crimson Tide to just 23 points.
"They've been one of the best defensive teams in the country all year," Alabama coach Anthony Grant said.
Alabama (21-12) desperately needed a win over a marquee opponent like Florida to make a serious case for an NCAA tournament bid. The Crimson Tide defeated Tennessee in the quarterfinals Friday, but their résumé is pretty blasé over the course of the whole season.
Grant was in no mood to politic Saturday or state his case to the NCAA tournament selection committee.
"I don't deal in that, don't deal in it," Grant said. "They've got a tough enough job."
For the Gators, it's a chance to double as SEC regular-season and tournament champions. They've done that only one time in school history -- 2007 when they won their second straight national championship.
"This time of year, you know, a lot of times it's not always the team that can play the prettiest or it comes the easiest," Donovan said. "Sometimes, it's got to be a will and a fight internally to try and make some things happen. I thought our defense continued to be better, and that was encouraging to me to see these guys battle and fight."