College Basketball Nation:

2013 SEC tournament
March, 16, 2013
3/16/13
7:40
PM ET
NASHVILLE, Tenn. -- The NCAA tournament is must-see TV no matter who's in and who's out.
The same goes for Ole Miss junior guard
Marshall Henderson
, whose raw emotion, in-your-face bravado and gunslinger mentality make him one of college basketball's most entertaining players.
Suffice it to say that Henderson is ready for a little March Madness.
He rebounded from a slow start Saturday to score a game-high 23 points, leading Ole Miss past Vanderbilt
64-52
in the SEC tournament semifinals at Bridgestone Arena.
More importantly, Henderson said there should be absolutely no debate now. In his mind, the Rebels (25-8) are solidly in the Big Dance.
"We're pumped. We know we made the NCAA tournament now," Henderson said. "If we didn't, it would be the biggest snub ever and for the rest of the NCAA tournament.
"We know we made it. We're in the [SEC] championship and may as well go win it and get us a fat ring."
[+] Enlarge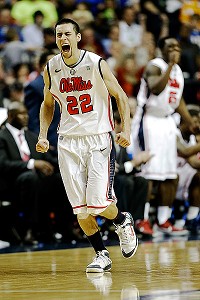 AP Photo/John BazemoreMarshall Henderson gave Ole Miss fans plenty to scream about last season, including an NCAA tourney win.
Ole Miss will face top-seeded Florida on Sunday in the championship game. It's the Rebels' first appearance in the SEC tournament championship game since 2001.
This is the same Ole Miss team that lost to Mississippi State on March 2, the kind of loss that can ruin an entire season. But the Rebels have now won four in a row and six of their past seven, and Henderson said they're playing their best basketball of the season.
"Everybody in the entire world, even our own fans, thought we were dead and wanted to put our heads on a stake [after the Mississippi State loss]," Henderson said. "We just said, 'Forget it.' We really didn't have any pressure anymore and controlled what we could control."
There are times when Henderson looks completely out of control. He launches off-balance 3-pointers. He taunts opposing fans (and sometimes the opposing bench) and says exactly what's on his mind.
The one thing he's not is boring.
He put on a dribbling exhibition in the final minutes Saturday that Curly Neal of the Harlem Globetrotters would have loved.
"That's just who I am," said Henderson, who missed his first five shots Saturday but came roaring back to make seven of his last 12.
He admits that he enjoys being the villain and is keenly aware of what a successful run in the NCAA tournament would do for his legacy.
"People come up to me off the court and talk about this and that," Henderson said. "Off the court, I like to wear my hat, my hoodie and some shades. It was cool at first, but kind of annoying now. But the last couple of NCAA tournaments, you've seen a Stephen Curry and Jimmer Fredette.
"I'm trying to be them and get a run and make a name for myself ... so I can get this money."
Noticeably, Henderson wasn't brought to the podium for the postgame news conference Saturday. That was after he put on a show Friday night.
Ole Miss coach Andy Kennedy hasn't wanted to do anything to dampen Henderson's passion, but Kennedy has reminded him at every turn that he can't get carried away.
"His passion comes from a good place. It really does," Kennedy said. "It's a matter of staying focused. He can easily get distracted and turn his energy into things that are not as productive for anyone.
"I'm constantly challenging him to be focused. I'm really proud of the way he's grown throughout the course of the year."
March, 16, 2013
3/16/13
4:35
PM ET
NASHVILLE, Tenn. -- Florida's stifling defense has been a constant all season.
But on Saturday, senior guard
Kenny Boynton
rediscovered his shooting stroke, which proved to be bad news for Alabama's fleeting NCAA tournament hopes.
Boynton scored all 16 of his points in the second half and fueled a 15-0 run as top-seeded Florida rallied from a 10-point deficit to surge past Alabama
61-51
and move into the championship game of the SEC tournament.
The Gators (26-6) trailed by three points at the half and found themselves down by 10 points with 16:05 to play.
[+] Enlarge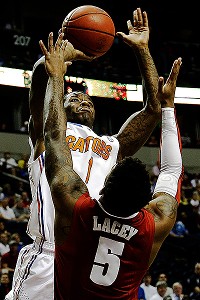 AP Photo/Dave MartinFlorida advanced to the SEC tournament title game behind senior Kenny Boynton's second-half surge.
Florida coach Billy Donovan had challenged his team, and Boynton specifically, in the halftime locker room. Boynton and the Gators missed several easy shots to open the game, and Donovan didn't like what he saw in terms of body language.
"I told him that he was a senior in college right now and it's time to fight," Donovan said. "He got that look back, and his motor was running."
So were the Gators, who were able to pull away despite finishing just 3-of-17 from 3-point range. Boynton, however, hit six of his nine shots in the second half, and 11 of his points came in the decisive run.
Florida went from 10 points down to a seven-point lead with 9:14 to play.
"Coach challenged me to come out and play with confidence, and I tried to step it up," said Boynton, who had been held to single digits in three of his past five games.
Florida's defense was a perfect complement to Boynton's offensive awakening in the second half. The Gators held the Crimson Tide to just 23 points.
"They've been one of the best defensive teams in the country all year," Alabama coach Anthony Grant said.
Alabama (21-12) desperately needed a win over a marquee opponent like Florida to make a serious case for an NCAA tournament bid. The Crimson Tide defeated Tennessee in the quarterfinals Friday, but their résumé is pretty blasé over the course of the whole season.
Grant was in no mood to politic Saturday or state his case to the NCAA tournament selection committee.
"I don't deal in that, don't deal in it," Grant said. "They've got a tough enough job."
For the Gators, it's a chance to double as SEC regular-season and tournament champions. They've done that only one time in school history -- 2007 when they won their second straight national championship.
"This time of year, you know, a lot of times it's not always the team that can play the prettiest or it comes the easiest," Donovan said. "Sometimes, it's got to be a will and a fight internally to try and make some things happen. I thought our defense continued to be better, and that was encouraging to me to see these guys battle and fight."
March, 16, 2013
3/16/13
2:30
AM ET
NASHVILLE, Tenn. -- The SEC bubble teams had been dropping like flies on Friday.
Tennessee fell flat on its face and so did Kentucky, both double-digit losses that were major blows to their respective NCAA tournament hopes.
With just more than 13 minutes to play in the final SEC tournament game of the day at Bridgestone Arena, Ole Miss found itself in a similar predicament.
The Rebels were down 13 points to Missouri, and the NIT was calling their name.
"We've been down so many times this season, but we fight back. That's what we do," Ole Miss junior guard
Marshall Henderson
said. "We're not dumb. We watched ESPN all day and saw all those other teams lose.
"We were like, 'Dang, let's just come here and take what was ours.'"
Henderson, the SEC's pre-eminent lightning rod, poured in a game-high 27 points for the Rebels. But it was freshman guard
Derrick Millinghaus
who was the hero. His floater in the lane with 1.1 seconds to play capped a furious Ole Miss rally and lifted the Rebels to an emotional
64-62 victory
over the Tigers.
"He made a New York point guard play, splitting those defenders and floating it above 6-[foot-]9 guys trying to swat it out clear to the bleachers," said Henderson, who dumped the ball off to Millinghaus after being doubled on the play.
[+] Enlarge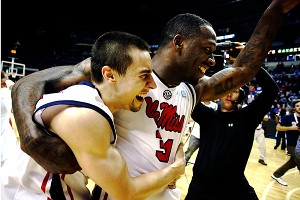 P Photo/Dave MartinDerrick Millinghaus, who hit the winning basket, and Marshall Henderson, left, who scored 27, celebrate Ole Miss' victory over Missouri.
The Ole Miss players, with Henderson leading the way, celebrated like they'd just won the NCAA tournament and piled on top of Millinghaus at center court. Henderson even jumped up on the scorer's table and whooped it up "Hotty Toddy" style with the Ole Miss fans.
"I play with that emotion all the time, but we wanted that game," Henderson said. "We knew that was a huge game for us. That was a huge message we sent out to the rest of the country."
Obviously, the only guarantee will be if the Rebels (24-8) can win two more games and gain the automatic NCAA bid by winning the SEC tournament. Still, it's difficult to see them not getting an at-large bid at this point regardless of what happens in Nashville the next two days. They face Vanderbilt on Saturday in the semifinals.
In his latest projection, ESPN bracketologist Joe Lunardi has Ole Miss as one of the "last four in." The Rebels have won five of their past six games.
"I know the NCAA tournament doesn't officially start until next [Tuesday], but we just gave you a precursor," Ole Miss coach Andy Kennedy said. "That was a first-round NCAA game between two NCAA tournament teams."
Millinghaus was filling in for starting guard
Jarvis Summers
, who suffered what Ole Miss officials think was a concussion during the game. Millinghaus' game winner wasn't his only big shot. He drained a 3-pointer with 31 seconds to play to tie the game at 62-62 after
Phil Pressey
had put Missouri ahead with a 3-pointer just seconds earlier.
Millinghaus scored all 11 of his points in the final 6½ minutes of the game.
"I just wanted to win. That's what I wanted to do," Millinghaus said.
Missouri (23-10) again found a way to lose a game away from home, which has been a recurring theme for the Tigers this season. They made just two baskets in the final 8:49.
No play, though, was any more costly for Missouri than an errant inbounds pass by
Laurence Bowers
, giving the ball back to Ole Miss with 27 seconds remaining and setting the stage for Millinghaus' game winner.
"We were on death row, and in order to get off death row, you've got to make a play," Kennedy said. "We were fortunate to make one at the end."
Henderson said the Rebels aren't taking anything for granted and want to take the decision out of the selection committee's hands. Ole Miss last went to the NCAA tournament in 2002 and has never been under Kennedy despite winning 20 or more games six times.
"We're still not done," Henderson said. "There are no guarantees. We're Ole Miss. Everyone likes to hate on Ole Miss. We know it's difficult at Ole Miss to get something done, so we need to come back in here tomorrow and play with the same energy and same aggression."
That's never a problem for Henderson, who was still screaming in the hallways as he strolled to the postgame news conference. He never quits talking on the court, either, and revels in taunting fans and players.
A couple of different times Friday he was warned by officials, and Missouri assistant coaches were incensed when he gestured to the Tigers bench heading to a timeout.
"I'm a manipulator of sorts and love messing with people's minds," said Henderson, who has scored 20 or more points 16 times this season. "It's pretty funny to mess with people like that. It's a freakin' game, and people take it so seriously. It's funny for a little white guy like me to come around and talk trash to people in the stands."
He was still chirping after the game -- and accused most of the Missouri players of not shaking the Ole Miss players' hands.
"We didn't expect it. We hate each other," Henderson said. "I think we just created a really big rivalry in the SEC between Ole Miss and Missouri. That's good."
March, 15, 2013
3/15/13
11:30
PM ET
NASHVILLE, Tenn. -- A towel draped over his head and his eyes filled with tears, sophomore guard
Ryan Harrow
sat in a despondent Kentucky locker room Friday night and tried to make sense of a performance that likely sealed the Wildcats' postseason fate.
Harrow shouldered the blame for Kentucky's ugly
64-48 loss
to Vanderbilt in the quarterfinals of the SEC tournament, a loss that may well keep the Wildcats out of the NCAA tournament for only the second time in the past 22 years.
"I didn't start off well, and it just trickled down to everybody else. I apologize," said Harrow, who suffered through a nightmarish 2-of-15 shooting night, many of his misses drives to the basket.
"Of course, we want to get to the [NCAA] tournament, because if we play well, we can beat anybody. I basically just messed it up for us."
The truth is that he had plenty of help. Nobody played particularly well for Kentucky, while Vanderbilt played lights-out.
The Commodores (16-16) are playing their best basketball of the season, and after being left for dead three weeks ago, have won six of their past seven games.
[+] Enlarge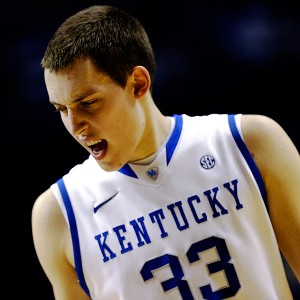 AP Photo/Dave MartinSophomore Kyle Wiltjer knows UK will have plenty of anxious moments between now and Sunday.
They placed four players in double figures Friday and turned it over only five times, while holding Kentucky to a season-low 48 points.
"It's been a long time since I've been as proud of a team as I am this team," said Vanderbilt coach Kevin Stallings, whose red-hot Commodores will face Ole Miss on Saturday in the semifinals.
Vanderbilt shot 59.1 percent from the field in the first half and built a 14-point halftime lead. That lead swelled to 21 points less than four minutes into the second half, and Kentucky never got closer than 11 points the rest of the way.
As the final seconds ticked down, the Vanderbilt students were taunting the Kentucky team with chants of "NIT, NIT." Stallings quickly motioned for them to stop, but that's precisely where the Wildcats may be headed.
Kentucky coach John Calipari almost seemed braced for the worst.
"When you play a game like this, it hurts you," Calipari said. "But the good news is everyone else is losing, too. So at the end of the day, it will shake out and I trust the [selection] committee to put the right teams in. If we're in, we'll play better. And if we're not in, we're not. I mean, there's nothing we can do about it.
"We had an opportunity. It was in our hands to take it out of everybody's hands, and we didn't take care of business.
"We laid an egg."
A smelly one, at that. But Calipari was careful to praise Vanderbilt.
"They had more energy than us," Calipari said. "I told my team for three days that the hardest thing in tournament play is to have a bye and have a team that's playing well play a game and then come up against you.
"So it was a combination of everything. I don't want to take anything away from Vandy. They played great. We laid an egg. We had one guy go 2-for-15 and miss 12 layups."
Kentucky's résumé, especially since
Nerlens Noel
went down with his season-ending injury back on Feb. 12, has been mediocre at best. The Wildcats (21-11) have lost five of their past nine games and haven't won away from home since they beat Texas A&M on Feb. 2.
ESPN bracketologist Joe Lunardi dropped the Wildcats out of his latest projection for the NCAA tournament field and had them among the "first four out."
The Kentucky players said they will do their best not to think about it until the selection show Sunday night.
"It's going to be extremely difficult knowing how badly we played," Kentucky sophomore forward
Kyle Wiltjer
said. "You have to give them credit, but it's going to be difficult waiting to see if our name is called."
March, 15, 2013
3/15/13
10:20
PM ET
By
ESPN.com staff
| ESPN.com
Dai-Jon Parker
, with 12 points, led four players in double figures as Vanderbilt bounced Kentucky from the SEC tournament,
64-48
, and dealt the defending national champs' NCAA tourney hopes a blow.
March, 15, 2013
3/15/13
7:00
PM ET
NASHVILLE, Tenn. -- All Tennessee can do now is sit and wait for Sunday's NCAA tournament selection show.
It will be an agonizing wait for the Vols, who sit ever so precariously on the proverbial bubble.
But while the Vols wait, Alabama plays on after slugging out a
58-48
victory Friday over cold-shooting Tennessee to move into the SEC tournament semifinals Saturday against top-seeded Florida at Bridgestone Arena.
"We didn't come into this tournament worrying about what we had to do to get into the NCAA tournament," said Alabama junior guard
Trevor Releford
, who scored 14 points and got the best of his Tennessee counterpart,
Trae Golden
, who was held to two points on 1-of-7 shooting.
"All we control is what we do here, and then it's automatic if we win [the SEC tournament]. We don't have to worry about anybody giving us a bid. We're not going to settle. We just wanted to come out and win basketball games."
[+] Enlarge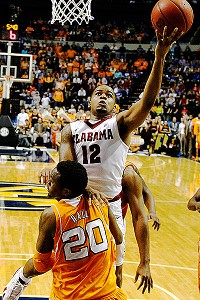 AP Photo/John BazemoreGuard Trevor Releford proved key in Alabama's SEC tourney win over Tennessee on Friday.
The Crimson Tide (21-11) needed to do just that to keep their NCAA tournament hopes alive. Simply beating Tennessee wasn't going to be enough. But taking down Florida on Saturday could make things interesting when the bids go out on Sunday.
"The only thing we were worried about was what was right in front of us," Releford said. "That's winning this championship."
Alabama was among the "next four out" in ESPN bracketologist Joe Lunardi's latest projection of the NCAA tournament field. Tennessee was among the "last four in" heading into Friday's game.
But whereas Alabama played with a sense of urgency -- and held steady when Tennessee made a mini run to pull within four points with 5:27 to play -- the Vols played tight and looked a little leg-weary in the second half. They also jacked up 23 3-point shots and made just five.
The Crimson Tide pressed most of the game and dropped back into a zone defense that gave the Vols fits.
Jordan McRae
, who had been brilliant down the regular-season stretch for Tennessee, was held to nine points and shot just 3-of-13 from the field.
Combined, Golden and McRae shot 4-of-20 from the field.
Josh Richardson
led the Vols with 16 points.
"They did a good job of pressuring the ball the whole game, and shots were hard to come by," Richardson said.
Tennessee coach Cuonzo Martin said following the 64-62 win over Missouri to close the regular season that he thought the Vols had done enough to get into the NCAA tournament.
Unfortunately for his Vols (20-12), he won't be the one making the call.
He reiterated his belief Friday that he felt like Tennessee was an NCAA tournament team and added that it would be an "insult" to the SEC if the league didn't get more than four teams in the field.
Either way, it's going to be close. It probably helped Tennessee that both Virginia and LaSalle, two other bubble teams, lost Friday in their conference tournaments. The Vols also wouldn't mind if Kentucky and Ole Miss both lost later Friday night in their SEC tournament games.
Alabama had even more work to do than Tennessee entering the SEC tournament, which made Friday's contest as must-win as a must-win game could be.
The Crimson Tide don't own a lot of marquee wins this season, and that makes Saturday's shot at the Gators crucial.
"When you're at this point in the season, they all count the same," Releford said. "You better play every game like it's your last."
March, 15, 2013
3/15/13
5:42
PM ET
Here is an update with Tennessee dropping out after a 58-48 loss against Alabama.

1-SEEDS
Duke/EAST
Indiana/MIDWEST
Gonzaga/WEST
Louisville/SOUTH

2-SEEDS
Georgetown/MIDWEST
Kansas/SOUTH
Miami/WEST
Ohio State/EAST

LAST FOUR BYES
Oklahoma
California
Saint Mary's
Wichita State

LAST FOUR IN
Kentucky
Boise State
La Salle
Middle Tennessee (replaces Tennessee)

FIRST FOUR OUT
Virginia
Ole Miss
Alabama (moves up one group)
Tennessee (drops out with loss)

NEXT FOUR OUT
Southern Miss
Iowa
Baylor
Maryland
March, 15, 2013
3/15/13
3:12
PM ET
NASHVILLE, Tenn. – Here's a quick look at Florida's
80-58
SEC tournament win over LSU on Friday at Bridgestone Arena:


How it happened:
Erik Murphy
put on a shooting clinic, and the top-seeded Gators came out smoking and never really cooled off. He had 15 points in the first half and was 3-of-4 from 3-point range. Florida built a 43-28 lead at the break, and the lead ballooned to 30 points by the midway point of the second half.
Turning point:
The Tigers, with guard
Charles Carmouche
making all three of his 3-point attempts, managed to hang around for most of the first half. But the Gators went on a 13-5 run, capped by
Michael Frazier
's 3-pointer to beat the buzzer, and turned a close game into a 15-point margin at the half.
Player of the game:
Murphy, a 6-foot-10 senior forward, was sensational. He finished with career highs of 27 points and 12 rebounds and was 11-of-15 from the floor. He was 5-of-7 from beyond the 3-point arc.
What it means:
Florida was able to bounce back from its disappointing 61-57 loss to Kentucky in the regular-season finale last Saturday and played some of its best offensive basketball of the season. It's the first time the Gators have reached 80 points since an 83-52 win over Auburn on Feb. 16. They were 11-of-20 from 3-point range, and when they shoot like that from the perimeter, they're capable of beating just about anybody.
What's next:
The Gators (25-6) will face the Alabama-Tennessee winner in the SEC tournament semifinals on Saturday at 1 p.m. ET. The Tigers (19-12) will now wait to see if they make it into the NIT.