College Basketball Nation:

2014 NCAA tournament
March, 27, 2014
3/27/14
8:00
AM ET
Through five years of basketball under Johnny Dawkins,
Stanford
went unnoticed on the sport's biggest stage, failing to qualify for the
NCAA tournament
after a Sweet 16 appearance in the season before the coach's arrival.
You could argue it's been more of the same for Stanford through the first weekend of this tournament, despite upset wins as a No. 10 seed over
No. 7 seed New Mexico
and
No. 2 seed Kansas
.
[+] Enlarge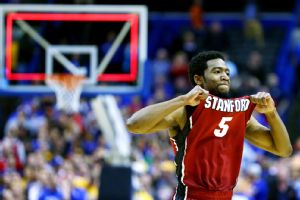 Dilip Vishwanat/Getty ImagesGuard Chasson Randle, who has averaged 18.7 points per game this season, and the No. 10 seed Cardinal take on No. 11 seed Dayton on Thursday in Memphis, Tenn.
Dramatic finishes at other sites overshadowed the round-of-64 victory. And headlines from Sunday focused more on the circumstances of the second-seeded Jayhawks' early departure than on what the Cardinal did to force it.
Stanford held star KU freshman
Andrew Wiggins
to four points on 1-of-6 shooting.
Give Stanford some credit here, primarily senior forward
Josh Huestis
, a three-time member of the Pac-12 all-defensive team who handled Wiggins for most of the game.
"I challenged him," Dawkins said of Huestis, "and I thought he really responded. He did a great job defending."
Stanford, in its first tournament appearance since 2008, remains content to fly under the radar as it prepares for a South Regional semifinal meeting Thursday against No. 11 seed
Dayton
. The Flyers have grabbed attention already with wins over sixth-seeded Ohio State and No. 3 seed Syracuse. Florida, the top seed overall in the tourney, and UCLA fill out the field in Memphis, Tenn.
Stanford again might go overlooked -- unless, of course, it wins two more games and advances to the Final Four for the first time since 1998.
Don't count out the Cardinal. Their steady style of play figures to create problems, starting with a frontcourt of 6-foot-7 Huestis, 6-10 senior forward
Dwight Powell
and 6-11 junior center
Stefan Nastic
.
Stanford is long and versatile. It beat the Jayhawks without making a 3-point field goal (0-of-9).
Floor general
Chasson Randle
, who scored a team-high 36 total points in the second- and third-round games, adds an element of creativity. And 6-6 wing
Anthony Brown
provides another athletic option. He hit five free throws in the final 44 seconds against Kansas.
Powell and Huestis rank atop Stanford's career chart in games played. Experience, although not in the NCAA tournament -- Stanford won the National Invitation Tournament in 2012 -- has helped carry the Cardinal.
"We're still in the race," Powell said, "We're still playing in March, and it feels great."
Stanford entered the tournament on something of a roller coaster. It lost 84-59 to UCLA in the Pac-12 tournament semifinal round after three straight wins that had followed three straight losses dating to Feb. 26.
"Every season is like a lifetime," Powell said. "Obviously, you will have your ups and downs. But from day one, before we even started preseason, we always had a goal to make the tournament and make a run. And we never lost sight of that and lost hope."
Stanford did lose firepower. Forward
Andy Brown
, who started 20 games last season as a freshman, has missed the entire season with a knee injury; guard
Christian Sanders
has sat out with a hip injury.
Additionally, guard
Aaron Bright
, a 22-game starter in 2012-13, missed all but the first seven games, and forward
Rosco Allen
went down early in the season.
As a result, the starters accounted for more than 85 percent of Stanford's scoring through the regular season. Against New Mexico and Kansas, they scored 107 of 118 points.
Count Kansas coach Bill Self among the admirers of Dawkins and the job he has done to rebuild Stanford over six years.
"He epitomizes class," Self said before Kansas faced Stanford. "He conducts himself in that way, and he always has.
"He was a great hire that Stanford made, and he's going to continue to do well. And everybody in our business that knows Johnny is happy for him."
Also before that game, Wiggins and Kansas guard
Wayne Selden Jr.
unintentionally provided extra motivation for Stanford as reporters asked them a series of questions about Randle at the practice-day news conference.
The KU freshmen had no answer, other than a few uncomfortable laughs. Clearly, they weren't familiar with the name of the Cardinal's top playmaker -- understandable because the Jayhawks had yet to receive scouting reports from their coaches, but apropos, nonetheless, considering the Cardinal's somewhat unnoticed run to the Sweet 16.
Randle said after the landmark victory, in which he scored 13 points with six steals in 40 minutes, that he watched footage of the news conference.
"I took it as a challenge," Randle said. "So did my teammates. It wasn't just a stab at me. It was a stab at our team."
Noticed or not, the Cardinal are marching forward.
March, 23, 2014
3/23/14
8:49
PM ET
ST. LOUIS -- It couldn't really happen.
The billing for Kentucky and Wichita State on Sunday called for a battle of talent versus experience, potential versus accomplishment, the perennial front-runner that underachieved versus the underdog on a magical ride.
They were on a collision course here, primed to meet in a moment that tested wills on both sides: a classic confrontation with all the storylines in place.
It wouldn't happen, right?
It happened.
Kentucky outlasted No. 1 seed Wichita State 78-76
in a heavyweight rumble fit for a later round of the NCAA tournament. UK ended the Shockers' season, perfect at 35-0 until Sunday, by playing like it hadn't played all year.
With a team of future pros, the Wildcats -- attacked all season, according to coach John Calipari, bludgeoned even -- finally clicked.
And still, the Shockers came up just one shot short as
Fred VanVleet's
3-pointer from the top of the key clanked the rim and bounced away at the Scottrade Center, leaving a crowd of 19,676 to ponder what it had seen.
"You all understand," Calipari said, "this was an Elite Eight game. The winner of this should have gone to the Final Four."
It was a round-of-32 gem, one of those unforgettable, back-and-forth tournament games that may mark a coming-of-age moment for Calipari's young group, which advances to the Sweet 16 in Indianapolis this week to face nemesis Louisville.
"We don't worry about that," Kentucky forward
Willie Cauley-Stein
said. "I'm just really trying to enjoy the moment right now."
What's that, a Kentucky player refusing to look at the next game, just days away, against Louisville?
[+] Enlarge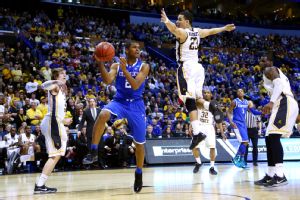 Dilip Vishwanat/Getty ImagesKentucky's Aaron Harrison looked to pass against pressure from Wichita State's Fred VanVleet.
The UK fans ought to try that. Well, on Sunday night they could, because this victory over Wichita State was something to savor.
"A lot of people were down on us all year," senior guard
Jarrod Polson
said. "We're just trying to make this run and prove everybody wrong."
The Wildcats' run, which started as the preseason No. 1, continues. For Wichita State, it ends prematurely. The Shockers got a raw deal, matched against the size and athletic prowess of Kentucky at this stage. At every position, the Wildcats were bigger, starting with twin guards freshmen Andrew and
Aaron Harrison
.
Wichita State, of course, did not back down. Its sophomore backcourt duo of VanVleet and
Ron Baker
matched the Harrisons, big moment for big moment.
"You go through some humps in your life, kind of like this one," Baker said. "It's tough to see us go out like this. We all wanted more, and at the end of the day, you know, somebody's got to go home.
"I thought we had a great year, and it's just unfortunate we won't be back playing next week."
In the hallway outside the Wichita State locker room, officials from the Missouri Valley Conference -- the Shockers' league and host to this event -- wore long faces. One breathed a deep sigh of apparent regret as the doors opened to unveil the Wichita State players, silent and still on the benches inside.
Gregg Marshall had left. The time between coach and players after the game, he said, turned emotional. It was raw. But now, they stared ahead with blank looks. A few of the Shockers toyed with their cell phones. Others tried to answer questions.
But really, they had no answers.
"They made plays," senior forward
Chadrack Lufile
said. "They capitalized."
Wichita State made plays, too. Plenty of them, primarily by Baker and senior
Cleanthony Early
, who arguably outplayed all of the Kentucky hotshots -- even freshman
Julius Randle
, a physical force who took over the action for a few minutes early in the second half.
Early, an elite pro prospect himself, scored 31 points on an array of perimeter shots and slicing moves to the rim. His dunk in transition over the 7-foot Cauley-Stein late in the first half left all in attendance to wonder which of these teams, in fact, was stacked with talent.
Baker was just as good at times. When Kentucky, which trailed by six at halftime, went ahead for the first time in the second half at 41-40, Baker rushed down the floor to score and draw a foul. After another Kentucky bucket to tie it at 43, Baker drilled a 3.
Seemingly, the Shockers would not be denied. Until, at the end, the final shot sailed off target.
"It's hard," Marshall said, "the finality of it. We won't be able to coach these seniors anymore. But it's been such a fun, enjoyable season, magical season. I mean, it's literally been a magic carpet ride. And to have it end is going to be something that we have to get used to.
"But I still think, in retrospect, we will look back and just be so proud."
[+] Enlarge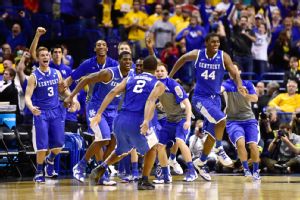 Scott Rovak/USA TODAY SportsThe Wildcats celebrated reaching the Sweet 16 and a date against Louisville.
Kentucky, meanwhile, looks ahead. Louisville, which it beat back in December, awaits after a crazy week back home. If the Wildcats survive, perhaps they get Michigan, who lost to Louisville last year in the national title game.
Calipari, nursing a sore hip of late, said he was "whistling and skipping" in the hallway outside the UK locker room, though not because he felt relieved.
"If wins are relief," he said, "it's time for me to retire. This was great joy in seeing a group of young men come together and start figuring this out. It took longer than I'd hoped."
The coach said he failed to define roles adequately among the young Wildcats early in the season. Now, they're starting to lose themselves within the team. They're growing as a unit, not lurching forward and backward as individuals. It was evident on the court against Wichita State.
"I just wish we had another month of the season," Calipari said, "because we're getting better every day."
He won't get a month, but Calipari could get two weeks. It's a scary thought for the remaining teams in the tournament, because Kentucky, as a No. 8 seed at not even close to its best, takes a backseat to no opponent.
Still, just how close were the Wildcats to a sour finish on Sunday?
Consider this:
Andrew Harrison
, who runs the point among the 6-foot-6 twins, hurt his right elbow in a collision with Kansas State's
Wesley Iwundu
on Friday. Calipari said on Saturday that the Wildcats were ready to play without Harrison.
Trainer Chris Simmons spent the night before this game in Harrison's hotel room, keeping ice on the injured elbow as Harrison slept.
Harrison played well. He made 6-of-9 from the field and scored a team-high 20 points.
Score one for the trainer.
"Without him, obviously you know now, it would have been a different game," Calipari said. "We couldn't have won the game."
That Wichita State had one shot to win, with three seconds on the clock and the ball past half court, speaks to the Shockers' resolve and their own level of play.
"That's how good they are," Calipari said, "and how good we're playing right now."
Good enough to make for a classic.
March, 23, 2014
3/23/14
5:30
PM ET
ST. LOUIS -- No. 8 seed
Kentucky
ended the magical run of No. 1 seed
Wichita State
with a
78-76 victory
in the NCAA tournament round of 32 on Sunday as
Fred VanVleet
's 3-pointer at the buzzer bounced away.


Andrew
and
Aaron Harrison
combined for 39 points and
Julius Randle
added 13 with 10 rebounds for Kentucky, which advances to play rival Louisville, a No. 4 seed, in the Sweet 16. The Shockers, after an unprecedented 35-0 start, are done.
Here are five observations from the thrilling Kentucky victory:
This game was a joy to watch. It justified the hype. Kentucky came out with something to prove -- that it could play to its potential on the biggest stage in college. Wichita State was just Wichita State, operating with precision on both ends as VanVleet ran the controls of perhaps the nation's most balanced team. Thing is, the Shockers, despite the questions about schedule quality that followed its 35-0 start, didn't play with a chip on their shoulders. They played WSU basketball, which is something to behold, even in defeat.
Credit to Kentucky coach John Calipari, who obviously pushed the right buttons with the Wildcats in the locker room. Andrew Harrison, nursing an elbow injury and questionable to play, and his twin brother, Aaron, ran things early like veterans. Kentucky controlled the glass, and when Wichita State asserted control with a run in the first half, the Wildcats did not act like freshmen. They continued to hit big shots and used their superior skill to complete the comeback after halftime.
Take nothing away from Wichita State for ending its season in the round of 32. Kentucky was far from a normal No. 8 seed, and this game was played at the level of a Final Four contest. The selection committee offered no favors to the previously unbeaten Shockers with this draw. Couldn't Wichita State have matched against Pittsburgh or Gonzaga? Any team but Kentucky, which entered the tournament with a ceiling as high as the all the top seeds. It was a great feat to start 35-0, never accomplished before, and there is no shame in bowing out against the Wildcats.
Randle simply took over. The 6-foot-9, 250-pound freshman was quiet in the first half with just one field goal and four rebounds. But somebody said something to the future first-round NBA draft pick at halftime that awoke the giant. He slammed home a miss on the first UK possession of the second half, then converted another offensive rebound and punctuated Kentucky's sensational open to the second half with a spinning bucket and three-point play. When Randle is on, the Shockers -- like every team in the college game -- can't stop him.
Let's hope the NCAA never considers moving these second- and third-round games into the big domes that host the next four rounds of tournament play. The environment on Sunday at the Scottrade Center, with more than 19,000 fans packed into it, was phenomenal as Kentucky and Wichita State traded punches. The fans in blue and yellow were engaged from tip to finish. The drive to St. Louis was manageable for fans of both teams, just how it should be as often as possible for these early-round games.
March, 23, 2014
3/23/14
2:35
PM ET
ST. LOUIS --
Stanford
upset
Kansas
60-57
in the
NCAA tournament
on Sunday at the Scottrade Center, punching a ticket to the Sweet 16 for the Cardinal behind a stifling defensive effort.


Stanford's size and deliberate play frustrated second-seeded KU from the start. The young Jayhawks never recovered, leading to another untimely March exit that sends the 10th-seeded Cardinal to Memphis to face No. 11 Dayton on Thursday.
Here are five key points from Stanford's 23rd victory of the season:
March, 22, 2014
3/22/14
7:45
PM ET
ST. LOUIS --
Wichita State
backcourt mates
Ron Baker
and
Tekele Cotton
pondered the question together with forward
Darius Carter
.
As young fans of college basketball, what did you think of Kentucky?
Baker often watched the Wildcats, he said. His dad was a fan.
[+] Enlarge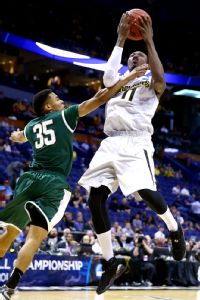 Andy Lyons/Getty ImagesCleanthony Early and the Shockers, who are 35-0, face a talented Kentucky squad on Sunday in St. Louis.
"When you hear Kentucky," said Baker, who hails from Scott City, Kan., "you think of basketball."
Cotton, from Marietta, Ga., recalls admiring
Jodie Meeks
, who attended high school in suburban Atlanta and then starred at Kentucky.
"As a fan of basketball," Cotton said, "you're going to watch Kentucky."
Carter, from Akron, Ohio, grew up an Ohio State fan, though he was "very aware" of the Wildcats.
So were any of you recruited by UK, even so much as receive a form letter?
"No."
"No, sir."
"No. I wasn't, either."
And there you have the first layer of irony in the delicious
NCAA tournament
matchup on Sunday at the Scottrade Center between Wichita State, seeded No. 1 in the Midwest Region and the first team ever to reach 35-0, and eighth-seeded Kentucky, the powerhouse program that began this season with more McDonald's All-Americans than starting positions and a vision to go 40-0.
The Wildcats are 25-10 and playing better of late, though their performance in shooting 38 percent on Friday in a 56-49 win over Kansas State looked disjointed at times. Additionally, freshman point guard
Andrew Harrison
is
questionable to play
against the Shockers because of an elbow injury suffered late in the round of 64 win.
"At this point," Kentucky coach John Calipari said, "I just don't want my team to make this game bigger than it is."
Imagine that, Calipari concerned that Kentucky -- which won its eighth national title in 2012 -- might make too much of a meeting with Wichita State, the Missouri Valley Conference champion.
Yes, the Shockers made an unexpected run to the Final Four as a No. 9 seed last season before losing to eventual champion Louisville, but shouldn't it be coach Gregg Marshall's players who peer across the court on Sunday with a desire to make a statement?
After all, Marshall, too, holds UK history in reverence. He watched Jack Givens score 41 points in the 1978 title-game win over
Duke
and recalls fondly his trips to Rupp Arena as a coach at Winthrop and Marshall.
Marshall joked that with the help of a constitutional amendment, he could schedule a game in Wichita against Kentucky.
The Wichita State coach said he didn't attempt to recruit any of Kentucky's five starting freshmen. Probably no one else on its roster, either.
"I haven't checked all the way down with the walk-ons," he said.
According to Marshall, Wichita State does not recruit even "the second level down from Kentucky."
A year ago, Marshall said, he couldn't have identified
Julius Randle
, the Wildcats' star power forward out of Dallas who signed with Kentucky over
Texas
,
Kansas
and
Florida
.
"It's just a whole different level of recruiting," Marshall said. "They do what works well for them, and we try to do what works well for us."
It's working.
To extend its success against an opponent bigger and likely more athletic at four positions, the margin for Wichita State error grows slimmer than normal. Marshall and his players mentioned in separate interviews the importance of rebounding well against Kentucky.
That's quite a task. The Wildcats ranked fifth in the nation in the regular season, averaging 41.3 rebounds against the nation's No. 2 schedule. Wichita State was 25th in rebounding with a schedule strength of 111th.
On Friday, UK dominated Kansas State on the glass 40-28. Randle grabbed 15 boards to go with a game-high 19 points.
"I've never seen a 19-year-old as big as [him] in my life," said Baker, the Wichita State sophomore of the 6-foot-9, 250-pound Randle.
Even Kansas' Bill Self, set to coach the second-seeded Jayhawks against No. 10 seed
Stanford
in the first game Sunday in St. Louis, which tips at 12:15 p.m. ET, recognizes the intrigue of Kentucky-Wichita State.
"It could be very cool," Self said.
"You have Wichita State, who has had
the
year. Nobody can deny that. They had as good a year [as] college basketball has seen in recent memory. And then you have one of the truest bluebloods. … It should be a fun game."
Just don't paint the Shockers as an underdog. They don't feel like the little guys, and the Wildcats know it.
"You know," Kentucky forward
Willie Cauley-Stein
said, "Wichita State has a bunch of swagger right now."
Cauley-Stein, raised in Spearville, Kan., 150 miles west of Wichita, moved for high school to Olathe, Kan., outside of Kansas City. He said he knew little about Wichita State until its recent run of success.
Quite the contrast to the Shockers and their awareness of big, bold Kentucky.
March, 21, 2014
3/21/14
9:15
PM ET
ST. LOUIS -- There he sat on Friday, a 7-foot specimen -- taller in shoes -- on the bench, dressed in that familiar blue warm-up.
The breakout star of this Kansas basketball season, freshman
Joel Embiid
didn't play in Kansas' tough test of an NCAA tournament opener, an
80-69 victory over 15th-seeded Eastern Kentucky
.
His presence at the Scottrade Center, no doubt, torments some of the thousands who drove across the state of Missouri this week. Nursing an injured back, Embiid won't play in St. Louis. He didn't play at the Big 12 tournament as Kansas exited in the semifinals.
[+] Enlarge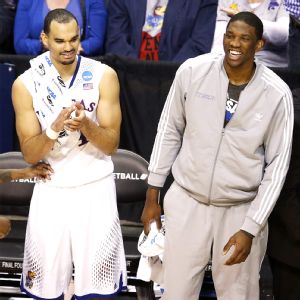 MCT via Getty ImagesJoel Embiid, right, has become a fixture on Kansas' bench but could return to the lineup if the Jayhawks advance to the second weekend of the tournament.
He might return next week if the Jayhawks beat Stanford on Sunday and advance to the Sweet 16.
And all of it mattered very little on Friday.
Forget those longing looks to the bench. Kansas trailed 23-14 less than 12 minutes into the game, and it had almost nothing to do with the absence of the imported big man from Cameroon.
The Jayhawks committed 13 turnovers in the first half against EKU's frenetic-paced defense. Kansas owned the inside, even without Embiid. It did not make a 3-point field goal all day, attempting only seven.
But if it can't take care of the basketball, even Embiid can't help.
Which is why the second half on Friday ought to provide hope.
The Jayhawks entered the tournament with a national ranking of No. 299 in turnover margin. Against the Colonels, they hit their per-game figure in the first half -- then lost the handle just once in the final 20 minutes.
Credit
Conner Frankamp
. He's another freshman. He's the antithesis of Embiid, 12 inches shorter and from Wichita, Kan. On Friday, Frankamp understood exactly what the Jayhawks needed.
"There's a lot of pressure on Conner to be a calming influence on us," Kansas coach Bill Self said. "I thought he handled everything beautifully. He ran our team."
Frankamp started tournament play right there alongside Embiid, figuring he might sit all day. Before Friday, he played 1.8 minutes per game.
Against the Ohio Valley Conference champion, Frankamp stayed on the court for 25, a season high.
"I just try to get in there and feed the ball to whoever is open as best I can and play sound on the offensive end and defensive end," Frankamp said.
He said he focused on taking care of the basketball. He committed no turnovers, scored 10 points and dished four assists.
Mission accomplished. Little man to the rescue.
Self said the Jayhawks felt fortunate to escape Eastern Kentucky, which used a 10-0 run in the second half to regain a 48-45 lead after Kansas began to assert control.
"The key was to pound the ball inside," KU forward
Perry Ellis
said, "and we did that."
[+] Enlarge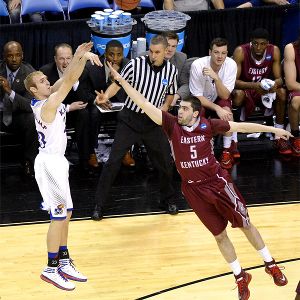 Icon SMIConner Frankamp's poise and patience helped push Kansas past Eastern Kentucky.
Tarik Black
and
Jamari Traylor
took over. Embiid himself couldn't have done better work in the paint.
Kansas didn't need him on Friday. It needed Frankamp, who watched Duke fall to No. 14 seed Mercer before KU took the floor in St. Louis. The game in Raleigh, N.C., reminded the Jayhawks that anything can happen in the tournament.
Still, Self said, he didn't know if his players "totally respected" Eastern Kentucky's ability to create havoc.
Senior guard
Glenn Cosey
led the charge early for the Colonels, hitting four of his first five 3-pointers. He was everywhere on the offensive and defensive ends.
Eastern Kentucky shook Kansas with a tricky zone defense for a few possessions before halftime.
"I didn't think we attacked it well at all," Self said.
Once Frankamp entered to restore some order, though, another Kansas freshman, leading scorer
Andrew Wiggins
-- the rookie who began this season with all the hype -- sent a message with a pair of sky-high dunks en route to 19 points.
The first dunk, an alley-oop in transition from
Frank Mason
, forced an immediate timeout from EKU coach Jeff Neubauer. The Colonels recovered.
With each slam from Wiggins and Black, who delivered an array of his own after halftime, the Jayhawks looked closer to hammering their way to victory.
But EKU never cracked. The key to victory existed elsewhere on the court.
"We knew that Kansas was a great rebounding team," Neubauer said, "and we absolutely had to steal it before they could rebound it. In the first half we did that really well."
Not so well after halftime.
Credit the secret weapon on the bench, the 6-foot freshman who saved the day.
Thanks to Frankamp, that
other
freshman may soon shed his warm-up and receive an opportunity to return.
March, 20, 2014
3/20/14
8:00
PM ET
ST. LOUIS --
Willie Cauley-Stein
, Kentucky's sophomore forward, said it.
Apparently, it's a good thing UK coach John Calipari wasn't in the room to hear.
"There's a lot of people that don't think we can make a run at it," Cauley-Stein said. "And you know, a lot of people don't want to see us make a run at it.
"A lot of people think we're not going to make it past the first round."
He said the Wildcats, seeded eighth in the Midwest Region and set to face Kansas State on Friday night, expect to "shock the world" in this NCAA tournament.
[+] Enlarge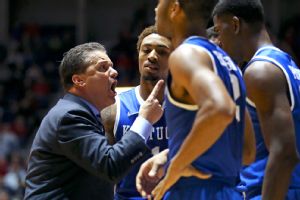 Spruce Derden/USA TODAY SportsJohn Calipari wants his players to focus on Kansas State and not on "shocking the world."
Calipari, the veteran of 14 tournaments and four trips to the Final Four, shrugged when told later of Cauley-Stein's comments.
"Obviously, my 18-year-olds are not listening to me if that's the statement they make," Calipari said, a slight smile on his face before his team took the court at the Scottrade Center to practice. "But that's OK. Now I will go back and kill them, and it will give me another opportunity to say something to them."
Calipari said he's harped on his young team not to worry about matters such as shocking the world. Focus on Kansas State, not the entire tournament. The coach said he did not pay attention to Thursday's games as play opened at other sites, though he admitted later to taking note of Tennessee's comeback win Wednesday over Iowa.
Regardless, the coach, who took Kentucky to the national title in 2012, is locked in.
For a UK roster that includes nine freshmen, it's not so easy to share Calipari'sense of perspective. Cauley-Stein, a 7-footer from Olathe, Kan., actually rates as an old man among his teammates at age 20.
Youth served Kentucky well two years ago, as it did Michigan last year in its run to the title game.
The Wildcats have shown signs of progress in recent weeks. Kentucky has lost three times to Florida since Feb. 15 but only twice in its past 11 games against other foes.
In the end, Calipari said he hopes his players hear his message but grow closer as a unit because of the pressure-filled circumstances of the postseason.
"I want them to listen less to me and more to each other," he said. "That's how they get empowered."