College Basketball Nation:

2014 players to watch
May, 9, 2014
May 9
10:00
AM ET
Traditional centers were once a fading fad. It was almost as if they weren't growing that way anymore.
But that is no longer the case. Suddenly, centers are plentiful.
And while 5-men today must be able to score facing the basket, the centers this past season and the top prospects coming in aren't afraid to get physical. The low post is no longer a toxic area.
[+] Enlarge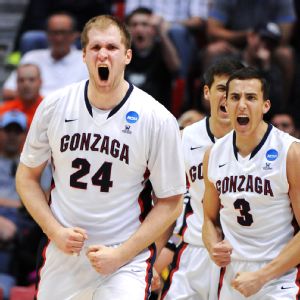 Christopher Hanewinckel/USA TODAY SportsPrzemek Karnowski (24) has steadily improved his game in two seasons at Gonzaga.
This class of traditional big men could be the deepest college basketball has seen in the past few years. It might not have top NBA draft picks, but there is plenty of experience and potential, with players who can decide their team's fate. No team is as loaded with centers, both returnees and newcomers, as Kentucky. The Wildcats aren't the norm, but having one center a coach can trust to anchor the post is at least plausible for a number of national contenders.
Top returnees to watch
Kaleb Tarczewski, Arizona:
Tarczewski was one of the most improved players in the country. He easily could have left for the NBA draft, but he chose to stay to continue to improve his overall game. The 7-footer was an anchor inside, balancing out the length, athleticism and flash of
Aaron Gordon
,
Rondae Hollis-Jefferson
and (when he was healthy) Brandon Ashley. Tarczewski averaged 9.9 points and 6.3 rebounds and has the potential to be a double-figure scorer and perhaps a 10-rebound per game performer. He was honest in his own appraisal that he wasn't ready as a freshman and knew he needed to develop and mature. The soon-to-be junior did that, and he is one of the main reasons Arizona will be tabbed as a favorite in the Pac-12.
Przemek Karnowski, Gonzaga:
The Zags pulled off a coup when they landed the 7-1 Polish national two years ago. But he was still a work in progress, and it showed as a freshman. While trying to find his footing in the American game, Karnowski averaged 5.4 points and 2.6 rebounds. He made a significant jump from his freshman to sophomore season, when he averaged 10.4 points and 7.1 rebounds, and was able to use his immense frame to be more than a space-eater. The Zags are expecting to have a team capable of making a deep run next season, and if that happens, Karnowski must be an immovable force on a regular basis. Karnowski could have taken the bait to play professionally overseas, but he realized he still has work to do.
Josh Scott, Colorado:
Scott is the Buffaloes' top returning scorer since Spencer Dinwiddie decided to enter the NBA draft. The Buffaloes might shift their emphasis even more and take advantage of Scott's inside prowess. He was a coup of a recruit when Tad Boyle signed him two years ago, and Scott's development has been a real plus for the Buffaloes' coaching staff. Scott averaged 14.1 points and 8.4 rebounds last season, and those numbers could climb steadily as the Buffaloes feed him even more in the post. If the Buffaloes get back to the NCAA tournament, it will be largely due to Scott.
Willie Cauley-Stein, Kentucky:
Cauley-Stein didn't play in his final three games due to a foot injury suffered against Louisville in the Sweet 16, but when healthy, he can be a game-changer. He will block, distract and alter shots. Cauley-Stein easily could have bolted for the NBA, but he didn't want to leave without making a major contribution. The Wildcats are loaded up front next season, and Cauley-Stein won't be the big man on campus, but he'll be even more important than he was this past season. With
Julius Randle
gone, Cauley-Stein must be the experienced big man who can finish.
Frank Kaminsky, Wisconsin:
Kaminsky is the prototype fade-up 5-man. He can score in a variety of ways and was the difference in Wisconsin's run to the Final Four. Kaminsky easily could have gone to the NBA, but he wanted to stay to enjoy the college experience, diversify his game, and become even more forceful. He still needs to become more aggressive inside. He's a tough matchup on the perimeter but is even harder to guard when he drags a big out to the top of the key or the corners. He will be one of the toughest matchups at his position next season.
Top newcomers to watch
[+] Enlarge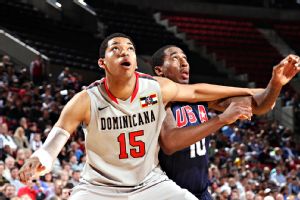 Sam Forencich/Getty ImagesKarl Towns Jr. will be part of a deep and talented frontcourt at Kentucky.
Jahlil Okafor, Duke:
With
Jabari Parker
and
Rodney Hood
leaving for the NBA, Okafor will flourish for the Blue Devils. Duke needed another star and got one in Okafor. Mike Krzyzewski has traditionally adjusted his coaching style and system to his personnel. The Blue Devils didn't have the frontcourt to lean on last season, but with Okafor, they will next season.
Myles Turner, Texas:
Rick Barnes picked up the last elite recruit in the Class of 2014 when Turner, who is from Texas, stayed home. Like Coach K, Barnes adapts. He isn't set in his ways and can go inside when needed. He will have multiple options in the post. The Longhorns will have the deepest frontcourt in the league and should challenge for Big 12 title.
Karl Towns Jr., Kentucky:
Towns played for John Calipari on the Dominican Republic national team. Once that happened, it was likely a lock he would land with the Wildcats. The return of Cauley-Stein,
Dakari Johnson
,
Marcus Lee
and
Alex Poythress
means Towns can find his footing as a freshman, develop and be allowed to make mistakes without serious consequences or pressure to produce immediately.
May, 8, 2014
May 8
10:00
AM ET
This week ESPN.com will feature a position-by-position look at players to watch for the 2014-15 season.
It's always about the guards. The little guys have the ball in their hands, so we tend to pay them more heed. That's fair.
[+] Enlarge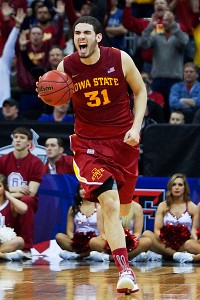 Shane Keyser/Kansas City Star/Getty ImagesGeorges Niang's injury affected Iowa State's NCAA tournament run, but he returns for another season with the Cyclones.
But to overlook the impact of the guys underneath, the ones doing the dirty work to help get the guards their glory, is foolish and unfair. Wonder how valuable a solid power forward is? Ask Iowa State, which lost
Georges Niang
in the NCAA tournament. Or Arizona, which had to regroup after
Brandon Ashley
was felled by a foot injury.
These guys matter, and this year, they might just get their due because of the talent not only spread across the country (as well as concentrated in Lexington, Ky.), but from the incoming class to the returners.
It's a veritable big man parade, loaded with the real-deal centers and the tweener power forwards.
Here's a short list of some of those power forwards worth keeping an eye on:
Top returnees to watch:
Montrezl Harrell, Louisville:
Harrell's surprising decision to forego the NBA draft and return for his junior year gives the Cardinals a huge boost. Harrell, a likely first-round pick, averaged 14 points and 8.4 rebounds as a sophomore and picked up steam at the end of the year. Over the Cards' final 11 games, he averaged 17.2 points and 9 boards, including six double-doubles.
Georges Niang, Iowa State:
Niang was the big "if" for the Cyclones -- if Niang didn't break his foot, would Iowa State have gone further than the first weekend of the NCAA tournament? Heck, would UConn, which topped ISU in the third round, have won the national championship? Niang was and is that critical to Fred Hoiberg's offense. He averaged 16.7 points, 4.5 rebounds and -- most telling of all as to how Hoiberg uses him -- 3.6 assists as a sophomore.
Brandon Ashley, Arizona:
Like Niang, Ashley spent the end of the season on the bench, sidelined in February with a foot injury. Before his injury, the Wildcats were undefeated. Coincidence? Not entirely. Ashley was a big cog in Sean Miller's machine, averaging 11.5 points and 5.8 rebounds per game. Without
Aaron Gordon
, he'll get even more touches.
Perry Ellis, Kansas:
Ellis was quite literally caught between two lottery picks --
Andrew Wiggins
on the wing,
Joel Embiid
at center -- yet still managed to finish second on the team in scoring (13.5 points) and rebounds (6.7). Ellis will have another stud freshman to share the spotlight with in Cliff Alexander, but being arguably the most efficient and productive offensive player among the returning power forwards, this could be Ellis' year to shine.
Bobby Portis, Arkansas:
The freshman was a solid defensive presence for
Mike Anderson
, averaging a team-best 6.8 rebounds, as well as 1.6 blocks per game. His 230 boards marked the most by a freshman in school history. But expect Portis, who averaged a more than respectable 12.3 points per game, to be more of an offensive focal point for the Razorbacks this year.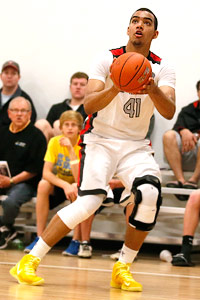 Courtesy of Jerry HoltTrey Lyles will have no problem breaking into Kentucky's already loaded frontcourt.
Top newcomers to watch:
Cliff Alexander, Kansas:
The No. 3 player in the 2014 ESPN 100, Alexander is simply a beast. More than strong enough already to hold his own down low, he's a rebounding machine, but don't misread that as an absence of athleticism. Alexander wowed in the Jordan Brand Classic Game when he scored 23 points, all while squaring off against Duke commit
Jahlil Okafor
. The Chicago native broke Illinois' fans hearts when he chose Kansas, and understandably so. Alexander will turn heads and move bodies in the Big 12.
Trey Lyles, Kentucky:
Even in the Wildcats' crowded frontcourt, it's hard to imagine Lyles not standing out. Indiana's Mr. Basketball, the state's Gatorade player of the year, a McDonald's All-American and so forth and so on, Lyles is the real deal. He averaged 23.9 points, 13 rebounds and 2.3 blocks in his senior season. He's been a top prospect since his freshman year of high school and brings to Kentucky the ability to score in the low post or stretch out and shoot facing the hoop.
Kevon Looney, UCLA:
A little more off the radar than the other two guys in this list, Looney could create some real fun for Steve Alford. Looney is more of a combo forward, able to step out on the wing for a 3 and score from underneath the bucket. With the Bruins' regrouping after losing
Jordan Adams
,
Kyle Anderson
and
Zach LaVine
to the NBA, Looney will be even more vital.
May, 7, 2014
May 7
10:00
AM ET
This week, ESPN.com will feature a position-by-position look at players to watch for the 2014-15 season.
In 2003, a young man from Akron, Ohio, excelled during his rookie season in the NBA (20.9 PPG, 5.5 RPG, 5.9 APG, 1.6 SPG) and crushed philosophies about
specific roles and positions
in 21st century basketball. Stat hub basketball-reference.com lists LeBron James as a shooting guard his first season, a small forward the next eight years and a power forward from 2012 to the present. That might be a typo. But James does everything. He pushes the ball, he flows in the midrange, he rebounds, he posts up and he guards wings and big men. What can't he do?
[+] Enlarge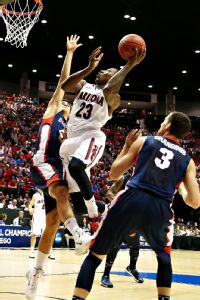 Jeff Gross/Getty ImagesWith several departures, Rondae Hollis-Jefferson could be the focal point of Arizona's team next season.
At this level, there is a pool of "small forwards" who idolize the icon, and have expanded their games beyond the traditional descriptions of what a small forward should be and instead focused on what it could be. The college game, much like the pros, has been seized by lengthy forwards who demonstrate dexterity in everything they do. The elite small forwards play multiple slots and they're often asked to stretch on defense, too. Guard/forward or combo forward is probably more accurate than small forward. Simply put, the following players are not one-dimensional:
Top returnees to watch
Rondae Hollis-Jefferson, Arizona:
As a reserve and occasional starter in the final weeks of the season, Hollis-Jefferson blossomed on one of the most talented rosters in the country. And that's not easy to do, especially for a freshman. He averaged 9.1 PPG, 5.7 RPG and 1.1 BPG in just 25.3 MPG. He also accrued a 113.1 offensive rating. He'll be even more pivotal for the Wildcats next season, now that
Aaron Gordon
and
Nick Johnson
have departed. The NBA prospect has All-America ability.
Sam Dekker, Wisconsin:
With the key pieces returning from Bo Ryan's first Final Four team, the Badgers will compete for the national championship in 2014-15, and Dekker is a significant component in the quest. The 6-foot-8 NBA prospect had a solid sophomore season, when he logged more minutes (29.8 MPG compared to 22.3 as a freshman) and improved his defense. His 3-point shooting numbers were down in 2013-14 (33 percent compared to 39 as a freshman), but Dekker also finished with 12.4 PPG, 6.1 RPG and 1.4 APG in a system that demands balance. Next season, Dekker could take the next step as he continues to evolve into an elite talent.
Treveon Graham, VCU:
As a junior, Graham earned first-team all-Atlantic 10 honors last season after averaging 15.8 PPG, 7.0 RPG and 2.0 APG. Even though the Rams lost
Rob Brandenberg
and
Juvonte Reddic
, this will be Shaka Smart's most talented VCU squad. It will also be Smart's deepest VCU squad now that he has added the top recruiting class of his tenure. There were offensive issues all season for a program that averaged 75.4 PPG but finished 107th in adjusted offensive efficiency (per Ken Pomeroy), but Graham, the team's top scorer, wasn't the issue. He ended the year with a 111.2 offensive rating, No. 1 among A-10 players with a minimum 24 percent usage rate (per Pomeroy).
Branden Dawson, Michigan State:
Dawson considered the NBA but ultimately returned to East Lansing, where he'll be Michigan State's featured act next season. The forward missed nearly a month of action last season with a hand injury, but he found a rhythm shortly after he returned. He wasn't as effective as he could have been in Michigan State's loss to Connecticut in the Elite Eight (1-for-3, five points, eight rebounds). But in the six previous games, he averaged 17.5 PPG and 8.1 RPG. If he brings that game into 2014-15, the Spartans will still be viable contenders in the Big Ten, despite losing
Adreian Payne
and
Gary Harris
.
Anthony Drmic, Boise State:
The Broncos did not meet expectations last season. Although the anchors of an NCAA tourney squad, Drmic and
Derrick Marks
, returned to Leon Rice's program, Boise State failed to earn a bid to the Big Dance. But Drmic and Marks are back again. And in a Mountain West that has absorbed many blows since the conclusion of the 2014-15 campaign, Drmic (111.2 offensive rating) could lead the Broncos back to March Madness, especially if he duplicates last season's impressive numbers (15.9 PPG, 34 percent from the 3-point line).
Top newcomers to watch
[+] Enlarge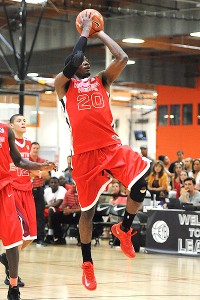 Chris Williams/Icon SMIJustise Winslow isn't the highest-rated recruit in Duke's loaded class, but he could be the most important.
Justise Winslow, Duke:
Rodney Hood
and
Jabari Parker
are gone. Winslow, a 6-6 McDonald's All-American from Texas, will help the program fill that void. The Blue Devils have ESPN RecruitingNation's top recruiting class, which includes
Tyus Jones
,
Jahlil Okafor
and
Grayson Allen
, but Winslow might be the most significant recruit in that foursome considering what the program has lost.
Stanley Johnson, Arizona:
One day, Johnson will explain how he and his 6-6, 225-pound NFL tight end frame found their way to a basketball court instead of a football field. This freshman is built like Colossus. He's a physical player who embarrassed the boys in high school who tried to contain him. Things won't be that easy at the college level, but Johnson, the No. 7 recruit in the 2014 class, will play early and often for Sean Miller.
Theo Pinson, North Carolina:
Maybe he'll end up playing more of a true wing role, but the 6-6 small forward is the type of explosive athlete that Roy Williams will need to compete in a conference that will add Louisville next season. Pinson, the No. 10 recruit in the 2014 recruiting class per RecruitingNation, is a fearless youngster who could crack the Tar Heels' starting rotation early.
Kelly Oubre, Kansas:
Andrew Wiggins
is gone, but Oubre, a McDonald's All-American, could be the next one-and-done small forward at Kansas.
May, 6, 2014
May 6
10:00
AM ET
This week ESPN.com will feature a position-by-position look at players to watch for the 2014-15 season.
The term "shooting guard" has never been so meaningless.
[+] Enlarge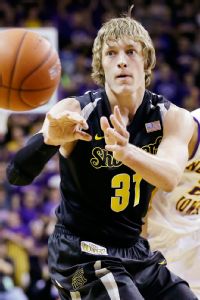 AP Photo/Charlie NeibergallWichita State guard Ron Baker averaged 13.1 points per game in 2013-14.
This is true of all of the game's positional designations; the traditional responsibilities associated with each spot on the floor have become
less and less helpful
in describing what players actually
do
. The old traditional conception of the shooting guard is the most outdated. The
Reggie Miller
/
Rip Hamilton
run-off-screens-and-get-open model is gone. The NBA is now a league full of small guards who drive and shoot first; perimeter shooting is considered a must-have tool in a pro guard's total package; off-guards must handle the ball; small forwards are knockdown shooters. The Venn diagram of perimeter skills looks more like an eclipse.
Everything in the NBA trickles down, which makes today's exercise -- an early list of shooting guards to watch in the 2014-15 season -- a difficult one. There might be some slight cheating involved (you'll see). Some of the below are traditional shooting guards; some are just guards. All will be fascinating to watch in 2014-15 for a variety of reasons.
Top returnees to watch
Ron Baker, Wichita State
: The Shockers return both members of their starting backcourt from 2013-14, and Baker and
Fred VanVleet
actually do fit the traditional mold. VanVleet was a masterful pass-first point guard who steadily anchored WSU's offense; Baker attempted 179 3s and 141 2s and finished with a 120.9 offensive rating. If you're wondering why the Shockers can lose
Cleanthony Early
and still be the subject of huge expectations going forward, look no further.
Rasheed Sulaimon, Duke
: It's a bit hard to believe that after a stellar freshman campaign Sulaimon found himself so deep in Mike Krzyzewski's doghouse that, in early December, Coach K buried him on the bench in the equivalent of a
DNP-CD
. Transfer rumors and status questions abounded. Sulaimon eventually earned his way out of purgatory and back into regular minutes, and when he did he flourished. In his junior season, Sulaimon and
Quinn Cook
will have to take on leadership roles alongside the most talented Duke class in decades -- one with
Tyus Jones
,
Grayson Allen
and
Justise Winslow
ready to gobble up perimeter minutes. It's a huge season on deck for Sulaimon.
Michael Frazier II, Florida
: Frazier is that rarest of modern college hoops birds: a traditional, almost literal, shooting guard. In 2013-14, Frazier shot 264 3s and made 118 of them, good for 44.7 percent -- a sterling percentage at that volume. He attempted exactly 79 shots from inside the arc. Frazier is an old-school, lights-out catch-and-shoot guy, albeit one who might need to expand his game in a Florida offense that will lose
Scottie Wilbekin
,
Casey Prather
and
Patric Young
. But he's already the college game's best pure shooter, and that's a hugely valuable skill to have.
Aaron Harrison, Kentucky
: Harrison, on the other hand, is a fantastic example of a player for whom the term shooting guard doesn't always quite fit. Despite a torrid postseason pace -- and those big-time clutch shots in Kentucky's surprise runner-up run -- Harrison finished the season having made just 62 of his 174 3s. That's not terrible, but it's not great, either. The presence of Harrison's twin brother,
Andrew
, as Kentucky's ostensible point guard drives the lack of distinction home. Still, Harrison's fundamental productivity -- and the odds of him improving his shot, and keeping defenders off balance, after a summer spent drilling in Lexington, Kentucky -- makes him as frightening a sophomore prospect as any player in the country.
Caris LeVert, Michigan
: Was
Nik Stauskas
a shooting guard? Not really, which is why NBA scouts love him so much: As a sophomore, Stauskas flashed all of the
Stephen Curry
-esque tools (lights-out shooting, penetration work, athleticism and great passing) in a 6-foot-6 frame. Stauskas has NBA people all worked up, and understandably so. LeVert is a similar player. He's an excellent shooter whom coach John Beilein loves to run through pick-and-roll sets; according to Synergy an almost identical number of LeVert's possessions came in spot-ups (24.5 percent) as screen-and-roll plays (24.3). LeVert shot 40.8 percent from 3, 46 percent from 2, didn't turn the ball over often, and will get a ton of shots without Stauskas and
Glenn Robinson III
around this season. He has huge, Big Ten Player of the Year-level potential in his third year in Ann Arbor, Michigan.
Top newcomers to watch
[+] Enlarge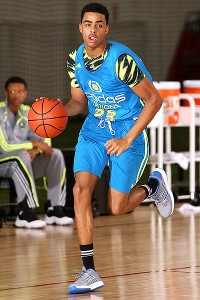 Kelly Kline/adidasTop-ranked shooting guard D'Angelo Russell, who is ranked No. 13 in the ESPN 100, could provide instant offense for the Buckeyes.
Rodney Purvis, Connecticut
: OK, so this is kind of cheating: Purvis is a transfer, not a recruit. But I had to sneak him in here somewhere, because he might end up being the most important player on the list. With a post-national title
Shabazz Napier
graduating this spring, a suddenly starry
Ryan Boatright
can slide over to the point guard spot, allowing plenty of room for Purvis -- whom UConn coach Kevin Ollie called a "Ferrari sitting in the garage" at the Final Four in April -- to get big minutes and lots of touches in his first season in Storrs, Connecticut. How that configuration works may be the difference between another scrappy national title contender and an understandable step back in Ollie's third year.
D'Angelo Russell, Ohio State
: The top-ranked shooting guard in the class of 2014 arrives at OSU with a reputation for sweet shooting and deep range. The timing is perfect, because another offense-free season like last season might drive coach Thad Matta over the edge.
Isaiah Whitehead, Seton Hall
: The best recruit Seton Hall has signed in … wait, don't answer that … Whitehead is a physical scorer who explodes to the rim and absorbs contact while there. He could make Seton Hall's season really interesting for the first time in a while.
Devin Booker, Kentucky
: The return of the Harrisons shrank Booker's minutes by a big margin; the fact that he might be the fourth guy off Kentucky's bench tells you all you need to know about next season's Wildcats.
James Blackmon Jr., Indiana
: Indiana's wealth of perimeter talent gets Lannister-esque with the addition of Blackmon; whether the Hoosiers will have anybody to play on the low block is a different and more pertinent question.
May, 5, 2014
May 5
10:05
AM ET
This week ESPN.com will feature a
position-by-position look
at players to watch for the 2014-15 season.
Point guard might be the single most important position. The potential for postseason success increases substantially for teams that have an elite point guard.
If you didn't already know from watching Connecticut's
Shabazz Napier
guide the Huskies to their fourth national championship, college basketball remains a guards' game. Napier followed the blueprint set before him with strong leadership and, when needed, clutch shooting. With the ball in his hands, Napier was in full control of the game's tempo.
Now everyone wants a Napier; whether in the form of a pure point guard like Arizona's
T.J. McConnell
or a scoring point like Indiana's
Yogi Ferrell
. Here are the point guards to keep an eye on next season.
[+] Enlarge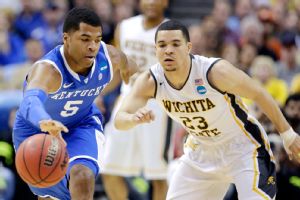 AP Photo/Charlie RiedelKentucky's Andrew Harrison and Wichita State's Fred VanVleet are among the nation's top returning point guards.
Top returnees to watch
Fred VanVleet, Wichita State:
He epitomizes the definition of a true point guard. Simply put, he makes everybody better. VanVleet doesn't overwhelm with speed, but he does with his decision-making, especially when it comes to using ball screens. Opposing coaches leave impressed by his poise because he never seems to force the action and he never appears rattled. The rising junior had 22 games last season in which he didn't commit more than one turnover. Defensively, VanVleet sets the tone for the Shockers, too, as he led the team with 69 steals.
Marcus Paige, North Carolina:
He is one of the nation's best point guards when it comes to taking over a game scoring. He also might be the nation's most reluctant leading scorer. Because of P.J. Hairston losing his eligibility, Paige had to be more of a scoring point guard than he was accustomed to being. The newness of Paige's scoring role meant he generally waited until the second half of games before aggressively looking for his shot. He still managed to lead the Tar Heels with 17.5 points and 4.2 assists as a sophomore last season.
Monte Morris, Iowa State.
He didn't crack the starting lineup until the final 17 games of the season. But when he did, the Cyclones operated at a higher level, as evidenced by their 13-4 mark in that span. Morris led the nation in assist-turnover ratio as a freshman last season. His 4.79 mark smashed the old record of 3.96 set by Utah State's Tyler Newbold in 2009. Morris played roughly half the season as a backup, but next season he'll fully inherit the offensive reins from the start.
Kenneth Smith, Louisiana Tech:
Folks in Ruston, La., call him "Speedy." Whatever he's referred to as, his name belongs in any conversation of elite college point guards. Check the stats. He'll return next season as the nation's leader in assists per game with 7.7. (He finished second last season to LIU Brooklyn's
Jason Brickman
, who graduated.) Smith also ranked ninth nationally with 2.5 steals per game. The rising senior is joined by three other returning starters and makes the Bulldogs one of those experienced teams the power conferences don't want to face.
Andrew Harrison, Kentucky:
He ranked 241st in assist-turnover ratio last season. He's not what you would call a pure point guard. But Kentucky doesn't reach the final game if not for Harrison's development down the stretch of the season. When he looks to distribute more than he looks for his own shot, the Wildcats are a different team. No one can question his toughness. Harrison endured much criticism last season but didn't wilt under the pressure. By deciding to put off the NBA and return for his sophomore season, Harrison could again have Kentucky playing for a national title.
Top newcomers to watch
Emmanuel Mudiay, SMU:
How good is the Mustangs freshman? Some prognosticators are already predicting 6-foot-5 Mudiay as the No. 1 pick in the 2015 NBA draft. He has a rare combination of speed, quickness and athleticism for a big guard. A native of the Democratic Republic of the Congo, Mudiay attended high school in Arlington, Texas. He's unquestionably the biggest recruit of SMU coach Larry Brown's tenure and arguably program history.
Tyus Jones, Duke:
Don't be surprised if Jones joins all-everything center
Jahlil Okafor
in the Blue Devils' starting lineup next season. Jones will have tougher competition to beat out than Okafor, with
Quinn Cook
and
Rasheed Sulaimon
returning, but he has the skills to do it. Jones seems to, almost instinctively, read the court and make solid decisions. He is as polished as they come for freshman point guards.
Romelo Trimble, Maryland.
The Seth Allen and
Roddy Peters
decisions to transfer from Maryland will be softened by the arrival of Trimble. He's the first McDonald's All American coach Mark Turgeon has signed in his tenure. Trimble is a natural scorer who can play either guard, but having Allen and Peters gone paves the way for him to start from the opening tip.