College Basketball Nation:

2014 what if
August, 14, 2014
8/14/14
10:00
AM ET
In the pilot episode of "The Sopranos," Tony Soprano narrates the state of his world -- and lays out the defining theme of that landmark series -- in one crisp four-sentence cluster:
"It's good to be in something from the ground floor. I came too late for that and I know. But lately, I'm getting the feeling that I came in at the end. The best is over."
Tony was talking about the Mafia, but he was really talking about America. Later in the episode, even as he reveals his own depression in the office of a psychiatrist, he pines for a bygone era:
[+] Enlarge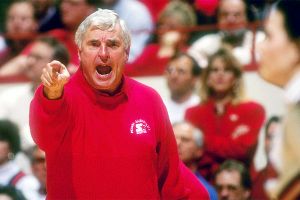 Gary Mook/Getty ImagesIt's doubtful that Indiana's steep downfall in the 2000s would have happened had Bob Knight not been fired in the beginning of the decade.
"Nowadays, everybody's gotta go to shrinks, and counselors, and go on 'Sally Jessy Raphael' and talk about their problems. What happened to Gary Cooper? The strong, silent type. That was an American."
Fourteen months after the Sopranos premiered on HBO, Indiana University President Myles Brand placed legendary men's basketball coach Bob Knight on "zero tolerance" probation. The university had been embarrassed by a CNN/Sports Illustrated video of Knight allegedly choking player Neil Reed, and Brand had seen enough. Seven months after that, Knight passed a student named Kent Harvey on IU's campus. Harvey asked "What's up, Knight?" According to Harvey, Knight grabbed him by the arm and lectured him on showing the proper respect. He was "Mr. Knight" or "Coach Knight." Brand asked the coach to resign. When Knight said no, Brand fired him.
It's been 14 years -- has it really been 14 years? -- and the whole thing still feels fresh. That goes for Indiana fans, obviously, but it also applies to the sports world at large. It's impossible to overstate this: Knight's firing was a
massive
deal. A media circus flooded Bloomington, Indiana. Students rioted, destroyed campus statues and hanged Brand in effigy. When Knight held a farewell news conference at Dunn Meadow on Sept. 13, 6,000 fans showed up to say goodbye. Just like that, Indiana's own charismatic, bruising, beloved icon, who had for 30 years dominated Bloomington like a don, was gone.
Depending on your perspective, the reasons for Knight's firing were either warranted or silly. Was he a bully? A man out of time? Zero tolerance sounded New Agey anyway. Soprano might have thought him an American.
Whatever your view, the impetus of Knight's departure made it easy for IU fans to ask that age-old question: What if?
What if Bob Knight hadn't been fired? What if he had just ignored the smart-aleck college student? What if Harvey hadn't greeted him in the first place? How would the next 10 years have gone?
The first problem with this counterfactual is that, based on his track record, Knight seemed bound to offend Brand again. The reason he was fired for such a minor offense was that it didn't happen in a vacuum. The choke scandal had happened just a few months earlier. That February, IU athletic director Clarence Doninger alleged the coach had physically confronted him after a game. There was an issue with a potted plant and broken glass and an apology to a secretary. There were various versions of various stories, but whatever the details, clearly Brand was very much on edge.
But let's say the Harvey incident never happened. Obviously, Mike Davis doesn't win the public support of his players and thus the head-coaching position. Does Indiana still make its run to the 2002 national title game? Davis' offensive style was vastly different from Knight's, and, for one season, it really worked: Instead of classic motion offense, the Hoosiers spaced the floor, iso-style, and let
Jared Jeffries
go to work. Would Knight's more rigid system have maximized those players? What if, what if.
Either way, assuming Knight didn't run afoul of Brand again in the near future, there's no way he would have left Indiana at any point before he decided to go. He surely would have stayed at the school at least as long as he spent at Texas Tech -- until 2008.
No matter what Knight's teams would have done in that time -- and when he was fired, they hadn't been to the Sweet 16 since 1993-94 -- it would have been better than the Davis era. Knight's retirement would have taken on a ceremonial flavor. A successor would have been blessed. A Jim Calhoun-esque position would have been created. The schism within Indiana's fandom -- from former players to Knight loyalists to people just plain fed-up -- would never have happened. And the dramatic drop-off under Davis that led a panicked Indiana brass to hire a fresh-off-NCAA-probation Kelvin Sampson in 2006 would have been unimaginable.
Knight is now 73. At some point, the tenure would have ended. Maybe his son, Pat Knight, would have succeeded him. Who knows how that would have gone? It's not inconceivable, in this alternative scenario, that an intact Hoosiers program could have hired Tom Crean by now.
We'll never know, of course, because "What's up, Knight?" happened, the CNN tape started looping and, well, you know the rest.
August, 13, 2014
8/13/14
10:00
AM ET
There are some records that will never be broken.
There are others that will never be threatened.
"Pistol" Pete Maravich's 44.5 points per game average (1,381 points in 31 games) during the 1969-70 season, an NCAA high by a mile, probably will stand forever. That's not some imprudent hyperbole about a player who dominated a previous era.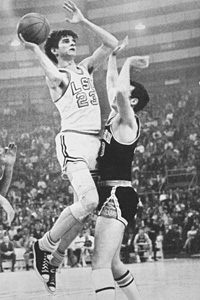 Photo by Louisiana State University/Getty ImagesPete Maravich's stats would have been even more gaudy if he'd had access to the 3-point shot.
Former Houston and NBA star Elvin Hayes averaged 36.7 PPG in 1967-68 (1,214 points in 33 games). That's the No. 2 spot in NCAA Division I history.
Doug McDermott
won the Wooden Award last season after scoring 934 points in 35 games (26.7 PPG). Maravich topped him by more than 400 points.
And he did it without a 3-point line.
Maravich's ridiculous records -- 3,667 career points in just three seasons among them -- must include that consideration.
Imagine if he'd played during the 3-point era. He was a star at LSU prior to the 3-pointer's introduction in the 1986-87 season.
Bo Kimble has the all-time high for a season in the three-point era -- 35.3 PPG (1,131 points in 32 games for Loyola Marymount in the 1989-90 season) -- and that's still more than 200 points shy of Maravich's top tally.
Let's say Maravich, who died of a heart attack when he was just 40, would have made one 3-pointer in each of his 31 games in the 1969-70 season in addition to his 522 field goals that season. That's an extra 93 points -- not a major difference. But there's also a chance that the 3-point line would have had a dramatic effect on his game.
What if he'd made four or five per contest that season? Would Maravich have averaged 50 points per game? Seems feasible for a man who scored 61 points or more in four contests.
The 3-point line would have offered Maravich the opportunity to expand his game. He would have loved the challenge and certainly used it to boost his numbers, if you believe the folks who saw him play.
"Besides his ability to control the basketball, the star with the droopy socks was quite a marksman," Bob Carter once wrote for ESPN.com. "Though Maravich played before freshmen were eligible for the varsity and before the 3-point shot was established, he loved gunning from long range."
Maravich wasn't without controversy. You don't score 44.5 points per game unless you run a play called "ME" multiple times each night. His LSU squads never reached the NCAA tournament, although those teams existed in the pre-expansion tourney era. Maravich's squads won more than 15 games once in his three seasons (22 when he was a senior).
But he clearly had an unparalleled ability to extemporize on fast breaks and turn the court into canvas.
His numbers might never be matched. All without a 3-point line.
Oh my goodness. Just think about Maravich with a 3-point line.
Wow.
August, 12, 2014
8/12/14
10:00
AM ET
Drop a pebble in the water; just a splash and it's gone;
But there's half a hundred ripples circling on and on and on,
Spreading, spreading from the center, flowing on out to the sea.
And there's no way of telling where the end is going to be.
-- James W. Foley
Tom Butters won't even pretend he knew the ripple effect he would create when, 34 years ago, he hired a little-known Army coach coming off of a 9-17 season to be Duke's next basketball coach. Aside from admitting to a "gut feeling" that the young, relatively inexperienced man sitting in front of him was the right man for the job, Butters won't take any credit for the decision, either.
Yet as we examine the what-ifs of college basketball this week, Butters' brazen option -- naming Mike Krzyzewski head coach at Duke in 1980 -- surely goes down as perhaps the smallest pebble that made the biggest splash in the sport.
Butters' trust in his gut has spawned a career that includes 983 victories, four national championships, four gold medals and international recognition not only for a university but also for a guy whose surname has as many Z's as vowels.
[+] Enlarge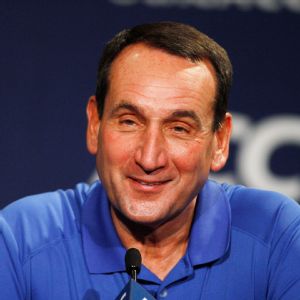 AP Photo/Nell RedmondMike Krzyzewski has plenty to smile about now, but his first three years at Duke weren't quite as rosy.
But the question isn't so much the obvious one: What if Butters hadn't hired Krzyzewski? Or even all the ramifications included: Would Duke have any national titles? Would we have The Shot, or even know who Christian Laettner is? What of the Cameron Crazies? Would anyone slap a floor on defense? With no Krzyzewskiville, would there be any other InsertCoach'sNameHere towns, boroughs, hamlets or other campout sites?
No, the real question is: What if Butters had hired Krzyzewski three years ago instead of in 1980?
And what if Krzyzewski had gone 38-47 in those first three years, as he did in his coaching infancy at Duke? Would Butters have kept him aboard or would Krzyzewski, like so many present-day coaches with comparable records, have been fired?
"Even in those difficult times in the first three seasons, I not only knew I had the right man, but I knew I had to keep him," said Butters, who retired in 1998 after 20 years as Duke's athletic director.
It looks and sounds simple now, what with the hindsight paved by Krzyzewski's exemplary résumé.
But it wasn't then.
Though they lacked the public-venting forum of social media, the critics nonetheless squawked plenty at Butters.
"I was inundated," he said. "Oh my gosh. It was not the easiest of three years that I spent in the business. Everybody had an opinion. They wanted him gone and me gone because I was the idiot who wanted him in the first place."
Yet Butters stood his ground, firm in his belief that he made the right call.
"Would I have kept him now? Absolutely," Butters said. "In my opinion, there are those who don't fit, and it's not anyone's fault -- it just isn't a good fit. And there are those who are a good fit. A good fit is a good fit."
Think about that. How many college athletic directors can afford to think that way anymore?
Besieged by big-money donors, potential big-money profits in NCAA tournament appearances, a 24-hour news cycle and social media's endless barrage, ADs have a much harder job now than Butters did then. Even if their guts tell them they have the right man, how many can take the risk to keep the right man, if the right man doesn't win immediately?
No one wants to wait for a system to be built or a culture to be cultivated.
People just want wins and fervor and Madness. They want it instantaneously, and Godspeed to the AD caught in the crossfire, his or her job on the line alongside the guy with the whistle.
Here's a quick rundown of some of the coaching roadkill from this, the Era of Impatience:
John Pelphrey, Arkansas, fired after four years, 69-58

Darrin Horn, South Carolina, fired after four years, 60-63

Tony Barbee, Auburn, fired after four years, 48-75

Steve Donahue, Boston College, fired after four years, 54-76

Jeff Bzdelik, Wake Forest, fired after four years, 51-76
Some of those will turn out to be good decisions, some bad and some a push.
And certainly no one is saying that the next Mike Krzyzewski is on the list, but the point is, Krzyzewski wasn't Krzyzewski in 1983. He was a 30-something, ex-Army coach with a name that no one could pronounce, let alone spell.
Yet Butters kept him on, and in Year 4 Duke went 24-10 and made the NCAA tournament. The Blue Devils have missed the tourney just once since, when Krzyzewski was out because of back surgery in 1995.
"I think," Butters said, "it's worked out pretty well."
August, 11, 2014
8/11/14
10:00
AM ET
What if college basketball history got it wrong the first time around? What if they played do-overs that resulted in different outcomes? And I don't mean the kind of reversal of fortune that would allow a team to, say, shoot better from the free throw line to win a title. I'm talking games that would have changed college basketball as we now know it, as well as the legacies of those involved.
Some games like NC State's win against Houston or Villanova over Georgetown were just too classic to touch. Besides, even if those underdogs didn't win titles, the NCAA tournament would still be known for its unpredictability. And why mess with Christian Laettner's perfect game and last-second shot that lifted Duke over Kentucky in 1992?
Here are five games that could have altered how we view college basketball and some of its top names:
[+] Enlarge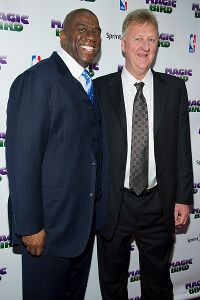 AP Photo/Charles SykesThe NCAA title game featuring Earvin "Magic" Johnson, left, and Larry Bird almost didn't happen.
March 15, 1963 -- Loyola (Chicago) 61, Mississippi State 51; and March 19, 1966 -- Texas Western 72, Kentucky 65:
The Ramblers made a statement against segregation in the 1963 NCAA tournament. Loyola started four black players against the all-white roster for the Bulldogs, whose team literally had to sneak out of the state to play the game. The state of Mississippi issued an injunction to enforce what had been an unwritten law that white teams would not compete against non-whites. And in 1966 Texas Western (now known as Texas El Paso) used an all-black starting five to topple Kentucky in the national championship game. What if Mississippi State and Kentucky would have won? How much longer would it have taken teams in the South to integrate?
Jan. 20, 1968: Houston 71, UCLA 69:
Billed as the "Game of the Century" in the Astrodome, the Cougars upset the Bruins and stopped their 47-game winning streak. It was the first college basketball game nationally televised in prime time and made broadcasters realize they had an audience for it. But what if the Bruins had a healthy Lew Alcindor and the game was a blowout? The center soon to be known as Kareem Abdul-Jabbar suffered an eye injury leading up to the game and shot under 50 percent and played one of his worst games collegiately, statistically speaking. (The Bruins won the rematch in the Final Four 101-69.) Would the television audience have been the same? Would it have taken another decade before the marriage of college hoops and television took hold?
March 9, 1974: NC State 103, Maryland 100 (OT):
Within the league, the 1974 ACC tournament title game is often referred to as the greatest college basketball game ever played. Neither team had a turnover during regulation. Maryland shot 62 percent from the field and still lost in overtime. This game put the exclamation point on the need for the NCAA tournament to allow multiple bids from a single conference. The Terps, who finished ranked No. 4 in the final poll, did not get a bid and watched the No. 1 Wolfpack win the national title. You didn't have to be a Maryland fan to know it deserved a tournament bid. What if it wasn't an exceptional game? What if the Pack won, as they did the two regular-season games, in non-dramatic fashion? Does the NCAA tournament expand as quickly as it did (growing to 48 teams in 1976)?
March 17, 1979: Indiana State 73, Arkansas 71:
Magic vs. Bird compelled viewers to make the 1979 national title game the most watched college basketball game of all time. But what if Indiana State-Michigan State doesn't happen? The Razorbacks were tied with the Sycamores in the Elite Eight and could have held the ball for a final shot. A controversial travel call against Arkansas' U.S. Reed -- who maintains that he was tripped and lost control of the ball -- gave Indiana State the ball back. Bob Heaton -- not Bird -- provided the last-second heroics that lifted the Sycamores to the Final Four. The ripples from this would have been felt in the NBA, as well, if Magic and Bird had to wait until 1984 to go head-to-head for a title.
March 29, 1982: North Carolina 63, Georgetown 62:
Coach Dean Smith won his first national championship thanks to a shot made by Michael Jordan. Fred Brown's errant pass helped solidify the Tar Heels' victory. But what if Brown doesn't turn the ball over and the Hoyas prevailed on a last-second basket? Would Jordan still turn out to be Jordan without that first game-winning shot and championship ring? Or would he just have been a high-flying sneaker salesman? How would Smith have been viewed, having also lost in the 1981 NCAA title game and having made his fifth Final Four trip without a championship?