College Basketball Nation:

2014 what would it take
May, 23, 2014
May 23
10:00
AM ET
Editor's note: Some coaches' names always seem to come up for other jobs. But what would it take for them to actually leave? This week, we'll look at the names most often mentioned. Today, we look at Iowa State's Fred Hoiberg.
Ames, Iowa, is a town of more than 60,000 nearly three hours south of Minneapolis via Interstate 35. Cornfields, mills and livestock populate the path to the college town in the middle of Iowa that feels like one expansive neighborhood instead of a small city.
Need some good barbecue? Head to Hickory Park. Iowa State's coaches and administrators grab lunch at Wallaby's, a restaurant that doubles as an Iowa State history museum. There's a strip of bars downtown that students swarm on the weekends. Sips and Paddy's Irish Pub are two of the favorites.
The folks in Ames love their Cyclones, too.
[+] Enlarge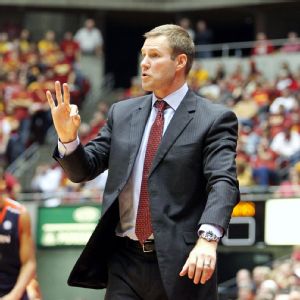 Reese Strickland/USA TODAY SportsAs "The Mayor", Fred Hoiberg has built a successful program that has made him a beloved figure at Iowa State.
The Cyclones practice at the Sukup Basketball Complex a few miles from campus near an emerging development. It's an $8 million facility that Iowa State boosters funded to enhance a basketball program that's reached the NCAA tournament in three consecutive seasons under Fred Hoiberg. Fans flock to Hilton Coliseum to show their support, as Iowa State finished 22
nd
nationally in overall attendance during the 2012-13 season.
In March, the program won its second Big 12 tourney title. Cyclones backers filled the Sprint Center every night.
Hoiberg sparked the rebirth of a program that hadn't reached the Big Dance since 2005 prior to his return in 2010. He's called "The Mayor" for a reason. Hoiberg was a local high school star before he became an icon at Iowa State, and now he's turned the Cyclones into a nationally relevant program again in his first four seasons on the job.
Both his and his wife's parents still live in Ames. And Hoiberg likes that.
He has a 10-year contract and a $2.6 million annual salary -- after a recent $600,000 pay pump -- that places him among the top 15 coaches in the country.
A supportive fanbase that's not afraid to write a fat check to prove its commitment? Yep. High-end facilities to attract elite talent each year? Check. Family and friends he's known his whole life? Hoiberg has that, too.
Every offseason, he's one of the hottest names in NBA circles. It would be the same in college circles, too, but Hoiberg will never leave Ames for another college gig, so schools don't even try. But pro squads continue to call the former NBA standout about possible relocation, only to be rejected.
Hoiberg has everything, in both his professional and private life, in Ames.
This isn't about power or prestige or money for Hoiberg. He has that at Iowa State.
So it'll never be easy to convince him to leave. But it won't be impossible.
What would it take?
There's an NBA job out there for Hoiberg. It just doesn't seem like it's something he's pursuing at this point in his career. The rumors have circulated for years. He was even recently linked to a Chicago Bulls job that isn't even open.
But the rumors make sense.
Hoiberg was an executive for the
Minnesota Timberwolves
before he took the Iowa State job. And he has a clause in his contract that would allow him to leave Ames to take an NBA job for a $500,000 buyout.
But he's still in Ames because that's where he wants to be. If he really wanted to coach in the NBA right now, he would be. The
Golden State Warriors
wanted him, and he'd have an All-Star point guard and talented roster to work with. But he didn't want to go to the Bay Area.
"I'm very happy here," he told ESPN.com last year. "That's where I thought my coaching career would probably start, as an assistant in [the NBA]. ... Now that I've experienced this part of it with the college game, I love everything about it."
[+] Enlarge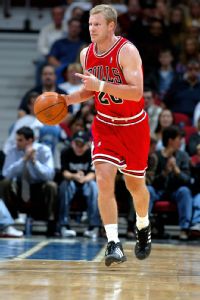 David Sherman/NBAE/Getty ImagesWill the Chicago Bulls, where he spent the latter part of his NBA career, be Fred Hoiberg's NBA landing point?
A source close to Hoiberg said that any NBA offer "would have to be ridiculous for him to leave Iowa State right now."
This might be a different discussion in a few years. The NBA will eventually call with the "ridiculous" job that entices Hoiberg.
Maybe it'll be a Stan Van Gundy deal. The new
Detroit Pistons
coach recently signed a five-year, $35 million contract that makes him coach and president of basketball operations.
Hoiberg retired from the NBA in 2005 after doctors diagnosed him with a life-threatening heart condition and inserted a defibrillator into his chest. He chose a front-office job at the time, although he could've chased a coaching job somewhere in the league.
The advantage he has at Iowa State right now is that the university's administration supports him and his decisions. It's no secret that Hoiberg has signed transfers who were considered risks at their prior stops. But the influx of talent has enhanced, not harmed, the program. You can't do that everywhere, though. The only way to pull that off is with a strong bond and trust between management/leadership and the coaching staff.
If Hoiberg takes an NBA job, that's something he'll demand. He wouldn't leave Ames to take a hands-off NBA gig that offered limited personnel control and a weak connection with management. He'd want a say in the makeup of his roster.
He's also not interested in rebuilding projects. You can see that at Iowa State. Most new coaches talk about the future and request patience. Hoiberg didn't do that when he arrived. When he interviewed for the job, he told Iowa State athletic director Jamie Pollard that he wanted to sign players who could help him beat Kansas and compete for the Big 12 title immediately. The transfer market offered the quickest path to the goal, so he mined it.
He's had opportunities to join NBA franchises that boasted strong rosters. But he's rejected the interest.
He could coach the Cyclones for life if he wanted. He won't.
At some point in his career, Hoiberg will choose the NBA. But right now, he's just enjoying the perks of the best situation in college basketball. And only a "ridiculous" offer would lead to a serious contemplation of leaving. There are more reasons to stay than go right now.
Possibilities:
Chicago Bulls
, or another NBA job that offers opportunity to coach and mold an elite roster.
May, 22, 2014
May 22
10:00
AM ET
Editor's note: Some coaches' names always seem to come up for other jobs. But what would it take for them to actually leave? This week, we'll look at the names most often mentioned. Today, we look at Wichita State's Gregg Marshall.
There was a time, and it wasn't too long ago, when the head coach at a program like Wichita State could be counted on to jump to a new job at the first possible opportunity. That's just how things worked. There were rules to the coaching climb, steps to be followed, with each successful tenure or late-season tournament run leading to a slightly bigger job, with a slightly bigger budget, until that long-sought high-major offer finally came. When it did, you took it.
[+] Enlarge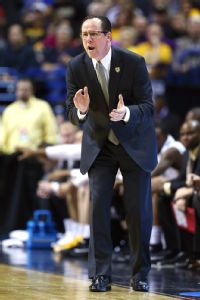 Andy Lyons/Getty ImagesGregg Marshall has built Wichita State into a consistent winner.
The comparison need not be indirect. In 2007, after seven increasingly successful seasons in the Missouri Valley Conference, Wichita State coach Mark Turgeon leapt at a chance to join a high-major conference. In his case, it was the Big 12, and all it took to pry him away from Wichita was … wait for it … Texas A&M. No one raised an eyebrow.
Seven years later, the only interesting thing about imagining Turgeon's successor receiving an offer from Texas A&M would be the wry, get-outta-here expression it would surely prompt.
Last year, Marshall took the Shockers to the Final Four, where they nearly upset eventual champion Louisville. For an encore, his team spent all of 2013-14 without losing a single game in the regular season or the MVC tournament; it took eventual NCAA runner-up Kentucky (in a for-the-ages showdown in the round of 32) to finally put one loss in Wichita State's column. Marshall has gradually built the Shockers into a more interesting, better-financed and more consistent program than all but 15 or 20 of the nation's college basketball programs. That the idea of him leaving for Texas A&M seems so silly (no offense, Aggies, but it
is
silly) is a testament to how much things have changed -- both in Wichita and the sport writ large.
On Monday, in her excellent introduction to this series,
Marshall told Dana O'Neil
his philosophy on staying at Wichita State. It's one John Calipari echoed years before the two staged March's remarkable matchup, when the former was still at Winthrop and the latter at Memphis:
"Cal said, 'Effectively, what you've done is made Winthrop your next job,'" Marshall said. "That's so true. He did the same thing at UMass and at Memphis. Instead of making that intermediate step -- there were 15 to 20 jobs I could have taken while I was at Winthrop -- at the end of each year, I'd sit down and say, 'This is what we need to do to make Winthrop better.' That's what I'm doing now at Wichita State."
That's not just about winning and losing. It's not even really about recruiting. It's about consistently building all facets of a program: attendance, player recognition, booster support, etc. It's about making progress so obvious, and yourself so indispensable, that the combination becomes something that transcends conference affiliation. Salary and perks that used to be available only at the high-major football-school level are available to coaches who can pull it off outside that structure now. Marshall is the latest, most prominent example, and neither he nor the program he built is going anywhere anytime soon.
What would it take?
Which is not to say folks haven't tried. Marshall -- like Shaka Smart (and Brad Stevens, pre-Boston Celtics) -- has been on the receiving end of who-knows-how-many entreaties in the last three years, ranging widely in seriousness and prestige. Most notably, UCLA at least considered the idea last spring. Most recently, Missouri reportedly did all but re-enact the Big State scene from "He Got Game" in its attempts to lure Marshall to Columbia. None of the interest has been reciprocated, because Marshall has a better situation -- salary, bonuses, sellout crowds, recruiting budget, booster backing and almost total institutional deference -- already.
Does that mean Marshall will retire at Wichita State? Maybe not. It took longer than it might have for others, but he did eventually leave Winthrop. Marshall is, after all, a Division I basketball coach, which means he's an incredibly competitive human being in constant search for more substantial challenges. It would take far more than Texas A&M to lure him away. It would take a program with both a long-established foundation for success and a willingness to give Marshall sole ownership of the operative keys. Oh, and a
ton
of cash. That too.
In their interview this week, Dana went ahead and asked Marshall the very question this series poses. What
would
it take for him to leave?
"I don't know," Marshall told ESPN.com this week. "But I'm very happy here. It would take something really big."
Possibilities
: Something really big.
May, 21, 2014
May 21
10:00
AM ET
Editor's note: Some coaches' names always seem to come up for other jobs. But what would it take for them to actually leave? This week, we'll look at the names most often mentioned. Today, we look at VCU's Shaka Smart.
Aside from Butler fans, maybe no one was more upset when Brad Stevens left for the Boston Celtics than Shaka Smart. Stevens and Smart were the dynamic duo of coaching rumors, up for every high-level position that opened in the past few years. Stevens' departure put Smart directly in the crossfire. Thank heavens for Gregg Marshall.
[+] Enlarge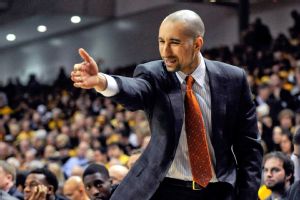 AP Photo/Clement BrittShaka Smart is no stranger to rumors about open coaching jobs.
There's good reason, of course, that Smart has attracted so many suitors in such a short time. At only 37, he has turned VCU into a household name and not just a passing fancy every March. Under his watch, the Rams have been to four NCAA tournaments in five of his years, including the 2011 Final Four; won 137 games; upgraded their conference from the Colonial Athletic Association to the Atlantic 10; and practically claimed a patent on the word, "havoc," Smart's perfectly suited description of VCU's defense.
Smart has leveraged all of that success into bigger salaries for himself and his staff, a better budget and recently announced plans for a $25 million practice facility for men's and women's basketball.
What would it take?
Already Smart has been rumored to be involved with openings at Minnesota, USC and UCLA and has yet to jump.
A self-described creature of habit who admits candidly he's not real fond of change, Smart would need almost a sure thing to move, and that doesn't mean just a place where he could win games.
Smart believes strongly in the top-down approach and would need to be assured that another school's administration not only is committed to basketball but also shares the same vision that he has.
But the winning does matter, too, and not just winning on a national scale but also within a conference. In order to be perceived as successful and be successful, Smart knows that a team has to win its conference battles, and a team that is mired at the bottom of a conference that continues to get tougher -- the ACC, for example -- would offer little attraction for a man who already is top dog in a very good basketball league.
Possibilities:
Think big or go home: Duke, North Carolina, Kentucky and perhaps even a good NBA gig.
May, 20, 2014
May 20
10:00
AM ET
Editor's note: Some coaches' names always seem to come up for other jobs. But what would it take for them to actually leave? This week, we'll look at the names most often mentioned. Today, we look at UConn's Kevin Ollie.
Ollie played for Jim Calhoun at UConn from 1991 to '95. He met his wife in Storrs, Conn. And despite having many offers to begin his coaching career in the NBA, he returned to UConn as an assistant coach in 2010. Ollie, a Los Angeles native, loves being the caretaker of his alma mater, especially being Calhoun's hand-picked successor. UConn might not advertise it much, but it's important for the program to stay within the family. It's not a coincidence that all of Ollie's coaching staff played for the Huskies.
[+] Enlarge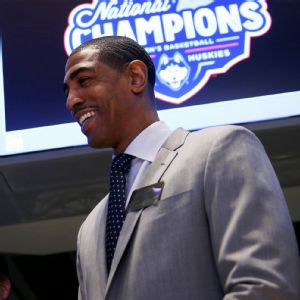 John Moore/Getty ImagesKevin Ollie's experience and stature among NBA teams will continue to make him a sought-after coaching candidate.
It's kind of silly now to think that Ollie's original contract was signed for a seven-month trial period, but at the time he was an assistant coach with no experience who had just returned to the college game and was being asked to replace the architect of UConn basketball. From his first game, an upset of Michigan State in Germany, Ollie proved to be up to the challenge.
Shabazz Napier
and
Ryan Boatright
couldn't coexist in the backcourt with each other in Calhoun's final season, but one of Ollie's first big accomplishments was making them realize they weren't competing with each other. It goes to show why Ollie is wanted as a head coach. He knows how to relate to and motivate his players. The Huskies were banned from the 2013 postseason due to low APR scores -- through no fault of his own -- but Ollie led them to a 20-10 season despite being unable to play for a championship.
And of course his second year was even better. Ollie guided an unheralded No. 7 seed to the Huskies' fourth national championship. He's just as proud that when the APR results were released last week, Ollie's first season as head coach produced a perfect score.
What would it take?
The Cleveland Cavaliers made inquiries. The Los Angeles Lakers made overtures. In both cases, Ollie resisted the urge to jump to the league where he spent 13 seasons playing for 11 different teams. It's probably safe to say that Ollie would not leave UConn for another college program. But the NBA? That could be a matter of timing. At just 41 years old, Ollie is in no rush. He could be waiting for his 13-year-old daughter Cheyenne to go through high school before being open to coaching in the league. Ollie's new contract at UConn, which will reportedly be finalized on Wednesday, changes little on the surface. It might end speculation for this offseason, but NBA teams will continue to seek his services and his name will continue to be floated this time next season when openings arise. The contract may make a bigger difference from Ollie's perspective. It signifies the university reaffirming its commitment to him. UConn was proactive during his first season in tearing up the seven-month contract and presenting a five-year deal before the Huskies finished nonconference play in December 2012. ESPN.com's Andy Katz reported that Ollie was first approached about a new contract this year after the Huskies beat Iowa State in the Sweet 16 in March.
Possibilities: Ollie has a Calhoun-like tenure in Storrs. Or Ollie has the itch to coach in the NBA and is just waiting for the right opening.
May, 19, 2014
May 19
2:00
PM ET
College coaches change jobs all the time. And if they don't change, it doesn't mean they aren't rumored to be on the move. What would it take for certain coaches to leave? That's what we'll be examining this week on ESPN.com. While the rest of the week we'll look at the hottest names, the ones most often mentioned when an opening comes up, we'll start first with the some of the big names that seem locked into their current posts. Let's look at what it would take to lure them someplace else:
(And remember, we realize that most of these coaches will never leave until they retire. But the old "never say never" rule always applies.)
To continue reading,
click here
.
May, 19, 2014
May 19
12:30
PM ET
Gregg Marshall has been a head coach now for 16 years.
For all but maybe a handful of them, he's been asked the same question: Why are you still here?
Why are you still at Winthrop?
Why haven't you moved on from Wichita State?
"It's like corporate America," Marshall said. "It's a culture, almost. Why aren't you scratching and climbing up the corporate ladder? Why don't you want more? Why are you still here?"
The query really has nothing to do with Winthrop or Wichita State, little frankly even to do with Marshall. It goes more to what has long been the perceived and frequently realized natural inclination of college basketball coaches, the chronic quest to enjoy the greener grasses .
For years, basketball coaches followed the same trajectory -- achieve at the low-major level, jump to the mid-major seat and eventually grab the brass ring of the high major, signaling one's arrival as tops in the profession.
Except lately some have put the skids to that plan. If it's not yet a complete trend, patience and even, dare we say it, contentedness, are at the very least making a comeback.
This week ESPN.com will look at some of the hottest names on the coaching carousel wish list and what it might take for each to move on. But before we examine why they might leave, it's worth first asking what's making them stay.
To continue reading,
click here
.