College Basketball Nation:

3 things to watch for Sweet 16
March, 25, 2010
3/25/10
9:29
AM ET
Three things to watch is a quick preview of the NCAA tournament's second weekend. It is exactly what it says it is.
Friday's games in St. Louis:
No. 6 Tennessee vs. No. 2 Ohio State, 7:07 p.m. ET
and
No. 9 Northern Iowa vs. No. 5 Michigan State, 9:37 p.m. ET
[+] Enlarge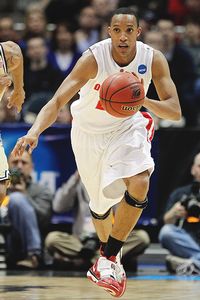 Jonathan Daniel/Getty ImagesEvan Turner is averaging 16.5 points per game in the NCAA tournament.
Thing One: Seeking Volunteers to wear down Evan Turner.
Get it? Volunteers? See what I did there? OK, I apologize. But the point remains: Tennessee's best chance of beating Ohio State will come in the 42 feet between Ohio State's basket and the half-court line. When Georgia Tech and UC Santa Barbara pressed Turner hard in the backcourt, they were able to not only force turnovers -- 13 total, nine of which came against the Yellow Jackets -- but sincerely frustrate the surefire national player of the year into the sort of outward frustration Turner seemed to have eliminated from his on-court personality years ago. Tennessee just so happens to be one of the better pressing teams in the country. This strategy has the added ostensible benefit of tiring out the Buckeyes, who almost never go to the bench. That aspect is slightly overrated; Ohio State has seemed to do just fine with its five starters playing big minutes thus far. These are college athletes who, at this point in their hoops lives, can play 40 minutes of intense basketball in their sleep. The real benefit of the press is getting after Turner, forcing him to give up the ball, and hoping he cracks under the pressure. Once Turner gets past half court, stopping Ohio State becomes much more complicated.
Thing Two: In which a No. 9 seed from the Missouri Valley Conference is favored to beat Michigan State.
Really? Really. After their win over Kansas, the
Northern Iowa Panthers
seem to be the consensus pick to take down an injury-hobbled Michigan State team in the Sweet 16. This makes sense: UNI has played really well in its two wins -- one of which, you know,
was over Kansas
-- and Michigan State will be without its most productive player and leader in guard
Kalin Lucas
. But calling UNI the prohibitive favorite here seems a little overblown. The teams are just about equal in overall adjusted efficiency. Northern Iowa is a very good defensive team that excels at keeping opponents away from the glass and off the free throw line. But Michigan State -- a decidedly bigger and stronger team than UNI (though so was Kansas, I suppose) -- is the sixth-best offensive rebounding team in the country. Both teams prefer a glacial pace. This is going to be a very slow, very grindy sort of basketball game, and those sorts of games typically end up being close. Who says the Spartans can't win another?
Thing Three: Please welcome to the floor ... Mr. Korie Lucious!
If Michigan State does that, it will be in large part thanks to the way Lucious fills in for the injured Lucas. Lucious got off to a pretty good start in the second round, scoring 13 points in 27 minutes, the most important of which came just before the buzzer, when Lucious hit a 3 to put Michigan State past Maryland, 85-83. I'm not big on the psychological element of analysis -- how do we know what makes any given player tick? -- but if Michigan State fans are hoping their substitute point guard comes to play with a certain level of confidence, that shot couldn't have hurt.
Bonus bold Eamonndamus Midwest region prediction!
: Michigan State and UNI play one of the slowest, least entertaining games of the year ... until the final minute, when Tom Izzo and Ben Jacobson stage a coaching clinic that sees each team trade game-winners on one beautifully designed inbound play after another. Finally, in no small measure of karmic realignment, UNI's
Ali Farokhmanesh
takes -- and misses -- a shot much too early on what would have been the final possession, giving Michigan State the ball with more than enough time to score. They do. Eamonndamus has spoken!
March, 25, 2010
3/25/10
8:11
AM ET
Three things to watch is a quick preview of the NCAA tournament's second weekend. It is exactly what it says it is.
Friday's games in Houston: No. 10 St. Mary's vs. No. 3 Baylor, 7:27 p.m. ET and No. 4 Purdue at No. 1 Duke, 9:57 p.m. ET
[+] Enlarge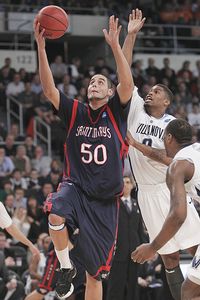 AP Photo/Winslow TownsonContaining Omar Samhan will be key if Baylor hopes to advance in the tournament.
Thing One: How do you solve a problem like the Sandman?
Through two NCAA tournament games -- and an entire regular season before it -- verbose St. Mary's forward
Omar Samhan
has been pretty much unstoppable. The last team to keep him in check was Gonzaga in the WCC final, a game Gonzaga lost by 19 points. Thus far, stopping Samhan has meant doubling him; few teams have a post defender good enough to stop his diverse array of post moves, which is where Baylor's
Ekpe Udoh
comes in. Udoh is 6-foot-10, 240 pounds and averages almost four blocks a game. If anyone can stop the smaller, less athletic Samhan, Udoh is the guy.
This would be preferable for Baylor, because the minute you start doubling Samhan is the minute Samhan starts finding Gaels on the perimeter, any of whom can hit 3s from just about anywhere on the court. If you trust your rotation enough to get help defense before these shots can fly,
by all means, double down
. But Baylor hasn't exactly been the most coherent defensive team in the country this season, and when you have a shot-blocking, never-fouling NBA lottery pick anchoring the middle of your defense, sometimes you're better off keeping it simple.
Thing Two:
Purdue versus probability.
Let's be real:
Robbie Hummel
's injury cost the Boilermakers their shot. This is no mystery. It's not a foregone conclusion that Purdue loses this game; weirder things have happened in this tournament. But consider the matchups here: With Hummel, the Boilermakers have someone who can guard
Kyle Singler
in the post or on the perimeter as well as any defender in the country. They also have someone to help
JaJuan Johnson
on the boards when Singler and the Plumlee brothers and sudden offensive glass terror
Brian Zoubek
begin their merciless hunt around the rim. What's more, Purdue has an offensive option outside of the sneakily good
E'Twaun Moore
and Johnson, someone who can help stretch Duke and force them to play the Boilermakers honestly at every position. That's all gone now. Duke's is a tremendous defense, and the luxury of having not having to worry about Hummel will change the entire complexion of this game. Matt Painter will take zero risks. Duke will be happy to attack. One team will be playing to win. The other will be hoping to keep it close. No disrespect intended to the Boilermakers, who have accomplished much more in their post-Hummel days than anyone thought possible, but a Purdue upset in this game would conceivably be the most surprising of the weekend.
Thing Three: Uh, Mickey McConnell is really good, too.
It's been easy to forget about the rest of St. Mary's squad, which I briefly mentioned in the Samhan stuff above, because Samhan has been so tremendous on the court
and off
. (His
calling out of Jay Wright for not doubling him
is the exactly the sort of swagger the NCAA tournament needs. That it's coming from a self-described "slow, overweight white guy" is even better.) But it's worth nothing that McConnell, the Gaels' second leading scorer this season, is shooting a rather insane 51.7 percent from behind the arc this season. Yes, you read that right. McConnell's effective field goal percentage is 63.6 percent, good for No. 15 in the country, and especially impressive when you consider that the leaders in that stat tend to skew toward big men who get lots of easy dunks and putbacks around the rim. Unbelievably, McConnell is actually a better shooter outside the arc than inside it. In other words, Baylor, if you do decide to double Omar in the post, be sure the doubler isn't the guy responsible for McConnell. Leaving this man open would be, um,
unwise
.
Bonus bold Eamonndamus South Region prediction!
: Baylor's athleticism proves too much for Samhan and company to handle. After the loss, Omar Samhan is respectful of his opponents, tells reporters his team "gave it 100 percent" and "tried to take every game at a time" but says "you have to give the
Baylor Bears
a lot of credit." Then Samhan cracks a smile, says "Omar's no punk, we'd beat Baylor nine times out of 10," subsequently challenging Scott Drew to a no-holds-barred cage match on "Monday Night Raw." The Eamonndamus has spoken!
(In other words, I think seeds hold in the South. Baylor-Duke should be a good one.)
March, 24, 2010
3/24/10
11:11
PM ET
Three Things To Watch is a quick preview of the NCAA tournament's second weekend. It is exactly what it says it is.
Thursday's games in Syracuse, N.Y.: No. 11 Washington vs. No. 2 West Virginia, 7:27 p.m. ET and No. 12 Cornell vs. No. 1 Kentucky, 9:57 p.m. ET


Thing One: Box out, Huskies. Box out hard.
In my little daily Saddle Up previews throughout the regular season, one thing was always certain: If West Virginia was playing, we'd be talking about offensive rebounds. The postseason has long since rendered Saddle Up obsolete, but the Mountaineers' still revolve their entire existence around their ability to rebound their relatively frequent misses. West Virginia grabs almost 42 percent of their possible offensive rebounds, the second-best mark in the country. (No. 1, Old Dominion, has since been sent packing.)
Devin Ebanks
,
Wellington Smith
and
Kevin Jones
make it difficult for any team to truly protect their defensive glass.
That trio ought to be doubly scary to Washington, though. The Huskies are No. 96 in the country on the defensive boards. If Washington can miraculously find a way to prevent West Virginia from doing what it's done to pretty much every team the Mountaineers have encountered this year, Washington has a chance. But if those numbers pan out? It doesn't look good.
Thing Two: Turnovers.
Despite the whole
"no true point guard" thing
, West Virginia has been pretty careful with the ball for much of the season. In case you haven't heard, though -- and I'm guessing you have -- putative point guard
Darryl Bryant
is out for the rest of the season with a broken foot. That leaves
Joe Mazzulla
, who came up big in West Virginia's second round win over Missouri, to, ahem, handle much of the point guard responsibilities. Can Washington turn Mazzulla over? If so, they could negate one of West Virginia's main strengths and get more than a few buckets in transition.


Thing Three: Oh, yeah, that other game.
Is it too easy to just say "watch Cornell and Kentucky, because that game's going to be awesome?" Maybe. But that's pretty much all you need to know. Kentucky treated its first two tournament opponents -- one of whom was a middle-of-the-road ACC team -- like No. 16 seeds. Cornell has put on the tournament's best shooting performance and downed two of the nation's best defensive teams in the process. Both teams are eminently enjoyable to watch, one for its sheer athletic talent, the other for its sublime offensive skill. It's going to be a good one.
And it should be pretty easy to figure out: If Cornell can shoot well over Kentucky's athletic and thoroughly underrated perimeter defense -- and manage to keep
Patrick Patterson
and
DeMarcus Cousins
from dominating the offensive glass -- this could go either way. No team shooting as well as the Big Red should ever be discounted, even against a team like Kentucky. This thing could happen. And it should be a really awesome watch.
Bonus bold East Region prediction!:
Cornell stays hot, pushes Kentucky to the wire, and the Cats miss a series of key free throws down the stretch to fall in what many will consider one of the biggest Sweet 16 upsets of all-time. John Calipari is forced to answer semi-unfair free throw-related questions for yet another year. He is decidedly displeased about this fact. Eamonndamus has spoken!
March, 24, 2010
3/24/10
8:44
PM ET
Three things to watch is a quick preview of the NCAA tournament's second weekend. It is exactly what it says it is.
Thursday games in Salt Lake City: No. 5 Butler vs. No. 8 Syracuse, 7:07 p.m. ET and No. 6 Xavier vs. No. 2 Kansas State, 9:37 p.m. ET
[+] Enlarge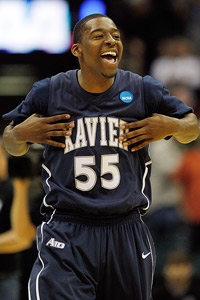 Jonathan Daniel/Getty ImagesNext up for Xavier? Kansas State, on Thursday night.
Thing One
:
Jacob Pullen vs. Jordan Crawford.
If you thought last week's matchup was a challenging one for Kansas State's guards, welcome to the Sweet 16. This week, the Wildcats will face one of the hottest players in all of college basketball, Crawford. (If they manage to contain Crawford and beat Xavier, Kansas State will likely be awarded with the honor of trying to guard
Andy Rautins
and
Wes Johnson
, which, yikes. But let's focus on the Sweet 16 for a second.) Crawford averaged 27 points in his first two tournament games against Minnesota and Pittsburgh. At Indiana, Crawford was a paragon of potential without much polish; in his second year since transferring, he's turned that potential into a complete offensive game. He's nearly impossible to stop. Then again, we would have said the same thing about BYU's
Jimmer Fredette
, who spent much of the season having his way with opposing guards only to be contained by Pullen in the second round. Pullen pulled double-duty in Kansas State's win, defending Fredette on one end and contributing an efficient 34 points on the other. Pullen v. Crawford. It sounds like a Supreme Court case. Instead, it's one of the best guard match ups you'll see all tournament. Don't miss it.
Thing Two
:
Hey, man, slow down.
If Butler has any hope of beating No. 1-seed Syracuse in Thursday's early game, they have to slow the ball down. Like, big-time. The Bulldogs don't much care for a fast-paced game anyway -- they average 64.8 possessions a game, good for 275th in Division I -- and this proclivity for sloth could mitigate some of the Bulldogs' other disadvantages. The last thing Butler will want to see is Syracuse's long zone getting into passing lanes, creating turnovers, and getting easy buckets. Or, almost as bad, getting lots of long rebounds and run-outs into the secondary break. Rautins
loves
the secondary break. The goal for Brad Stevens' team is simple: Get the ball into the middle of the zone. Don't turn it over. Get genuinely open looks from outside. Make them. And, for the love of Hinkle Fieldhouse, slow down.
Thing Three
: Fortunately, this sort of slow pace will be a little bit more advantageous for Butler with
Arinze Onuaku
still out of Syracuse's lineup. Butler's task is hard enough. With Onuaku out of the middle of the lane, that slow-it-down-and-get-it-inside strategy looks a little bit more viable; with Onuaku in the game, Syracuse is more than happy to play a bruising half-court style, and as good as
Matt Howard
is, it's hard to imagine him staying step-for-step with a healthy Arinze for 40 minutes.
But that's at all! Here's one bonus bold prediction from the West
: Jordan Crawford has an off-night, going 6-for-24ish from the field, and Kansas State takes a surprisingly easy win on their way to the Elite Eight. What? I'm totally counting that as bold.