College Basketball Nation:

Final Four Watercooler
April, 3, 2013
Apr 3
2:45
PM ET
Editor's note: Before heading to Atlanta, Eamonn Brennan and Myron Medcalf met at the watercooler to discuss both of Saturday's Final Four matchups.
Myron:
Here we are again, Eamonn. We've already
discussed Wichita State vs. Louisville
. But there's another Final Four matchup that's probably more difficult to assess. A pair of No. 4 seeds, Michigan against Syracuse. Between tweets, emails and conversations with college basketball fans, they all have the same question about this game, E. Can Michigan crack this relentless 2-3 Syracuse zone that's just not interested in letting anyone score (see Marquette's 12 field goals in last weekend's loss)?
[+] Enlarge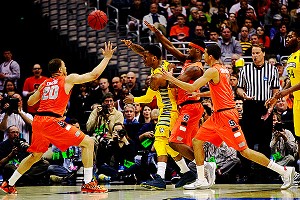 Geoff Burke/USA TODAY SportsSyracuse's Brandon Triche, Michael Carter-Williams, right, and C.J. Fair have made executing difficult for foes during the NCAA tourney.
Eamonn:
I'm torn on this, as pregame analytic predictions go, because on the one hand, Michigan appears to be awfully well suited for it. Syracuse's main strengths in that zone are its ability to eliminate passing lanes and force turnovers; Michigan was the least turnover-prone team in the country this season. The Orange protect the rim at all costs; Michigan would typically prefer -- or at least happily acquiesce -- to shoot 22-footers anyway. Syracuse is determined to keep teams out of the middle of the zone, particularly on the dribble; Michigan has one of the few players in the country who might be able to get the ball there without making a pass (
Trey Burke
).
But on the other hand, all of those things sound really nice until you actually get into a game with Syracuse, and its size and athleticism and length out in the front of that 2-3 formation completely overwhelm you. Watch
Michael Carter-Williams
and
Brandon Triche
play the top of that thing lately; it's like their movements are regulated by an invisible, gap-destroying string.
Jordan Hulls
and
Yogi Ferrell
couldn't even see the rim over those two, and sure, neither is Burke, but Burke is still 6-foot-2.
So, Michigan has to get good shots in the first place -- and good shots against Syracuse turn bad when guys like
C.J. Fair
start flying at you, arm outstretched, in those wing close-outs -- and then make them. It all sounds very simple, as does the anti-zone strategy itself, but nothing is simple about this defense right now.
Myron:
All true, man. I think it's important to note that this is a more ferocious version of the zone that Cuse utilized in the regular season. Not different in scheme but better, more fluid. Marquette outplayed Syracuse (barely) on Feb. 25. On Saturday, Marquette was clearly facing a different team. Syracuse has basically delivered this message throughout the NCAA tournament: "You're not coming to the lane and we're going to challenge everything you do inside the arc, too. Feel free to jack up 3s for the next 40 minutes. Good luck with that."
But Michigan's versatility, limited turnovers and Burke will make life tough on the Orange. Jim Boeheim's team can't win with D alone. And these guys have had some shaky moments on offense thus far.
James Southerland
has been streaky from beyond the arc. Carter-Williams committed five turnovers against Cal. Triche's jump shot comes and goes. But the Orange's defense has been so strong that they haven't had to score 70 points to win.
Let's say, however, that Michigan exploits the gaps in the zone, creates space and hits shots. Can Syracuse compete with the Wolverines in a back-and-forth, high-scoring battle?
Eamonn:
Another interesting question! Because I think Syracuse is actually kind of OK with just getting up and down and letting MCW run at people. I don't know if that's the game the Orange want to play with Michigan, but it's a game they CAN play.
The one other interesting matchup is the rebounding side of things: Michigan has not been a particularly good defensive rebounding team this season, and even with
Mitch McGary
going nuts right now, the defensive glass remains a weakness. That just so happens to be where Syracuse does its best work: It uses all that size and athleticism to just bang people on the boards. So I'm guessing a half-court game that forces Michigan to crack the zone on one end and allows Syracuse to get after the boards on the other is probably just about Jim Boeheim's ideal.
I already kind of thought this, but after thinking through it with you I really do now: This could be a capital-G Great game.
Myron:
I agree, man. On paper, it's a very intriguing matchup. Plus, there's always the possibility that Burke might go Kemba Walker on the whole event and just carry the Wolverines to a title. But I think MCW could do the same thing for Cuse. Goodness. You're right. This could be a very good game. How lucky are we to have the chance to see it live?
Eamonn:
Very, very lucky. See you in Atlanta.
April, 3, 2013
Apr 3
2:35
PM ET
Editor's note: Before heading to Atlanta, Eamonn Brennan and Myron Medcalf met at the watercooler to discuss both of Saturday's Final Four matchups.
Eamonn:
Myron! Get your Buck Owens vinyl out of storage, because we are together again. My lonely nights are now at an end. And we are on the cusp of the culmination of the 2012-13 season, this weekend's Final Four in Atlanta, and I really can't believe that's the case. Did I black out, or did we time-travel from October to today? It's got to be one of the two.
The Watercooler fam is back together once more, and our first item of business is hashing out the left side of the bracket: No. 1-seed Louisville vs. No. 9 Wichita State. I was in the building Sunday night for the Cardinals' remarkable second-half throttling of Duke, one invested with a palpable sense of purpose and energy -- even in the crowd -- and I have to admit, after seeing that, it is very difficult for me to imagine Louisville losing focus long enough to let the Shockers pull an upset.
[+] Enlarge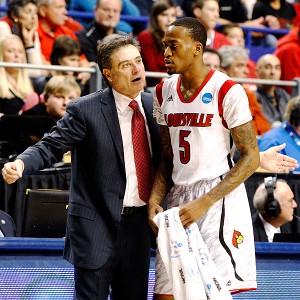 Matt Goins/Lexington Herald-Leader/MCT via Getty ImagesCoach Rick Pitino, guard Russ Smith and Louisville are favored against Wichita State, but that hasn't mattered to the Shockers in this tournament.
This is a very popular opinion, and I'm guessing you probably share it. But play devil's advocate with me. You were in L.A. You've formed the argument in a column already. Why can Wichita State win this thing?
Myron:
Eamonn and Myron together again. Watercooler. I like the sound of that. No idea where the season went. Seems like yesterday we were just talking about basketball on aircraft carriers. ... But Atlanta is here. Final Four. Wow. Can't wait. I'm with you on Louisville, though. The Cardinals are clearly dangerous. That win against Duke was so impressive. Louisville is as close to great as any team in the field. .... But I also think Wichita State is legit. Here's the first thing. The Shockers have a bunch of players who could play for high-major programs right now.
Carl Hall
,
Malcolm Armstead
and
Cleanthony Early
all starred at the junior college level, and there's no doubt those guys could play big roles for most Big Six teams today.
So Wichita State is talented enough to defeat the Cards. The talent gap isn't as wide as their respective conference affiliations suggest. Also, the Shockers are frustrating everybody with their defense. Teams can't score outside. Their tourney opponents have shot about 28 percent from the 3-point line. Hall is swatting shots like Dikembe Mutombo inside. And on offense, Armstead is a proven leader. He's out of control sometimes, but he's very aggressive. They get buckets and they can pounce on teams (see fast starts against La Salle and Ohio State). The final factor is the team's experience. These guys are true veterans. They won't panic against the Cardinals.
But we've heard that before, Eamonn. Everybody has a plan for Louisville until they're on the same floor with Louisville. This team hasn't lost a game since early February. How do you beat the Cardinals?
Eamonn:
Yeah, I mean ... I don't know. I can give you reasons the Cards can lose. For instance, they create a ton of their offense off turnovers and defensive pressure, and if they meet a team or a specific player (cough,
Trey Burke
, cough) that could maintain the ball well enough to erase that part of their game, they might start to look a little bit more average. They aren't a great shooting team, so if you can keep them out of the paint and get them to put it up from deep, and you rebound really well, and the turnover thing ... you can see where I'm going with this.
There is no margin for error; all it takes is a possession or two to speed the game up and get you out of sync, and then they're running at you and finishing layups and you're done. The Cardinals put you in a blender, and when they dictate the terms of the game, which is almost always, they're very difficult to beat.
Myron:
But that's why I think Wichita State might have a chance. That furious Ohio State comeback on Saturday would have rocked most teams. I mean, you're up 20 and then minutes later, you're only up by a few. The Shockers had to fight for that win. They had to make plays against a team that hadn't lost since mid-February. That's the story of their season: You face adversity. You respond to it. Louisville has obviously gone through its own adversity. The
Kevin Ware
situation alone proved that this squad is as mentally tough as any team in the country. But I don't think Wichita State is intimidated by anything the Cardinals will throw at them. It's hard to find many reasons for an upset on paper. But if swagger is a factor, then WSU certainly has a chance, right?
Eamonn:
Oh, absolutely. A couple of coaches I asked to help me with a scouting report said the same thing about Wichita State: The Shockers always believe they're the best team on the floor. They play to a sold-out show every night in Wichita, they don't see themselves as underdogs (and rightly so; George Mason this is not) or a second-tier program, and they exude that sort of overall confidence whenever they take the court. I think that was especially apparent against Ohio State, when nothing seemed to faze them.
They should be able to compete with the Cardinals on the glass; the Shockers' greatest strength is their rebounding (thank you, Carl Hall). The question is whether they can handle that Louisville defensive pressure, both in the full and half court, possession by possession over 40 minutes, without making a few key errors that tilt the balance.
On Sunday night I heard a couple of Louisville fans walking out of the arena and one said: "Well, we
got
to get to the title game now, right?" His buddy replied: "Bet you that's what the Buckeyes said, too." That's exactly what the Buckeyes said, and we know how that worked out. Underestimate Gregg Marshall & Co. at your own peril.
Myron:
Yep, this is a bad year for assumptions. The fact that we have just one No. 1 seed in Atlanta proves as much. ... So we agree that Louisville should win it, Eamonn. But Wichita State can. Man, I can't wait to see what happens.
Eamonn:
As you are fond of saying, my friend: Get that popcorn ready.
March, 28, 2012
3/28/12
11:30
AM ET
Editor's note: Ohio State and Kansas are readying for just the second meeting of 2-seeds since seeding began in 1979. Before they get started, Eamonn Brennan and Myron Medcalf discuss the matchup between the Buckeyes and Jayhawks.
Eamonn Brennan
: All right, Myron, it's Final Four Watercooler time, part the deuce. We chatted up Louisville and Kentucky yesterday, and we're back, back again, to discuss the other game in the bracket. This return is second only to The Rock's return to Raw Monday night. (Note to readers: The two of us are VERY interested in watching the Rock-Cena Wrestlemania match Sunday.)
I don't know about you, but for my money, despite all the overheated expectations and rivalry-oriented craziness surrounding Louisville-Kentucky ... I think Ohio State-Kansas has a better than 50-50 shot at being the best game of the weekend. What say you?
Myron Medcalf
: I agree. I think Kansas-Ohio State is the game of the weekend. I love the buildup to Louisville-Kentucky. I'd actually like to spend a day in Kentucky before I leave for New Orleans to get a feel for the vibe in that state. But if you look at the matchups, Kansas-Ohio State wins. I can give you five reasons that the Jayhawks will win and five reasons that the Buckeyes will win.
Thomas Robinson
vs.
Jared Sullinger
. The emergence of
Jeff Withey
and
Deshaun Thomas
.
Aaron Craft
's hands against
Tyshawn Taylor
's explosiveness. This should be a great game. Sullinger missed the first game, but he'll be available Saturday.
[+] Enlarge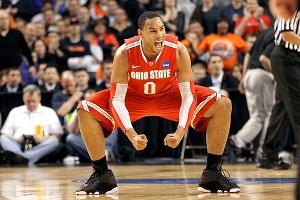 Jim Rogash/Getty ImagesWho's the best big man in college basketball? Jared Sullinger will make his case Saturday.
EB
: How many NBA scouts will be watching that T-Rob/Sully matchup? Answer: all of them, or at least all of those who have a top-10 pick to spare in this summer's draft. That actually seems to be one of the biggest debates about the upcoming draft, a sort of barometer for the kind of player you prefer -- explosive and slightly raw? Or polished but less athletic? I'd take either one of them. And seeing them tee up on each other could be a one-on-one matchup for the ages.
MM
: I agree. And I'm even more excited for Robinson-Sullinger because of their personalities. Some guys would look at this as "just another game." I guarantee both Robinson and Sullinger are telling friends and loved ones that they're going to win that battle. I don't care what they say publicly. This is personal. Who's the best big man in college basketball? With Sullinger, Robinson and Davis in the field, we'll know by Monday. Sullinger didn't get the national player of the year love that Robinson enjoyed because of a bad back and a rough stretch in February. But who can doubt his premier status after watching him tear up Syracuse? Robinson takes a Kansas team that's not supposed to win its eighth Big 12 title in a row to the Final Four? Get your popcorn ready.
EB
: Agreed, agreed. But as you said, there are other huge areas of intrigue here. In fact, if I had to guess, I'd say the Robinson-Sullinger matchup will essentially be a wash. The swing-vote matchup (as Marquette coach Buzz Williams might say) might then be Aaron Craft and Tyshawn Taylor. Craft is a defensive genius. What he does to opposing guards is just ruthless sometimes. If Taylor gets eaten up by those slap-happy hands -- or even if Craft just cuts Taylor off and keeps him confined to the perimeter, where he has missed just about every shot he's taken in the past two weeks -- Kansas will be at a severe disadvantage.
[+] Enlarge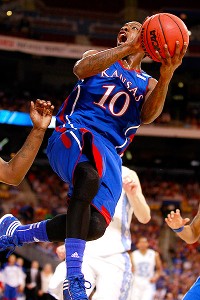 Ethan Hyman/Raleigh News & Observer/MCT/Getty ImagesTyshawn Taylor scored 22 against the Tar Heels, but he'll face a steeper challenge against Aaron Craft and the Buckeyes.
MM
: True. Has a lot of Dark Knight-Joker elements to it. Craft just creates chaos. It'd be one thing if he was just dangerous on the perimeter. But he'll help in the paint. He's a great defender in transition. He takes so many risks and it usually works out for him. But Taylor had 22 against North Carolina (sans Marshall). He could be great in New Orleans. Or he could succumb to Craft's defense. But this matchup is even bigger than Robinson-Sullinger and Taylor-Craft. And this is what I love about March Madness. You can't really have this conversation without talking about Dikembe Mutombo playing as Jeff Withey throughout the NCAA tournament. Or Deshaun Thomas trying to score every time he touches the ball. Those two players will be crucial in the Big Easy too, right?
EB
: Right, and this is really fascinating. Deshaun Thomas gives the Buckeyes plenty of rebounding and interior scoring, but he's barely a 4, let alone a 5. Withey is, of course, as much a center as college centers get. Perhaps some zone will be involved? Because it's not like you want Sullinger matching up with Withey, either -- he doesn't have the lift to counteract the height. And on the other side, Withey isn't going to guard Thomas out to the 3-point line, right? I have no idea how this works out.
MM
: I had the same thought. Two critical players, but what do you do with them? To me, Ohio State has to be more comfortable than Kansas. Thomas could help in a zone, but if you were forced to go man, Thomas on T-Rob and Sully on Withey wouldn't be disastrous necessarily. Withey scored two points in the first matchup. He is a great interior defender, but sometimes he gets lost against more versatile opponents (see Missouri). At the same time, limiting Sullinger's shot selection and success inside is a great starting point for Kansas. Withey definitely helps there.
EB
: Definitely. Withey remains one of the more underrated shot-blockers in the country.
Anthony Davis
's 2012 block rate is 13.95 percent. Jeff Withey's is 15.14 percent. That's the best in the country. And that is a huge advantage against an interior player like Sullinger, who can create space with his body but really doesn't lift over players to get his points. And it doesn't hurt against the likes of Thomas either, of course.
And then there's the X factor:
William Buford
. He's been solid in the tournament, Myron, but he has struggled at times this season, particularly with his shot, and when he does, Ohio State's attack struggles.
MM
: Yep. Here's the conversation that happening at sports bars throughout Columbus right now. "We have every tool to beat Kansas Saturday and advance to the title game. Sullinger and Thomas are ready. Craft's defense is special. Even Lenzelle Smith Jr. has stepped up. But, what about Buford? Well ... I'm not sure." Buford is like a separate 30-minute conversation. He's 4-for-20 from the field in the last two games. He's a senior so he won't be intimidated. But he hasn't played great. And the Buckeyes might need "great" from Buford, depending on what happens Saturday.
EB
: And let's not forget about
Elijah Johnson
, arguably Kansas' best perimeter player. And
Travis Releford
. This is a unique game, because neither team is really going to bring big-time players off the bench. Both squads essentially are what they are from 1 to 5, and the starters have to do almost all of the heavy lifting.
UL-UK is pretty easy to pick, but I don't have a good feel for this one. I think it could go either way. Sort of like The Rock versus Cena.
MM
: I think that's a good way to end it.
March, 27, 2012
3/27/12
11:05
AM ET
Editor's note: Kentucky and Louisville are ready for an epic battle in the Final Four. But before they get started, Eamonn Brennan and Myron Medcalf discuss the rivalry, the matchup and the coaches.
Myron Medcalf
: Eamonn, I'm ready for this Watercooler now that I have my beads for New Orleans. What an epic Final Four … potentially. Question: Will the state of Kentucky explode Saturday? I mean, it's time for the citizens of that state to stock up on water, canned goods and batteries, right? No telling what will happen after Louisville-Kentucky …
Eamonn Brennan
: It will be impossible for the state to explode, because I'm pretty sure literally every Commonwealth citizen with a driver's license will be on Bourbon Street on Saturday. This both terrifies and excites me. One thing's for sure: It's going to be a fantastic atmosphere for a game -- and it provides storylines and a coaching rivalry that couldn't have lined up better if the basketball gods had deigned it themselves. I'm stoked.
EB
: The only problem, of course, is whether the game can live up to the lead-in. I have promised myself I won't be disappointed, no matter what. But that might be a lofty promise. I think Louisville has a chance, sure … but it's a slim one.
MM
: I agree. The buildup will be nuts. Pitino versus Calipari. In-state rivals. … But at some point, we have to look at this game on paper. I admire Louisville's man-to-man D. Dominating in the NCAA tournament thus far. But this is a special Kentucky team. Better than the team that beat Louisville by seven points in December. Indiana scored 90 points (in the Sweet 16) -- and lost by 12. It seems that everything opponents try, Kentucky can top it. Louisville has a chance. Baylor had a chance. Indiana had a chance. Iowa State had a chance. Not sure that will be enough Saturday. How can Louisville beat Kentucky?
[+] Enlarge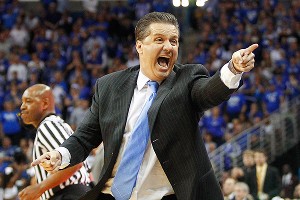 Crystal LoGiudice/US PresswireKentucky coach John Calipari is searching for his first NCAA championship.
EB
: Well, it should be noted that this Louisville team boasts the best defense Kentucky has faced in the tournament, and maybe all season. It, too, has improved by leaps and bounds since the first meeting, and even since the Big East tournament. Indiana and Baylor and Iowa State all had talent, and Indiana had an elite offense all season, so Tom Crean decided, Hey, we can't stop them, there's no chance, let's get out and run and see if we can make something happen. And it did, but Kentucky was just too good on the other end of the floor.
C'est la vie
.
EB
: That won't be the case for Louisville. I think it has one key trait that makes it a credible threat to the Wildcats: versatile defense. On Thursday, I saw Michigan State stumped by the Cardinals' zone, and by the pressure, and by a general weakening throughout the game as Louisville's conditioning dialed up the heat in the second half. On Saturday, I saw it open up in that same zone, realize it wasn't working, switch to man-to-man (or as my favorite human being Bill Raftery spells it, "mandaman" and totally throw Florida out of whack. It was a really impressive display. That versatility means Rick Pitino will be able to pick his defensive game plan and go with it, knowing his players will at least be capable of executing whatever he comes up with.
EB:
So Louisville has that going for it … which is nice.
MM
: True. Louisville has been the top defensive team in the field. And the Cardinals have shown a lot of heart. They were baffled by the Gators, and then they adjusted and turned the game. They also have familiarity on their side. Looking at the way the Wildcats have crushed teams in the NCAA tournament, holding Kentucky to 69 points in December seems like a noteworthy accomplishment. But Louisville is playing a team that has recognized its potential and has the swagger to match it. To me, Louisville has to send a message in the post early. That's why
Gorgui Dieng
is the most important player in this matchup, in my opinion. Can Louisville win without a monster performance from the big man?
EB
: No, I think you're right: Dieng is their most important player in this game, and probably in general, simply because he brings an interior defensive presence to match what the Cardinals do to guards out on the perimeter. Without him,
Chane Behanan
and
Jared Swopshire
have to man the middle, and as good as Behanan has been (and he will have to be legitimately great against Kentucky), neither of them can replace Dieng's rebounding and shot-blocking. Plus, there's this dude named
Anthony Davis
, and he's really good at basketball and happens to play the same position as Dieng. Some measure of competitive balance in that matchup is an absolute must.
MM
: Exactly. Davis will impact the game. Louisville needs Dieng to offer a similar level of intimidation on the other end of the floor. But you mentioned a guy who's probably No. 2 on Louisville's most important player list. Which Chane Behanan will show up?
Quincy Acy
had some success against Kentucky. And Behanan is bigger and stronger. He's had moments in the NCAA tournament that made you think, "Wow, kid could be a star." Other times this season, he's looked like a solid freshman. Nothing more. His bulk could be an X factor, too. But it seems we're searching for ways/reasons/theories for Louisville to topple Kentucky. And as much as this is about the guys on the floor, this is also about the personalities, uh, coaches on the sidelines. Who would you rather have leading your team in the Final Four, Calipari or Pitino?
[+] Enlarge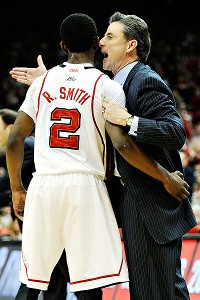 Jamie Rhodes/US PresswireWhen it comes to the Final Four, Louisville coach Rick Pitinio has a big edge in experience over Kentucky's John Calipari.
EB
: I think you have to go with Pitino, if only because he's been there six times and taken home a title, something Calipari hasn't yet accomplished. To me, it's not a knock on Calipari to say Pitino is a better game coach -- he's a better game coach than just about anyone in the sport, save Coach K. The knocks on Calipari's X's and O's ability are overblown at this point, no question. But Pitino is a Hall of Famer, a master in many ways. I'd take him. But I'll take Kentucky's lineup -- and Calipari's direction of it -- any day. And twice on Saturday.
MM
: I'm with you. Calipari is the one facing the bulk of the pressure. Pitino could retire now. A legend. No arguments against it. He's just putting icing on his career at this point. Calipari
needs
this win, this title. To lose to a Kentucky legend like Pitino at this stage would be a crushing blow to his legacy, especially considering the team that he has right now. Kentucky should win the national title. We will be shocked if the Wildcats lose. One scenario, involving a Kentucky loss, really intrigues me. We just watched North Carolina crumble without
Kendall Marshall
.
Marquis Teague
had four turnovers against Baylor. Louisville will apply twice the perimeter pressure. The freshman point guard, who's been questioned all season, has to be more than a distributor in New Orleans. His ballhandling could protect or ruin Kentucky's title hopes. Do you trust Teague to get the job done for the Wildcats?
EB
: I think he can handle it, and I think Calipari will spend much of this week figuring out a plan, so that whatever pressure Louisville brings can be equally distributed up the floor. That's easier said than done. I also think Calipari will be eager, as he was for much of the latter part of the season -- when Teague's turnover levels markedly dropped -- to slow the game down and keep it a half-court affair. The Cardinals will be eager to speed it up. Pitino has used his pressure in fits and starts in the tournament thus far; I'd be fascinated to see whether he just decides to go all-out with
Peyton Siva
and
Russ Smith
on the ball at 94 feet. A little mid-'90s UK pressure style, perhaps?
MM
: I wouldn't put anything past Pitino. So many defensive options. And I agree, Teague has proved himself. But as you've noted, the significance of that position seems to grow with each stage. If Siva and Smith attack early, how will the young guard respond? Key question for this matchup. But it's worth recognizing that Kentucky is a very good defensive unit, too. Louisville finished the Florida win on a 23-8 run. It seems highly unlikely to rally that way against Kentucky. The bottom line is that I'm pumped to see this. Kentucky seems unbeatable, but Louisville's D is so tough. Pitino won't go down without a fight against Calipari, and there's state pride on the line. And we'll be courtside.
EB
: Let's invent a time machine so we can go do this right now. We'll just swoop in right before the game. I don't want to wait.
I'm not sure who writes our assigned stuff the next few days … but that's a minor detail. We'll figure it out.
MM
: Very minor detail. We have to get to New Orleans. Now.