College Basketball Nation:

A.J. Hammons
November, 5, 2013
Nov 5
10:00
AM ET
In recent years, the Big Ten has boasted an assembly of athletes who have boosted the league to the top of college basketball's conference rankings.
Players who could've turned pro returned and granted the league a lineup of experienced players who carried their respective squads for multiple seasons.
Evan Turner
,
Trey Burke
,
Cody Zeller
,
Draymond Green
, Deshaun Thomas,
Jared Sullinger
, JaJuan Johnson,
Tim Hardaway
Jr. and others had opportunities to sign NBA contracts a year or two earlier than they did. Instead, they stayed and strengthened their teams and subsequently, the entire conference.
Prior to changes at Minnesota and Northwestern this past offseason, only four of the 12 Big Ten schools (Iowa, Nebraska, Illinois, Penn State) had changed head coaches in the previous five seasons. That continuity has fueled immense success for a league that has earned 20 total bids in the last three NCAA tournaments.
There are, however, more questions now.
Other than Michigan State, the Big Ten's membership enters the season possessing promise but also dealing with a rare uncertainty. Michigan and Ohio State return elite talent, but you can't ignore what both lost from last season. Indiana could blossom behind some youngsters, but how many teams improve after a pair of top-five picks turn pro? A fleet of seniors have left Madison. Iowa is still a "maybe" to many.
Illinois and Purdue? They'll either surprise or spend the year at the bottom of the league.
Even with four teams cracking the Associated Press' Top 25 preseason poll, the Big Ten is somewhat of a mystery as this weekend's tipoff to the 2013-14 season approaches. Still, there's plenty of hope for many squads in this league.
There's just a lot we don't know (yet) about the Big Ten.
The Contenders
[+] Enlarge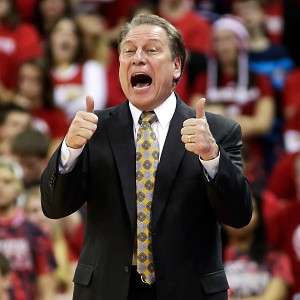 AP Photo/Andy ManisTom Izzo has a Michigan State team with enough talent to return to the Final Four.
Michigan State:
Tom Izzo has another capable crew in East Lansing this season.
Adreian Payne
and
Keith Appling
anchor the Big Ten favorite and national title contender.
Gary Harris
is a future lottery pick who could campaign for All-American honors. Whenever Izzo has this much talent and experience, his teams usually reach the Final Four.
Michigan:
The answer is no. No, the Wolverines won't replace Wooden Award winner Burke no matter how productive
Derrick Walton Jr.
is in his freshman season. But John Beilein's pillars --
Glenn Robinson III
and
Mitch McGary
-- and his stellar recruits should give Michigan a serious shot at the Big Ten crown.
Ohio State:
Somehow,
Aaron Craft
is still eligible and available to squash the dreams of perimeter players throughout the country. Without Deshaun Thomas, the Buckeyes will probably spread the ball around more than they did last season. But
LaQuinton Ross
-- assuming we see the same player who lit up the Big Dance a few months ago -- might be the star Thad Matta needs to make a postseason run and snatch another Big Ten crown.
The (Possible) Contenders
Indiana:
If exhibitions are to be believed, then
Yogi Ferrell
has become a more dangerous threat from the field since registering a 45.4 effective field goal percentage last season. That matters, but not as much as the maturation of the rest of the roster does (will). How much production will
Noah Vonleh
and a bunch of inexperienced youngsters give Tom Crean? We'll find out soon.
Wisconsin:
Say it with me three times: "I will not doubt Wisconsin, I will not doubt Wisconsin, I will not doubt Wisconsin." Once again, however, there are a few reasons to doubt the Badgers, simply because they're entering the season without a trio of seniors (Mike Bruesewitz, Ryan Evans and Jared Berggren) who made a major difference last season, and they're depending on a point guard who's returning from a serious knee injury (
Josh Gasser
).
Sam Dekker
and Co. will probably maintain Bo Ryan's streak of 20-win seasons (10 in a row) and top-four finishes in the Big Ten.
Iowa:
The rebuilding phase is over, folks. The Hawkeyes return every meaningful player from a team that won 25 games and finished 9-9 in conference play during the 2012-13 season. It's time for Iowa to finally make some noise in the Big Ten race and get back to the NCAA tourney. Fran McCaffery has the pieces to achieve both.
The Questionable
Purdue:
The last thing Matt Painter needed was a bout of early drama involving young star
A.J. Hammons
. But that's exactly what he's facing after Hammons was recently suspended for three games after violating team rules. If Hammons gets his act together -- it's always if with him -- the Boilermakers could sneak into the at-large mix.
Illinois:
Same for John Groce's squad. Groce adds eight new faces to the program. This is a much different team compared to the one that reached the NCAA tournament last year. But if Groce can help transfer
Rayvonte Rice
become the star he was at Drake two seasons ago, Illinois might make a case for another berth.
The Bottom
Minnesota:
Richard Pitino has his father's last name and hair, but nothing resembling the players Rick Pitino used to win the national title with Louisville in April.
Northwestern:
Chris Collins is already making strides in recruiting, but he doesn't have the beef inside to compete in the Big Ten yet.
Nebraska:
The Cornhuskers have a new arena, but Tim Miles' squad has the same problems.
Penn State:
Tim Frazier
will have to carry a very heavy load. Again.
October, 30, 2013
Oct 30
10:00
AM ET
After cops found cocaine and marijuana in a car that
Marshall Henderson
was driving over the summer, Ole Miss fans feared the worst for the SEC star. Andy Kennedy had previously announced an indefinite suspension for the troubled standout who'd been reprimanded for a variety of antics since his arrival last season.
On Tuesday, Ole Miss threw the book at Henderson.
A three-game suspension for incidents
in the postseason and his behavior late last season -- a penalty that will cost Henderson the team's first two SEC games.
The opponents in those league matchups? Auburn and Mississippi State.
[+] Enlarge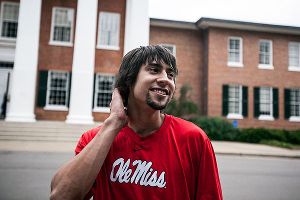 Benjamin Lowy for ESPNAfter a lot of talk about punishing Marshall Henderson, it seems as if the oft-troubled guard got off light with his suspension.
Harsh, I know.
But it's typical.
Throughout the offseason, there has been more smoke than fire with regard to possible suspensions of significant players. The punishments will ultimately prove to be meaningless because players involved probably won't miss a significant chunk of the season or contests that will matter much on Selection Sunday.
In July, North Carolina's
P.J. Hairston
was cited for reckless driving weeks after an arrest for marijuana possession and driving without a license. Roy Williams promised "serious consequences" after Hairston
was suspended indefinitely
following his July citation. But Hairston will return.
He was the star of
North Carolina's "Late Night with Roy" preseason event
last week. During the team's media day earlier this month, Williams told reporters that he's still undecided on Hairston's punishment but earlier reports confirmed that he will play at some point in 2013-14.
"He's been assigned some things that he has to do," Williams told reporters. "He's achieved some of those already -- he's got some more -- and I promise everybody we're not going to go in on game night and say, 'Oh yeah, P.J., you're not playing tonight.' We'll make an announcement before that, but right now he's still going through the process, we're going through the process and we'll wait and see what happens."
Got it.
Rick Pitino seemed furious at Louisville standout
Chane Behanan
when he recently announced that the forward had been suspended indefinitely and
that the earliest he'd return would be early December
. He also said that it was "not probable" that the junior would rejoin the defending national champions. That was mid-October. About a week later, Pitino announced that Behanan
would return "in a short period of time."
Oh.
Purdue's
A.J. Hammons
, a Big Ten player of the year candidate, will miss two exhibitions and the season opener against Northern Kentucky
due to a suspension for misconduct
. Florida's
Scottie Wilbekin
was suspended for the second time in seven months in June, but
he's back practicing with the Gators
.
A memo to the mischievous: If you're going to mess up, do it during the offseason.
Offseason problems give college coaches the ability to chastise players privately because there are no games for them to miss and there's less overall chatter about the sport. The timing of the issues allows them to reprimand players without putting them in situations that require them to miss meaningful games. And they can shroud the entire process under the "rules violation" and "internal punishment" tags.
The players involved in some of the offseason's high-profile mischief haven't necessarily escaped punishment.
Perhaps Hairston has to run to Charlotte every week and Behanan has to do pushups outside the KFC YUM! Center with the national championship trophy on his back to make amends.
We'll most likely never know the extent of the chastisement for them or other players in similar situations.
But they've avoided predicaments that would have potentially forced them to miss significant matchups had their challenges occurred in the middle of the season.
The offseason fuss has exceeded the actual aforementioned penalties thus far -- although we're still not clear on the fate of Behanan and Hairston.
Overall, it seems as though the punishments won't do a lot of damage to the programs that have disciplined key players.
Missing time against the Northern Kentuckys of the college basketball world is trivial.
The suspensions all warranted headlines when they were announced. But come March, we'll barely remember them if the players return and thrive during the season without creating additional drama.
Seems to work out for everyone involved.
October, 28, 2013
Oct 28
3:50
PM ET
A.J. Hammons
is
big
. That's what we knew about him before he arrived at Purdue last fall: Hammons,
the No. 82-ranked player in his recruiting class
, was 7-feet tall and (at least) 275 pounds and more athletic and mobile than any 7-foot, 275 pound human being has a right to be. Being that big is more advantage than not during recruiting, obviously, but it has its downside — namely, it causes scouts to question whether all that size simply makes a player
look
dominant in high school in ways he wouldn't be at the next level. Skepticism creeps in.
A year later, Hammons — who averaged 10.6 points, six rebounds and two blocks per game as a freshman — is regarded much differently. That mix of size and athleticism is real; his ability to change college basketball games is a matter of record; the NBA future seems like a no-brainer. There are no more questions about what he can do on the court. Other, more pressing questions have replaced them.
[+] Enlarge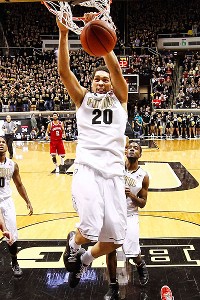 Michael Hickey/Getty ImagesPurdue's A.J. Hammons has immense pro potential, but it's not a slam dunk.
That brings us to Monday's news, announced by Purdue,
that Hammons would miss the first three games of Purdue's season
— two exhibitions and the Nov. 8 season opener — for undisclosed violations of team rules.
On its face, this is nowhere close to a big deal. Check that: It is the exact opposite of a big deal, full stop. Exhibition games don't matter and the Boilermakers will be just fine against Northern Kentucky on Nov. 8 with or without their center. They'll manage.
But the suspension doesn't bode well in the long view. Hammons' freshman season revealed immeasurable promise — not only physical gifts, but genuine basketball skill, too. Hammons frequently was dominant, even against very good centers (see his work against top-five pick Cody Zeller for reference), through a combination of size, agility and touch around the rim. This summer, as NBA people took stock of a loaded 2014 draft class, it wasn't unusual to hear scouts mention Hammons as a potential first-rounder, even a lottery pick, if his sophomore season continued that pace.
To get there, Hammons needed to trim some more baby fat and add more muscle. He needed to round out his game, improve his footwork, become a better passer and free-throw shooter and hoist approximately 8 quadrillion right-handed baby hooks. He needed to be able to play for more than 23 minutes per game. He needed to truly dive in to the offseason workouts -- in other words, to do all of the little things that sculpt immense talent into an immensely desirable NBA skill set.
By all accounts,
Hammons did that
. If I had to lay odds, I would guess Hammons is still very much in line for a breakout sophomore season. But a suspension for violating undisclosed team rules undermines that impression. At the very least, it raises eyebrows. Hammons has a chance to be very good, even great. But there is still much work be to done.
July, 16, 2013
Jul 16
10:40
AM ET
Editor's Note: Over two days, we're releasing the brackets/matchups for 11 of the top early-season events. Starting Wednesday at 10 a.m. ET, we'll unveil the final six: Charleston, 2K Sports, Diamond Head, CBE, Wooden and Maui. A thread of previews and info for all 11 tourneys can be found here.
Tournament bracket
for the Old Spice Classic
When and where:
Nov. 28-Dec. 1 at the HP Field House at ESPN Wide World of Sports Complex, Orlando, Fla.
Initial thoughts:
The Old Spice Classic field has rarely, if ever, approached the density or strength of the Maui Invitational (historically) or the Battle 4 Atlantis (more recently). It typically, though, has plenty by which to recommend it, and in 2013 more than most. Oklahoma State star
Marcus Smart
will lead a Cowboys team determined to unseat Kansas at the top of the Big 12 into the Wide World of Sports Complex as the undeniable favorite, but Memphis won't be that far away.
Meanwhile, we'll get a very early look at whether new Butler coach Brandon Miller will be able to field a tournament-ready team just a few months after Brad Stevens' departure to the NBA's
Boston Celtics
. We'll see if Purdue can bounce back from an ugly (but in many ways promising) 2012-13 season. Will Saint Joseph's' band of returning seniors be ready to make the leap everyone anticipated and gave up on a season ago? LSU has an intriguing rebuilding group that might push the top half of the SEC. We'll also see if Washington State, after losing seniors
Brock Motum
and
Mike Ladd
, is going to be so bad as to put coach Ken Bone on the proverbial hot seat. There are a variety of things worth watching in this bracket, and that includes the hoop.
[+] Enlarge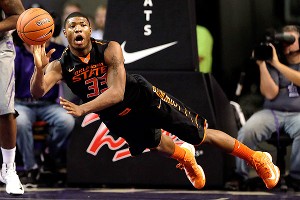 AP Photo/Charlie RiedelMarcus Smart returns for his sophomore season after Oklahoma State made an early exit from the NCAA tournament last season.
Matchup I can't wait to see:
St. Joe's versus LSU.
This isn't the best game of the first round. That honor goes to Oklahoma State-Purdue, and, really, it isn't close. But St. Joe's and LSU are intriguing for slightly similar reasons.
The Hawks were everyone's vogue pick to win the Atlantic 10 last season, based primarily on the assumption that 2011-12's cadre of sophomores -- the Hawks returned all five starters -- would improve and coalesce as juniors. Instead, the Hawks became merely the latest example of why the muddy mix of "returning players" and "experience" and "chemistry" doesn't always translate into improvement. But Phil Martelli still has a good chunk of those players back for another go at this, and if he can coax better defense from everyone, then Saint Joseph's might transform its narrative yet again.
Meanwhile, LSU probably wasn't as bad as you think in 2012-13. The Tigers weren't great, of course, but they finished in the top 100, and they bring in a surprisingly talented recruiting class. Johnny Jones got "yes" answers from three ESPN 100 players, including No. 3-ranked power forward
Jarrell Martin
-- the program's best recruit since
Glen Davis
.
Potential matchup I'd like to see:
Oklahoma State versus Memphis
. When it comes to early-season tournaments, there is very little reason to root for anything but the best basketball. Every now and then there's a backstory baked into the proceedings, like an old rivalry given a random renewal in November. But, for the most part, our desires can be expressed in the simplest of terms: good basketball. That's the case here. This early before the start of the season, Memphis appears to be the second-best team in this bracket, and its backcourt (
Joe Jackson
and
Chris Crawford
, both excellent offensive players) should be a fascinating matchup for Smart and running mate
Markel Brown
. Recently, Memphis has often stumbled out of the gate before otherwise-solid seasons, which has cost the Tigers valuable lines on their NCAA tournament seed in March. Reversing that trend isn't as important in their first season in the American Athletic Conference, but quality nonconference wins are still utterly crucial, and it's going to be hard to find better chances than this.
Five players to watch:
Marcus Smart, Oklahoma State:
NBA scouts really like Smart's game, but they're in love with the intangibles -- his work ethic, his drive and his desire to succeed. Those qualities have earned raves from coaches as long as Smart has played basketball, and they helped transformed Oklahoma State from the defensively soft 2011-12 group into one of the nation's best defenses last season. Smart turned down a shot at being a top-five pick to return to Stillwater. If he has developed the skills to go from "really good" to "frighteningly dominant" -- slightly better ballhandling and much better shooting -- they'll be on display at the Old Spice Classic.
Shaq Goodwin, Memphis:
Goodwin's freshman season wasn't quite as good as his recruiting hype foretold, but there were tantalizing bits littered throughout. Now with Memorial Never-Got-There Club member
Tarik Black
having transferred and
Adonis Thomas
having left for the NBA draft, the keys to the Memphis frontcourt are decidedly in Goodwin's hands.
A.J. Hammons, Purdue:
The Boilermakers weren't the easiest team in the country to watch last season. When they were good, it was usually because they were guarding, not because they were setting the scoreboard alight. But Matt Painter has one thing most coaches don't: a legitimate 7-foot NBA prospect. Hammons is that guy, and it's not just because he's big. He's also athletic for his size, with good ball skills and footwork. If he returns from the summer with a bit less big-man baby fat and a bit more low-post polish, well, look out.
Jarrell Martin, LSU:
As mentioned above, Martin is the No. 3-ranked power forward prospect in the class of 2013. What wasn't mentioned is he is also the No. 11 overall talent. In many incoming classes, this would be worth noting, but little more. With the 2013 class regarded as the deepest and most talented in a decade, if not longer, it is something more. In fact, Martin is the highest-ranked 2013 prospect to
not
choose Kentucky, Duke, Arizona or Kansas. His situation at LSU will be different and arguably more interesting for it. Can the long-dormant Tigers rise again?
Kellen Dunham, Butler:
Former coach Brad Stevens earned the reputation for not needing talent -- that he almost
had
to find unsung players and mold them for his system to work. That's probably true in general, but there were already signs before his departure to the Celtics that Butler's recruiting had gone up a notch or two since the back-to-back title-game runs in 2010 and 2011. For one, Indiana forward
Cody Zeller
listed the Bulldogs as among his final three recruiting options (North Carolina being the third). For another, he landed Dunham. Sure, Dunham wasn't Zeller, but he was an ESPN Top 100 player, and he was solid and efficient in big minutes as a freshman. Dunham will have to be even more efficient in even bigger minutes as a sophomore, particularly from 3-point range from which he ended up shooting just 34.5 percent, but he's capable.
Title-game prediction
: Oklahoma State over Memphis.
As I wrote above, you just root for good basketball in these things, and Memphis' backcourt (especially if Michael Dixon is able to play) by far looks like the most interesting challenge to Smart and Co. in the Old Spice. But I don't think it would be much of a challenge. Jackson can really put the ball on the floor, and Crawford is a lights-out shooter (even off the dribble), but Smart and Brown look like they're going to lock down pretty much everyone in the sport this season. The Tigers included. Cowboys win.
Who others are picking:
Andy Katz:
Oklahoma State over Memphis
Jeff Goodman:
Memphis over Purdue
Seth Greenberg:
Oklahoma State over LSU
Jason King:
Oklahoma State over Memphis
Myron Medcalf:
Oklahoma State over Memphis
Dana O'Neil:
Oklahoma State over Memphis
June, 4, 2013
Jun 4
5:00
AM ET
1. The Anaheim Classic is going through some changes that should make it a more intimate event, building up toward a more unique championship day. The tournament, played over Thanksgiving weekend, has been at the Anaheim Convention Center, but has had plenty of sparsely populated games. So, the plan is to move the first two days of the tournament to Cal State-Fullerton's Titan Gym. The final day of the event will be played at the Honda Center in Anaheim to give it more of an elite ending. And to raise the profile of the event, the name will no longer be the Anaheim Classic but rather the Wooden Legacy. The first two rounds will be Nov. 28 and 29 with the championship day on Dec. 1. The tournament has headline teams in Creighton, San Diego State, Marquette, Arizona State and Miami with the College of Charleston, George Washington and the host Titans. Fullerton needs to take advantage of their homecourt and play well for two reasons -- to play rare higher-level games at home and to ensure the crowds are decent.
2. The cuts for the World University Games team playing in Russia could be some of the hardest for USA basketball. Junior national director Jim Boeheim of Syracuse will have a hard time whittling down this list. The team, which will train the last week of June in Colorado Springs, should be the overwhelming favorite in the event. But getting down to the cut list of 24 will be quite a chore for Boeheim and WUG coaches Bob McKillop (Davidson), Frank Martin (South Carolina) and John Beilein (Michigan). Here is the list:
Eric Atkins
(Notre Dame),
Markel Brown
(Oklahoma State),
Deonte Burton
(Nevada),
Quinn Cook
(Duke),
Bryce Cotton
(Providence),
Spencer Dinwiddie
(Colorado),
C.J. Fair
(Syracuse),
Yogi Ferrell
(Indiana),
Davante Gardner
(Marquette),
Treveon Graham
(VCU),
Jerian Grant
(Notre Dame),
P.J. Hairston
(North Carolina),
A.J. Hammons
(Purdue),
Luke Hancock
(Louisville),
Joe Harris
(UVA),
Tyler Haws
(BYU),
Andre Hollins
(Minnesota), Rodney Hood (Duke),
Josh Huestis
(Stanford),
Cory Jefferson
(Baylor),
Sean Kilpatrick
(Cincinnati),
Alex Kirk
(New Mexico),
Devyn Marble
(Iowa),
Doug McDermott
(Creighton),
Adreian Payne
(Michigan State),
Chasson Randle
(Stanford),
Will Sheehey
(Indiana),
Aaron White
(Iowa),
Kendall Williams
(New Mexico).
3. The list will be cut down to 12. Everyone could use making the team to better themselves. But Hood could use it more than anyone else after sitting out last season as a transfer from Mississippi State. Hood needs game action before he starts to star for Duke. Fair, Grant, Hairston, Jefferson, McDermott and Payne all are trying out for the team after making the decision to return to school. The fact that two players from Indiana, Duke, Notre Dame, New Mexico and Iowa are on the first list is a sign about these three teams' future next season. Kirk and Grant have a chance to be headline players next season. So too, does White. The one player who could benefit as much as anyone is Ferrell, who will have to be even more of a playmaker next season without
Victor Oladipo
on his wing.
June, 11, 2012
6/11/12
7:34
AM ET
1. Former Mississippi State center
Arnett Moultrie
said his one-time teammate
Rodney Hood
will be a one-and-done player when he plays in 2013-14. Hood, who is leaving the Bulldogs after his freshman season, is likely deciding among Ohio State, Memphis and Duke. (He also visited Baylor.) Hood would have to sit out one season before playing for one of those teams. "His skill level is really nice,'' said Moultrie. "He's athletic and gets inside when he needs to. He'll be one-and-done wherever he goes.'' Moultrie said he talks to Hood multiple times a week and expected him to make up his mind shortly.
2. Purdue coach Matt Painter planned an August trip to Italy at the perfect time. A school can go once every four years and the cycle has worked out for the Boilermakers. Painter, who was in Chicago last Thursday and Friday to watch former forward
Robbie Hummel
at the pre-draft combine at UIC, said this is the first time that he'll have a massive group of newcomers that needs that summer preseason push since Hummel's freshmen class that included former stars JaJuan Johnson and E'Twaun Moore. The Boilermakers bring in four key newcomers in center A.J. Hammons, shooting guard Raphael Davis, point guard Ronnie Johnson and power forward Jay Simpson.
3. Former UNLV assistant Mark Warkentein (under Jerry Tarkanian) was camped out next to UNLV assistant coach Heath Schroyer during the Chicago draft camp on Friday at the UIC Pavilion. Warkentein is one of many Tark-era personnel who are now fully on board with the Runnin' Rebels' program after an extended period where there was not as strong of a connection. Of course it helps that his daughter Kreigh is the director of basketball operations for the men's basketball program. Former coach Lon Kruger finally offered stability but he didn't have the same connection that current coach Dave Rice now holds with his one-time teammates and coaches. "The collection of leadership in men's basketball is at its highest level that it's ever been,'' said Warkentein, who has worked for Seattle, Denver, Cleveland, Denver and now New York in the NBA. "The president, Neal Smatresk, is the best they've ever had. Jim Livengood, is the best athletic director they've had since Brad Rothermel (1981-90 as AD), and Dave Rice is a running version of Brad Stevens.''