College Basketball Nation:

A.J. Ogilvy
March, 18, 2010
3/18/10
6:46
PM ET
By
Diamond Leung
| ESPN.com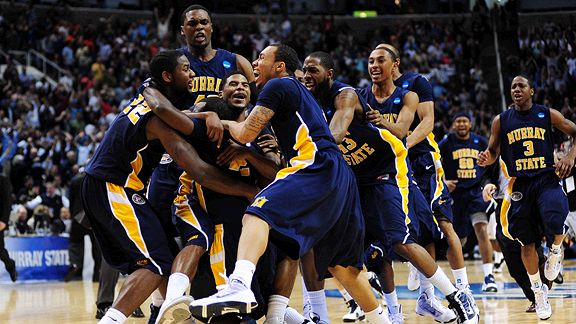 Kyle Terada/US PresswireNo. 13-seeded Murray State celebrates a 66-65 victory over No. 4-seeded Vanderbilt.
SAN JOSE, Calif. --
Danero Thomas
smiled widely and said he was simply "Option No. 3" on the play.
Murray State coach Billy Kennedy, who had scribbled something out with 4.2 seconds left in a tight first-round game with Vanderbilt, had a more colorful way to describe what transpired at the buzzer.
"That was a blessing," Murray State coach Billy Kennedy said. "It's not a shot we've run or one we've worked on.
"It's a miracle."
The 6-foot-4 senior from New Orleans caught a pass from
Isacc Miles
, took one dribble, and fired at the horn to
sink No. 4-seeded Vanderbilt 66-65
.
Vanderbilt center
A.J. Ogilvy
buried his head in his jersey and collapsed on the floor.
Murray State guard
B.J. Jenkins
did a flying fist pump.
And Thomas leaped in the air before striding down the other end of the court relatively calmly as if to get back on defense. Teammates tackled him onto the floor and then piled on top.
"I thought I was going to get smothered," Thomas mused. "I was trying to find a hole to breathe."
After hitting the big shot, he passed on the credit. Miles was the guy who gave up the ball. Kennedy was the one who drew up a play the team hadn't run before that ended up working.
"If I wouldn't have made it, one of them would have made it," Thomas said of his teammates.
The Racers have banded together to win 31 games and their first NCAA tournament game since 1988 -- when Thomas was two years old.
They had won the Ohio Valley Conference by two games, dealt with the death of the mother of guard
Picasso Simmons
the day before leaving for California, and then took down an SEC team in Vanderbilt that had finished second to Kentucky.
The rest of the nation found out they also play good basketball in that state in Murray. Vanderbilt, only about a two-hour drive from there, knew all about the Racers, and the Commodores still got their hearts broken.
"It goes down the drain with one kid making the shot," Ogilvy said in an otherwise silent locker room.
It's the No. 13-seeded Racers who will continue dancing after the shot heard from Murray to Northern California dropped through.
"It was big-time," Thomas said. "It's tournament time."
March, 18, 2010
3/18/10
3:41
PM ET
By
Diamond Leung
| ESPN.com


SAN JOSE, Calif. -- Quick halftime thoughts from what's been an evenly-matched game as expected.
March, 13, 2010
3/13/10
4:45
PM ET
NASHVILLE, Tenn. -- Mississippi State is halfway to a second straight appearance in the SEC Tournament championship game.


What's more, the Bulldogs could be closing in on a trip to the NCAA tournament. They remain one of the first couple of teams "outside the field," according to ESPN bracketologist Joe Lunardi.
Houston winning the Conference USA Tournament championship doesn't help the Bulldogs any, because UTEP will also go from that league.
All Mississippi State can control is what's right in front of it, and for a game and a half here at Bridgestone Arena, the Bulldogs have shown they want to keep playing.
They lead Vanderbilt 33-27 at the half after
Barry Stewart
and
Phil Turner
each tossed in 10 points in the first half. Turner came off the bench to hit 2-of-3 from 3-point range.
The Commodores have to get more from
A.J. Ogilvy
in the second half. He had two fouls in the first half with no points and one rebound and only played six minutes.
February, 23, 2010
2/23/10
1:00
PM ET
January, 28, 2010
1/28/10
12:22
AM ET
KNOXVILLE, Tenn. – His nickname is "Dolla Beal."
And sure enough,
Jermaine Beal
was money Wednesday night in No. 23 Vanderbilt's
85-76 victory
over 14th-ranked Tennessee at Thompson-Boling Arena.
Or better yet … straight cash.
[+] Enlarge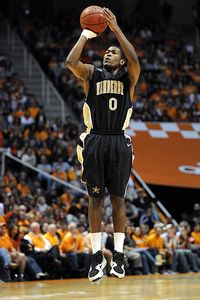 Don McPeak/US PresswireJermaine Beal scored 25 points in Vanderbilt's win over Tennessee.
His coach, who's not one to unnecessarily gush, called him spectacular and the ultimate security blanket, among other things.
"It's one of the first things I said to the team after the game," Vanderbilt coach Kevin Stallings recounted. "When your senior plays like a senior, things get a lot easier. And he certainly played like one tonight.
"He was awesome, really awesome."
Indeed, Beal shot holes in the Vols' defense and took over in the second half on his way to 25 points. He played 38 minutes and didn't have a turnover. He made all three of his 3-point attempts in the second half. He was simply the best player on the court.
"He was the difference," Tennessee senior guard
Bobby Maze
said. "And what made him so terrific was that he was able to knock down shots."
Nobody needed to tell Beal that this was his last shot in Knoxville after some horrific shooting performances against the Volunteers the last couple of years, particularly in this building.
A year ago, Beal was 1-of-10 from the field for three points in a 69-50 loss in Knoxville. He missed both of his 3-pointers. He wasn't much better in the game in Nashville, going 1-of-7 from the field in a 76-63 loss to the Vols. He missed all five of his 3-pointers in that game.
And two years ago in Knoxville, Beal was 1-of-5 from the field in an 80-60 loss to Tennessee.
So when the game was hanging there in the balance in the second half Wednesday, Beal never blinked.
"I haven't won here forever," said Beal, who scored eight straight points to turn a six-point game into a 74-60 runaway with 4:57 remaining. "My only chance to win here was tonight. The main thing was to go out and play hard and leave everything out there, and I feel like we did that."
As a result, the 23rd-ranked Commodores (16-3, 5-0) extended their winning streak to 10 straight games. It was also their third straight road win in the SEC. The last time they won their first three away from home in the league was the 1964-65 season.
It's a given these guys are pretty good in Memorial Gym with the funky setup and the benches at the end of the court. They're a tough out at home and always have been.
But the makeup of this team makes you think the Commodores are going to be a tough out no matter where they play or who they play the rest of the way.
You name it, and the Commodores have it. They have depth, size, shooters and a senior point guard who knows when to take charge.
And when things got testy Wednesday, Vanderbilt proved to be the tougher, more physical team.
"We have a physical team," Stallings said. "A year ago, we were not physical, and we could be taken advantage of in games like that. We are more physical this year. I don't know that we're the most physical, but we're more physical than we've been."
Getting
Andre Walker
back from his knee injury last season has been huge. His stat line every night is usually the same. He had nine points, seven rebounds, five assists and two blocks against the Vols.
The emergence of sophomore post players
Festus Ezeli
and
Steve Tchiengang
has been equally important, and Stallings said 6-11 junior
A.J. Ogilvy
is in better shape.
"Our big guys do a decent job of giving us a presence in that lane area, and that's a big key for our team," Stallings said.
And when the Commodores shoot the ball the way they did against the Vols (15-4, 3-2), they can make a case for being the most complete team in the SEC.
Freshman
John Jenkins
has been a terror shooting the 3-pointer off the bench. His 3 at the 7:39 mark to answer Maze's jumper was one of the biggest shots of the night.
The trio of
Brad Tinsley
, Jenkins and Beal was a combined 8-of-12 from 3-point range for the game.
"I think it's the most complete team I've played on, definitely," said Ogilvy, who scored 12 points and took advantage of an ailing
Wayne Chism
, who had 16 rebounds, but had trouble scoring after hyper-extending his knee Saturday at Georgia.
"We're bigger and stronger and a lot more athletic than any team I've played on and have the ability to shoot the ball. We have every piece of the puzzle, really."
Where it goes from here for the Commodores in the short term remains to be seen. They get Kentucky on Saturday in Lexington and then Mississippi State at home next Wednesday.
But if everyone stays healthy, this is a team built for a deep run in the NCAA tournament.
Don't tell that to Stallings -- not yet anyway. He can't see past the next practice.
"If you get to a point where you think you've arrived, then you've got some problems," he said.
True enough.
But right now, these Commodores are full of answers.