College Basketball Nation:

A.J. Walton
April, 5, 2013
4/05/13
1:52
AM ET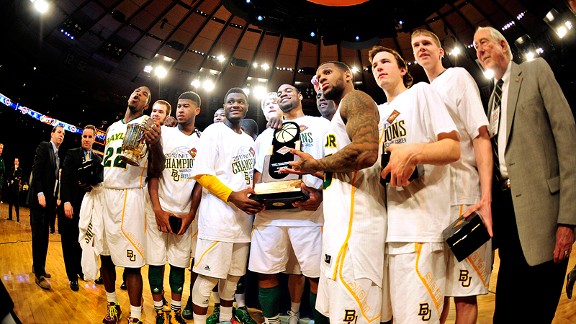 Joe Camporeale/USA TODAY SportsThe Baylor Bears celebrated the Big 12's first NIT championship win at Madison Square Garden.
Baylor made history in New York.
The Bears became the first Big 12 team to win the NIT, soundly defeating the
Iowa Hawkeyes
74-54
on Thursday night at Madison Square Garden.
"I'm proud of these guys," Baylor coach Scott Drew said. "Really proud of their heart and determination, and they'll always be remembered. Whenever you make history -- you don't get a lot of chances to do that."
Baylor led 27-22 at halftime, and Iowa cut the deficit to 28-27 early in the second half. But the game turned into a rout from there.
Pierre Jackson
, the Bears' leading scorer (19.9 PPG), heated up, scoring 13 of his 17 points after intermission. He also collected 10 assists, giving him a fourth consecutive double-double, and was named the tournament's most outstanding player.
"In the second half, they were getting some good screens for me to get to the paint," Jackson said, "and I got to the right spots and knocked down shots."
"They're a terrific offensive team," said Iowa coach Fran McCaffery. "They had us spread out. They were moving the ball, and they've got a lot of weapons, and Jackson is tremendous."
Iowa, on the other hand, had a nightmarish game on offense. The Hawkeyes shot just 18-for-69 (26.4 percent) from the field and 5-for-24 (20.8 percent) from beyond the arc. They missed open looks on the perimeter and several chippies around the rim, clearly bothered by the presence of 7-foot-1 center
Isaiah Austin
(15 points, 9 rebounds, 5 blocks) and 6-foot-9 forward
Cory Jefferson
(23 points, 7 rebounds).
[+] Enlarge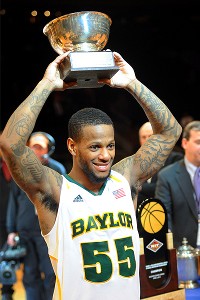 Joe Camporeale/USA TODAY SportsPierre Jackson was named NIT tournament MVP.
Roy Devyn Marble
, who had scored 21 or more points in each of Iowa's first four games in this tournament, finished with just six, shooting 3-for-12 from the field.
"[It] seemed like we just kept missing easy shots," McCaffery said. "The stat that jumps out at me is we had 20 offensive rebounds against this team. That's effort. That's special. That should have equated to more success offensively."
Baylor (23-14) was ranked No. 19 in the country in the preseason, so ending up in the NIT was a disappointment. But the Bears certainly finished the season strong.
"You look at most teams in the NIT, they probably lost a lot of close games, and with our team, we lost some close games," Drew said. "And the common denominator was when we shot over 70 percent from the free throw line, we won, and when we shot in the 50s and 60s, we lost. That's with a young front line."
Drew will lose his starting backcourt of Jackson and
A.J. Walton
, both seniors. But if the talented post players return, Baylor will be dangerous next season.
Iowa (25-13) had its NCAA tournament bubble burst Selection Sunday but gained valuable experience by playing five more games. Senior swingman
Eric May
departs, but everyone else should be back, and the Hawkeyes should go dancing next season, for the first time since 2006.
"There's just no substitute for experience," McCaffery said. "Come to Madison Square Garden, the greatest venue in sports, and play twice against two really good teams, win one, lose one, learn from that -- it can only make us better."
December, 2, 2012
12/02/12
2:00
PM ET
LEXINGTON, Ky. -- Lost amid the caterwauling and worry over the fact that Kentucky has now lost two games in a row is this little nugget: In
beating the Wildcats 64-55
, Baylor won a nonconference road game against a Top-25 opponent for the first time in the program's history.
And won it, by the way, in one of the most notoriously difficult places to win a game: Rupp Arena.
That no one really paid the victory any mind isn't a surprise to Baylor. After two Elite Eight runs in the past three years, the Bears still feel like outliers on the national college basketball picture.
[+] Enlarge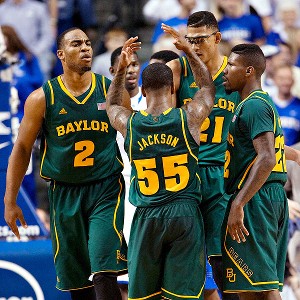 Mark Zerof/US PresswireBaylor's win at Kentucky marked the first time the Bears beat a ranked, nonconference opponent on the road in their program's history.
"Oh yeah, people don't give us the respect we deserve," senior guard
Pierre Jackson
said. "We still have to prove people wrong."
A year ago, Baylor waltzed into the preseason armed with a loaded roster and a heap of expectations, and though the Bears made it back to the Elite Eight, they never looked quite as good during the games as they did in the layup lines.
This season, head coach Scott Drew has another pretty roster -- including 7-foot-1 freshman
Isaiah Austin
-- but an equally shaky start. Before their win over Kentucky, the Bears lost to College of Charleston.
It is that inconsistency that gives the doubters credence to go all-in on Baylor, a niggling sense that their margin for error is minuscule. And no doubt, that was the case against UK. Kentucky shot 29 percent for the game and 18 percent from the arc, pulled down 21 offensive rebounds but only scored eight second-chance points, and yet was in the game until the bitter end.
Why? Because Baylor coughed up 19 turnovers and got smoked on the boards 48-37.
So this was not exactly a thing of beauty. But what Baylor has, at least right now, is a healthier balance of freshmen and veterans. Drew's roster includes five rookies, but he also has a been-there-done-that veteran backcourt in the form of Jackson,
A.J. Walton
and
Brady Heslip
. They simply don't get rattled, and when the game needed to be won, they won it.
"They've been through big games, they've been through 30-win seasons, they've been through [being] a game away from a Final Four," Drew said. "They're used to playing in front of big crowds, big stages and again make big plays."
A year ago, Kentucky ended Baylor's season in the Elite Eight, eliminating the Bears with relative ease, 82-70. Players from that team -- Quincy Acy among them -- reached out to guys on this season's squad and asked them to exact a little bit of revenge.
Never mind that this Wildcats team is entirely different from the one that beat Baylor -- the Bears wanted to take back the victory.
They did, but that only wins the battle, not the war. Baylor is a team that, on personnel alone, should factor into the Big 12 race. Whether this game is a one-hit wonder or the start of something with more staying power will determine that.
"We wanted to come out strong and show people that our two losses at the beginning of the season don't mean anything," Austin said. "We're still a powerhouse program."
October, 9, 2012
10/09/12
5:00
AM ET
1. Baylor's backcourt is loaded with
Pierre Jackson
,
Brady Heslip
,
Deuce Bello
,
A.J. Walton
and
Gary Franklin
. The Bears' success will be determined by how quickly the frontcourt develops. Well, Baylor coach Scott Drew said junior
Cory Jefferson
, freshmen
Ricardo Gathers
and heralded recruit
Isaiah Austin
have lived up to their preseason hype. Drew said Gathers has lost 20 pounds while Austin has added 12. He said Gathers is looking more like a Quincy Acy-type force inside. The depth took a hit with a hamstring injury to J'mison Morgan. But Austin is the stud of the group that could be a difference maker.
2. Maryland's Pe'Shon Howard was cleared last week to go full speed after tearing his ACL in his right knee in February. Maryland coach Mark Turgeon said Howard will be full speed. Meanwhile, Turgeon said Michigan transfer Evan Smotrycz has done a tremendous job of leading in workouts, even though he's not eligible to play this season. "He's assumed a leadership role,'' said Turgeon.
3. UCLA announced that guard
Tyler Lamb
is out for the next month while he has his left knee scoped. Official practice starts Friday and the Bruins still don't have an official word on the eligibility of freshmen
Shabazz Muhammad
and
Kyle Anderson
. There is still plenty of time -- a month before the opener against Indiana State. But the Bruins simply cannot afford to get off to a slow start with a game against Georgetown in Brooklyn on Nov. 19 that could derail a proposed showdown with Indiana in the same event. The schedule still has power-rating pops against San Diego State in Anaheim and at Texas as well as a home game against Missouri. But this team needs to build confidence early and losing the depth has suddenly become a serious question. Injuries and eligibility must be cleared up by mid-November at the latest to avoid an early-season crisis.
March, 10, 2012
3/10/12
12:45
AM ET
KANSAS CITY, Mo. - One day after debuting highlighter-yellow jerseys, the Baylor basketball team trotted onto the court for Friday's Big 12 tournament semifinal against Kansas decked out in camouflage.
"A new look,"
Perry Jones III
said, and even though the forward was referring to the Bears' apparel, he could've been talking about the entire program.
From the uniforms to the attitudes to the on-court play, everything about Baylor appears to have changed. On Friday, coach Scott Drew's squad catapulted into the Big 12 tournament title game with an
81-72 semifinal victory
over third-ranked Kansas -- the same team it lost to twice this season by an average of 16 points.
"This," forward
Quincy Miller
said, "is how we should've been playing all along."
Baylor, 27-6, was ranked as high as No. 3 after opening the year with 17 consecutive victories. But the Bears ended the regular season with an 0-4 mark against conference powers Kansas and Missouri.
Baylor could beat the good teams, sure. But what about the great ones?
After whipping Kansas in what was basically a road environment at the Sprint Center on Friday, it became clear that Baylor could now be mentioned in the same breath as its conference rivals. No one ever doubted the Bears had Final Four-caliber talent. But now, for the first time all season, they look like a Final Four-caliber team.
"Make no mistake about it," Kansas coach Bill Self said. "They beat us tonight. They were better than us, no question. That's a good basketball team. They're very talented."
The victory propels Baylor into Saturday's Big 12 tournament championship against Missouri. No team from Texas has ever won the conference's postseason title. The Bears are currently projected as a No. 3 seed in the NCAA tournament. But there's a chance they could move up to a No. 2 with a win against the Tigers.
Kansas, meanwhile, may have cost itself a No. 1 seed by losing to the Bears.
"Everyone, from a psychological (standpoint), wants to be on the highest seed line they can possibly be," Self said. "But I think it's more about matchups than a seed line."
Kansas also might have squandered its chance to play in the Midwest Regional, which is just four hours away in St. Louis.
"To play in St. Louis means we would've had to have won two games," Self said. "If we win two games, I could care less where we play. But we hurt ourselves tonight if we want to be No. 1 seed. I guess it could still happen, but some other teams would probably have to lose."
[+] Enlarge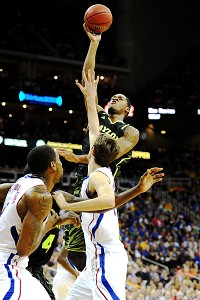 Peter G. Aiken/US PresswirePerry Jones III continued his strong Big 12 tourney run with 18 points and 7 boards against Kansas.
An even bigger story line Friday involved a game that will never even be played. Fans from both Kansas and Missouri were hoping to see the teams meet one last time -- in Saturday's championship -- before Missouri bolts for the SEC. The Jayhawks and Tigers split the regular-season series, but there will be no rubber match in the Sprint Center.
"I've never said I was all right with the rivalry ending," Self said. "I never said that. I'd like for it to go on. It's just not going to.
"So we had two epic games with them this year. Two
epic
games. It's unfortunate it's going to end."
And so, instead of Kansas, Baylor will be the team charged with trying to prevent the Tigers from walking away with the tournament trophy in their final Big 12 season. If the Bears continue to perform like they have in Kansas City, a victory would hardly come as as a shock.
Baylor has made a handful of adjustments in the last few weeks, and each of them is proving beneficial.
After playing a zone defense for most of the season, the Bears played primarily man-to-man defense against Kansas State and Kansas, which shot just 42.6 percent Friday.
"I was surprised they played man," Self said. "That was a good move."
Baylor has also started using a three-guard lineup with cat-quick point guard
Pierre Jackson
, 3-point specialist
Brady Heslip
and defensive standout
A.J. Walton
. All three are solid ball-handlers -- Baylor committed just nine turnovers against Kansas -- who are good at maintaining their poise. And their presence has given more room and freedom for versatile forwards such as Jones and Miller, who combined for 31 points Friday.
Baylor led by as many as 14 points early in the second half before an 18-3 run by Kansas put the Jayhawks up 58-56.
The game turned, though, when a loose ball was batted toward Heslip, who was wide open on the left wing. The sophomore swished a 3-pointer that put Baylor ahead 59-58. The Bears never trailed again.
Heslip came up huge again in the game's final two minutes when he made a 3-pointer that extended Baylor's 67-64 lead to 70-64. Kansas'
Tyshawn Taylor
countered with a layup on the other end, but Heslip responded with another 3-pointer to make it 73-66 with 1:17 remaining.
Ballgame.
"You knew (Kansas) was going to make a run," Drew said. "When they took the lead, I was really pleased with the poise our guys had and the togetherness, the character. For three first-year college guys and one second-year, I think they grew up a little bit tonight.
"That's the great thing about playing in the Big 12. If you don't have those (tests) in the regular season, you're not seasoned and ready when the postseason comes."
The Bears certainly look seasoned and ready now. Instead of grouping them in with the "best of the rest," it's time to include Baylor among the country's elite. Even with those new uniforms.
"Hey," Drew said, "they work for me."
January, 16, 2012
1/16/12
12:25
PM ET
LAWRENCE, Kan. -- Undefeated Baylor visits Allen Fieldhouse tonight to take on a Kansas team that has won seven straight Big 12 titles. It's No. 3 versus No. 7, and other than the Dec. 3 battle between North Carolina and Kentucky, I can't remember a more highly anticipated game this season.
Here are some quick thoughts on the matchup:
The old cliché says that buildings can't win games. I'm not sure that applies to Allen Fieldhouse, where Kansas has won 84 of its past 85 games. The Jayhawks are an excellent team without question. Their top-10 ranking is deserved. Still, when it comes to pure talent and depth, Baylor has a noticeable advantage. It might not matter in Lawrence. Think about that: 84 wins in 85 games. That's almost unfathomable. Tonight's crowd of 16,300 will be as loud as it's been all season. Baylor has won games at the Marriott Center (which seats 23,000) in Provo. And beating K-State in a raucous Bramlage Coliseum last week was no small feat. But neither of those environments compares to what Baylor will face tonight.

[+] Enlarge

Kevin Jairaj/US PresswireCoach Scott Drew has Baylor off to the best start in school history.

Speaking of Allen Fieldhouse, Bears coach Scott Drew hacked off Kansas' Bill Self two years ago when he pulled his team off the court during the playing of KU's pregame video. The video plays after the introduction of the opposing team's starting lineups but before Kansas' starters are introduced. The video is lengthy and deafening, and Drew said his players couldn't hear him as he tried to talk to them, so he pulled them into the tunnel. Self thought the move was disrespectful, which seemed petty. If anything, it was a brilliant decision by Drew.

The video, in my opinion, is one of the most impressive things I've seen at a college basketball game. Kansas' tradition-rich past is chronicled by clips of players such as Wilt Chamberlain, Paul Pierce, Kirk Hinrich, Brandon Rush and Mario Chalmers dunking and making big shots while thunderous music plays and the crowd screams. It's intimidating enough to rattle an opposing team, especially just minutes before tipoff. That's why I think Drew pulled his players off the court. And Baylor, it should be noted, threw a major scare into Kansas that night before losing 81-75. Still, don't count on the Bears pulling the same act again. "Definitely not," Drew told The Kansas City Star. "We wouldn't have done it if we thought it was going to offend people. That wasn't the intent of it."

This is far from Bill Self's best Kansas team, but as always, no one is questioning the Jayhawks' toughness. If they beat Baylor, it will be because of a defense that is again one of the best in America. Opponents are shooting just 36.6 percent against Kansas and only 34.8 percent from 3-point range. Another sign of KU's aggressiveness is its plus-8.0 rebounding margin, which ranks first in the Big 12. It will be interesting to see whether Baylor can match Kansas' physicality and effort on things such as 50-50 balls, offensive rebounds and other hustle plays.

A strong performance would do a lot for Thomas Robinson in the national player of the year race. Robinson missed his chance to go against Ohio State's Jared Sullinger (back spasms) on Dec. 10. But tonight's challenge will be just as tough as the one he would've faced against the Buckeyes -- mainly because of Baylor's depth down low. Perry Jones is a future NBA lottery pick but is often criticized for not being physical enough. Quincy Acy is extremely physical, but at 6-foot-7, he's 2 inches shorter than Robinson. Standout Baylor freshman Quincy Miller is another future pro at 6-10, but he's more of a small forward. Same thing goes for reserve Anthony Jones, who is 6-11. Still, even though Baylor doesn't have a player as strong or as physical as Robinson, the Bears' depth and length could bother him. It also will be a challenge for him to stay out of foul trouble against a team with four forwards who can all score in bunches.

A strong game by Kansas' Travis Releford or Elijah Johnson is a must. Robinson and point guard Tyshawn Taylor are good players, but someone else needs to step up if the Jayhawks want to hand Baylor its first loss of the season. Releford had averaged 17.5 points in his previous four games before scoring only seven against Iowa State on Saturday. Johnson (9.4 points) has been maddeningly inconsistent.

Baylor hasn't won a conference title in men's basketball since 1945, but the Bears will be the overwhelming favorites for the Big 12 championship if they win this one, mainly because the two toughest games on on their schedule (road tilts with KU and K-State) will be finished. At 17-0, BU is off to the best start in school history.

Baylor's physical toughness is improving, as evidenced by the Bears' outrebounding Kansas State last week. But their mental toughness has been more impressive. Baylor has won four games by three points or fewer against quality competition. One of the biggest reasons for that has been point guard Pierre Jackson. Last season's junior college national player of the year, Jackson has brought a swagger to Baylor's squad that had been missing. The attitude has rubbed off on his teammates, who have an extra strut in their step.

Anyone who says Baylor "hasn't played anyone" is clueless. The Bears have victories against Top 25 teams San Diego State, Mississippi State and Kansas State along with likely NCAA tournament teams such as West Virginia and Saint Mary's. They also embarrassed the same Northwestern squad that beat Michigan State on Saturday. Other than the San Diego State victory, all of those wins occurred outside of Waco. Kansas is the only team in the Big 12 that has played a tougher schedule -- and the Jayhawks have three losses, which is three more than Baylor.

Jackson, Perry Jones and Quincy Acy get most of the attention, but Baylor's complementary players have been just as important to the Bears' success. Boston College transfer Brady Heslip has made 48 percent of his shots from beyond the arc for the Big 12's top 3-point shooting team. Point guard A.J. Walton, who has relinquished most of the ballhandling duties to Jackson, has found a new role as a lockdown defender and made a game-saving strip of Kansas State's Angel Rodriguez in the final moments of Baylor's victory in Manhattan last week. Quincy Miller, who scored 21 points against Oklahoma State on Saturday, is beginning to find his stride. He's hit some huge 3-pointers in recent games. Backup forward Cory Jefferson would start for almost any team in the Big 12, and reserve guard Gary Franklin started as a freshman at Cal before transferring to Baylor last season.

The best illustration of Baylor's depth can be seen in Anthony Jones, who started and averaged 26.6 minutes a game for Baylor's 2009 Elite Eight squad. This season, as a senior, Jones is contributing 17.9 minutes off the bench and hasn't played more than 10 minutes in the past three games.

Win or lose tonight, it's time to end the "Scott Drew can't coach" theory. Anyone who watched Baylor beat Kansas State realizes that's a false statement. The freedom Drew gives his players might have made Baylor look like a street-ball team in the past, but with LaceDarius Dunn no longer around to fire up guarded, ill-advised 3-pointers, the Bears are running and executing set plays on the offensive end. Poorly coached teams don't shoot 49 percent from the field. Poorly coached teams don't play as well as the Bears have played defensively this season, and poorly coached teams don't flounder in tight games. They flourish.

No one is going to confuse Drew with Mike Krzyzewski or Rick Pitino, but to say the only reason Baylor is winning is that it has good players is false. (Quick fact: Since Drew took over in 2003-04, Baylor has had one player selected in the NBA draft. That's the lowest number in the Big 12. Texas and Kansas have had 12 each.) Despicable acts by the previous staff had the program on the verge of the death penalty when Drew took over in August 2003. Also, Baylor had never had a winning record in the Big 12. In one of the greatest rebuilding jobs in NCAA history, Drew had Baylor in the Elite Eight within six years. And now the Bears are 17-0 with a realistic shot to win a league title. For that, the coach deserves just as much credit as his players.
January, 11, 2012
1/11/12
1:52
AM ET
MANHATTAN, Kan. — For years he has been hailed as a future NBA lottery pick. Baylor's
Perry Jones III
is a phenom, professional scouts have said, an athletic freak.
Lately, though, the 6-foot-11 forward whom some have labeled as the most talented player in America has heard a new set of adjectives to describe his game.
Timid.
Passive.
Soft.
"Every day someone asks me, 'Is Perry going to get any tougher?'" Bears coach Scott Drew said. "I think he answered that question tonight."
Indeed, in one of the most intense games of the college basketball season to date, Jones put on his best scowl and muscled up when Baylor needed him most in
a 75-73 victory
over Kansas State at Bramlage Coliseum.
[+] Enlarge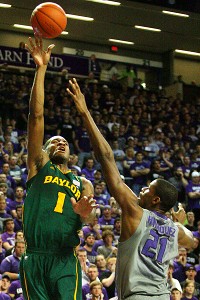 Scott Sewell/US PresswirePerry Jones' 17 points helped Baylor remain undefeated.
Jones scored a team-high 17 points, but his biggest moment came when he fought off K-State forward
Jamar Samuels
to rebound a missed 3-pointer by teammate
Brady Heslip
with 26 seconds remaining and Baylor leading 74-73. Jones was immediately fouled, and he split a pair of free throws to give the Bears a two-point cushion.
Drew couldn't help but scream and pump his fist when time expired after Kansas State failed to score on its final possession. At 16-0, fourth-ranked Baylor remains one of three undefeated teams in college basketball. And as for Jones, who snared a game-high 8 rebounds?
"No one can say he's not tough now," Baylor forward
Quincy Acy
said. "For people to call him soft ... he just [has] taken that and ran with it."
In some ways, Baylor has, too.
Much like their All-America candidate, the Bears have spent much of the past two seasons listening to fans and pundits question their focus and heart. Last season they were ranked as high as ninth but floundered down the stretch and failed to make the NCAA tournament.
Even during the early portions of this season there were times when it seemed as though the Bears needed to develop a mean streak -- especially in the paint, where Baylor boasts one of the most talented front lines in college basketball with Jones, Acy and
Quincy Miller
. Getting outrebounded by undersized squads such as BYU was inexcusable.
"It seems like every time we're picked to lose, it's because we're not tough enough," Jones said.
No. 18 Kansas State -- which was fresh off a blowout of then-unbeaten Missouri -- probably begs to differ after Tuesday.
Much like Baylor, Frank Martin's squad boasts excellent size and depth in the paint, and the Wildcats are regarded yearly as one of the country's most physical teams. But Kansas State outrebounded Baylor by only 28-26 on Tuesday, and the Bears outscored the Wildcats 36-32 in the paint.
Acy, though, said Baylor's mental toughness -- and not the physical kind -- is the biggest reason for the Bears' 16-0 start.
"Tough isn't about going out and elbowing someone," Acy said. "It's about how you respond in certain situations when the crowd is against you. We've done a good job of persevering."
A year ago, Baylor was 3-10 in games played outside of Waco, Texas. This season, the Bears are 7-0 in road and neutral-site games. Their points per game (65.8 to 73.1) and field-goal percentage (42.3 to 49.2) in those contests have improved dramatically from season to season.
Four of Baylor's past five victories -- against BYU, West Virginia, Mississippi State and Kansas State -- have been decided by three points or less. None of those games were in Waco.
That's poise, that's toughness. Especially considering the added pressures that come along with being undefeated.
"We have a target on our back," Jones said. "We're getting everyone's A-game. It's difficult, but it feels a lot better than losing, definitely."
The reasons Baylor is playing with more moxie are plentiful. With a 10-man rotation, BU has one of the deepest benches in America. Fresh legs and spirits are always a good replacement for a worn-down teammate who is upset with himself because of a turnover or missed shot.
The Bears also have two strong tone-setters in Acy and junior-college transfer
Pierre Jackson
, a point guard who had 11 assists Tuesday. Jackson's fearlessness and spunk -- he often lets out a "Woooo!" after a big play -- have been infectious to his teammates, many of whom are beginning to take on his swagger.
Acy is the senior veteran who has reveled in the glory of advancing to the Elite Eight and felt the disappointment of missing the NCAA tournament one year later.
"We try not to pay too much attention to [our rankings]," Acy said. "Last year we got a little fame and we got embarrassed a couple of times. I stressed to the guys that we shouldn't get caught up in the rankings and all that. Every game, we've got to play like we've got something to lose, like we have a target on our back."
The Bears certainly did against Kansas State, when they trailed by as many as 10 points in the first half. Baylor fought back and trailed by only two at intermission.
Numerous Baylor players came up with clutch plays in the second half of a game that featured six ties and 10 leads changes.
Moments after K-State's
Will Spradling
hit a 3-pointer to put his team ahead 63-62, freshman Miller responded with a 3-pointer on the other end to help Baylor regain the lead and quiet the crowd.
Soon after, KSU looked as though it may pull away when Henriquez swished a pair of foul shots that made it 71-67, but Heslip did a nice job of drawing contact on the Bears' ensuing possession. He went to the free-throw line and made it a two-point game again.
"Guys didn't get mad at each other," Jones said. "We still played basketball the way we know how to play. When we see someone down we say, 'C'mon, we've got to do this for 40 minutes. We've got to grind. There's no time for sulking.'"
[+] Enlarge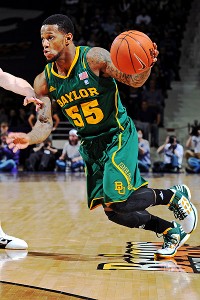 Peter G. Aiken/Getty ImagesWith 10 points and 11 assists, Pierre Jackson was the glue that held Baylor together against Kansas State.
Acy scored five consecutive points -- four of which came as a result of his own steals -- to turn a 71-69 deficit into a 74-71 lead. A basket by Kansas State's
Rodney McGruder
made it 74-73 with 2:04 remaining.
The only other point of the game came on Jones' free throw with 20 seconds remaining following his heroic rebound.
Kansas State still had a chance to win or force a tie, and it looked as though it would happen when freshman point guard
Angel Rodriguez
broke free for what appeared to be an easy layup. But at the last moment, Baylor's
A.J. Walton
ripped the ball away from Rodriguez with 3 seconds remaining.
The ball sailed out of bounds, and the Wildcats' hopes died moments later when Acy got a hand on Rodriguez's high-arching entry pass to Samuels and batted toward the other end of the court. Time expired as Kansas State chased down the loose ball.
"We assumed they were going to throw a lob because of the time," Acy said. "They had run that play a couple of other times earlier in the game. I was fortunate to tip it and let the clock run out."
Martin, whose team fell to 12-3 overall and 1-2 in Big 12 play, couldn't have been more dejected after the game, mainly because the Wildcats had 20 turnovers.
"The guys wearing our uniforms threw the ball to the guys wearing their uniforms so they could go down and dunk," Martin said. "For us not to protect our home court and not close this game out because of a comedy of plays is embarrassing."
The win was easily Baylor's biggest of the season -- and possibly one of the monumental of the Scott Drew era. Bramlage Coliseum is regarded as one of the toughest places to play in the country. Other than Kansas' Allen Fieldhouse, the Bears won't encounter a louder, more difficult road environment all season.
Drew also realizes his squad beat an exceptional team in Kansas State, whose only two losses before Tuesday were to West Virginia (in overtime) and Kansas.
"I'd put them up against anyone we've faced or up against any top-10 team in the nation," Drew said. "They're that good."
People would've said the same thing about Baylor before Tuesday's game. But now the narrative is different. Perry Jones and the Bears were always one of the nation's most-talented teams.
Now they're one of the toughest.
December, 17, 2011
12/17/11
6:59
PM ET
For one scary moment,
Perry Jones III
feared he was done for a long time.
Baylor's big man was writhing on the court in pain and wasn't sure he could come back into the game, let alone how much of the season might be missed.
Jones had knocked knees with BYU's
Brandon Davies
atop the perimeter on a drive with 1:26 left and his seventh-ranked Bears up 84-83. Without its star forward, Baylor looked like it might lose not only the game, but its shot at a glorious season.
"I was scared,'' Jones told ESPN.com by phone Saturday. "I couldn't move my leg on my own. I thought I tore something.''
But Jones quickly made a decision while on the bench.
He wanted back in.
"I didn't want to let my team down,'' Jones said. "I just wanted to ignore the pain, get to the weak side and get the rebound. I was there at the right time.''
Jones' tip-in follow with 21 seconds left gave Baylor an 86-83 lead.
"That was huge,'' BU coach Scott Drew said. "What was really special is that normally a player gets injured, limps around and doesn't make the big play. He got the big play.''
Brigham Young had one more chance to tie the game when Davies had a 3-pointer at the buzzer. But
Pierre Jackson
, a 5-foot-10 guard, came from the side and blocked the 6-9 forward's shot.
"I was closest to him,'' Jackson said after the Bears'
86-83 victory
. "I know I can jump pretty high. I wanted to contest it but I happened to block it. It was a big block, and it saved the game for us.''
Drew said Jackson is as athletic a player as Baylor has and that he wasn't surprised Jackson found a way to block Davies' shot.
Jones, a clear contender for All-America status and Big 12 player of the year, finished with a career-high 28 points and eight rebounds, while Jackson added 13 off the bench.
Brady Heslip
made six of 10 shots from beyond the arc and finished with 18 for the Bears.
Baylor hadn't been tested yet this season, blowing out all its competition, even in the one previous road game at Northwestern.
[+] Enlarge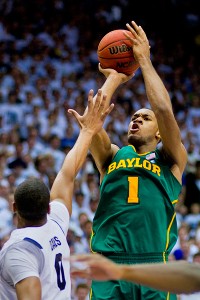 Douglas C. Pizac/US PresswireBaylor's Perry Jones III led all scorers with 28 points, adding eight rebounds and four assists.
So Drew wasn't sure how his team would handle going into the Marriott Center, a notorious graveyard for BYU opponents.
"You're not going to find a tougher atmosphere in college,'' Drew said. "They were 48-2 in their last 50 games. This definitely gets us ready for Big 12 play and tells us a lot about our team. It showed we know how to execute at the end of games. Toughness is required to win on the road. We weren't ready early on, and we got dominated on the glass.''
The Cougars added UCLA transfer
Matt Carlino
for this game, and he tied Davies for the team lead with 18 points. But Baylor did have length, size and depth advantage in the frontcourt with BYU missing sixth man
Stephen Rogers
.
However, it was Cal transfer guard
Gary Franklin
who played a key role Saturday. He made two 3s in 12 minutes, but Drew said Franklin's defense was just as crucial.
"Normally you like to bring in a player that you add midseason for a home game,'' Drew said. "But he was tremendous. He guarded very well.''
It's pretty clear the Bears are more than capable of competing for the Big 12 title and a deep run in March, possibly long enough to get to New Orleans.
But there still are some potholes ahead. Baylor plays Saint Mary's and West Virginia in Las Vegas next week, and then squares off with Mississippi State on Dec. 28 in Dallas.
The length of
Arnett Moultrie
and size of
Renardo Sidney
will certainly test Jones,
Quincy Miller
and
Quincy Acy
, while Heslip, Franklin, Jackson and
A.J. Walton
will have their hands full with
Dee Bost
and
Rodney Hood
.
So plenty of tests remain for the unbeaten Bears. But one of the biggest of all was passed in Provo.
"We got through the adversity together,'' Jones said. "We just have to play smarter and play better together.''
August, 18, 2011
8/18/11
10:35
AM ET
Our friends at The Mag are previewing one high-profile school per day for their Summer Buzz series. For the sake of all that is synergistic, yours truly will be attempting the same, complementing each comprehensive preview with some analytic fun. Today's subject: Baylor.
In retrospect, there were three real candidates in the contest for 2010-11's Most Disappointing Team. (Believe it or not, there is no ESPY for this. But there should be.) Those candidates were Michigan State, Kansas State and Baylor. To me, the winner is Baylor, and I'm not sure it's even close.
Michigan State was mediocre, but at least the Spartans rallied in time to keep Tom Izzo's NCAA tournament appearances streak alive. Kansas State was massively disappointing on and off the court, but
Jacob Pullen
caught fire late in the season, the Wildcats easily secured a tournament bid, and Frank Martin's team fought to a valiant, prideful end in the second round of the NCAA tournament. Loss or no, Pullen and Co. could walk off the floor with heads held high.
Baylor, on the other hand, never got there. For all the expectations and talent -- the Bears were a popular preseason Final Four pick thanks to the arrival of touted recruit
Perry Jones
and the return of star guard
LaceDarius Dunn
-- Scott Drew's team just never seemed to sort it out.
[+] Enlarge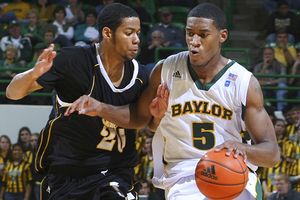 AP Photo/Jerry LarsonPerry Jones (5) averaged 13.9 points and 7.2 rebounds per game last season.
Earlier this year, during the glorious height of Bubble Watch -- my body still hasn't recovered from the circadian disruptions -- my editor Brett and I would frequently get on the phone and hash things out. Who deserved to drop off? Who deserved to stay on? Why or why not? Each week, it seemed, brought some measure of discussion about Baylor. Every week, we kept waiting for the Bears to give us a reason -- besides the general softness of the bubble -- to warrant serious bid consideration. Every week, Baylor disappointed.
It was a weird, frustrating experience. I can only imagine how Baylor fans felt. Eventually, the Bears mercifully dropped off The Watch, finishing 18-13 and underperforming even the most bearish (sorry) analysts' preseason predictions.
Why? Why was a team so talented also so very mediocre? The answer is actually pretty simple: point guard play.
For all of the talent at Baylor last season, the Bears never recovered from the loss of former point guard Tweety Carter, who helped lead the team to the 2010 Elite Eight appearance that so inflated 2011's expectations. With Dunn and forward Ekpe Udoh garnering most of the headlines for that run, Carter's excellent point guard play often went unnoticed. With Dunn back, Jones arriving, and forward
Quincy Acy
preparing to take a larger role, it was assumed that sophomore point guard
A.J. Walton
would be able to pick up right where Carter left off, that the Bears' vaunted high-flying offense would just keep putting points on the board.
That didn't happen. Oh, did it ever not happen. Walton struggled, and that's putting it nicely. He posted one of the highest turnover percentages in the country in 2011, coughing up the ball on 32.1 percent of his possessions. In 2010, Baylor's turnover rate was 20.2 percent -- not great, not bad, right in the meat of the curve.
In 2011, with Walton at the helm, that team turnover rate jumped to 23.4 percent, one of the highest figures in all of college hoops. (Team rank: No. 322. Ouch.) Walton was, to put it bluntly, a turnover machine, and those turnovers contributed in a big way to Baylor's overall offensive mediocrity. Throw in Walton's shaky shooting, and the Bears' offense lost much of its dynamism, especially on the perimeter.
Per Ken Pomeroy, in 2010,
the Bears ranked No. 3 in the country in adjusted offensive efficiency
. In 2011,
they ranked No. 92
. More than anything else, turnovers were the reason.
Of course, it would be unfair to lay all of the blame at Walton's feet. For one, Baylor's defense wasn't nearly as good as it had been the previous season. Most assumed Jones would make up for the loss of Udoh; instead, the touted freshman came along slowly, a prototypically gifted athlete who hadn't quite figured out how to turn his talents into dominance. That was especially true on the defensive end, where Udoh's shot-blocking -- not to mention the presence of 7-foot banger Josh Lomers -- was sorely missed. The drop-off in adjusted defensive efficiency wasn't quite as pronounced as the offensive side, but the Bears suffered a major dip all the same.
Now, as 2012 approaches, how does Baylor avoid a similar fate? Dunn is gone, but Jones and Acy are back, and they're joined by another elite talent in incoming freshman Quincy Miller, the No. 3-ranked power forward in the class of 2011. Deuce Bello, a touted small forward prospect, is also arriving this fall. The Bears will have another supremely long and athletic team, one most experts will pick to contend for the Big 12 title and a spot in the second weekend of the NCAA tournament. But can they get the offense back on track?
Again, the answer is point guard play. A major improvement by Walton in his junior season is one option. But there is another: In April, Baylor inked point guard Pierre Jackson, one of the top junior college players in the country. When asked why he chose Baylor,
Jackson gave his appraisal of the BU personnel to the Magic Valley Times-News
:
"What Baylor has coming back next year - the front line is crazy," said Jackson. "... They got a couple NBA-caliber front-line players and they've got a couple freshmen coming in that are NBA caliber already on a couple mock drafts."

"Baylor needed a point guard pretty bad last year," said Jackson [...]. "I guess I was the perfect guard for that situation."
He's not wrong: Baylor desperately needed a point guard last year. If Jackson is even so-so -- as long as he doesn't cough the ball up too frequently -- he could be the piece that puts Baylor over the top.
Of course, as above, there are other issues. The Bears have to get better defensively. Jones has to turn all that talent -- the dude is 6-foot-11 with silky guard skills, for goodness' sake -- into star-level productivity. Miller and Bello have to be ready to contribute immediately, and Acy has to be even better on the glass.
College hoops is not the place for magic bullets. Things aren't as simple as plugging in one player for the other. There are rarely magic bullets. But Baylor, perhaps more than any team in the country, had a singular, obvious problem in 2011. If Drew can correct it -- whether with Walton or Jackson or some combination therein -- he might have a very scary team on his hands.
If he can't, the Bears are almost sure to improve. But they won't be nearly as good as they should be. Sound familiar?