College Basketball Nation:

Aaron Brown
May, 2, 2012
5/02/12
12:15
PM ET
It's no secret: 2011-12 was not West Virginia's best year on the basketball court. That's not the same as calling it a
bad
year: The Mountaineers still managed to eek out a 9-9 record in the Big East, and they still managed to sneak in to the NCAA tournament before losing to Gonzaga in the first round, and there are plenty of teams that wish they could say the same.
Still, 2012 was not the finest hour in Bob Huggins' tenure at WVU, mostly because his team was often so difficult to watch. Aesthetic value only goes so far, sure, but the Mountaineers were such a poor shooting team, and such a mediocre defensive unit, that their games often came down to a) whether
Kevin Jones
could carry the load and b) which team rebounded its own misses more frequently. These games were scrums, and they were ugly. Even the most loyal West Virginia fan had to occasionally avert her eyes.
[+] Enlarge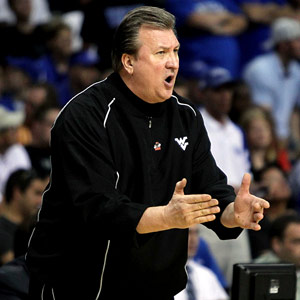 US PresswireBob Huggins and the Mountaineers enter the 2012-13 season with a whole host of new faces.
So: What does 2012-13 have in store? The Mountaineers, as you already know, are joining the Big 12. Can Huggy's team compete -- or even contend -- in their new-look league?
If not, it will not be for a lack of talent. Huggins loses Jones and senior guard Daryl "Truck" Bryant, his two leading scorers from last year's campaign, to graduation. The loss of the do-everything Jones -- an adept scorer and dominant offensive rebounder and a four-year stalwart at his position -- will require a particularly difficult adjustment. But despite that loss, Huggins is in many ways reloading. And he has transfers to thank for that.
If West Virginia does indeed plan to compete for the Big 12 title in 2012-13, it may well come down to the play of Aaric Murray, a former La Salle forward, and Juwan Staten, a transfer point guard from Dayton. Both bring tons of talent. At 6-foot-10, Murray is a potential NBA prospect; as a sophomore at La Salle, he grabbed 19.0 percent of opponents' misses and recorded a block on 7.6 percent of available possessions. (He also shot 20-of-57 from 3 that season. There is versatility here, too.) Staten, meanwhile, was one of the nation's best assist men in 2011, his freshman season at Dayton, when his 39.8 percent assist rate ranked him No. 10 in the country. Staten took his fair shot of shots that season (304, to be exact), but his pass-first tendencies nonetheless shone through.
West Virginia is also bringing along a crop of 2012 freshmen -- notably
Jabarie Hinds
and
Gary Browne
, but
Aaron Brown
,
Keaton Miles
and
Kevin Noreen
all received solid minutes in their first seasons -- as well as one ESPNU 100 talent in No. 12-ranked power forward Elijah Macon, a Columbus, Ohio native who did his hooping and schooling at Huntington Prep. Big-bodied and ably bearded forward
Deniz Kilicli
returns, and hopefully he will play "Country Roads" on his guitar at Midnight Madness again.
That was awesome
.
Still, the key players to watch are Murray and Staten, and Staten may prove to be the most important; he offers as much promise as trepidation. Staten is the kind of facilitative point guard the Mountaineers have desperately lacked in recent seasons, particularly when Bryant was running the show. (Hinds and Browne both recorded assist rates above 20 this past season, but West Virginia's offense was hardly flowing.) If Staten is content to be that kind of player, and Murray and Kilicli and Huggins' other forwards hit the glass with the usual Hugginsian intensity, then West Virginia is almost guaranteed to improve in 2012-13. But if Staten is still mired in some of the things that precipitated his Dayton transfer in the first place -- bad chemistry with teammates, a bad reputation among his coaches, those sort of things -- the Mountaineers are going to struggle early and often on both ends of the floor.
There are many uncertainties for this team, from two bigtime transfers to a batch of freshmen with a year of experience under their belts, to a freshman power forward that may or may not make an immediate impact. Until Huggins gets his players on the floor in the fall, the best West Virginia fans can do is picture it in their mind's eye. Midnight Madness will be a fascinating experience, no doubt (and not just for Kilicli's strumming). But if all goes well, the team WVU fans see in 2012-13 could be much improved, capable -- at least -- of battling in the top half of its new league in its first Big 12 season.
At the very worst, this team should be more entertaining -- or, you know,
less difficult
to watch. For a squad with this many questions, the Mountaineers may offer some potentially exciting answers.
March, 19, 2011
3/19/11
2:36
AM ET
TUCSON, Ariz. -- A look at Saturday's games in Tucson:
No. 7 seed Temple (26-7) vs. No. 2 seed San Diego State (33-2), 6:10 p.m. ET (TNT)


Temple and San Diego State both had a story and a game on Thursday. Both won games, so both stories are no longer front-and-center.
When Temple beat Penn State in the round of 64 of the NCAA tournament, it won its first tournament game since 2001 and ended coach Fran Dunphy's record 11-game tournament losing streak. And when San Diego State beat Northern Colorado, it won its first tournament game. Period.
Those issues behind them, when the second-seeded Aztecs and seventh-seeded Owls meet today, it will only be about advancing to the Sweet 16. It will be about basketball.
"As soon as we walked out of the locker room we knew it was time to turn the page on this chapter of San Diego State basketball and start focusing on what's possible in the future," SDSU point guard
D.J. Gay
said. "And that's Saturday."
Oh, there is one other angle: Revenge.
In the 1994-95 season, Dunphy took his Penn Quakers to Ann Arbor and beat then-Michigan coach Steve Fisher, now the Aztecs coach.
"I think the referees cost us the game," Fisher quipped.
By the way, Fisher and Dunphy are good buddies.
The setup:
San Diego State wants to run. Temple doesn't. The Aztecs are bigger in the frontcourt. The Owls are bigger in the backcourt. San Diego State is deeper. Five Temple players played 30 or more minutes against Penn State, and forward
Lavoy Allen
never left the game. Eight Aztecs played at least 10 minutes against Northern Colorado and just three played 30 or more minutes. Of course, SDSU won in a blowout. And it would help the Owls if they can get quality minutes out of forward
Scootie Randall
.
Who to watch:
San Diego State forward
Kawhi Leonard
is a force inside and averages a double-double, but he's merely the headliner for one of the nation's top frontcourts. Team captain and point guard D.J. Gay has a 4-1 assist-to-turnover ratio. For Temple,
Juan Fernandez
hit the game winner against Penn State and scored 23 points, as did
Ramone Moore
, who dominated the second half. Allen is the key figure inside for the Owls.
Why to watch:
This will be a big-stage test against a quality foe for San Diego State to prove it deserves a No. 2 seed and is a legitimate Final Four contender. It's also a test of basketball styles. You might even wonder if fans will start competing chants of "East Coast" and "West Coast."
What they're saying:
Gay on Temple trying to slow down San Diego State's fast tempo:
"We definitely try and play an uptempo game, try to speed it up. When teams try to slow it down on us, we might come out more aggressive on the defensive end. Try to cause more turnovers or do anything to help speed the game up. But I think speeding the game up can be done on the defensive end."
Fernandez on slowing down the Aztecs:
"Well, like I just said before, we're a team that tries to slow down the ball a little bit, play more halfcourt offense and defense. That is where we feel more comfortable. On the other hand, they prefer to play an uptempo game and go up and down and try to get as many fast-break points as they can. So we will have to try to establish ourselves and play our rhythm."
Fernandez on his game winner against Penn State:
"That shot was big yesterday. But we already celebrated. There is not too much you can do about it now. We just got to win tomorrow."
Moore on if San Diego State is similar to a team Temple has played:
"I would say they're unique. I can't remember any teams that we played similar to the style of play they like to play."
Dunphy on Leonard:
"He is a tough matchup for us. Especially if we have to play three guards, and [freshman]
Aaron Brown
will probably start on him and that's going be a tough matchup for Aaron Brown. We'll need to help him greatly. When Scootie gets in, he'll probably play him and Scoot's not used to playing over the last month. So he is a very difficult matchup for us, there's no question about it."
Dunphy on Scootie Randall's health:
"I think yesterday we gave him the opportunity, as I said before, he deserved that opportunity to get in there yesterday. He had actually run full court on Tuesday and looked pretty good. Wednesday a little bit we didn't run real hard on Wednesday, but gave him a little bit of a run there. And he ran a little bit full court again today. And we just finished our practice. So we'll do the same thing, put him in midway through the first half and see if he's more comfortable out there and he's helping us, then he can stay out there."
No. 5 seed Kansas St. (23-10) vs. No. 4 seed Wisconsin (24-8), approx. 8:40 p.m. ET (TNT)


As point guard showdowns go, it doesn't get much better than Wisconsin's
Jordan Taylor
versus Kansas State's
Jacob Pullen
.
Taylor averages 18 points and 4.7 assists. Pullen averages 19.5 points and 3.7 assists. Both earned first-team all-conference honors, Taylor in the Big Ten and Pullen in the Big 12. Pullen is the first Wildcat to earn first-team honors twice and was one of two unanimous picks this year. Taylor leads the nation with a 4.20 assist-to-turnover ratio.
Both said the round of 32 tilt between the Badgers and Wildcats is not about them. But both admitted to being aware of the matchup. And if they weren't, reporters were there to graciously remind them.
"Any time you play players like that, it definitely bring out the best in you," Taylor said. "You definitely have to bring your A-game. But at the end of the day it's about the team. They're not going to say Jacob Pullen moved on or
Jon Leuer
or Jordan Taylor moved on. So you definitely relish the challenge. It makes it fun to play against players like that. But, at the same time, it's all about what's on the front of your jersey."
While it's not really about a battle of point guards, it sort of is. Both are the engines of their respective teams on both ends of the floor. Pullen, in fact, seemed like a one-man team at times this season -- see his 27-point average over the final six regular-season games when the Wildcats were fighting for a spot in the tournament. And Taylor is the fulcrum of Bo Ryan's "swing offense."
Further, tempo will be critical in the matchup. The Wildcats and Pullen want to play fast. The Badgers and Taylor want to slow it down. And each will be trying to push his counterpart out of his comfort zone.
"We've got to do a great job of defending the ball screen and keeping [Taylor] in a position where he doesn't know what kind of defense we're playing, whether we're trapping it or soft hedging the ball screen," Pullen said. "The other thing is we really got to make him guard. Whoever he is guarding, we got to make sure he plays 36, 37 minutes a game. We got to make sure he is using his energy on both ends not only on offensive end."
One problem for Kansas State: It isn't easy to dictate tempo to Wisconsin, though many have tried, and Kansas State coach Frank Martin said as much.
"If you can speed up a Bo Ryan team, it will probably be the first time in 30 years that happens," Martin said. "Our challenge is to not allow Jordan Taylor to get comfortable. To not let him get in rhythm. And No. 2 is to keep him out of the paint. Because when he gets in the paint, then he forces help and then he finds shooters."
As for defending Pullen, Ryan doesn't see it that way exactly. While the Badgers largely play man-to-man defense, just like the Wildcats, it's still more team than individual.
"We don't get into a lot of, 'It's you against you, or you got to take him and you got to shut him down,'" Ryan said. "We don't do that because our defense is predicated on help. We always want to get five guys guarding three guys. That is our goal all the time. Learned that at a night clinic in Valley Forge, Pa., in the early '70s, and it still works."
Who to watch:
Other than the point guards? There are a couple of bigs of note. For Wisconsin, it's Leuer, who leads the Badgers with 18.6 points and 7.3 rebounds per game. He'll be matched with
Curtis Kelly
, who averages 10.3 points and 5.3 rebounds.
Why to watch:
It's another interesting contrast of styles, with the Wildcats hoping for a fast-paced frenzy, and the Badgers preferring the half-court game. Both will try to impose their will on the other. The Badgers turned the ball over only 229 times this season versus 479 from Kansas State. And the Badgers are better at the free throw line, leading the nation with an .827 percentage versus .647 for the Wildcats. Of course, the Wildcats hit 86 percent of their free throws in their win over Utah State.
What they're saying:
Taylor on hearing that K-State will try to speed things up:
"I think we have to do exactly what they're trying to do, play at our own pace. Play at the pace that we're comfortable with."
Leuer on Curtis Kelly and Jamar Samuels:
"From what I've seen, they can do a lot. They're both very active and long and athletic. They have good touch around the basket. They're physical. And we're going to have to do our best to try to limit their touches and not let them get into a rhythm. And the more we can keep the ball out of there and not let them get deep post position... that's what you want to do against anybody, not let them get deep post position. But those guys, especially because they're going to make it hurt if they get it down there."
Ryan on Kansas State's physical offensive rebounding:
"Well, contact's a good thing. You got to enjoy contact, physically to block people out. We're not going to outjump them. I don't think lengthwise we're going to be any longer than them. So you just got to do what you do every day in practice. Require guys to put a body on somebody. Don't let somebody get an angle. And be willing to dig in. I'm sure the other teams that play against them have said that, too. Then you got to go out and do it."
Pullen on the KSU scoring record:
"When I'm done playing basketball at Kansas State and I get a chance to actually sit down and look back, I think it will mean a lot then and I'll really cherish it more. But right now I don't want to jinx myself and I don't want to know how close I am because that is the wrong focus."
Martin on narrowing his player rotation:
"My job is to help our team win. And if guys don't deserve to play, it's not charity. You know, they better practice well or they're not going to wear a uniform."
Martin on his team:
"Our kids acted this season like I wish our society would act. That means that when things get hard, they don't pass blame. They don't run away from it. They don't roll their eyes. They don't quit. Which is a great word in today's society, 'quit.' Contrary, our guys handle stuff with loyalty, with honesty, with commitment. Those are the words I grew up on. And, unfortunately, our society's turned some in today's day and age. I'm just happy our kids didn't pay attention to society and they stuck to the values that I believe in."