College Basketball Nation:

Aaron Fuller
November, 9, 2012
11/09/12
1:03
AM ET
Finally, some good fortune is starting to fall on the USC basketball team.
The Trojans were informed Thursday that
Omar Oraby
-- a 7-foot-2, 265-pound transfer from Rice -- has been cleared by the NCAA to compete this season. Oraby broke Rice's single-season blocks record last year, but, strangely, played just 11 minutes per game and averaged only six points.
USC coach Kevin O'Neill said Oraby will play a major role for the Trojans.
"The sky is the limit for this guy," O'Neill told ESPN.com Thursday. "He can catch, he can shoot, he can pass and block shots and rebound. He's still developing, but he's a legit player."
USC finished 6-26 last season and set a school record for losses. But that was mainly because the Trojans lost four starters to season-ending injuries.
[+] Enlarge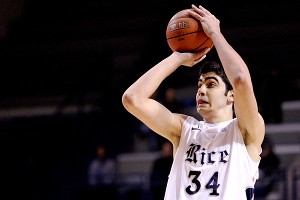 Thomas Campbell/US PresswireRice transfer Omar Oraby should provide USC with another inside presence. Oraby blocked 54 shots for the Owls last season.
This year's team will look completely different. All of the players who were hurt last season are healthy again, and O'Neill signed a handful of transfers who are expected to catapult the Trojans from one of the league's worst teams to one of its best.
No one is ready to say that USC will challenge Arizona and UCLA for the Pac-12 title. But finishing in the upper half of the conference and earning an NCAA tournament berth are realistic goals.
Especially with the addition of Oraby.
"Our team was ecstatic when we gave them the news," O'Neill said. "We've all seen how good he can be at practice. There are times when he's been dominant."
O'Neill said he'll go with a starting frontcourt of
DeWayne Dedmon
and UC-Irvine transfer
Eric Wise
in Friday's season-opener against Coppin State. But he said Oraby will definitely see action.
"He's been working out with us," O'Neill said. "He's up to speed. He could end up starting for us in the near future."
If anything, Oraby provides even more depth to a frontcourt that wasn't hurting for bodies. Besides Oraby, Dedmon and Wise, USC is expected to get major contributions from veterans
Aaron Fuller
and
James Blasczyk
, who is nicked up and probably won't play against Coppin State.
O'Neill said sophomore
Byron Wesley
will be the team's starting small forward Friday while former Wake Forest starter
J.T. Terrell
gets the nod at shooting guard.
Jio Fontan
, who missed all of last season with a torn anterior cruciate ligament, will be the Trojans' point guard and will be backed up by freshman walk-on
Chass Bryan
, who has been the team's biggest surprise during preseason workouts.
"We knew he was coming, but we didn't know how good he was," O'Neill said of the 5-9, 165-pound Bryan. "He didn't have a great senior year of high school, but he's shown us something. We think he's really good."
Bryan's emergence couldn't have come at a better time. Maurice Jones, USC's starting point guard the past two seasons, was declared academically ineligible and transferred to Iowa State. The Trojans are confident in Fontan, but depth was an issue before Bryan became a factor.
After experiencing so much adversity last season, O'Neill was asked if the "basketball Gods" were finally showing some compassion for USC.
"You never want to think that because you don't know what can happen," he said. "But to get two guys late like this that are going to be high in our rotation, we feel pretty lucky."
October, 19, 2011
10/19/11
8:49
PM ET
By
Diamond Leung
| ESPN.com
USC coach Kevin O'Neill has told reporters he
expected the Trojans to be picked 10th in the Pac-12
and called the Trojans without injured point guard
Jio Fontan
a "
rudderless ship
."
According to
ESPN Los Angeles
, the backcourt without Fontan is still a work in progress as it is now expected that
Maurice Jones
will slide over to play point guard rather have freshman
Alexis Moore
be the primary ballhandler.
"Mo's going to play the point," O'Neill said Saturday. "I don't know what it's going to do, but he's going to play the point."
Part of that is Jones, who noticeably talks and acts much more like a leader than he did last season, as a true freshman some 2,000-plus miles away from home in Michigan. And part of that is Moore, who proved over the last two months to be a risky proposition as an immediate starter.

"I just feel like it's too much pressure for him to be the starting point guard," O'Neill said. "He's going to play some point, obviously. And we're running what is probably going to be a two-guard offense, but I just don't want the pressure to be on him.

"I don't think he's ready for that yet."
Moore certainly seems open to it in comments made to the team's website.
"Personally, I like to have the ball in my hands, but we have a great guy in Mo in terms of his playmaking ability, so I also like playing with him and playing off of him," he said. "Any way I can, in terms of whether that's catching a drive-and-kick from him or even setting him up for something like that, I'm happy to do it."
It's expected that Fontan will redshirt, and the Trojans appear to have added to their backcourt as well for next season when former Virginia Tech guard J.T. Terrell, a former top-100 recruit,
committed to transferring to USC
.
But for this season, the injuries will be something the Trojans will have to overcome. Fontan had surgery on a torn anterior cruciate ligament. Forward Curtis Washington is out for the season following surgery on a torn labrum. Another forward,
Dewayne Dedmon
, is working toward playing with a broken hand. And according to the
Daily Trojan
, there are more minor injuries to forward
Aaron Fuller
's dislocated finger and Jones' ankle.
"He has not said a word, and that is what I like about [Fuller]," O'Neill said. "You are not supposed to sit on the side with the sniffles."

Jones has been bothered by a minor ankle injury. He has not been sidelined, but O'Neill stated he might rest Jones at times because he is valuable to the team.

"The crippling injury would be to [Jones]," O'Neill said. "If [he] gets hurt, I am in front of a bus."
March, 11, 2010
3/11/10
6:21
PM ET
INDIANAPOLIS -- There was a ton of buzz about Todd Lickliter's future at Iowa well before the Hawkeyes tipped things off against Michigan in a first-round Big Ten tournament matchup.
[+] Enlarge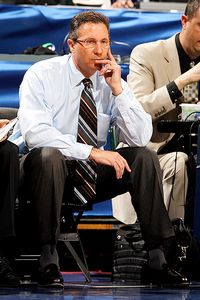 Jonathan Daniel/Getty ImagesDid Todd Lickliter coach his last game for Iowa on Thursday?
Lickliter left Indy late Thursday afternoon
not knowing whether he'd coached his final game at Iowa
. Athletic director Gary Barta said in a statement that he'll evaluate the future in the coming days.
Not much has gone Lickliter's way both on and off the court since he arrived at Iowa from Butler in 2007. The team has endured a wave of transfers, embarrassing losses, declining attendance and even health issues for Lickliter earlier this year.
Iowa showed some life midway through Big Ten play, and Barta gave Lickliter a vote of confidence in January, but things went south down the stretch, as Iowa dropped six of its final seven.
Lickliter sounded a bit defeated after Thursday's game, but his personality isn't exactly sunny even in good times. He and his players had some interesting things to say, which you'll see below:
Lickliter: "The recruits that we've targeted that we feel like are going to be able to compete have got to go through some tough times. We're not recruiting an All-Big Ten player to Iowa their freshman year. If we do, great, if we can find him. But realistically, what we've had to do is recruit players who can develop into that. That's hard for players to go through: the frustration, the grind, the hard work. So we've had to continue to fight through some of that."

Lickliter: "My future is that I'm healthy, I have a great family, I love what I do, I've done it well, and [the future is] not in my hands."

Freshman guard Cully Payne: "We've got a great foundation and we're excited for coach. We're by his side the whole way. I can speak for our freshman class and our whole team that coach is our guy."

Sophomore forward Aaron Fuller: "I plan to come back next year. If coach is here, great. If not, that's unfortunate and I hope the best for him. The program's not where it needs to be at, and it's not my choice whether he stays or goes."
March, 11, 2010
3/11/10
4:26
PM ET
INDIANAPOLIS -- After a scare early in the second half and in the closing minutes, Michigan held off
Cully Payne
and Iowa,
59-52
, to advance to the Big Ten tournament quarterfinals. The Wolverines will face top seed Ohio State on Friday (ESPN, noon ET).
[+] Enlarge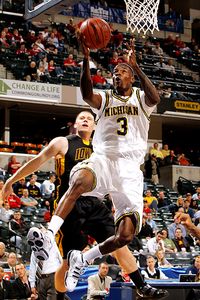 Jonathan Daniel/Getty ImagesManny Harris heads to the hoop for two of his 22 points Thursday.
Michigan got what it needed from its star players, particularly junior guard
Manny Harris
, who played a lot like he did early in the season. Harris was very aggressive on both ends of the court and finished with 22 points, nine rebounds and two assists. Wolverines senior forward
DeShawn Sims
continued to be a load in the low post, racking up 14 points.
Iowa never quit today, which is more than I can say for the Hawkeyes' last two outings -- historically bad losses to rivals Wisconsin (67-40) and Minnesota (88-53). The Hawkeyes carried over the momentum they built late in the first half, thanks to Payne, who scored a career-high 25 points. Iowa cut Michigan's lead to four points before a Sims block led to a
Zack Novak
3-pointer. The Hawkeyes also took advantage of Michigan's sloppiness down the stretch, cutting the lead to five with a chance to get closer.
Payne surpassed his previous career best of 18 early in the second half. But other than promising forward
Aaron Fuller
(10 points, 13 rebounds), Payne didn't get much help from his Iowa teammates.
The Hawkeyes struggled to hang onto the ball, committing 14 turnovers in the loss.
There's a lot of buzz here at Conseco about the future of Iowa third-year head coach Todd Lickliter, which could be addressed in a matter of moments. Lickliter has four years remaining on his contract but owns a 38-58 record at Iowa.
Stay tuned ...
March, 11, 2010
3/11/10
11:35
AM ET
INDIANAPOLIS -- The 2010 Big Ten men's basketball tournament tips off today at Conseco Fieldhouse with three first-round games on tap.
Here's a quick look at the matchups:


No. 8 seed Michigan vs. No. 9 seed Iowa (ESPN2, 2:30 p.m. ET)
Records:
Michigan (14-16), Iowa (10-21)
Season series:
Michigan won both meetings, pounding Iowa 60-46 at Crisler Arena and rallying for a 80-78 overtime victory in Iowa City.
Advancement:
Winner faces No. 1 seed Ohio State in the quarterfinals Friday (ESPN, noon ET)
Three things to watch:
These are the two worst offensive teams in the Big Ten, as Michigan averages just 64.4 points and Iowa puts up 60.8 points. The Hawkeyes shot just 30.9 percent from the field and 16.7 percent from 3-point range (4-for-24) in the game in Ann Arbor, while Michigan had a 14-point first half Sunday against Michigan State. Despite the offensive struggles, the teams found their scoring rhythm in their last meeting, as both shot better than 45 percent from beyond the arc. Don't be surprised if the game comes down to 3-point shooting.
Michigan center DeShawn Sims is a load for most opposing teams, and a smallish Iowa squad will have its hands full with the senior. Sims recorded double-doubles in both meetings with the Hawkeyes this year, including a 27-point, 10-rebound effort in Iowa City. The Hawkeyes will need strong defensive performances from Jarryd Cole and Aaron Fuller today.
Iowa can't afford any sort of hangover effect if it expects to advance in Indy. The Hawkeyes lost their last two regular-season games, to Wisconsin and Minnesota, by a combined 62 points. Iowa endured its worst-ever loss to Wisconsin (67-40). As freshman guard Eric May told The (Cedar Rapids) Gazette, "You've got to Etch A Sketch it and get it out of your system."
No. 7 Northwestern vs. No. 10 Indiana (ESPN2, 25 minutes after Game 1)


Record:
Northwestern (19-12), Indiana (10-20)
Season series:
Northwestern crushed Indiana 78-61 in Evanston on Feb. 7, but the Hoosiers responded with an 88-80 overtime win Saturday at Assembly Hall.
Advancement:
Winner faces No. 2 Purdue in the quarterfinals Friday (Big Ten Network, 6:30 p.m. ET)
Three things to watch:
The matchup features two of the Big Ten's top offensive threats. Northwestern sophomore forward John Shurna was the Big Ten's leading scorer in league games (20.1 ppg). Shurna matched his career high with 31 points and grabbed 12 rebounds in Saturday's loss to IU. Indiana guard Verdell Jones III finished sixth in the Big Ten in scoring for conference games (16.7 ppg). Jones racked up 28 points in the teams' first meeting.
Northwestern needs to put a body on Indiana's Jordan Hulls, Derek Elston and Bobby Capobianco, especially after Saturday's game. All three Hoosiers freshmen recorded career highs in scoring, including 24 points from Hulls on 8 of 12 shooting from long range. Northwestern has struggled defensively away from its home court, and it'll be interesting to see if Wildcats head coach Bill Carmody sticks with the 1-3-1 zone against IU.
Two of the Big Ten's top freshmen will be on display today. Northwestern wing Drew Crawford earned Big Ten Co-Freshman of the Year honors, and Indiana forward Christian Watford also gained consideration for the award. Watford will look to beat up Northwestern in the post, while the Wildcats need a lift from Crawford, who has been fighting injuries during the second half of league play.
No. 6 Minnesota vs. No. 11 Penn State (Big Ten Network, 7:30 p.m. ET)


Records:
Minnesota (18-12), Penn State (11-19)
Season series:
Minnesota won both meetings, but both were close. The Gophers prevailed 75-70 in Williams Arena and beat Penn State 66-64 in State College on
Lawrence Westbrook
's jumper as time expired.
Advancement:
Winner faces No. 3 Michigan State in the quarterfinals Friday (Big Ten Network, approximately 9 p.m. ET)
What to watch:
Minnesota certainly should be on upset alert, as Penn State is playing its best ball right now. The Nittany Lions won three of their final six Big Ten contests and lost the other three by a combined 14 points. Penn State lost 11 Big Ten games by 10 points or fewer, including seven by six points or fewer. Penn State guard Talor Battle averaged 21.5 points in two meetings with the Gophers this year.
Gophers senior forward Damian Johnson will be playing with a chip on his shoulder today. Johnson's exclusion from the All-Big Ten Defensive team drew the ire of both he and head coach Tubby Smith, who called it "a travesty" and said Johnson should have been the league's Defensive Player of the Year. Johnson can showcase his defensive prowess today against Penn State's David Jackson, who has played well lately.
Westbrook can make clutch shots, as he showed last month at Penn State, and everyone at the Big Ten tournament knows what Blake Hoffarber can do when the pressure is on. Minnesota needs both guards to be on target as the Gophers probably need at least two wins this week to make the NCAA field.