College Basketball Nation:

ACC Buzz
July, 20, 2010
7/20/10
1:12
PM ET
For the next month or so, our friends at The Mag are previewing one high-profile school per day for their Summer Buzz series. For the sake of all that is synergistic, yours truly will be attempting the same, complementing each comprehensive Insider preview with some adjusted efficiency fun. Today's subject: Duke

. Up next? Kentucky.

The 2010-11
Duke Blue Devils
aren't supposed to happen.
After all, it's a new era in college hoops. Back-to-back title winning teams have always been a rarity in the sport, but the one-and-done era is something different. Compared to the pre-2006 NBA rule change, the talent level isn't nearly as watered down. But because so many of those talented young players leave after one season, it's hard enough to build a title contender with the requisite veteran verve. Building a dynasty? It would seem impossible.
Still, that's exactly what Duke has positioned itself to do. So how do the Blue Devils follow through?
Simple, really: If
Kyle Singler
,
Nolan Smith
and company want to become the first team since Florida to win back-to-back NCAA championships in 2006 and 2007, all they have to do is ... change absolutely everything. No sweat, right?
It's not something you'd suggest for a team that just won a national title and returned two of its top three scorers for likely All-American seasons. In Duke's case, though, it's true. The Blue Devils won the 2010 NCAA title with a plodding tempo, a slow-down offense, and the overpowering offensive rebounding prowess of
Brian Zoubek
.
Zoubek, like fellow senior
Jon Scheyer
, thrived in a down-tempo role. Zoubek was far too slow to get to both ends of the court in a fast-paced game, and needed time at the offensive end to gain the rebounding position that allowed him to keep so many Duke possessions alive. Scheyer was far better suited to a cautious, precise offensive attack, the style that allowed him to turn the ball over so infrequently during Duke's title run.
The result was the No. 249-ranked tempo in Division I hoops, a pace that saw Duke play about 65.5 possessions per game. With Zoubek, Duke had the seventh-highest offensive rebounding percentage of any team in the country, culminating in a dominant NCAA tournament.
Scheyer and Zoubek defined Duke's style. They're gone now. And so Duke, as a matter of sheer efficiency, must change.
That change will be most noticeable in the backcourt. Top recruit Kyrie Irving already has Mike Krzyzewski talking about pushing the pace, a style he adopted (and then discarded) after his work with up-tempo guru Mike D'Antoni coaching the U.S. Olympic team. Seth Curry will add to that speed, and hot-shooting sophomore guard
Andre Dawkins
could be the perfect spread-the-floor candidate. Scheyer was a great, if limited, college player; Irving and company could arguably be even better.
Filling Zoubek's shoes will be less easy. That task will fall to Mason and
Miles Plumlee
, two athletic bigs who are at their best in the open court. The loss will also likely force Singler to play more power forward, making Duke considerably smaller -- and considerably quicker -- at the forward positions.
All of which adds up to a pretty enticing scenario: Coach K's familiarity with the fast-break offense, a lightning-quick point guard wreaking havoc in the open court, two multi-talented All-Americans playing off the ball, and a host of role players filling the lane and crashing the boards. That doesn't just sound successful. It sounds fun to watch.
July, 19, 2010
7/19/10
1:50
PM ET
For the next month or so, our friends at The Mag are
previewing one high profile school per day
for their Insider Summer Buzz series. For the sake of all that is synergistic, yours truly will be attempting the same, complementing each Insider preview with some adjusted efficiency fun. Today's subject: North Carolina.
The Tar Heels did not have a good offense in 2009-10. You didn't need to look at
UNC's efficiency profile to recognize that much
. Roy Williams' team was exposed on a nightly basis as less a team than a group of promising young players with nary a clue how to run an uptempo secondary break. It was ugly to watch. When a North Carolina team can't play offense, they're in deep trouble. 20-17-type trouble, in fact.
[+] Enlarge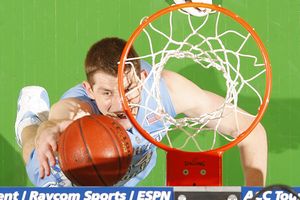 Bob Donnan/US PresswireForward Tyler Zeller averaged 4.5 rebounds in 17 minutes per game last season.
There was, however, one aspect of offense that kept the Tar Heels from looking even more pedestrian last season, an aspect that should give North Carolina fans hope for the upcoming season. The Tar Heels could, if nothing else, rebound their misses.
North Carolina grabbed 38.9 percent of its missed shots in 2009-10, the 16th-highest rate in the country. The problem was that North Carolina's forwards lacked the ability to make much of those misses; the team shot poorly, turned the ball over, and didn't go to the line very often, all of which means those rebounds were wasted on ugly second attempts or kick-outs to UNC's young guards. Offensive rebounding is great, but it doesn't mean much if you don't use it to score more points. The Tar Heels didn't.
Still, there is reason to think UNC can repeat this proficiency in 2009-10, and that, context aside, is a good thing. Harrison Barnes is the best recruit in his class, an all-court forward who could probably play shooting guard if he wanted to. But his athleticism and ability in the paint, which this writer saw in person at Kevin Durant's Nike Skills Camp this summer, should give the Tar Heels a better option down low once they grab an offensive board. No one on last year's team had Barnes' silky scoring touch, not even the unpolished but undeniably talented
Ed Davis
; if Barnes can work his athletic body into prime real estate under the hoop, he could single-handedly reverse last year's ugly interior play.
Veteran forward
Deon Thompson
is gone, but there are other promising interior signs. Sophomore
John Henson
is long enough to wreak havoc on any rebounding play, but in 2009-10 he was too wispy to stand his ground under the hoop. Henson has spent most of his offseason
eating like Michael Phelps and pushing iron with UNC's trainer
, and he's already added about 25 pounds to his lanky frame.
Junior forward
Tyler Zeller
is a frequent victim of the injury bug, but has been promising big things since his arrival at UNC in 2008-09's title campaign. Before suffering a season-ending injury, Zeller was averaging 4.5 rebounds in 17 minutes per game. More minutes means more opportunities, and Zeller's per-40 figures portend good things.
If there was one trait you could use to predict which teams did well in last year's tournament,
it was offensive rebounding
. Three of 2008-09's Final Four ranked in the top 10 in offensive rebounding percentage, and six of the eight Elite Eight squads were ranked in the top 25. West Virginia's entire offense relied on the ability to grab misses; the Mountaineers were never a good shooting team, but they were athletic enough and efficient enough to make up for it when the shots didn't fall.
North Carolina could do something similar, at least in terms of scheme. But before that happens the Tar Heels need to improve all over the floor. Point guard
Larry Drew II
will have to be much better at running Williams' secondary offense. (He'll be joined in the backcourt by point guard Kendall Marshall and shooting guard Reggie Bullock, both of whom should improve the Heels' guard play significantly.) The Heels will have to prevent turnovers. They'll have to play some semblance of defense.
A 20-17 season means improvement is needed everywhere. As last year's Heels showed, merely rebounding your prodigious misses well isn't enough to make up for bad basketball before and after those misses. At some point, you have to make a few baskets. Eventually, you have to pull it all together.
But the good news is that a pretty bad UNC team was pretty good at one of college hoops' most consistently important team skills in 2009-10. If they can maintain that pace, get improved seasons from Henson and Zeller, and incorporate Williams' prodigious recruiting class into the mix, this team should look much more like the North Carolina we're used to.
The offensive rebounding was already there. Now the Tar Heels just have to get better at everything else. Simple enough, right?