College Basketball Nation:

Adam Morrison
September, 23, 2013
9/23/13
1:00
PM ET
Nearly a decade ago, former national player of the year Adam Morrison was the guy who graced the cover of every preview magazine in America.
Gonzaga was on the national radar before his arrival, but his long hair, visible passion and scoring ability gave the Bulldogs a more prominent position in college basketball's hierarchy.
[+] Enlarge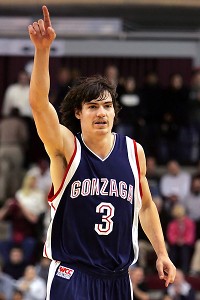 AP Photo/Marcio Jose SanchezAdam Morrison, who starred at Gonzaga, is returning to the school as a student assistant.
Morrison was the man.
And throughout the 2005-06 season, he was the antagonist to Duke's J.J. Reddick, another great college player.
The
final image of Morrison's college career
features the devastated wing on the floor after a come-from-behind loss to UCLA in that season's Sweet 16.
He was the third overall pick in that summer's draft. The 6-foot-8 forward averaged 11.8 points per game as a rookie with the Charlotte Bobcats, but things went downhill from there. Injuries didn't help.
Morrison exited the league and played overseas after a stint with the Los Angeles Lakers in 2009-10, but he never found his way back.
Now, Morrison is a student assistant on Mark Few's staff. His father was a coach, so it's a natural transition.
What's surprising, however, is his attitude about his pro career. He's been ridiculed for years as a draft bust. But he doesn't subscribe to that view.
During an interview with the
Spokesman-Review in Spokane, Wash.
, Morrison said he's happy with his accomplishments and excited to tutor young players in his new role:
Morrison, 29, is basically a scholarship student-athlete again, back in class with his education paid for by the university but with different duties on the court.

"A lot of people when they first heard said, 'Why?' " Morrison said. "I said, 'Why wouldn't you want to further your education and I get a chance to coach here. I'm the lucky one. I'm getting experience in a great program. I get to come back to the university I played for. I get to stay at home. And if everything goes right, then doors open up for me."


He's at peace with the end of his playing career:
"There was a time in the past it was really upsetting," he said. "It was a combination of things. I didn't play well my first year and then I had a knee injury. Then there was a new coach and I got traded to a very good team. So that part is frustrating, but at the same time I had so many life experiences, made so many friends and did so many things that other people have never had had the opportunity to do. I had a good career leading up to that and I'm settled with it."

It was time to move on.

"I made that decision the day I got cut by Portland," he said. "As good as I played in summer league and then I couldn't even get a half-guarantee [contract] or a make-good [contract]. I went to Europe and played well. Then I came back and had a good summer league and if I can't make it, then I'm not going to be one of those guys that beats my head against the wall. Sometimes you have to look at yourself in the mirror."
It's an honest view.
It's easy to criticize Morrison for what he didn't achieve during his time at Gonzaga and in the NBA. He obviously didn't live up to the hype attached to a top-three draft pick.
But he's not moping about the things that didn't work out. He's moving on.
He was aided by his realistic view of his position in the NBA. He said that he simply wasn't good enough to latch onto another squad.
He didn't bash coaches or teammates or owners or the media or the world.
That's rare. And refreshing.
September, 8, 2011
9/08/11
3:10
PM ET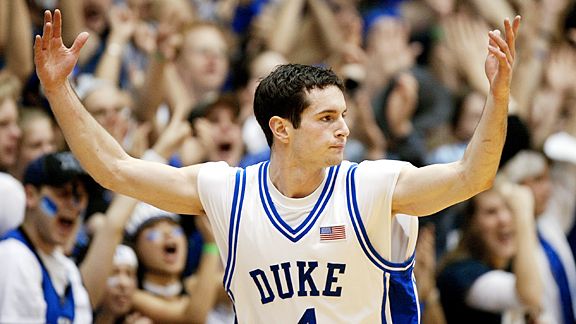 Craig Jones/Getty ImagesOne new measure sheds some light on just how good J.J. Redick's senior season was.
OK, so that's hardly a newsflash. Redick was the national player of the year at Duke. He drained 3-pointers at a prodigious rate. He taunted opponents just as frequently. He was, for pretty much all four years of his Duke career, the most divisive player in all of basketball, let alone the college game.
Also,
he wrote poetry
.
In other words, telling you J.J. Redick was a good basketball player seems like an awkward thing to do. Duh, right? But there is some new information here. Sports Illustrated's Luke Winn is currently plumbing the depths of Cracked Sidewalks blogger John Pudner's "Value Add" metric,
which is explained here
. Basically, Value Add is a way -- similar to baseball's
Wins Above Replacement
(WAR) -- to calculate how much a given player contributes to his team's success compared to a replacement level player holding minutes and usage equal. (It derives its backbone data from
Ken Pomeroy's adjusted efficiency statistics
. In this case, "replacement level" means a low-level bench player; Luke describes him as the "ninth or 10th man off a major conference bench.")
Winn is using Pudner's formula to calculate the best individual seasons from players in the past decade. Earlier this week,
he published an appraisal of the best point guard seasons
in the past 10 years. (Jordan Taylor's 2010-11 season was the second-best of the decade. That Jordan Taylor is good at basketball, kids.) Today,
Winn reveals the figures for shooting guards and wings
. Redick's name sits comfortably atop the list:
1. 9.33%: J.J. Redick, Duke, 2005-06 (Sr.)

(120.2 ORating, 92.5% mins. played, 29.2% poss. used, vs. 0.947 PPP defense)

Redick was the most hated player in college hoops, but he wasn't overrated. He posted his Wooden-and-Naismith worthy numbers going against the second-toughest slate of defenses (average efficiency: 94.7) in the database, and took his game to the next level by adding a slashing element to his already lethal long-range shooting. His senior year goes down as the gold standard for modern-era shooting guards.
The closest player to Redick's senior season was, guess who, Gonzaga's Adam Morrison, whose value add percentage in 2005-06 was 9.03 percent. Third place fell to former Oregon star Luke Jackson, who posted a 7.91 percent value add as a senior in 2003-04. The rest of the top 10 looks a lot like Jackson; the remaining seven value adds all fall somewhere below eight percent but above seven.
In other words, when Redick and Morrison were waging their bi-coastal battle for national player of the year honors in 2005-06 --
in between sessions of Halo 2, that is
-- they weren't just providing college hoops fans with a lively national conversation. They were also simultaneously posting the two best seasons of any shooting guards or wings in the past decade. Now, nearly six years on, the hate has cooled to a low burn (at least outside of ACC country) and we can look back and appreciate just how good Redick and his video game cohort were. The answer? Like I said: really,
really
good.