College Basketball Nation:

Adriean Payne
March, 28, 2014
Mar 28
10:00
AM ET
By
ESPN.com staff
| ESPN.com

Andy Katz discusses the red-hot ticket market for UConn in the Sweet 16, the tough matchup DeAndre Kane has against Shabazz Napier, and Adriean Payne reveals which Big Ten team comes to mind when he watches Virginia.
January, 26, 2014
Jan 26
12:17
AM ET
EAST LANSING, Mich. -- Before Michigan could even soak in the joys of silencing an opponent's crowd -- hearing how a rival's arena goes from a roar to a hush because of what they had done -- the criticism had snuck into most Michigan players' thoughts.
For so many -- they know -- there will be an asterisk next to the Wolverines' 80-75 win over Michigan State on Saturday.
Yes, Michigan State was short-handed.
Adreian Payne
is out with a foot injury and
Branden Dawson
broke his hand Thursday during a film session (which MSU coach Tom Izzo actually complimented, saying "it's good to see some passion for basketball.").
Those two players are important for Michigan State's success and the Spartans didn't have them. That is a fact. But basketball is a game with changing elements and coaches play the hands they are dealt.
So don't let that take everything away from this Wolverines team. Don't let that completely discount a victory because the Breslin Center is at least a sixth man, maybe even a seventh man on a night like Saturday when Michigan comes to town.
And don't let that take away from freshman point guard
Derrick Walton Jr
. coming into his own on an opponent's court or
Nik Stauskas
hitting five 3-pointers with hands in his face. Don't let that take away from the fact that the Wolverines played their way back into this game, then hit 14 of 16 free throws in the final two minutes.
[+] Enlarge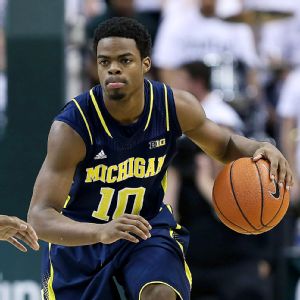 Leon Halip/Getty ImagesFreshman point guard Derrick Walton Jr. came of age against No. 3 Michigan State, pouring in 19 critical points in No. 21 Michigan's victory.
The Spartans' injuries don't negate an impressive win, the Wolverines' third top-10 win just in eight days. Don't take anything away from Michigan because Izzo isn't and won't.
"Don't take anything away from them," Izzo said. "They made some shots. They made some plays. We had our chance."
That charge was led mainly by sophomore guard
Gary Harris
, who led all scorers with a career-high 27 points on just nine field goals. Senior point guard
Keith Appling
recorded a double-double (10 points and 10 assists) to just one turnover.
So the Spartans certainly did have a chance, Harris and Appling made sure of that. And Breslin was there to back them up, to get into the heads of a team that has had 89 percent of its scoring this season come from freshmen and sophomores. Certainly, those are the players that a crowd can get to.
"I've never heard a crowd that loud," Walton said. "Iowa State and Duke really wasn't that loud. Coming out of that locker room here, hearing 18,000 kids jumping up and down, that was a crazy feeling."
And while the Wolverines might've jumped out to an early lead, hitting their first four shots, it was the Spartans who played the more composed first half. They led 36-30 at halftime and, even without Payne, they allowed just six points in the paint.
That would end up being one of the stat lines the Spartans dominated, scoring 30 points in the paint to Michigan's 16.
But the Wolverines were better elsewhere. They hit 11 3-pointers. Their top three scorers combined to shoot better than 50 percent from the floor and 77 percent from 3-point range. They rebounded 39 percent of their misses. They shot 83 percent from the charity stripe. They scored 15 second-chance points, the most given up by the Spartans defense this season.
That's where Appling and Harris and Breslin couldn't counter enough.
"I'm kind of glad I don't have to come back here," fifth-year senior center
Jordan Morgan
joked after the game.
Off all people, Morgan can talk to the Spartans about stepping up in the midst of injury. He and
Jon Horford
stepped into the minutes left behind by preseason All-American
Mitch McGary
when he had back surgery a few weeks ago.
Those two combined for eight rebounds and 10 points in 36 minutes of play.
By the time Morgan was reflecting on his previous games in the Breslin Center it was already empty -- that exodus had begun with a minute left in the game when the momentum had swung heavily to Michigan. He could appreciate the silence then, especially because he knows how rare it is to come by on the road.
In his five years at Michigan the Wolverines have never been better than .500 on the road in a single season. Right now Michigan is 4-2.
"That's the best part," Morgan said. "They try to get all in to your head but at the end of the day, you just kind of keep moving and don't let it affect you. … When we went on our run it got pretty quiet in there."
And like a veteran team, Michigan put a run on the Spartans. After the last eight days John Beilein's group has had it'll certainly see a significant boost in the rankings, and perhaps Izzo's group will drop sans its two starters.
But those don't really matter because in a rivalry game statistics and records are thrown out, leaving it to the bitterness to play itself out. And on Saturday, the Wolverines walked away the victors.
The Spartans visit the Crisler Center in Ann Arbor on Feb. 23 and they'll then have a chance to silence the Michigan crowd. But for now, let Michigan savor this victory without an asterisk.
"It's fair to say that we don't like each other very much," Stauskas said. "So it makes it a lot of fun to come here on the road and make these fans quiet up."
January, 8, 2014
Jan 8
2:15
AM ET
EAST LANSING, Mich. -- Count it as a win for basketball that, after one of the most exciting comebacks, finishes and overtimes this season, both coaches stood at the podium, brows furrowed, voicing their disappointments about their respective teams.
Count it as a win that Tom Izzo wasn't happy with No. 5 Michigan State's 72-68 win over No. 3 Ohio State. Or that Thad Matta wasn't pleased with the 20-3 run his Buckeyes accomplished in the final 10 minutes of regulation, forcing overtime. Or that you couldn't find a smile on a Spartan or a Buckeye. Count it as a win that nobody who actually took part in the game was happy.
Count all that as a win because it means that Big Ten basketball is back, living up to its billing yet again.
No, it wasn't always pretty. The basketball was far from perfect.
Ohio State went 4-for-18 from 3-point range. Michigan State was outrebounded 42-28. The Buckeyes started slow and couldn't find an answer as the Spartans jumped out to a 55-38 lead. But then MSU choked that up -- badly.
[+] Enlarge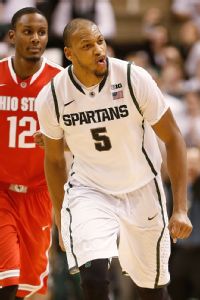 Gregory Shamus/Getty ImagesAdreian Payne
"I should be happier than I am," Izzo said. "But I'm a big-picture guy and you shouldn't have those kind of letdowns no matter what the other team does."
Both teams' highs were high and their lows were low, but when it was working and when the teams were on, it was really fun.
It's extremely early in the season. There's time for Ohio State to work on switching defenses, and there's time for the Spartans to get healthy and figure out their rotation.
So much can happen between now and March, but the fact that it's so good so soon has to mean something, right?
Because on the first full day that college football was over, a day that it would still seem appropriate to be discussing Jameis and Tre, Jimbo and Gus, a night that was just 24 hours removed from crowning the national champion in football, all eyes were on a green-and-white gymnasium in East Lansing -- a gymnasium that possibly held the eventual national champion.
This was just two games into the Big Ten season, making for one heck of an appetizer to the conference slate.
Sure, the nonconference schedule featured matchups with talented teams and some trips to tropical locations, but this is what it's all about: the bitter, Midwestern cold and the refuge found inside a gymnasium with gritty, hard-nosed basketball.
Big Ten basketball is back, and on Tuesday night, the Spartans and Buckeyes confirmed to everyone that this is the conference to watch.
"You know, it just keeps coming," Matta said. "We'll build on the positives from this game and we'll correct the negatives. We'll get ready to go again, because it doesn't get any easier."
The Buckeyes play No. 20 Iowa, then travel to Minneapolis to play a hungry Golden Gophers team that came dangerously close to knocking off Michigan. Before the season is over, they'll have road games at Wisconsin, Iowa, Illinois, Penn State and Indiana before closing out the regular season with, you guessed it, Michigan State.
And the Spartans get Minnesota, Illinois, Indiana, Michigan and Iowa before the month of January is over.
Week after week, these teams get the chance to pick up marquee wins in tough venues. Week after week there will be reason to be thankful that Big Ten basketball is back. And it'll leave basketball fans wanting more.
Because even after everyone got five extra minutes of Ohio State and Michigan State last night, most people wished it would've gone into double or triple overtime. That's how good it was.
That's how much people wanted to watch
Aaron Craft
on
Keith Appling
and
Gary Harris
. That's how much people wanted to see
Adreian Payne
-- who didn't even think he'd play today because of injury -- go to work. That's how much people wanted to take in Matta and Izzo's chess match and the ensuing foot stomps and glares.
The coaches can be upset right now because they know the potential of these groups and they know better than anyone how far Tuesday's product was from that. They see it every single day in practice; the rest of us have to wait until game days to take it in.
But having the coaches this upset at this point means that even the good we saw this week is far from the good we could see in March. And if that's the case, we're in for one heck of a ride the next few months.
"Hopefully, by tomorrow I'm going to say, 'Thirty-some minutes we played damn good,'" Izzo said. "I think I'll appreciate the win more tomorrow. It ain't going to be tonight, though. Promise you that."
Matta, Izzo, Appling and Craft can all be unhappy with what happened Tuesday night. Basketball fans everywhere should plead that the coaches are never truly satisfied, never happy enough with what was put on the court, always wanting their group to get to that next level.
But for everyone else? Just be happy that Big Ten basketball is back.