College Basketball Nation:

Afam Muojeke
February, 8, 2011
2/08/11
2:17
PM ET
By
Diamond Leung
| ESPN.com
Heath Schroyer asked for a midseason evaluation from his boss, and it wasn't good. Wyoming was 8-15 with only one win in Mountain West Conference play.
[+] Enlarge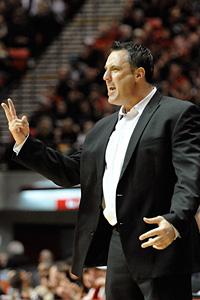 AP Photo/Denis PoroyWyoming coach Heath Schroyer was fired with an 8-15 record in his fourth season.
"I was concerned about the negativity surrounding the program," Wyoming athletic director Tom Burman said today.
"Halfway through the league when you've won one game, and you're not competitive in others, you start to make some decisions."
So with seven regular-season games left in his fourth season, Schroyer was fired.
What isn't known is how things might have gone for Schroyer had he operated with a healthy roster.
His best player,
Afam Muojeke
, had season-ending surgery in January on a torn meniscus in his left knee. The talented player wasn't the same after season-ending surgery the previous year on a ruptured patellar tendon in the same knee.
In all, seven Cowboys missed at least one game this season due to injury, for a total of 46 games missed.
"I thought we played well," Schroyer said of last week's competitive losses to BYU and Colorado State. "We just came up a liitle short. I was really happy with how our guys competed.
"I feel like we are getting better, and that's encouraging."
Schroyer made those comments Monday during the weekly coaches teleconference, apparently unaware he was about to be fired. By the afternoon, he was saying goodbye to his players as associate head coach Fred Langley was installed as the interim.
During the call, he also happened to throw his support behind San Diego State coach Steve Fisher for coach of the year.
"He was given a lot of time," Schroyer said, noting how those first few years at San Diego State were filled with struggle before things really got rolling.
It wasn't so long ago after the 2009 season when Schroyer won 19 games and Burman extended his contract by two years, raising his salary to $160,000.
"I thought we were going in the right direction," Burman said.
But Schroyer won only four conference games after that, forcing Burman to make a change that would have happened at the end of the season anyway.
Time had run out.
November, 18, 2010
11/18/10
5:39
PM ET
By
Diamond Leung
| ESPN.com
Wyoming's top two scorers last season,
Afam Muojeke
and
Desmar Jackson
, have been suspended for tonight's game against North Florida due to a violation of team rules, according to Cowboys coach Heath Schroyer.
Muojeke, one of the top talents in the Mountain West Conference, returned from season-ending knee surgery to play in the team's first two games. The 6-foot-8 junior had been coming off the bench while regaining form following a long recovery process.
Jackson, a 6-foot-5 guard, was a third-team all-Mountain West performer as a freshman.
Of late, Wyoming has also been without starting center
Adam Waddell
(Achilles tendon) and JC transfer guard
Luke Martinez
(broken elbow).
October, 13, 2010
10/13/10
4:44
PM ET
By
Diamond Leung
| ESPN.com
Afam Muojeke
didn't receive any all-conference or preseason accolades from the Mountain West Conference, but it'd be a good idea to keep the Wyoming swingman on the radar.
The 6-foot-8 junior was second in the conference in scoring, averaging 17.9 points and 4.1 rebounds per game until rupturing a patellar tendon in January and needing left knee surgery that ended his season.
Muojeke is expected to be ready for the opener, but coach Heath Schroyer conceded to the
Wyoming Tribune-Eagle
that he didn't think his star player would be playing the way he was pre-injury until later in the year.
"He's been through a lot. He stayed all summer and did his rehab as diligently as he could. We're taking him slow.

"I don't think it's fair to him or anybody else to say he's been cleared so he's going to be what he was before the injury. As the year progresses, I see him getting better and better, and hopefully he will be back where he was in a short amount of time."
Still, seeing Muojeke back in action will be a big lift for a Cowboys team that was picked in the preseason media poll to finish eighth, which is where it finished last season.
How much does he mean to the program? Wyoming went 1-9 after the month of January and lost the play-in game into the main draw of the MWC tournament by 19 points to lowly Air Force.
Young players like
Desmar Jackson
(11.8 ppg) got more experience with Muojeke out for such a long period of time.
But with him back, Wyoming will have a chance to make some noise.
July, 16, 2010
7/16/10
4:01
PM ET
By
Diamond Leung
| ESPN.com
Wyoming center
Adam Waddell
doesn't exactly think coach Heath Schroyer was treated fairly by some fans during a 10-21 season that saw leading scorer
Afam Muojeke
go down with a season-ending knee injury.
And in giving a strong vote of confidence to Schroyer, the Wyoming native Waddell also made clear his frustrations with the fans, especially the ones who could be heard from the stands going off on the coach, according to the
Laramie Boomerang
.
"I really feel that coach has taken a bad rap, and I don't think it's fair. I don't think people get to see what's going on behind the scenes, and they don't see what happens away from the court. I just really wish that people would step back and give us a chance and look at all the improvements."

Waddell said some of the stuff that is hollered from the stands and the things he hears and reads take a toll on a team.

"It's hard for us to turn the cheek and just say what people out there are saying doesn't really matter," Waddell said. "They were just yelling obscenities at the coach when he was doing all he could with what he had last year."
It was only in 2009 when Schroyer's team won 19 games, and he was awarded a two-year contract extension. But Schroyer is only 15-33 in Mountain West Conference play during his three seasons, along with one win in conference tournament play.
Fans haven't taken all this well. After the season, Robert Gagliardi of the
Wyoming Tribune Eagle
wrote about "an obvious disconnect between the program and fans."
Criticism of Schroyer has come from every angle: recruiting, scheduling, coaching style, the way he dresses, the way he acts on the bench and around his players during games.

Heck, I've even heard people be critical of the way Schroyer looks. They say that the way he and assistant coach Fred Langley dress and slick their hair back makes them look like a couple of mafia guys from back East.
Yep, it's gotten personal, with one fan setting up a Facebook page that declares, "
Fire Heath Schroyer, Hire a good coach
."
Of course, a bounce-back season and consistent winning would cure everything. Right?
February, 5, 2010
2/05/10
2:25
PM ET
By
Diamond Leung
| ESPN.com
A.J. Davis
, Wyoming's third-leading scorer, has left the program for personal reasons, the school announced today.
The 6-foot-6 sophomore guard averaged 10 points per game, but had recently seen his minutes cut.
"We wish A.J. all the best in the future," Cowboys coach Heath Schroyer said in a statement, declining further comment.
Wyoming has lost five of its past six Mountain West Conference games, and leading scorer
Afam Muojeke
needed to undergo
season-ending knee surgery
during that span.
January, 31, 2010
1/31/10
2:16
PM ET
By
Diamond Leung
| ESPN.com
Air Force had lost 22 straight Mountain West Conference regular season games before downing
Wyoming 70-63
on Saturday.
The Cowboys were without injured leading scorers
Afam Muojeke
and
Adam Waddell
, but Air Force knows what that's like. Falcon players entered the game having missed a combined 43 games due to injury, with six of them having
suffered concussions
.
Air Force has gotten leading scorer
Grant Parker
back from a stress reaction in his pelvis.
Athletic director Hans Mueh told the
Denver Post
that he "absolutely" thinks coach Jeff Reynolds has the program going in the right direction.
"People send me nasty-grams, saying I should fire the coach," Mueh said. "This is his third season. He had a winning season his first year. I'm probably more patient than some of our fans. But most of our fans still are with us."
January, 22, 2010
1/22/10
8:29
PM ET
By
Diamond Leung
| ESPN.com
Afam Muojeke
, the third-leading scorer in the Mountain West Conference, will miss the rest of the season for Wyoming due to a ruptured patellar tendon in his left knee.
The 6-foot-8 sophomore forward averaged 17.9 points per game until going down against BYU on Wednesday. Muojeke was the MWC freshman of the year.