Men's College Basketball Nation:

Akil Mitchell
March, 17, 2013
Mar 17
7:10
PM ET
Say this for the NCAA: When it expanded the tournament to 68 teams, it accomplished at least one thing.
It made your argument invalid.
Once the province of outrage and disgust, the post-tournament bracket digestion process has become downright serene. The bubble is soft. It is really, really soft.
The opportunities were there. If your favorite high-major team didn't make the tournament, it's probably because it missed numerous chances for big wins. If your mid-major squad didn't get in, it's probably because its league was bad and it didn't prove anything outside conference play.
It's hard to feel much sympathy for any of these teams. If your team was good, it would have gotten in the field. If it didn't, it wasn't. Simple enough.
That said, the bubble is always a matter of relativity. And relatively speaking, a handful of teams will be able to lodge legitimate complaints against the 2013 NCAA tournament selection committee. These are their stories:

Tennessee
What their fans would say:
We're not too far from Middle Tennessee State, and we've seen them play, and frankly, we're better. The Sun Belt is terrible! Saint Mary's beat one good team the whole season! We beat Florida, Wichita State and Missouri! But seriously ... we went 9-2 down the stretch. All of our nonconference losses were to good-to-great teams.
What the committee would say:
We respect the Vols' above-average nonconference schedule, and the nine top-100 wins were more than many bubble teams. But the schedule wasn't
that
good, and Tennessee had a ton of opportunities -- Oklahoma State, Virginia, Georgetown, Memphis — to prove it was anything more than another thoroughly mediocre SEC outfit. It never did.

Virginia
What their fans would say:
We have a good team! Pretty much every advanced metric smart people use to discern teams' relative qualities says that Virginia is at least one of the best 40 teams in the country, if not better (KenPom.com's efficiency system ranks the Cavaliers No. 27). You say you want teams to perform on the road in the nonconference? We won at Wisconsin. We also beat Duke, UNC and NC State.
Joe Harris
and
Akil Mitchell
are two of the best players in the ACC.
What the committee would say:
Most of what you just said is ... well, it isn't irrelevant, exactly, but it's only tangentially related to what we look for when we're selecting and seeding the field. We are impressed by the top-50 wins, especially at Wisconsin, but are we impressed enough to overlook the (count 'em)
seven
losses to teams ranked below the RPI top 100? Or that 3-10 road-neutral record, where you lost to Georgia Tech, Boston College, Wake Forest, George Mason, Old Dominion and Clemson? Were you so good that we could pretend we haven't spent the last half-decade telling everyone how important we think it is that teams schedule tough in the nonconference, and pretend your nonconference strength of schedule wasn't ranked No. 299 in the country? No, no, no and no.

Maryland
What their fans would say:
We beat Duke twice! It's been nearly 20 years since a team did that and didn't make the tourney. Look, that's two wins over the No. 1-ranked RPI team in the country. We have a lottery center on our team! That's more than Middle Tennessee State! What is Middle Tennessee State, anyway? Seriously, how are we not in the tournament?!?
What the committee would say:
Those two Duke wins are excellent, no doubt. Unfortunately, the season is more than two games, and the rest of the year you went 5-11 --
5-11!
-- against the RPI top 150. Your nonconference schedule rated out worse than Virginia's, but honestly we didn't even get that far with you. You were 5-11 against the RPI top 150. You have no argument.

Alabama
What their fans would say:
What I can't seem to wrap my head around, [
PAWWWWWL
], is why on Earth y'all wouldn't invite the Alabama Crimson Tide Football Winter Diversion Program to the NCAA tournament, if only on the off chance that Coach Nick Saban will grace y'alls weird shootin' hoops game with his magisterial presence. Roll Tide?
What the committee would say:
Anyway ... while we admire the Tide's willingness to go on the road in spots in nonconference play, they went 0-6 against the RPI top 50 and lost four games below the RPI top 100 line. Either of those things are automatic disqualifications, especially if you lack elite strength of schedule numbers. There was never much here.

Southern Miss
What their fans would say:
In addition to referencing the Golden Eagles' tidy RPI figure (34), I'd imagine their case would sound something like coach Donnie Tyndall's: "I don't want to become a lobbyist, but the bottom line is, that's a borderline Final Four-type team we just lost to," Tyndall said of the Tigers. "We need to be in the NCAA tournament. We deserve to be in, and I feel like if we get in, we can win a game or two. I really believe that."
What the committee would say:
We believe that you believe that, and you may well be right. The problem is you had all season to prove it, one way or another, and while it's not your fault the rest of Conference USA was atrocious, it is your fault you lost to Memphis three times and that you finished the season with just three top-100 wins. That's just not good enough.

Kentucky
What their fans would say:
[Silently watch 2012 Kentucky commemorative DVDs while wearing 2012 Kentucky commemorative sweatshirt; toss all evidence of 2012-13 into burning barrel in corner of room.]
What the committee would say:
Kentucky still had a chance to get in the tournament after the injury to
Nerlens Noel
, even as late as the SEC tournament, and if we're being 100 percent honest, all things equal, we probably
would
have given the benefit of the doubt to a blue blood program coming off a national title. But then Kentucky laid an infamous egg against Vanderbilt in the SEC tourney -- you guys weren't even competitive against a 10-seed in the awful SEC, c'mon -- and adding that to an already blah profile was just about all we needed to see.
March, 1, 2013
Mar 1
7:30
AM ET
Duke coach Mike Krzyzewski often has said he doesn't believe in revenge games. But after losing at Miami by 27 points in January, and getting beaten at Virginia on Thursday night, is there much doubt there will be some extra, er, motivation for the Blue Devils when they host the Hurricanes on Saturday? In the meantime, here's an attempt at this week's ACC power rankings:

1. Miami:
The now-No.-5 Hurricanes bounced back from their first ACC loss of the season (by 15 points at Wake Forest) by beating up on Virginia Tech. Since then, they've been able to focus on the game everyone's been talking about: Saturday's rematch with Duke: "It's going to be a blast," guard
Trey McKinney Jones
said, according to The Associated Press. "We beat them here this year, and we beat them there last year, so they're going to be gunning for our heads."
2. Duke:
Plus, the No. 3 Blue Devils should be especially fired up after shooting worse than 40 percent and never leading during the 73-68 loss at Virginia on Thursday. Forward
Ryan Kelly
, sidelined since January with a foot injury, returned to practice this week, but isn't expected back until after Saturday's game.
3. Virginia:
Nothing like beating the No. 3 team in the nation to bolster your NCAA tournament hopes.
Joe Harris
scored a career-high 36 points and teammate
Akil Mitchell
added a double-double Thursday night as the Cavs toppled the Blue Devils and remained tied for third place in the ACC standings.
4. North Carolina:
The Tar Heels are now 4-1 since they went to a four-guard starting lineup, and as their momentum grows, so does their NCAA tournament résumé. UNC secured another 20-win season with Thursday night's victory at Clemson, and junior
Reggie Bullock
has averaged 17 points and 11 rebounds the past two games.
5. NC State:
The Wolfpack bounced back from their loss at UNC by blasting Boston College, securing back-to-back 20-win seasons for the first time since Herb Sendek was coach. Next up: a trip to Georgia Tech, with an eye on trying to work back into the top four of the conference standings. State now stands in fifth place, a game behind the Cavs and Tar Heels.
6. Maryland:
The Terps are 1-6 on the road in conference play after losing at Georgia Tech, with their only ACC road win coming at last-place Virginia Tech. They still travel to Wake Forest and Virginia, and play UNC at home, during the regular season, but Maryland's at-large NCAA tournament bid hopes are diminishing.
7. Florida State:
The Seminoles remain the worst rebounding team in the league (31.3 per game) but could get a boost when 6-foot-8
Terrance Shannon
-- who suffered a neck injury on Jan. 19 but has been cleared to play -- returns. FSU beat Wake Forest earlier this week, but has still lost four of its past six games.
8. Wake Forest:
After scoring 23 points en route to a court-storming win over then-No. 2 Miami, Demon Deacon
C.J. Harris
made only one field goal, and finished with nine points, in a loss at Florida State. So continue Wake Forest's road woes. As some consolation, two of its final three games are at home.
9. Georgia Tech:
Yellow Jackets coach Brian Gregory called his team's win over Maryland earlier this week the most consistent 40 minutes of basketball it has played this season. Freshman forward
Robert Carter Jr.
posted his fourth double-double; and at 15-12 with three games left, Tech is guaranteed at least a .500 regular-season finish.
10. Clemson:
Even with double-doubles from big men
Milton Jennings
and
Devin Booker
, the Tigers couldn't outmatch the Tar Heels' smaller starting lineup. Thursday's defeat marked Clemson's third consecutive loss and sixth in its last seven games, as the Tigers continue to struggle to score.
11. Boston College:
It was a tough week on Tobacco Road for the Eagles, who followed a 21-point loss at Duke with an 18-point loss at NC State.
Ryan Anderson
averaged 17.5 points in the two defeats.
12. Virginia Tech:
The Hokies snapped a nine-game losing streak by besting FSU, only to lose at Miami. The Canes held senior guard/nation's-leading-scorer
Erick Green
to 16 points, only the second time during the conference season that he's failed to score at least 22.
February, 25, 2012
2/25/12
9:03
PM ET
CHARLOTTESVILLE, Va. – With 13.3 seconds left, North Carolina forward
Tyler Zeller
was not supposed to be an option. Actually, he said, he was the only Tar Heel on the court who wasn't supposed to be an option.
The fact that he became
the
option – scoring on a driving, decisive, one-handed dunk to secure a bruising
54-51 victory
at Virginia on Saturday – showed again why he might also be
the
option for ACC Player of the Year.
"Z,'' UNC coach Roy Williams said after his team made only a third of its field goals, but prevailed at John Paul Jones Arena, "was huge for us."
Against a team with limited tall players in the post, the 7-footer was, frankly, supposed to be. After all, he was the only Carolina starter who shot better than (or even close to) 50 percent the last time these two teams met (a UNC win in Chapel Hill on Feb. 11.)
And after making only 3 of his 7 shots Tuesday night during a win at NC State, Zeller seemed primed for an outburst here – especially with
another ACC-Player-of-the-Year candidate
, Virginia's
Mike Scott
– on the court.
"This game, I think I was more aggressive [than Tuesday],'' Zeller said. "Just finding a way to score."
He used that attitude, and his size advantage, from the get-go, recording the seventh-ranked Tar Heels' first 10 points en route to an 18-10 lead.
But even with Scott in foul trouble, Virginia used its hard-nosed, top-five defense to grind back, taking a 30-26 lead at halftime and going up by as much as 6 – 37-31 – in the second half.
"I thought we played pretty well through the night,'' Cavaliers senior guard
Sammy Zeglinski
(11 points) said. "We played the game at our tempo. We battled, definitely."
Indeed, with the Cavs putting extra pressure on Zeller (and the passing lanes to him), the senior seemed to disappear for a while, as fellow tall guy
John Henson
took up the slack by scoring 11 of his 15 points in the second half.
But in the final minutes, Zeller made his presence felt, again.
[+] Enlarge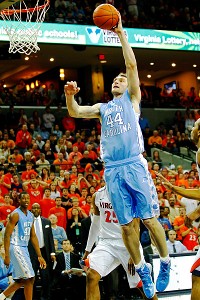 Geoff Burke/US PresswireTyler Zeller was the only Heel to make better than half of his shots against Virginia's tough defense.
With 4:10 left – and his team getting better spacing because of a new offensive set – Zeller's layup gave his team a 52-49 cushion.
After Virginia's
Jontel Evans
(13 points) scored on a steal-and-layup with 3:09 left, and both teams traded misses on their next two possessions, Zeller stepped – well, leaped – up again, with the shot clock winding down.
Even though he was supposed to serve as a screener, not a scorer.
Explained point guard
Kendall Marshall
, who assisted Zeller on the pivotal play: "I had a wing guarding me, and I beat him; I was pretty excited, I thought I was going to go get a layup. But of course, as great as a defensive team as they are, a big man stepped up. Z was on the wing, and I thought if I threw it to him, he'd get a shot off."
He did more than that. Zeller caught the ball near the right foul line elbow, shot-faked to get around Cavs forward
Akil Mitchell
, and drove to the basket.
"Mike Scott was there, so I just had to go up strong as possible in case he jumped with me,'' Zeller said.
Slam.
"He made a very tough move – to be able to pump-fake like that, take one dribble, and finish at the rim, with authority, as a 7-footer, that's pretty impressive,'' Marshall said.
And in a Williams-described "tough-ass game" where there weren't a whole lot of impressive numbers, Zeller stood out. He made 7 of his 11 shots for 20 points, while the rest of his team was 10-for-40. (UNC's 17 field goals were its fewest in a victory under Williams).
Scott finished 3-for-13 with a season-low 6 points. UNC's
Harrison Barnes
, another ACC Player-of-the-Year candidate, was 3-for-15 with 7 points and 9 rebounds, and Marshall finished with 1 point and 6 assists.
Zeller also recorded 6 rebounds in 31 minutes. Not a bad outing for a player who didn't even know he was in the league POY discussion until last weekend.
"He made tough shots and he's making really good plays,'' Virginia guard
Joe Harris
(12 points) said, "and that's what really good players do."
That's what ACC Players of the Year do.
Follow Robbi Pickeral on Twitter at @bylinerp.
February, 25, 2012
2/25/12
8:42
PM ET
CHARLOTTESVILLE, Va. -- Maybe all the buzz -- or the Chuck Norris comparisons --went to
Mike Scott
's head. In discussions of the potential ACC Player of the Year, Scott's name has repeatedly surfaced, with supporters pointing out his all-around statistical dominance as well as his singular performances.
Another name in that contest? UNC's
Tyler Zeller
.
Zeller entered the afternoon ranked in the ACC's top 10 in points per game, rebounds per game, blocks per game and field goal percentage. Against the Cavs, he led all scorers with 20 points, including a perfect 6-of-6 from the free throw line, in UNC's
54-51 victory
. He also grabbed 6 rebounds.
Scott, who played only 22 minutes because of foul trouble, came into the game as the ACC's active leader in points (1,431) and rebounds (900). He started Saturday ranked among the ACC's top six players in scoring (third), rebounding (sixth), field goal percentage (first) and defensive rebounds.
But on Saturday, Scott managed only a season-low 6 points and 7 rebounds. He started the game 0-for-4 and missed several wide-open jumpers.
What happened?
"I don't know, I just couldn't buy a basket," Scott said. "I know normally I can make half of those [shots], so I just don't know what it was."
[+] Enlarge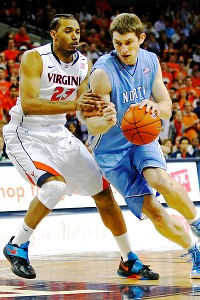 Geoff Burke/US PresswireVirginia's Mike Scott, left, came out on the short end of his matchup with Tyler Zeller.
Scott was in foul trouble early, notching two quick fouls in the first half and sitting with close to 10 minutes remaining. In the second half, he found a brief offensive spark, making two of the Cavaliers' first three baskets. But a foul call at the 16:01 mark put him back on the bench, where he sat for three minutes.
"That felt pretty good, felt like my normal self [making those two shots] and then I just picked up that foul," Scott said.
Coming back in to the game at the 12:30 mark after Virginia's
Akil Mitchell
was tagged for his fourth foul, Scott matched up against
John Henson
at the 12:00 mark under Carolina's basket. After a missed
James Michael McAdoo
shot, both Scott and Henson went for the ball. Henson recoiled backward and the whistle blew. The call was a foul on Scott, his fourth, sending him back to the bench again. Virginia fans yelled high-decibel level boos toward the referees, venting their anger for several minutes afterward and chanting "Hen-son sucks," several minutes later as he lined up at the free throw line.
Asked the key to stopping Scott, Henson said, "Get him in foul trouble -- you're not going to be that successful at stopping him offensively since he's such a good offensive player -- probably one of the best offensive big men in the ACC and the country."
And what about that crucial fourth foul call?
"Oh yeah, I was hit, right there, you know you can go back to the tape or whatever, but it's kind of one of those things where I knew Scott would be going after the ball and he kind of elbow-checked me out there and so, you know, they called the foul," Henson said. And maybe he gave it a bit of an acting job? "I might've given a little motion," Henson said with a smile.
Scott didn't feel quite as positive when asked about the play. "I thought I boxed him out, so ..." Scott said. When asked if Henson might've given the play an acting job, Scott added, "I guess I was a little bit too aggressive … I didn't know I was that strong."
Scott said when the whistle blew, he initially wasn't sure what the call was and thought that maybe he'd stepped out of bounds [rather than been called for a foul]. Still, overall, he said of his day's performance, "I kind of took myself out of the game by getting into foul trouble."
UNC coach Roy Williams didn't think there was any question over the call, describing it in the postgame press conference: "He [Henson] whipped back because there was an elbow in his face. They went back and looked at it because they were trying to decide if it was something else. I don't think that John's that good of an actor, and his face doesn't run into too many elbows. I'm not saying it was flagrant or anything, but it was a foul. And I don't think there's anything to drawing a foul there; you don't want to draw a foul with your face in somebody's elbow. That's not very pleasant."
While the game stayed close particularly in the second half, with Virginia slowing down many of the Heels' dominant scorers, they still couldn't stop Zeller. His team-leading performance mirrored two weeks ago in Chapel Hill, when he lead all Carolina scorers with 25 points in the win over UVa (in that game, Scott led all Virginia scorers with 18 points).
Cavaliers sophomore
Joe Harris
admitted it was difficult for Virginia to watch Scott struggle offensively. "He's a great all-around player and it's tough because sometimes we rely on Mike to score the basketball when other guys get a little cold," he said. "And then him getting into foul trouble, which I felt like took him a little bit out of his rhythm."
Still, Harris said that the uncharacteristic performance by Scott wouldn't hamper the senior's mentality in Virginia's matchup Thursday against Florida State. "I feel like Mike -- I don't think he ever really loses his confidence regardless of if he's missing shots," Harris said.
But Scott's shot at the ACC player-of-the-year title took a hit, while Zeller keeps on rolling.
February, 25, 2012
2/25/12
6:12
PM ET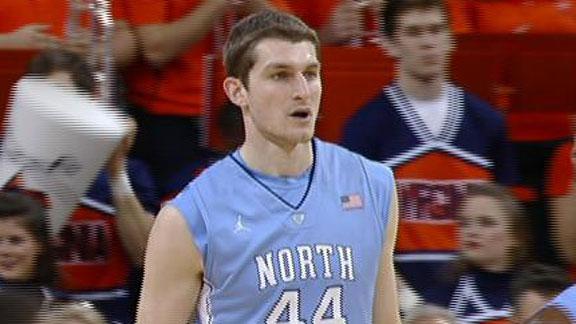 CHARLOTTESVILLE, Va. — A quick look at seventh-ranked North Carolina's
54-51 win against
Virginia at John Paul Jones Arena on Saturday:
What it means:
That the Tar Heels survived to win their sixth straight road game since their 33-point loss at Florida State — and remain tied for first place in the ACC standings. Virginia has now dropped three of its last five games.


How it happened:
UNC looked pretty comfy early, leading 18-10 (on 12 points from senior
Tyler Zeller
) — especially when Cavaliers star forward
Mike Scott
picked up his second foul with 8:46 left in the first half. But perhaps the Tar Heels got too comfy.
With Scott watching from the bench, the Cavs picked up their defensive intensity, allowing the Tar Heels only two more field goals the rest of the half. Virginia went on a 20-8 run before the break, taking the lead on a
Sammy Zeglinski
3-pointer, then a 30-26 advantage into halftime when Zeglinski beat the buzzer from about three steps beyond the 3-point arc.
UNC finally took back the lead with 11:08 left during an 11-4 run during which Scott picked up his fourth foul (see below) and reserve
P.J. Hairston
scored five straight points.
A
Jontel Evans
steal and transition bucket cut Virginia's deficit to 52-51 with about three minutes left. But after each team missed 3s, a Zeller dunk gave the Tar Heels a 54-51 cushion with 13.3 seconds left.
Zeller led the Tar Heels with 20 points and forward
John Henson
added 15. Evans finished with 13 points for the Cavaliers, and Scott added six.
Hubbub:
With 12 minutes left — just after he drew a fourth foul from Virginia's
Akil Mitchell
— UNC's Henson made one of the most memorable plays of the game when he drew a fourth foul from Scott. And by "drew," I mean sold a lot more contact than was there (if there was any at all). Officials even went to the monitors to see if an elbow had snapped Henson's upper-body back so suddenly. UNC led by four at the time, and with the crowd in an uproar, scored five straight points to take back the lead. After the game, Henson said he was hit in the throat by Scott on Scott's fourth foul, but that he might have given a little extra ooph so the refs would notice.
What's next:
Seniors Zeller and
Justin Watts
will play their final game at the Smith Center when UNC hosts Maryland in its regular-season home finale on Wednesday night. Virginia will host Florida State on Thursday.
January, 13, 2012
1/13/12
1:50
AM ET
DURHAM, N.C. -- Amid all of his postgame questions about rotations and adjustments and tempo, Duke coach Mike Krzyewski might have summed up the importance of the sixth-ranked Blue Devils'
61-58 victory
over No. 17 Virginia on Thursday night with five little words:
"We can play defense, too."
Maybe not great defense, not yet. Probably not even as consistently good as the Cavaliers, who entered the game allowing foes to score a mere 50.5 points per game and make only 38 percent of their shots.
But good enough to hold Virginia linchpin
Mike Scott
, who looked like he was en route to career night in the first half, to 3-for-9 shooting after halftime. Good enough to stymie Virginia into 29.4 percent shooting in the second half. Good enough to survive two potential game-tying 3-pointers in the final 10 seconds (and prevail despite making only a quarter of its 3-pointers and 42.1 percent of its free throws).
Good enough to prove that the Blue Devils still know how to play tough.
"It was really a terrific win for our kids because they had to fight for 40 minutes against an outstanding team," said Krzyzewski, whose team snapped Virginia's 12-game winning streak, and has now won 44 in a row at Cameron Indoor Stadium.
There had been some budding questions about Duke's grit, particularly because of how it was – or wasn't – making stops.
The Blue Devils entered the game ranked an uncharacteristic second-to-last in the ACC in scoring defense, allowing foes 69.4 points per game; and dead last in field goal percentage defense, allowing opponents to shoot 44.3 percent.
Players had admitted those numbers smarted, especially in a program that has always prided itself on hard-nosed, floor-slapping, game-changing D.
"Part of our culture at Duke is great defense,'' forward
Miles Plumlee
said. "Looking at our team, we knew our defense wasn't where it needs to be."
Early on, it wasn't where it needed to be, either, as the Cavs shot 51.9 percent in the first half thanks to 16 points from Scott (who finished with 23, and who has to be a leading contender for ACC Player of the Year because of the impact he's had on his team).
But after halftime, Miles and
Mason Plumlee
(12 points) buckled down on the fifth-year senior forward, trying to push him out of his comfort zone by staying on his hip.
[+] Enlarge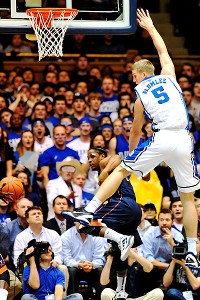 Grant Halverson/Getty ImagesMason Plumlee helped lead Duke's vigorous defense against Virginia.
"They were physical with him,'' Virginia coach Tony Bennett said. "… He actually got some good looks, he just missed some."
Meanwhile, Duke started making some.
With the score knotted 38-38 with 15:47 left, Blue Devils guard
Seth Curry
buried a 3-pointer. Then he blocked
Sammy Zeglinski
's 3-point attempt, which led to a
Tyler Thornton
layup – one of Duke's first transition buckets of the game. Scott's baseline jumper wiggled out, leading to a transition dunk by Miles Plumlee. An
Austin Rivers
3-pointer eventually stretched the breakaway to 10-2 and the Blue Devils' lead to 48-40.
"We got on a little run when we were making shots and playing good defense,'' Devils forward
Ryan Kelly
said. "And when we do that, we're really good."
Virginia scrapped back in the final minute, though, closing to within three points after Kelly – 14-for-14 from the line last weekend at Georgia Tech – missed two free throws, and Cavalier
Akil Mitchell
answered with a dunk.
But after Curry missed a jumper, Scott and teammate
Jontel Evans
missed two potential game-tying 3-pointers as time ran out.
"You can't complain about getting two clean looks at the rim to extend it to overtime,'' said Bennett, whose team allowed the Devils to shoot 60.9 percent in the second half.
Although Duke, which "broke down a little bit" on defense in those final seconds, Kelly said, will probably have something to say about it once they see it on tape. Which might be a good thing, because it reinforces the fact that the Blue Devils are not a great defense, not yet.
Although they're getting better. And tougher.
"I don't think that game came down to that last shot," Duke guard Rivers said. "I think that game came down to rebounds, and the big stops we made, and the defensive stops we made, and the emphasis we had on Scott in the second half."
Said Krzyzewski: "You can play defense a variety of ways. They played it well, and I thought we played it well tonight."
Robbi Pickeral can be reached at bylinerp@gmail.com. Twitter: @bylinerp.
January, 12, 2012
1/12/12
11:13
PM ET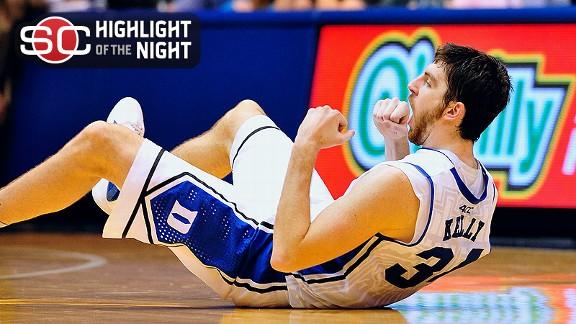 DURHAM, N.C. -- A quick look at No. 6 Duke's
61-58 victory
over No. 17 Virginia at Cameron Indoor Stadium on Thursday night:


What it means:
Despite another superb effort by Virginia forward
Mike Scott
-- who followed his 23-point effort against Miami with a 23-point game against the Blue Devils -- Duke extended its home winning streak to 44 games (behind only Kentucky, nationally) while halting the Cavaliers' s run of victories at 12.
How it happened:
The score was knotted 38-38 early in the second half when Duke made its breakaway. First,
Seth Curry
buried a 3-pointer. Then he blocked
Sammy Zeglinski
's 3-point attempt, which led to a
Tyler Thornton
layup -- Duke's first true transition bucket of the game. Scott's baseline jumper wiggled out, leading to another Duke transition bucket. An
Austin Rivers
3-pointer eventually stretched the run to 10-2 and the Blue Devils' lead to 48-40.
Duke's defense -- ranked second-to-last in opponent scoring in the ACC entering the game, allowing 69.4 points per game, and dead last in the league field-goal percentage defense, allowing opponents to shoot 44.3 percent -- was more active in the second half.
But Virginia still had two shots to send it to overtime.
After Duke's
Ryan Kelly
missed two free throws in the final minute, Virginia's
Akil Mitchell
dunked back a miss to cut Duke's lead to 61-58. Curry missed on a well-defended drive with about 15 seconds left, but Scott and teammate
Jontel Evans
both missed 3-pointers for Virginia in the final 10 seconds as time ran out.
Mason Plumlee
led Duke, which shot 52.2 percent, with 12 points. Virginia shot only 39.3 percent, including 29.4 percent in the second half.
Numbers to know:
Duke has now beaten Virginia eight consecutive times in the series and 15 straight times in Durham. Over the past 10 seasons, the Blue Devils are 17-1 against the Cavs. ... Duke made only 8-of-19 free throws Thursday night. According to ESPN Stats & Information, it's just the second time since 1996 the Devils have shot less than 50 percent from the line in an ACC home game. The other time came in an 85-83 loss to North Carolina in 2001. Duke was also just 5-of-20 from long range, its worst 3-point shooting performance of the season. ... Mike Scott scored 23 points (10-19 FG) and grabbed nine rebounds. The rest of Virginia's starters combined for 20 points (7-27 FG) and 13 rebounds.
What's next:
The Blue Devils travel to Clemson for a Sunday meeting. The Cavaliers get the weekend off, and will play at Georgia Tech on Thursday.
Robbi Pickeral can be reached at bylinerp@gmail.com. Twtter: @bylinerp.