College Basketball Nation:

Al-Farouq Aminu
May, 27, 2010
5/27/10
3:43
PM ET
By
ESPN.com staff
| ESPN.com
College basketball nation blogger Eamonn Brennan takes a look at the difference between a
fan's perception of top picks and actual NBA draft projections
.
Al-Farouq Aminu at No. 5? Ed Davis at No. 7? Daniel Orton at No. 13? Really?

There's something funky about the NBA draft for college hoops people: The ordered talent on draft boards only occasionally resembles what we saw throughout a given college hoops season. This isn't hard to explain. NBA scouts and general managers factor in more than just college production when they're looking at prospects; scouts also look at what the team needs, how a player meshes with his teammates, the player's raw athleticism, and whether Joe X will be considerably better in five years than he was during his college days. This concept is called "potential." You may be vaguely familiar with it.
Brennan breaks down his "based solely on production" mock NBA draft -- the first 14 picks, anyway.
March, 20, 2010
3/20/10
9:36
PM ET


NEW ORLEANS – Kentucky turned on the jets to turn a close game into a
44-28 lead at the half
Saturday against Wake Forest in second-round NCAA tournament action at New Orleans Arena.
The Wildcats, the No. 1 seed in the East, were at their best running and dunking as they pulled away, and 6-11 freshman forward
DeMarcus Cousins
was especially active.
But the entire complexion of the game changed after Wake Forest's top player, sophomore forward
Al-Farouq Aminu
, picked up his third foul at the 11:39 mark of the first half. He went to the bench and didn't return.
It wasn't a smart foul by Aminu, who was called for a reach-in on a rebound.
The game was tied at 19 when he went to the bench, and the Deacons were never the same afterward. They failed to score on their next eight possessions.
The Wildcats shot 66.7 percent from the field in the first half, and sophomore guard
Darius Miller
was the catalyst. He was 6-of-7 from the field and 3-of-3 from the free-throw line for 16 points. Cousins also hit all four of his shots and had four rebounds.
If Wake Forest doesn't play well in the first five minutes of the second half, this one could get ugly in a hurry.
March, 20, 2010
3/20/10
9:30
AM ET
NEW ORLEANS -- A couple of Sweet 16 berths will be decided Saturday in the Big Easy.
And no matter how it shakes out, some droughts will be coming to an end. Some longer than others.
Kentucky, with all its tradition, hasn't been to the Sweet 16 since 2005.
Wake Forest's last Sweet 16 trip came during the 2004 season when a guy named Chris Paul was running the show in Winston-Salem.
Baylor and Old Dominion have never reached the Sweet 16 under the current format. The Bears lost in the national championship game to Kentucky in 1948, but the tournament included just eight teams back then.
Here's a preview of Saturday's East Regional second-round games at New Orleans Arena:
Game 1: (3) Baylor vs. (11) Old Dominion, 5:45 p.m. ET


How they got here:
The Bears (26-7) beat Sam Houston State 68-59 in the first round, a game that was tied with a little more than three minutes to play. It was Baylor's first NCAA tournament win in 60 years. The Monarchs (27-9) beat Notre Dame 51-50 in the first round. It was their first NCAA tournament win in 15 years. They've won six straight games and nine of their last 10 heading into Saturday's game.
Scouting the game:
If you like defense, then settle in. Old Dominion wouldn't mind "uglying" this one up. The Monarchs win with defense and rebounding. Notre Dame was their 12
th
opponent this season to be held to 50 points or less. The Bears also play smothering defense, ranking ninth nationally in field-goal percentage defense. They held Sam Houston State to 34 percent shooting on Thursday. The difference in the two teams is that Baylor wants to get out and run, make the game an up-and-down affair and force Old Dominion to play in the 80s. The Monarchs are extremely balanced offensively and don't lean on one or two players. Seven different players have led Old Dominion this season in scoring. Baylor's
Ekpe Udoh
could end up being the 'X' factor in this game. He's a shot-blocking machine in the middle and doesn't give up anything easy around the basket.
Bear to watch:
Senior guard
Tweety Carter
is coming off a subpar game with a season-low two points on 1-of-3 shooting. He was just never able to get involved in the offense and was neutralized by Sam Houston State playing a triangle-and-two defense. That was just one game, though, and Carter is just as capable of going off for 20-plus points in Saturday's game.
Monarch to watch:
Senior forward
Gerald Lee
is the only player on the team averaging in double figures. He was quiet in the first-round win over Notre Dame with just nine points and three rebounds. But with Baylor starting three players 6-10 or taller, the Monarchs will need more out of Lee offensively. He's an unselfish player and will get the ball to the open man. But he's also Old Dominion's most reliable option when they need big baskets.
They said it:
"They've got an outstanding defense and have done it against quality teams. They beat Georgetown by holding them to 57 points, so they're a Top 20 defense in the country for a reason. They've got size and length and have a lot of similarities to our team." -- Baylor coach Scott Drew
Game 2: (1) Kentucky vs. (9) Wake Forest, 8:15 p.m. ET


How they got here:
The Wildcats (33-2) routed East Tennessee State 100-71 in the first round and were never threatened. They shot 51.7 percent from the field and led by as many as 40 points in the second half. The Demon Deacons (20-10) beat Texas 81-80 in overtime in the first round on Ishmael Smith's pull-up jumper with 1.3 seconds to play. Wake Forest had lost five of its last six games coming into the tournament.
Scouting the game:
Wake Forest is one of the few teams in the country that can match Kentucky's size. That said, keep an eye on the Deacons' 7-foot senior center,
Chas McFarland
, and the Wildcats' 6-11 freshman forward,
DeMarcus Cousins
. McFarland has gotten under more than a few players' skin in the ACC, and Cousins has had a problem at times this season with keeping his emotions in check. He vowed not to be lured into any extra-curricular stuff with McFarland. "I'm telling you all now. I'm not trying to get in a fistfight. I'm just trying to play ball," said Cousins, who's drifted in and out of foul trouble this season. The Deacons insist they want to run with the Wildcats, who are scary in the transition game when everything's clicking. Smith was called a one-man fast break by Texas coach Rick Barnes, but he has to keep his turnovers down against the Wildcats. He had eight in the win over Texas. The Wildcats turn turnovers into points, and it starts with freshman point guard
John Wall
, who leaves his own vapor trail when he's blazing up the court. The Deacons killed the Longhorns on the boards Thursday. If they're going to hang around in this one, they're going to need their share of second-chance points.
Wildcat to watch:
Freshman guard
Eric Bledsoe
has been on a tear. He made a Kentucky NCAA tournament-record eight 3-pointers in the first-round win over East Tennessee State and is 15-of-21 from 3-point range over his last three games. When he's shooting well and scoring at a high clip, the Wildcats are just about impossible to defend with all of their other weapons. In Kentucky's only two losses this season against South Carolina and Tennessee, he was a combined 5-of-17 from the field and 1-of-6 from 3-point range.
Deacon to watch:
Sophomore forward
Al-Farouq Aminu
had 20 points and 15 rebounds in the Deacons' first-round win over Texas. He was the only player in the ACC this season that averaged a double-double with 15.8 points and 10.8 rebounds per game. At 6-9, he's the kind of inside-outside threat that could cause trouble for Kentucky's big men and is also an explosive finisher in transition.
They said it:
"The one thing I talked about is we're not a 3-point shooting team. That's not why we win. We win because of defense. We win because of rebounding. We win because of our shot-blocking ability and our ability to create good shots for each other. If we make 3s, we're better than that. But that's not why we win." -- Kentucky coach John Calipari
March, 19, 2010
3/19/10
8:28
PM ET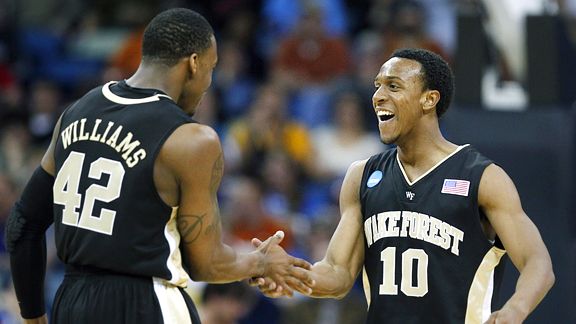 AP Photo/Patrick SemanskyKentucky faces its first real challenge in Ishmael Smith and the Wake Forest Demon Deacons.
NEW ORLEANS –- Getting into an up-and-down, shoot-'em-up game with Kentucky is like chumming off the coast of South Africa … and doing it while sitting in one of those blowup floats.
In other words, you just don't do it.
Try telling that to Wake Forest, which not only wants to run with Kentucky, but wants to run the No. 1-seeded Wildcats ragged Saturday in their East Regional second-round game.
"We're not going to change it up for nobody," Wake Forest sophomore forward
Al-Farouq Aminu
said. "I remember last year it was the same situation. North Carolina was a running team, and everybody was saying, 'You don't want to run with North Carolina.' But that's what we do, no matter what.
"The thing we've got to do is get back in transition, but I don't think they're going to discourage us from running."
There you have it.
The Wildcats (33-2) face their first real challenge of the NCAA tournament. They streaked past overmatched East Tennessee State 100-71 in the first round and looked spectacular doing so.
The Demon Deacons, meanwhile, won 81-80 in overtime against Texas when
Ishmael Smith
swished a pull-up jumper with 1.3 seconds to play. They also did a number on the Longhorns on the boards, outrebounding them by a staggering 59-34.
"We just have to do what we do, play the way we play, and come out and compete," Wake Forest senior guard
L.D. Williams
said. "We can't go out there in awe. If we do, we'll get out butts kicked. We know Kentucky's a good team, but we know we're a good team as well."
There was no lack of confidence in the Wake Forest locker room Friday as the once-forgotten-about Deacons –- suddenly revived thanks to Smith's late-night heroics on Thursday -- prepared to hit the practice floor at New Orleans Arena.
This is the same team that had lost five of six games entering the tournament. But as Smith points out, it's also the same team that was 18-5 at one point.
"We were the ones everybody was saying could do some damage," Smith said. "We're still that team, and now's the time to do it."
Wake Forest is one of the few teams that can match Kentucky's size. The Deacons' starting front line goes 7-foot, 6-11 and 6-9, while 6-11 sophomore
Tony Woods
is one of the first guys off the bench. He had seven offensive rebounds against the Longhorns, and four of those were dunk-backs.
"We match up with them in size, and it's not like we don't see a lot of talented players in the ACC," said the 6-9 Aminu, who had 20 points and 15 rebounds against Texas. "Nobody on our squad is going to be intimidated."
While it's obvious that Wake Forest was already tired of hearing about how big, talented and good Kentucky was by Friday afternoon, the Wildcats have their own chip on their shoulder.
They're tired of hearing about how young they are.
"I want this thing to end on a good note, which is a national championship," Kentucky freshman forward
DeMarcus Cousins
said. "Why not end it on a good note? To be honest, I really don't feel pressure at all. We want it bad but everybody's expectation is for us to lose because we're young."
Cousins also wasn't buying that there were a whole lot of similarities between the Wildcats and Deacons.
"They don't remind me of us," Cousins said. "They're in the ACC. We're in the SEC. Our coaches have different names. They're a big, athletic team. We'll just see how the game turns out."
The always loquacious Smith gigged some of the media Friday, wondering aloud if everybody already had the Wildcats moving on in their brackets.
"I know a lot of you guys probably have them winning the national championship in your brackets," said Smith, who wants to get into broadcasting after his hoops days are over. "If I were you guys, I probably would, too, just watching them play.
"We just want to put ourselves in position."
It may not be an enviable position, especially when the Wildcats shoot like they did Thursday. Freshman guard
Eric Bledsoe
tossed in a Kentucky NCAA tournament record eight 3-pointers, and junior forward
Patrick Patterson
was 9 of 10 from the field.
Told that the Wildcats don't think there's a team in the country that can touch them when they're stroking it from the perimeter, Smith offered a confident smile and then a shrug.
"They're a heck of a team," said Smith, his smile widening. "I believe if they say that, they feel that way.
"Let's just hope that they're not making jump shots so we can have a chance."
February, 24, 2010
2/24/10
12:13
PM ET
The Atlanta Tipoff Club, which awards the Naismith each year, has narrowed its preseason list of 50 "watch" players down to the much more manageable 30 -- what it calls its midseason candidates list, even if, on Feb. 24, the whole "midseason" thing is a bit of a misnomer. But that's beside the point. The point is that we have 30 players to mull over now. True, most of the list won't even crack consideration for the final player of the year award, which is almost certainly going to go to Ohio State's
Evan Turner
or Kentucky's
John Wall
. But the tally is fun to look at anyway.
One minor quibble: The list of 30 manages to include six ACC players -- just one behind the Big East's leading seven -- without including Virginia Tech guard
Malcolm Delaney
, who happens to be leading the conference in scoring with 20.2 points per game for a 21-5 Tech team that's overcome its horrid nonconference schedule to (probably) play its way into the NCAA tournament. Nothing against
Al-Farouq Aminu
or
Gani Lawal
or
Sylven Landesberg
or
Trevor Booker
but it's hard to see how you could include those four and leave Delaney off the sheet.
Anyway, the full list is after the jump. Other quibbles? Let's hear 'em in the comments.
February, 16, 2010
2/16/10
10:11
PM ET
Virginia Tech flat took the game from Wake Forest tonight
, and the Demon Deacons didn't seem to mind much.
[+] Enlarge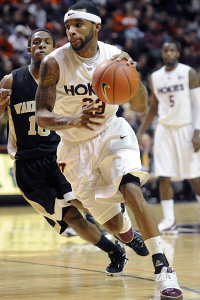 AP Photo/Don PetersenVirginia Tech's Malcolm Delaney scored 31 points against Wake Forest.
Credit the Hokies for coming back from an 11-point deficit with 16 minutes to play. And credit them with just taking over the game in the final nine minutes to win by four. Tech was better on defense, smarter with the ball, aggressive going to the basket and swarming on the glass in scoring arguably its biggest win of the season.
The Hokies take over sole possession of second place in the ACC, and might be ready to move into the Top 25 as well.
Meanwhile, Wake Forest is fully ready to move out again after breaking in at No. 25. The Deacons are undeniably talented and athletic, but have many flaws.
Most glaring: their defense is plagued by breakdowns, which is how you give up 55 second-half points. The biggest culprit against Tech was Wake's best player –
Al-Farouq Aminu
. He was beaten several times off the dribble, lazy rotating to help stop penetration and disinterested in getting a hand up on shooters. After scoring 21 points in the first half, Aminu finished the game with 25 and seemed to lack energy in the final 10 minutes. He largely spectated while guard
Ishmael Smith
tried to keep Wake in the game by himself.
In the Guys You Have To Love Dept., save a spot for Michigan State power forward Draymond Green. In the Spartans' 14-point victory at Indiana, Green made all five of his shots and finished with 14 points, four rebounds and three assists in just 19 minutes of playing time.

He has beautiful basketball instincts. Green is a 6-foot-6 sophomore who rebounds like he's 6-10 and passes like he's 6-2. He has flypaper hands that inhale the ball yet also produce a soft shooting touch and deft assists. With season averages of 10 points, 8.2 rebounds, 3.1 assists and 1.3 steals, he's always got his hands on the ball.
Momentum is a fleeting thing in the Big East. With South Florida whacking Cincinnati to further muddle the turbulent superconference, only four teams currently have won at least two conference games in a row: St. John's, Seton Hall, Pitt and Marquette. The Golden Eagles have won five straight. Rutgers could join that group but is getting licked early by DePaul.
February, 16, 2010
2/16/10
8:10
PM ET
No. 11 Michigan State at Indiana


I never heard of a team going 12 minutes without a defensive rebound and living to tell about it. So far, undersized and outmanned Indiana has done exactly that as a massive underdog against the rebounding fools from Michigan State.
According to our own Brent Musberger, Indiana was boardless on the defensive end until just more than eight minutes remained in the first half. The first one went to point guard
Jordan Hulls
, of all people. At the time, the Hoosiers trailed just 23-19.
How? I have no idea.
I suppose it's bizarrely fitting that after Indiana grabbed its first rebound, it began losing ground. Next thing you knew, the Spartans were up 29-21 and forcing an Indiana timeout.
At halftime Michigan State is up
40-30
, and Indiana is on its way to its seventh straight defeat.
The good news for the Hoosiers is that they weren't just pasted right out of the gate -- which was the case over the weekend against Wisconsin. That game was 8-0 in less than two minutes. Then 27-7 after 7 ½ minutes. Then 46-18 after 17.
They were never in it.
Tonight, at least, Indiana has hung around for a half against the defending Big Ten champs.
No. 25 Wake Forest at Virginia Tech


Al-Farouq Aminu
is off to a blazing start in Blacksburg in a big ACC game, leading Wake Forest to a
40-32
halftime lead over Virginia Tech. So far, Aminu has 21 points and five rebounds, further reminding us why everyone was slobbering over him last year as a freshman.
Aminu and the rest of the Demon Deacons flew a long way under radar this season -- all the way to an 18-5 record and an 8-3 mark in the ACC. That's good enough to plant Wake in second place in the league, behind only Duke. A distinct lack of buzz accompanied Dino Gaudio's to this point -- perhaps because there is a reticence to buy into Wake again this season after its spectacular first-round NCAA tournament flameout against Cleveland State. Wake might now merit a new appraisal.
Meanwhile, this is an important game for Virginia Tech's credibility. The Hokies have a fancy record (20-4 overall, 7-3 in the ACC) but it's built on a pretty flimsy foundation. Tech's best non-conference win is over Seton Hall on a neutral court, and in ACC play it beat Clemson and swept Virginia. But there are several losable games ahead -- starting with this one tonight.
January, 4, 2010
1/04/10
11:36
AM ET
Five things to know from Sunday's action:
1. A trio of interesting stat lines in Wake Forest's 96-92 double overtime win over Xavier:
Al-Farouq Aminu put up 26 points and 18 rebounds in 41 minutes of action. That's his second 20-point, 15-rebound game in the span of a week. He joins Texas' Damion James as the only power six conference players with multiple 20-15 games this season.
In the first 102 games of his college career, Ishmael Smith never scored 20 points in a game. On Sunday, he poured in 28 in 49 minutes of action. It's most minutes played by an ACC player since Toney Douglas played 49 for Florida State in 2008.
In the strange line department, Chas McFarland came off the bench to pull down 14 rebounds, but did not convert on any of his five field goal attempts. That's the most rebounds without a field goal by any player in Division I this season.
2. Cal State Bakersfield couldn't manage a win against Loyola Marymount, but
Santwon Latunde
had a historic game for the Roadrunners. He tied a school record with 21 rebounds, while adding a career-high 20 points. He is the fourth player in D-I with a 20-point, 20-rebound game this season. It's the first 20-20 game by a Roadrunner since Kebu Stewart in 1997. Meanwhile, Latunde's teammate
Stephon Carter
had a bizarre game, going 1-for-13 from the field and 13-for-16 from the line.
3. With a 67-50 home loss to Georgetown, DePaul has now lost 21 straight regular-season Big East games. That's the longest regular-season conference losing streak in the nation. The Blue Demons shot under 40 percent for the ninth time this season, and currently rank 303rd in the nation in field goal percentage. More alarming is their performance at the line. After going 4-for-7 against the Hoyas, DePaul actually improved to 53.8 percent from the charity stripe this season. Not only is that last among all 347 Division I teams, but it's not even very close to 346th, currently occupied by Alabama A&M at 55.4 percent.
4. Creighton topped Evansville 72-64 thanks to a career game from Kenny Lawson, Jr, who put up 18 points, 11 rebounds and a career-high seven blocks. That's the most blocks for a Creighton player since Doug Swenson had eight back in 1998. Lawson is the early frontrunner for the Bluejays player of the decade. He is averaging 15.5 ppg, 12.5 rpg and 4.0 bpg in the two games since the start of 2010.
5. Texas Tech beat UTEP 86-78 despite shooting just 39.0 percent from the field. If 86 seems like a lot of points for a team that shot so poorly, that's because the Red Raiders continue to score a huge number of points at the free throw line. On Sunday, they went 35-of-46 from the line. Over its last four games, Texas Tech is averaging 40.8 free throw attempts per game. On the season, the Red Raiders are fifth in the nation in free throws made with 295. In fact, they've made more free throws than 217 teams have even attempted.
December, 29, 2009
12/29/09
12:08
PM ET
Five things to know from Monday's action:
1. BYU guard
Jimmer Fredette
's 49 points broke a 48-year-old school record. Bob Skousen previously held the record with 47 points in game in 1961. Fredette's total is the second most scored in D-I this season behind Rotnei Clarke's 51 points against Alcorn State in Arkansas' season opener. Fredette added seven rebounds and nine assists. His 49 points plus seven rebounds and nine assists total of 65 are the most for a player this season.
2.
Al-Farouq Aminu
went off for 23 points, 17 rebounds and six blocks in Wake Forest's win over NC-Greensboro. It was his first career 20-point, 15-rebound game, and the second by an ACC player this season (Miami's
Dwayne Collins
). Four games ago against Elon, Aminu was benched to start the game after being late for a walk-through. In the three games since, he is averaging 19.3 PPG and 14.3 RPG.
3.
Elliot Williams
scored a career-high 27 points in Memphis' win over IUPUI. The Tigers guard is shooting 56.5 percent from the field in Memphis' nine wins, but just 30.0 percent in their two losses. Williams is the most improved scorer in the nation, having gone from 4.2 PPG last season at Duke to 20.7 so far in 2009-10. His +16.5 PPG increase is nearly three points greater than the next most improved scorer, Centenary's
David Perez
. Tennessee-Martin's
Benzor Simmons
is the nation's third most improved scorer.
4. NJIT snapped a 38-game losing streak in true road games with a 65-56 win at Wagner. The Highlanders last true road win came on February 19, 2007 at Longwood. After going 1-59 over the last two seasons combined, NJIT is now 4-8, having defeated Wagner twice.
Chris Flores
led the way on Monday with a career-high 25 points.
5. All
Dwain Williams
wanted for Christmas was to get to the free throw line, and its worked. Williams scored 28 points in Hawaii's 81-62 win over Northwestern State, following up his 36-point performance on Christmas. Williams has done most of his damage from the free-throw line, where he is 27-31 in his last two games. The transfer from Providence had only been to the line 35 times in his first 9 games combined.