College Basketball Nation:

Al Nolen
January, 11, 2011
1/11/11
12:13
PM ET
File this one under: "From Bad To Worse."
According to various reports
, Minnesota forward Trevor Mbakwe was arrested and jailed Monday night for allegedly violating a restraining order filed by an ex-girlfriend. How did Mbakwe allegedly violate this order? By (allegedly) leaving a message on the woman's Facebook wall. True story:
Police said Mbakwe was booked into Ramsey County Jail on misdemeanor charges after he posted a message on a St. Paul woman's Facebook page. The woman had previously filed a restraining order against Mbakwe in Dakota County, and reported the contact to police.

University of Minnesota police took Mbakwe into custody at home near campus and brought him to jail. Bail was set at $500.
Minnesota brass isn't commenting until it receives all the facts about the case, so for now, we don't know much. We don't know about the interaction. We don't know what the Facebook post said. We don't know the details of Mbwake's relationship with the woman, and we don't know how the case will proceed. Until we do, we won't know how this will affect Minnesota's season going forward.
Here's what we do know: Minnesota's streak of unwieldy personnel problems, which has devastated Tubby Smith's otherwise-promising last two seasons in Minneapolis, remains alive and well.
Last year, before Minnesota made its late push and got into the NCAA tournament, the Gophers suffered one of the worst personnel-problem years in recent history. The issues were varied and widespread: Highly touted recruit Royce White faced a host of disciplinary issues, made a YouTube video announcing his retirement, eventually rejoined the team, and then left it, all without playing a single minute for Tubby Smith. Crucial point guard Al Nolen was academically ineligible for much of the season. Mbakwe himself was suspended for the entire year thanks to his role in an ongoing felony battery charge stemming from his days at Miami-Dade Community College. Mbakwe eventually entered a pretrial program in that case, but never admitted guilt and was eligible to play this season.
This was the year the Gophers, finally at full strength, were going to step past the distractions and compete for a Big Ten title. That hasn't gone as planned: After a strong start in the Puerto Rico Invitational, Minnesota has flagged on the court lately. What's worse, the personnel drama hasn't gone away. If anything,
following the decision of guard Devoe Joseph, the Gophers' third-leading scorer, to transfer
, that drama has intensified.
Now there's this. It's still possible Mbakwe can play this season; again, we just don't know. But it seems unlikely Smith will be able to delay a decision on his talented forward for too long. If Smith is forced to sit the forward for any period of time, he'll be playing the meat of his Big Ten schedule -- right when you'd like your team to be rounding into shape, no less -- without his best player (Mbakwe) and one of his best guards (Joseph).
We'll wait and see how the case plays out. In the meantime, the obvious is true: This is
horrible
news for Gophers fans.
January, 4, 2011
1/04/11
3:25
PM ET
On Monday afternoon, Minnesota coach Tubby Smith told the Minneapolis Star-Tribune's Myron P. Metcalf that junior guard Devoe Joseph
would be suspended for the Gophers' game
versus Indiana on Tuesday. That was maybe slightly disconcerting for Gophers fans, but hey, players get suspended all the time. Joseph would be back soon enough, right?
Not so fast. After hearing from sources that Joseph would be held out of the lineup because he had told the team he planned to transfer, Metcalf received an e-mail from Joseph's mother, Connie Joseph, at 3:49 Tuesday morning.
Connie Joseph told Metcalf that her son has definitely decided to transfer
, that he had considered the option for a while before reaching his decision this week and that there's "no turning back."
She said Devoe Joseph called Tubby Smith before the team's next practice and informed him of his decision to leave the program. Connie Joseph said her son skipped practice over the weekend because "once you've made this difficult decision, the best thing is just to move forward." She said her son isn't suspended, as some outlets reported, but has decided to leave the team.

"No, there's [no turning back]," she said Tuesday. "I'm going with him [Tuesday] morning to pick up his release papers. He wishes the team well. It's a tough thing." She added: "I don't expect anything to change."
Joseph's mother wouldn't discuss exactly why her son was transferring. It wouldn't seem to be a playing-time thing, as seems to be the case so frequently with midseason transfers.
Joseph's minutes have gone down in the Gophers' past two games
, but he's still played 21 minutes per game in those outings, even as guard Al Nolen has returned to the starting lineup after injury. That's hardly the sort of drop-off you'd expect to prompt such a sudden and drastic decision. There's still a chance Joseph doesn't leave the program, of course, but it certainly isn't looking good.
Whatever the reason, Joseph's absence will rob the Gophers of some much-needed backcourt depth and an already established contributor. After emerging toward the tail end of his sophomore season, Joseph has been part of the Gophers' balanced attack in 2011, scoring 11.3 points and dishing 3.5 assists per game. It will also mark another difficult chapter in Tubby Smith's past two years in Minnesota, which has been marked by boosts in talent and overall improvement but also by challenging personnel issues. Last season, those issues ranged from Royce White's lost year and eventual transfer, to Trevor Mbakwe's yearlong suspension for his role in a felony assault, to Al Nolen's late-season academic ineligibility.
This was the year Minnesota put all that behind it, rallied its deep reserve of talent and made a run at the Big Ten title. Now 0-2 in the Big Ten, more personnel problems is the last thing these Gophers needed.
December, 7, 2010
12/07/10
2:56
PM ET
November, 29, 2010
11/29/10
7:24
PM ET
By
ESPN.com staff
| ESPN.com
The ACC/Big Ten Challenge will be the dominant storyline in college basketball over the next few nights, so might as well put our writers and contributors on the spot with predictions, right?
For what it's worth, the group consensus for each game adds up to a 6-5 Big Ten victory over the ACC. But it's actually even closer than that. In the highly anticipated Iowa-Wake Forest matchup, our panel took the Hawkeyes by a 5-4 margin. If one of those five had picked the Deacons, we'd be projecting an ACC overall victory.
Sounds to us like an event worth tuning in to …
MONDAY
VIRGINIA AT MINNESOTA (ESPN2, 7 ET)
Jay Bilas:
Minnesota -- Tubby Smith has depth and guard play, and Tony Bennett doesn't.


Eamonn Brennan:
Minnesota – The Gophers are a complete and balanced team, even if
Al Nolen
and
Rodney Williams
miss the game due to injury; Tony Bennett's rebounding Virginia squad is, well, not.

Fran Fraschilla:
Minnesota -- The Gophers are one of the country's early-season surprises and they are at home in the friendly confines of Williams Arena. This will be ugly.

Doug Gottlieb:
Minnesota -- Despite not having Al Nolen, Minnesota is still loaded.
Maverick Ahanmisi
was a late signee who is a year older than most freshmen, and that maturity will come in handy.

Andy Katz:
Minnesota – The Gophers are depleted with injuries, but likely get
Devoe Joseph
back and are too strong, too tall and too deep for rebuilding Virginia.

Diamond Leung:
Minnesota -- Minnesota might be banged up, but
Blake Hoffarber
and
Trevor Mbakwe
should be able to dominate.

Joe Lunardi:
Minnesota -- The shorthanded Gophers are still too much for the Cavs at this point.

Dana O'Neil:
Minnesota -- Even without Al Nolen and Rodney Williams, the red-hot Gophers are too talented for the still struggling Cavaliers.

Jay Williams:
Minnesota -- Even though they won't have starters Al Nolen and Rodney Williams due to injuries, I expect Blake Hoffarber, Trevor Mbakwe and
Ralph Sampson III
to dominate.
TUESDAY
GEORGIA TECH AT NORTHWESTERN (ESPN2, 7 ET)
Bilas:
Northwestern -- The Wildcats will spread the Jackets out and keep them on a string between open 3s and backdoor cuts.


Brennan:
Northwestern -- Facing its first real "test" of the season, Northwestern's matchup zone and tricky Princeton offense will give Georgia Tech fits.

Fraschilla:
Northwestern -- Sadly, even a win over the Yellow Jackets won't mean much in March. Too much
John Shurna
in this one.

Gottlieb:
Northwestern -- Tech played well this weekend, but the travel and
Juice Thompson
will be too much.

Katz:
Northwestern -- If we're going to take the Wildcats seriously, they have to win a game like this at home against the inferior Yellow Jackets.

Leung:
Northwestern -- The Wildcats should stay undefeated playing on their home court and with John Shurna playing well.
Lunardi:
Northwestern -- A solid win over Creighton sets the Wildcats up nicely for another victory.
O'Neil:
Northwestern -- John Shurna has been terrific all season for a Wildcat team dreaming of -- gasp! -- an NCAA bid.
Williams:
Northwestern -- This is the year Northwestern makes the NCAA tournament because of Shurna and Thompson.
IOWA AT WAKE FOREST (ESPNU, 7 ET)
Bilas:
Iowa -- Wake Forest will have a hard time beating anyone this season.


Brennan:
Iowa -- Because as bad as Iowa is, Wake Forest is -- somehow -- worse.
Fraschilla:
Wake Forest -- Someone has to win, right?
Gottlieb:
Iowa -- Hawkeyes are coming off a win. Fran McCaffery will dial up something.
Katz:
Wake Forest -- I can't see the Demon Deacons losing four home games before Dec. 1.
Leung:
Iowa -- Between the two, Iowa has shown a few more signs of life.
Lunardi:
Wake Forest -- Neither team has played a true road game, so you have to go with Wake at home.
O'Neil:
Wake Forest -- Because as bad as the Demon Deacons have looked early, the Hawkeyes have looked worse.
Williams:
Iowa -- After watching Wake lose to Stetson, VCU and Winthrop, I give the edge to Iowa on the road.
OHIO STATE AT FLORIDA STATE (ESPN, 7:30 ET)
Bilas:
Ohio State -- Florida State can really guard, but scoring efficiently is a problem the Seminoles have and the Buckeyes don't.


Brennan:
Ohio State – FSU's defense will keep this one close, but the interior offensive rebounding of
Jared Sullinger
and
Dallas Lauderdale
will be too much for the Noles to manage.
Fraschilla:
Ohio State – The Leon County Civic Center is not the home court the Seminoles deserve.
Gottlieb:
FSU's
Chris Singleton
has put up insane numbers with two triple-doubles, but OSU has the athletes to guard him and his compadres.
Katz:
Ohio State -- The Buckeyes won at Florida and have a better inside game than Florida State, although FSU's Chris Singleton will likely put up the best numbers.
Leung:
Ohio State -- Despite the all-around talents of FSU's Chris Singleton, Ohio State has too many weapons, including Jared Sullinger in the middle.
Lunardi:
Ohio State -- Buckeyes complete the Sunshine State sweep in Tallahassee.
O'Neil:
Ohio State -- Tough follow for the Seminoles after an emotional, disappointing loss to the Gators. Plus, Jared Sullinger is the why to all questions about the Buckeyes.
Williams:
Florida State -- Yes, I call the upset here.
Xavier Gibson
and
Bernard James
will give Mr. Sullinger a lot to deal with down low.
MICHIGAN AT CLEMSON (ESPN2, 9 ET)
Bilas:
Clemson -- The Tigers are at home, and Michigan hasn't won away from home.


Brennan:
Clemson -- Michigan might not be as bad as we thought, but it is not good enough to beat a capable Clemson team, whose only loss was a one-point neutral-court defeat to ODU.
Fraschilla:
Clemson -- Early returns about new coach Brad Brownell are positive.
Gottlieb:
Michigan -- Searching for an upset here, the 1-3-1 proves tough to tame. The Wolverines appear a bit better than expected, though they will suffer in conference.
Katz:
Clemson -- The Tigers, regardless of coach, are too tough at home against similar-level teams.
Leung:
Clemson -- Tigers coach Brad Brownell is fitting right in and has enough weapons to win this one.
Lunardi:
Clemson -- The Wolverines are a long way from being able to win at Littlejohn.
O'Neil:
Clemson -- The Wolverines have done little to prove they're over what ailed them last season.
Williams:
Clemson -- After losses to both Syracuse and UTEP, I don't see the Wolverines bouncing back at Littlejohn Coliseum.
NORTH CAROLINA AT ILLINOIS (ESPN, 9:30 ET)
Bilas:
Illinois -- North Carolina doesn't push the ball and get easy baskets, and Illinois is at home.


Brennan:
Illinois -- The Illini have home-court advantage, but they also have the benefit of a veteran team that can match up with the athletic -- and as yet thoroughly disappointing -- Tar Heels.
Fraschilla:
Illinois -- Are the Heels losing their mystique?
Gottlieb:
Illinois -- Better guards, at home, and though Illinois does not have great strength inside, neither does UNC. Illini by more than 10.
Katz:
Illinois -- The Tar Heels are still searching for a leader and the Illini need this game too much to prove their relevance.
Leung:
Illinois -- It appears that catching the Tar Heels early is the way to go, and an Illini team with size can play with anyone.
Lunardi:
Illinois -- What once looked like a toss-up should be a comfortable win for the Illini.
O'Neil:
Illinois -- The Illini play with grit and determination, traits sorely lacking so far this season for the Tar Heels.
Williams:
Illinois -- UNC does not have the poise or experience to win this one on the road.
WEDNESDAY
NC STATE AT WISCONSIN (ESPN2, 7:15 ET)
Bilas:
Wisconsin -- The game is at the Kohl Center, isn't it? Next question.


Brennan:
Wisconsin -- Besides the immense advantage provided by the Kohl Center, the Badgers are, for all their early-season warts, one of the better rebounding teams in the nation. The Wolfpack without senior forward
Tracy Smith
are one of the worst.
Fraschilla:
Wisconsin -- Anywhere but the Kohl Center, I'd give the Wolfpack an even chance to win.
Gottlieb:
Wisconsin -- NC State has better talent, but Wisconsin will use
Jordan Taylor
off ball screens and
Jon Leuer
is a great fit for what Wisconsin does and Bo Ryan is great at what he does. Frankly, the Wolfpack might become bored with the tedious pace of the Badgers.
Katz:
Wisconsin -- The Wolfpack are without Tracy Smith and to beat the Badgers at the Kohl Center you have to be full strength.
Leung:
Wisconsin -- Jon Leuer is just too much to handle, and the Badgers are playing at home.
Lunardi:
Wisconsin -- The Badgers figure to be extra cranky after losing the Old Spice title game.
O'Neil:
Wisconsin -- I'm guessing practice hasn't been fun for the Badgers since their uncharacteristic slide against Notre Dame. Someone will feel the brunt of that frustration.
Williams:
Wisconsin -- The Badgers have compiled a 138-11 (.926) home record under coach Bo Ryan heading into the season. Enough said.
INDIANA AT BOSTON COLLEGE (ESPNU, 7:15 ET)
Bilas:
Boston College – The Eagles are at home and
Reggie Jackson
can really score.


Brennan:
Boston College -- Boston College has one awful loss (to Yale) and one solid win (over Texas A&M), so let's give it a slight advantage over an Indiana team that has yet to leave Assembly Hall -- or play a non-cupcake opponent.
Fraschilla:
Boston College -- Reggie Jackson hits it out of the park in the Eagles' win.
Gottlieb:
Boston College -- Reggie Jackson is the best player on the floor. The Eagles use the lessons learned in giving away leads in Orlando to help them beat IU.
Katz:
Indiana -- The Eagles own more talent but lack focus in finishing games, something the Hoosiers seem to have now.
Leung:
Boston College -- The easy part of Indiana's schedule is over.
Lunardi:
Boston College -- BC is coming off a very good showing at the Old Spice and should win at home.
O'Neil:
Indiana -- The recruiting good news for the Hoosiers spurs a much-needed good win on the court.
Williams:
Boston College -- When Reggie Jackson is allowed to probe with the dribble and is on his game, BC is a tough team.
PURDUE AT VIRGINIA TECH (ESPN, 7:30 ET)
Bilas:
Virginia Tech -- Purdue is not only missing
Robbie Hummel
, but really missing Chris Kramer.


Brennan:
Purdue -- Both teams have played solid defense and both have had their struggles offensively, but
JaJuan Johnson
should provide too many matchup problems for a shallow Va. Tech front line.
Fraschilla:
Virginia Tech -- Hokies are desperate for a quality nonconference win.
Gottlieb:
Virginia Tech -- Virginia Tech struggles with pressure defense (see Purdue). Purdue struggles to score against legit defenses without Robbie Hummel. Hokies in a great game.
Katz:
Virginia Tech -- The Boilermakers are still a formidable bunch, but winning in Blacksburg is hardly an easy task, especially when the Hokies are a top-three ACC team.
Leung:
Virginia Tech -- The Boilers are showing they're not the same team without Robbie Hummel, and they'll have their hands full containing
Malcolm Delaney
.
Lunardi:
Virginia Tech -- The Hokies want to stockpile every nonconference scalp they can get.
O'Neil:
Virginia Tech -- Neither team has exactly been lighting it up offensively, but the Hokies have Malcolm Delaney, who can score, and the home court.
Williams:
Virginia Tech -- Purdue simply doesn't have the same scoring punch like the Hokies' Malcolm Delaney,
Dorenzo Hudson
and
Jeff Allen
.
MARYLAND AT PENN STATE (ESPN2, 9:15 ET)
Bilas:
Maryland -- Although a road game, the Terps have more talent.


Brennan:
Maryland -- Maryland forward
Jordan Williams
is a budding star, and unless
Talor Battle
can sprout about 10 inches by Wednesday night, the Nittany Lions won't be able to stop him.
Fraschilla:
Maryland -- The Terps should grind out a road win in State College.
Gottlieb:
Maryland -- The Terps are better inside with Jordan Williams and though Talor Battle can win a game on his own, Maryland's size and pressure in the backcourt should hurt his percentages.
Katz:
Maryland -- Penn State is having a hard time being relevant while the Terps continue to play tougher, no matter the venue.
Leung:
Maryland -- The Terrapins' only losses are single-digit ones to Pitt and Illinois, so Penn State should be no problem.
Lunardi:
Maryland -- Penn State isn't the most athletic bunch and was already exposed by Ole Miss.
O'Neil:
Maryland -- The Nittany Lions would need to borrow one of JoePa's linebackers to have a player to contend with Jordan Williams.
Williams:
Maryland -- The Nittany Lions will have no answer inside for the Terps' Jordan Williams.
MICHIGAN STATE AT DUKE (ESPN, 9:30 ET)
Bilas:
Duke -- Michigan State is turning it over too much right now, and Duke's defensive pressure should capitalize.


Brennan:
Duke -- After Duke's dominant win over Kansas State and Michigan State's sluggish start in Maui, the Blue Devils look miles ahead of the field. This early in the season, the Spartans won't be able to close the gap in Cameron.
Fraschilla:
Duke -- Tough place for ANYONE to win.
Gottlieb:
Duke --
Derrick Nix
is back and he should help with the depth of Michigan State inside, but MSU struggled with the quickness of Washington and UConn. Duke's pressure and athleticism are similar.
Katz:
Duke -- The Spartans aren't in March form yet, while the Blue Devils look like they've already made plans for Houston.
Leung:
Duke -- In case you missed the CBE Classic, the Blue Devils are just better than everyone else right now.
Lunardi:
Duke -- Won't make the same mistake of picking against Duke this week.
O'Neil:
Michigan State -- I'll admit I'm not 100 percent in on this pick, especially with Duke playing at home. But after a few humbling visits to the other part of Tobacco Road in recent years, a disappointing loss to UConn and a tongue-lashing after a lackluster effort against Tennessee Tech, I think the Spartans are due for a show-me win.
Williams:
Duke -- Duke is hands-down the best team in the country and the energy within Cameron will be too much for Michigan State to handle.
November, 29, 2010
11/29/10
5:35
PM ET
Like its Morning After and Afternoon Links brethren, Saddle Up -- our nightly rundown of the hoops your TV wants you to watch -- returns for another season. To the previewmobile!
Virginia at No. 17 Minnesota, 7 p.m. ET, ESPN2
: The Big Ten-ACC Challenge doesn't exactly begin with a bang. Tuesday and Wednesday night are the big draws, featuring five games -- and most of either conference's quality teams -- in a veritable onrush of interconference competition. But the ACC-Big Ten Challenge does officially kick off Monday night, and it does so with an opportunity to see what appears to be a high-quality Minnesota team in action. So, you know, that's something.
The Gophers have already cemented their non-conference bonafides with wins against Western Kentucky, North Carolina, and West Virginia in consecutive games in the Puerto Rico Tip-Off last week. How? By dominating on the inside. Thanks in large part to the return of
Trevor Mbakwe
and the ongoing development of forward
Ralph Sampson III
, Tubby Smith's team grabs offensive rebounds at a high rate, prevents opposing teams from doing the same, gets to the foul line frequently, and rarely returns the favor on defense.
Al Nolen
and
Rodney Williams
will miss tonight's game with injuries, but Mbawke, Sampson and sharpshooter
Blake Hoffarber
(the team's leading scorer thus far) will all be on hand, and that's probably bad news for Virginia.
Speaking of Virginia, just how bad are the Cavaliers in Tony Bennett's second year? The Cavaliers already have three losses, and though none of them will disgust fans quite as much as Wake Forest's home loss to Stetson, Boston College's home loss to Yale, or Georgia Tech's loss to Kennesaw State -- that's laugh-or-cry stuff for ACC die-hards -- Virginia hasn't looked competitive any time it's faced a major-conference team not named Oklahoma. (The Sooners don't count. That might be the worst BCS conference team in the country.) Now UVA travels to the barn to face a quality Minnesota team. In the words of Scooby Doo: Ruh roh.
Everywhere else
: It's a pretty quiet night in college hoops, hence the lack of another featured matchup here. What else is out there? Not much.
No. 4 Kansas State welcomes the mighty Emporia State Hornets
, a Division II team, to Manhattan, Kan., and I'm going to go ahead and guess that Emporia State won't extend Division II's exhibition-season upset fun at the Octagon of Doom ...
No. 13 Baylor should likewise have no problem with 1-6 Prairie View A&M
, a SWAC team stuck playing a typically brutal SWAC team road schedule ... USC will attempt to prove it's not completely horrible;
the Trojans play suddenly newsworthy future Big East member TCU
in Fort Worth ... and a
surprisingly undefeated 7-0 Cleveland State team will have an interesting test at home against 2-2 Robert Morris
, a solid if slightly slipping mid-major program. After that, it's pretty ugly, so rest up for tomorrow night. That's when this week's real fun begins.
November, 12, 2010
11/12/10
10:50
AM ET
Since we don't know what "indefinite" means -- OK, so we know what it
means
, Daniel Webster, just not what it entails -- and we don't know what
Devoe Joseph
did, it's hard to get much of a read on how big of a deal this is. One thing's for sure: It's not great news for the Gophers.
From the Pierce County Herald
:
University of Minnesota men's basketball coach Tubby Smith announced last night that he has suspended guard Devoe Joseph indefinitely. [...] Smith would not go into specifics, other than to say Joseph has had a couple of off-court issues. Smith says he expects Joseph to be back with the team at some point this season, but he must take care of a few things first. Smith would not detail a specific length of the suspension, but did say Joseph would not be traveling with the team to a tournament in Puerto Rico next week.
Pretty vague, right? The issue isn't related to basketball or academics, apparently, so it's hard to say exactly what team rule Joseph violated. It's also hard to know when he's going to come back. It could be right after Minnesota finishes its trip to Puerto Rico next week; it could be a month; it could be several months. That "indefinite" thing is never particularly encouraging.
That said, Gophers fans do have some reason to suspect Tubby
isn't suspend-the-kid-for-a-month upset
:
"Devoe knows he's let the team down," Smith said, according to the Associated Press. "He feels like he's let himself down, he's let me down. But it doesn't take long to recover. Once you realize that when you look at the mirror, you say, 'You know what, I better go hug him because I'm looking for a hug myself.' I've made mistakes after mistakes [too]."
I'm not exactly sure what that quote means, but it doesn't seem like Tubby's especially furious. That means Joseph will probably be back sooner rather than later, and that's big for the Gophers, because while senior point guard
Al Nolen
returns to full-time play this season after missing Minnesota's last 17 games thanks to academic issues last season, Joseph established himself as a more-than-capable (and slightly bigger) point guard option as a sophomore last season. This season, Joseph might have slid into a more traditional off-guard role -- Smith has said that Joseph played point more out of necessity than desire last season -- but his ability to distribute from the perimeter was a big find for the Gophers.
Wherever he's playing -- whether he's coming off the bench behind Nolen and
Blake Hoffarber
or starting at either spot -- Minnesota is a better team with him. Hopefully for the Gophers, "indefinite" isn't all that long after all.
March, 14, 2010
3/14/10
7:31
PM ET
By
ESPN.com staff
| ESPN.com
INDIANAPOLIS -- Minnesota did enough damage at Conseco Fieldhouse to warrant a berth in the NCAA tournament.
And even after learning they had made the field of 65, the Golden Gophers left their mark on this building.
Let's just say the couch in one of the suites at Conseco will never be the same again.
"We all jumped together," point guard
Devoe Joseph
said. "I think we might have damaged the couch in there."
Damaged would be putting it mildly.
"We did break the couch," shooting guard
Lawrence Westbrook
confirmed. "We were excited to see our name."
It was a sight that seemed highly likely on March 2, when Minnesota didn't show up at Crisler Arena and left with a 83-55 loss to Michigan. But the team that dealt with adversity all season long -- from
Al Nolen
's academic problems to the legal issues surrounding newcomers
Trevor Mbakwe
and Royce White -- refused to go away.
Minnesota won four consecutive games, three in dominating fashion, to reach Sunday's Big Ten tournament championship game. The Gophers ended up winning seven of their final 10 games, including victories against Wisconsin, Michigan State, Purdue and, not to be forgotten, fellow bubble team Illinois on the road.
But a 29-point loss to top seed Ohio State raised the tension level as the selection show began.
"I honestly had no clue," said Joseph, who made the All-Tournament team. "I didn't want to jinx it and say that we were out or whatever. I was just praying that we were in."
Joseph's prayers were answered as Minnesota appeared as a No. 11 seed in the West region, facing No. 6 seed Xavier on Friday in Milwaukee. Other than beating Ohio State on Sunday, things couldn't have worked out much better for the Gophers, who should have plenty of fans at the Bradley Center.
Players have followed the bubble watch throughout the last few weeks, and cringed as several bubble teams appeared on the screen.
"When Florida got in, we were kind of shaking a little bit," Westbrook said, "but hey, we're in."
Joseph, who took over the lead guard duties after Nolen was ruled ineligible, can't wait to lead the team to its second consecutive tournament appearance.
"It's been my dream since I was younger to play in the NCAA tournament," he said. "Once I saw our name come up, I was super happy. It's the same thing as last year. Maybe better this time."
March, 13, 2010
3/13/10
12:55
AM ET
INDIANAPOLIS --
Lawrence Westbrook
wasn't sure how Minnesota's overtime upset of Michigan State in the Big Ten tournament quarterfinals would affect the Golden Gophers' NCAA tournament chances.
[+] Enlarge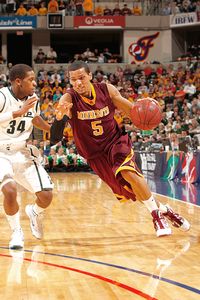 Jonathan Daniel/Getty ImagesDevoe Joseph scored 17 points during Minnesota's upset of Michigan State.
But the Minnesota senior guard planned to find out. Fast.
"I've got to watch ESPN and see," he said after the
72-67 win
. "It can't hurt us. We helped ourselves. We have to be in the discussion, at least. We've just got to keep on playing."
ESPN bracketologist Joe Lunardi currently has the Gophers as the
first team out of the NCAA field
, but that's certainly an improvement from 48 hours ago, when Minnesota was simply an afterthought. The Gophers, who now have four wins against top 25 teams, likely will move onto the right side of the bubble with a win Saturday against No. 2 seed Purdue in the tournament semis.
"Our loss is hopefully Minnesota's gain," Michigan State coach Tom Izzo said.
They came to Indianapolis after a season of what-ifs and quality losses, which don't help much on the tournament résumé. Arguably no team in America has had a more frustrating string of losses: seven by five points or fewer, four by three points or fewer and 1-point home losses to then-No. 3 Purdue and then-No. 6 Michigan State.
It's why head coach Tubby Smith bristled at a suggestion late Friday that his team was an enigma.
"I didn't see ups and downs," he said. "I saw close losses where we didn't make plays. ... We haven't been far off, and I've been trying to stay positive, telling the guys, 'Don't listen to any garbage. Don't listen to the static. Don't listen to the people that disrespect you.'"
Smith's players might not be listening, but they're certainly aware of how they're perceived. The team dons T-shirts before and after games that contain one word: Respect.
Minnesota earned some on Friday night.
"Every one of these games is our last chance," said center
Colton Iverson
, with the "Respect" T-shirt hanging from his neck. "I feel like we came with more intensity [than Michigan State]. We had more to play for.
"I'm not on the committee, but I hope people are looking at us."
Those who tuned in Friday saw a talented team that seems to be clicking at the right time. They saw a team that out-toughed an Izzo-coached squad, which is never easy to do. They saw a team getting big contributions from Iverson (12 points, 5 rebounds, 2 blocks), forward
Damian Johnson
(8 points, 5 rebounds, 2 blocks) and guard
Blake Hoffarber
(14 points, 5 rebounds).
They also saw a team following a new leader,
Devoe Joseph
, who took over the point guard duties from
Al Nolen
after Nolen was ruled academically ineligible. Joseph racked up 17 points, four assists and six rebounds Friday, blending a shooting guard's mentality with his new role as floor leader. He hit two 3-pointers in the extra session, including a game-tying triple with 4:12 left.
"I was very composed and just very excited to win the game," Joseph said. "I was in the zone, to the point where I wasn't really thinking too much."
Added Smith: "He's a clutch performer."
Perhaps the same can start to be said about this Minnesota team, which was about as un-clutch as they come for most of the season. The Gophers are two wins away from a tournament title and an automatic berth, and they think they can get there.
"I have as much confidence in this team as any team I've ever coached," Smith said. "The sky's the limit."
In the post-game locker room, Joseph huddled with Iverson and several other players. They put their hands together and counted off, "1-2-3!" But instead of punctuating the cheer with "Win!" or "Big Ten champs!" they simply exhaled and started laughing.
They'd earned the right to breathe easy. At least for a night.
March, 12, 2010
3/12/10
11:44
PM ET
INDIANAPOLIS -- Forty-eight hours ago, the Big Ten seemed in danger of sending only four teams to the NCAA tournament.
Now the league might get six.


After Illinois upset Wisconsin earlier in the day, No. 6 seed Minnesota held on for a 72-67 overtime win against No. 3 seed Michigan State. The Gophers recorded their fourth win against a Top 25 opponent and now find themselves firmly on the bubble rather than the wrong side of it.
If Illinois is supposedly in the field of 65, how far behind are the Gophers?
The win wasn't easy, as Minnesota blew a 10-point, second-half lead and fell behind early in overtime.
Minnesota has endured a season of near misses, losing five games by three points or fewer, including 1-point home setbacks to both Michigan State and Purdue. Friday's game started to look like another one, as Michigan State closed regulation on a 15-5 run.
Then
Devoe Joseph
stepped in.
Joseph, who has been huge down the stretch in place of ineligible point guard
Al Nolen
, recorded 17 points, six rebounds and four assists to lead the Gophers (20-12). He swished two huge 3-pointers in overtime and provided tremendous leadership throughout.
The Gophers, who had forwards
Colton Iverson
(12 points) and
Damian Johnson
(8 points) both foul out, also received a big performance from guard
Blake Hoffarber
(14 points). Senior guard
Lawrence Westbrook
struggled but had a huge 3-point play in overtime.
Michigan State came out flat and struggled mightily at the foul line, hitting just 18 of 34 attempts. The Spartans really missed junior guard
Chris Allen
, suspended for the game for violating team policy. They needed
Kalin Lucas
and
Durrell Summers
to carry a greater load, and both starters struggled for much of the game.
Things got heated in the closing minutes with several near fights, but Minnesota won the ultimate battle and will advance to face Purdue on Saturday.
January, 22, 2010
1/22/10
3:26
PM ET
Minnesota coach Tubby Smith told ESPN.com Friday he doesn't anticipate junior guard
Al Nolen
winning his appeal to play this season.
Nolen was recently ruled academically ineligible for failing to meet the minimum requirement of passing six credit hours in the first semester. Minnesota was appealing on his behalf because of extenuating circumstances, including a death in the family.
"He had a lot of issues this fall but he still had to do the work," Smith said. "I'm planning that we won't have him for the rest of the season."
Smith said that he would hope Nolen would continue to pursue a degree and stay in school for his final season, assuming he is eligible.
Smith said he would start
Devoe Joseph
in place of Nolen against Michigan State on Saturday, with freshman Justin Cobb getting major minutes as well.
Meanwhile, Smith said freshmen Royce White, who had been indefinitely suspended due to his role in a shoplifting and dormitory trespassing incident, may not play this season either. White started practicing for the first time this week, but Smith said the highly touted frosh isn't in shape and with only a dozen games remaining, it might not make sense to play White even if he is completely cleared.
As for the game against the Spartans, Smith termed it a "must-win" if the Gophers have any vision of competing for the Big Ten title.
"We have to win our home games if we want to have a chance," Smith said.