College Basketball Nation:

Alan Major
November, 27, 2013
11/27/13
11:00
AM ET
Charlotte head coach Alan Major recently returned from Puerto Rico, where the 49ers team (5-1) won the Puerto Rico Tip-Off title with a 63-61 win over Michigan on Sunday. Major recently spoke with ESPN.com about the tournament and the preparation that led to that victory.
[+] Enlarge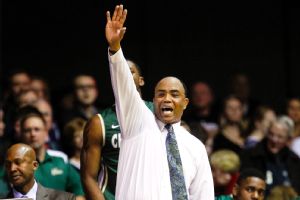 Michael Hickey/Getty ImagesAlan Major's Charlotte team got some early-season confidence by winning the Puerto Rico Tip-Off.
ESPN: How did you prepare your team to face the challenges in Puerto Rico?
Major
: Well, I think just the experience in Alaska had a lot to do with that. We were fortunate enough to have some guys back that played a lot [in last season's Great Alaska Shootout]. Freshman guys who are sophomores now played a lot in those games. A couple of guys that are older … they played a ton of minutes in Alaska. I think just going through that experience, I'm not going to say it entitled us to win in Puerto Rico at all. But I think just the fact that we had some guys go through how difficult it is to [win a tournament] and to come out fortunate enough to win the Alaska Shootout last year, I think they were able to just kind of parlay that experience [to this season's success].
ESPN: How important was that experience as your team maintained its poise in the title game against Michigan?
Major
: Well, you hope that our guys just continue to draw confidence from two things: No. 1, draw confidence from each other and know that whatever circumstances they find themselves in, they can be in a position to win, and you hope they draw confidence from the experience itself, being in a tight situation obviously against an experienced team. That's what you want to do every night on the court is put yourself in a position to win it at the end.
ESPN: How much did that opening-round win against Kansas State help your program the rest of the way in Puerto Rico?
Major
: We weren't so dominant down the stretch. They made an 11-0 run. … Whenever you can win the first one, I think guys get confidence and maybe it eliminates a little pressure of having to win the next day if you don't win the first one. The best thing about those tournaments is you've got to have a short memory. And even after winning Kansas State, we were fortunate enough to win the game, you've still got to have a short memory because you have to turn the page and move to the next day.
ESPN: How much time did you have to explore Puerto Rico? What did you all do?
Major
: Very little. It was pretty much a business trip. I gotta give a lot of credit to my kids. When you first get down there and you pull up to the hotel and all you see is big blue water, it's very easy to forget what you're there for. … We told the guys that we scheduled this not to just come down and be a participant, but you schedule them with the goal of trying to win them. … Between the second and third games, they had a lot of chances [to get out]. Some guys went to Old San Juan. Some guys just hung at the beach. They got a chance to soak up a lot. I really gotta give our kids credit for staying focused in that regard. For me, myself, I'm going to just wait probably until the month of May and come back and soak up Puerto Rico without having to deal with basketball.
ESPN: How do you protect your team from becoming overconfident with so much time left in the season?
Major
: It's the last thing we told them when we got off the bus [in Charlotte]. We have values in our locker room and one of our values is humility. Humility is just looking at yourself for who you are and not being prideful and always knowing that you can get better. That's the message we told our guys. We can still get better. …. We got a difficult road to follow. We've gotta continue to stay humble.
March, 8, 2013
3/08/13
8:00
AM ET
Well, Atlantic 10 fans, it's that time: The final conference power rankings of the season. I know, I know. You're sad. I'm sad, too. It's hard to say goodbye. It's hard to let go. All we can do is remember all of the times we shared, all of the laughs, and the tears we shed -- usually because of Temple -- and take those experiences with us as we fan out to take on whatever the world holds for us next. I love you all.
Let's begin:

1. Saint Louis.
Saint Louis has come a long way.
I was being jokingly dramatic in the introduction, so I feel the need to make it clear that what follows actually isn't facetious at all. This week, this
desk ran my colleague Dana O'Neil's typically excellent feature on Saint Louis
, which details how Jim Crews and a devastated group of players -- all of whom seemed to really love Rick Majerus
the way Brian Conklin loved Rick Majerus
-- came together and fought through the emptiness of their coach's death to forge something positive. It hasn't been easy, on or off the court. On the court, Saint Louis stumbled in November against Santa Clara and Washington, and then later at the start of A-10 play; off the court, the Billikens learned of Majerus's death, and then served as pallbearers at his funeral. But it has all come together these past six weeks. Crews told O'Neil he never said the players needed to "honor" their departed coach with a successful season, or basketball in any form. Instead:
"We told them three things," Crews said. "First we told them to pray, have your prayers for Rick and his family. Number two, honor his lessons and laugh at the memories. And three, we said to do like Coach did: Live your life forward. Live your life forward. That's all you can do, guys."
I'm not sure there's a better or more impressive story in college basketball this season.
2. Virginia Commonwealth.
VCU's total demolition of Butler last Saturday was a frustrating meta-watch, because it was the subject of a lot of gross overreaction. Yes, Butler got worked, and yes, VCU looked great. But the one-sided nature of the game was more a product of matchups: Butler doesn't handle the ball well (its point guard,
Rotnei Clarke
, is after all not really a point guard), and VCU absolutely shreds teams that can't take care of the ball. Hence the blowout. This is what makes VCU so dangerous, but also slightly unnerving in your bracket: If the Rams come up against a team that takes care of the ball at all costs, they haven't really proved they can get stops in a traditional way. Even so, having a style that dictates to your opponents more often than the reverse is a major advantage in the NCAA tournament. Plus, they're really fun to watch. That helps, too.
In the meantime, this conference race will come down to the final weekend. Saint Louis hosts La Salle on Saturday; VCU travels to Temple on Sunday. That is definitely the tougher assignment, but one the Rams can surely handle.
3. Butler.
See above. Butler has its fair share of flaws -- too many turnovers, an inability to set up a preventative half-court defense because of them -- and all of them were exponentially exploited by VCU last Saturday. And honestly? Butler was pretty overrated for a while. Blame the victories over Indiana and Gonzaga, blame the benefit of the doubt, but the Bulldogs currently sit at No. 60 in the KenPom.com adjusted efficiency rankings. I don't know that they're
that
bad, either, and I can guarantee you no coach in the country wants to see them on their side of the NCAA tournament bracket. But there are definite issues here, issues VCU blew up and magnified for the whole world to see.
4. La Salle.
The bad news for La Salle? The Explorers are only barely in the NCAA tournament bracket at this point; they're currently sitting on Joe Lunardi's No. 12 line. The good news? Everyone else on the bubble keeps falling apart. Also: La Salle's only remaining game, Saturday's trip to Saint Louis, is a no-lose situation. The selection committee won't judge La Salle too harshly if it falls to the Billikens on the road, and a decent showing in the Atlantic-10 tournament should be enough to seal the deal. Failing that, maybe Kentucky can keep losing bad games? Hey, whatever works.
5. Temple.
Let's give it up for the Owls. I know, I know, I threw a shot at them in the introduction, but it was deserved -- Temple was the Atlantic 10's most sporadic team in 2012-13, which would put it high in the running for
most sporadic worldwide
. The Owls were capable of beating Syracuse in the Garden and losing to Canisius and Duquesne at home, and anything in between; they played five one-point games in a row, which is where luck meets insanity. But they've started to pull something reliable out of the rubble: Temple has won its past six games, many of those results not of the one-point-margin variety, and gets to close the season with a shot at VCU at home. Their bad losses have kept the Owls very much on the bubble, but you can't fault the recent work. It has been almost --
gasp
-- consistent.
6. Xavier.
The notion that Xavier could sneak into the NCAA tournament has seemed ridiculous for most of the season, given some of the really ugly losses and various growing pains this rebuilding (rebuilt?) Musketeers team has endured. But the late spate of home-schedule love always offered the chance for an outside push, and the Musketeers managed to split those games, dropping Memphis and Saint Louis but losing to VCU and UMass. Last on the docket is a trip to Butler, where a victory is not only a reasonable proposition but would be disproportionately attractive to the selection committee. So don't shut the front door just yet.
7. Massachusetts.
Speaking of opportunities against Butler, the Minutemen had one Thursday night, and they let it get away. It has been an occasionally frustrating season for UMass fans, no doubt, because entering the season this had the look of a tournament team. If the Minutemen can't get in on this soft bubble, you'd have no choice but to call this a decent but ultimately disappointing season. But I will award some credit for style of play: In a sport dominated by slow-paced lurches, UMass has played some of the fastest basketball in the country all season long. From a purely stylistic standpoint, I salute it.
8. Saint Joseph's.
I was awfully tempted to go back through every week of these power rankings and make a compendium of the times I used Saint Joe's to make the point that teams don't automatically improve just because they have a lot of returning players, but honestly, these poor Hawks fans don't need to hear it anymore. And besides, I think I've made my case. The people rest, your honor.
9. Richmond.
A couple of tough losses down the stretch for the new, less-banged-up Spiders, the first at Dayton last Saturday, the latter at VCU on Wednesday. It was no surprise to see Richmond buck up for its crosstown rival, of course, but it was nice to see a relatively full-strength Spiders team showcase the efficient offense that made it such an intriguing proposition in November and December. Chris Mooney will lose senior guard
Darien Brothers
to graduation, but everyone else should be back, and if that's the case, the Spiders just need to play a bit better defense and they could be a tournament-type factor very soon.
10. Charlotte.
Speaking of disappointing seasons, or at least disappointing finishes, how about Charlotte? The 49ers were on the very far-flung fringes of the bubble conversation even a few weeks ago. Then they lost four in a row, including home games to Dayton and Temple and the worst, Saturday's 104-83 loss at St. Bonaventure, before an 89-87 overtime escape at Duquesne on Wednesday. The upshot is that while Charlotte won't be dancing, Alan Major definitely took a couple of major steps forward with this program this season, and you can't help but think the long-term trajectory is positive.
11. Dayton.
Speaking of defensively challenged teams, in the past two weeks the Flyers have won three straight. Those wins came against Charlotte, Richmond and St. Bonaventure, but still -- they showed off an offense that now ranks second in the A-10 on a per-possession basis (1.11 points per possession). That's about the highest praise I can bestow, because Dayton has had a bit of a disappointing season, too; the Flyers looked like one of several of this league's potential sleepers before the season began. Back to the drawing board this summer.
12. St. Bonaventure.
If any one loss keeps UMass out of the NCAA tournament, it might be the one they suffered to the Bonnies on Feb. 20. Playing spoiler is never really where you want to be in late February and early March, but that doesn't make it any less fun once you do.
13. George Washington.
The Colonials have had a really tough stretch to close the season, losing four straight against Saint Joseph's, Richmond, Saint Louis and La Salle -- and only one of those games, against Saint Louis, was in GW's own building. Give George Washington this much credit: Mike Lonergan's team defended well and got after it on the offensive glass, ranking No. 1 in the A-10 in offensive rebounding rate, and at the very least gave itself an identity as a difficult team to play. It's a start.
14. Rhode Island.
Just a really nice season from the Rams and first-year coach Danny Hurley. You may look at their 8-20 record and wonder what on Earth I'm talking about. But look closer: Not only did the Rams beat Saint Louis on its own floor, they played really well in a lot of losses, giving obviously superior teams real runs for their respective monies almost every time out. A first season at a hollowed-out crater of a program like Rhody is a matter of setting a tone, of building the proverbial and much-lauded foundation, and I think Hurley and his staff can safely say they managed that much this season. Onward and upward from here.
15, 16: Duquesne, Fordham.
If these final A-10 power rankings are like a high school commencement ceremony, Duquesne and Fordham are the two kids you didn't talk to or even really notice a whole lot unless they did something weird, like beat Temple on its own floor. They're also the kids upon whom you look back and wonder: I wasn't mean to them, was I?
I really hope I wasn't. It was a tough season all around, but one that wouldn't have been complete without Duquesne and Fordham along for the ride. So thanks, guys. And thanks to all of you for reading. When I said I loved you, I was only half-kidding.
February, 14, 2013
2/14/13
1:30
PM ET
With UConn toppling Syracuse, Duke-UNC proving more exciting than expected and Colorado State and San Diego State waging yet another of the Mountain West's trademark uber-tight fist-fights, you can be forgiven for not noticing that a rather seismic upset happened in the Atlantic-10.
That upset: Charlotte 71, Butler 67
.
This would have been large enough in Charlotte, but it was doubly impressive to see the 49ers hang on for the win in front of the always-imposing Hinkle Fieldhouse fans. Guard
Pierria Henry
posted a 17-point, four-rebound, four-steal, three-assist game, and Charlotte's best asset -- its defense -- held on for the win.
Charlotte has always defended this season; Alan Major's team is scrappy and tough and, in lieu of dazzling skill, prefers to make the game as difficult for opponents as possible. But for much of the A-10 season, the 49ers' unsightly offense has held them back. That may be changing. Henry & Co. managed 71 points in 68 possessions Thursday night, scored 88 in 74 in a one-point loss at Temple, and even broke the point-per-trip barrier in a loss to VCU, one of the nation's peskiest defenses.
But Charlotte's breakthrough at Butler, if it can be called that, is not just an obviously positive sign. It's also a massive tournament credential. Before Wednesday, this team's best win was a home victory over La Salle (RPI: 34), and all but two of its other victories had come against teams ranked outside the RPI top 150. Butler's performance, particularly its wins over Gonzaga and Indiana, have made the Bulldogs the only top-20 RPI team in the Atlantic-10.
Teams like Charlotte only get opportunities like that a couple times a season, and usually the road is unforgiving. That Major's improved bunch was able to take advantage in a hostile environment is a little like found money. Left for dead just a week ago, there's no question the 49ers are in the bubble conversation now.
January, 11, 2013
1/11/13
8:00
AM ET
This week, my colleague Myron Medcalf described the Atlantic 10 to me as a "beautiful mess." That sounds about right. We know Virginia Commonwealth and Butler are really good. We know Temple and Saint Louis aren't too far behind. But the middle of the league -- from the fifth spot to the 11th or so -- is a gigantic muddle, one that is sure to trade body blows and/or confusing results for the next three months.
So: As much fun as it is to to get lathered up about where your team is or isn't ranked, the bottom line is that these rankings aren't definitive, and they aren't going to be for a while -- we're still just beginning the most enlightening portion of the season (actual intra-A-10 play). But I'm excited to kick things off. You?

1. Virginia Commonwealth.
One thing I remain certain of, at least right now, is that VCU is the best team in this league. That hasn't changed since last Friday. The Rams kicked things off with a solid home win over Dayton on Wednesday, and will road-trip it to St. Bonaventure Saturday.
2. Butler.
VCU's first A-10 win was a somewhat ho-hum home-court stand against an inferior squad; Butler's was a truly impressive road victory over a team (Saint Joseph's) desperate to start turning their thus-far disappointing season around. Butler scored 1.14 points per possession, and held the Hawks to 1.05, in that win. As
I detailed last week
, 2011-12 Butler and 2012-13 Butler couldn't be more stylistically opposite. Last season, the Bulldogs guarded but couldn't throw it in the ocean. This season, their offense is their greatest strength.
3. Saint Louis.
UMass gave Saint Louis just about all it could handle in each team's conference opener Thursday night, but the Billikens held on, breaking open enough space at the end -- helped in part by a really bad (and questionably called) foul on UMass forward
Raphiael Putney
-- to win 70-62. The Billikens are not particularly pretty to watch: They play at the A-10's slowest pace, and they rely on stalwart defense more than any particularly attractive sense of offensive creativity. But they are effective.
4. Temple.
I'll be honest: I did not expect Temple to lose at Xavier on Thursday night. I
definitely
did not expect them to score a mere 52 points in 63 possessions. But I also refuse to overreact to a road loss in conference play, even against a team riding a four-game losing streak. It is never easy to come away with victories in the Cintas Center, and I would imagine more than a few of the teams ranked above Temple in this list will be confronted with that reality before the end of the season.
5. Massachusetts.
This is a huge, huge leap for UMass this week. Why? First of all, because I said so! You're not the king of Dirk! I'm the king of Dirk! Second, because I watched almost all of UMass's loss at Saint Louis on Thursday night, and I came away awfully impressed. The Billikens tend to grind unprepared and sloppy teams into pulp, particularly on their own floor, but the Minutemen were neck-and-neck for about 37 minutes. Plus, they really don't have a bad loss yet. So here they are.
Take heed: This team's per-possession numbers tell a different story. They are not promising. So, yes, I reserve the right to yank them back down to the lower portions of the league at a week's notice. But for now, I'll give a little credit where it's due.
6. Charlotte.
On Wednesday night, La Salle star
Ramon Galloway
went a positively Allen Iverson-esque 7-for-29 at Charlotte. Those 22 misses were the
most by any player in regulation since 2008
. And, sure, while some of that is a bad shooting night, some of it is also the stifling defense the 49ers are playing under coach Alan Major. The 49ers hold opponents to the 10th-lowest effective field goal percentage (41.6 percent) in the country. They will, as Mr. Galloway learned, make you miss. Now, if they can just shape up that ugly offense …
7. La Salle.
Charlotte's defense is going to wreak havoc on plenty of opponents' shooting performances this season, so you can't really punish the Explorers too much for falling short on the road. Still, if this is supposed to be an NCAA tournament team -- and I'm not sure it is, though I've thought the Explorers were a nice sleeper throughout the offseason -- it's going to have to go out and get a few road wins at some point.
8. Saint Joseph's.
I'm trying to not be overly negative about the Hawks, because it isn't their fault they were picked to win the league based on the fact that they returned five starters from last season's team. Bringing back five starters is all well and good, but what people seem to miss when they make obvious picks like that is that a lack of turnover is no guarantee of sudden improvement. Just as often, teams remain what they were. At the end of last season, Saint Joe's finished ranked No. 52 in adjusted offensive efficiency and No. 106 in adjusted defense, per KenPom.com. Through 13 games this season, they are ranked No. 62 on offense and No. 94 on defense. Last year, Saint Joe's finished 20-14. This year, the Hawks are 8-5. Each week it gets harder to locate differences.
9. Dayton.
Dayton was at No. 7 last week, and while the Flyers didn't cover themselves in glory at VCU this week, that's a tall order for most any team. The problem with Dayton right now is turnovers. When Dayton keeps the turnovers low, it has an offense that can compete with the rest of this league. When it coughs the ball up -- which is more often than not -- it is going to struggle. It's that simple.
10. Xavier.
Give credit where it's due: On Wednesday night, despite an injury to point guard
Dee Davis
(which kept him out for much of the game), Xavier held off Temple for a 57-52 home victory. In any of the past five seasons, that might have been the win that sealed Xavier's superiority in the league regular season. This time around, it broke the program's longest losing streak (four games) in 33 years. I still wouldn't want to play at Xavier if I'm an opposing coach, but we have to see more from this young team before it starts climbing.
11. Richmond.
A win is a win, I suppose, but the fact that the Spiders -- for whom offense is a core (OK, only) strength -- barely mustered just 64 points in 63 possessions at home against Rhode Island on Wednesday is slightly disconcerting. Again, Chris Mooney's team held on, 64-61, but if the Spiders are going to be an efficient offense that can't guard anybody, you'd like to see them, oh, I don't know … play well on the offensive end?
12. George Washington.
For all of the nonconference season, George Washington's offense was among the worst -- if not
the
worst -- in the A-10. Its defense was among the 40-or-so best in the country, but offense? Not GW's thing. But in their first A-10 game, the Colonials dropped 78 points in 67 possessions, the highest figure of the A-10 conference season to date. Which is, of course, why we use caution with small sample sizes. But seriously, if this team can manage even a point per trip against decent teams, it'll pick up more than a few wins going forward.
13. St. Bonaventure.
As you just read, the Bonnies were on the losing end of a game in which basically nothing went right. Not only did George Washington's dormant offense come roaring to life, but its typically stout defense held
Chris Johnson
and Co. to just .88 points per trip. And it doesn't get any easier this weekend: On Saturday, VCU comes to town.
14. Rhode Island.
The Rams are not good. But they are better than last year (this is not a high hurdle) and, at the very least, are giving opponents serious tests (a la their near miss at Richmond on Wednesday).
15. Fordham.
This is the first time Fordham has moved out of the wooden spoon position in these rankings all season. That immense honor comes courtesy of a seven-point home win over Duquesne.
16. Duquesne.
Lost to Fordham by seven points.
Verbum sap
.
January, 4, 2013
1/04/13
8:00
AM ET
Another week of Atlantic-10 power rankings, another week spent reading through the kind words of
my adoring readers
. Let's do this, guys!

1. Virginia Commonwealth.
In my experience, Butler fans are not only some of the nicest people around, there's also eminently reasonable. By and large, each week I've ranked VCU above the Bulldogs, Butler fans have typically (not always, but typically) responded with some version of "I'm a Butler fan, but that's cool. That VCU team is good."
Call it the Pax Atlanta: This year, this league's two teams (at least to date) are also its two newest, recent products of conference realignment, 2011 mid-major Dance-crashing brothers in arms, with mutual respect for each other's young star coaches and greatly contrasting styles of play. That's the vibe I'm picking up, anyway, and it has been refreshing to see -- even after that victory over Indiana -- Bulldogs fans take a step back and look at just what this VCU team is doing and say, "Yeah, you know? They're really good too."
Because they are: After their latest offensive explosion against East Tennessee State -- in which guard
Troy Daniels
made 11-of-20 from 3, for 33 points and 10 rebounds -- this year's Rams team is mixing its typically fantastic ball-hawking defense (VCU forces both turnovers and pure steals at the highest rate in the country) with efficient, balanced, long-range offense. It has been a
lot
of fun to watch, and with A-10 play picking up, it's only going to get better.
2. Butler.
What's most interesting about this Butler team to date is not that the Bulldogs are good. I expected that, and I was hardly alone. What's interesting is
how
Butler is good. To wit:
See? Butler has made a sudden and drastic shift, from a putrid offense with a stubborn defense to much more efficient scoring with a much more forgiving defense. The obvious culprits -- not that this is a bad thing, because
man
was Butler hard to watch last season -- are the additions of sharpshooting
Rotnei Clarke
and
Kellen Dunham
in place of defensive specialist Ronald Nored and frustrating shooting guard Chrishawn Hopkins. But
Andrew Smith
has also taken his game to another level,
Roosevelt Jones
is a great glue type, and Butler is actually shooting the ball disproportionately better inside the arc than outside it. Perhaps the threat of Clarke and Dunham launching from range is as important as the execution. Whatever it is, it's working.
3. Temple.
We discussed Temple -- or, rather, the reaction to Temple's Dec. 22 road win over Syracuse -- in great detail last week, so we won't spend too much time breaking the Owls down this week. Instead, a heads up: On Sunday, Temple travels to Kansas. If they win there, I will put the Owls No. 1 in next week's rankings. I don't think that's going to happen, but still, it would be awesome to see -- especially because it would give Canisius transitive-property bragging rights over both Syracuse
and
Kansas. I sense a great disturbance in the force.
4. Saint Louis.
New Year's Eve was big for the Billikens in a couple of different ways. For one, guard
Kwamain Mitchell
made just his second appearance of the season after returning from a November injury, and with 29 minutes Monday was his first return to full-time duty. Oh, and there's this: Saint Louis beat New Mexico at home, 60-46. The game came just a couple of days after New Mexico fought hard for a win at Cincinnati (before Cincinnati went to Pittsburgh and got what might end up as one of the most impressive road wins of the season), so you could forgive UNM for being a little worn out with the road trip by the time they passed under the Arch. But no matter, that's a really nice home win for Jim Crews' bunch, one that should stand the test of time as it pertains to the NCAA tournament at-large picture. With Mitchell healthy, this team is a real A-10 title challenger. But we knew that already.
5. Saint Joseph's.
The Hawks move back into the top five almost by default this week thanks to some of the second-tier teams' performances, but their own struggles (in addition to Xavier's) appear to have made the Atlantic 10 not quite as elite-deep as it appeared to be back when everyone was jocking St. Joe's in the offseason. The Hawks' issues have primarily come by being a bit soft on defense -- they neither force turnovers nor protect their own glass -- and their offense hasn't been good enough.
6. La Salle.
After a second-half collapse, La Salle took an L at Miami on Wednesday, which isn't an incriminating loss: Even without injured forward
Reggie Johnson
, the Hurricanes are really tough at home. So if you're willing to forgive La Salle its Nov. 18 home loss to Central Connecticut State (and I am, because it was Nov. 18) and are willing to dive into some of the Explorers' tempo-free numbers (you know it), you'll find an above-average offense led by senior
Ramon Galloway
, which is thus far carrying a below-average defense that gets, according to Synergy scouting services, absolutely shredded by opponents' pick-and-rolls. That play set has dragged down the Explorers' entire half-court defense (they do a nice job in transition, partially because they don't turn the ball over often on the other end of the floor), and could be one fruitful adjustment to make to start the A-10 season.
7. Dayton.
So, I'm a little bit torn on Dayton's latest result. That result? A 63-61 overtime loss at USC. Why am I torn? Because on the one hand, USC is pretty objectively bad. On the other hand, USC has played a brutal nonconference schedule, Kevin O'Neill's USC teams have tended to pick up steam (especially defensively) as the season goes along, and you get the feeling that Dayton won't be the only team held to .79 points per trip on USC's floor this season.
8. Charlotte.
Charlotte is shooting 28.3 percent from beyond the arc this season. The good news? Charlotte rarely attempts 3-pointers. So at least the 49ers are self-aware. Unfortunately, this has made their offense a bit one-dimensional, and despite the gaudy 12-2 record Alan Major's team is still barely scoring more than a point per trip overall this season. Meanwhile, its victory at Davidson remains the only real sign that this team is considerably better than it was last season. The A-10 campaign will tell us much.
9. Xavier.
It will be interesting to see how we look back on Xavier's four-game late-December losing streak. Will it become part of a young-team-comes-together narrative? There's still plenty of time for that, after all, and no A-10 fan is willing to count out the Musketeers before conference play even begins. But my hunch is that this team just isn't all that good, at least not yet; it doesn't have any area of the game in which it really excels.
10. Richmond.
The Spiders, on the other hand, have an identity: They score the basketball. Richmond's offense is still top-40 good, efficiency-wise, and the Spiders get after people on the defensive end, forcing opponents into a turnover on 24.4 percent of their possessions. But the defense is suspect in all of the other important factors, and while you can sing the praises of an efficient offense all you want, Richmond hasn't beaten anyone even remotely good (including George Mason and Davidson, the latter a home loss).
11. Massachusetts.
Thus far this season, Massachusetts has scored .983 points per trip. It has allowed .990. This is obviously not a sustainable winning formula. But the Minutemen do have one thing in their favor: pace. Per KenPom.com, Massachusetts crams the third-highest number of possessions (adjusted for competition) into 40 minutes in the country: 74.6. You can see, with a guard as quick as
Chaz Williams
, why coach Derek Kellogg would want to get out and run. The problem is that UMass hasn't really guarded anybody, and shoots a lot of 3s despite knocking down just 30.2 percent to date. UMass fans seem convinced this team is drastically underrated here, but I'm not seeing it, at least not yet.
12. St. Bonaventure.
The Bonnies, at least, can knock down shots. Indeed, at 7-5 this may be one of the sneaky-underrated teams in the league right now. The Bonnies have three efficient senior guards going right now (
Demitrius Conger
,
Chris Johnson
and
Eric Mosley
, who comes off the bench and has the highest offensive rating on the team) and 6-foot-8 junior forward
Marquise Simmons
has been especially effective on the glass, too. Last week, I made the comment that Mark Schmidt's team was especially generous to opposing 3-point shooters, and that at some point we had to consider that a flaw; as one commenter corrected me,
that might not actually be the case
. If opponents cool off a little bit, this team's defense won't look so questionable.
13. George Washington.
George Washington is the opposite of St. Bonaventure: The Colonials' offense is ugly (.967 points per trip) but its defense is actually a top-50 unit, allowing just .899 points per trip thus far. I'll be interested to see if GW can steal a win at a bad Georgia team Friday night, and if so, whether our perception of the Colonials as a total low-end A-10 also-ran this season ought to change.
14. Duquesne.
Back-to-back road losses are no big deal. Back-to-back road losses at Louisiana-Lafayette and Penn State mean you're probably not very good. (Anyone who has seen Penn State play is nodding his or her head while reading this.)
15. Rhode Island.
The Dec. 27 game at Saint Mary's was never going to be a win, so it's not like the opinion of the Rams has changed much. And conference season is going to be tough. But it was good to see first-year coach Dan Hurley coax a few wins out of his rebuilding squad before league play begins.
16. Fordham.
In a league that features Rhode Island and Duquesne, Fordham seems to pretty clearly be the worst team on offer.
December, 10, 2012
12/10/12
5:00
AM ET
1. UNLV received good news late Sunday night after X-rays showed that forward
Mike Moser
didn't fracture his dislocated shoulder. But there is no timetable for Moser's return. The injury occurred a few minutes into the late-possession win at Cal Sunday night. UNLV coach Dave Rice said they will know more of a timetable in the coming days. Meanwhile, the Rebels will go with
Anthony Bennett
(who has become a star early for the Rebels) and
Quintrell Thomas
as well as
Carlos Lopez-Sosa
in Moser's absence. But the Rebels due get an infusion of a big-time talent when Pitt transfer Khem Birch is eligible for next Monday's game at UTEP.
2. The Xavier staff that took the team to the Elite Eight and lost to Duke in 2004 has had quite a rise in the coaching profession this season. The head coach was Thad Matta. The top three assistants are all undefeated as head coaches so far: Sean Miller at Arizona, John Groce at Illinois and Alan Major at Charlotte. The latter two are by far the most surprising. Groce has been dubbed a rising star after the way in which he took Ohio to the Sweet 16. He pulled off one of the most impressive wins in the non-conference with a road win at Gonzaga Saturday night. Major is off to a surprising undefeated start in the 49ers last season in the A-10. Charlotte still has tough games to come but did win the Great Alaska Shootout and knocked off rival Davidson. Miller has the best team in the Pac-12. It won't be a reach at all to see at least three of the four coaches on that staff -- Matta, Miller and Groce -- in the NCAA tournament. Major probably has the most work to do but it's not out of the question.
3. Harvard's staff firmly believes the Crimson will be back to being a potential top 25 team in 2014. The Crimson return their team essentially intact with a rising star in
Siyani Chambers
. And, if as expected, Kyle Casey and Brandyn Curry return from their forced year off (two of 175 students involved in an academic scandal) then this team will be a tough out for everyone on the schedule. The Crimson still have a chance to squeeze into the NCAAs during this bridge season with rest of the Ivy muted at best. Columbia, Princeton and Cornell are all viable contenders but Harvard still may be the team to beat. Casey is working for a non-profit counseling kids during his year off while Curry is working in insurance in Charlotte. They remain in contact with the staff but can't be in school during the forced suspension. Crimson coach Tommy Amaker said he wouldn't have scheduled so tough this season (still to come at Cal, at Saint Mary's and at Memphis after playing at UMass, at UConn) with such a limited roster, but he had no clue the suspensions would occur. Harvard is in the Great Alaska Shootout next season. Amaker is looking for more quality games and said he wants to renew the series with BC and UConn.
December, 7, 2012
12/07/12
8:00
AM ET
1. Virginia Commonwealth
. It's another edition of the much-requested Atlantic 10 conference power rankings, and we already have a new rightful heir to the throne. The margin between VCU and St. Joe's is slim, in my opinion, and it feels tough to drop the Hawks based off a loss at Creighton … but all of VCU's losses were close, tight games against good teams. More than anything, though? With that top-15 ranking efficiency defense and the brutal-as-ever HAVOC system wreaking, well, you know, on opposing guards, I just think VCU's better.

2. Saint Joseph's
. Which is not to say St. Joe's isn't good. If you're ranked this high in this year's A-10, you're pretty good. But all of a sudden that neutral-court loss to Florida State isn't looking so flattering, and neither was Saturday's 80-51 blowout at Creighton. Tuesday brings a game at Villanova, which will be pretty fascinating, but more important than anything is that
C.J. Aiken
breaks out of this 4-for-24 long-range slump he's on to start the season.
3. Temple
. Despite my eyeballs' love of this Temple team -- I was hooked from the first moments of the Tip-Off Marathon game, bleary though I was -- I was hesitant to place the Owls above Butler last week simply because they hadn't really beaten anyone good. This week, Temple won by 15 at Villanova, and while Jay Wright's team isn't what I'd classify as "good," a 15-point win is a kind of statement. On Saturday, Temple gets Duke in East Rutherford, N.J., where the crowd will be largely Duke partisans. That, my friends, is going to be interesting.
4. Butler
. Nothing new on the Bulldogs, really. Since they got back from Maui, they've been teeing off on guarantee wins (IUPUI was the latest victim Wednesday night), but Saturday -- when Butler travels to Evanston, Ill., to face Northwestern -- is a decidedly trickier challenge. It's hard to know what to make of the feast-or-famine Wildcats, so this game might not give us a reliable impression. But it will be interesting to see how
Rotnei Clarke
and Co. handle a true road test and some solid size on the interior.
5. Charlotte
. OK, Charlotte fans. Here you go. After seven season-opening wins, it was easy to dismiss the 49ers as a mere product of their totally awful schedule. But the wins were getting better -- Oral Roberts, Northeastern and East Carolina are various shades of not-horrible -- even before Charlotte won at Davidson, 73-69, Wednesday night. That is an indisputably quality win, and, as such, I am giving the 49ers the "love" their fans seem to so desperately crave. And understandably so. It has been a long road back to relevance, and there is much more basketball to play -- and I tend to doubt Alan Major's bunch will be ranked this high more often than not -- but Charlotte appears to be a top-half A-10 team and a potential tournament squad. Who knew?
6. Saint Louis
. The Billikens have not had the most emotionally easy week -- the death of former coach Rick Majerus hit hard -- but a day after they found out Majerus had passed, they got a 13-point home win over Valpo, a defensive win Majerus himself would have loved. Wednesday's victory over North Texas was nice, too, even if the
Tony Mitchell
-led Mean Green have underperformed expectations thus far this season. As long as the Billikens tread water until the return of
Kwamain Mitchell
, you have to like their prospectus.
7. Xavier.
The Musketeeers had a mixed bag of a week, the kind of week you expect to see from a team this young. To wit: Last Saturday, Xavier went to Purdue (another young, inconsistent, promising team) and came away with a win, no small feat in front of that crazy Mackey Arena crowd. Then, Thursday night, Xavier lost at home to Vanderbilt. Last year, that would have been a totally acceptable loss. This year, Vandy's looking pretty rough. I still the Musketeers are to be reckoned with in the A-10 race, but it might take a little time to work out all the youthful kinks.
8. Dayton
. Ahhh, Dayton. Never change. Last week, I said Dayton appeared set for another baffling and frustrating season; one commenter, "whitegrb," described it as "Get some big wins against BCS conference opponents, lose some bad games against 1-bid-mid-major conference teams." You know what's funny? That was
before
Dayton won at Alabama on Wednesday! That is the same good Alabama team, by the way, that nearly took down an even better Cincinnati team on its home floor Saturday. On Nov. 28, Dayton lost at home to Weber State. I'm not sure how to square any of this analytically, and I'm not sure it's possible. (Matchups? Inconsistency? Dayton fans, please help?) But I do know this: If you win at Alabama, you move up in the power rankings. That part's easy.
9. La Salle
. La Salle feels destined to stay under the radar in the A-10 this season, but it remains a real sleeper, and fortunately it has made a decent impression thus far. The latest came Wednesday night, when
Ramon Galloway
and the Explorers absolutely blitzed an overwhelmed Penn State group 81-57 at the Palestra. An away game at (a very good) Bucknell on Dec. 15 will be this team's next best chance at a marquee nonconference win.
10. Richmond
. Like La Salle, it feels a little like Chris Mooney's team is being slept on, because from an efficiency standpoint their offense is pretty great. In fact, it is the 37th-most efficient offense in the country through nine games, per KenPom.com. The Spiders have more issues on defense, and it's hard to go head over heels for a team that has beaten a lot of ugly opponents and lost to Minnesota and Ohio by a combined score of 40 points.
11. Massachusetts
. Last Saturday, the Minutemen had a tailor-made opportunity to impress, when Miami -- fresh off a home upset of Michigan State -- came to Amherst for a true road game. UMass lost by 13. The wins over Harvard and Providence were nice season-openers, but since then UMass has been soundly beaten by the only teams anyone would be impressed if UMass beat. I'm torn, but let's give them time.
12. St. Bonaventure
. It's a little bit crazy that we can go this deep in the Atlantic 10 and still not be willing to write off the team you're discussing from eventual NCAA tournament competition. Which is not to say the Bonnies are good; they've played a horrific schedule thus far. But their only losses (Canisius, Ohio) came on the road, and they really haven't been that bad, considering the loss of Andrew Nicholson this offseason.
13. Duquesne
. Say this much for Duquesne: It is adept at preventing opponents from going to the free throw line. And three of the Dukes' four losses (Georgetown, Pittsburgh, and North Dakota State, which is better than you think) are nothing to scoff at. But this team is pretty miserable at the offensive end, and the defense hasn't been much better, either.
14. George Washington
. The Colonials gave Bradley a real run on the road Tuesday, and it's always nice to see a team really contend on the road, even if Bradley isn't likely to be a Missouri Valley Conference power. Thus far, George Washington has defended relatively well. But the Colonials have been really bad on the offensive end, because they give up the third-highest rate of steals in the country and, as such, are constantly turning it over.
15. Rhode Island
. For as bad as Rhode Island is supposed to -- OK, is
going to
-- be, you have to tip your cap for its work in the three games before Thursday's 72-57 loss at Providence. The Rams beat Auburn in double overtime on Nov. 25, lost at home to a just-OK George Mason team by three, and then beat Vermont by 10 Saturday. Before that stretch, they played Ohio State to within 11, Seton Hall to within five, and Loyola-Maryland to a four-point overtime loss. Let's be clear: Rhode Island is not good. But first-year coach Dan Hurley has the Rams playing hard, and they could spring a few upsets as they rebuild.
16. Fordham
. It's going to be a rough season at Fordham. Tom Pecora's team has played a brutal schedule so far -- the Rams have had exactly one true home game in eight games to date -- and it doesn't get any easier with trips to St. John's, Princeton (in Brooklyn) and Connecticut on the immediate horizon.
December, 4, 2012
12/04/12
5:00
AM ET
1. San Diego State coach Steve Fisher said Monday on our ESPNU College Basketball Podcast that he has already secured a heavy schedule for next season, the program's first in the Big West. Fisher said he had to get big-time games in light of moving to the new conference -- the Aztecs will start a series at Kansas, renew one with Arizona, continue one with USC, play at Cincinnati and face Memphis and Temple, with one of the games home and one on the road to be determined by the Big East, per the conference agreement for taking San Diego State football. San Diego State will also play in the 2013 DirecTV Classic. That loaded schedule that should give the Aztecs plenty of nonconference pop. Fisher also said he couldn't get over how much the Aztecs faithful dominated the crowd at the Honda Center in Anaheim, Calif., during Saturday's victory over UCLA in the Wooden Classic.
2. Charlotte appears to be heading in the right direction as it gets ready to join Conference USA. There is still plenty to do in the Atlantic 10 and in nonconference games. But the 49ers are off to a 7-0 start, the best in the program's history. That seems amazing, but it's true, according to the school. Coach Alan Major has a young lineup, with mostly freshmen and sophomores seeing the court. Sophomore
Pierria Henry
was the MVP of the Great Alaska Shootout. Virginia Tech transfer
JT Thompson
, who missed two seasons with knee injuries, has played in six of seven games and been a steady influence on the locker room so far. Charlotte has a monster city showdown against Davidson on Wednesday.
3. Nebraska crushed USC on Monday after taking apart Wake Forest. Neither of those teams will be in the NCAA tournament. But keep an eye on Nebraska. Tim Miles has steadily climbed the coaching ladder from North Dakota State to Colorado State to Nebraska for a reason. He can coach. He can motivate. And he can build. The Huskers have given up 63 points in a game only once this season, when Kent State beat them with 74. I didn't pick Nebraska over Creighton, scheduled for Thursday, as my upset of the week, but I thought about it. The Huskers have a legit shot to upset the Bluejays in a rivalry game if they can defend like they did against USC. Miles would certainly earn state cred if he were to take down Creighton in his first game in the rivalry.
December, 14, 2010
12/14/10
12:31
PM ET
Charlotte was, believe it or not, a sneaky pick to compete in the Atlantic 10 this season. The 49ers were more competitive than you might remember last season; they were 18-5 through Feb. 6 before collapsing and losing seven of their last eight games.
That stretch was the straw that broke Bobby Lutz's back (or some similar metaphor therein), but the 49ers returned almost all of the talent that got them to 18-5 last season, and it wasn't entirely unreasonable -- maybe just moderately so -- to see Charlotte as an A-10 dark horse and potential NCAA tournament team.
Not anymore. The 49ers have struggled in their first season under former Ohio State assistant Alan Major, going 4-6 in their first 10 games, and losing those six games to teams you'd be generous to describe as marginal. Charlotte has lost at home to Gardner-Webb, on neutral sites to George Mason and Coastal Carolina, and on the road to Oregon State, East Carolina and Davidson. It's lost pretty much everywhere you can lose, and it's lost to teams that no dark horse could ever justify.
And now, the 49ers lose again. Today, Charlotte announced via a release that forward Shamari Spears
has been dismissed from the team
. Spears had been indefinitely suspended for a violation of team rules before the team's Nov. 27 game versus Radford. Now he's gone for good. Ouch.
Spears is a former Boston College transfer who earned third-team all-conference honors and became Charlotte's most important player last season,
a high-usage scorer who contributed solid offensive rebounding and got to the line frequently
. Through his five pre-suspension games in 2010, Spears was again leading the 49ers in scoring with 17 points per game. He was shooting 42.9 percent from 3. He will no doubt be missed.
If there's a silver lining here, it's this: Charlotte is rebuilding. Its first-year coach is attempting to remake the program from the ground up. The 49ers are already awful, and all these early losses have already closed the window on a non-miraculous postseason berth. That has to be liberating -- at this point, Major has nothing to lose.
Well, except a bunch more games. There's that. But Charlotte was already losing those anyway.
November, 2, 2010
11/02/10
11:45
AM ET
You know the drill. Here are five things I can't wait to see in the Atlantic-10:
1. The Dayton dynamic
[+] Enlarge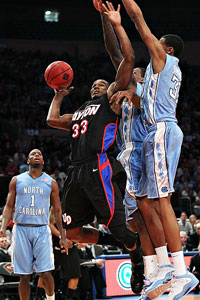 Nick Laham/Getty ImagesChris Wright returns after averaging 13.7 points and 7.3 rebounds per game last season.
The questions about Dayton have nothing to do with talent. By returning NBA prospect and A-10 player of the year candidate
Chris Wright
, second-leading scorer
Chris Johnson
, and top defender
Paul Williams
, the 2010-11 Flyers return their three best players from last year's team. The questions about Dayton are essentially this: How do those players perform without five seniors surrounding them? Brian Gregory's accomplished group of four-year stalwarts all graduated after their NIT championship last season, and Gregory will have to incorporate a good recruiting class around his three talented starters without the benefit of that senior, role-player-type experience on the margins. Wright is one of the more talented forwards in the country, but he had an up-and-down junior season. Can he take the next step as a senior himself? Will Dayton find the right mix in time to make their case for an NCAA bid? And if the freshmen don't perform, is Dayton's core enough?
(
Bonus minor Dayton subplot that pretty much everyone except Dayton's theoretical opponent would like to see
: Because of the new tournament's First Four play-in structure, and the decent possibility the Flyers will be a bubble team and one of the last four at-large bids in the tournament, there's a decent chance Dayton could play in the play-in First Four tournament in -- where else -- Dayton. Dayton fans show up 11,000 strong for games on the 16-17 seed line; imagine the scene if the Flyers were in town for the tourney. Fun stuff.)
2. Temple in the NCAA tournament
If Temple fans are getting impatient for an NCAA win, they might also be being a little unfair. Owls coach Fran Dunphy immediately turned the Owls back into a winner after leaving his longtime position at Penn in 2006, making three straight NCAA tournaments in the past three years. The only problem? Temple has lost in the first-round of the NCAA tournament all three times. That might seem slightly disconcerting; no one wants to worry that their coach can't win in the NCAA tournament. But the Owls have been besieged by tough matchups in each of Dunphy's three tourney years (including two eventual Sweet 16 teams -- Michigan State and Cornell -- and a James Harden-led Arizona State team), and there's good reason to expect Temple to make the leap in 2010-11. Senior guard and leading scorer
Ryan Brooks
is gone, but Temple returns almost all of last year's team, which was the seventh-most efficient in the country by the end of the season. Those returns include forward
Lavoy Allen
, who played with the USA Men's Select Team in scrimmages against Kevin Durant and the rest of USA Basketball this offseason. Barring a massive disappointment, the Owls should be back in the NCAA tournament again in 2010-11. The real intrigue is what they do when they get there.
3. What happens when you doubt Xavier
If ever there was a year to doubt the
Xavier Musketeers
, this might be it. Gone is Jordan Crawford, a brilliant scorer who took and made a huge percentage of Xavier's shots in 2010-11. Gone is forward Jason Love, Xavier's all-time wins leader with 108. Taking their place are ... well, actually, that's the point: It's hard to see just who on the current Musketeers roster can replace Crawford and Love's production. Is this the year Xavier finally releases their four-year stranglehold on the A-10 title?
The thing is, we've asked that question before. We asked it when Xavier lost Stanley Burrell, Josh Duncan, and Drew Lavender in 2008. We asked it again when Xavier waved farewell to Derrick Brown, B.J. Raymond, and C.J. Anderson in 2009. Before Crawford revealed his talent, the 2009-10 Musketeers -- with a first-year coach, no less -- were supposed to fall off. But Xavier made a third straight Sweet 16, and the program kept chugging along as if the laws of attrition didn't apply. This year, maybe they will. Point guard
Tu Holloway
will have to take over much of the scoring and leadership load in Crawford's and Love's absence, senior forward
Dante Jackson
will have to take a leap, and a handful of talented freshmen and redshirt holdovers will have to be ready to play right away. It's a lot to ask, and if ever there was a year to doubt Xavier -- for good reason -- this is it. But one does so at her own peril.
4. Richmond's battle for respect
We probably didn't talk enough about Richmond last season. The Spiders won 26 games, made the NCAA tournament (where they ran into a hot St. Mary's team in the first round) and featured A-10 player of the year
Kevin Anderson
, a dynamic point guard who is supremely adept at beating defenders and scoring in the lane. Anderson returns in 2010-11 and is the de facto favorite to win conference player of the year honors again. But Richmond is far from a one-man show. The Spiders also return 6-foot-10 forward
Justin Harper
, whose inside-out versatility makes him extremely difficult to guard. Throw in a trio of interesting freshman and a total of 11 scholarship players returning from last year's team, and the result is a legitimate A-10 favorite that still isn't getting enough love.
5. An immediate turnaround at Charlotte?
Given the way Charlotte's season ended -- when the 49ers dropped seven of their last eight games, followed by the firing of longtime coach Bobby Lutz -- it's easy to forget how it began. Charlotte started the season by going 18-5 and looked like a potential A-10 contender and NCAA tournament team. The wheels fell off, and Charlotte hired former Ohio State assistant coach Alan Major to get things repaired. Major, like most new head coaches, is probably allowed the usual three- or four-year grace period, but he might not need it. Charlotte returns four starters from last year's team, including leading scorer
Shamari Spears
and fellow high-usage forward
Chris Braswell
. The 49ers aren't overwhelmingly talented, but they aren't bereft, either, and it's not hard to imagine the energy of a new coach and a less muddled leadership situation giving the 49ers a bit of a boost.