College Basketball Nation:

Alec Burks
September, 12, 2011
9/12/11
9:19
PM ET
By
Diamond Leung
| ESPN.com
Colorado freshman Damiene Cain, one of the top players in the Buffaloes' first recruiting class in the Pac-12 era, has decided to forgo a college basketball career in order to concentrate on academics at the school.
"After careful consideration, I have decided not to play basketball on the collegiate level," Cain said in a statement released by the school on Sunday. "On a personal note, I feel it's best for me to pursue a college degree without the restrictions and demands that come with being a student-athlete. I wish to thank all the people at University of Colorado and my family for their support in this decision."
Cain, a 6-foot-7 forward from North Hollywood, Calif., who reflected the school's new emphasis on recruiting in Southern California, was ESPNU's No. 37-ranked recruit in the state and signed a national letter of intent last November.
He chose Colorado over the 16 other schools that offered him scholarships after taking official visits to Boston College and San Diego State. It was a fit in part because his parents played basketball at Colorado Christian, and he had spent part of his early childhood living in the state.
But according to Cain's high school coach, the question of whether a college basketball career was the correct path for the promising player was something he wrestled with for years.
"Even in high school, he was considering whether or not that was the right usage of so much time," Harvard-Westlake School coach Greg Hilliard told ESPN.com on Monday. "We've had discussions with him for a couple years on whether it was worth it, the inordinate amount of time spent on basketball. Even if you take it to its limit and take it to the NBA, you're done by 30."
A prestigious private school, Harvard-Westlake has produced plenty of college talent over the years. Its most recent Division I players include USC's
Alex Stepheson
, Tennessee's
Renaldo Woolridge
and Miami's
Erik Swoope
.
Cain was expected to be next after committing to Colorado, pausing for dramatic effect before choosing a Buffaloes cap over five others with his parents by his side at the announcement. CU coach Tad Boyle liked the 230-pounder's versatility as an "inside-out-type guy" and signed him early along with Spencer Dinwiddie and Askia Booker, two other top Southern California recruits. In his senior season, Cain averaged a double-double and helped Harvard-Westlake win a section championship.
Still, Hilliard said Cain questioned whether spending so much time on basketball was the balance he wanted in life. After enrolling at Boulder, Cain and Boyle spoke more about the player's desire to focus on academics and ultimately chose a path rarely taken by the average college basketball prospect.
"Damiene and I have had numerous conversations over the past two weeks in regards to where basketball fits in his life," Boyle said in a statement. "The health, happiness and well-being of our players is always a paramount concern. Damiene Cain is a terrific young man and we support him in his decision."
Boyle will have to look elsewhere for production after losing his top four scorers -- lottery pick
Alec Burks
among them -- off a team that won a school-record 24 games and reached the semifinal round of the NIT.
Hilliard, who said Cain would need to take out a student loan in order to attend Colorado, described his former player as focused and mature and one who set high standards and was a role model for teammates.
"Knowing that so many of our kids coming out of our school have devoted their six years (grades 7-12) here to a heavy academic schedule, the idea of deserting that and going to six hours a day playing hoops enters into the decision," Hilliard said. "I support the decision and understand it.
"It certainly wasn't spur of the moment. Making the decision at the time before it hurt the team any more than it already might, he had that weighing heavily on him."
May, 16, 2011
5/16/11
7:50
PM ET
By
Diamond Leung
| ESPN.com
Colorado hired Tad Boyle a year ago to take over a struggling program, and he managed to take the Buffaloes to a record-setting season for wins and nearly lead them into the NCAA tournament.
[+] Enlarge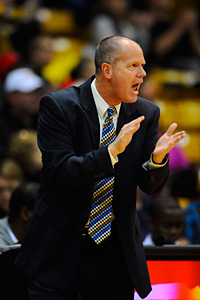 Ron Chenoy/US PresswireTad Boyle is off to an impressive start as Colorado's head coach.
It was a good season that generated some buzz for the Buffs, and during the offseason, Boyle had his name brought up during the Oklahoma and
Texas A&M coaching searches
. His name being floated out there was a sign of respect for what he had managed to achieve in his lone season in the Big 12 -- Colorado being relevant.
As the Buffs leave for the Pac-12, another strong season in what is expected to be a bridge year could start providing answers to the lingering question of whether Boyle will stick around for the long-term.
From the
Denver Post
:
This year probably wasn't great timing anyway with his arrival at CU barely a calendar year old. But know this: Colorado is probably going to have to do what it can to up the financial ante if it intends on retaining Boyle past this season and early indications are it will. With incentives Boyle makes just north of $735,000. Don't be surprised if eventually that number gets pushed to the brink of $1 million or, pardon the pun, a tad more.

It's new territory for a university a little more familiar with firing its coaches of late than having to battle to keep them. But in one season Boyle went from a relative unknown to being on the brink of a bonafide hot commodity.
Given the losses the other teams in the league suffered with early entrants leaving school, Pac-12 success is certainly within reach next season even as the Buffs themselves lose top talent
Alec Burks
to the NBA draft.
Boyle adds Utah transfer
Carlon Brown
to the mix in 2011-12 after the 6-foot-5 guard had previously led the Utes in scoring. The Buffs also have a highly regarded recruiting class on its way.
Those are all reasons why Boyle should feel good about his future and his chances at Colorado. It'll be up to the school down the road to do what it takes to keep him.
March, 30, 2011
3/30/11
1:36
PM ET
By
Diamond Leung
| ESPN.com
Colorado might have ended its season without a trip to the NCAA tournament and fallen short of the NIT championship game after losing to Alabama on Tuesday, but the Buffaloes did achieve something during their consolation postseason run.
In coach Tad Boyle's first season, Colorado's 24 wins broke a school record and marked only the fifth time in history the Buffaloes have won at least 20 games. That counts as progress as the program leaves the Big 12 for the Pac-12.
Now the attention turns to
Alec Burks
, the bouncy 6-foot-6 sophomore guard who has an NBA draft decision to make. He averaged 20.5 points and 6.5 rebounds this season, but at times struggled on defense.
Burks missed at the buzzer in what could have been his final college game as Colorado lost
62-61
and then apparently slipped out of the locker room without talking to reporters.
According to the
Denver Post
, Burks has received some advice from former Colorado great Chauncey Billups, who left school for the NBA after his sophomore season.
"I've spoken to Alec a couple of times," Billups said. "We'll talk some more here soon. I really want him to just focus on his season right now. Don't worry about the NBA or leaving; the time will come."

Billups doesn't see Burks' weight, or lack of it, as an issue.

"There are guys built like Alec in the NBA," he said. "He's a frail guy, but he's a special talent for his size. He's a really good playmaker."
With Burks, Colorado would compete for the upper half of the Pac-12. Without him, the rebuilding project begins again, but on a high note.
The move to the Pac-12 allows Colorado to recruit California better, and Boyle has already signed three recruits out of the Los Angeles area, including point guard Spencer Dinwiddie. ESPU ranks Dinwiddie as the No. 29 point guard in the recruiting class.
Colorado also got a taste of how far it could go as a program this season when it was fully expecting to make the field of 68, but stunningly denied. Boyle told his players to make a run in the NIT in order to show they belonged, and they did with wins against Kent State and Cal, a future Pac-12 opponent.
The Buffaloes fell short of the title in New York, but they set a standard for future teams to build on.
March, 14, 2011
3/14/11
6:14
PM ET
Yes, the 2011 John R. Wooden Award finalists are here. The award is organized by the Los Angeles Athletic Club and voted on by "nearly 1,000 members of the media that cover college basketball," and if you're surprised at the idea that there are 1,000 college hoops writers in the world, well, you're not the only one. (Lots of those ballots go to columnists and generalists who don't specifically cover the sport year-round ... but that's a topic for another blog post on another day.)
Who made the cut? The list is below, and it includes pretty much everyone you'd expect from a list of college hoops' best and brighest individual stars.
The rundown
:
Well, done, Los Angeles Athletic Club. That is a borderline peerless list.
But it isn't perfect. The most notable omission (perhaps the only notable omission) is Kentucky forward
Terrence Jones
, who has been one of the best players in the country throughout the season.
Ken Pomeroy's latest player of the year award list
ranks Jones as the eighth-most productive player in the country this season, and while Pomeroy's POY metric doesn't account entirely for the defensive side of the ball, player of the year awards are never all that concerned with the defensive end -- Brooks and Burks probably wouldn't be on the list above if they were -- so Pomeroy's list is as good a statistical look as we have. And, well, yeah: Jones should be among the Wooden candidates. There's really no getting around it.
That said, his omission isn't criminal. Jones deserves some POY consideration, but let's be real: He's not winning the award. Nor are 19 of the players listed above.
Unless something radical changes
, Fredette is going to win the Wooden and Naismith player of the year awards. If the voting does change anytime soon, the award is likely to go to Walker, Smith, or Sullinger.
In other words, this list has all the usual suspects. We'll see if any of the candidates has time to unseat the Jimmer in the weeks to come. It's unlikely ... but, hey, you never know.
March, 11, 2011
3/11/11
2:00
PM ET
Can Kansas handle Colorado's guards?
The Jayhawks beat Colorado by just four in Boulder earlier this year, but their undersized guards had big problems guarding the Buffaloes' duo of
Cory Higgins
and
Alec Burks
, 6-foot-5 and 6-foot-6, respectively. Both players shot at least 50 percent from the field in their first matchup and combined for 44 of Colorado's 78 points. Another big day for the pair, this time in Kansas City, could mean a Buffaloes upset this time around.
Is Texas' swoon officially over?
The Longhorns reached No. 2 in the polls before losing three of their final five games of the regular season, raising questions about a drop-off similar to last season, when Texas reached No. 1 in the country before falling into a tailspin and an eight seed, finished off by an opening-day exit in the tournament. Though Texas played well against rival Oklahoma on Thursday, beating the Sooners won't impress many. Beating another rival, Texas A&M, on Friday night and taking home the trophy on Saturday would provide the right answers for all the questions about Texas heading into the tournament.
Is the urgency still there for Colorado?
Thanks to wins over Kansas State -- the Buffaloes' third this season over the Wildcats -- and Iowa State, Colorado looks to have secured a bid to the NCAA tournament for the first time since 2003. Now, they'll face a huge test against No. 2 Kansas. The Buffaloes played like their season was on the line against Kansas State because it largely was. Will that urgency continue?
Can the Aggies keep rolling on offense?
Texas A&M got plenty of easy looks and knocked down jumpers against Missouri's frenzied defense, finishing 26-of-45 (57 percent) from the field. It hung 86 points on the Tigers and made 8 of 16 from 3-point range. The Aggies' top three scorers also shot a combined 17-of-24 for 56 points. Those are impressive numbers, but don't look for them to continue against Texas, a defense giving up just over 60 points a game and highlighted by Big 12 Defensive Player of the Year
Dogus Balbay
. If the Aggies can come anywhere close to the type of offensive performance they had in a win over Missouri on Thursday, they could find themselves in the title game on Saturday.
March, 2, 2011
3/02/11
12:37
PM ET
A quick look at the player and coach of the year races in the Big 12:
Player of the Year
[+] Enlarge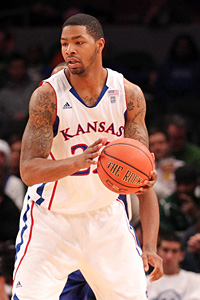 Anthony Gruppuso/US PresswireKansas' Marcus Morris is averaging 17.3 points and 6.9 rebounds.
Marcus Morris
' improvement has been dramatic, enabling him to step into one of Kansas' vacant leading-man roles after being a complimentary part his first two seasons in Lawrence. Morris has raised his scoring average from 12.8 to 17.3, his rebounds from 6.1 to 6.9 and his assists from 1 to 1.4. He's also shooting 61 percent from he field and a no-fluke 36 percent from 3-point range (23 made 3s on the season).
Combine that with KU's top-five ranking and leading position in the Big 12, and Morris is my narrow choice over Kansas State guard
Jacob Pullen
, Colorado swingman
Alec Burks
and Texas forward
Jordan Hamilton
. All of them have their flaws.
Pullen has been the best player in the league of late, but he was suspended three games for NCAA rules violations and failed to take the leadership role Kansas State was lacking early when it floundered under high expectations. Burks might be the league's biggest talent and has had a fine year, but he plays for a mid-pack team -- and this is a team game, so team results matter. Hamilton is a devastating offensive player when he's locked in, but he's shot horribly and indiscriminately as the Longhorns have lost three of their past four, and he seems to be backsliding to some of his bad freshman habits.
So I'll go with Morris, but there's plenty of room for disagreement here.
Coach of the Year
I'll cast a somewhat tepid vote for Texas A&M's Mark Turgeon. Every time I watch the Aggies play, I come back to the same thought: How does this team have the record it does? There is no great talent, no surplus of athleticism, no sprawling collection of McDonald's All-Americans -- yet still, A&M is in the upper echelon of the league. Its 22 victories (nine in Big 12 play) owe a lot to the coach, who has been a consistent winner where many never thought it could be done.
Turgeon lost his top three scorers and leading rebounder from last season's 24-10 team, and it really hasn't mattered. The Aggies, picked to finish sixth in the preseason, still are successful in a tough league (currently third) and have a couple of quality nonconference wins as well (Temple and Washington). They turned freshman role player
Khris Middleton
into a go-to scorer as a sophomore, more than doubling his average from last season (7.2 to 14.6), and filled in everyone else around him.
So he's the choice (narrowly) over Kansas' Bill Self, Texas' Rick Barnes and Colorado's Tad Boyle. As with the player of the year, you can make a compelling case for any of those guys. But the choice here is Turgeon.
Click here
to find out who our panel of 15 experts picked in each of the nation's 10 best conferences.
January, 8, 2011
1/08/11
10:15
PM ET
When even the 7-9 Seattle Seahawks are eliminating the reigning Super Bowl Champs
in the first round of the playoffs
, you know it's been a crazy day.
Such was the case in college hoops Saturday, too. When you play 139 games in one day, there are always going to be wild finishes, unexpected results and upsets. But this was something else entirely. Seven ranked teams lost to unranked teams. To wit:
(There was also a genuine thriller, UConn's 82-81 overtime win at Texas. My postgame analysis on that classic can be found
here
.)
[+] Enlarge

Ron Chenoy/US PRESSWIREColorado's Alec Burks scored 36 points and had eight rebounds in an upset of Missouri.
November, 29, 2010
11/29/10
10:43
AM ET
Five observations from the week that was:
1. The Top 25 is a volatile place to be
. Putting a Top 25 together in any week is difficult, but it's especially tough in November and December, and that goes double for the past week. A coterie of Top-25 squads dropped games, including No. 2 Michigan State, No. 4 Kansas State, No. 7 Villanova, No. 8 Purdue, No. 9 Kentucky and No. 11 Washington. Some of these losses were predictable (KSU-Duke, for example) but plenty of them weren't (Butler losing at home to Evansville, anyone?), and even if you don't throw in North Carolina's poor performance in Puerto Rico, the picture here is pretty clear. We're still a long way from sorting everything out. And -- as always -- polls don't matter for a reason.
2. Duke is way ahead of the field
. Watching the Blue Devils dismantle Kansas State in front of a partisan purple crowd on Tuesday night proved Duke is every bit as good as we thought before the season started. Maybe better. Meanwhile, Michigan State -- the team most saw as Duke's biggest challenger this season -- logged a disappointing performance in Maui. The Spartans will only get better, and Ohio State and Kansas have been steamrolling opponents, but there's no question that Duke has taken a big leap ahead of the rest of the field to begin the season.
3. The Pac-10 is a two-team league
. Arizona and Washington have looked solid even in losses. The rest of the conference has looked anything but. Cal scored five points in a half versus Notre Dame and lost by a big margin (68-46) to Boston College; UCLA went 0-2 in the NIT in New York; Arizona State blew a 12-point lead in a loss to St. John's; USC blew a 20-point lead to Nebraska to add to its running list of bad losses (Rider, Bradley); and Stanford lost twice in the 76 Classic (to Murray State, Tulsa) and was taken to overtime by DePaul. (Yes, DePaul. The same DePaul team that lost to Western Carolina and Cal State Northridge. That DePaul.) The Pac-10 has been much-maligned lately. Gee, I wonder why.
4. Butler might not be a tournament team
. It's still too early to count the Bulldogs out, but after their season-opening blowout to Louisville and a loss at home to Evansville, Butler has left itself a major challenge going forward. The Bulldogs have a smaller margin for error in the nonconference schedule, because it's difficult to prove yourself in the Horizon League. (You can bet the committee isn't going to like a loss to the Purple Aces at Hinkle Fieldhouse. It's really bad.) Fortunately, the Bulldogs have a couple of opportunities for résumé wins coming up (Duke, at Xavier), a couple of surprise unbeaten teams (Cleveland State, Loyola) on hand in the Horizon League, and enough national name recognition that a 23-5-ish record might be enough to keep them from having to win their conference tournament in March.
5. Colorado is a long way from a sleeper season
. Given the Buffaloes' talent at the guard spots -- which includes
Cory Higgins
and
Alec Burks
, two Naismith Award watch list members -- many, including myself, thought Colorado might be a sneaky Big 12 sleeper pick. Instead, Colorado looks … well, it looks like Colorado. Tad Boyle's team lost at San Francisco on Nov. 20 and was blown out by Harvard 82-66 on Sunday. That is not the stuff of sleeper squads. It's certainly not the stuff of NCAA tournament teams.
October, 27, 2010
10/27/10
2:50
PM ET
Each Wednesday, your humble college basketball hoops blogger (er, me) will respond to your questions, comments and nonsensical rants in this space. To submit,
visit this page
by clicking the link under my name in the upper right-hand corner of the page. You can also
e-mail me
or send me your entries
via Twitter
. Let's begin with a video response to a couple of similar questions about Colorado and Louisville:
Matt from New Jersey writes
: Where is Seton Hall? It returns the best scorer in the conference, the best rebounder in the conference, two great perimeter guards that can defend, an Ole Miss transfer (6-foot-6 forward
Eniel Polynice
) and has
Jeff Robinson
for a whole season. The best part is that they finally have a sane, calm coach with a good demeanor who will preach the two most important elements: defense and rebounding.
Eamonn Brennan
: Matt, I assume you're asking about Seton Hall's lack of presence in various preseason discussions of the Big East, and not actually trying to find Seton Hall geographically. But just in case,
here you go
.
Also, I hope you are not insinuating that former Seton Hall coach Bobby Gonzalez was insane. What
would make you think that
?
Google Maps-related jokes aside, your question, vague though it may be, is valid. But there are a few reasons why Seton Hall probably isn't on most preseason prognosticators' minds, and I think they're valid too. The first is uncertainty. Kevin Willard takes over as a first-year coach in the Big East, and that's not an easy job for anyone, even a guy like Willard, who is familiar with the territory. Forward
Herb Pope
is key to Seton Hall's chances, and no one was really sure whether or not he was going to be able to play in 2010-11 -- or, for that matter, ever again. (Pope collapsed during a workout last spring
but appears to be able to play this season
.) The third is talent: Even with Pope, leading scorer
Jeremy Hazell
, and forward Jeff Robinson for much of last season, Gonzalez's team struggled to get to 9-9 in the Big East. Returning talent is nice, and adding Polynice gives the Pirates some depth, but is this team really that much better than last year's? And if not, do they really deserve the preseason love?
Don't get me wrong: Seton Hall could definitely surprise some people this season. Willard is inheriting a solid nucleus. If Pope is productive, an NCAA tournament bid is well within reach. But you can't blame preseason scribes from warily avoiding Seton Hall until the Pirates prove a few things on the court. That's only fair.
---
Tom D. from Austin, Tex., writes
: I saw that Duke hung 141 points on last year's CIAA champs in an exhibition game with no player getting more than 22 minutes. Does this mean anything at all?
Brennan
: Let's see: The reigning NCAA national champs and 2010-11 preseason No. 1
beat a CIAA team (St. Augustine's) that lost six players
? And they did so by a considerable margin?
Uh, yeah. This means nothing at all. It might actually mean less than nothing. If there was an "absolute nothing," this would be it. (Like absolute zero? See what I did there? Har? OK, moving on...)
---
Stephen from Evansville, Ind., writes
: Everyone always seems to get caught up on how many teams a conference gets into the NCAA tournament as a measure for the quality of the conference. What should the Missouri Valley expect as far as NCAA tournament teams and success year-in and year-out?
Brennan
: In terms of resources and conference affiliation, it's a little unrealistic to expect the Missouri Valley to recreate its brilliant 2006 run, when the MVC got four NCAA tournament bids and saw two teams streak to Sweet 16 appearances. Like many other mid-majors, it's hard for teams in the MVC to put together strong overall résumés, because it's so hard to convince the big boys to play them. It ain't fair, but that's just life in the sub-high-major world.
I think the Valley would be pretty excited if it could consistently place three teams in the NCAA tournament every year. That means at least two or three programs are building the sort of long-term success that doesn't require a one-year flash in the MVC tourney to get in to the Big Dance. That could be the case this year, as both Wichita State and Creighton (and maybe even Northern Iowa) look like potential NCAA tournament teams. But it's a lot to expect from a conference like the Missouri Valley on a year-to-year basis.
---
Tim Watts from Philadelphia, writes
: Will Ohio State still be a contending team without superstar Evan Turner? And do they have a chance of winning the Big Ten over Michigan State?
Brennan
: Yes and yes. Turner was a special player, but Ohio State has a coterie of experienced guards who can share Turner's ballhandling and scoring roles (
William Buford
,
David Lighty
,
Jon Diebler
), and could end up being much deeper and more balanced than last season's team. That's because forward
Jared Sullinger
could be a Big Ten Player of the Year candidate in the post, and OSU's other highly touted recruits should be able to contribute right away. Sullinger remains unproven, so you have to give Michigan State the nod, but if he pans out, the Buckeyes might be even better than last season. Hard to imagine after the year Turner had, but imagine it anyway.
(As an aside, I hope I'm not the only college hoops fan who is thoroughly disappointed with how Turner's NBA career --
thus far marred by supposed attitude problems and lack of productivity
-- has begun. Philly coach Doug Collins even benched Turner for Wednesday night's season opener, instead opting for ...
Jason Kapono
. What a bummer.)
---
Tony Waffen from Wasilla, Alaska, writes
: What is your evaluation of the
Saint Mary's Gaels
this year? And what happened to Omar Samhan?
Brennan
: Greetings from Wasilla? I promise not to make any Sarah Palin jokes. I think I can hold off.
I also think St. Mary's is clearly a notch or two below Gonzaga this season, if only because coach Randy Bennett doesn't have a clear replacement for the inside-out forward combo of Samhan and Ben Allen. But Mickey McConnell and
Matthew Dellavedova
are as good a guard combo as the WCC will have -- McConnell shot 51 percent from 3 last season, which is just silly -- and with a few contributions from guys like
Clint Steindl
and Jorden Page, I think Saint Mary's is still a factor at the top of their conference.
As for Omar? After an encouraging stint with the Dallas Mavericks in the NBA summer league,
Samhan signed a contract with Zalgiris Kaunus, a club in Lithuania
. There's a decent chance Samhan gets a few more NBA looks -- he definitely made an impression on a handful of GMs this summer -- but for now, he's getting paid to play hoops in Eastern Europe. There are worse fates. (And let's hope Omar has been brushing up on his Lithuanian, so he can be the funniest basketball player on two continents, and not just one.)
---
Derek Rainbolt from Bloomington, Ind., writes
: With Kentucky, Florida, Tennessee and Georgia leading the way for the SEC, why does it seem the league is not getting national buzz?
Brennan
: And let's not forget Mississippi State and Vanderbilt, both of whom are likely NCAA tournament teams. This is a good conference.
That said, I'm not sure I agree with your premise. "National buzz" is sort of hard to gauge in the first place, but from where I'm sitting (and I might not be the best judge, since I basically spend every day holed away in front of my computer reading and writing about college basketball), I'm not sure the SEC has received any less of this mythical buzz than conferences like the ACC or the Big East, both of which have their strong teams, but both of which are less deep than we're used to. In any case, if the SEC isn't getting the requisite amount of love, that will change as soon as its top five or six teams start proving themselves this winter. Until then, I wouldn't worry about it too much.
---
Eric from Bethlehem, Pa., writes
: Would you consider
C.J. McCollum
of Lehigh one of the top players in the mid-major ranks? He dominated the Patriot League and played well against Kansas in the NCAA tournament last season.
Brennan
: Why yes, yes I would. McCollum won player of the year
and
rookie of the year awards as a freshman at Lehigh last season. That's big-time stuff no matter the conference, and his performance in the first round of the NCAA tournament -- 26 points, seven rebounds, three assists, three steals and a block -- was very impressive. Maybe the most exciting thing about McCollum (assuming he doesn't decide to transfer at some point, in which case, sorry, Lehigh fans) is that he was only a freshman. He's already one of the better mid-major players in the country, and his ceiling remains very high.
---
Armand from Springfield, Mo., writes
: How much more does Mike Anderson need to do to get some respect? Look at the last two seasons: Big 12 champs in 2008 with an Elite Eight finish. Second round in 2009, with inferior talent compared to K-State, Kansas, Texas and Baylor. Despite a proven system, every fall experts predict Missouri to finish behind all these teams. Well, now we have the best junior college transfer in the country as well as a five-star recruit in
Tony Mitchell
(eligible in the spring sem., right when conference play begins). Mizzou will be a force to be reckoned with and Big 12 coaches realize this, but the media never seems to. #TheFastest40Minutes
Brennan
: First of all, hashtag in a mailbag question gets an immediate thumbs up. You should shorten that and use it to live-tweet Missouri games. After all, like Forrest Gump said, you never know
what you're going to trend
.
Second, Mizzou fans are awesome. I'm not being sarcastic. Every week the mailbag has at least two or three Missouri-related questions or comments. Columbia is excited about their program.
Then again, why shouldn't they be? I have a couple of soft spots when it comes to Missouri basketball. I love uptempo play, I love a properly run full-court press, and I love a coach who is willing to buck the conventional X's-and-O's wisdom to run a chaotic, onions-to-the-wall style because he believes in it. Mike Anderson has done all three at Missouri, and there's no question it's paid off.
Last Thursday at Big 12 media day, Anderson made a comment to a reporter about his team's propensity to be ranked in the lower half of the league before the season, only to finish among the conference's leaders. I asked him if he thought his system explained the gap. He downplayed it, telling me he thought his players didn't get enough credit, that he had had some underrated talent in his tenure, and that his staff worked hard to develop his guys as the season went along.
It was a nice answer, but it's barely half-right; his system deserves a lot of the credit. Missouri puts opponents on their heels for a full 40 minutes. They shoot from anywhere on the court, they force you to rebound on every possession, they make you move the ball 80 feet to get into your offense, and they don't let up once you do. It's brilliant to watch, and I think it's better proof that undermatched teams can change the conditions of the game than
anything Malcolm Gladwell cited last year
.
The scary part is what happens when Missouri has the same kind of talent as Kansas, Kansas State, Baylor and Texas. Assuming Mitchell is able to get eligible for the spring semester, the Tigers will be a fearsome bunch. And, as always, incredibly fun to watch.
September, 23, 2010
9/23/10
8:27
PM ET
By
Diamond Leung
| ESPN.com
Colorado has finished last in the Big 12 three times since its previous winning season in 2006, but change is in the thin air. It is now a done deal that the school will be in the
Pac-12 next year
.
Before making the move, the Buffaloes hope to move toward becoming a relevant basketball program.
With an NBA-caliber talent in
Alec Burks
and a new coach in Tad Boyle, they've got a chance to do just that and go out strong in their final year in the Big 12.
And now that the Pac-12 move-in date of 2011-12 has been settled, Boyle can start definitively selling to recruits the image of playing on the West Coast when for years Colorado might have seemed out of place as the Big 12's western-most school.
Already the Buffaloes have three California natives on the roster, with two of them excited about getting a chance to play in their native Southern California next season.
Freshman Shannon Sharpe
is fired up
, and after senior
Carlon Brown
sits out this season following a transfer from Utah, he'll be able to play at home as well.
To get an idea of the power of being in a conference closer to the recruiting base, consider Brown told the
Boulder Daily Camera
that while weighing transfer options he was looking at Pac-10 possibility for CU as early as April -- two months before the conference even formally extended an invitation.
"I remember on my visit asking the faculty athletic rep what the likelihood of Utah and Colorado joining the Pac-10 was because I had heard that talk for the past couple of years," Brown said. "It's not really a shock to me. It's exciting, I'm sure, for both institutions. I'm looking forward not only to playing Utah but playing teams from Los Angeles, where I'm from."
Brown, who declared for the NBA draft after leading the Utes in scoring as a junior, paid attention. So will future West Coast recruits now that they know the Buffaloes are coming to town soon.
It's the kind of momentum that Boyle can only accentuate with a solid final Big 12 go-around this season.
April, 23, 2010
4/23/10
11:38
AM ET
There was a chance, however small, that Colorado was going to lose its star freshman if it hired anyone other than CU associate head coach Steve McClain to fill the vacancy left by Jeff Bzdelik.
Alec Burks
, a projected first-round draft pick in 2011, is Colorado's best chance to make the NCAA tournament next year; Colorado desperately needed to retain him. It also didn't want to hire McClain.
So Colorado, like Wake Forest, took a risk: It hired Tad Boyle and hoped he could win over Burks and the rest of the Buffaloes in short order. (
Chauncey Billups' approval was less necessary
.) Burks was angry about the hire, stating publicly that he was going to "explore his options," -- in other words, a transfer. So
Boyle began his charm offensive
in the hopes of getting Burks back from the ledge. Turns out,
it worked
:
"He told me his plan, I liked it and I like him ... I'm putting all of my trust in him," Burks said. "He said we were going to play hard, play fast and go all out to win -- and I believe in that." Burks, whose 512 points made him the first CU freshman to surpass 500, said his mother also played a pivotal role in his decision: "She agreed that the best thing for me was to stay here ... I can see that, too. I like it a lot out here."

[...] Envisioning an NBA career, Burks said transferring to another Division I program and having to sit out a season per NCAA transfer rules didn't make sense.

"That's one of the things it came down to, too," he said. "My mom said the worst thing I could have done was act out of frustration ... I'm over that now. When I said all that I was just mad that coach McClain didn't get it. I was always pretty close to him, but I know I'm going to get close to coach Boyle, too."
Boyle certainly seems to have won Burks over, but to be fair, Burks was probably never going to leave. He has a chance at being drafted relatively high in the NBA draft as soon as 2011. Transferring means sitting out a year and playing the year afterward, delaying those NBA aspirations for another two years. It would have been an emotional decision, and a silly one.
Now, though, Colorado can begin focusing on the immediate future. With Burks in the lineup,
will that future include a tournament berth
? The Buffaloes are getting closer.
April, 20, 2010
4/20/10
2:10
PM ET
In hiring former Northern Colorado coach Tad Boyle, Colorado took a risk. In the days leading up to Boyle's hiring, current Colorado players Alec Burks and Nate Tomlinson were very clear about who they thought should be the next Colorado coach, and it was not Tad Boyle. Instead,
the players preferred associate head coach Steve McClain
. Burks, the Buffaloes' best player and a projected first-round NBA draft pick in 2011, went so far as to say he would "stay with McClain" but that if someone else was hired he "didn't know" what he would do. Even Chauncy Billups threw his support behind McClain. That Colorado didn't acquiesce to this pressure is admirable, but that won't make keeping Alec Burks in Boulder any easier.
Burks hasn't wavered. In an
interview with The Dagger's Jeff Eisenberg, Burks' former AAU coach Rodney Perry said
that though jumping into the draft wasn't an option, Burks was keeping everything else on the table:
"We don't feel like he's ready to go to the NBA yet, so we'll have to evaluate our options," Rodney Perry, Burks' former AAU coach, said by phone Monday morning. "Alec is comfortable at Colorado because he has been there a year already. Before we start looking at any other schools, we're going to give the new coach an opportunity to see if Colorado is the best fit."
That quote is not as dire as the situation once seemed, but it's clear the Burks entourage is less than thrilled with the Boyle hire. What does Tad Boyle do about all this? Just like John Lennon sang: All
Tad Boyle is saying is give Tad Boyle a chance
:
During a Monday morning meeting with the CU players, Boyle said he told Burks: "You just have to get to know me. And after you get to know me a little bit, you have to make a decision that's best for you."

"He's an important piece of the puzzle, but they all are," Boyle added. "If they're truly Colorado Buffaloes and want to be here, we shouldn't have any issues."
That's just about all Boyle can do. He needs to put on the charm offensive, remind Alec that transferring and sitting out for a year is never the best way to enhance your NBA draft stock, and hope that Burks is comfortable enough with him that the hostage situation over McClain's snub doesn't intensify. If Burks leaves, oh well. But if history is any indication, cooler heads will prevail, the two will forge a relationship, and Burks will be around Boulder for at least another season.