College Basketball Nation:

Alex Kirk
January, 28, 2014
1/28/14
8:45
AM ET
By
ESPN.com staff
| ESPN.com

College basketball reporter Andy Katz gives injury updates at Cincinnati and New Mexico and takes a look at a situation at Iowa State involving the Cyclones and the state Supreme Court.
January, 27, 2014
1/27/14
12:00
PM ET
Last April, Craig Neal moved into the first seat on the bench when best friend Steve Alford left for UCLA and became the new head coach at New Mexico. It hasn't been an easy transition. His Lobos dropped out of the national rankings after a few tough nonconference losses. But they've won three in a row and currently possess a second-place slot in the Mountain West. On Saturday, his program won a road game against Colorado State even though starting center Alex Kirk missed the game because of injury. Injuries aren't the only things that Neal has had to overcome thus far. He recently talked to ESPN.com about his first season as the Lobos' leader.
What did Saturday's 68-66 road win over Colorado State, a game you all played without Kirk, say about this team?
[+] Enlarge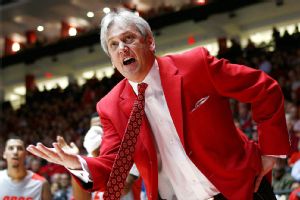 AP Photo/Juan Antonio LabrecheCraig Neal has had to deal with some adversity during his first season as head coach of New Mexico.
Neal:
Well, I just think our veteran guys have been there before, and I think it took us a [half] to figure out Alex wasn't there. You're losing 14, 15 points a game and 10 rebounds, and they hurt us on the offensive boards in the first half. He makes a difference with blocked shots. We played a little bit of a different style, but I think our guys were in tune with what we were trying to do. We went four guards a little bit and changed some things up. Their resilience has been amazing. To go 4-0 on the road to start conference season is really, really an accomplishment that is good for our team and our younger kids and our newcomers.
What's the latest with Kirk?
Neal:
It's a day-to-day thing. He's had it for about three games. Thought it was shin splints and just got a little bit, progressively worse. Our doctors are just taking precautionary measures to make sure he's OK. … You want to make sure you don't put a kid out there that's hurt or in a bad situation with an injury or health-wise.
What's been the biggest adjustment for you this season, moving from assistant to head coach?
Neal
: Well, I think the biggest adjustment is not having Steve around. It might be a big adjustment for him, too, with me not around. I think that's the biggest thing. We were together for so long. I got an opportunity to coach with my best friend for nine years and spend a lot of time together, not only coaching games, but off the floor and watching our kids grow up and just having a great relationship in basketball and off the court. Then I think the biggest transition for me is [the same for] any assistant coach who gets an opportunity … I recruited most of these kids, had relationships with these kids. My relationship doesn't change but the way they view you and the way you view them as a head coach; there's a transition period. Sometimes you were the buffer before, and sometimes you're the guy making sure they're all right and their families are good. And now it's a little bit changed because you're the head coach and you're making a decision on who's playing and who's not playing. Your relationship doesn't change. It's [from] the perspective of you being a head coach now.
Your son, Cullen, suffered an appendix rupture during an offseason international trip. How scary was that situation for you and your family?
Neal:
It was difficult because he's taken a lot of criticism, a lot of hits to start the season, unfairly. He didn't play up to his capabilities early. You're talking about a kid that almost lost his life. [He then] came back, and a lot of the doctors didn't know if it was a good idea that he came back, but he wanted to play this year. And now he's finally gotten healthy and playing at a high level. He played a really good game against Marquette (24 points) that got us a good win in Vegas [Dec. 21], and he played very well against Fresno (17 points Jan. 18). … I think he's back to normal health-wise and strength-wise, but you kind of lose perspective on how serious it was and [that] he was in a bad state. Got down to 158 pounds from 180. It makes you appreciate things a lot better and that he's healthy and he's OK. He's going to miss shots. He's going to turn the ball over, but at least he's healthy, and he's not in the state he was back in August.
July, 22, 2013
7/22/13
10:00
AM ET
The dust has finally settled in college basketball.
The transfers have transferred. New coaches are in place now. Most freshmen are on campus. So we can take a serious look at the 2013-14 season and the most valuable players in the game as we prepare for another season with this week's Count 'Em Down series in the Nation blog.
Here's my list of the top 10 most indispensable players in America. Not necessarily the
best
players. Simply the ones who are most important to the success of their team.
[+] Enlarge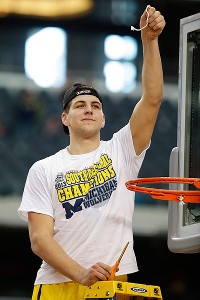 AP Photo/Morry GashAfter a monster NCAA tournament, Mitch McGary returns to the Wolverines.
10. Mitch McGary (Michigan)
-- Even without
Trey Burke
, Michigan has the tools to win the Big Ten and demand an extended stay in the NCAA tournament.
Glenn Robinson III
, in a more flexible offensive role in 2013-14, could be one of the best wings in America next season.
Nik Stauskas
is back, too. Plus, John Beilein's nationally ranked recruiting class features four-star point guard Derrick Walton, who might be a worthy successor to Burke, last season's Wooden Award winner. But McGary has to carry a lot next season. He was vital in Michigan's run to the national title game in April. In a league that just lost
Cody Zeller
,
Derrick Nix
,
Jared Berggren
and
Trevor Mbakwe
, life in the Big Ten should be easier for McGary now. And if he's effective, he'll clear space for Michigan's skilled wings and make the Wolverines a more dominant program.
9. Davante Gardner (Marquette)
-- Buzz Williams' squad could win the first championship in the new Big East.
Junior Cadougan
,
Trent Lockett
and
Vander Blue
are all gone, but multiple veterans return and a strong recruiting class will be in the mix, too. It's all there for the Golden Eagles. So much of this team's fate, however, will depend on Davante Gardner. He's a unique player. Few men his size can move the way he does. But Williams doesn't need the sluggish big man of last season, who would score 15 points one night and five the next. Williams needs the guy who tore up two of the top frontcourts in the country when he scored 14 points (5-for-7) in a win over Miami in the Sweet 16 and 14 points (6-for-9) in a loss to Syracuse in the Elite Eight. If that guy shows up, Marquette could be one of the most complete teams in the Big East and beyond. With the other version of Gardner, Marquette might be in trouble in the season's late stages.
8. Russ Smith (Louisville)
-- Rick Pitino received great news when Smith announced his return. He flirted with the NBA but ultimately decided to rejoin his teammates and make a run at another national title. The Cardinals will enter the season as strong contenders to defend their crown.
Luke Hancock
,
Chane Behanan
,
Wayne Blackshear
and
Montrezl Harrell
all return for the defending champs. But I can't see Louisville on the podium again unless Smith competes at an All-American level in 2013-14. "Russdiculous" has been criticized for his mishaps (2.7 turnovers per game). But the Cardinals wouldn't be the champs without him. The most explosive guard in the country (18.7 PPG, 2.1 SPG) is a two-way catalyst for a team that's capable of winning its second consecutive championship. Louisville needs him.
7. Alex Kirk (New Mexico)
-- Craig Neal's presence suggests that life without Steve Alford might not be so tough for the Lobos. The former associate head coach offers the program a sense of continuity that is important for any team that suddenly loses a head coach … 10 days after he agrees to a multiyear extension. Neal will have star guard
Kendall Williams
, but first-round draft pick
Tony Snell
is gone. A multitude of newcomers and young faces will attempt to fill the void, but their contributions will be less significant than Kirk's output. The 7-footer is a force when he wants to be. The underrated center scored 22 points and grabbed 12 rebounds in his team's opening-round loss to Harvard in the NCAA tourney. Team's attack him early to get him into foul trouble because they know he's essential for the Lobos. But he's a matchup problem for most opponents. And he balances the floor and helps New Mexico's wings roam. The big man could be the key to a Mountain West title run and/or a lengthier stay in the NCAA tournament for the Lobos.
[+] Enlarge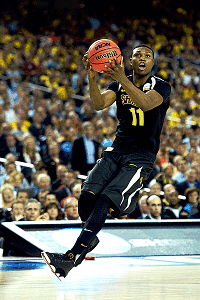 Robert Deutsch-USA TODAY SportsWichita State's Cleanthony Early gained national attention with his performance in the Final Four.
6. Cleanthony Early (Wichita State)
-- There's a lot of justified hoopla surrounding another team in Kansas. But Wichita State did reach the Final Four a few months ago. It should not be forgotten. And the Shockers were a play or two away from ruining Louisville's championship run. But the 2013-14 version of the Shockers will not be the same team that rallied to Atlanta.
Carl Hall
and
Malcolm Armstead
are gone, but
Tekele Cotton
,
Ron Baker
and multiple contributors from that team return. So this team still has a high ceiling entering next season, but only if Early fulfills his potential. Although his team lost a 72-68 war against Louisville in Atlanta, his performance (24 points, 10 rebounds, 2-for-4 from the 3-point line) put the country on alert. The 6-8 combo forward can hurt opponents many ways -- and if he does what he's capable of doing in 2013-14, the Shockers could make another postseason run. If he's the inconsistent player who never quite found a rhythm during last year's regular season, the Shockers might go home early.
5. LaQuinton Ross (Ohio State)
-- I initially had a different Ohio State player in this slot.
Aaron Craft
makes a lot of sense for many reasons. He's the point guard on an Ohio State team that will demand his leadership. But my editor made me think twice. Right team, wrong player. Who will score for the Buckeyes next season if Ross doesn't? The minimal draft buzz surrounding
Deshaun Thomas
made it easy to forget how good and important he was for the Buckeyes throughout his career. There's a huge hole in the middle of the OSU attack that Ross could (must) fill. His explosion in the Big Dance (17 points against Iowa State in the third round, 17 points against Arizona in the Sweet 16, 19 points against Wichita State in the Elite Eight) proved as much. Thad Matta needs him to build off that effort and consistently provide that output for Ohio State in the future.
4. Marcus Smart (Oklahoma State)
-- This one is simple, right? The best point guard in college basketball has to make this list. Yes, the Pokes suffered a messy opening-round exit against Oregon in the NCAA tournament. Without Smart, however, they would not have earned a 5-seed. And if Smart had decided to turn pro this summer, we wouldn't be talking about Oklahoma State as the possible favorite to win the Big 12 championship. The stellar leader was the only college player who earned an invite to this week's Team USA basketball minicamp. The core of last season's Oklahoma State squad returns for 2013-14. And if Smart equals last season (15.4 PPG, 5.8 RPG, 4.2 APG, 3.0 SPG) or – gulp – tops it, then the Cowboys could play their way to Arlington next April.
3. Jahii Carson (Arizona State)
-- Arizona State has quietly entered the preseason Top 25 conversation despite a 2012-13 campaign that concluded with four consecutive Pac-12 losses and a second-round exit in the NIT. But
Jordan Bachynski
is a legit center. And former Penn State standout
Jermaine Marshall
(15.3 PPG last season) will help the Sun Devils replace
Evan Gordon
, who transferred to Indiana. But Carson, an all-Pac 12 first-teamer last season, is the difference-maker for a program that will chase its first NCAA tournament appearance since 2009. The speedy point guard averaged 18.5 PPG, 5.1 APG and 1.2 SPG last season. Those numbers might result in a preseason All-American nod for the sophomore. But he also averaged 3.5 turnovers per game on an Arizona State squad that was 91st in turnover percentage (18.5) last season per KenPom.com. Herb Sendek can't afford those mistakes from a player who is vital to a team that has a chance to crash the Top 25 and make noise in the Pac-12 in 2013-14.
2. Doug McDermott (Creighton)
-- McDermott is a perennial member of the All-Indispensable Team. I mean, what would Creighton be without him? Give coach Greg McDermott credit for putting the pieces around McDermott that have fueled his impressive run of success. Still, McDermott didn't just elevate a program. He carried it to a new conference. The Bluejays were enticing to the new Big East because McDermott has made Creighton more nationally relevant over the last three years. Four of the team's top five scorers from last season, including
Grant Gibbs
, return. With McDermott leading, Creighton could snatch the inaugural crown in the new Big East.
[+] Enlarge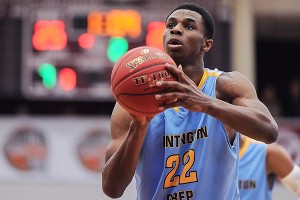 Cal Sport Media/AP ImagesPrep star Andrew Wiggins makes Kansas a title contender even though the Jayhawks lost some key members of last season's team.
1. Andrew Wiggins (Kansas)
-- Let me explain, OK? I know Kansas would be fine without the No. 1 recruit in America. Even if Wiggins had taken his talents to Lexington or Tallahassee, the Jayhawks would have still been relevant in the Big 12. They have
Perry Ellis
, Memphis transfer
Tarik Black
and a solid recruiting class. Plus, Bill Self has won nine consecutive conference titles. But the only reason we're talking about Kansas as a potential national title contender, despite losing two pros (
Jeff Withey
,
Ben McLemore
) and three other starters (
Travis Releford
,
Elijah Johnson
and
Kevin Young
), is because Wiggins is in Lawrence. No high school recruit has ever arrived with this much hype. He might not live up to it. If he does, however, it'll be easy to see why he's so indispensable.
June, 4, 2013
6/04/13
5:00
AM ET
1. The Anaheim Classic is going through some changes that should make it a more intimate event, building up toward a more unique championship day. The tournament, played over Thanksgiving weekend, has been at the Anaheim Convention Center, but has had plenty of sparsely populated games. So, the plan is to move the first two days of the tournament to Cal State-Fullerton's Titan Gym. The final day of the event will be played at the Honda Center in Anaheim to give it more of an elite ending. And to raise the profile of the event, the name will no longer be the Anaheim Classic but rather the Wooden Legacy. The first two rounds will be Nov. 28 and 29 with the championship day on Dec. 1. The tournament has headline teams in Creighton, San Diego State, Marquette, Arizona State and Miami with the College of Charleston, George Washington and the host Titans. Fullerton needs to take advantage of their homecourt and play well for two reasons -- to play rare higher-level games at home and to ensure the crowds are decent.
2. The cuts for the World University Games team playing in Russia could be some of the hardest for USA basketball. Junior national director Jim Boeheim of Syracuse will have a hard time whittling down this list. The team, which will train the last week of June in Colorado Springs, should be the overwhelming favorite in the event. But getting down to the cut list of 24 will be quite a chore for Boeheim and WUG coaches Bob McKillop (Davidson), Frank Martin (South Carolina) and John Beilein (Michigan). Here is the list:
Eric Atkins
(Notre Dame),
Markel Brown
(Oklahoma State),
Deonte Burton
(Nevada),
Quinn Cook
(Duke),
Bryce Cotton
(Providence),
Spencer Dinwiddie
(Colorado),
C.J. Fair
(Syracuse),
Yogi Ferrell
(Indiana),
Davante Gardner
(Marquette),
Treveon Graham
(VCU),
Jerian Grant
(Notre Dame),
P.J. Hairston
(North Carolina),
A.J. Hammons
(Purdue),
Luke Hancock
(Louisville),
Joe Harris
(UVA),
Tyler Haws
(BYU),
Andre Hollins
(Minnesota), Rodney Hood (Duke),
Josh Huestis
(Stanford),
Cory Jefferson
(Baylor),
Sean Kilpatrick
(Cincinnati),
Alex Kirk
(New Mexico),
Devyn Marble
(Iowa),
Doug McDermott
(Creighton),
Adreian Payne
(Michigan State),
Chasson Randle
(Stanford),
Will Sheehey
(Indiana),
Aaron White
(Iowa),
Kendall Williams
(New Mexico).
3. The list will be cut down to 12. Everyone could use making the team to better themselves. But Hood could use it more than anyone else after sitting out last season as a transfer from Mississippi State. Hood needs game action before he starts to star for Duke. Fair, Grant, Hairston, Jefferson, McDermott and Payne all are trying out for the team after making the decision to return to school. The fact that two players from Indiana, Duke, Notre Dame, New Mexico and Iowa are on the first list is a sign about these three teams' future next season. Kirk and Grant have a chance to be headline players next season. So too, does White. The one player who could benefit as much as anyone is Ferrell, who will have to be even more of a playmaker next season without
Victor Oladipo
on his wing.
April, 1, 2013
4/01/13
5:00
AM ET
1. If New Mexico doesn't hire associate coach Craig Neal to replace Steve Alford then there is a legit chance that star players
Alex Kirk
,
Kendall Williams
and
Tony Snell
will go elsewhere, according to multiple sources. Of course, players can end up reconsidering depending on the hire but this possibility exists. There are five reasons (and more) why Neal fits now: 1. He allows for continuity of the success the Lobos have had and the current culture at UNM; 2. Neal has been a part of every major decision in the past six years in creating one of the most successful runs in UNM history; 3. Neal recruited every player on the team and those committed to playing for the Lobos; 4. Neal is well-liked by the administration and boosters and within the community; 5. He's ready. He was a candidate at his alma mater, Georgia Tech, and hiring an assistant -- if it's the right one at the right time -- is more than acceptable at New Mexico.
2. Georgia State returns four starters next season, including coach Ron Hunter's son, R.J., who led the team in scoring at 17 points a game, and the addition of Kentucky transfer guard
Ryan Harrow
will only make the Panthers more effective next season. Georgia State (15-16, 10-8 in the CAA) will join the Sun Belt next season. Harrow will likely receive a waiver to play immediately because of his ill father. Hunter said Harrow will definitely help his son become an even more productive player. Georgia State will send in the waiver immediately for Harrow to play next season. Kentucky was at 13 scholarships with Harrow and now without him the Wildcats will be down one but are still actively pursuing the last elite player in the class of 2013 in Andrew Wiggins. Harrow's loss won't be felt too badly at Kentucky with the arrival of Andrew and Aaron Harrison, both expected to start next season and eventually become NBA-level talent.
3. Wichita State's Gregg Marshall will be one of the hottest names in college basketball. But there isn't an elite job open for him right now and with a $1 million salary and a team that can win the Missouri Valley Conference every year there is no need to leave. Marshall will also want to enjoy being in the Final Four (and who knows, playing in the final or winning it all next week). He can be the toast of Wichita for a year and beyond so there's no reason to not enjoy this after all the hard work. Wichita State will have to pay Marshall even more and likely will after this historic run to the Final Four.
March, 22, 2013
3/22/13
2:35
AM ET
SALT LAKE CITY -- A year ago, Harvard guard
Laurent Rivard
was in awe just seeing the midcourt NCAA logo; after all, the Crimson hadn't made the tournament in six decades.
So helping the program to its first tournament victory -- a
68-62 win
over No. 3 New Mexico that marked the biggest seed upset of all time by an Ivy League team?
That, he said, was indescribable. Although he tried: "You imagine it … it's something everyone dreams about," Rivard said after scoring 17 points and going 5-for-9 from 3-point range, "but it's a different feeling when it actually becomes real."
The win seemed improbable for a plethora of reasons: The Lobos (29-6) were bigger (7-footer
Alex Kirk
finished with 22 points and 12 rebounds), and more seasoned by playing in a conference many considered one of the nation's toughest. Heck, some even thought UNM was robbed by the tournament committee when it didn't earn higher than a No. 3 seed.
But Harvard countered with a four-guard lineup that was sharpshooting (52.4 percent overall, including 8-for-18 from 3-point land) and that frustrated Lobos leading scorer
Kendall Williams
into a forgettable, 1-for-6 night. Led by their tallest starter, 6-foot-8
Kenyatta Smith
, the Crimson also aggressively banged with Kirk and 6-9
Cameron Bairstow
(15 points, nine rebounds).
[+] Enlarge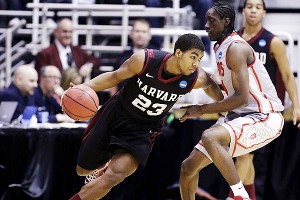 AP Photo/Rick BowmerHarvard's Wesley Saunders drives past New Mexico's Tony Snell on his way to 18 points.
"We knew they were going to be tough," Smith said. "We just had to be confident."
And they were, particularly down the stretch.
New Mexico, trailing for most of the game, took a 53-52 lead with 6:26 left on yet another Kirk inside move. But Harvard, even with its three bigger guys in foul trouble, countered with a 7-0 run -- beginning with another 3 from Rivard and including a jumper from guard
Wesley Saunders
(18 points) -- to rebuild its cushion. The Lobos never got closer than four after that.
"For me to see the composure that we had is meaningful to me as a coach," Harvard's Tommy Amaker said. "We had the lead. We lost the lead. We had to make plays and to have an answer each time when things got really tight there. We had to make pressure free throws. … But we didn't wilt or cave in."
Somehow, the Crimson (20-9) didn't seem to feel the pressure of being a No. 14 seed on the brink of making history.
"I was just playing in the moment, enjoying the moment," freshman point guard
Siyani Chambers
said. "… It felt like, just getting here, was our night."
Indeed, not long ago it seemed like a long shot that the Crimson would make the tournament at all -- much less advance to the round of 32.
First there were the offseason academic problems that led the team's co-captains -- Kyle Casey and Brandyn Curry -- to withdraw from school.
And although those departures gave Chambers (5 points, 7 assists in 40 minutes Thursday) the opportunity to develop more quickly, the team wasn't quite the runaway favorite it might have been to dominate the Ivy League -- as evidenced by back-to-back road losses at Princeton and Penn in early March.
Yet the Crimson endured. And prevailed.
And forget about last year's awe-inspiring NCAA logo. Now, there's a new daydream: the Sweet Sixteen.
"Before this, we wanted to be the Cinderella story," Smith said. "And I guess now, we kind of are."
December, 28, 2012
12/28/12
12:38
AM ET
Reaction, analysis and takeaways from New Mexico's
55-54 win
in Cincinnati Thursday night.
Overview
: If you wanted to see two teams play hard-nosed, dive-on-the-floor, let-them-play-bloody-like-Jeff Van Gundy basketball, this was your game. If you wanted to see defense, this was your game.
If you wanted to see New Mexico come out and prove itself in a brutal road environment against an undefeated team on a night when (almost) the entire college hoops world was paying attention, this was your game.
There was nothing pretty about it, nothing fluid or poetic or artistically inclined. It was just edgy, gritty, defensive basketball, and it ended as it began, and was won how it was waged: with defensive stops.
Turning point
: Believe it or not, despite a 26-22 halftime score, and a margin that never exceeded four points, New Mexico didn't take its first lead of the game until the 14:20 mark in the second half. That's when forward
Alex Kirk
, who was easily the Lobos' best and most efficient player, crashed the glass for yet another offensive rebound tip-dunk. Kirk missed on this particular attempt (he stuffed one home just a few possessions prior, drawing a foul in the process), but New Mexico scrambled to win it back, and
Hugh Greenwood
found Kirk under the basket for an easy finish. It was still early, but it was the first time in the game that this impartial observer genuinely considered the possibility that Cincinnati wouldn't find some offense, or build at least some sort of lead, at some point in the second half.


In the end, on the final possession of the game, after 2 minutes and 14 seconds of field-goal free basketball, it came down to a stop. Cincinnati had 14 seconds left in the game. New Mexico had two fouls to give. It gave the first at eight seconds, and the second at four seconds. It was excellent score/situation management by UNM coach Steve Alford, and by the time UC took its final baseline inbounds, New Mexico cornered if off well enough to allow anything threatening at the rim. (Cheikh Mbodj's last-ditch bank shot was well late, but it was a valiant effort nonetheless. Imagine if he had gotten it off on time.)
Neither team played great offense, both teams played excellent defense -- neither team scored more than .90 points per trip -- and in the end the last, best stop was the one that won the game. The result was only fitting.
Why New Mexico won
: It finished the game with arguably its best defense. You can't win a game like this without making that stop at that time, and that's exactly what UNM did. But we should also reserve some credit for the timely shots the Lobos made down the stretch, whether from Walker or Snell or especially Williams, who finished 4-of-7 from beyond the arc.
Why Cincinnati lost
: It's hard to criticize UC too much, because New Mexico's defense really was that good. But the Bearcats hurt themselves plenty, too. For instance: Cincinnati doesn't get to the line all that often normally (it ranks No. 205 in the country in FT rate), but even so, shooting just four free throws is a good way to cost your team easy points. More than that, it's an indicator of just where the offense was going: to 3-point shots. Typically, Cincy can play great defense and rebound the ball on the offensive, and that's enough. But you can't shoot 31.3 percent as a team (including 9-of-38 --
9-of-38!
-- from inside the arc) and expect to beat a quality team, even at home, even if you defend well. A 5-for-22 night from
Sean Kilpatrick
and a 5-of-14 night from
JaQuon Parker
would sink many a squad, as it did for the Bearcats. Perhaps we should be impressed they could play such poor offense and still be in the game, but I doubt Mick Cronin agrees.
Star of the game: Alex Kirk
. The New Mexico forward has been playing solid outside-in offensive basketball all season, but Thursday may have been his official national coming-out party. He finished with 15 points, 7 rebounds and 3 blocks on 6-for-8 shooting, including one 3-pointer and the offensive (a crashing second-half tip-dunk) and defensive (the key block on UC's final possession) plays of the game.
What it means for Cincinnati
: It's tough to swallow a home loss in which you score a mere 54 points, sure, but it shouldn't noticeably change the way Cincy views itself or goes about its business. The Bearcats are a very good defensive team with a coterie of capable guards and a frontcourt that remains something of a work in progress. But for what it is, it's still a very good team, and it will have something to say about the Big East title chase before February is out.
What it means for New Mexico
: Earlier today, I made the choice not to preview this game with nuts and bolts -- matchups and Xs and Os -- than with a sort of personal reflection on why it was kind of cool to see Cincinnati back in the top 10 after so many years spent recovering from the post-Huggins era. Some New Mexico fans took issue with this. After all, I barely mentioned their team! Who cares about you, Brennan? Preview the game!
I get it. But here's the thing: The Lobos don't need anyone to speak for them. They don't need pregame validation. They're really good. They battle, man. Steve Alford's team doesn't have one star; they just have a bunch of really solid, really locked-in guys, and that's what allows them to go into road environments like Thursday's and win these close games. They're all in. I didn't think it was possible for most college hoops fans to not already know this, but if there were, that's on them. Because you have no excuse to not know about this program by now.
In any case, this game can also be taken as a sign of the Mountain West's strength. San Diego State is great, UNLV might be the best team in the league (with one of the nation's best players,
Anthony Bennett
), Colorado State is just as good as last season, Boise State beat Creighton in Omaha, and Wyoming is one of four remaining unbeaten teams in all of college hoops. And New Mexico is New Mexico. Like the league they call home, you should intuitively respect them already. Thursday night was just another reminder.
What's next
: New Mexico's tough nonconference slate continues Monday, when the Lobos travel to Saint Louis for what will almost certainly be another defense-oriented game in another tough road environment. Meanwhile, the Bearcats have to dust themselves off in time for the start of Big East play Monday, when they travel to play the still-vastly-underrated Pittsburgh Panthers in the Peterson Events Center, one of nation's toughest gyms. How's that for a New Year's Eve?
December, 21, 2012
12/21/12
9:35
AM ET
Indiana losing gave the Mountain West a distinction: It is the only conference with two of the last unbeatens. Both the
New Mexico Lobos
and
Wyoming Cowboys
weren't supposed to be this good, this early. The Lobos have more talent than a year ago when they won the league, and so far they have been as together as any team Steve Alford has coached. And it shows in the results.

1. New Mexico
:
Kendall Williams
hurts his right ankle and it doesn't do anything but fuel him for a career-best 24 points in a win at New Mexico State. The Lobos pulled off the rare sweep of the in-state rival in consecutive games. Alford has the Lobos as a legit MWC title contender, something that wasn't considered real in the preseason. But
Alex Kirk
has answered all questions inside, and the Lobos have yet to disappoint. This upcoming stretch with games at Cincinnati and Saint Louis will be a true barometer of this squad.
2. UNLV
: Who needs
Mike Moser
? Well, apparently the Runnin' Rebels can do without him for a bit as freshman
Anthony Bennett
lit up Northern Iowa for 20 points and 12 rebounds while Pitt transfer Khem Birch contributed 11 points and nine boards in his second game since becoming eligible. Moser is due back soon, and the Rebels might have one of the most formidable frontcourts in the West. When this team is whole, it is going to be very dangerous.
3. San Diego State
: The Aztecs have won nine in a row since the opening loss to Syracuse outside on a ship. San Diego State will find out a lot about itself during the Diamond Head Classic. A possible matchup with Ole Miss and then either Arizona or Miami will give the Aztecs a true picture of where this team stands.
4. Wyoming
: The Cowboys might have a softer schedule than most in the Mountain West, but they're 11-0 and haven't really struggled much at all. The latest team Wyoming took down was Denver. Going to SMU will pose a challenge, but the Pokes could enter the conference season undefeated, needing only a few wins to at least be playing in the NIT.
5. Boise State
: The Broncos have rebounded well since the road blowout loss at Utah. Beating LSU at home and beating rival Idaho was a strong sign that the win at Creighton was no fluke.
Derrick Marks
will enter the MWC as one of the top scorers in the country. Boise State has to make sure playing in Boise is a rough trip for the other teams. There's no reason to believe the Broncos won't be a factor in this race.
6. Colorado State
: Larry Eustachy has the Rams playing stingy defense, and the challenge going forward is for this crew to win on the road. They weren't able to do that under Tim Miles on a consistent basis. The Rams got into the dance because they became a rough road game for anyone in the league. Eustachy has to ensure that still occurs.
7. Nevada
: The Wolf Pack have won three in a row and are finally finding consistency. The talent on this team is too good to be at the bottom of the conference. Nevada will find out soon enough where it stands with a road game at Oregon on New Year's Eve before starting the league season at Air Force.
8. Air Force
: The shooting is near 50 percent, and the scoring and assists are in the top 25 in the country. The Falcons have lost only twice, but whom have they beaten? They might get a rude awakening in the nonconference with a matchup next week against Florida. The rest of the coaches in the MWC talk about how tough it is to play Air Force. If the Falcons live up to that billing, then this league will deliver on being the deepest.
9. Fresno State
: The Bulldogs have hit a rough patch, unable to score more than 51 points a game. The three-game losing skid is because Fresno is offensively challenged, and fans have to be patient. Rodney Terry has this program going in the right direction, but he needs time, especially in a league that has so much quality without the quantity.