College Basketball Nation:

Alex Legion
January, 1, 2010
1/01/10
3:48
PM ET
[+] Enlarge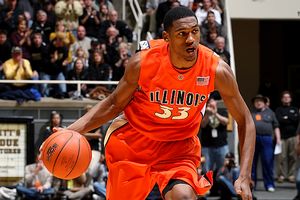 Joe Robbins/Getty Images Alex Legion is getting another chance to prove himself, this time at FIU.
Hey, more
Alex Legion
news! The former Illinois and Kentucky guard --
who never really quite caught on under Bruce Weber
, despite plenty of hype to the contrary -- has decided to take his services to Florida International, home of one Mr. Isiah Thomas. From
Fox Sports' Jeff Goodman
:
"The decision to leave the University of Illinois basketball program was difficult, however, leaving University of Illinois was in the best interest of my basketball development and collegiate career," Legion said in a statement. "I am very excited, encouraged and humbled to have the opportunity to play for and learn the professional game of basketball from coach Isiah Thomas, an NBA great and legend."
This is what Thomas can do. Will blue chip recruits want to come play at Florida International when they have their choice of any other school in the country? Probably not. But if Thomas can go this route and improve FIU almost by default. We saw it this summer, when Thomas briefly flirted with recruit
Lance Stephenson
, the uber-talented Cincinnati guard who scared away larger programs with a litany of personal issues. Thomas didn't land Stephenson, but he revealed a viable strategy in the process: Find talented players that other schools don't want or won't take, and convince them that FIU is the place to learn how to be an NBA star. This can work. This is what Thomas can do.
And hey, if it doesn't work out? Zeke can always go back to the NBA. (Just kidding. I'm pretty sure Thomas is not allowed anywhere near the NBA.)
December, 29, 2009
12/29/09
5:21
PM ET
Here's your weird story of the day:
Alex Legion
, a highly touted guard who transferred to Illinois after a year's stay at Kentucky,
is leaving the Illini
. But, but ... he just got there! What gives, dude?
There isn't much of an explanation yet. Illinois coach Bruce Weber released a statement, which said a few nice things about Legion, but included approximately zilch about why Legion would actually leave, which makes things even more confusing. And I'm not the only one.
It seems the Illini are likewise flummoxed
:
"I didn't think he was unhappy," forward Mike Davis said. "I mean, he was happy. On the court, in practice, he was in the gym, working still. At home, you didn't see any signs of sadness or anything like that. I was surprised when I heard the news. I wish him well."

"We're going to miss him," center Mike Tisdale said. "He worked his butt off in the summer and he just kind of got in a slump and it didn't work out for him and I wish him well."
Legion was a highly anticipated entrant into the Illini family. When Legion was sitting out during his transfer year,
Weber famously called Legion "Kobe
" -- in reference to, obviously, Kobe Bryant -- based on Legion's performance in practice. But in game situations, Legion has looked anything but Kobe-esque. That has a lot to do with the fact that Kobe Bryant tends to average more than nine minutes per game; Kobe typically scores more than two points per game, too. These lines are not reminiscent of Kobe Bryant. They're not even reminiscent of Alex Legion. And with the influx of young guards into Weber's system this year -- freshman
Brandon Paul
chief among them -- Legion's minutes are dwindling even further.
Clearly, Legion never seemed to find his stride at Illinois, for whatever reason. This is not the first time. And his exit from Kentucky, in which his mother claimed her son was preordained by Jesus and the Holy Spirit to play basketball at the highest levels
in a story by the Lexington Herald-Leader
, doesn't exactly portend stability.
In the end, it's hard to figure anything from Legion's transfer, except that Alex Legion sure seems to like a good transfer. Lesson, um, learned?