College Basketball Nation:

Alex Tyus
July, 1, 2011
7/01/11
12:00
PM ET
By
Diamond Leung
| ESPN.com
While much of the offseason buzz in the SEC has gone to Kentucky, it is Florida that is the defending regular-season champion in the conference. The Gators return their high-scoring backcourt of
Erving Walker
and
Kenny Boynton
from their Elite Eight team, providing them with invaluable experience in the lineup.

But who will come up big for Florida in the frontcourt now that
Vernon Macklin
,
Chandler Parsons
, and
Alex Tyus
are now in the pros?
"It's going to be a little bit of a different team for us than it has been the last two years just because we pretty much lost our entire starting frontcourt," said Florida coach Billy Donovan, who last week saw Parsons and Macklin get selected in the second round of the NBA draft.
That means
Patric Young
, the former McDonald's All-American who showed flashes of his potential as a freshman, can expect to step into the lineup and play an important role. It also means uncertainty as the status of forwards Cody Larson and
Erik Murphy
remains unclear.
They are suspended while facing burglary charges, and due to the ongoing investigation, Donovan isn't commenting much on them other than to say they are enrolled in summer school.
The Gators have some other intriguing pieces as well that will give Donovan plenty of options when forming a rotation. Incoming freshman guard Brad Beal is ESPNU's No. 4-ranked recruit. Mike Rosario will be eligible after transferring in from Rutgers.
Scottie Wilbekin
also will continue to fight for playing time in the crowded backcourt.
"It's a young team that I think has got a great attitude." Donovan said.
March, 26, 2011
3/26/11
11:46
PM ET
NEW ORLEANS -- The familiar refrain after Gordon Hayward's missed half-court shot in last year's national championship loss to Duke was this: What if the shot had gone down?
Hayward would have been an iconic figure in the sport, owner of the most dramatic basket in the history of the NCAA tournament.
Over the past year, the follow-up question would have been: How much would it have changed the sport if a team from the Horizon League had won the national championship by beating a Hall of Fame coach and a team from basketball royalty?
Well, the shot didn't go in. Duke won. Hayward is in the NBA. But Butler still changed the sport.
[+] Enlarge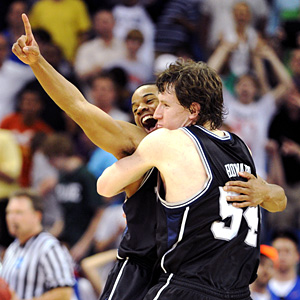 Chuck Cook/US PresswireRonald Nored and Matt Howard led Butler to another win and advance to the Final Four for the second year in a row.
The Bulldogs paved a path to get back by developing a will that once again propelled them throughout this tournament.
Butler is back in the Final Four after imposing its will in a
74-71 overtime win
over Florida on Saturday afternoon.
"Last year in Salt Lake [site of the 2010 West Regional], it was almost like a ride you never dreamed of being on and we relished every moment,'' said coach Brad Stevens, who is 10-3 in the NCAA tournament in just four short seasons as Butler's coach. "But this team has been so businesslike.''
Butler had to earn this trip more so than a year ago, when it won 24 straight games going into the Final Four. The Bulldogs lost three straight in the middle of conference play, even falling to lowly Youngstown State on the road. Butler lost five league games, ended in a three-way tie for first and had to win the conference tournament title on the road at Milwaukee.
"There was turmoil that we had to go through after falling pretty down in January and early February,'' said Butler junior guard
Ronald Nored
. "We had to earn this. It was tougher than last year.''
Against No. 9 seed Old Dominion, Butler had to win on a last-second layup by
Matt Howard
. An inexplicable foul at the end of the second half allowed the Bulldogs to barely eke past top-seeded Pitt.
"We were lucky to beat Old Dominion,'' Stevens said. "They could be sitting here. Pittsburgh could be sitting here. There's no doubt that they were great teams. That's the tournament. It doesn't matter how you win, you just try to play the next one and hope you get a chance to play the next one.''
The Florida game Saturday couldn't have gone worse for Butler early on. The Gators sprinkled in a zone with their man defense and it perplexed Butler. Florida built an 11-point lead with less than 10 minutes to go in the game and the Gators looked the part of the more experienced NCAA team, en route to its fourth Final Four under Billy Donovan.
"We got them to take shots out of character for them,'' Donovan said. "But then they found a way to come down and get another possession. The difference in the game was those 50-50 balls in the last 10 minutes of regulation.''
They're called winning plays. Butler has made them for the past few years under Stevens, and to some extent long before that under Barry Collier, Thad Matta and Todd Lickliter. Over the past decade and more, those coaches have made this one of the most consistent programs in the country.
"When you get to this point in the season, and I had this with [Joakim] Noah, [Al] Horford and [Corey] Brewer and those guys, there is an internal will and I thought then that our internal will was terrific,'' Donovan said of the Gators' consecutive championships in 2006 and 2007. "I thought [Butler's] internal will, coming down with those loose balls, being quicker in reacting, they just got it. They made plays. Their will at that point in time and their refusal to be denied speaks to something. I thought it stood out. I thought our guys were terrific in that, but maybe not as good as they were.''
The Bulldogs chipped away at that 11-point lead with plays like the gritty layup from Howard on a putback, a 3-pointer from seldom-used freshman
Chrishawn Hopkins
-- who had played in only 18 previous games and didn't play against ODU or Pitt -- and a 3-pointer by
Shawn Vanzant
. The play inside late and the rebounds Butler pulled down after being dominated all game by
Alex Tyus
and
Vernon Macklin
turned out to be the difference. After being outscored 32-14 in the paint at the point of their 11-point deficit, the Bulldogs went on to outscore UF 14-4 down low the rest of the way. Oh, and don't forget the fouls Nored and
Shelvin Mack
drew.
"What defines this Butler group was the unselfishness of Ron Nored not starting after starting during the national championship game and guarding
[Ervin] Walker
as tough as he possibly could and Shawn Vanzant tipping plays and
Khyle Marshall
and our young guys starting to figure this out,'' Stevens said.
The Bulldogs head to Houston not as underdogs, but as established members of an elite class. Michigan State went to consecutive Final Fours in 2009 and '10. Florida did it in 2006 and '07. The last mid-major school to make consecutive appearances was UNLV in 1990 and '91.
"I know this: Somebody is going to have to beat us because of our will,'' Stevens said.
If Hayward's shot had gone down, Butler would forever be known as the underdog that pulled off the impossible and won a title. Now that the Bulldogs are back on the sport's greatest stage, the headlines should read differently.
This program, this team, this school, belongs here now. Butler has earned it.
March, 26, 2011
3/26/11
6:40
AM ET
NEW ORLEANS -- Breaking down the Southeast Regional final:
No. 8 seed Butler (26-9) vs. No. 2 seed Florida (29-7), 4:30 p.m. ET (CBS)
What's at stake:
Butler is attempting to go back to the Final Four for the second consecutive season. The last time a team from a mid-major conference went to back-to-back Final Fours was in 1990 and '91 when UNLV pulled it off.
Florida is looking for its fifth Final Four appearance. The Gators are 4-0 in regional finals, winning in 1994 (when Lon Kruger was the head coach), 2000, 2006 and 2007, the final two times resulting in national titles.


Rich history:
Florida and Butler have met twice before in the Big Dance, and the Gators won both. In 2000, 5th-seeded Florida beat 12th-seeded Butler on a Mike Miller overtime buzzer-beater in the first round, en route to finishing as national runner-up to Michigan State. In 2007, the top-seeded Gators beat 5-seed Butler by eight in the Sweet 16. That matched UF's smallest margin of victory in the tournament, as the Gators won their second straight national title.
Hot streak:
After a humbling loss to Youngstown State on Feb. 3, Butler hasn't lost since, winning 12 straight. The Gators have won 13 of their last 15.
Path to the Elite Eight:
Butler beat Old Dominion (60-58) and Pitt (71-70) on last possessions before opening up a 20-point lead on Wisconsin and the holding on for the 61-54 win. Florida coasted past UC Santa Barbara (79-51), outlasted UCLA (73-65) and then beat BYU in overtime (83-74).
Experience:
Florida returned all five starters from last season's NCAA tournament team, which lost in the first round to BYU. Butler has four players who played significant minutes on the national runner-up team last season.
Remarkable stat:
Florida hasn't had a player foul out this season -- the only Division I team that can make that claim in 2010-11.
Tough matchups:
Butler junior guard
Ronald Nored
will have to take on Florida's
Erving Walker
after guarding Wisconsin's
Jordan Taylor
.
"Erving Walker is definitely a lot smaller than Jordan Taylor, but he's so quick,'' Nored said. "He can get by you and finish over you at his size. He can shoot the ball really well. In some ways, they're similar but their sizes are a little different, so you can guard Erving with a hand in the face and make him shoot quicker.''
Chandler Parsons
will be part of a committee with
Vernon Macklin
and
Alex Tyus
that will have to defend Butler's
Matt Howard
.
"He's very difficult to guard,'' Parsons said. "He's one of the most physical players in the country and he plays smart and just relentless and he doesn't stop and he's got a really good motor. So a guy like him, he just battles for 40 minutes and you're not going to get anything easy with him just because his effort is off the charts.''
Injury update:
Butler center
Andrew Smith
writhed in pain, clutching his left knee late in the Bulldogs' win over Wisconsin. He said after the game that his left knee was swollen, but he would play Saturday. But on Friday, the Bulldogs said it was his ankle, not his knee. Regardless, he was held out of Friday's practices and Butler will assess his status for Saturday's game prior to the tip. But he's planning on playing in some form.
X-factor:
Of course, Butler's
Shelvin Mack
and Howard have to score and board, Nored must defend on the perimeter and Smith will need to do the little things up front. But the difference could end up being
Khyle Marshall
, the freshman forward off the bench. He scored seven points and grabbed seven rebounds, blocked a shot and came up with a steal in 18 minutes against the Badgers. Marshall's length and athleticism will be needed against the Gators' frontline. UF has scored 100 points in the paint in three tournament games, while Butler has yielded just 52 points inside.
The Gators will get the requisite production out of their starting five. But keep an eye on the production from two reserve forwards. Newcomers
Patric Young
and
Will Yeguete
will be significant factors in this game if they can get key offensive putbacks and defend Howard inside. They offer up a combined 10 fouls to offset Macklin and Tyus, and Young is probably the strongest of the group that can handle the scrappy Howard.
Reality check:
For everyone constantly wanting to put the Bulldogs in this tidy little box and say how cute and cuddly it is that they are about to reach the Final Four again, just think about the experience in this moment for both teams.
"Butler has been here before and this is our first time here overall,'' Florida guard
Kenny Boynton
said. "They are a physical team and I think it's going to come down to the wire. We have to play hard for the full 40 minutes.''
Added Walker, "This is a dream, but you can't get caught in it. You have to be awake. Butler is a great team we have to come out and play our game. We don't expect it to be easy and it should be a tough challenge.''
And from the Butler side:
"This is business,'' Mack said. "You want to get back to that stage and try to enjoy it.''
"Last year was more of a whirlwind because we hadn't done it before,'' Howard said. "Having been there before, at least to this point, you learn how to manage it and deal with it.''
March, 24, 2011
3/24/11
10:01
PM ET
NEW ORLEANS -- The Jimmer show closed its college tour in New Orleans on Thursday night.


Florida outlasted BYU
83-74
in overtime to advance to its first Elite Eight since winning consecutive national championships in 2006 and '07. BYU's quest for its first Final Four appearance is over.
Jimmer Fredette
was hounded throughout the game, especially in the first half as the Gators continued to rush two players at him at the top of the key, forcing him to drive to the basket. Fredette finished with 32 points but was just 11-for-29 overall, 3-of-15 on 3-pointers. Fredette simply never found a rhythm from long range. The 15 3-point attempts were a career high. There were times when Fredette was forcing his shot and not looking to pass to the rest of the team -- most notably the hot hands earlier in the game.
But the story of the game was the way the Gators made the plays at the end (outscoring BYU 15-6 in OT) and controlled the backboard when it mattered most.
Alex Tyus
had the game of his life with 19 points and a career-high 17 rebounds.
Vernon Macklin
may have struggled at the free throw line (1-of-5) but he still came up with a few key buckets.
The Gators' guards were better than BYU's when the game was on the line as
Kenny Boynton
(17 points) and
Erving Walker
(16) made key buckets down the stretch.
Key play in the game:
Walker chased down a huge loose-ball rebound off a Boynton missed 3-pointer at the end of regulation.
Chandler Parsons
ended up missing the shot at the buzzer, but it prevented Fredette from getting the last shot of the game.
Key stat:
Hard to ignore that the Cougars missed 17 3-pointers. Fredette missed 12 by himself, which was three more than he's ever missed in a game.
Miscellaneous:
Florida lost to BYU in double overtime a year ago in the NCAA tournament and previously had been 0-3 all-time against the Cougars. ... The Gators are now 13-2 in their past 15 games and advance to their fourth Elite Eight since 2000. Since 1975, they are 9-2 in Elite Eight games and beyond.
What's next:
BYU is done and will join the WCC next season. Florida moves on to the regional final and awaits Butler or Wisconsin.
March, 24, 2011
3/24/11
8:10
AM ET
NEW ORLEANS -- A quick glance at the Florida-BYU game:
No. 3 seed BYU (32-4) vs. No. 2 seed Florida (28-7), 7:27 p.m. ET (TBS)


Storyline:
Rematch of a thrilling double-overtime win for BYU in last season's NCAA tournament first round.
Headline name:
BYU's
Jimmer Fredette
. The national player of the year favorite scored 34 points in the win over Gonzaga in the Round of 32 and 32 points in the opening win over Wofford.
How to stop him:
Florida coach Billy Donovan said no one talks about how good a passer Fredette is in setting up players like
Jackson Emery
and
Noah Hartsock
and
Charles Abouo
. If the rest of the Gators are committed to stopping Fredette, they have to make sure the other BYU players are not that effective.
"Let's see what they'll do with Jimmer's ball screens,'' BYU coach Dave Rose said. "The rest of our team will react to that. If they're going to come off that ball screen and just trap him and make him get the ball out of his hands, then we're going to be playing with an advantage the whole night because we'll have four offensive players attacking three defensive players.
"If they're going to go underneath that thing, then Jimmer is probably going to get a couple of shots off,'' Rose said. "So we all know, the whole team understands, what the first few minutes are.''
Injury update:
Florida's
Kenny Boynton
injured his ankle in the win over UCLA. He was held out of practice but is good to go against the Cougars.
"We expect him to be fine,'' Donovan said. "We just held him out to make sure he could move, cut, shoot and see if there was any lasting effect from the injury. There didn't seem to be.''
Glue guys:
The Cougars may need some quality play from
Logan Magnusson
off the backboard or
Stephen Rogers
. But the Gators could do wonders against BYU if
Patric Young
(eight points, four rebounds) or or
Erik Murphy
(key 3-pointer) have games like they did against UCLA.
Who should win:
Florida. The Gators have more overall depth and the potential for more production at various positions.
But...:
Never underestimate Jimmer. BYU is playing with its most confidence since the Brandon Davies suspension for an honor code violation three weeks ago. BYU has now played seven games without Davies.
What should we be looking for:
If Florida's
Vernon Macklin
and
Alex Tyus
control the boards, the Cougars are in trouble.
If Emery and Abouo are making 3s and
Erving Walker
and Boynton are not, the Cougars should be in good shape since we all know Jimmer is going to get his points.
March, 24, 2011
3/24/11
12:30
AM ET
NEW ORLEANS -- During last year's NCAA tournament, the Northern Iowa upset of Kansas dominated the first weekend. Butler's dramatic wins in Salt Lake City upstaged that effort in the second weekend.
And then Butler did it again by nearly pulling off the improbable against Duke in the national title game with Gordon Hayward's final two shots just off line in a 61-59 loss.
But there was one game during the NCAA tournament last year that gets lost. Its significance does not.
BYU beat Florida in double overtime in Oklahoma City in the first round.
The Gators were back in the NCAA tournament following a two-year hiatus in the wake of consecutive national championships in 2006 and 2007, when they became the first school to accomplish the feat since Duke did it in 1991 and '92.
[+] Enlarge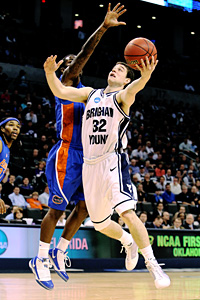 Ronald Martinez/Getty ImagesAs he did last March against BYU's Jimmer Fredette, Kenny Boynton always checks the opponent's most dangerous scorer.
It was also a chance for the mainstream sporting public to grasp onto
Jimmer Fredette
's overall talent as he scored 37 points.
Florida used that game as a springboard into this season. The Gators were preseason picks to win the SEC East and the overall conference title, which they did on the way to a No. 2 seed in the NCAA tournament.
BYU used the momentum of that win, even though it lost to Kansas State in the next round, to build for this season. Fredette was a first-team All-American in the preseason, and then ended the regular season as one of three favorites to win national player of the year. He has already been tabbed player of the year by one publication -- the Sporting News on Tuesday. The Cougars were a top-three team prior to Brandon Davies violating the school's honor code, and ended up still grabbing a No. 3 seed in the Southeast.
So here they are again, this time meeting in the Sweet 16 with Houston and the Final Four within their sights. The region is wide open since the other game in the bracket is Butler-Wisconsin, both quality clubs but neither unbeatable for the Gators or Cougars.
"We had so many careless turnovers that led to easy baskets in that game,'' said SEC Player of the Year
Chandler Parsons
of Florida. "We've got a good understanding from playing them last year. It's not just Jimmer Fredette. The other guys are really good and understand their roles. We're not just focused on Jimmer."
"Yeah, I think a lot of people lose sight of just how good the other guys are playing off Jimmer,'' Parsons' fellow senior
Alex Tyus
said. "I feel like the key to doing a good job on them is to stop the other guys, too.''
Parsons said the Gators aren't focusing on last year at all. He referenced the new personnel on both teams.
Florida coach Billy Donovan raved about Fredette, especially his work ethic, and sees a bit of himself in Fredette's attention to detail. He also complimented the undervalued role players like
Jackson Emery
,
Noah Hartsock
and
Charles Abouo
.
Donovan stressed that they weren't playing the same team as a year ago and told his team that the Cougars are a better squad this season.
"We realize going into this game that we're going to have to play a lot better than we did a year ago in a game that we didn't win,'' he said. "Coming out of that game, we can probably at least have a feel of size and athleticism. There is familiarity.''
BYU coach Dave Rose echoed that sentiment.
"The familiarity in terms of playing them last year allows our guys to understand that it will take a great game for us to come out with a win,'' Rose said. "We played one of our better games of the year last year and we were able to win by one point in overtime, in double overtime, so we understand the challenge.''
The Gators were desperate to make the NCAAs last season and did so by the slimmest of margins. The quality showing gave Florida something to build on this season. But as Donovan said in the preseason, this collection of players still hadn't won an NCAA tournament game so it was still motivation for this season.
Falling short to the Cougars in the NCAAs was a huge chip for Donovan to play. For BYU, the win somewhat legitimized the Cougars and Fredette more on the national stage after losing to Texas A&M in two consecutive NCAA tournament first-round games. It was the school's first NCAA tourney win in 17 years.
And now the stakes are even higher. The winner will play for a spot in Houston on Saturday. With two more wins, BYU can make program history with its first appearance in the Final Four and Fredette can elevate himself to iconic status in the Beehive State. Florida's seniors, Parsons and Tyus, can create their own legacy in Gainesville after coming in under the shadows of back-to-back titles.
The BYU-Florida game a year ago did wonders for both programs.
This rematch can do even more for the winner.
March, 23, 2011
3/23/11
6:46
PM ET
Here's Part 2, the Southeast, in our Know-It-All's Guide to the Sweet 16. Click here for Part 1, which previews the West region.
No. 3 BYU vs. No. 2 Florida
Thursday, 7:27 p.m. ET (New Orleans)


Breakdown:
If I had to guess, I'd say the most popular question in any ESPN.com college hoops chat is "Who do you think will win and why?" My
chat Monday was no different
. By far the most frequently asked question -- it was the first one I answered, after all -- was about BYU-Florida. The question, basically, boiled down to this: "Didn't BYU beat Florida in the first round last year? Why should this year be any different?"
Well, besides the fact that it's been more than a year since that game happened, there are a few reasons:
1. Florida is better in every way. It's true that the Gators, who returned five starters from last season's so-so team, aren't all that different in 2011. What isn't true is that this team is somehow the
same
team that got Jimmered last March. In fact, the Gators have evolved into a much better, more comprehensive version of themselves. They still rely on low-post play and offensive rebounding, and they're still not the best 3-point shooting team in the country, but they are better in each of those categories.
2. This BYU team is different, too. Whether it's much better is up for debate. The college hoops universe has spent much of the 2010-11 season in the throes of Jimmer Mania, and for good reason:
Jimmer Fredette
is (probably) the best player in the country. But, believe it or not, he was actually more efficient last season. He also took far fewer shots; Fredette hovered in the top 60 in usage rate last season, but this season he's No. 2 in the nation in usage rate and No. 1 in the nation in shot percentage, i.e., the percentage of available shots he takes for his team. That statistic has only grown more notable in recent weeks, as BYU coach Dave Rose has responded to the loss of forward Brandon Davies by shifting even more of his team's offensive responsibility to Fredette. You might not have thought this was possible, but apparently it was.
This could be read a couple of ways. You could make the argument that BYU's offense is less versatile this season, that the loss of Davies makes the Cougars essentially a one-man team. (That's not entirely fair, as
Jackson Emery
,
Noah Hartsock
and
Charles Abouo
are plenty capable, too, but when any player takes 38 percent of your shots, it's worth pointing out.) You also could argue that Florida's defense, which is OK but not great and which was torched by Fredette for 37 points last March, is even more vulnerable against this season's Jimmer -- a once-in-a-generation player with an entire offense designed around his unique ability to score.
Simply put, the Gators have to control the game. You can't run up and down with BYU. You have to make Fredette grind it out in the half court, and you have to do your best to pressure him with multiple defenders without giving up easy looks for Emery and Hartsock. (It will be interesting to see whether Billy Donovan puts the 6-foot-10
Chandler Parsons
on Fredette. That could be a fascinating matchup.)
On the offensive end, UF's guards --
Kenny Boynton
and
Erving Walker
, especially -- have to avoid the temptation to launch 3s against BYU's zone, something the inconsistent duo has been unable to do for much of their time in Donovan's backcourt. Lots of 3s equal long rebounds, and no team in the nation is better at running off long rebounds than Brigham Young. The Gators have to play to their strengths: Parsons has to work to the rim,
Vernon Macklin
needs touches inside, and
Alex Tyus
and
Patric Young
have to corral offensive boards.
Sure, these two teams are similar to last season's squads; the personnel are too similar for that not to be the case. But that's no guarantee of a similar result. By most measures, Thursday's game seems like a toss-up.
Impress (or annoy) your friends:
"Everybody hopped on the Jimmer bandwagon this season, but I've been into him since his sophomore year. I think my favorite Jimmer season was probably last year -- he didn't have as much hoopla, but real college basketball fans would know he was slightly more efficient last season. Now he's just so ... mainstream. Although this season did give us
the Jimmer Facebook thread
. Wait, what? Hand me that laptop; you guys gotta see this."
No. 8 Butler vs.
No. 4 Wisconsin
Thursday, approx. 9:57 p.m. ET (New Orleans)


Breakdown:
After you get done being a Jimmer Fredette hipster (not to be confused with "hoopster," i.e., a person who wears an ironic vintage jersey to Pitchfork every year), you can extend your detached, knowing commentary to this game, where it will take a genuinely dedicated basketball fan to appreciate the style of basketball being played by both teams.
In other words: This is not going to be an up-and-down thriller. Butler's defensive style -- the strategy that took the Bulldogs all the way to the national championship last year -- eschews offensive rebounding in favor of preventing transition buckets and forming a defensive shell in the half court. That style has worked again this March. Butler isn't the elite defensive team it was in 2009-10 -- there's another factoid to keep in your pocket -- but the Bulldogs have been greatly helped by the return of guard
Ronald Nored
, who takes a unique level of pride in his ability to hassle opposing teams' star guards.
Stylistically, Wisconsin is a great matchup for the Bulldogs. Bo Ryan's team is the slowest in the country. The Badgers prefer to walk the ball up the floor, take as much off the shot clock as possible, and get any number of good looks out of the swing offense that Ryan has perfected in his remarkably consistent run in Madison. This season, Wisconsin has more than the system --
Jordan Taylor
can create and make shots from just about anywhere on the floor, and
Jon Leuer
is a ruthless, versatile interior -- but even with all that offense, the Badgers won't be looking to speed up anything.
So, no, Butler won't have to hurry back down the floor. This game will be played at a glacial pace. That means a low-scoring, tight affair, one in which the margin will never be more than a few possessions and one that will come down to a handful of key plays late in the game. That's how both teams got here -- Wisconsin barely outlasted Kansas State in the final moments Saturday, and let's not go into that Butler-Pittsburgh finish -- and that's how the winner will advance Thursday night.
Impress (or annoy) your friends:
"Do you guys read the New Yorker? A couple of years ago, Malcolm Gladwell wrote a piece about how undermatched teams should play hectic, up-tempo basketball to change the strategy of the game. I'll
send you the link
.
"I agreed with Gladwell on his premise -- if you're an underdog, you have to be different -- but disagree with his prescription. Just look at Wisconsin. If I ran a team that hardly ever lands elite recruits, I would do what Bo Ryan does. I'd get guys who never turn the ball over, who don't need a disproportionate number of touches on offense, who almost always make their free throws and who don't care whether we play fast or slow. And then I'd learn the swing offense and make my team walk the ball up the floor. Man, I could totally be a college basketball coach."
March, 19, 2011
3/19/11
2:39
AM ET
TAMPA, Fla. -- A look at today's games in Tampa:
No. 5 seed West Virginia (21-11) vs. No. 4 seed Kentucky (26-8), 12:15 p.m. ET (CBS)


Kentucky player to watch:
Junior
Darius Miller
doesn't get as much attention as freshmen
Brandon Knight
and
Terrence Jones
, but he might have been UK's most important player down the stretch. In the past 10 games, Miller is averaging 15.6 points. He had 17 points on 6-for-11 shooting in the Wildcats' 59-57 victory over No. 13 seed Princeton in the second round on Thursday, after a solid performance in three games in the SEC tournament. At 6-foot-7, Miller is a tough defensive matchup for opponents. He can shoot from the perimeter, score off the dribble and post up in the paint. WVU coach Bob Huggins might assign
John Flowers
, his best defender, to guard Miller because he's a three-way threat.
West Virginia player to watch:
Senior guard
Casey Mitchell
is West Virginia's leading scorer with 13.7 points per game, but he's been noticeably quiet over the past few weeks. Mitchell scored only nine points on 2-for-8 shooting in a 67-61 loss to Marquette in the Big East tournament, and then had only four points on 2-for-6 shooting in an 84-76 win over Clemson in an NCAA second-round game on Thursday. Mitchell makes 37.8 percent of his 3-pointers, but he isn't playing with much confidence right now.
Stat that matters:
1-8: Kentucky coach John Calipari's record versus West Virginia coach Bob Huggins.
Three things to watch:
1. West Virginia's defense:
The Mountaineers upset the Wildcats 73-66 in the Elite Eight last season, earning their first trip to the Final Four since 1959. West Virginia struggled to guard UK with a man-to-man defense early in the game, so Huggins switched to a 1-3-1 zone. UK never solved the zone, missing its first 20 3-point attempts before finishing 4-for-32 from behind the 3-point line. Of course, West Virginia had longer wing players like Da'Sean Butler and Devin Ebanks to defend the perimeter a year ago.
"[Last year], a lot of their shots were contested, under duress from the 1-3-1," Mountaineers guard
Joe Mazzulla
said. "We got them off of the 3-point line and probably a few steps back. That's just what we've got to do tomorrow. We can't let them get standstill shots and we can't let them set their feet. If we can make them rush their 3-pointers, and if we can get a hand in their face, then hopefully it'll be the same result."
2. Kentucky freshman Brandon Knight:
The UK point guard was one of the country's best freshmen, leading the team with 17.5 points and 4.2 assists per game. But Knight has struggled from the floor over the past couple of weeks, shooting only 32.4 percent in his past six games. Knight hit the winning shot with two seconds left in the victory over Princeton, but missed his first seven shots in the game and never looked comfortable.
"At the beginning of the game [Thursday], guys around me were knocking down shots," Knight said. "A lot of guys were finishing. Darius was on a roll. So at that point in the game, I didn't really have to shoot the ball a lot. We were doing just fine."
3. Kentucky's bench:
The Wildcats really use only six players, with five players averaging 30 minutes or more and senior
Josh Harrellson
playing about 28 minutes per game. Reserves
Eloy Vargas
and
Jon Hood
rarely leave the bench. West Virginia's bench is about four players deep, as nine Mountaineers average 8.5 minutes or more. WVU's reserves -- guards Mitchell,
Jonnie West
and
Dalton Pepper
and forward
Deniz Kilicli
-- combined for 28 points in the victory over Clemson.
No. 7 seed UCLA (23-10) vs. No. 2 seed Florida (27-7), approx. 2:45 ET (CBS)


Florida player to watch:
Senior forward
Chandler Parsons
was named SEC Player of the Year without even leading the Gators in scoring. He was third on the team with 11.5 points per game, but led UF with 7.8 rebounds and 3.7 assists per game. During the Gators' 79-51 rout of No. 15 seed UC Santa Barbara in the second round, Parsons finished three rebounds short of recording a triple-double. In 27 minutes, he had 10 points, seven rebounds and 10 assists.
UCLA player to watch:
It's impossible to miss freshman center
Josh Smith
, who is 6-10 and 323 pounds. The Washington native lost 40 pounds during the offseason and is averaging about 21 minutes per game. After playing off the bench during the past 10 weeks, Smith started against Michigan State on Thursday and had 14 points, three rebounds and two steals in the Bruins' 78-76 victory.
"I think when you see somebody that big physically and that strong, the feeling is maybe they don't move quite as well or they can't jump as well," UF coach Billy Donovan said. "But he really does a terrific job moving his feet for a guy that size. I also think the other thing that makes him a special player is he's got great hands. I think when balls are up on the glass, he's going to grab it."
Florida's big men --
Vernon Macklin
,
Erik Murphy
,
Alex Tyus
and
Patric Young
-- will have their hands full trying to handle Smith.
Stat that matters:
0 -- Points scored in NCAA tournament games by UCLA's players before Thursday night's victory over Michigan State.
Three things to watch:
1. Malcolm Lee's defense:
The UCLA junior is one of the country's best defenders and will gladly accept the challenge of slowing down Florida guards
Kenny Boynton
and
Erving Walker
. In the Bruins' narrow victory over Michigan State, Lee harassed Spartans senior
Kalin Lucas
throughout the game. Lucas missed his first 10 shots and had four turnovers. He finished with 11 points on 4-for-14 shooting in his final college game. Lee is playing with a slight cartilage tear in his knee and even needed staples to close a wound on his scalp on Thursday night.
"I've said before I think Malcolm is the best defender at his position in the country," UCLA coach Ben Howland said.
2. UCLA's foul shots:
The Bruins shot foul shots well at the end of the regular season, but their work at the foul line nearly cost them a victory over the Spartans on Thursday night. The Bruins made only 30 of 47 free ones against MSU, missing 13-of-28 in the second half. In the final 5 minutes, 19 seconds, UCLA went 12-for-22 from the foul line, which helped allow the Spartans to nearly come back from a 23-point deficit. The Bruins are shooting 68.1 percent from the charity stripe as a team, and forward
Reeves Nelson
and Smith are both shooting about 61 percent.
3. Florida's experience:
The Gators start three seniors, although they hadn't won an NCAA tournament game until routing the Gauchos on Thursday night. The Bruins, who have been forced to rebuild after losing a boatload of players who helped them reach three straight Final Fours from 2006 to '08, don't have a senior on their roster. The Bruins sometimes make mistakes typical of young teams, like turning the ball over and missing foul shots. Can Florida's veterans take advantage of UCLA's youth?
March, 1, 2011
3/01/11
10:49
PM ET
GAINESVILLE, Fla. -- When
Chandler Parsons
arrived at Florida four years ago, he figured the Gators would be winning championships and rings every season, just like they'd done the previous two years.
"My freshman season was a reality check," Parsons said. "We thought we knew everything."
It was a reality check for Florida's program, too. After winning back-to-back national championships in 2006 and 2007, the Gators haven't won an NCAA tournament game since.
Until Tuesday night, Florida hadn't even won an SEC championship since the greatest class in school history left for the NBA draft in 2007.
But after blasting SEC West leader Alabama
78-51
in front of 12,225 fans at the O-Dome, the Gators earned at least a share of the SEC regular-season title. Florida can take it outright by winning its regular-season finale at Vanderbilt on Saturday (or if Alabama loses to Georgia).
"It's been pretty tough," Florida senior
Alex Tyus
said. "We've been through a lot. Right now, we're just trying to enjoy this moment. We're really excited we left something behind that people will remember. It's exciting to win a championship and get rings and all that other stuff."
When Parsons and Tyus arrived in Gainesville in 2007, the Gators were coming off one of the greatest runs in college basketball history. From 2004-05 to 2006-07, Florida went 92-19 and won 12 straight NCAA tournament games to win consecutive national titles.
When Parsons and Tyus arrived in Gainesville as freshmen, there was really only one direction for the Gators to go.
[+] Enlarge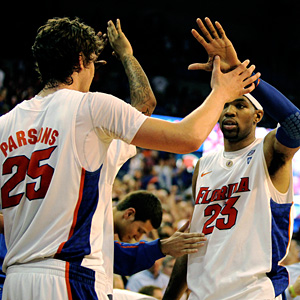 Kim Klement/US PRESSWIRESeniors Chandler Parsons, left, and Alex Tyus (23) celebrate during a second half in which Florida outscored Alabama 48-21.
Try jumping into Michael Phelps' lane after he won eight gold medals at the 2008 Summer Olympics, or into Jimmie Johnson's car after he won five consecutive NASCAR championships.
It isn't easy.
"We came in here after one of the greatest college teams ever," said Parsons, who scored 19 points with 11 rebounds against Alabama. "I don't think we had too many expectations, but we learned from those situations. We got humbled and hardened."
From the start, Gators coach Billy Donovan wondered if Parsons and Tyus would ever be tough enough to lead his teams to championships. Donovan knew the pair wouldn't be as good as departed stars like Corey Brewer, Al Horford and Joakim Noah, but he even wondered if Parsons and Tyus would work hard enough.
"I give them credit because they really battled through a lot of adversity," Donovan said.
Florida missed the NCAA tournament in each of Parsons' first two seasons, losing in the NIT semifinals in 2008 and NIT quarterfinals in 2009.
Along the way, Donovan butted heads with his players. Former UF point guard
Jai Lucas
-- who was picked to replace Taurean Green -- left for Texas shortly before his sophomore season in 2008-09.
Forward
Adam Allen
-- the fourth member of Donovan's 2006-07 recruiting class -- hadn't played in a game this season before dribbling out the final seconds of Tuesday night's blowout of the Crimson Tide. He has been plagued by knee injuries throughout his career.
"I didn't know three or four years ago if a day like this would be possible," Donovan said. "For them to walk out of here with a share of an SEC championship is really rewarding. They've come such a long, long way as players. I didn't enjoy the process two years ago, but they really figured things out."
More than anything, Donovan said, Parsons and Tyus finally figured out what it would take to win a championship.
"I don't think people understand that just because you're a year older [doesn't mean] you're a year better," Donovan said. "Part of growing and getting better is that when you make mistakes and don't do things right, you address it. That was my biggest issue -- as freshmen, they refused to address the issue. My issue was they weren't competitive enough and didn't practice hard enough."
Donovan believes his team turned the corner last season, after high-scoring guard
Kenny Boynton
and Georgetown transfer
Vernon Macklin
were added to a nucleus of Parsons, Tyus and guard
Erving Walker
.
Florida finished 2009-10 with a 21-13 record, losing to BYU 99-92 in double overtime in an NCAA first-round game in Oklahoma City. Cougars star
Jimmer Fredette
lit UF up for 37 points, including two 3-pointers in the second overtime.
"I thought the last two years the team was really moving in the right direction," Donovan said. "The two years before that, I didn't think we were moving in the right direction."
As for Alabama, its 27-point loss was a potentially devastating blow to its NCAA at-large hopes. The Crimson Tide came into the game with an RPI rating of 87. Bama's profile has been damaged by its low schedule strength (175) and dearth of quality wins (14 of its 19 victories came against teams ranked No. 120 or worse in the RPI). The Tide also suffered unsightly losses to teams like St. Peter's, Seton Hall and Iowa.
Then came Tuesday night's nightmare, which couldn't have come at a worse time. Alabama might have to win Saturday's home finale against Georgia and reach the finals of next week's SEC tournament in Atlanta to have a realistic chance at an at-large bid.
"It's only one game," Crimson Tide coach Anthony Grant said afterward.
But it was a game that will be remembered for a long, long time in Gainesville.
"I couldn't think of a better ending," Parsons said.
August, 6, 2010
8/06/10
2:14
PM ET
For the next month or so, our friends at The Mag are previewing one high-profile school per day for their Summer Buzz series. For the sake of all that is synergistic, yours truly will be attempting the same, complementing each comprehensive Insider preview with some adjusted efficiency fun. Today's subject? Florida. Up next? UCLA.
The 2010-11
Florida Gators
are an interesting proposition.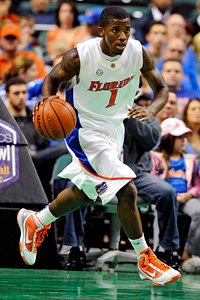 Richard C. Lewis/Icon SMIKenny Boynton averaged 14 points per game for the Gators last season.
In many ways, this is the same team that had an improved 2009-10 season. Last year's Gators were better than recent incarnations, and their season culminated with the program's first appearance in the NCAA tournament since the Joakim Noah-led glory years.
But that improvement, while real, was merely marginal. The Gators were a bubble team for most of the season, and they weren't especially impressive on either side of the ball.
Florida ranked
No. 32 in adjusted offensive efficiency (112.6 points per 100 possessions) and No. 67 in adjusted defensive efficiency (94.9 allowed).
Nor were the Gators at all deep. Four players --
Erving Walker
,
Kenny Boynton
,
Chandler Parsons
, and
Alex Tyus
-- played more than 70 percent of the Gators' available minutes last season, and all four used more than 21 percent of their team's possessions. All four are back in 2010-11.
In other words, if you're trying to project the 2010-11 Florida Gators' season, you'd do well to start in 2009-10. This year's Gators are going to look a lot like last year's.
That doesn't mean fans should necessarily expect the same season, however. For one, Boynton is taking the freshman-to-sophomore leap that can oftentimes yield a player's greatest stretch of improvement. Boynton is a skilled scorer who can get his shot against anybody; if his jumper becomes more efficient, he could have a big-time sophomore season.
It's also worth noting that, you know, sometimes veteran cores with years of experience playing together just ... get better. It's much harder to quantify than pace or adjusted efficiency, of course. But it is something.
Also,
Chandler Parsons is (somehow) getting taller
. So there's that, too.
More than anything, though, the Gators' chances of improving will rest largely on the contributions they get from
yet another talented Billy Donovan recruiting class
-- on the defensive end, specifically. The Gators will welcome 6-foot-9 forward
Patric Young, the No. 13-ranked player in the 2010 class
, as well as
the No. 35-ranked Casey Prather
, a 6-foot-6 small forward. ESPNU's recruiting analysts have raved about both players' defensive abilities, calling Young "the best all-around post defender" in the 2010 class. Prather, meanwhile, is "one of the top on-ball defenders in this class nationally."
That qualifies as very good news for the Gators. Florida was efficient enough on offense last season, but it was merely mediocre on defense. In fact, were it not for a very impressive ability to keep its opponents away from the free throw line -- Florida was the No. 13-ranked team in opponents' free throw rate -- the Gators would have been downright bad.
Adding two players of Young and Prather's skills -- especially Prather, who can add defensive skill and depth to Florida's backcourt in one fell swoop -- is exactly what the Gators need.
If those recruits can blend into what is already a well-defined Florida core, and that core improves as it should, Florida could have its first legitimate postseason run since the title years. Last year was nice, but the 2010-11 Gators -- much the same, but, as Florida fans will hope, a little different, too -- ought to be worth the watch.
May, 10, 2010
5/10/10
2:04
PM ET
NCAA coaches got what they wanted: a mostly stress-free May and early June.
No one can whine anymore about an early-entrant testing the draft process and holding the program hostage for two months. The NCAA's deadline passed Saturday, and the with the official early-entry list forthcoming from the NBA this week, the uncertainty of rosters -- save a few late recruits -- is no longer an issue for 2010-11.
Some of the programs either hit or salvaged from the decisions had obvious consequences. Earlier in the blog, I discussed the impact on
Kentucky
and the rising programs at
NC State and Richmond
. Here are some quick takes on 10 other schools affected in some way by the draft process:
There's no question that the NCAA's decision to cut back from two months to 10 days had a positive affect for coaches. Players who normally may have had time to work out and move up on the second- or first-round board didn't have a chance. There were barely any workouts to be had, so the players didn't get a true chance to test the draft process.
For some likely first-round players, it didn't matter as they were leaving anyway with the fear of a lockout and a lower rookie salary scale in 2011 and beyond. For many others, however, the lack of workout opportunities and inability to go to the NBA-sponsored Chicago draft camp probably forced them to return to school.
That's good for the coaches and their nerves, but is it good for the players and the overall process? That's debatable.
What's not is that it's the new reality.
May, 8, 2010
5/08/10
3:51
PM ET
NBA draft boards are safe.
Saturday's NCAA-imposed deadline to withdraw from the NBA draft (international players still have until June 14) didn't produce any last-minute decisions that will affect the first round, but that's not the case for the preseason top 25 in men's college basketball.
[+] Enlarge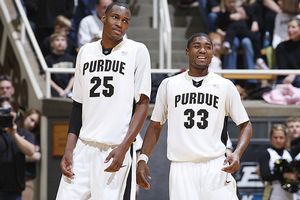 Joe Robbins/Getty ImagesBoth JaJuan Johnson (left) and E'Twaun Moore will be staying in Purdue.
None of the players who were still mulling over decisions would have affected the first round of the NBA draft. On Friday night, the official decisions of Kentucky freshmen
Daniel Orton
and
Eric Bledsoe
put two more undecided early-entrants in the first round. But on Saturday, the most anticipated decision came out of West Lafayette, Ind., where
JaJuan Johnson
and
E'Twaun Moore
told coach Matt Painter they will return for their senior seasons. The Boilermakers, with the return of
Robbie Hummel
, will have what is likely the most experienced and productive trio returning of any power-six club.
Staying in the Big Ten, Illinois desperately needed
Mike Davis
and
Demetri McCamey
to come back to school after a season in which the Illini just missed out on the NCAA tournament. Losing one of their productive forwards and their most experienced guard would have crushed Bruce Weber's team, even though there is an influx of young talent there. Neither Davis nor McCamey were considered first-round draft picks.
With these decisions, the Big Ten likely will receive considerable hype as the nation's best conference for the second preseason in a row. Purdue could be a preseason No. 1, Michigan State will be right on its heels, and Ohio State (with its loaded recruiting class), Wisconsin, Minnesota, Illinois and Northwestern (which gets back
Kevin Coble
from a season-ending foot injury) are all capable of contending and making the NCAA tourney.
In the ACC, Virginia Tech's
Malcolm Delaney
decided Friday night to return to school. It was a good move. He wasn't a first-round pick, but he's certainly one of the top guards in the conference and gives the Hokies, who return nearly their entire team, a chance to be a top-25 team next season.
New Mexico figured it would lose leading scorer
Darington Hobson
, and it did, meaning the Lobos will have to start the season again having to prove themselves as a Mountain West title contender. Xavier figured it was going to go into next season without
Jordan Crawford
, and it will, meaning the Musketeers will need to find another headline act. But the Musketeers' program hardly lacks for talent and it's never wise to overlook this team in the preseason.
Richmond received news that it can still be competitive in the A-10 with conference player of the year
Kevin Anderson
's return. The Spiders would have had to rebuild had they lost both Anderson
and
senior
David Gonzalvez
. Temple would have faced a similar situation had
Lavoy Allen
not come to his senses and returned to school.
Alex Tyus'
father and uncle both told the local press recently that they felt Tyus was a natural small forward, that he was being underutilized at Florida and that he should declare -- even go overseas if he wasn't drafted. He apparently didn't listen. Tyus, who wasn't a first-round pick and might not have been a second-round pick, will return as a solid role player for a team that will challenge for the SEC East title. Florida may not have cried if Tyus had left, but it would have taken another system player out of the mix. His return allows the Gators to go through the offseason without a distraction, unlike when Marreese Speights left early in 2008 and Nick Calathes bolted for Greece in 2009.
Meanwhile,
Kenneth Faried
's decision to stay at Morehead State means one of the better talents in the country will shine more of a spotlight on the Ohio Valley next season. Faried had a shot to alter the draft board in the latter part of the first round, but is just one less name for NBA personnel to sweat over during the next six weeks.
May, 7, 2010
5/07/10
4:51
PM ET
The NBA retired players association reached out to the NCAA to see if there was interest in a combine for early entrants to test the draft process.
According to Charles Smith, the retired players association executive director, there was no interest in having one during the 10 days underclassmen have now been allotted to see where they stand before making a decision on whether to stay in the draft.
It's almost impossible for prospects to get a real read on where they'd go in the draft for a number of reasons: Prospects have only one weekend to work out from April 29 to May 8, teams aren't interested in conducting workouts so early in the draft process when the official list of entrants will be available in another week, and the players are unable to work out for teams until they've completed final exams.
Previously, agentless underclassmen had until 10 days prior to the NBA draft to decide. That rule is still intact from the NBA, but international players will be the only group using that withdrawal date this spring.
"They don't have a chance to be evaluated,'' Smith said Friday of the NCAA's new rule. "It's not fair to the players. We wanted to host a combine, but the NCAA wasn't for it.''
But NCAA spokesperson Bob Williams said Friday that the combine wasn't sponsored by the NBA or a team and that the retired players association was told it could not provide expenses or have organized competition. Williams said the NBA players association could have had drills or even some pickup games, but not kept score or had officials.
[+] Enlarge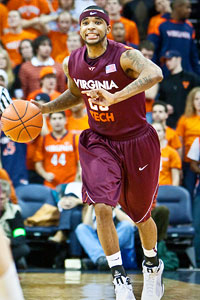 Jeff Lack/Icon SMIMalcolm Delaney will be one of the top guards in the ACC next season.
Smith said he will make another attempt in 2011 to do a combine in some form to give players a chance to make a more informed decision.
The overriding reason borderline draft picks have given coaches as to why they left for the NBA early has been the fear of a lockout and a possible lower rookie-salary scale in 2011.
Regardless, a number of fence-sitters are making their coaches sweat down to the last minute. Here is the latest through sources close to the situation:
Mike Davis and Demetri McCamey, Illinois:
Coach Bruce Weber was already told Davis will return to school, which boosts the Illini's chances to mount a return trip to the NCAAs. But Weber has to still speak with McCamey, which is quite amazing considering he's unlikely to be drafted if he stays in.
JaJuan Johnson and E'Twaun Moore, Purdue:
Coach Matt Painter might have to wait until Saturday's 5 p.m. deadline to see if Johnson and Moore decide to stay in the draft. Johnson would be the more likely candidate since he's a likely second-round pick. Moore would run the risk of going undrafted.
Ravern Johnson and Dee Bost, Mississippi State:
Johnson has let the Mississippi State staff know he will likely return to school, but in a stunning development, Bost actually may look to go overseas instead of return to school. Bost has been told he can make money overseas even if he's not selected in the draft. The Bulldogs, no stranger to waiting until the final hours of the NBA early-entry deadline, will sweat out Bost's decision. The backcourt would be much younger without him, but the emergence of Renardo Sidney in the starting lineup after serving his nine-game suspension will help offset any departures, especially of senior
Jarvis Varnado
.
Alex Tyus, Florida:
Tyus isn't a first-round pick. He easily could go undrafted. But that might not stop the Gators from losing yet another player early to the NBA draft. At least in the cases of Marresse Speights and Nick Calathes the past two seasons, they were first-round talents. But when I spoke to UF coach Billy Donovan late Friday afternoon, he wasn't sure which way Tyus would go.
Malcolm Delaney, Virginia Tech:
Virginia Tech's chances to get into the 2011 NCAA tournament took a huge step forward with the decision of Malcolm Delaney to return for his senior season. Virginia Tech coach Seth Greenberg said Friday night that Delaney will withdraw from NBA draft by Saturday's deadline. Delaney averaged a team-high 20.2 points for the Hokies last season.
Jordan Crawford, Xavier:
No word out of the Musketeers on whether Crawford will stay or go, but with Crawford considered one of the top shooting guards it's unlikely he'll return.
Lavoy Allen, Temple:
Nothing official from the Owls regarding Allen's status, but leaving would make little sense since he's not likely to be picked in this deep draft. The Owls would be an A-10 contender again with Allen around.
Jimmer Fredette, BYU:
Coach Dave Rose isn't sure if Fredette will stay or go. The decision is expected to go down to the final hours Saturday as Fredette figures out if he's a viable candidate in the first round. Defensive liabilities would say no shot, but it's hard to project what he will be told in the final hours.
Darington Hobson, New Mexico:
Hobson is regarded as a possible late-first round pick and for that reason Lobos coach Steve Alford expects Hobson to keep his name in the draft. He'll also be 23 years old by the time the new season rolls around. There could be a last-minute decision to return, but it doesn't appear likely.