College Basketball Nation:

Amile Jefferson
December, 4, 2013
Dec 4
2:02
AM ET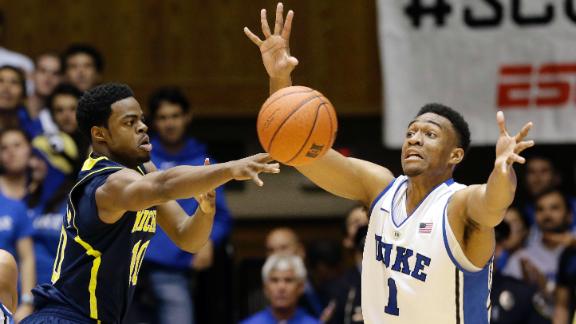 DURHAM, N.C. -- Duke's defensive principles and concepts finally morphed from the abstract to the tangible against Michigan ON Tuesday night in Cameron Indoor Stadium.
It might not be the watershed game that changes the entire season, but the No. 10 Blue Devils saw what it was like to win a game by stopping a team rather than simply outscoring them. Their 79-69 win over the No. 22 Wolverines in the Big Ten/ACC Challenge had everything Duke teams generally take for granted, minus its trademark slapping of the floor.
"For a young team I think you have to see it first," forward
Rodney Hood
said. "Coach is saying you've got to do this or you've got to do that, you don't see it. … This is a big confidence boost for our defense knowing that we can shut out a great team. Well not shut out, but we can play really good defense on a great team."
Michigan extended the game late by fouling and making baskets, scoring 19 points in the final two minutes. The Wolverines shot 56 percent in the second half, which would fool anyone who didn't watch the game into thinking they were effective.
They weren't.
"Even without stats, we're playing better defensively," Duke coach Mike Krzyzewski said. "We played an outstanding defensive game tonight -- not a good one -- an outstanding defensive game tonight."
[+] Enlarge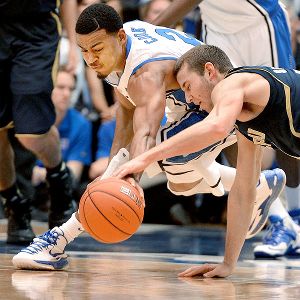 Chuck Liddy/Raleigh News & Observer/Getty ImagesQuinn Cook and company hounded Nik Stauskas all night, holding Michigan's leading scorer to four points.
Michigan's
Nik Stauskas
, who led the Wolverines with 20.3 points per game, did not score a basket. All four of his season-low points came from the free-throw line.
Stauskas might have still been a bit hobbled after returning from an ankle injury that kept him out of Friday's win over Coppin State. But Duke's
Tyler Thornton
and
Matt Jones
never lost him in transition or left him to help out in the post.
"Me and Ty made an effort not to let him catch the ball," Jones said. I'm going out on a limb and saying it would have been hard for anybody to score the way we were focused tonight."
Jones played a season-high 18 minutes, presumably taking minutes that
Rasheed Sulaimon
would have had. Sulaimon did not play, leaving Krzyzewski to say after the game that he "needed to play better than guys who played tonight."
Duke's glaring weakness on paper -- its interior defense -- had arguably its best effort of the season. The Blue Devils outrebounded Michigan 32-31. That might not seem like a major feat, but this is the same team that got handled on the boards by Kansas to the tune of 39-24.
"We knew we were going to be a little undersized, but we have guys who will battle," said Duke forward
Amile Jefferson
, who tied
Jabari Parker
with a team-high six rebounds. "I think we've really gotten back to that each game. We've gotten better -- I think it showed, especially in the first half, our ability to rebound and defend."
The Blue Devils entered the game allowing opponents to shoot 45 percent from the floor. They haven't allowed that high of a percentage since giving up 46.7 percent in 1991-92. And like that national championship team, this team has little problem scoring. It's currently averaging 86.1 points per game, which nearly mirrors the 88.0-point average from '92.
Hood said becoming a championship caliber team will likely be defined by how well -- or ineffective -- it is at stopping teams.
"We can score the ball, that's not an issue," Hood said. "We have to have that defensive mindset, and that's what's going to get it for us this year."
Losses to Kansas and Arizona -- and even watching Vermont shoot 64 percent in a narrow Duke win -- proved the Blue Devils' mortality. But the way they beat Michigan boosted confidence that they can become a better defensive team.
"We're not a great basketball team," Krzyzewski said. "We have great kids and they're trying hard. We've got a really tough schedule; we're just trying to get better."
They took a major step toward that Tuesday. The Wolverines averaged better than nine 3-pointers a game, but Duke held them to a season-low three.
"We took them out of their offense, we took away their best player and we took away their 3-point shots for the most part," Hood said. "We talked, we gang rebounded, we scrapped for loose balls. That's what we have to do to be a great team."
November, 29, 2013
Nov 29
9:30
AM ET
Arizona is not the
Aaron Gordon
show.
The entertaining, explosive and skilled forward might be the addition that helps the Wildcats win the Pac-12 and make a run in the NCAA tournament. But his presence enhances a frontcourt that boasted two promising pieces before his arrival.


Brandon Ashley
and
Kaleb Tarczewski
will matter Friday night when Arizona faces Duke in the
NIT Season Tip-Off
at Madison Square Garden in New York City (6 p.m. ET, ESPN).
The most appealing component in that matchup is the Gordon-
Jabari Parker
pairing, especially since there's a chance the two will defend one another. An appearance by two of the top freshmen in America who star on nationally ranked teams makes this must-see TV.
But Ashley (10.7 PPG and 7.2 RPG) and Tarczewski (9.8 PPG, 6.3 RPG and 2.0 BPG) could be the difference for Arizona. The 7-foot Tarczewski and 6-foot-8 power forward Ashley could dominate an unproven Duke frontcourt.
Amile Jefferson
is the only player over 6-9 who has become a regular part of Coach Mike Krzyzewski's rotation.
That's a gap that Arizona must exploit to secure a win against one of America's best teams. The Wildcats need Tarczewksi and Ashley to be aggressive and consistent on offense and defense. With Parker on his roster, I don't think Coach K is focused on Gordon as much as he's worried about Tarczewski and Ashley, who are 42nd and 43rd respectively in Ken Pomeroy's offensive ratings of Pac-12 players.
Per KenPom.com, Arizona is ranked 26th in offensive rebounding percentage and Duke's defense is ranked 173rd in offensive rebounding percentage allowed. Arizona needs Tarczewski and Ashley to be relentless on the glass and earn extra possessions and opportunities for their squad.
But the duo also will be vital as the Wildcats attempt to stay in front of Parker and Duke's other talented wings. The new hand-checking rules have made it more challenging for perimeter defenders to contain elite players such as Parker.
So shot-blocking, shot-altering big men have become more important as teams attempt to limit penetration. Both Tarczewski and Ashley have to make Parker & Co. think twice about attacking the rim.
If those two struggle, Arizona will lose. It's that simple.
All of the buildup for Friday night's top game centers on Gordon and Parker.
But Tarczewski and Ashley might be the most significant players on the floor.
March, 3, 2013
Mar 3
12:34
AM ET
DURHAM, N.C. -- Nearly 30 minutes prior to tipoff of No. 3 Duke's
79-76 victory
over No. 5 Miami,
Ryan Kelly
galloped onto the Cameron Indoor floor with his teammates.
As the layup line commenced and the cheers enveloped the arena,
Amile Jefferson
slapped Kelly's chest and yelled, "Let's go!"
Kelly only nodded.
That stoic pregame demeanor contained the anxious persona of man who could no longer sit on the sideline. He hadn't played in nearly two months.
After Friday's practice, however, Kelly told coaches and trainers that it was time.
In his first game back, he did not display the signs of a man ailing from a foot injury that had kept him off the floor for 13 games.
By end of the first half, the 6-foot-11 forward had scored 20 of his career-high 36 points. He'd nearly reached his previous career high (23 points) before halftime.
Many expected Kelly's return as the rumors intensified about a possible comeback. But who knew he'd return as Larry Bird?
"I wouldn't say a dream, but I was just trying to win and do whatever it took to win," he said. "Today it was making shots and they were going in. And even if they weren't, I wanted to play my hardest to win."
Every shot that flew off Kelly's fingertips seemed to find the rim. It did not take long to realize that the Hurricanes -- and even the Blue Devils -- had not prepared for the uncanny performance.
"Me saying spectacular or whatever doesn't do his performance justice," said Duke coach Mike Krzyzewski after the game. Added Miami counterpart Jim Larranaga: "He was sensational from start to finish. He scored 36 points on 14 shots. That's … outrageous."
In 40 minutes of entertainment, the college basketball world recognized the tools and skills the Blue Devils lacked when Kelly missed those 13 games. It took 40 minutes for Duke to prove that it is the best college basketball team in America when it's healthy. And it only took 40 minutes for Kelly to prove that he's back and ready to help this squad make a run to Atlanta.
For Myron Medcalf's full story, click
here
.
February, 13, 2013
Feb 13
11:16
PM ET
DURHAM, N.C. -- Duke-North Carolina is rarely boring. Or quiet. Or one-sided.


Should we have expected anything less?
Playing with a sense of urgency rarely -- if ever? -- seen this season, the unranked Tar Heels gave second-ranked Duke another down-to-the-wire game in the rivalry before the Blue Devils prevailed
73-68
at Cameron Indoor Stadium.
A quick look at the game:
Turning point:
UNC led by as many as 10 points in the first half, and 33-29 at the break, but Duke took its first lead on a
Seth Curry
3-pointer -- his first of the game -- with about 14 minutes left. That began a 13-6 run that included two more Blue Devils 3-pointers, giving Duke a 52-47 cushion. Curry extended the lead to eight points with about 5 minutes left, on another 3-pointer, and kept it there with 3:16 left with two free throws. And while the Blue Devils (22-2, 9-2 ACC) hit key free throws down the stretch, the Tar Heels did not.
Player(s) of the game:
Duke coach Mike Krzyzewski called reserve guard
Tyler Thornton
the "hero" of the game, finishing with 9 points but also coming up with some key assists and an important tip-out.
Mason Plumlee
finished with 18 points and 12 rebounds for Duke, and
Quinn Cook
scored 18 as well. UNC's
P.J. Hairston
, making his second start of the season, led the Tar Heels (16-8, 6-5) with 23 points.
Etc.:
The Cameron Crazies wore birthday hats for Krzyzewski, who turned 66 on Wednesday. … UNC freshman big man
Joel James
sat on the bench in a black suit; he missed the game after suffering a concussion last week. Duke started a Hairston, too --
Josh Hairston
(no relation to P.J.), in place of
Amile Jefferson
, although Jefferson started the second half.
Asked about his decision to go with a small starting lineup -- P.J. Hairston, a wing, for center
Desmond Hubert
-- UNC coach Roy Williams said he had been pondering it for a while.
"I started to do it four or five games ago, but everybody's saying, 'Well, you're going to put P.J. in for someone else.' But nobody knows my team,'' he said. "It's popular to say who the hell is supposed to be in the lineup when you don't know what in the dickens you're talking about."
He said he doesn't know who will start this weekend.
Up next:
Duke will play at Maryland -- the team it beat by 20 points last month -- on Saturday. That day, UNC faces Virginia at home; the Tar Heels lost in Charlottesville by nine points Jan. 6.
February, 8, 2013
Feb 8
1:40
AM ET
DURHAM, N.C. -- The last time Duke played NC State -- an eight-point loss in Raleigh last month that snapped a 15-game Blue Devils winning streak and pushed them out of the top spot in the national polls -- it was still searching for an offensive identity without senior forward
Ryan Kelly
.
Looks like the fourth-ranked Blue Devils have found it.
Using a bevy of pretty 3-pointers, No. 4 Duke ripped off a big lead to open Thursday's rematch at Cameron Indoor Stadium. Using some patience and emotion and a whole bunch of free throws, it withstood a Wolfpack rally down the stretch and won
98-85
.
"We'd love to have Ryan back, but we've learned how to play with this group," Duke coach Mike Krzyzewski said. "I'm not saying we're a great team -- but we're a good team now, with this group."
They were a group with a lot of question marks mere weeks ago, when the 6-foot-11 Kelly -- a key component of the attack, what with the way he could draw defenses away from the lane with his 3-pointers -- was sidelined with an injured right foot.
The Blue Devils looked befuddled in their first game without him, allowing State to score (and score, and score) in transition on Jan. 12, while Duke struggled to hit 3s.
And they looked downright bad two games later, when they went to Miami on Jan. 23 and got embarrassed by 27 points.
With its fourth consecutive victory on Thursday, though, Duke (20-2, 7-2 ACC) showed that all of its talented pieces have re-formed a cohesive unit.
There were guards
Seth Curry
and
Quinn Cook
, accounting for eight of Duke's 10 first-half 3-pointers to build a 21-point cushion at the break.
[+] Enlarge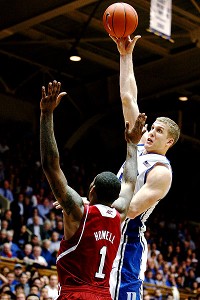 Mark Dolejs/USA TODAY SportsAnother 30-point performance from Mason Plumlee spurred Duke to its fourth win in a row.
There was forward
Mason Plumlee
, recording his second 30-or-more-point game in three outings -- including two technical free throws with 3 minutes, 41 seconds left, when State's
Richard Howell
earned a flagrant foul on an elbow and fouled out.
And there were
Alex Murphy
(four points, highlight-worthy two-handed dunk),
Tyler Thornton
(six assists in 18 minutes),
Amile Jefferson
(four points, five rebounds), and
Rasheed Sulaimon
(11 points) contributing and doing their parts -- key because the Devils were down to eight healthy scholarship players (forward
Josh Hairston
was sidelined with an infection).
"When Ryan goes down, a lot of guys started keying on Mason and Seth, so that gives all of us the opportunity to be more aggressive," Cook said. "We have to step up. And I think everybody is answering the call."
State, playing its second game without starting point guard
Lorenzo Brown
, made it interesting in the second half, shooting a net-burning 65.5 percent and cutting the once-22-point lead to as little as eight on a
Scott Wood
3-pointer with 68 seconds left.
But with Howell (23 points, nine rebounds) and
C.J. Leslie
(16 points, six rebounds) benched by five fouls, the Wolfpack ran out of firepower, and time. Duke make sure of it.
"For two teams that have key players out, what a performance by both teams," Krzyzewski said. "That was ACC basketball tonight. I thought both teams played their hearts out. I don't know if we can play any harder or better in the first half. [But] they're so talented, especially on the offensive end, they're never out of a game, they're good.
"They're just really good."
But so, again, is Duke, which is competing not for the chance at revenge, Krzyzewski said, but for the opportunity to improve.
Looks like it has.
"For sure," Plumlee said. "And when [Ryan] gets back, we'll just get better. Because we'll have more guys with experience; it won't be a thing like, 'How do people respond when he gets back?' Because me and Seth have played with him, and the young guys have played with him. We're going to be a better team because of this."
January, 26, 2013
Jan 26
7:20
PM ET
Earlier today, I wrote about the
eventful day in the Big East
, as Villanova upset No. 3 Syracuse and Louisville dropped its third in a row in a loss at Georgetown. Here are a few other afternoon thoughts from around the college hoops landscape:

1. Kentucky does not look like a tournament team.
Unless the tournament in question is the NIT.
I know, I know: A win is a win, and Kentucky held on for a
75-70 home victory
over LSU on Saturday. And I know: There's still
some
time left for this young Kentucky team to figure it all out. But it's clear, at least right now, that the Wildcats have some pretty significant flaws, flaws that could put their already tenuous tournament position in even greater jeopardy the rest of the way.
Chief among them? Defense. The Wildcats had allowed .97 points per possession in SEC play prior to Saturday, seventh-best in a league that most certainly does
not
house seven good teams. (Maybe three.) It ranked last in the league in forced-turnover rate, and it had allowed SEC opponents to grab 32.1 percent of available offensive rebounds, 10th-best in the conference. These same flaws were apparent Saturday, too. Kentucky scored efficiently throughout the game; it shot 52 percent from the field and a tidy 61 percent from inside the arc (it shot 11 3-pointers and made just two). And still the Wildcats allowed the Tigers -- a 10-7 team with a 1-5 SEC record and the 209th-ranked offense in the country, per KenPom.com -- to put up 70 points at Rupp Arena, to push for a game-tying play until the final possession, to make Ashley Judd a nervous wreck on live television.
Kentucky began the week with a No. 10 seed in Joe Lunardi's latest bracket, and that sounds about right, but that was before Tuesday's loss at Alabama. If I had to bet on UK making it to the tournament or not this season, I'd take the former option. But if it can't get at least some separation from the worst teams in its own down league at home, John Calipari's team will find itself at serious risk of missing the tournament just 11 months after winning it all. Heck, that risk is already here.

2. Minnesota's losses are starting to pile up.
Lose at Indiana? No big deal -- you're
supposed
to lose at Indiana. Lose at home to Michigan? Not preferable, but hey, Michigan's
really
good. Lose a low-scoring game at Wisconsin? Welcome to the last decade of Big Ten play, right?
Taken separately, none of those three losses -- the latest of which came today,
45-44
in Madison -- is cause for overwhelming concern. But taken alongside Minnesota's 55-48 loss at Northwestern on Wednesday, it's no wonder why Gophers fans are starting to freak out. Saturday's result makes for four consecutive losses in Big Ten play. That would be bad enough, but the methods by which these losses have come have been a product of both bad defense (Indiana and Michigan scored a combined 1.24 points per possession)
and
bad offense (the Gophers were held to just .84 points per trip against Northwestern and Wisconsin) -- a veritable sampler pack of ways to lose Big Ten games.
Even worse? Forward
Trevor Mbakwe
reinjured his wrist on the final play Saturday, which forced forward
Rodney Williams
to take the game-deciding free throws, the last of which he clanged. If that injury causes Mbakwe to miss games, the Gophers, who rely so much on offensive rebounds, could lose their best rebounder and interior scorer. You never want to encourage panic in January, not for a team this good anyway. But if Minnesota fans start freaking out ... well, you can understand where they're coming from, at least.

3. Duke had a "program win" over Maryland.
That's what guard
Quinn Cook
called
Duke's 84-64 win over the Terps
on Saturday afternoon, and whether you're willing to go that far or not, the fact of the matter is that Duke rebounded from its unsightly 90-63 thrashing at Miami -- during which the Hurricanes slapped the floor defensively, openly (and comedically) taunting Duke in the second half of a blowout -- with gusto.
The freshmen led the way
, particularly shooting guard
Rasheed Sulaimon
and
Amile Jefferson
, and that is excellent news for a team that needs other contributors to step up as
Ryan Kelly
recovers from the foot injury that has kept him out of Duke's lineup for much of January. More than anything, though, Saturday's bounce-back victory showed that the Blue Devils' horrific Wednesday night wasn't necessarily the sign of a larger decline. If anything, it was a sign of just how good Miami really is.

4. Iowa State got a huge win over Kansas State.
Late January is not too early for a fan base to be concerned with its bubble team's prospective position, and right now it seems like it's the only thing many basketball fans in Iowa -- both fans of Iowa and Iowa State -- can talk about. The Cyclones will have other opportunities to get big résumé wins in Big 12 play, but they took advantage of a major one when they toppled No. 11-ranked Kansas State
73-67.
Led by
Will Clyburn
's 24 points and 10 boards, the Cyclones shot 64 percent in the second half, hoisting up 47 points on a good K-State defense. In Bubble Land, these are the kind of games -- against good but beatable teams at home -- you have to take advantage of. For Iowa State, which suffered a horrible loss at Texas Tech on Wednesday night, it was just what the doctor ordered.
[+] Enlarge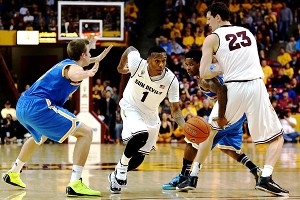 Mark J. Rebilas/USA TODAY SportsASU's Jahii Carson drives to the basket on his way to a 12-point, 8-assist effort against UCLA.
5. It's time to pay attention to Arizona State.
This is not the first time we've said as much about
Jahii Carson
and the Sun Devils* this season, but it is the first time Herb Sendek's team has backed it up with a quality win.
Just last week, as Arizona State prepared to play rival Arizona in its own building, we all perked up, forced to pay attention to a team with a 14-3 record -- coming off a three-point loss at Oregon -- hosting its hated in-state rival at home. Naturally, Arizona proceeded to stomp Carson & Co., and it was just as easy to discard Arizona State once more. After all, who had the Sun Devils actually beaten? Arkansas? Colorado at home? Meh. Meh.
Not anymore. Arizona State's
78-60 win
over UCLA on Saturday eliminates wipes away that dismissive disclaimer. It's a good win in its own right, but it's made doubly impressive by the fact that UCLA is coming off its own uber-impressive victory Thursday night at Arizona. Maybe the Bruins were tired. They certainly looked it. But it would be folly to take any credit away from ASU, which was led by a 40-minute performance from Carson (who has more 20-point games than any other ASU freshman in school history, save James Harden and Ike Diogu), a 22-point, 15-rebound performance (on 10-of-12 shooting, no less) from center
Jordan Bachynski
and a defensive performance that held hot-shooting UCLA to just 25-of-72 from the field (and just 5-of-24 from 3).
The win moves Arizona State to 16-4 and 5-2 in the Pac-12, a stunning turnaround from the depths the program sank into in 2011-12. Sendek has turned things around quickly, and it would be a mistake to dismiss Carson and friends anymore.
*
Come to think of it, that would make a pretty good name for a band.
Bonus features
:
San Diego State was at risk of falling off the MWC title radar after two straight losses -- the first to UNLV at home, the second a 58-45 defeat at Wyoming. "Falling off" isn't this program's M.O. these days, so it was fair to expect the Aztecs to come out strong at home against New Mexico. What I didn't expect was New Mexico to struggle so mightily on the offensive end, scoring just 34 points in the loss. Both sides played some ugly offense, but 34 points? Really?

Oh, speaking of which, want to hear about the worst half of offensive basketball in the history of Division I? I thought you might! This afternoon, Northern Illinois trailed Eastern Michigan 18-4 at the half. It shot 1-for-31 from the field and finished the half with 29 straight misses. In the process, according to ESPN Stats & Information, NIU broke Division I records for fewest points (4) and lowest field goal percentage (3.2 percent) in a half and tied the all-time record for fewest field goals in a half (1). Yeah. It was that bad. Searching for a positive angle, the NIU press release on the game lead with: "Northern Illinois posted its best defensive effort in seven seasons, allowing just 42 points on Saturday afternoon, but it came in a losing effort as the Huskies fell to Eastern Michigan, 42-25, at the EMU Convocation Center." Sure, we scored only 25 points -- but at least we played great defense! Silver linings!

A couple of months ago, we might have expected Memphis to struggle with Marshall; before the season, the Thundering Herd, who barely missed out on the NCAA tournament last season, were the only obvious challenger in Conference USA. But with all of Marshall's struggles -- the Herd are 9-11 with losses to South Dakota State, Hofstra, West Virginia, Delaware State and UTEP -- Memphis' squeaky one-point home victory is little more than an artful bad-loss dodge.

George Washington pounded Charlotte 82-54 at home, moving to 4-2 in Atlantic 10 play, including a one-possession loss to Temple on Jan. 16. Not a team anyone in the A-10 should want to play right now, those Colonials.

Marquette's win over Providence was delayed by the invasion of a single bat. Make of this new knowledge what you will.
January, 26, 2013
Jan 26
5:07
PM ET
DURHAM, N.C. -- No one is going to be able to replace
Ryan Kelly
. With his experience, height, and ability to draw tall defenders away from the basket by hitting 3-pointers, the senior -- out indefinitely with a right foot injury -- is just too distinctive a player in Duke's game plan.
But getting a couple of memorable performances from a couple of Blue Devils freshmen? That helps.
Rookie wing
Rasheed Sulaimon
's career-high 25 points and freshman forward
Amile Jefferson
's aggressive 11-point, nine-rebound outing in Duke's
84-64 win
against Maryland on Saturday didn't erase the memories of the Devils' embarrassing 27-point meltdown at Miami this week. (Nothing will.) But it did add hope that the team -- which will surely drop from No. 1 in the rankings Monday -- is pushing things in the right direction.
[+] Enlarge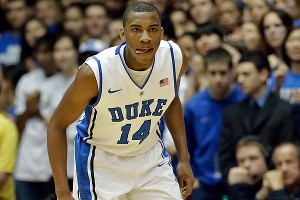 AP Photo/Gerry BroomeDuke's Rasheed Sulaimon delivered a career-high 25 points in Saturday's win against Maryland.
"I think it's our first step to becoming who we're going to be now," said Duke coach Mike Krzyzewski, whose team is 2-2 with Kelly sidelined. "We're obviously a different team without Ryan, and we have to play like we won't have him. I think we will have him at some time, but we have to figure out who we are without him."
Saturday, at least, they were a sharpshooting (52.4 percent overall, 50 percent from 3-point land), sharing (18 assists) and careful (four turnovers, all in the first half) squad that leaned on Sulaimon for scoring and on Jefferson (starting his second straight game in place of Kelly) to help out against Maryland's bigger, wider front line.
"I think we're starting to find our chemistry," Sulaimon said.
In the early moments of the game, the 6-foot-4 guard -- who began Saturday in a shooting slump, having made only 15 of his 43 shots in ACC play -- didn't look as if he was en route to a special afternoon. He got pulled early after Maryland's
Dez Wells
scored his team's first seven points, earning Sulaimon an earful from Duke's coaches about his defense.
"And he did something that I think is so terrific," Krzyzewski said. "He said, 'I got you, Coach. I'll do better.' So he embraced responsibility."
Indeed, not only did Sulaimon focus in on defense when he checked back in but he scored 13 in a row -- pushing a 14-13 lead to 27-18. He was 5-for-5 from 3-point land in the first half, and he made another before he finally missed. And when the Blue Devils went cold for a stint in the second half, Sulaimon followed a lay-up with a 3-pointer to revive the offense again.
"I know that a lot of attention is going to be on Seth [Curry] and Mason [Plumlee]; especially with Ryan being out, the attention is going to be more on those two," Sulaimon said. "Just doing my job as a teammate, I know that I have to be ready to take them, and make them."
His roommate Jefferson, meanwhile, stood out because of his aggressiveness and consistency. At times early in the season, the 6-8 195-pounder admits he felt a bit lost. And more recently, he has struggled to find a groove because of foul trouble.
But the more he's been called on to contribute (a necessity, with Kelly out), he said, the more comfortable he has grown. That showed in myriad plays Saturday, including his three-point play attempt at the end of the first half (he missed the free throw but still gave Duke a 43-35 advantage).
"It's about getting your legs under you ... you've got the feel of the game now," said Jefferson, who was 3-for-8 overall and 5-for-9 from the free throw line. "Being out there, I understand where I need to be, so I'm not in position to foul. Now I just have to be more in the position to take charges, get blocks, so I can stay on the floor even longer."
Duke's players, and coach, stressed that this team is a work in progress. Without Kelly, Plumlee (19 points, seven rebounds) is still getting used to dealing with more double-teams. Curry (13 points, 5-for-14 shooting) still can't practice every day because of his shin injury. Everyone is still adjusting.
But Plumlee said Saturday "no doubt" was the team's best performance since Kelly was sidelined, thanks in part to the freshmen. And that's a positive step, especially after the Miami embarrassment.
"We're a new team, we're finding our identity," Jefferson said. "And when Ryan gets back, we're going to be even better."
November, 14, 2012
11/14/12
2:29
AM ET
ATLANTA --
Seth Curry
was the last Duke player to come onto the court for a shootaround Tuesday afternoon.
He had a cameo or two on the court. But he didn't do much. Who knows how long he'll have to be a part-time practice player.
But the Blue Devils will deal. They have no choice. And if Curry continues to play the way he did Tuesday night against Kentucky, he can take as many practice possessions off as needed.
Curry was the Duke savior with 23 points -- a number of them coming during a key stretch in the second half when
Mason Plumlee
was saddled with four fouls -- in the Blue Devils'
75-68 victory
over the Wildcats inside the Georgia Dome, which will also host April's Final Four.
Curry's injury is being diagnosed as some sort of leg fatigue, or shin splints; it clearly is affecting him.
"Coach did a good job of getting me out of the game to be fresh at the end of the ballgame," Curry said. "I'm trying to stay sharp with limited practice time, and my teammates did a good job of finding me since I haven't been around them as much as I usually am in practice. They did a good job of finding me and got me going with open shots, and that was key."
[+] Enlarge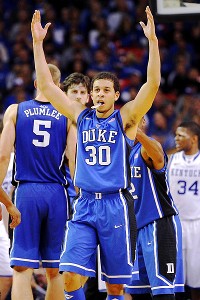 Todd Kirkland/Icon SMIDespite a leg injury that's limited him in practice, Seth Curry led Duke with 23 points Tuesday.
Curry played 34 minutes. He made all six free throws and converted 50 percent of his shots.
He isn't ever going to be his brother, Stephen Curry. Nor should he be. But Seth has finally broken free of Stephen's shadow in college basketball. If Tuesday night is any indication, then Seth Curry took control of this Duke team for the foreseeable future. Plumlee was sensational at times, spinning around the highly touted Kentucky big men for quality production in the post. But his foul problems were an issue. And Plumlee isn't going to lead this team from the post.
Curry can direct Duke from the perimeter. In the past two decades under Mike Krzyzewski, Duke has always had a lead guard who can get a bucket when needed, or at least make a play.
The Blue Devils still have a high ceiling. There is no reason to believe that, of the four teams in the Champions Classic on Tuesday, they couldn't return to Atlanta in April.
The potential is certainly greater for Kentucky with the freshman front line of
Nerlens Noel
,
Alex Poythress
and
Willie Cauley-Stein
(assuming the Wildcats can settle on a point guard). Michigan State showed it has Final Four possibilities with the leadership of
Keith Appling
and the quick maturation between Germany and Georgia by
Gary Harris
. Kansas hasn't even scratched the surface of the potential of
Perry Ellis
and
Ben McLemore
-- certainly the Jayhawks' possibilities are endless.
Duke is still the most intriguing of the four.
Marshall Plumlee
, whom assistant coaches are raving about, is still out with a stress fracture.
Alex Murphy
and
Amile Jefferson
haven't figured out how to make significant contributions yet.
Josh Hairston
has found his purpose by getting to the offensive backboard. And
Rasheed Sulaimon
is playing like a freshman still, unable to find a consistent stroke.
But
Ryan Kelly
, Mason Plumlee and Curry possess enough senior leadership to direct Duke once again toward competing for an ACC regular-season title -- and after that everything is in play.
"Seth was terrific," Krzyzewski said. "He was the difference-maker. The fact that he's a fifth-year senior has to help. I'm so proud of him. He really hasn't practiced much. Since the start of practice he's had four practices. I'm shocked by the level of condition."
Curry started off at Liberty because he wasn't recruited at a high level. He averaged 20 points a game. After he transferred, he hardly made his mark at Duke during his year off. He was a role player in his first season. His role increased dramatically last season, but he had Austin Rivers to play off of on the perimeter.
Now it's about him. Of course, he won't take all of the responsibility.
"I think this is our three seniors' team," Curry said. "That's what we've worked on in the preseason and having this be our team. It came to me and I came through.
"We're composed and been in games like that before," he added. "We had good composure at the end of the game when they made that run. We stayed real calm."
July, 2, 2012
7/02/12
9:35
AM ET
Last Thursday night was, all things considered, a pretty huge night for Duke.
One-and-done guard
Austin Rivers
,
the subject of much draft consternation and discussion
, was chosen No. 10 overall by the New Orleans Hornets, where he will team with No. 1 overall pick
Anthony Davis
. If you can't find your assist gene playing with a guy
who pretty much dunks everything
, you'll never find it. Rivers landed in a great spot.

Somehow, it was an even better night for
Miles Plumlee
, who was selected in the first round of the draft to the surprise of pretty much everyone. On Thursday night, I got off a plane just in time to learn the Pacers chose Plumlee ahead of
Perry Jones III
,
Draymond Green
,
Quincy Miller
,
Arnett Moultrie
,
Marquis Teague
,
Festus Ezeli
,
Jeffrey Taylor
,
Will Barton
,
Doron Lamb
,
Kim English
,
Darius Miller
,
Kris Joseph
,
Darius Johnson-Odom
,
Robbie Hummel
… the list goes on.
Shocking stuff, but it was all pleasantly surprising for Duke and its fans. The two selections gave coach Mike Kzryzewski another milestone: He has now produced the most first-round picks of any coach in ACC history.
Mississippi State transfer
Rodney Hood
would very much like to be one of those draft picks. Later in the weekend, Hood, a 6-foot–8 wing who was ranked No. 31 overall in the 2011 ESPN 100,
told ESPN.com's Dave Telep that he would eschew Ohio State, Memphis and Florida State in favor of a transfer
move to the Blue Devils:
Hood said Krzyzewski touched a nerve and connected with him during his recruitment process.

"He was pretty honest with me," Hood said. "He told me what he saw for my future. He was up front and he didn't just tell me anything. He was specific and to the point. He said he can make me a better basketball player and one of the best in the country. His track record speaks for itself. I could tell he believed in me as a player."
Hood will have to sit out a year, as is tradition, but the move is nonetheless more good long-term news for Coach K & Co., whose next two classes should ensure the program bounces back from last year's ugly first-round loss to Lehigh in relatively short order. The
2012 class landed late commitment Amile Jefferson
, the No. 4-ranked power forward, earlier this summer; he joined No. 3-ranked shooting guard Rasheed Sulaimon. The
2013 class
already includes one five-star recruit, No. 6-ranked shooting guard Matt Jones. Adding Hood is essentially like adding a more seasoned and physically ready five-star recruit to that group.
Say what you want about the Indiana Pacers' draft strategies -- I'm going to abstain and allow you to fill in the blanks in the comments, because I don't like to start my Monday mornings off mean. But all in all, it was a rather excellent weekend for former
and
future Duke players.