College Basketball Nation:

Amir Williams
November, 14, 2013
Nov 14
10:30
AM ET
Ohio State
and
Marquette
were supposed to play on a ship off the coast of South Carolina last season.
Condensation on the court canceled that game.


Ohio State coach Thad Matta said there was no correlation in wanting to play the Golden Eagles again. That's hard to believe, but he said the series was on the docket, regardless of the inability to complete the game last season.
Still, the potential of last season's game still remains just as vibrant Saturday when they finally meet -- this time indoors in Milwaukee.
The Buckeyes and Golden Eagles are both legitimate contenders in the Big Ten and Big East, respectively. But they've also changed a bit. Marquette doesn't have Vander Blue, the late-game scorer from a season ago, or its point guard, Junior Cadougan. DeShaun Thomas is gone for the Buckeyes.
Marquette could have the advantage inside with
Davante Gardner
, but the Buckeyes have the edge at the point with
Aaron Craft
. The game-within-the-game matchup, though, that will be the most intriguing to follow is how the game is officiated. Matta said Craft won't and hasn't had an issue with using his feet to defend instead of his hands. Marquette has traditionally been a physically strong defensive team. This will be an intriguing test for both teams. How does Marquette defend Craft and
Shannon Scott
? How well will the Buckeyes move their feet inside to deal with the size and strength of Gardner? The onus will be on
Sam Thompson
and
Amir Williams
.
Gardner has been a load inside, averaging 17 points in Marquette's first two games. Marquette put up 114 points against Grambling. The Golden Eagles have a rugged slate of games, playing at Arizona State, at Wisconsin and against New Mexico in Las Vegas. This Ohio State game is the lone home game on this slate, putting even more pressure on Marquette to get a quality nonconference win.
Ohio State, which has had balanced scoring so far, plays only one more nonconference game away from home -- against Notre Dame in the Gotham Classic in New York. The Buckeyes will have plenty of chances for quality power-rating points, but a win here would be a major boost for the team's confidence in ultimately what it can accomplish in the heart of the Big Ten schedule.
March, 28, 2013
Mar 28
12:55
AM ET
LOS ANGELES -- In a news conference that preceded Thursday's matchup with
Ohio State
in the Sweet 16 at the Staples Center,
Arizona
seemed concerned but calm when responding to queries about a Buckeyes squad that's lost just one game since Valentine's Day.
Mark Lyons
told reporters that his matchup with
Aaron Craft
is significant, but not as important as his team's on-court unity on game day.
Solomon Hill
believes he's the proper neutralizer for a player with
Deshaun Thomas
' versatility.
LaQuinton Ross
? That's a different matter.
"I think LaQuinton Ross is a different guy that we have to have guys keyed in on," Hill said Wednesday of the Buckeyes' forward. "I think he's the big spark off the bench. He's a starter on any other team, and our young guys have to be prepared for him to really put it on the floor and shoot the outside shot."
[+] Enlarge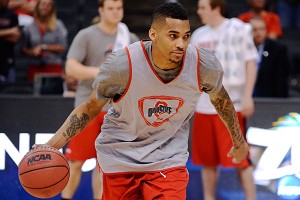 Jayne Kamin-Oncea/USA TODAY SportsLaQuinton Ross, a key player off Ohio State's bench, has definitely caught Arizona's eyes.
Ross is one member of an Ohio State supporting cast that's fueled the Buckeyes' run to the Sweet 16. The sophomore scored 17 points (shooting 6-for-10) in Sunday's victory over Iowa State. And he's not the only meaningful contributor without the surname Craft or Thomas.
Shannon Scott
is averaging 1.8 steals per game.
Sam Thompson
scored 20 points in OSU's victory over Iona in the second round.
Lenzelle Smith Jr.
(9.4 points per game) is the team's No. 3 scorer behind Thomas and Craft. Buckeyes coach Thad Matta might need the length of both
Amir Williams
and
Evan Ravenel
when his team encounters an Arizona frontcourt that features four players who are 6-foot-8 or taller.
The Buckeyes didn't start this impressive rally -- one that includes a Big Ten tournament title -- with two players. And they won't reach Atlanta with two players, either.
"They've been the difference," Matta said. "The thing that I've enjoyed watching come to fruition is just those guys accepting their roles, but then taking great pride in doing their job."
Ross said the team came together after the Buckeyes suffered a demoralizing 71-49 loss at Wisconsin on Feb. 17. The players gathered to discuss their differences following the defeat. They recognized that they were a fractured unit. Ross said every player, stars and reserves, accepted blame.
"[Wisconsin] was able to pick us apart because we weren't together," Ross said.
Since that time, however, the Buckeyes haven't lost -- rolling off 10 consecutive wins. Why? Because they're jelling with one of the NCAA tournament field's best eight-man rotations. Ohio State's players seem certain of the responsibilities they're expected to handle each night. This is certainly not a two-man show.
"It's really important for us to step up and be X factors," Scott said. "We can't be out there watching."
WHOM TO WATCH
Ohio State's Craft: The point guard's defensive wizardry has been on full display in the tournament. Iona's
Lamont Jones
committed four turnovers with Craft on him. Iowa State's
Korie Lucious
recorded five turnovers against Craft's pressure.
"Aaron Craft is exceptional at what he does," Arizona coach Sean Miller said.
Arizona's Lyons: The Xavier transfer scored a combined 50 points in his team's two NCAA tournament victories over Belmont and Harvard. He's also shooting 85.3 percent at the free throw line. But his leadership is a critical intangible for this program. His team feeds off him, whether he's playing well or struggling.
WHAT TO WATCH
The paint: Arizona's frontcourt athleticism could be a problem for the Buckeyes. But Thomas, Ravenel and Williams said they'll play the physical Big Ten style that's fueled their current winning streak. Ravenel said his team can also take advantage of Arizona's youth;
Grant Jerrett
,
Kaleb Tarczewski
and
Brandon Ashley
are all freshmen.
"Intimidation is one of the things that can win games in basketball," Ravenel said.
February, 5, 2013
Feb 5
9:30
AM ET
Michigan is coming off a tough road loss to Indiana over the weekend. The Wolverines lost their No. 1 slot in The Associated Press poll as a result.
But they could begin a journey back to the top of the standings when No. 10 Ohio State travels to Ann Arbor on Tuesday night. The last time the two teams played one another, the Buckeyes earned a 56-53 victory over the Wolverines and ruined the latter's chances of earning a No. 1 ranking the following day.
Here are five questions entering a matchup that will impact the Big Ten title race:


1. Can Deshaun Thomas do it alone?
The junior combo forward is one of the most effective scorers in the country. He has a 118.1 offensive rating (20
th
among players who use at least 24 percent of their team's possessions). But Thomas will need help Tuesday and beyond. And that's been one of Ohio State's problems this year. He went 8-for-18 and scored 20 points the last time these two teams met. He was the only scorer, however, that registered double figures in a three-point win. But he recorded 28 points at Michigan State on Jan. 19 and 24 points at Illinois on Jan. 5. The Buckeyes lost both games. They'll need some balance to beat a hungry Wolverines squad on the road.
2. What about the other Wolverines?
Sure,
Trey Burke
is the catalyst for the Big Ten's No. 2 scoring offense (74.4 ppg). But Michigan lost to Indiana on Saturday in part because the other Wolverines missed must-have shots.
Glenn Robinson III
was 1-for-6.
Nik Stauskas
was 3-for-10. Can't happen against the Buckeyes, who have the second-ranked scoring defense (57.0 ppg allowed) in the league. Burke's supporting cast has to be effective, too.
3. How important are the bigs for both teams?
Both teams have been offensively inconsistent inside. Michigan's frontcourt (
Jon Horford
,
Mitch McGary
and
Jordan Morgan
) is more advanced on offense than Ohio State's (
Amir Williams
and
Evan Ravenel
). But both play a secondary role to the talented wings on their respective rosters. Still, their defensive presence is vital. Williams is third in the Big Ten in blocks (2.0 per game). His ability to alter shots at the rim will definitely impact the matchup. John Beilein's maneuvering between a 2-3 zone and a man-to-man setup confused the Buckeyes in the first meeting. His frontcourt depth enhances his D and its ability to use multiple schemes. He can go with small or big lineups, zone or man. That's a lot for any opposing coach to consider. The stat sheet may not give either squad's big men a lot of love. But they'll definitely be significant.
4. Could Aaron Craft singlehandedly control the game?
It's Burke versus Craft. Always. This is a matchup that features one of the nation's best on-the-ball defenders and the country's best point guard. Fireworks. Michigan can't win without an effective Burke. And the last time these two teams met Burke scored 15 points in a 4-for-13 performance. Craft's pressure on Burke stalled the Michigan offense. A repeat of that performance could turn the game in Ohio State's favor again. Craft, who leads the Big Ten in steals with 2.3 per game, is that relentless. He can control this entire game with his defensive tools.
5. Should anyone bet against Burke in this scenario?
No. There are a lot of numbers to consider in this contest. And they all suggest that both teams are capable of leaving Crisler Arena with a victory. Ohio State beat Michigan once. The Buckeyes could do it again. Michigan is one of the nation's most talented teams. And the Wolverines are at home. So what's the deciding factor? For me, it's Burke. I don't think the sophomore will allow Michigan to lose two consecutive games, especially when its next opponent is a visiting rival. I expect to see another close matchup. But Burke's playmaking ability will elevate Michigan in a single digit win. Ohio State won the first matchup but the Buckeyes had to hold off a determined Wolverines squad in the second half. I believe Michigan will begin this game how it ended the first one. Except this time, the Wolverines will get the win.
January, 13, 2013
Jan 13
3:55
PM ET
COLUMBUS, Ohio -- Quick thoughts following Ohio State's biggest win of the season, knocking rival Michigan from the ranks of the unbeaten with a
56-53 victory
on Sunday afternoon at Value City Arena.
Overview:
There won't be an ascension to the top of the polls for Michigan this week, and there definitely won't be an undefeated season.
Ohio State took care of both of those in one fell swoop.
The No. 15 Buckeyes jumped on rival Michigan early, fought off a furious rally and ultimately held on down the stretch for a 56-53 decision, their biggest win of the season and the last anybody in the country will have over an unbeaten squad.


Deshaun Thomas
again carried the scoring load for the Buckeyes with a game-high 20 points, but he had no shortage of assistance -- help that had been missing previously in the biggest challenges they had faced so far this season.
Aaron Craft
chipped in offensively during an early surge,
Sam Thompson
delivered a couple of more jaw-dropping dunks and
Evan Ravenel
and
Amir Williams
supplied some muscle on the interior as Ohio State finally broke through for a signature victory and looked again like a contender in the Big Ten.
The Wolverines remain one as well, but they couldn't quite overcome a sloppy start and an off night from guard
Trey Burke
on the road, and missed a chance to move up to No. 1 in the polls after the other undefeated teams all dropped games leading up to Sunday's showdown.
Turning point:
The massive lead had disappeared to nothing, and a thunderous dunk on the previous possession hadn't been enough to shake Michigan's surging confidence.
Another dunk on the next trip was enough to finally turn the tide back Ohio State's way after seemingly falling asleep coming out of the locker room.
The Buckeyes had led by as many as 21 before Michigan rallied throughout the second half to tie the game at 46. But Ravenel followed Thompson's rim-rattling slam with one of his own to push Ohio State back on top with just more than six minutes remaining, and with the crowd back on its side, it did just enough to fight off the Wolverines down the stretch -- though a late 3-point attempt from Burke nearly changed all that.
Key player:
The reputation as a lockdown defender was already well known, and Craft only added to it by bottling up Burke as the Buckeyes raced out to a double-digit lead in the first half.
But it was Craft's work on the other end that sent Ohio State on its way to its biggest win of the season, as he sparked the offense with seven points during a 16-0 run that cranked up the volume for a sellout crowd and put the Wolverines on their heels.
The junior point guard has struggled to find consistency with his jumper for much of the season, but he buried a 3-pointer with the shot clock winding down and followed that with another jumper and an aggressive drive to the rim. Craft's contributions provided invaluable diversity for an offense that has been sorely lacking in it against the toughest opponents Ohio State has faced this season, but he took the attack to another level and forced Michigan to account for more than just Thomas on that end of the floor.
Key stat:
Burke got a wide-open look on his first trip down the floor and buried it. The Buckeyes wouldn't let it happen again, and the combination defense of Craft and
Shannon Scott
on Michigan's leading scorer made it tough at times for him just to get the ball.
In all he finished just 4-of-13 from the floor, and while he still chipped in 15 points for the Wolverines, they had a hard time generating momentum without him knocking down shots.
Miscellaneous:
The Buckeyes have won nine consecutive games in the series at home, and coach Thad Matta improved to 17-3 in his career with the program against Michigan. ... When both teams are ranked, Ohio State owns a 7-3 lead against the Wolverines. ... The Wolverines needed one more victory to set the school record for consecutive wins to open the season, settling for a tie with the 1985-86 squad.
Next up:
A tough stretch with three road contests in a four-game stretch wraps up for the Buckeyes on Saturday as they travel to Michigan State for yet another ranked showdown in the Big Ten. Ohio State will be back at home three days later for something of a breather against struggling Iowa.
There's no letup for the Wolverines, who stay on the road for a tough matchup with Minnesota on Thursday. Michigan will have a week off after that trip before hosting Purdue.
September, 19, 2012
9/19/12
11:00
AM ET
Thad Matta's program nearly capped the 2011-12 season with an appearance in the national title game. But late struggles against Kansas shortened Ohio State's Final Four experience.
It was one of the few stumbles for a Buckeyes team that earned a slice of the Big Ten regular-season title a few weeks before its Final Four run.
It's a new day, however, for Matta's squad.
Jared Sullinger
, arguably the best post player in America for the past two seasons, is in the NBA now.
William Buford
, one of the most productive players in the program's history, is gone, too. Two reserves (
Jordan Sibert
and
J.D. Weatherspoon
) transferred in the offseason.
But Matta still returns a crew that should crack the top 15 once preseason rankings are announced.
ESPN.com recently caught up with Matta to discuss his expectations and concerns for the 2012-13 campaign.
How will you move forward without Jared Sullinger?
[+] Enlarge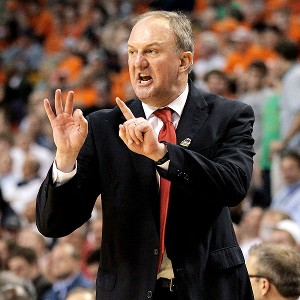 Jim Rogash/Getty ImagesDespite some high-profile personnel losses, coach Thad Matta has two leaders he can lean on in Aaron Craft and Deshaun Thomas.
Thad Matta
: We've had some great players leave this program. ... The thing I always tell the guys is, "We don't need you to be Jared Sullinger. We need you to be who you are. We need you to be very effective with what you're capable of doing." That's always been the approach. Do we maybe change a little bit the way we're playing? Yeah, we probably will. But I think one of the biggest fallacies a young man can have is "Hey, I'm going to get his points or I'm going to get his rebounds. I got it." It just never works that way.
How will point guard Aaron Craft's return ease the transition?
TM
: It's a tremendous advantage for us, having Aaron back. Two years into the program, he's won 65 games, he's won two Big Ten championships in his time here. ... From his freshman year, he played a certain role, last year he played a certain role and I think the beauty is guys are looking to him to even expand his role a little bit more. The way he competes. The way he plays the game, you want a guy like Aaron Craft leading your basketball team. So I think the players have the utmost respect for him and everything he does. So it kind of makes it an easy follow.
Where does Deshaun Thomas need to improve most as the team's new leader?
TM
: He has to rebound. He has to do a better job of rebounding the basketball. And I know he can do that because he's a tremendous offensive rebounder. Now, we've got to get him to where he's rebounding on the defensive end as well. ... I've seen him now for two years and the commitment he's making to the defensive end has been tremendous. I think his rebounding will be a nice touch to his game.
What are your expectations for Amir Williams?
TM
: I think Amir had what may not have appeared to have been a significant role on this team last year, but in our eyes, he did. We saw a lot of growth with him. He played some valuable minutes in high-level games for us. In essence, what we need Amir to do is obviously be a great rebounder and have a great presence on the defensive end. He can really, really block shots and then offensively, scoring around the basket. He's shown us that he can step out and knock down a 12- to 15-foot jump shot. We need him to be a complete player at the low post position.
What concerns do you have about competing without a full roster with transfers, departures and a one-man recruiting class in 2012 (Amedeo Della Valle)?
TM
: We've got 11 guys on scholarship. I like what we have. We've only got one freshman in [Della Valle]. He's actually probably been a little bit better than we thought he'd be, being the only freshman. I think the depth is something, hopefully, we've got a lot of, from what I've seen of the guys in regard to this summer as well as since the fall. We had our first team workout Sunday. Guys have gotten better and that's very exciting for us. Now, as we keep moving forward, we've got to put the pieces of the puzzle together. But I do expect us to have some depth.
April, 30, 2012
4/30/12
12:31
PM ET
Editor's note: It's the offseason edition of The Watercooler. Eamonn Brennan and Myron Medcalf talk NBA draft decisions, the preseason's No. 1 team, UCLA's upside and more.
Myron Medcalf:
What's up, Eamonn? Feels like we left New Orleans months ago. Not sure how I'm going to handle the upcoming months without games. Withdrawal is setting in. But, it's already time to look forward to next season. How about Indiana? Three Big Ten wins two seasons ago. The Hoosiers will enter next season as a top-three team for sure.
Cody Zeller
is coming back. Wow, huh?
[+] Enlarge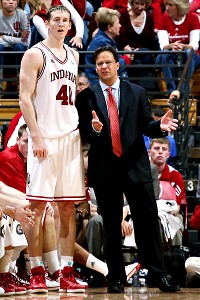 Brian Spurlock/US PresswireCody Zeller and coach Tom Crean have helped revive the Hoosiers.
Eamonn Brennan:
My buddy's little brother attends Indiana, and his mom brought back a shirt they're selling on campus that simply says "We're Back." Needless to say, IU fans would be loving this renaissance if they merely had a top-20 team. To go from where they were two and three years ago -- I mean, they were 12-20 in 2010-11; that literally just happened! -- to No. 1 in our very early preseason poll … well, it's remarkable, when you think about it. Such a dramatic turnaround.
MM:
Very remarkable. And Zeller is back. I know I mentioned that earlier. But he's a lottery pick if he leaves. I know the NBA draft entry deadline was Sunday, and many storylines were connected to it. But Zeller's decision to stay away from the draft is bigger than any of them in my opinion.
EB:
My reaction to Zeller coming back trends far more toward the "meh" side of things. It's not because he's not a great player, an immediate POY candidate and hugely important to the Hoosiers' chances, because obviously he is all those things. But I never thought there was any real threat Zeller would leave for the draft. Even as he jumped up to potential top-10 pick status, the way he's openly enjoyed his first season on campus, the patience his brother displayed at UNC, and the fact that Tyler will be a pro -- there's no rush, in other words -- made it clear that Zeller would be back as a sophomore. Some IU fans are hoping he'll stay all four years. That might be asking too much, but he's back for his sophomore season, and he has an awfully talented team around him.
Let's talk draft. Any decisions that really surprised you?
MM:
A few.
Maalik Wayns
… OK. He's a junior who carried the load for a bad Villanova squad. But he's a projected late second-rounder, and will possibly be undrafted. His teammate,
Dominic Cheek
, drank the Kool-Aid, too. The whole 'If I jumped off a bridge, would you do it?' is sometimes true. But the biggest surprise is
Quincy Miller
. He made the right decision to return a few weeks ago. Then he changed his mind. He should be a first-rounder. But with another year, he could be top 10. He's a great example of a young player who would gain a lot by coming back for his sophomore season.
Who surprised you?
EB:
Yeah, I thought Miller made the right call initially, because (a) without
Perry Jones III
there, he would have been the featured scorer on a good Baylor team, (b) he could take on college competition (and not fully grown men) while beefing up that lanky frame in the weight room, and (c) this draft already has how many talented tweener forwards set to go in the first round? Twenty? Thirty?
But when you're projected as a first-round pick, particularly when you're closer to the lottery end of things than the fringe, it never feels like a particularly bad decision to go.
That's kind of the deal with
Moe Harkless
. I thought Harkless could probably use another year in school for a St. John's team that really had time to congeal, but he looks like he could go in the first round. So you can't fault him for leaving now.
I thought
Khris Middleton
was one of the real surprises. He could have been a first-rounder last year but stayed. Then he got hurt all season and A&M struggled in its first year under Billy Kennedy. Now Middleton is in the draft, but isn't a likely first-round choice anymore. It will be interesting to see how he tests out and what scouts think if he can get healthy in pre-draft camps, because he's an awfully polished and athletic forward when he's at full speed. He could be a steal. (Which probably means the Spurs will draft him in the second round. Figures.)
MM:
True. The Spurs would nurse Middleton back to 100 percent, then use him to fuel some epic playoff run next season. You have to look at the powerhouses, too. Kentucky lost everyone. And yet, Calipari inks a top-two class again. And
Anthony Bennett
is still available. North Carolina is in a different boat. Still a very talented team, but a major shift from the veteran core the Tar Heels employed last season. On Kentucky … and I know this is a tough thing to assess right now … but should the Wildcats be preseason No. 1 with the talented freshmen who are headed to Lexington next season?
Also, what's the over/under on me adopting the
Nerlens Noel
box cut?
EB:
Oh, you should totally do it. I would put the odds at just slightly more favorable than a UK national title.
I am torn on the Indiana-Kentucky preseason No. 1 thing, because it's easy to forget the talent Indiana has arriving in
Yogi Ferrell
(a true athletic point guard who is exactly what they need) and even
Hanner Perea
, who comes with ready-made NBA athleticism (another thing the Hoosiers really need) at the 4 spot.
But Kentucky is reloading, no question, and if there's one thing we know about John Calipari, it's that he's the best in the country at getting new, young teams to come together as actual teams very early in the process. But this is not the 2012 Wildcats. Nerlens Noel is going to be a beast, but he's not
Anthony Davis
.
Michael Kidd-Gilchrist
, the heart and soul of that national title team, is nowhere to be found next season. I will be fascinated to see what this team looks like in November and December.
I have Louisville at No. 3 -- I think
Chane Behanan
is going to have a star-making breakout sophomore season.
My biggest preseason-ranking question revolves around the
UCLA Bruins
. Assuming Kyle Anderson's hand
ligament injury is long since healed
by the time the season starts, is that a top-five team?
MM:
Oh man … I mean, I'm trying to erase memories of last season. That "talent." That preseason ranking … That collapse. But if we're going to give Kentucky No. 1 status (potential) based solely on the status of its recruiting class, I think you have to give UCLA the same consideration.
Tony Parker
helped the Bruins grab a No. 1 class ranking on ESPN.com. We know talented freshmen
can
win national titles.
So I say they're top 10. Can't go top five yet because the returning guys were so inconsistent. Since we're talking about teams that are hard to assess … Thoughts on Ohio State? Is that a top-five squad with
Deshaun Thomas
leading the way now?
EB:
It's hard to know what to do with UCLA, because unlike Kentucky, we've yet to see Ben Howland take a star-studded recruiting class and turn it into a contender. In fact, last time he had a great class, things pretty much fell apart.
And yeah, I like Thomas as the star scorer. I think that's his perfect role. The question is whether he can be a leader on both ends of the floor, whether he'll devote himself to a total game, rather than being happy scoring a ton of points every night. Because he will shoot -- and score -- a lot.
[+] Enlarge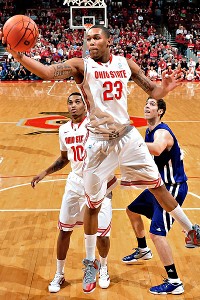 Jamie Sabau/Getty ImagesThe Buckeyes need a big season from Amir Williams.
The biggest question re: OSU is
Amir Williams
. I thought he was going to get a lot more run as a freshman, so
Jared Sullinger
could do his whole "hey, I'm a versatile, skinny power forward now, check out this 15-foot jumper!" routine in 2012. Instead, Sullinger gained all that weight back by the end of the season; he was basically playing the exact same position he played as a freshman, and Williams spent most of his time on the bench.
He has to take over in the middle right away, and
Shannon Scott
needs to have a big sophomore season as a combo 2-guard alongside
Aaron Craft
. If Craft and Scott can figure it out, I think that's OSU's most talented and dynamic lineup, and an awfully good one.
MM:
The bottom line is that we have a lot to look forward to next season. Many question marks remain, but I like the intrigue. Plus, some talented players are back.
C.J. Leslie
could make NC State a top-10 team.
Jeff Withey
was the most dominant interior defender in the NCAA tourney. He's back. The Big Ten is stacked. The Pac-12 might matter again.
I know it's early, but I'm pumped about the 2012-13 campaign. Not sure how I'll last until November without it. Maybe I'll watch this LeBron guy in the NBA playoffs.
EB:
My two-point is as follows:
1. Watch as much of the NBA playoffs as humanly possible (I love the NBA playoffs).
2. Watch the new Rihanna video as much as possible. No, RiRi, where have
you
been all my life?
MM:
Rihanna and the NBA playoffs … the perfect elixir. Good times as always, Eamonn. Until next time … or the next big development.
EB:
We'll talk that talk. Until then, Myron.
April, 7, 2012
4/07/12
12:10
AM ET
Until he misfired during a Final Four loss against Kansas (9 points), forward
Deshaun Thomas
had been the best player –-- arguably -- on the Buckeyes' roster throughout the NCAA tournament.
The left-hander's versatility fueled Ohio State's run to New Orleans with performances that raised his NBA stock.
But Thomas announced Friday that he's decided to return to school for another year. And that call automatically keeps the Buckeyes in the national title hunt for the 2012-13 season, even with
Jared Sullinger
turning pro and
William Buford
graduating.
I think they're a solid top-10 squad.
Aaron Craft
is back to harass opposing guards. And there's potential among young players who didn't get a ton of minutes this season.
If former McDonald's All-America center
Amir Williams
blossoms in the offseason and starts to fulfill his potential as a sophomore, the Buckeyes could make another strong run in the NCAA tournament.
But Thomas will be the focus of Thad Matta's system. And I think his skill set will allow Ohio State to spread the floor and take full advantage of Thomas' abilities, which we saw during the NCAA tourney.
[+] Enlarge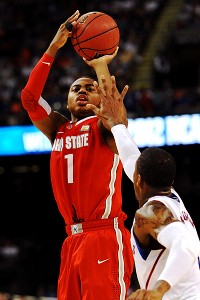 Richard Mackson/US PresswireDeshaun Thomas could thrive next season in Thad Matta's offense for a top-10 Ohio State team.
While the Thomas announcement solidifies Ohio State's position entering next season, the rest of the Big Ten is one giant question mark.
The league has the potential to send multiple teams to the Big Dance. But depending on who goes pro by the April 29 deadline (after April 10, any early entrant who applies for the NBA draft will lose his collegiate eligibility), it might not pack the same punch it did during the 2011-12 campaign.
Indiana and Michigan could join Ohio State in the preseason top 10, but that all depends on a few decisions that will be made in the coming weeks/days.
If
Cody Zeller
and
Christian Watford
return, the Hoosiers could compete for the national championship. Tom Crean is bringing in one of the best recruiting classes in the country. Zeller will be a Wooden Award candidate and preseason All-America center. If Watford builds on his Sweet 16 performance against Kentucky (27 points), he could be one of the best forwards in the conference.
Michigan needs
Trey Burke
and
Tim Hardaway Jr.
to return. Burke, however, is more vital to John Beilein's plans. With highly rated prospects
Mitch McGary
and
Glenn Robinson Jr.
coming to Ann Arbor for the 2012-13 season, the Wolverines will add productive scorers who can contribute right away if Hardaway goes pro. But what will they do if they lose Burke? He might be the best point guard in the country if he comes back for his sophomore season. Without him, Michigan will still possess a talented, young roster. But the Wolverines could end up in Atlanta with Burke leading the way.
Minnesota also faces an uncertain future. The Gophers could be a borderline top-25 squad if preseason all-Big Ten forward Trevor Mbakwe returns. He missed most of last season after suffering a knee injury, but the NCAA recently granted the Big Ten's No. 1 rebounder during the 2010-11 season a sixth year of eligibility. He's expected to return -- assuming the Gophers have a scholarship for him. Tubby Smith has already reached the 13-scholarship limit, with two recruits joining the team next season. So Minnesota's situation could get complicated, too.
Smith has asked the NCAA to allow the team to use a 14th scholarship next season. There's also a chance that a player will transfer; five have left the program since 2009. But there are no guarantees right now for Mbakwe or the Gophers.
The Big Ten will be talented next season even if the aforementioned stars leave for the NBA.
But right now, it's hard to project the league's potential without knowing if its best players will stick around for another season.